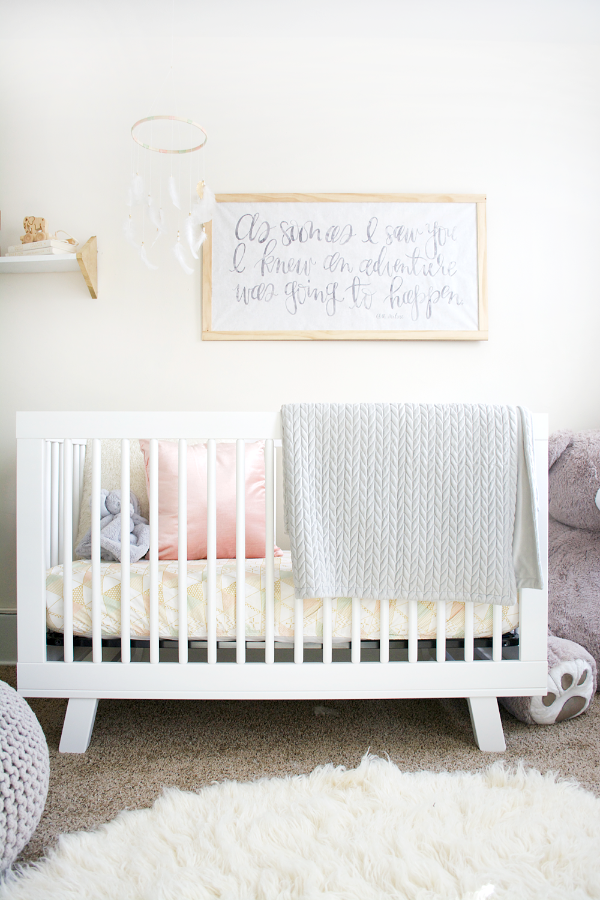 Ah, it's finally here! Although this space has been done for a while, it's taken me some time to photograph it and write this post. You know, with a newborn and all. But I'm so excited to finally be sharing it with you. Although Eloise isn't sleeping in her crib yet, I'm spending lots of time in here nursing and changing stinky diapers. I'm so in love with how it turned out and feel so calm and relaxed rocking away in my chair with her in my arms.
MODERN AND CHIC NURSERY REVEAL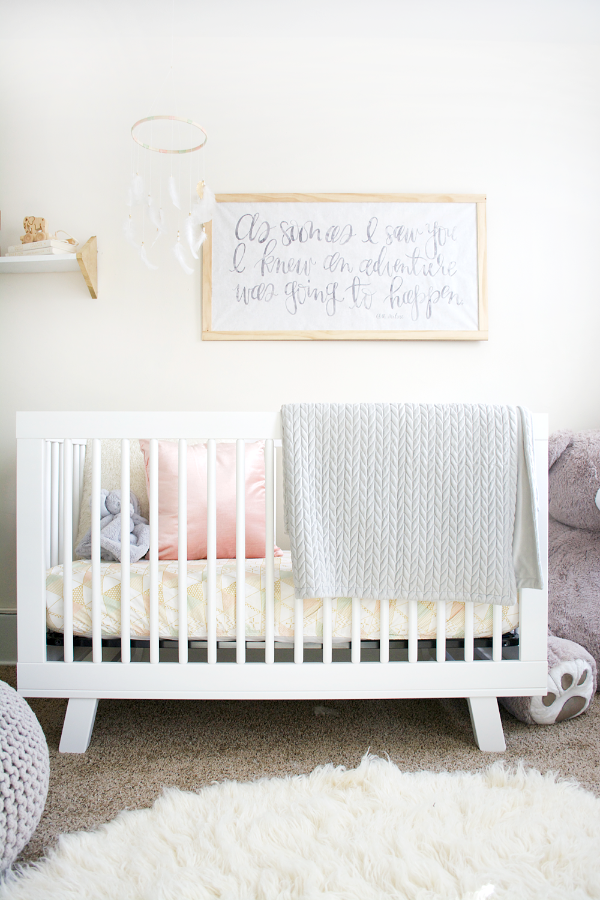 Ok on to the photos!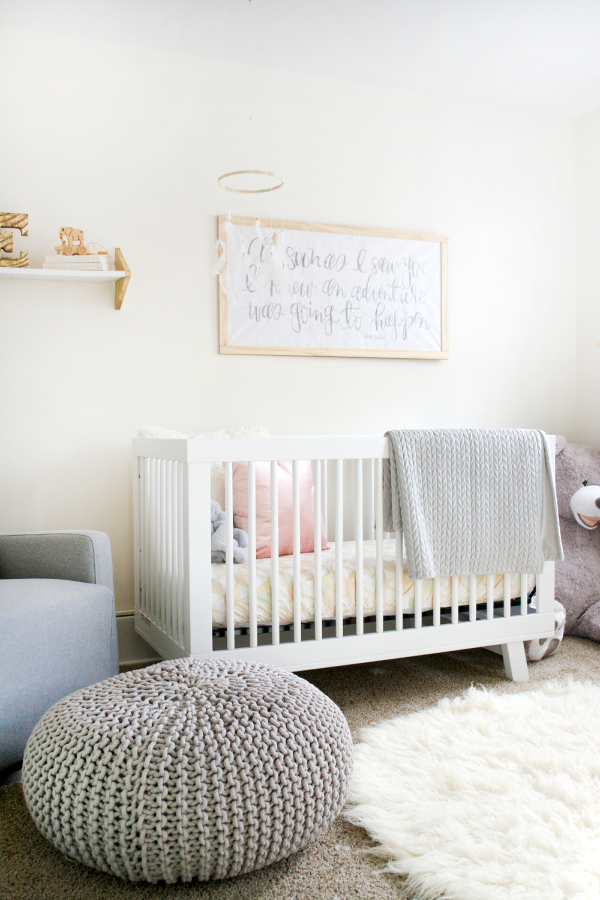 I initially shared my plan to use mint and peach, but those colors ended up taking a bit of a backseat and became accent colors. White, gold and grey became more prominent with raw wood tones throughout. I love our simple, modern crib from Hayneedle, which was one of the first pieces I got for the room. It set the tone early for how I wanted the space to look and was easy to design around since it's so neutral.
Since we rent, I didn't want to do too much to the walls and the only thing I really don't like about this room is the carpet. Although it's brand new, it's not the prettiest color, so I knew I wanted to cover some of it up with a rug. This flokati one from Land of Nod is perfectly feminine and fluffy 🙂
One of my favorite pieces is the art above the crib, which my friend Lindsay from Shrimp Salad Circus helped me make. You can read more about it here. Girl's got mad skills. It couldn't be more true and it's certainly been an amazing adventure so far.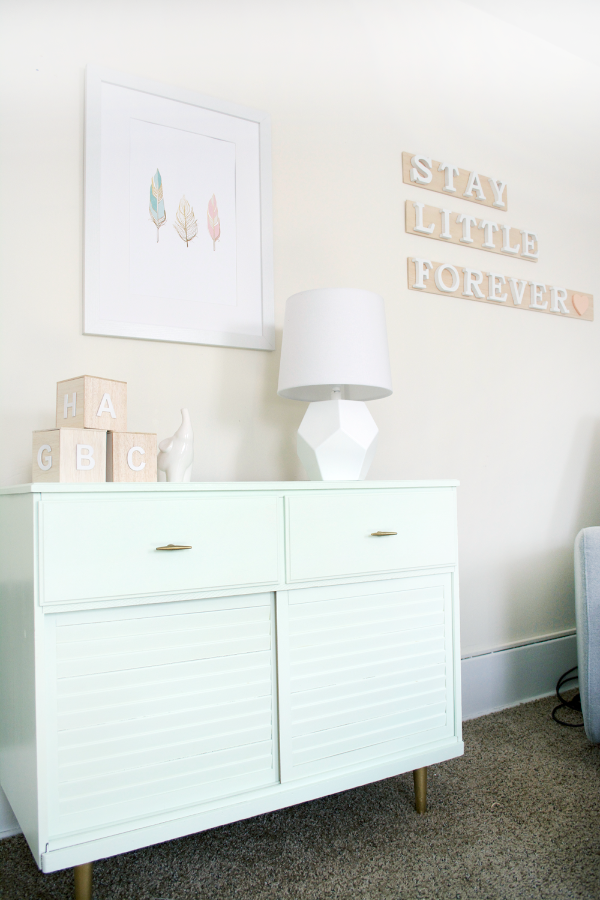 The soft mint color of this little table that I painted was the perfect shade that I wanted to use throughout the room, but found it hard to find decor in that specific color. Hence why the mint isn't more prominent. But this piece is perfect for storing lots of baby things. The alphabet blocks were a DIY that I created using balsa wood (so easy! and I kinda want to make some more). The feather print is from Etsy and the geometric lamp is from Land of Nod. It gives off the perfect amount of light for those late night feedings!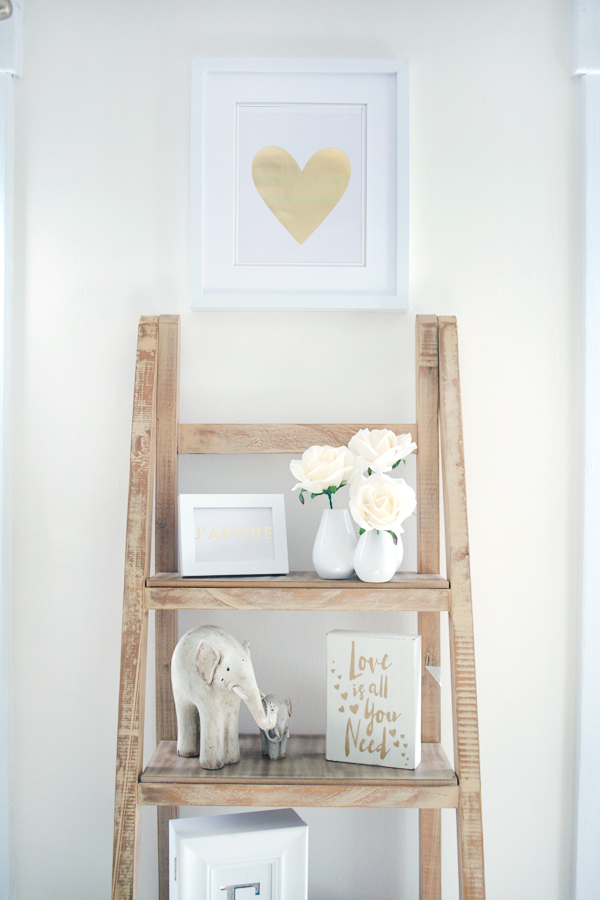 This ladder couldn't have been more meant to be if it tried. My mom got it for me from a friend's garage before I really started designing the nursery. It ended up fitting perfectly in that little spot between the windows and gave me a place to add some fun decor. For my shower, I had each guest bring a book to start a little library for Eloise and I found the cutest baskets at Target to put them in.
And how cute is that hamper? I love it. Another piece from Land of Nod.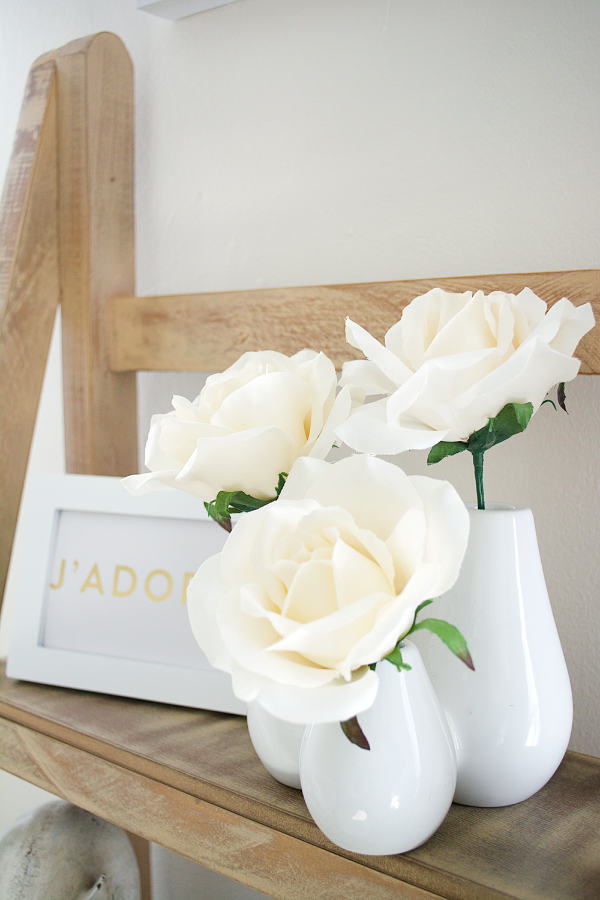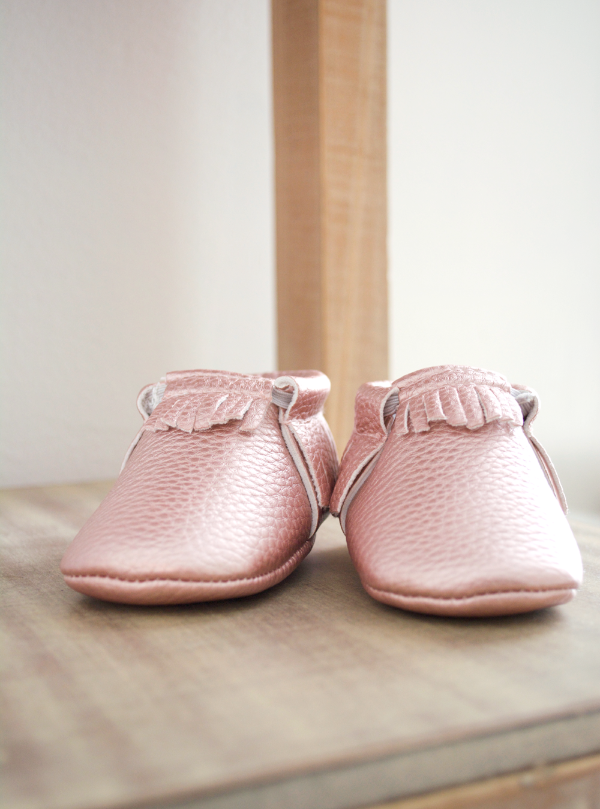 The feather mobile was also a DIY I created that you can read about here. And I had the hubs build me that little shelf behind it to fill up the space on that wall.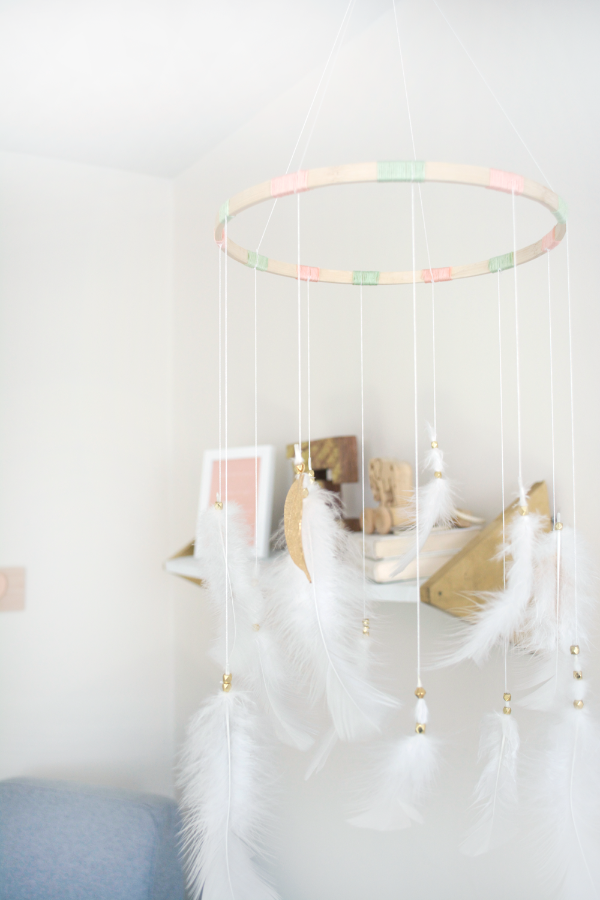 Not gonna lie, I have no idea what these books are about. I just scavenged Sal Val for white hardcover books with gold writing 🙂 And I happened to find that little elephant while I was there too. Great find right??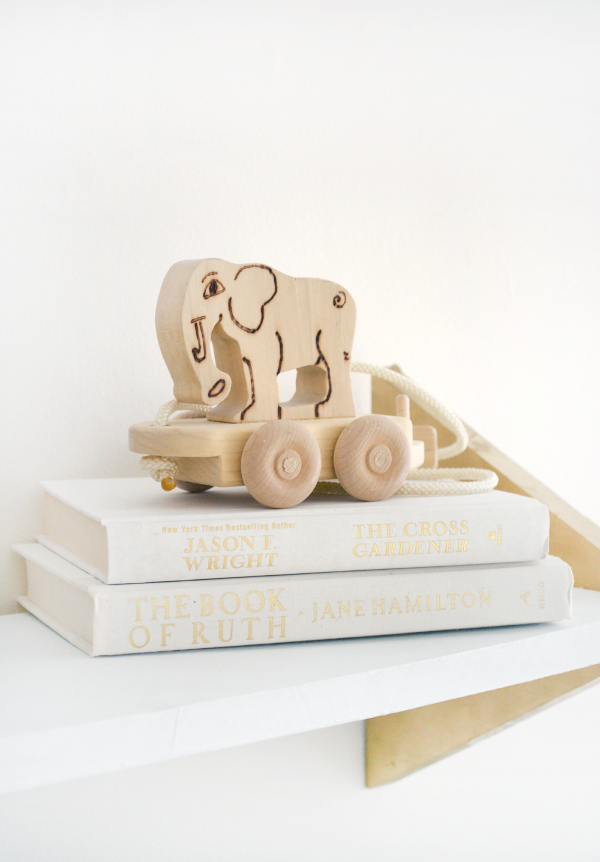 (this post contains affiliate links for your convenience. read my full disclosure policy here.)
I already shared the changing table which I gave a clean, white makeover, but it wasn't styled for the nursery yet. I created a fun little gallery wall above it and used another one of those baskets from Target to put some diapers in for easy access.
Elephant hooks are from Land of Nod and the assorted artwork is from Hobby Lobby and Minted. (Arrow Print, I Love You That Is All).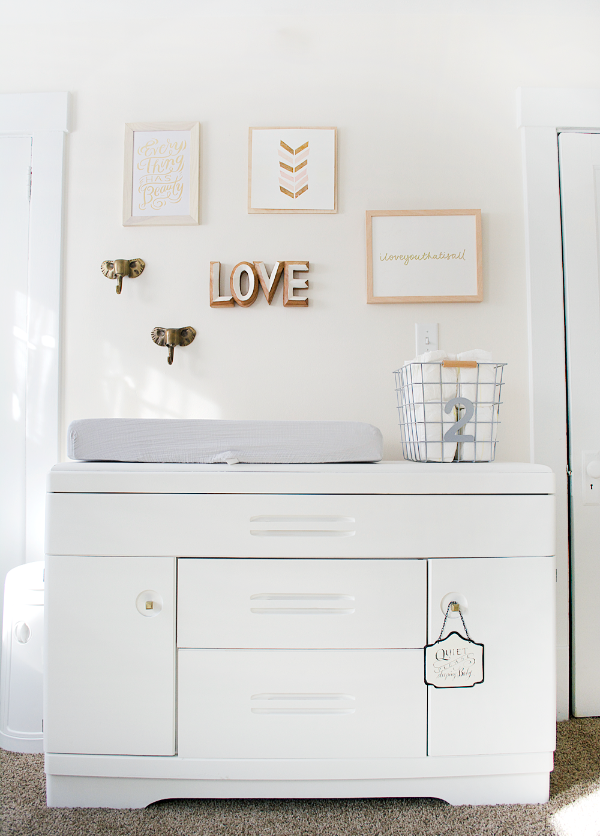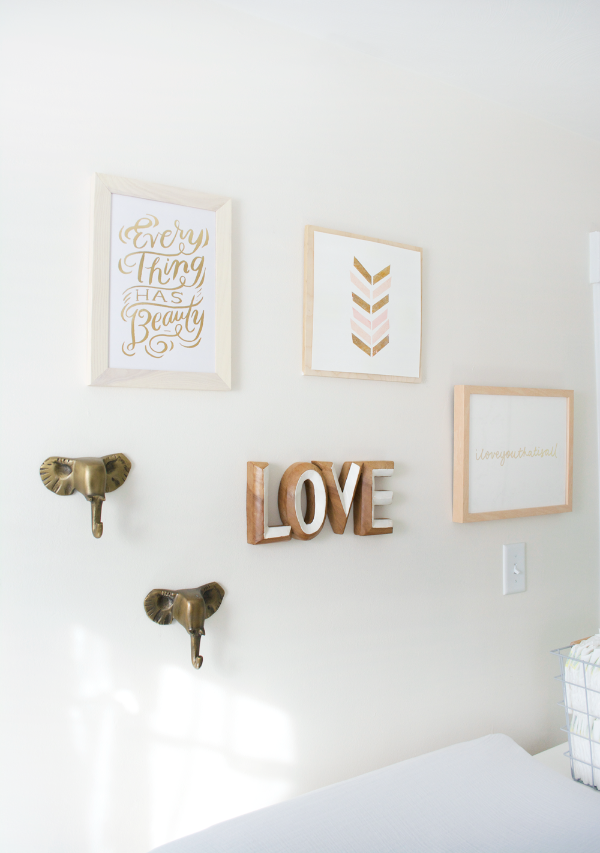 The very last thing I made was this "Stay Little Forever" wall art. I remembered seeing a cute little printable with that saying on it a while back and knew I wanted to somehow incorporate it into the nursery. I'll be sharing a tutorial for it soon!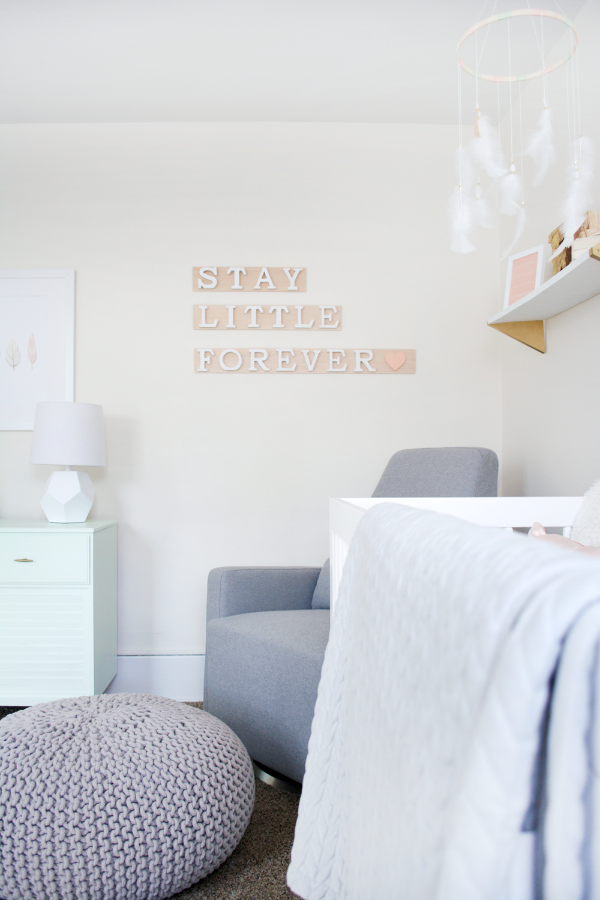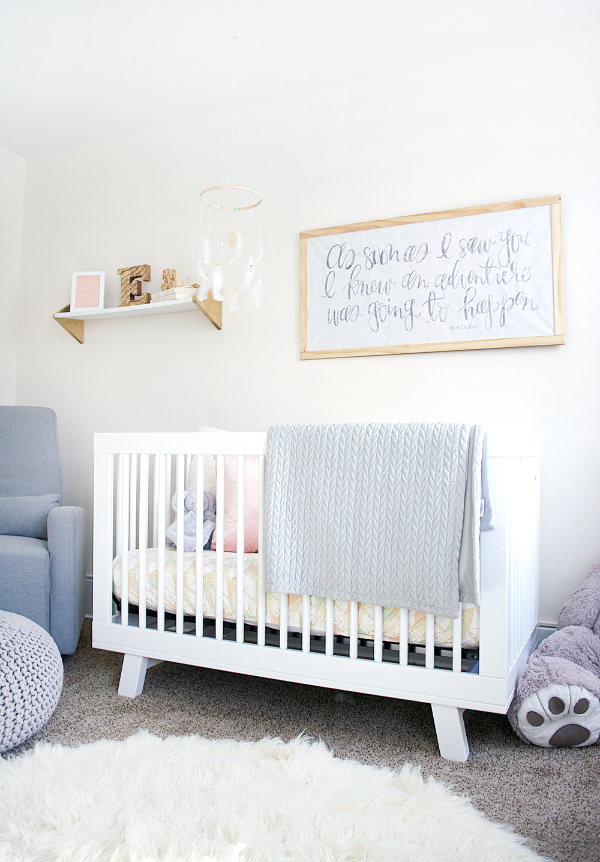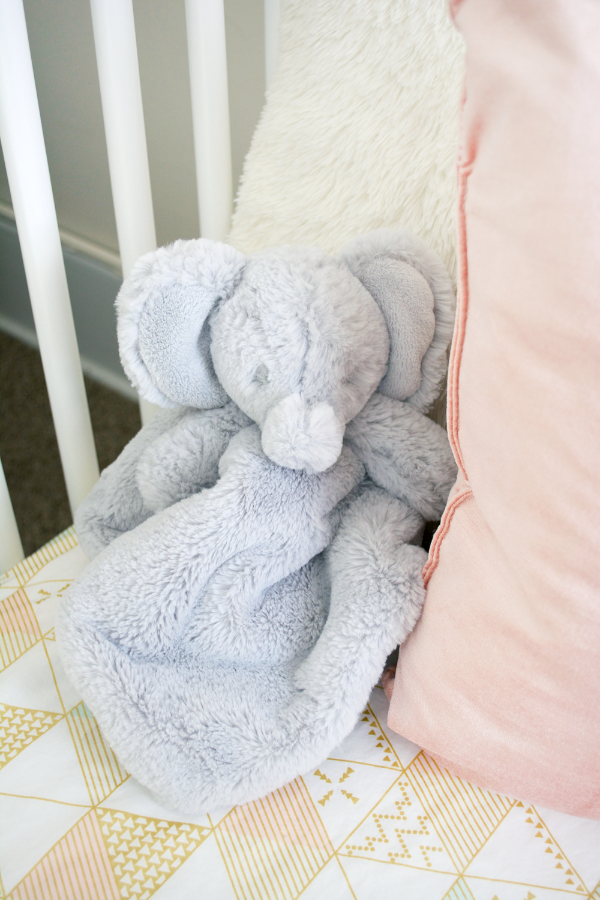 I had a really hard time finding a glider that was stylish and comfortable. So.much.research. I was lucky enough to receive this one from All Modern and it couldn't be more perfect. Since I'm tall I wanted one with a higher back which has been a huge plus. I can't imagine not being able to lean all the way back and being able to rest my head. Especially during those late night feedings. It glides so smoothly and still looks pretty. Win win 🙂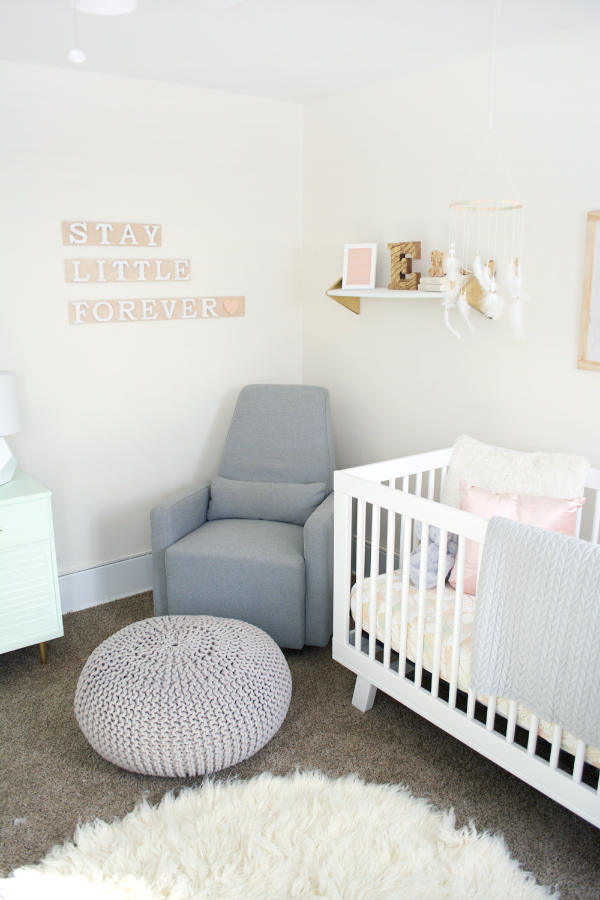 Other sources: Pouf (RH Baby) :: Crib Sheet (Carousel Designs)
If I missed anything and you want to know where I got it, just holler!
I know I've been teasing you guys for a while now, and I hope it was worth the wait! I couldn't be more in love with this space and can't wait to spend many more days and nights in here with our little muffin. Now if only it still looked like this… 😉
Product for this post was provided by Land of Nod, an amazing children's company. Thanks for supporting the brands that allow me to keep doing what I love.