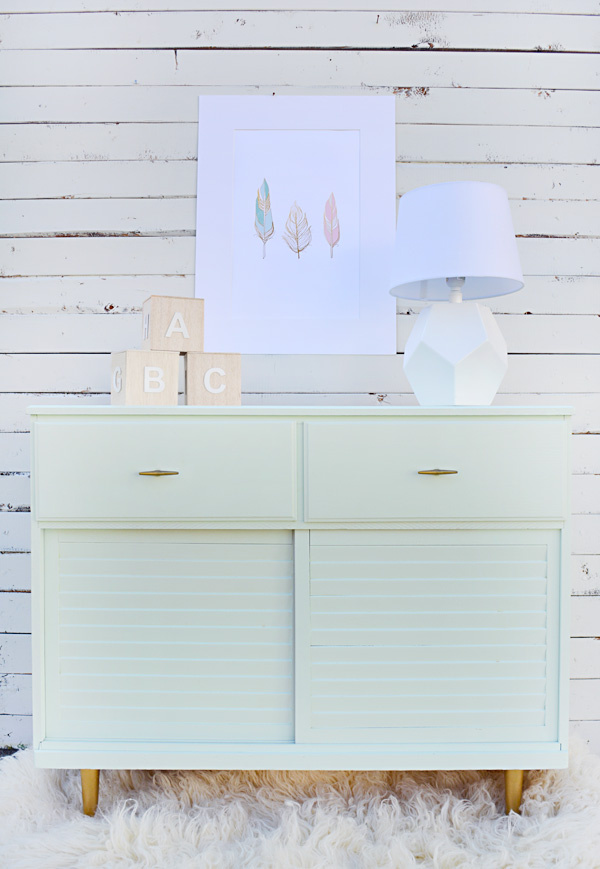 Have you ever used a sprayer to paint furniture? I'll admit I was scared to try it. HomeRight sent me one quite a while ago and it sat in the box for far too long. When I heard that the theme this month for The Fab Furniture Flippin' Contest was Spray it Pretty I knew I had to man up and bust it out.
Best. Decision. Ever.
Of course I love the feeling when that first brush stroke hits a piece of furniture, but there's also something pretty magical about watching a piece slowly get covered by a fine mist of paint.
MID CENTURY MINT TABLE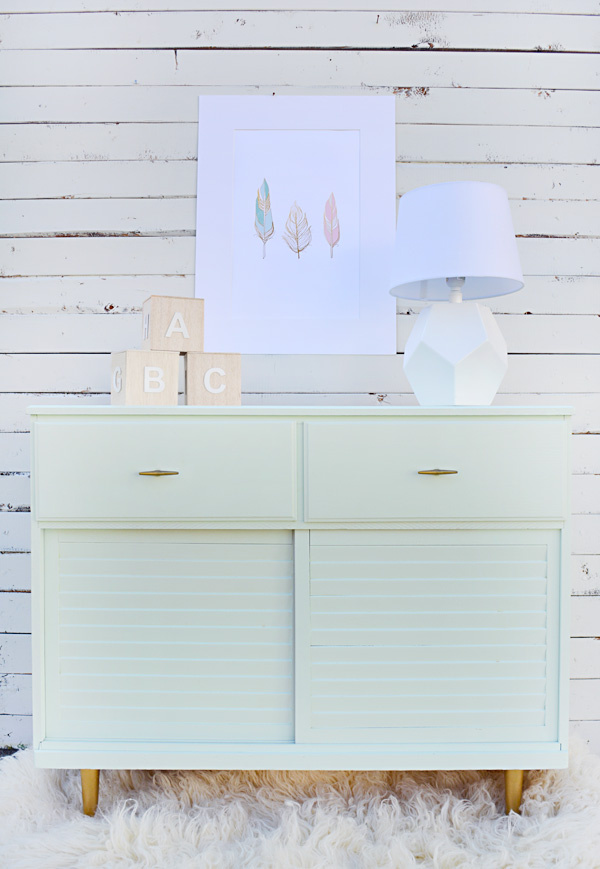 So let's talk details. I used the Finish Max Pro Sprayer and it was seriously the easiest thing to put together. I started reading the directions and making sure I had all my parts, and then I realized, it was basically already put together for me. Ready to use, right out of the box. That's my kind of assembly.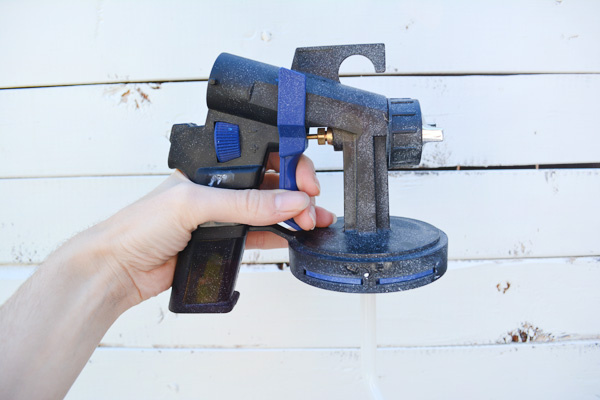 To start, you just pour your paint into the little container.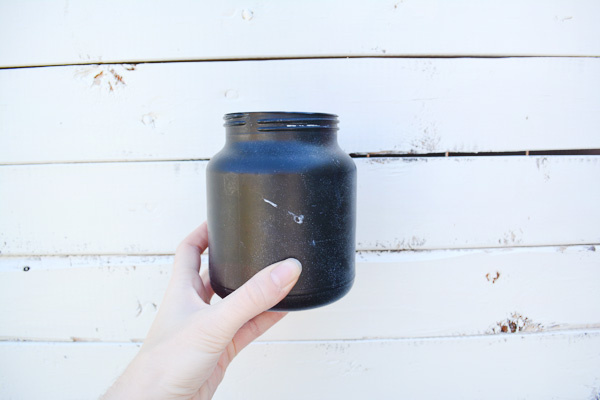 I used Sea Mist by Olympic which I've found to be the perfect mint color. Not too bright and not too bold, but the perfect pastel color which is exactly what I wanted for the nursery.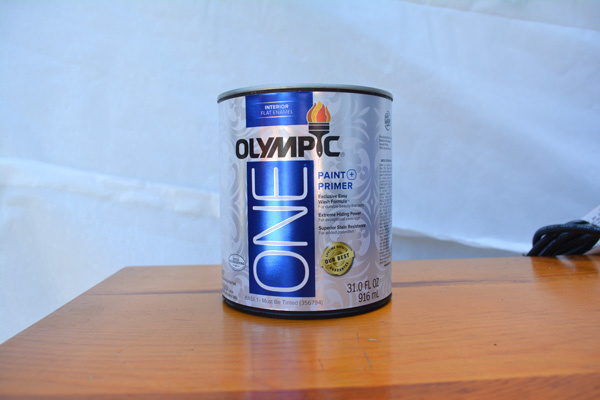 Then you just screw on the top.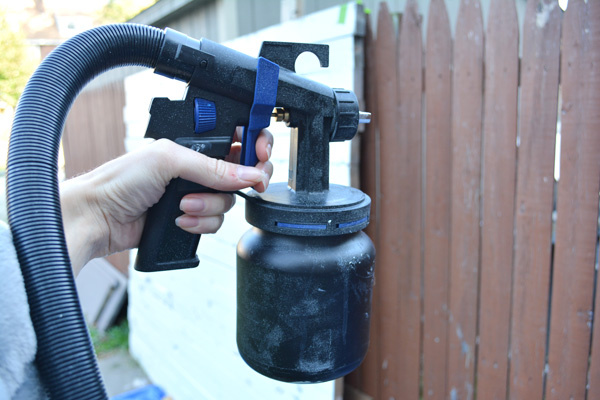 And connect that piece to the tube, and you're ready to go!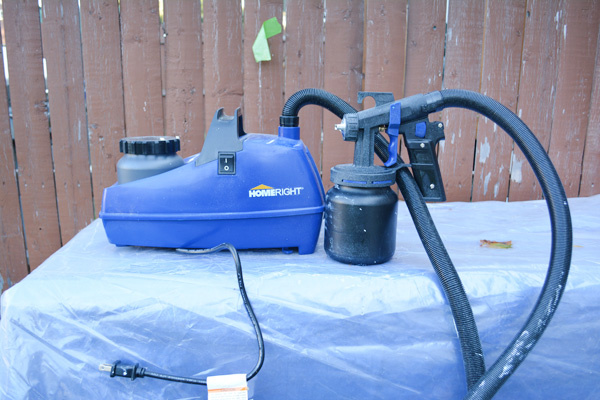 There are a couple ways you can spray, and I found the best way to be with the nozzle adjusted horizontally like this:
The sprayer was perfect for this piece I was working on because I wanted to do the inside, and the little drawers on the front had all those little slats. Using a paint brush to paint the inside of a piece of furniture is a pain in the buns if you ask me. This guy gives such great, even coverage, it's perfect to achieve a clean, modern look.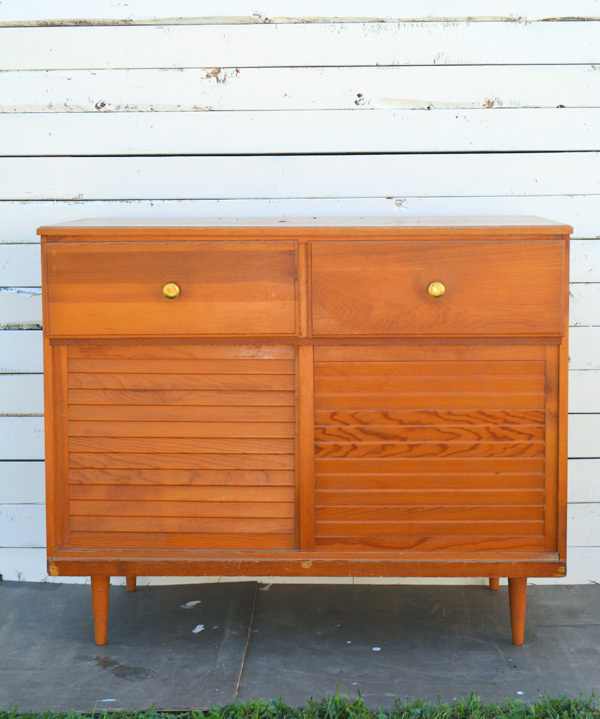 Now for my ghetto set up. I bought a couple drop cloths and hung them up over my backdrop and taped them to the fence.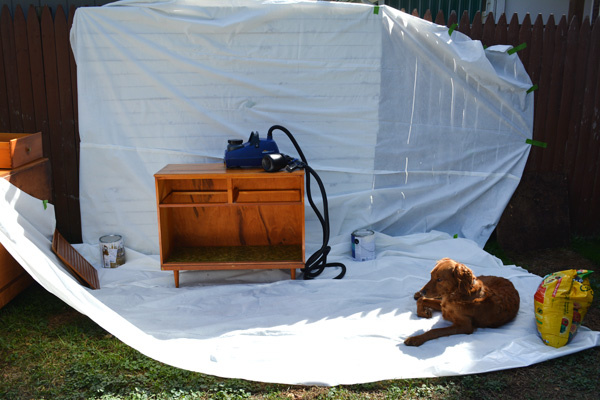 Oaks thought it was the perfect place to hang out.
This actually worked quite well, except that it was a little windy and I had to use some extra tape for reinforcement. HomeRight makes a cool Spray Shelter, which is definitely something I need to invest in if I'm going to be doing a lot of this.
I thought the residue from the sprayer was going to go a lot farther, but it really stayed close to the piece. I think my drop cloths were actually a bit excessive, but as a first timer I didn't know what to expect.
Time for the fun part. SPRAYING! As soon as I pulled the trigger I fell in love. It's so easy to use and it's so much faster than painting with a brush! Here's how it looked after one coat: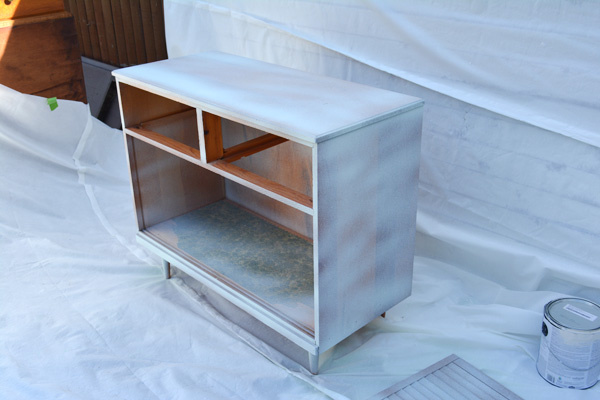 I probably could have done the first coat a little thicker but I was still testing the waters at this point. Here's the progression after the second coat: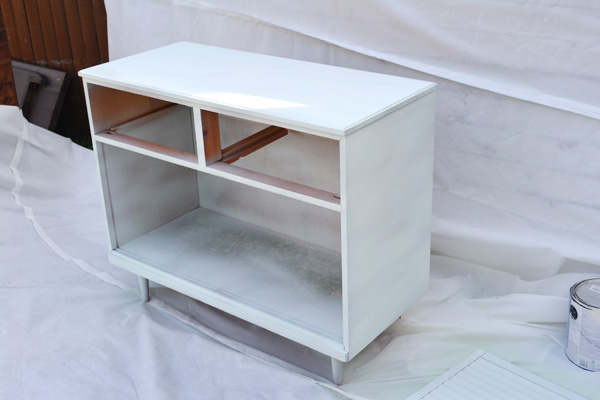 You can already see how well it's covering. I did 4 coats just to be on the safe side. I waited about a half hour between coats and it probably only took around 5 minutes to do each coat. Pretty amazing.
The finish was so even. It wasn't the smoothest, but I think that was because of the paint I used. I probably could have added some floetrol. But all in all I was super impressed with this sprayer and can't believe it took me this long to try it out.
Clean up was super easy too. Just wash with soap and warm water and fill your little container with some water and spray it out to make sure everything gets cleaned properly.
I gave the feet a little makeover as well, by spray painting them gold.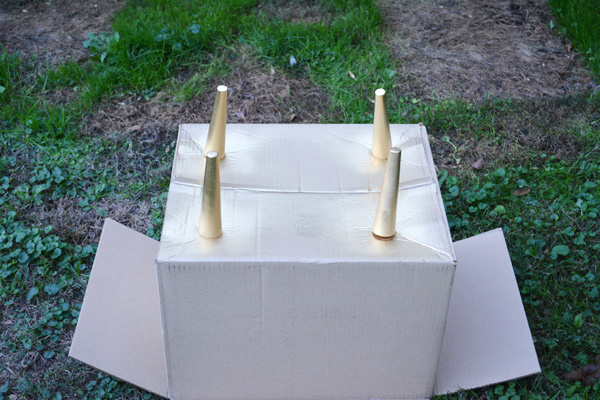 I'm so in love with how this little table turned out for the nursery. It has great storage and is the perfect pop of mint.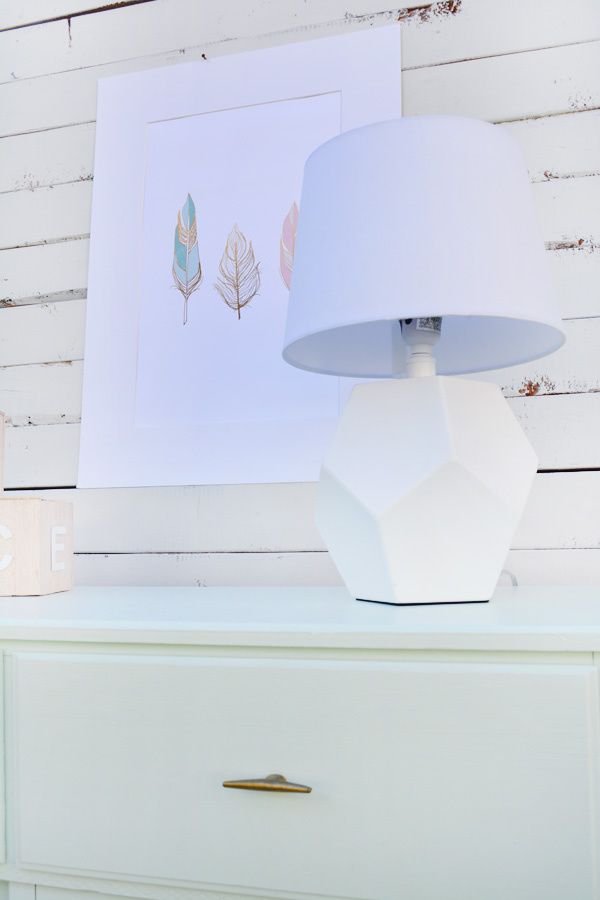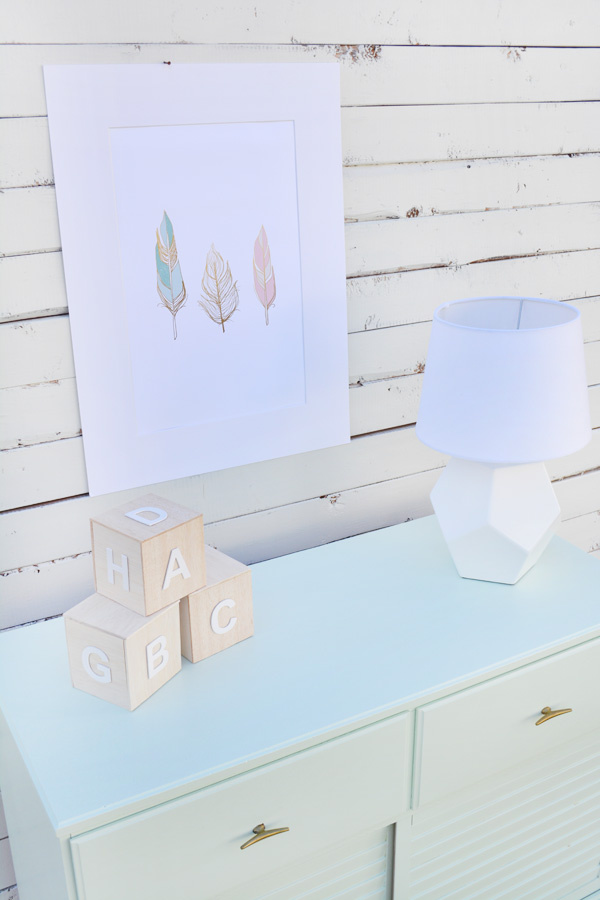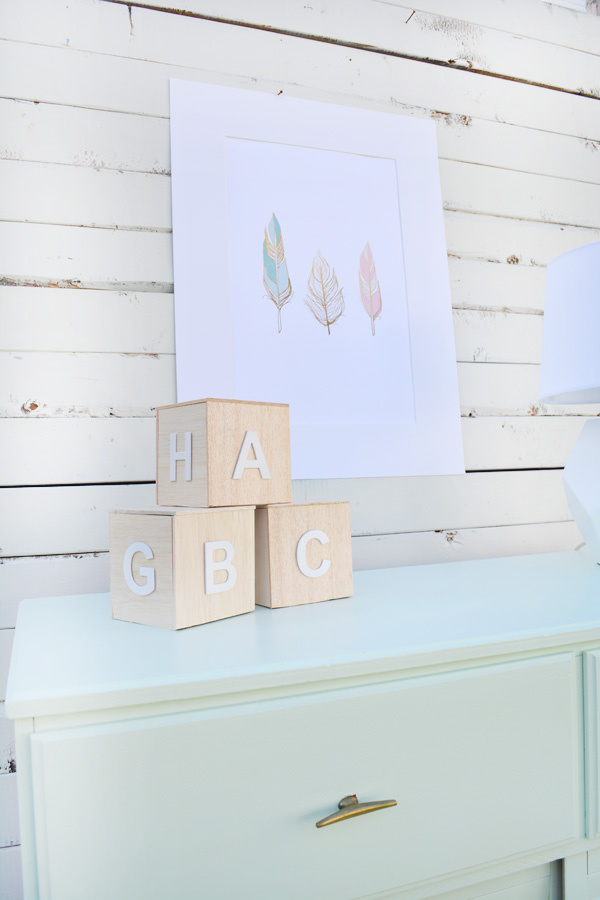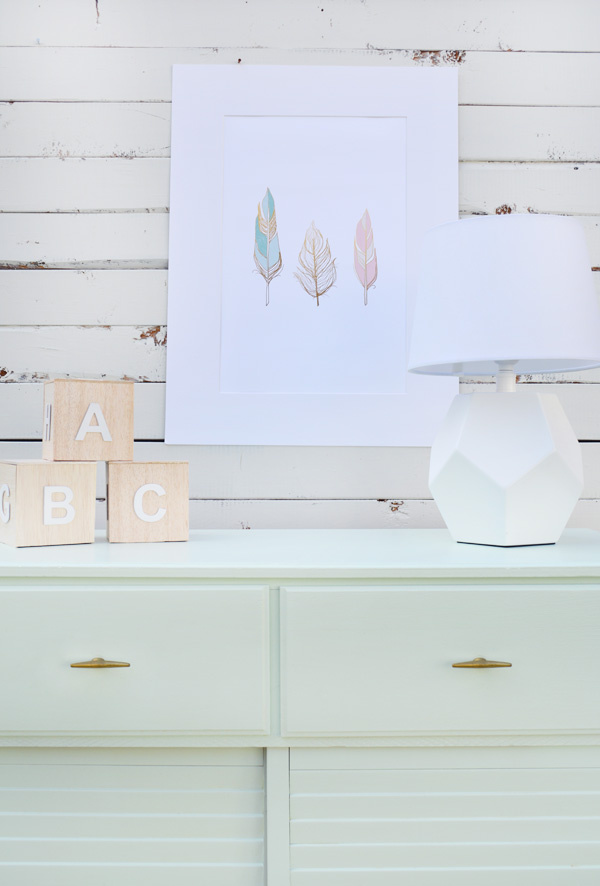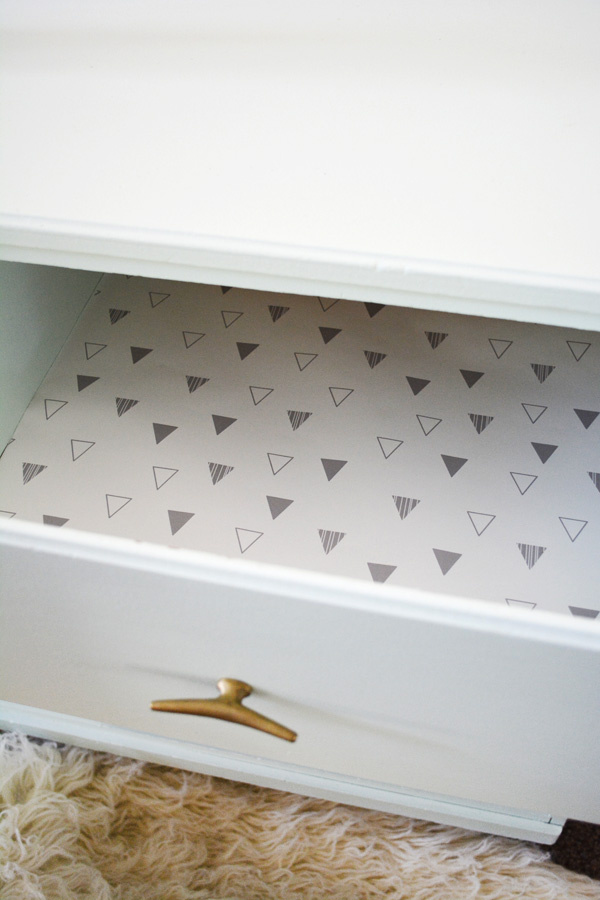 There will definitely be times when I still use my trusty paint brush, especially for more distressed pieces. But I was so amazed by this sprayer that for pieces where I want a more modern and clean finish, it just seems like the better option. So if you've been scared like me…DON'T BE! If you paint a lot of furniture like me, spraying is a game changer.
Of course we can't forget this is a contest! Be sure to check out the featured hosts for this month HERE and HERE. And don't forget to check out our sponsor, HomeRight. Not only do they have the Finish Max Sprayer. They have so many other amazing products that help make painting furniture so much easier!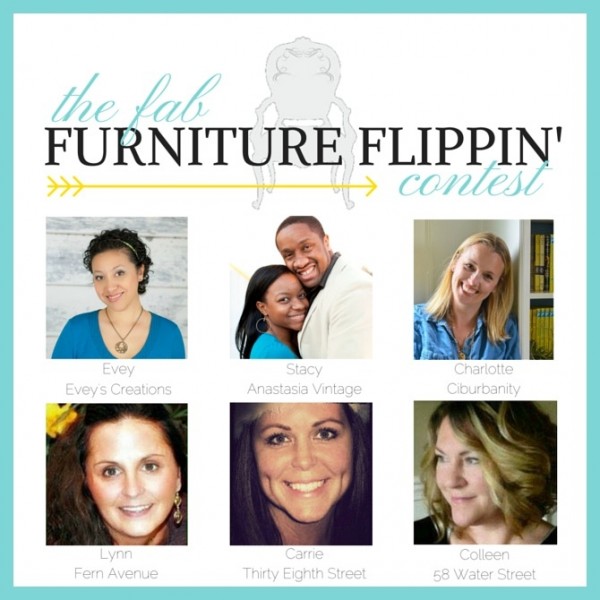 If you're interested in joining this awesome monthly contest you can contact info@fabfurnitureflippincontest.com 🙂
---
A big thank you to HomeRight for sponsoring this post. All gushy thoughts and opinions are my own. Thank you for supporting the amazing brands that keep this blog running.