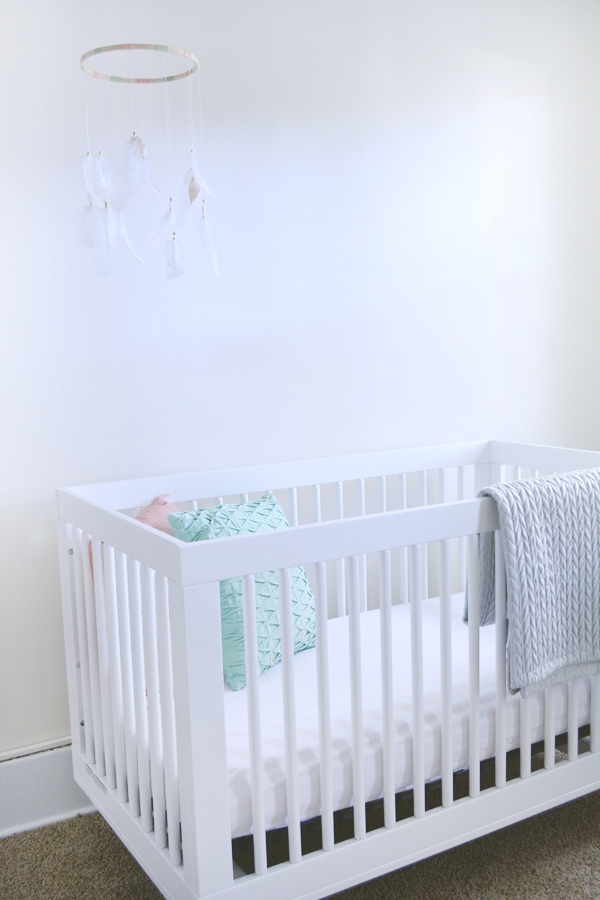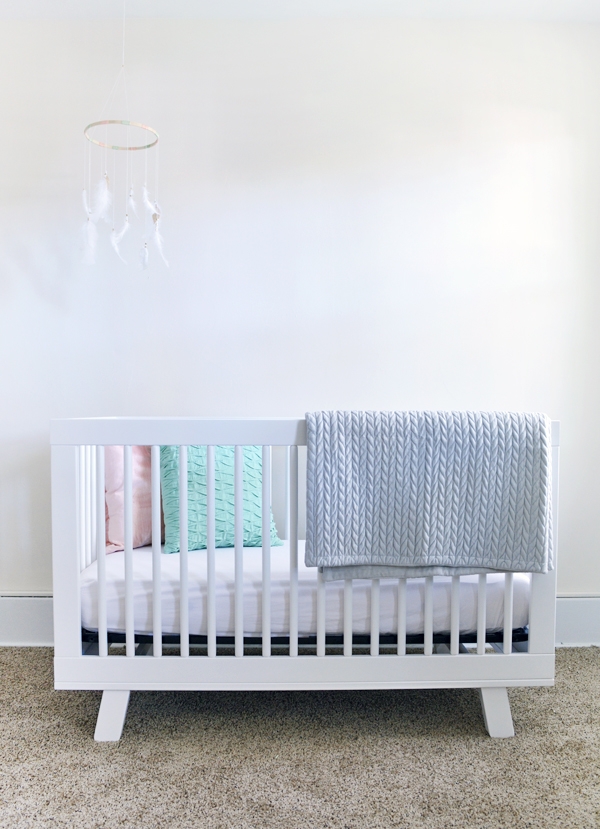 We have a crib! Probably the most important piece of a little babe's nursery. Unlike the research I've been doing on strollers and travel systems lately, the process of choosing a crib was much easier. This was actually one of the first ones I saw and it immediately caught my eye. It's the Babyletto Hudson Convertible 3 in1 Crib and we got it from hayneedle.com
I love the clean lines and simple shape, which goes perfectly with the style of the nursery. It comes in gray and white, which are both in my color palette, but I wanted to go with white so I had a more neutral base for different bedding. Which is whole 'nother animal. There are so. many. options. But we'll get to that in a bit.
When this thing arrived, it barely fit on our little front porch. And there was no way I was moving it inside. Make sure you have a strong man around to do all the heavy lifting 😉 We have 3 flights of stairs in our house, but luckily this only had to go up one. Once it was in the nursery, it really didn't take long to put together; maybe an hour total. And I really can't take much credit because the hubs did all the work.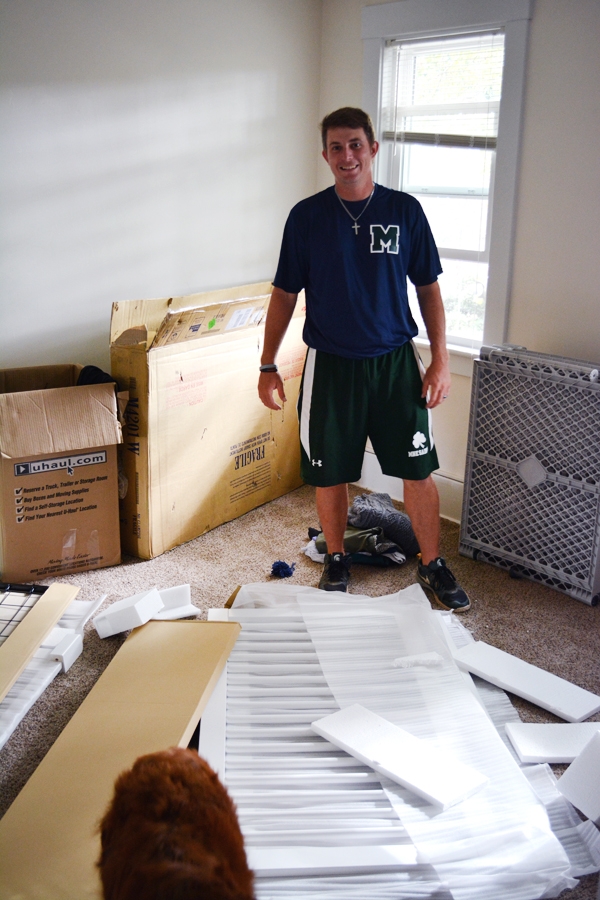 Oaks and I supervised.
The directions were super easy to follow and everything went smoothly. Except for Oakley trying to eat some of the screws.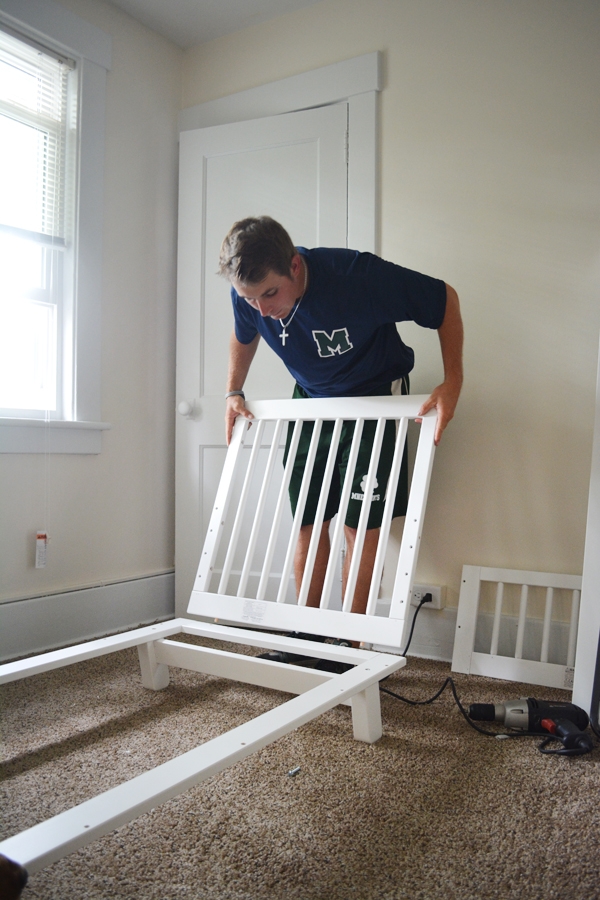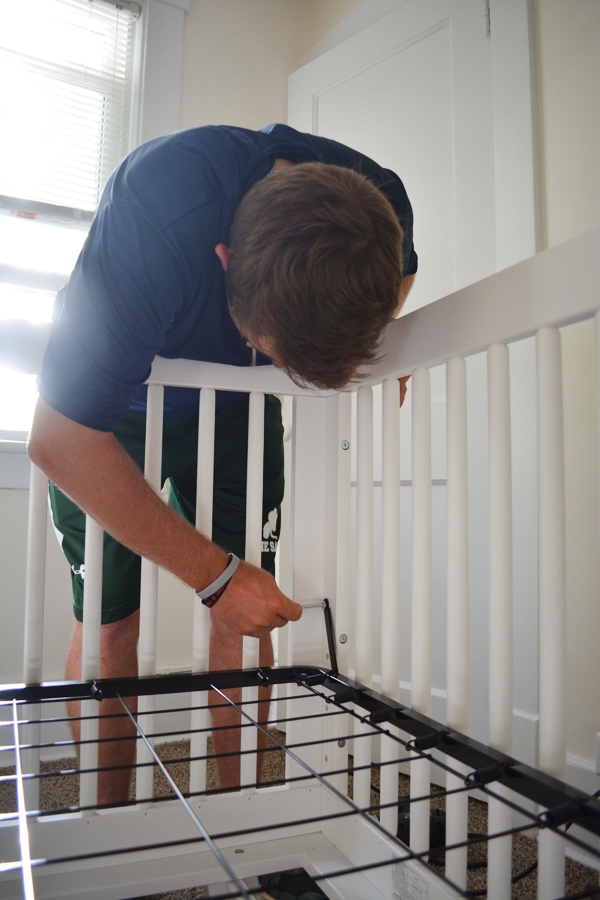 I had no idea cribs came with adjustable bases like this, so you can have your mattress at different heights depending on how old your babe is. I'm still not really sure if we have it at the right height and I know the hubs isn't going to be happy if we have to change it, because I already made him do it once 😉
Finished!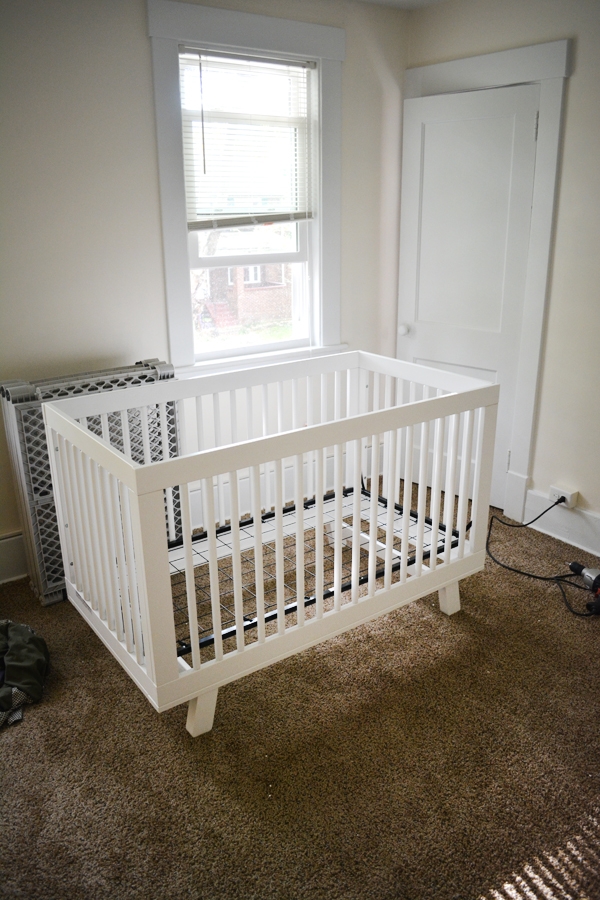 Honestly, my only complaint is that I wish that black base was white because it kind of sticks out unless you have it on the lowest setting. I might still get a crib skirt and that would cover it up but I haven't decided yet. Overall it's super sturdy and I definitely feel confident putting Baby Berto in it. For as heavy as it was in the box, it's actually quite easy to move around. Being on carpet probably helps a bit too. Hopefully all the other baby accessories we have to assemble are this easy!
Now for the bedding. Oh. my. gosh. I spent hours online trying to find something I liked. I wanted to keep it simple and only get some fitted sheets, which you think wouldn't be hard. Not for this indecisive girl. For now I just went with a plain white sheet so I could jazz it up with some pillows, which are obviously just for decor and won't be in there when the babe is. I have a mint and peach sheet on it's way as well which I'm super excited about it, so we'll see how things end up.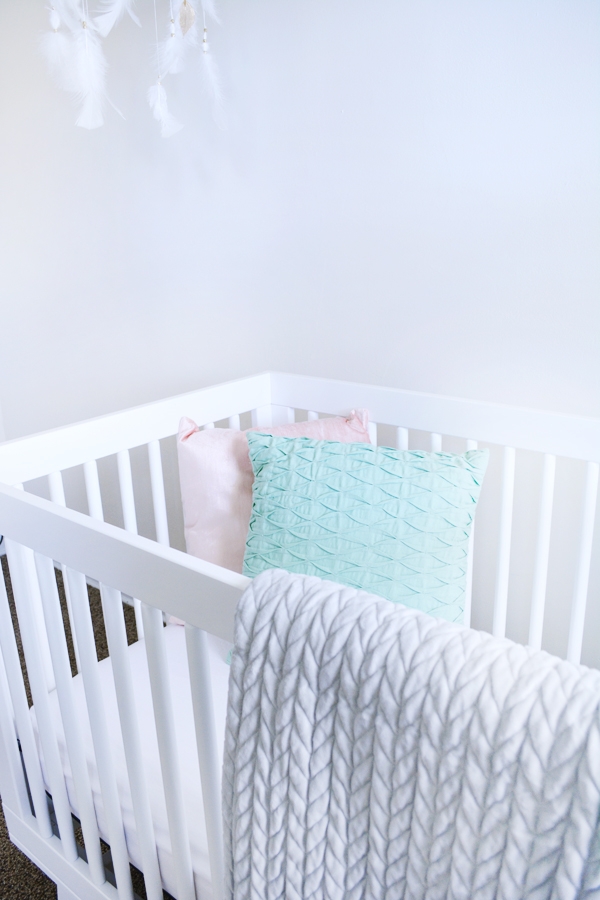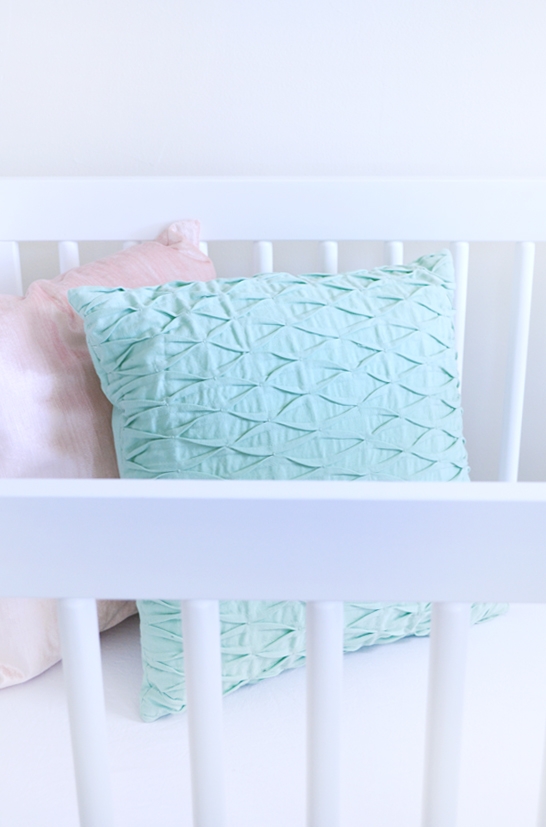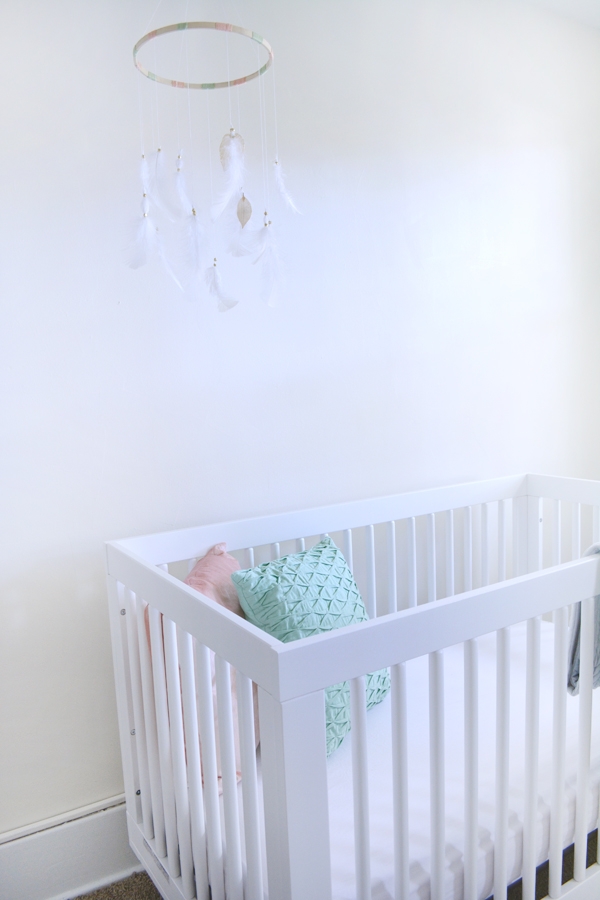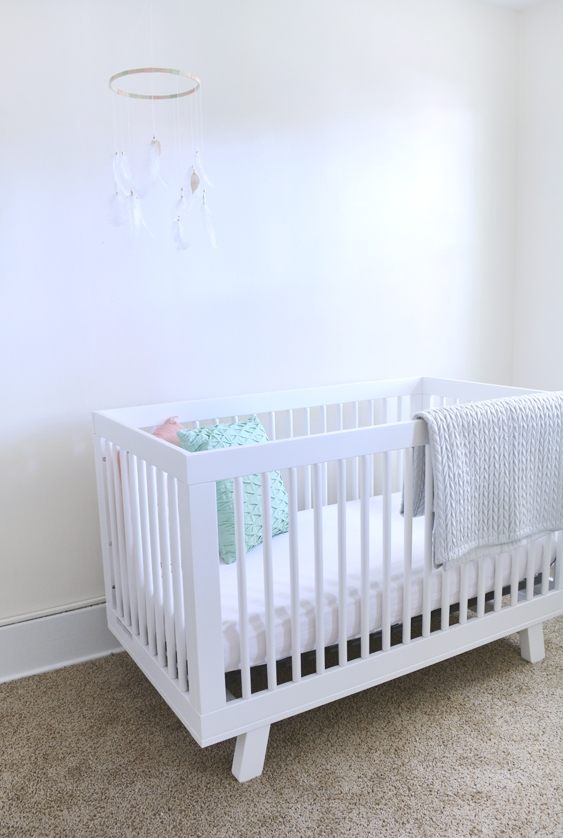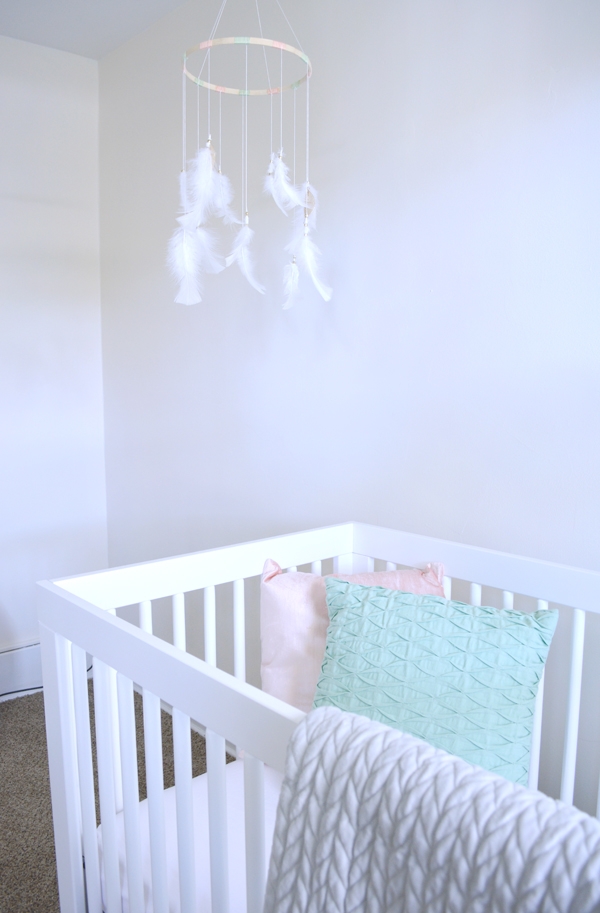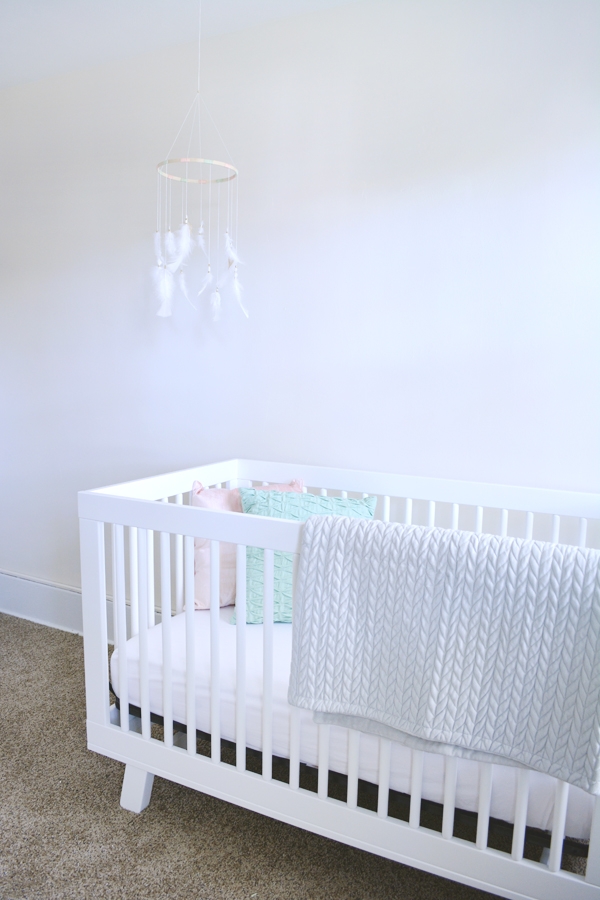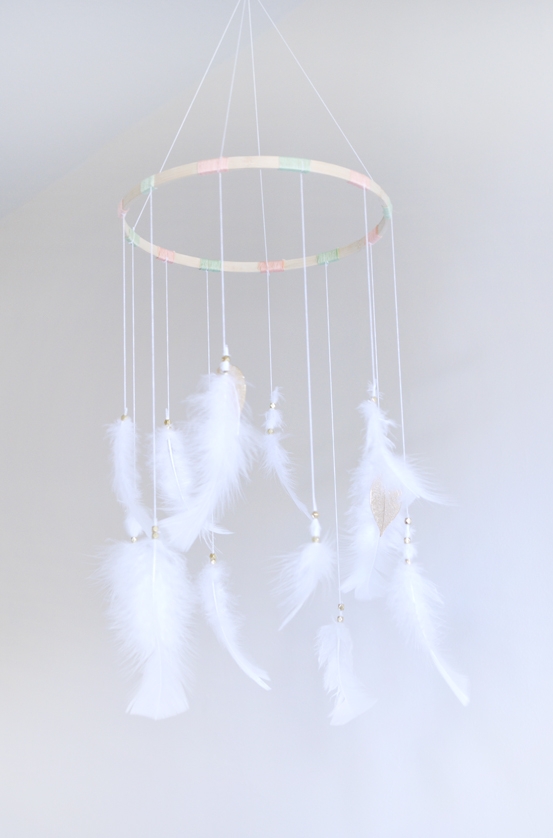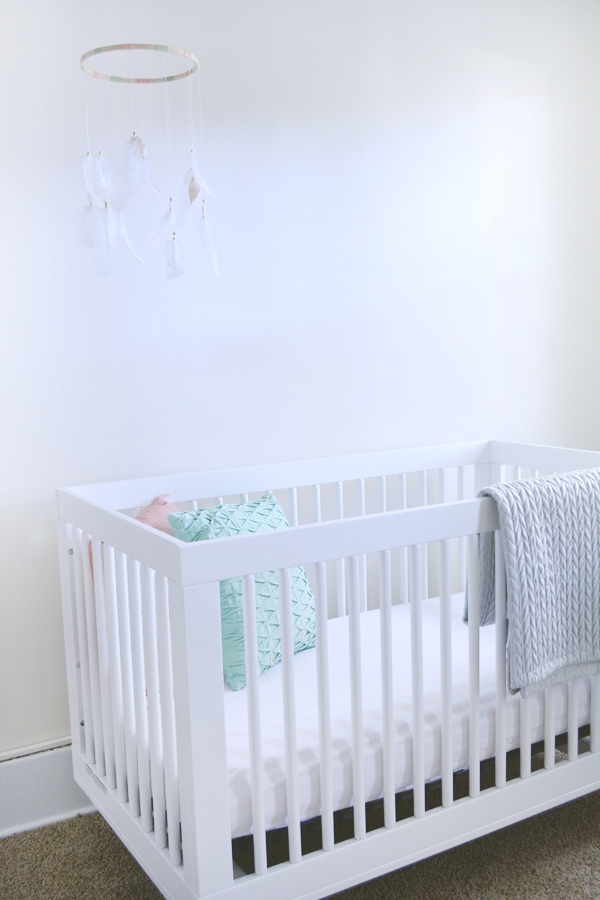 I'm so in love with this crib from hayneedle.com and would seriously recommend it to any new mommas out there. Modern nursery furniture can be insanely expensive, but this one is super reasonable. It also converts to a little day bed for when your babe gets older. Win win right there.
I know things are looking a little sparse right now, I've got big plans for the artwork that's going to be hanging above the crib. Hopefully will be sharing that soon! And if you missed the tutorial on my DIY Feather Mobile you can check that out here.
I promise I'll also be sharing a baby update soon 🙂
Have a fab day friends!
---
A big thank you to hayneedle.com for supplying the product for this post. All gushy thoughts and opinions are my own. Thank you for supporting the brands that keep this blog running.