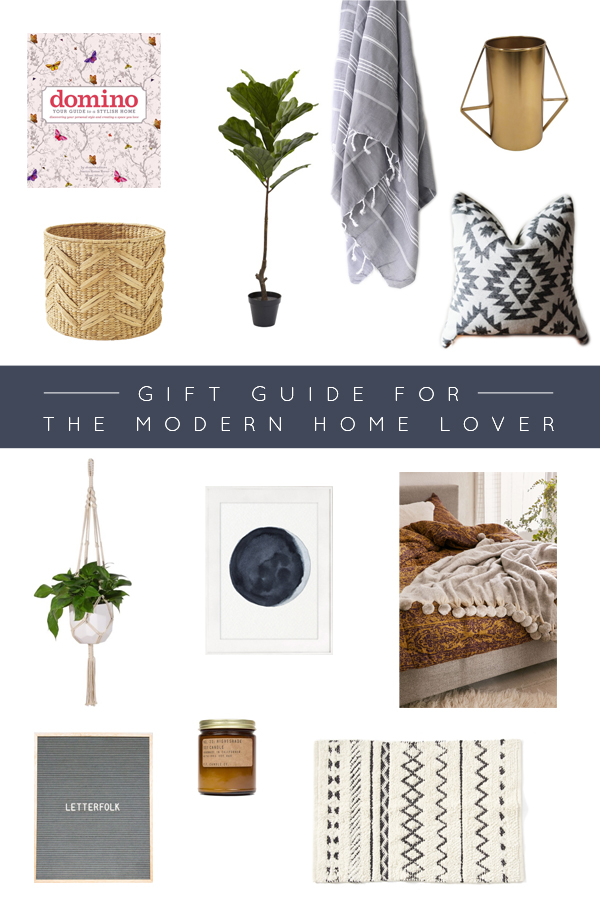 If you're anything like me, you love doing your shopping online. Whether you just like to avoid the crowds or you have a baby at home, online shopping is where it's at. And with Black Friday coming up I've got you covered. If you know someone who loves modern home decor or you just want to buy some fun new stuff for yourself, this Gift Guide for the Modern Home Lover is perfect for you! Plus most of these things I own and can attest to their awesomeness 😉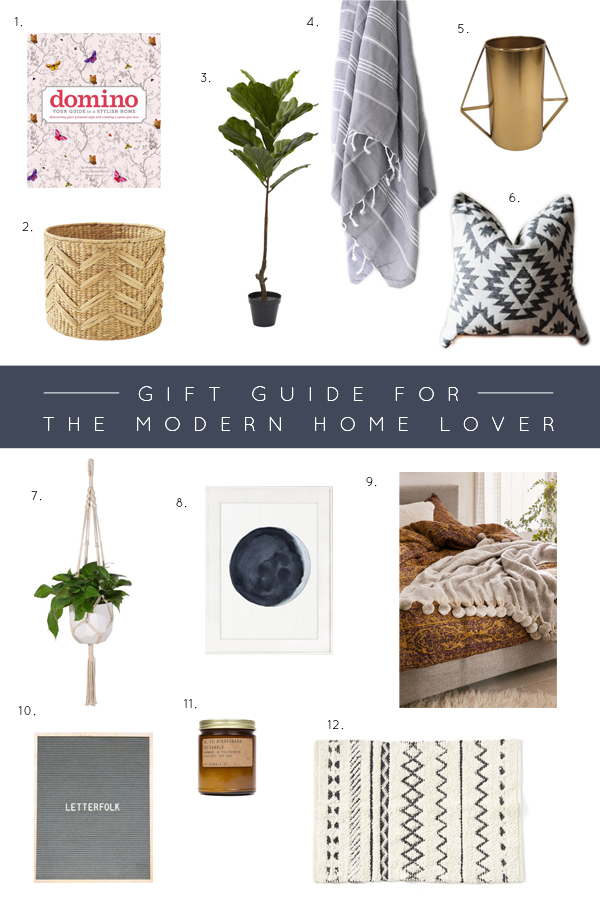 *affiliate links included*
1 :: This new book from Domino is on my list for this year. Full of interior inspiration, I'm already excited just from seeing the peeks inside on Amazon!
2 :: Because baskets make everything better. And you'll need one to put #3 in 😉
3 :: If you have a black thumb but love fiddle leaf figs (join the club) you need this tree! It doesn't look plastic and fake and is totally worth the money.
4 :: Turkish towels are so multifunctional. You can use them in the bathroom, or as a light throw blanket anywhere in your home.
5 :: A pretty brass vase that's perfect on a table or shelf. Add some eucalyptus or greenery and you're good to go.
6 :: Pillows from one of two of my favorite etsy shops – The Ivory Gull and Norwegian Wood.
7 :: You can't beat the price of this macrame hanger. I have two of them. They're perfect for corners that need just a little something.
8 :: I just bought this gorgeous print last week and can't wait to get it framed. Super affordable instant download. Just print, frame and hang.
9 :: I'm a sucker for anything soft and fuzzy. Throw on some pom poms and I'm done. I just want to wrap up in this all winter.
10 :: I got a Letterfolk board for my birthday and couldn't love it more. It's so fun getting creative and coming up with fun sayings!
11 :: My newest obsession is P.F. Candle Co. I have a few of their candles and one of their reed diffusers and I've never smelled anything more heavenly.
12 :: A plush rug is a great way to add texture to a space. Try layering it over a jute rug for added dimension.
Happy shopping!