It feels so good to finally be writing this post! Our modern European inspired kitchen is DONE and I get to share all the beautiful photos and details with you today. A kitchen renovation takes a lot out of you. Removing the room that is the heart of the home disrupts your day to day life and causes a shift in the way you eat, interact and gather as a family. Countless meals eaten out, or cooked on a hot plate or griddle, washing dishes in the laundry room and prepping food on our dining room table. It's not for the faint of heart! But my goodness is it worth it. This post is packed full of everything you need to know about our beautiful kitchen. I hope you can feel all the love and hard work that went into it. Enjoy!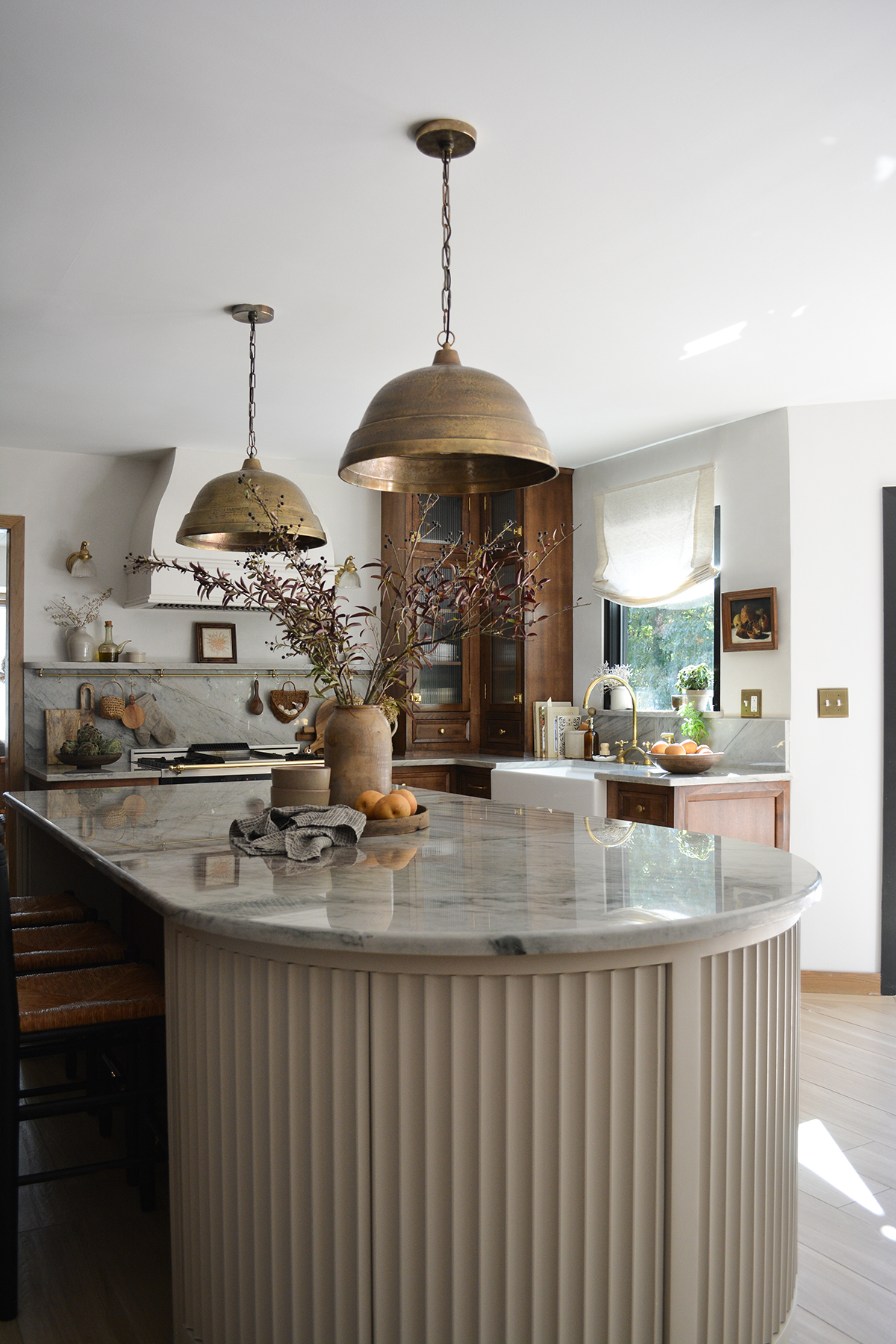 OUR DATED 90S KITCHEN (THE BEFORE)
Let's start by taking a look back at where we started. Like, really started. When we first moved in, this kitchen was still living its glory days from the early 90s. It hadn't been touched in years but a major kitchen reno was not in our budget. I knew I couldn't live with that red and black much longer, so I opted for a budget friendly kitchen update instead.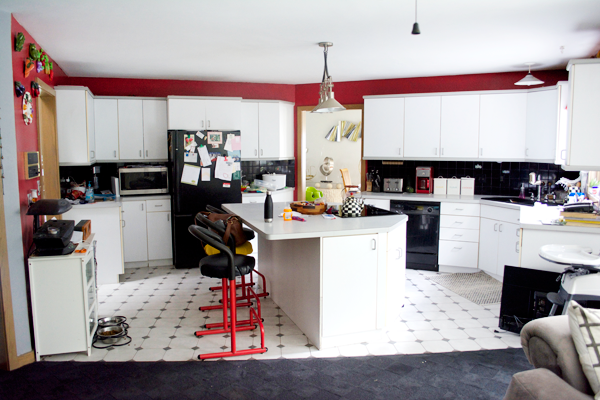 There are so many ways you can update a kitchen on a budget, and I worked my magic by painting our kitchen cabinets and adding trim. I also painted the tile backsplash and those two things along completely transformed the space. I also switched out the lighting, added new hardware and made some other smaller decor changes. That phase of our kitchen treated us well for about 5 years but it was never my dream kitchen.
THE DURING
Fast forward to 2021 and we started talking about finally giving the space the update it deserved to tie in to the rest of our home. I'd been waiting so long for this moment and I couldn't wait to get all the ideas that had been swirling around in my head into a mood board in Photoshop. We had talked about lots of options for the cabinets. Our two top options were either custom cabinetry, or IKEA bases with custom fronts.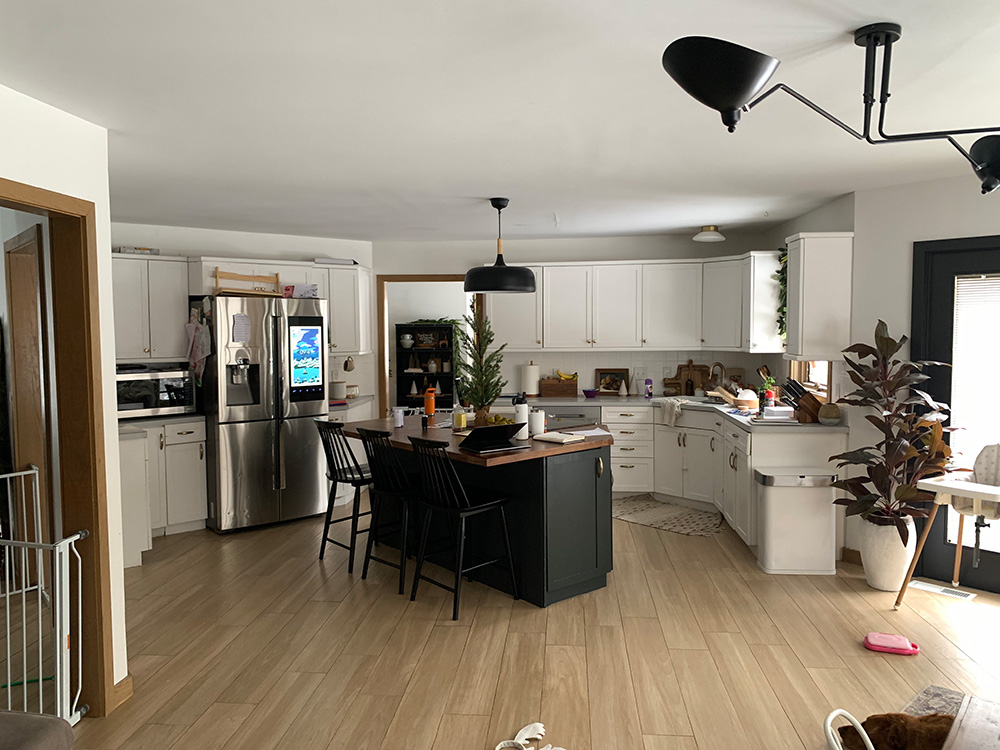 While IKEA can be a great option for some, we ultimately decided to go the custom route. We want this kitchen to last and I had some pretty unique ideas that we knew couldn't be executed if we went with IKEA. So I hopped on instagram and polled my followers for recommendations on local custom cabinet makers.
We got quotes from two different people, but ended up going with Ben from Haug Cabinetry & Design because of his availability and confidence in bringing my ideas to life (particularly the island). We didn't plan to start as soon as we did, but he had an opening and we didn't want to pass it up – so we got started!
THE KITCHEN PLANS
I worked closely with Ben on the designs and he presented us with computer renderings of the space. I am such a visual person that it was 100% necessary for me to see everything laid out like this. I'm great with Photoshop but 3D renderings are still something I need to work on!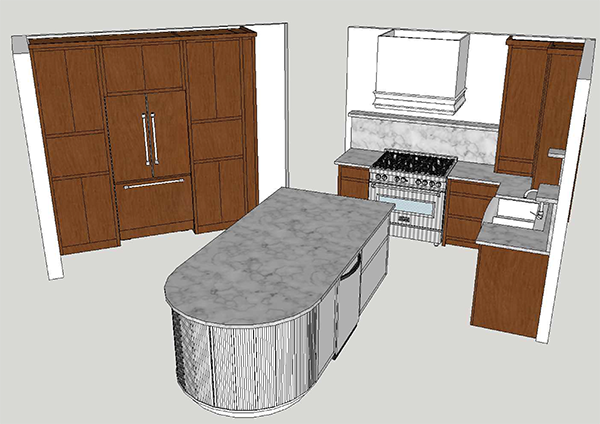 Once we had this layout finalized, I took Ben's drawings and brought them into Photoshop to add finishes and colors. From here, I was able to start narrowing down some design decisions and start ordering some products!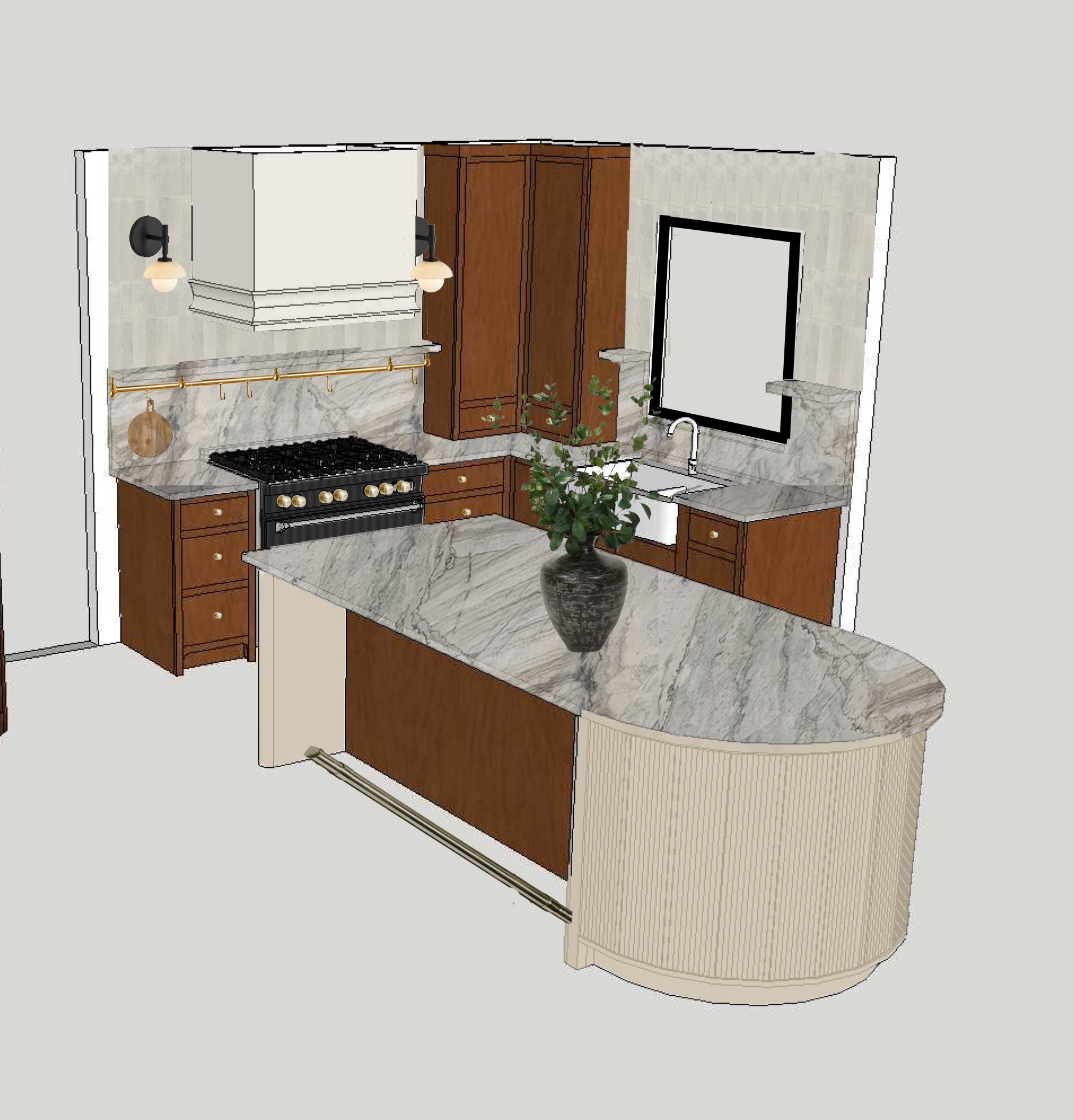 It was a long process – we started demo in early March and finally finished in early August. I agonized over every single detail in this space and wanted to create a kitchen that blended with the rest of our home and felt like it had always been there. I didn't want it to feel brand new, but lived in and loved. And I think I accomplished that 🙂 Now let's get to all the details!
OUR MODERN EUROPEAN INSPIRED KITCHEN
WHY WE CHOSE STAINED WOOD KITCHEN CABINETS
Let's start with the cabinetry! Pretty much from the start I knew I wanted stained kitchen cabinets. We have original oak trim in our home that is a lighter color, so I've always designed with darker wood furniture to balance it out. It brings in so much warmth and I knew I wanted to bring that feeling into our kitchen.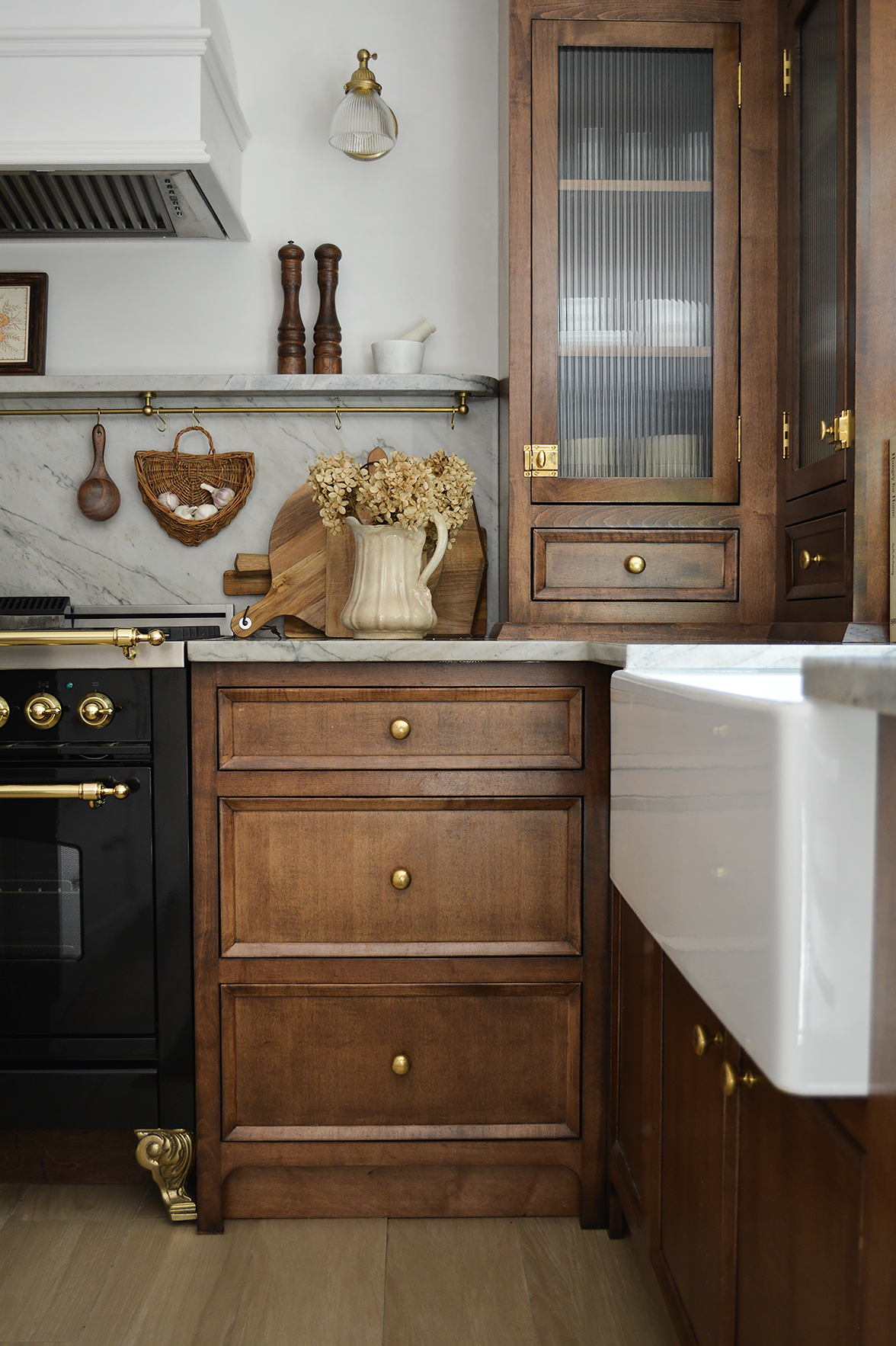 THE WOOD CABINET DESIGN
Wood prices were starting to come down a bit when Ben began, but they were still higher than normal. He ended up using a hard white maple plywood in a slip matched pattern. The pattern is important because it gives you that clean, linear look without a lot of movement. Some people may like the look of a wood with a busier grain but this style was a better match for me and my more modern taste.
The design of the cabinet fronts was inspired by Jean Stoffer Home. She shared a photo of a new line of cabinetry on her instagram stories and I immediately knew that was what I wanted. It's simple and clean and can honestly be used in any style home.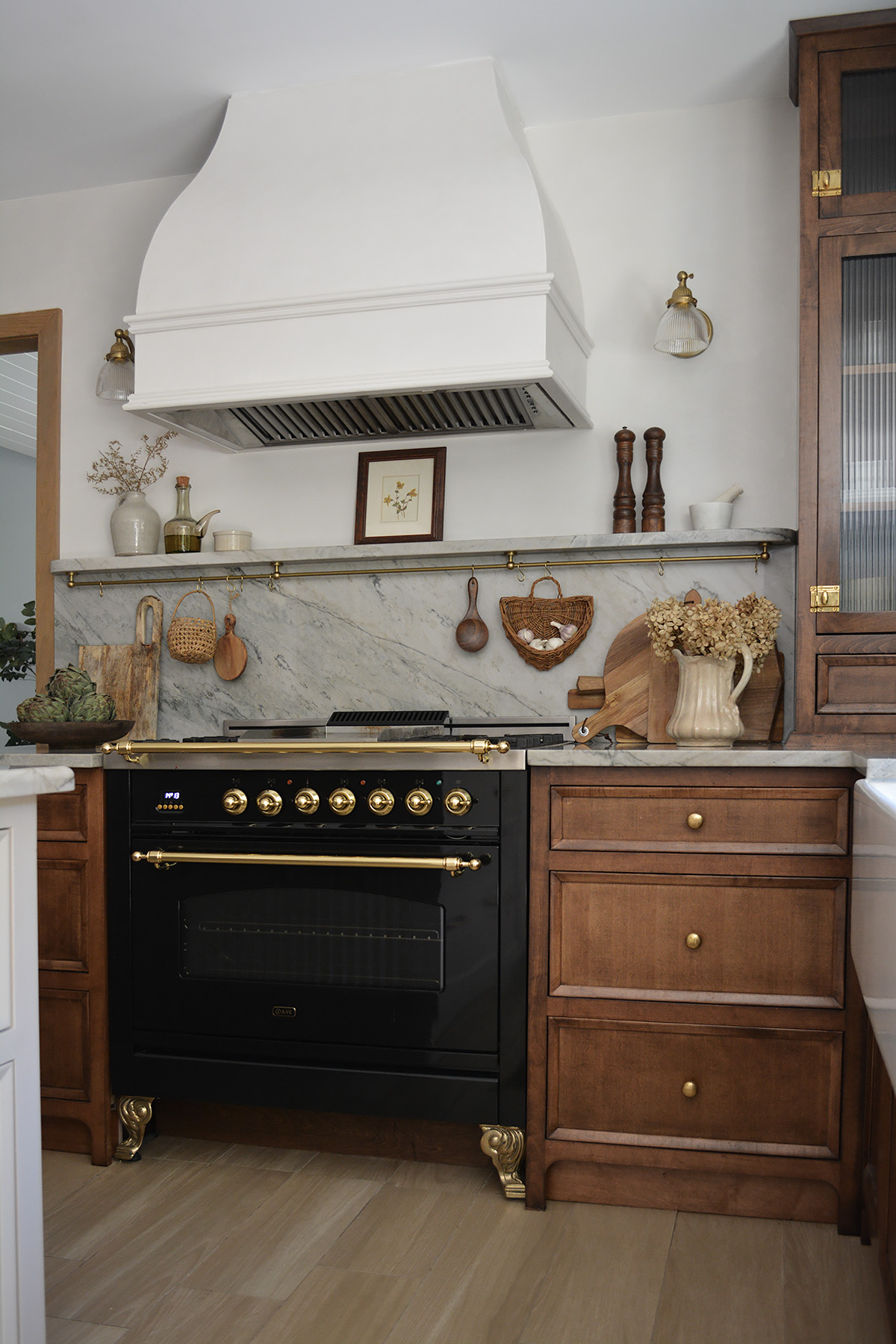 THE WOOD CABINET COLOR : DARK WALNUT
If you've been following me for a while you know I have a favorite stain for my projects and that's what I used for our wood kitchen cabinets. Dark Walnut Gel Stain from Varathane. It's important that it's the gel stain because the regular stain gives you a different color. It's the most perfect warm, rich color and it looks so gorgeous on the white maple. Ben sprayed them with a lacquer and they have been SO easy to clean. I usually just use a baby wipe or wet paper towel and they look good as new!
The architecture of our home is very modern and contemporary and I like to honor that style, but lately I've been adding in some more traditional designs to soften all the hard edges and angles. We used a simple crown moulding around the tops of the cabinets that mimics the design on the fronts.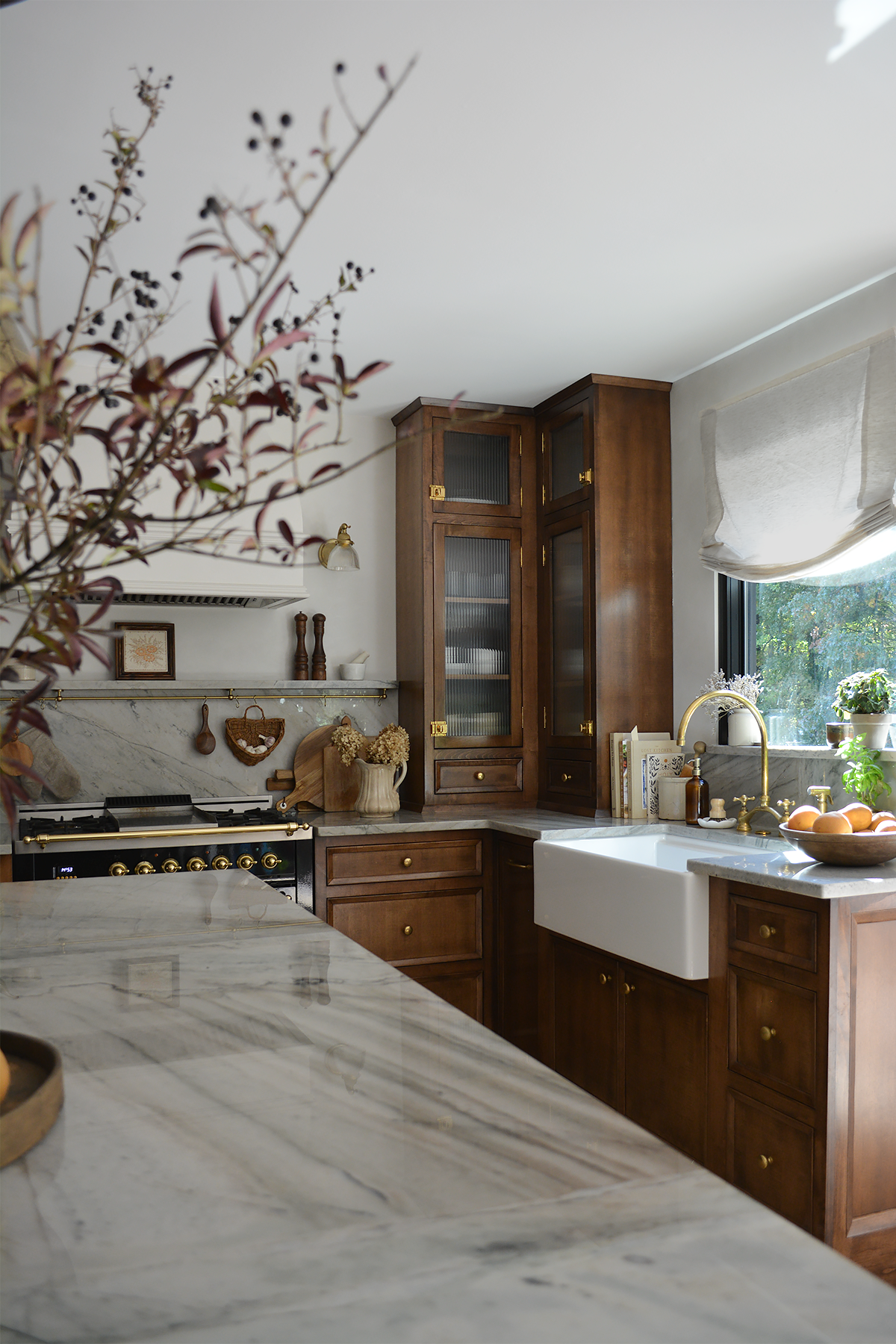 Another fun little detail is the arched toe kicks. It's a great way to make your cabinets feel more like a piece of furniture and very custom. Although you can definitely add DIY decorative toe kicks like Jenna Sue did.
COUNTERTOP WOOD CABINET WITH REEDED GLASS DOORS
This countertop corner cabinet is all thanks to my friend Whittney Parkinson. I was stumped on what to do in this corner amongst some other things, and decided to schedule a chat with her on The Expert. Whittney is an amazing interior designer who's style I've admired for a while and I knew the call would be well worth it for the knowledge she could provide. And she did not disappoint!
Our call was only an hour but as we were on the phone, she quickly drew up plans for this little cabinet to show me her idea. I already knew I wanted some sort of cabinet here but couldn't figure out the right layout/style. I'll be honest I loved her idea but was a little hesitant that it was going to take up too much space and remove some much needed counter space.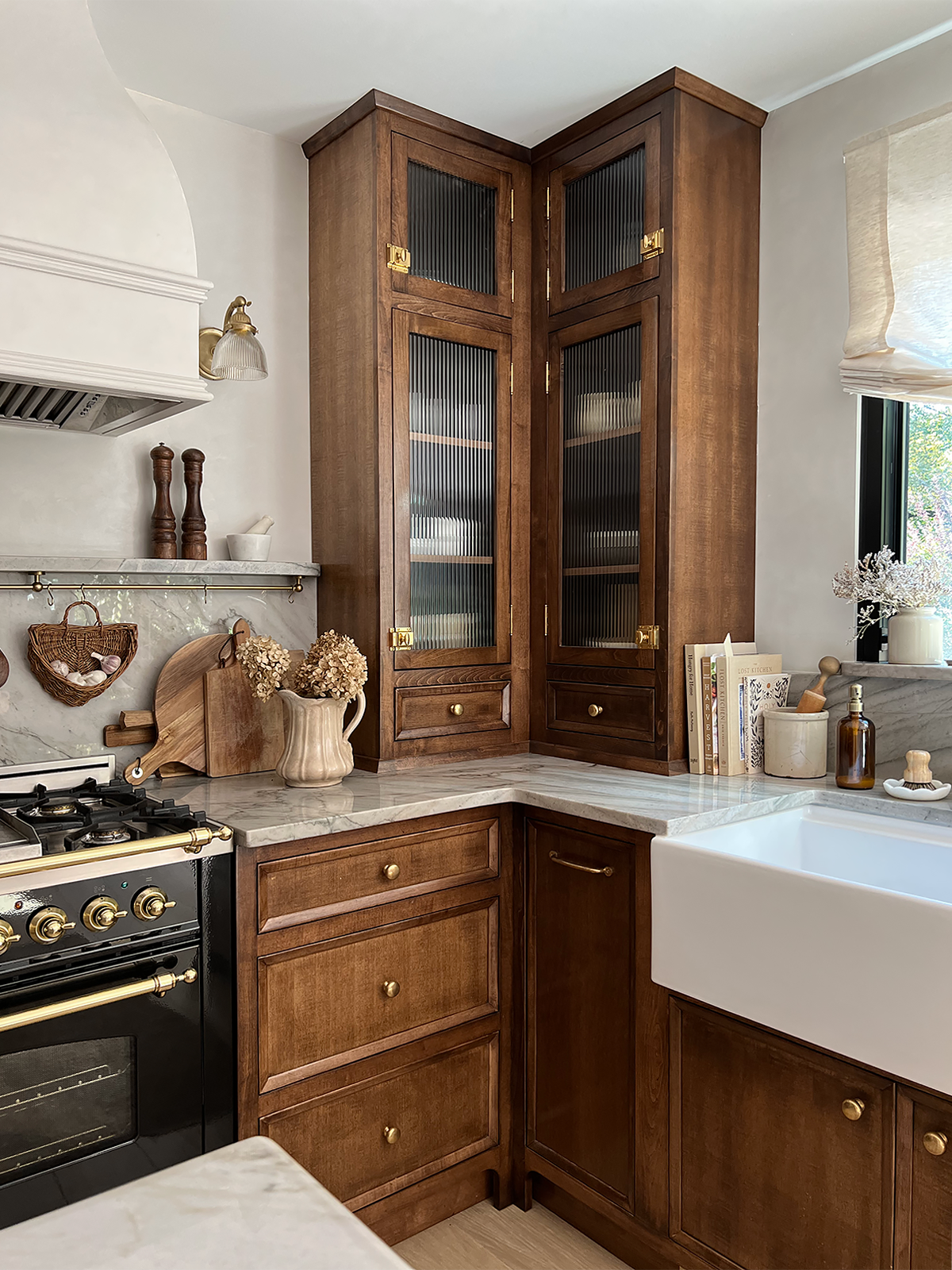 Well, she's good for a reason and she totally knew what she was doing because this cabinet is now MY FAVORITE and I can't imagine anything else there. Having it be on two walls instead of just one totally makes it feel more built in and intentional. We keep our everyday glassware here, as well as extra plates and bowls. And in the two little drawers we keep vitamins and medicine!
REEDED GLASS IN COUNTERTOP CABINET
The glass I ordered online from One Day Glass and it came super fast and is really great quality. Here are the details of what to order to get this look:
tempered glass
thickness of 5/32″
Tint: narrow reed
Edgework: seamed edge
CURVED KITCHEN ISLAND WITH FLUTING
The pièce de résistance! This island is something I dreamed up in my head and planned out every single detail. It's a beast and I love it! Such a huge change from our previous island which was such a weird shape and I didn't love having the oven in the middle of it. Because our kitchen has so many weird angles, I struggled with how to position this piece but decided that having it align with our flooring was the best way to go. And we basically made it as long as we could without feeling like it was creeping into the playroom too much.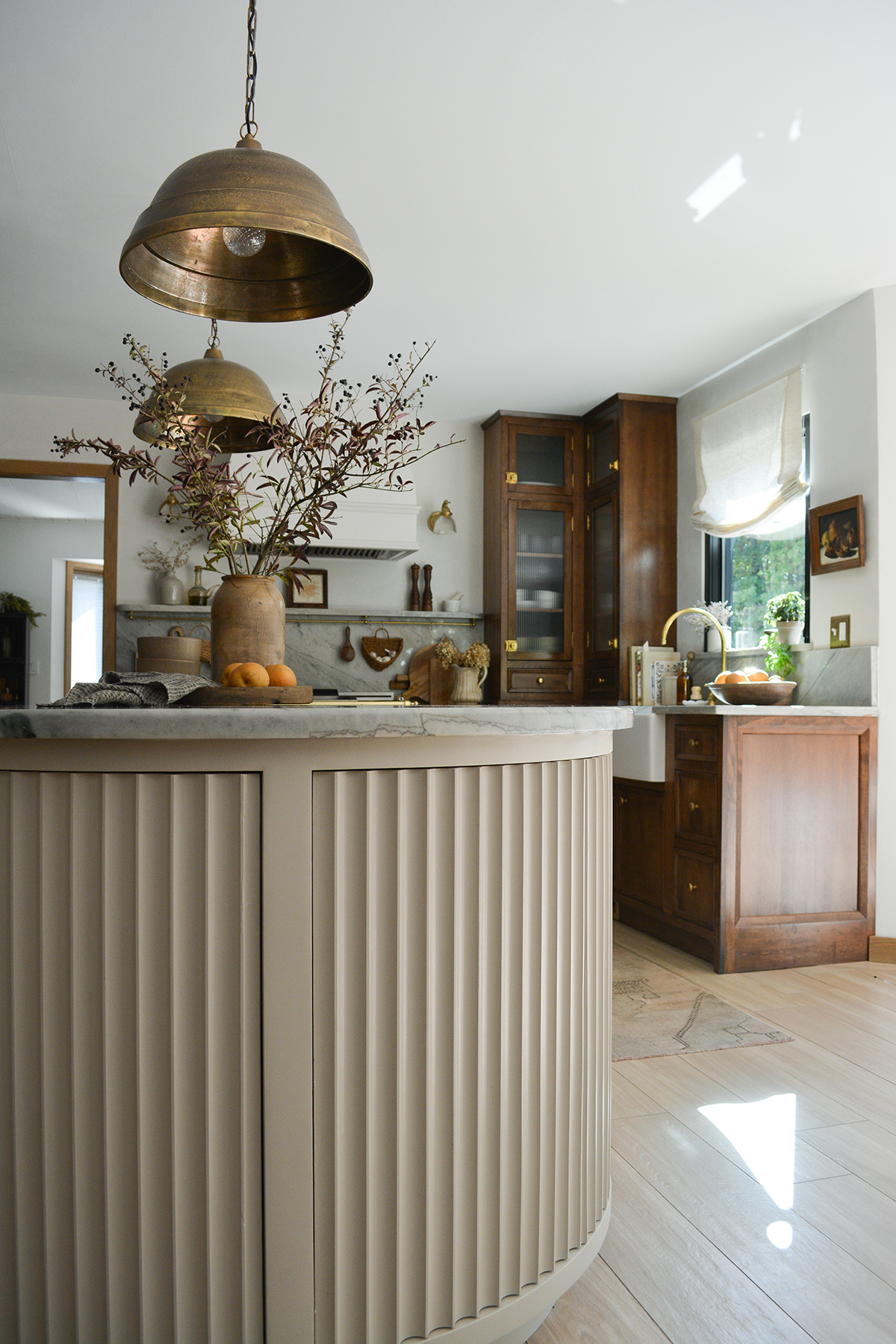 As for the curve, this was a design element I started seeing pop up on Pinterest when I started doing some research for inspo. Fluted wood islands are so stunning and make such a statement. I had no idea if whoever we chose to build our cabinets would be able to do it but once I got it stuck in my head, I couldn't get it out.
Thankfully Ben assured me that he would be able to bring my vision to life and together we brainstormed how the doors would function. If the island was going to be this big, I still wanted to have some storage space in there and not have the fluting just be a pretty detail. So he suggested having four doors total, two on each side, opening on a push mechanism. This created the seamless look I wanted and also gave me ample storage for all our small appliances. It was a win win.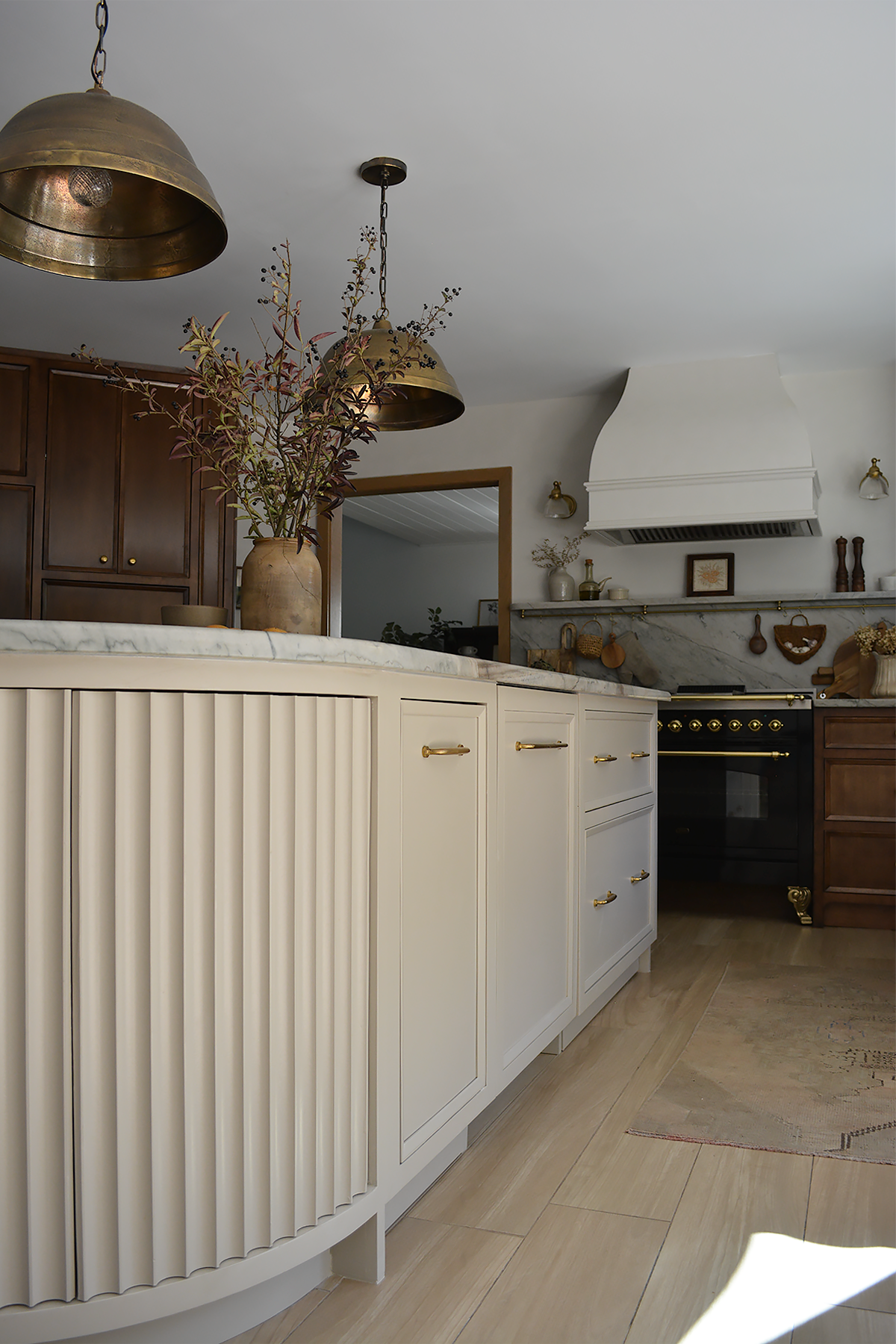 On the other side of our island we were able to put our garbage can pull out drawer, dishwasher and large drawers for plates, dishes and pots and pans. I'll be sharing a more detailed look at how those drawers operate and what's inside them soon!
On the back side of the island I decided to add in some more warmth with another layer of stained wood. Ben added some paneling and moulding to mimic the look of the cabinets and tie it all together.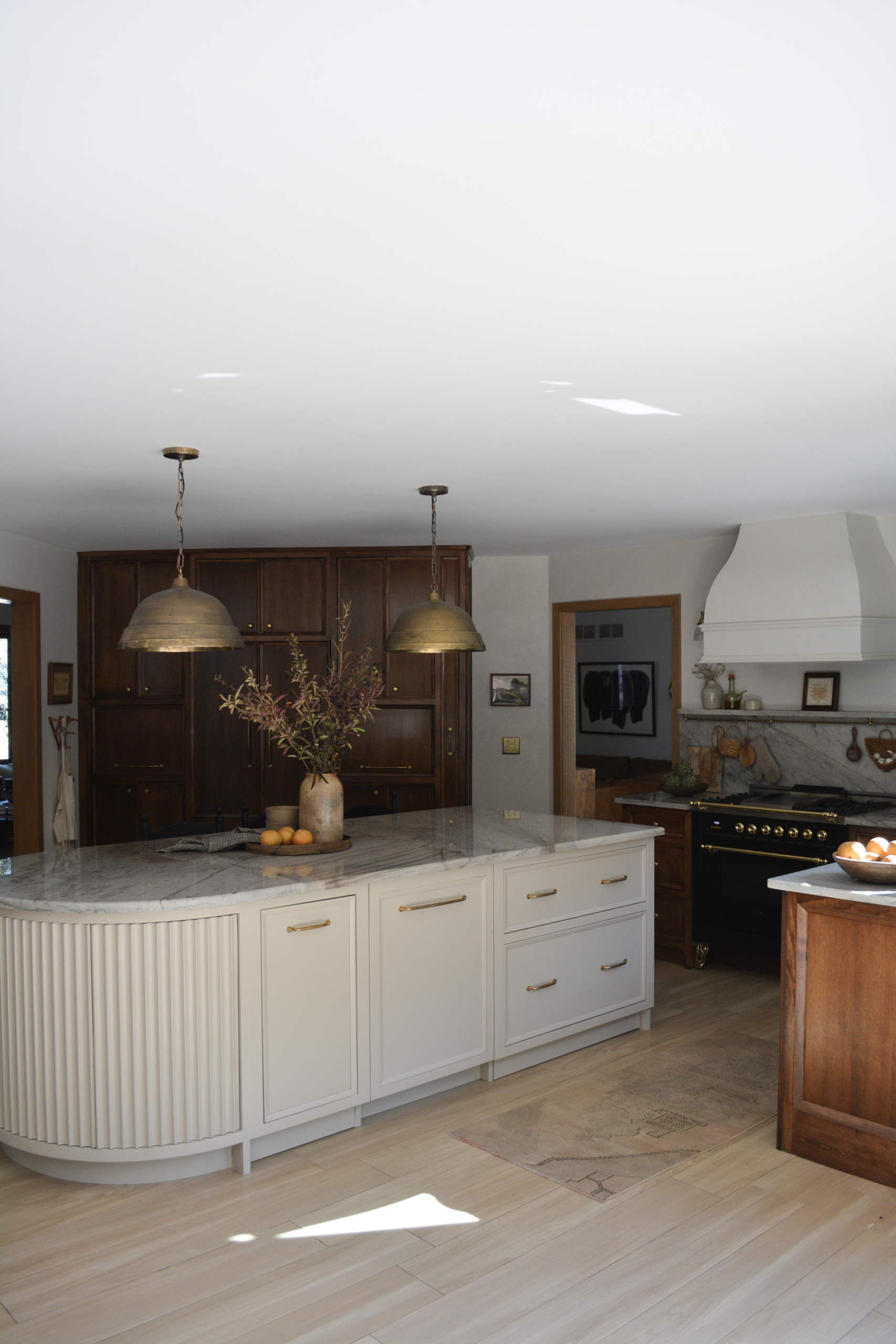 I have a lot of favorite parts of this kitchen but another element I love is the brass foot rail. This was also something I saw on Pinterest and immediately fell in love with it. It's more often seen in bars but it started popping up in kitchens more and more and I think it's such a fun detail! It adds to the warm and welcome feel of the space and to me, makes it feel like you want to just sit down at the island with a drink in hand and spend hours deep in conversation with a good friend. I hope it makes others feel that way too 🙂
QUARTZITE COUNTERTOPS
My hunt for countertops was thankfully not too long and I feel like I struck the lottery with these gorgeous Sea Pearl Quartzite counters! I planned a day to drive about an hour away where there were a handful of distributors and the first place I went was United Stones International.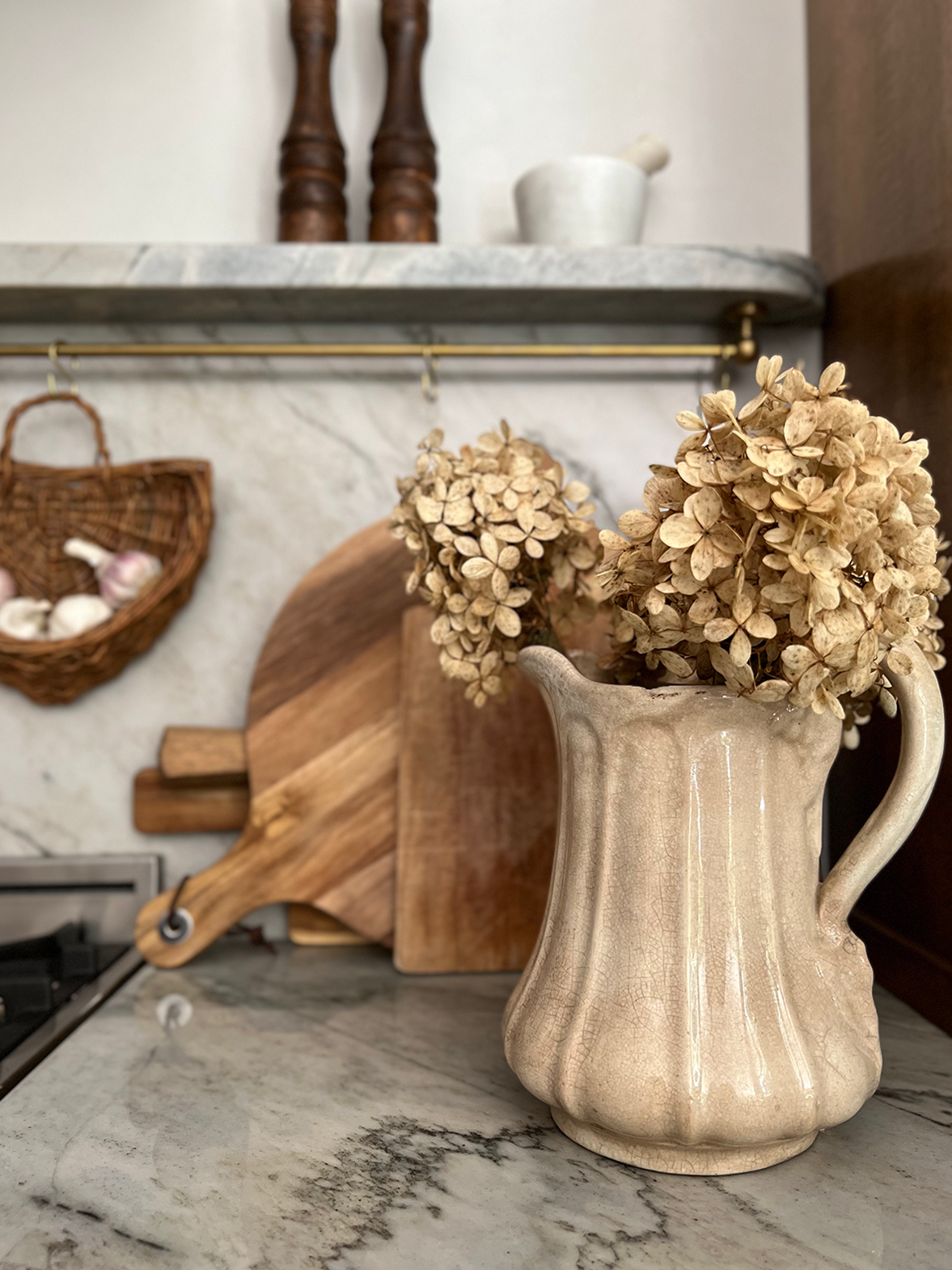 Right when I walked into the showroom I was immediately drawn to a slab and as I got closer realized it was a Category D. If you know anything about countertop shopping, then you know they use categories to break down the cost. Typically the farther down the alphabet you get, the more expensive. So I figured a D was a pretty good deal. But it was my first stop and I wanted to keep my options open.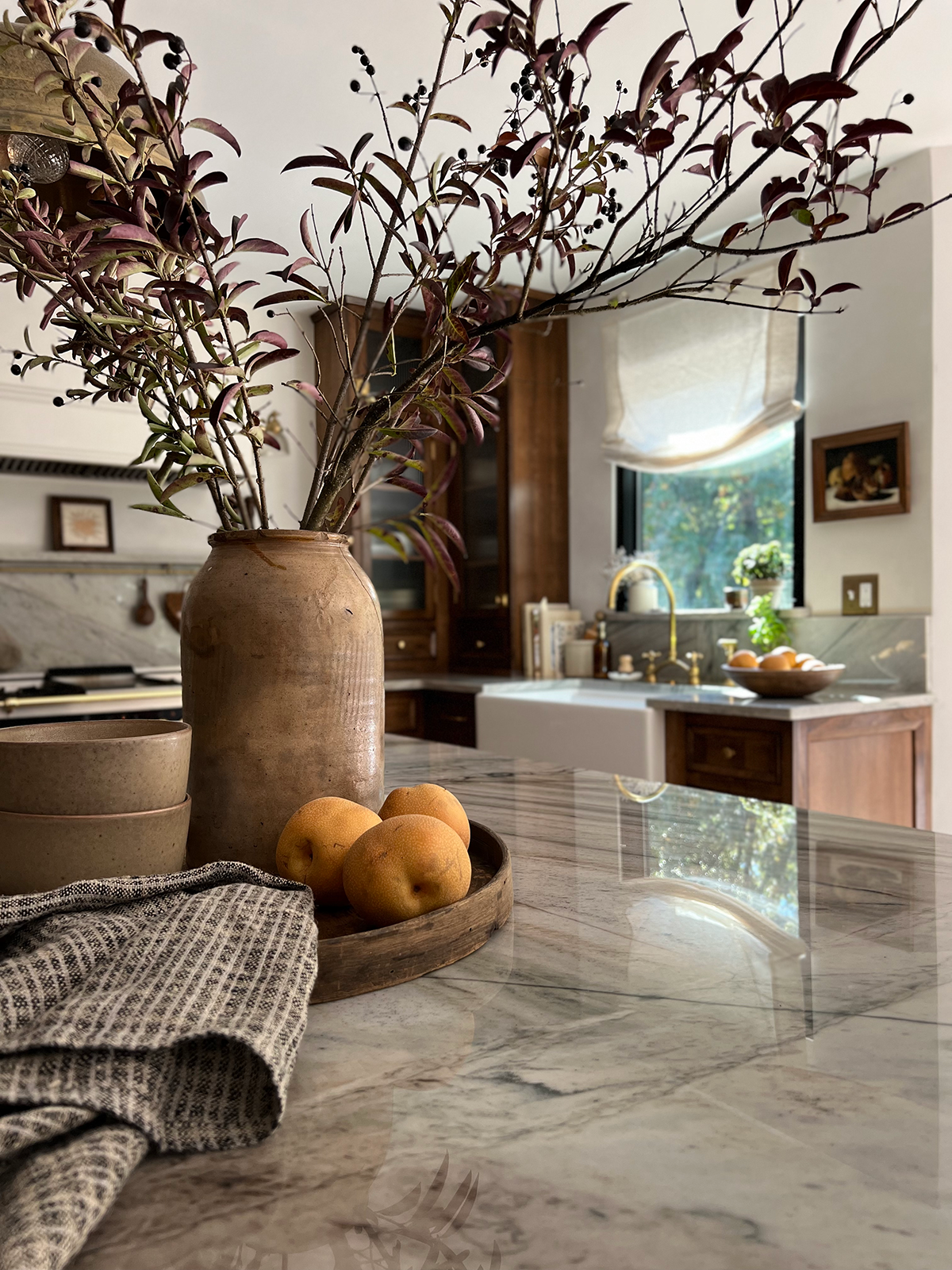 I went to a bunch of more stops thinking I would see lots more Ds that I liked. Nope. Everything I loved everywhere else was much farther down the alphabet. As soon as I realized this, I quickly called back to my first stop and had them put a hold on my slab. I had to drive back another day to pick out a second slab and placed my order.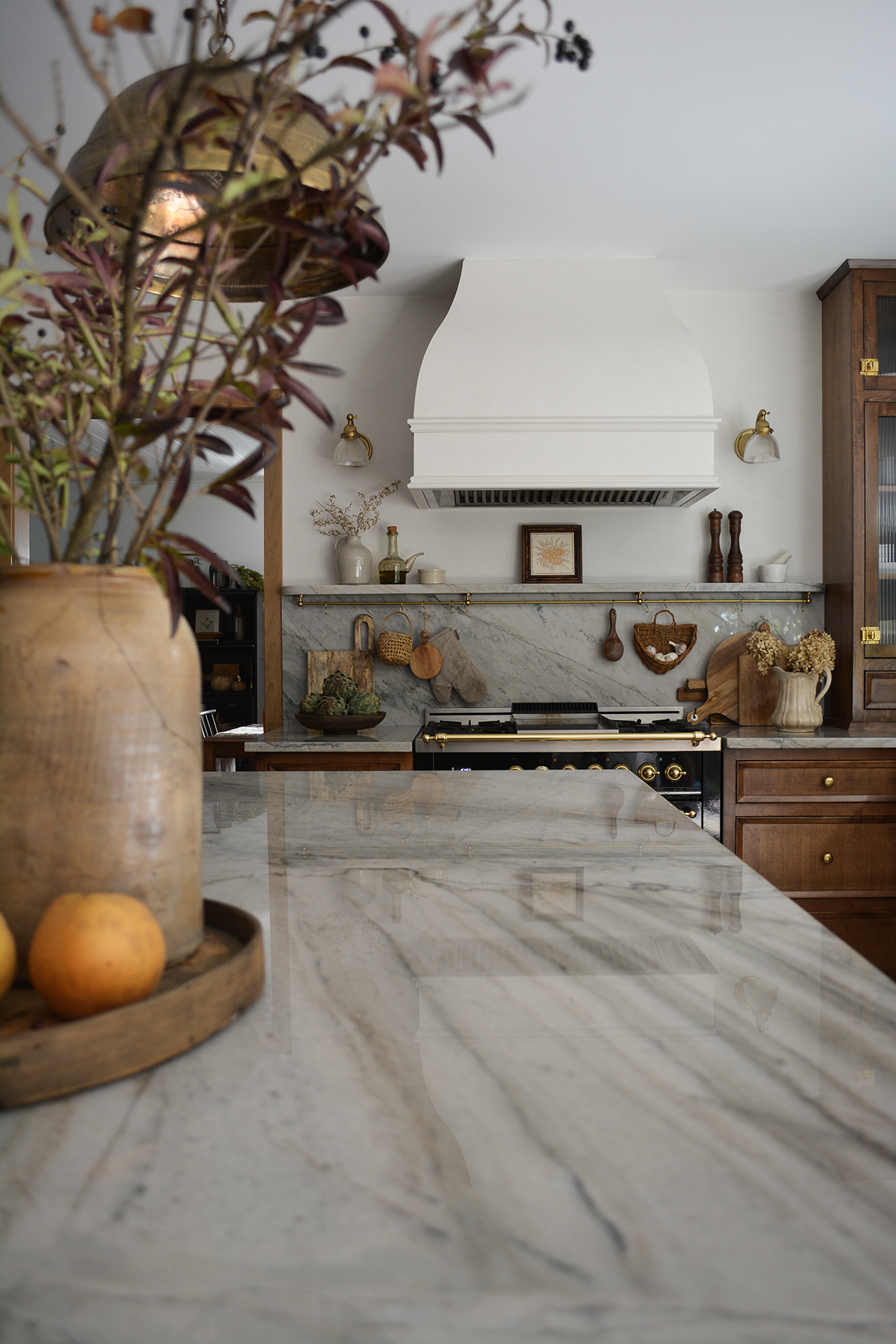 We had them fabricated by Battista Granite who did a great job! Minus pre-drilling our faucet hole in the center without asking, when our faucet was in fact a bridge faucet and needed two holes. But in the long run, it ended up being the best mistake ever because I filled that hole with a beautiful garbage disposal button and I LOVE IT.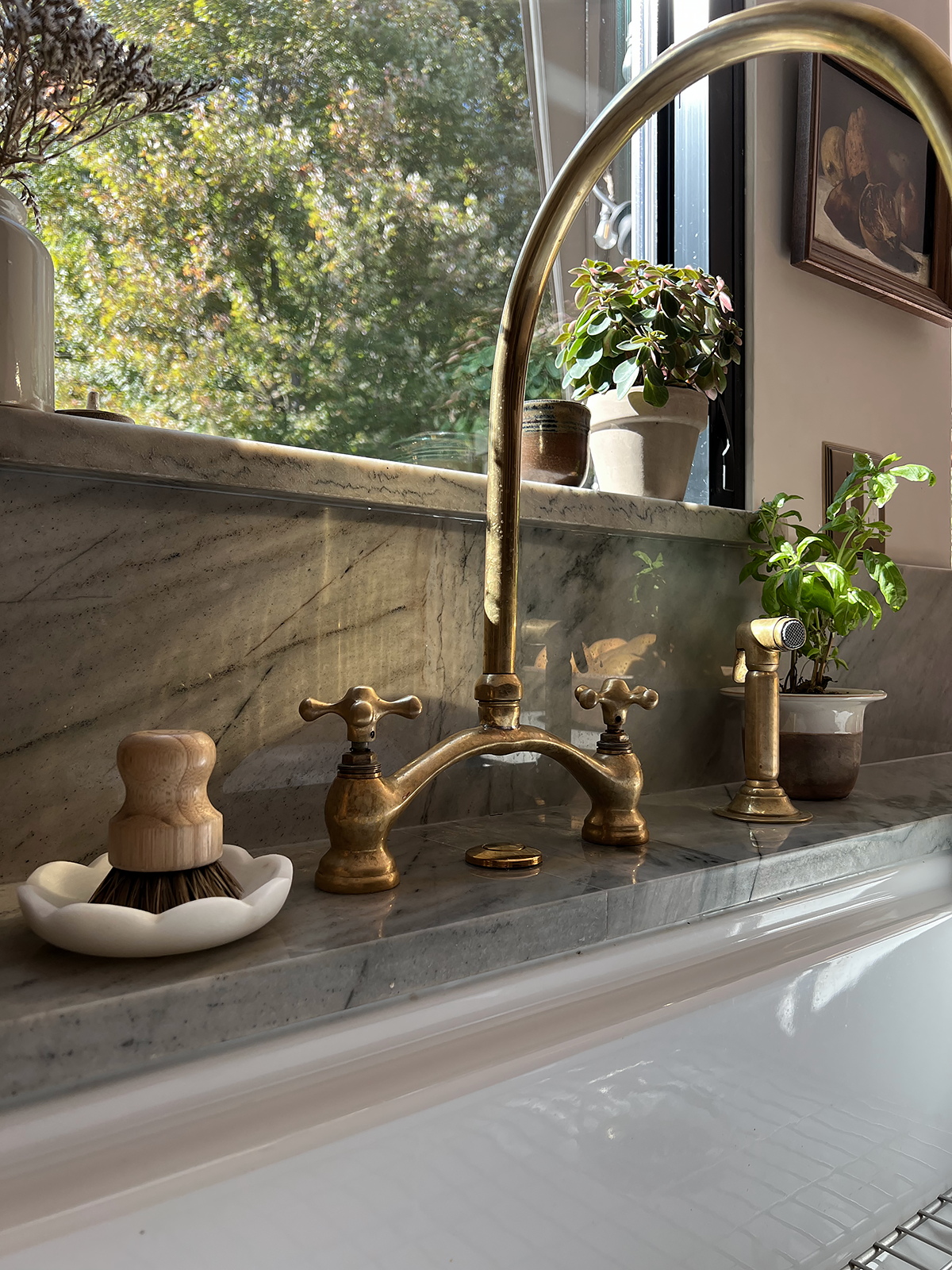 They also cut and installed the quartzite ledge on the window sill and the shelf above the full height backsplash behind the stove. How good is that curve?!
I kept my options open from the beginning but Sea Pearl Quartzite was the clear winner. You can't beat the beauty of a natural stone! Battista sealed them with their own spray and literally nothing stains them. It's amazing!
INTEGRATED KITCHEN APPLIANCES AND PANTRY CABINETS
ILVE GAS RANGE
Hidden kitchen appliances were a must have for me. The only appliance I wanted visible was our gorgeous Ilve Dual Fuel Gas Range which I'll be sharing a full review on soon. I'll share a quick breakdown of it here for you! We previously had an electric stove with a glass cooktop which was not my favorite. It cooked fine but I feel like the burners took forever to heat up and cleaning the glass every time we used it got to be really annoying.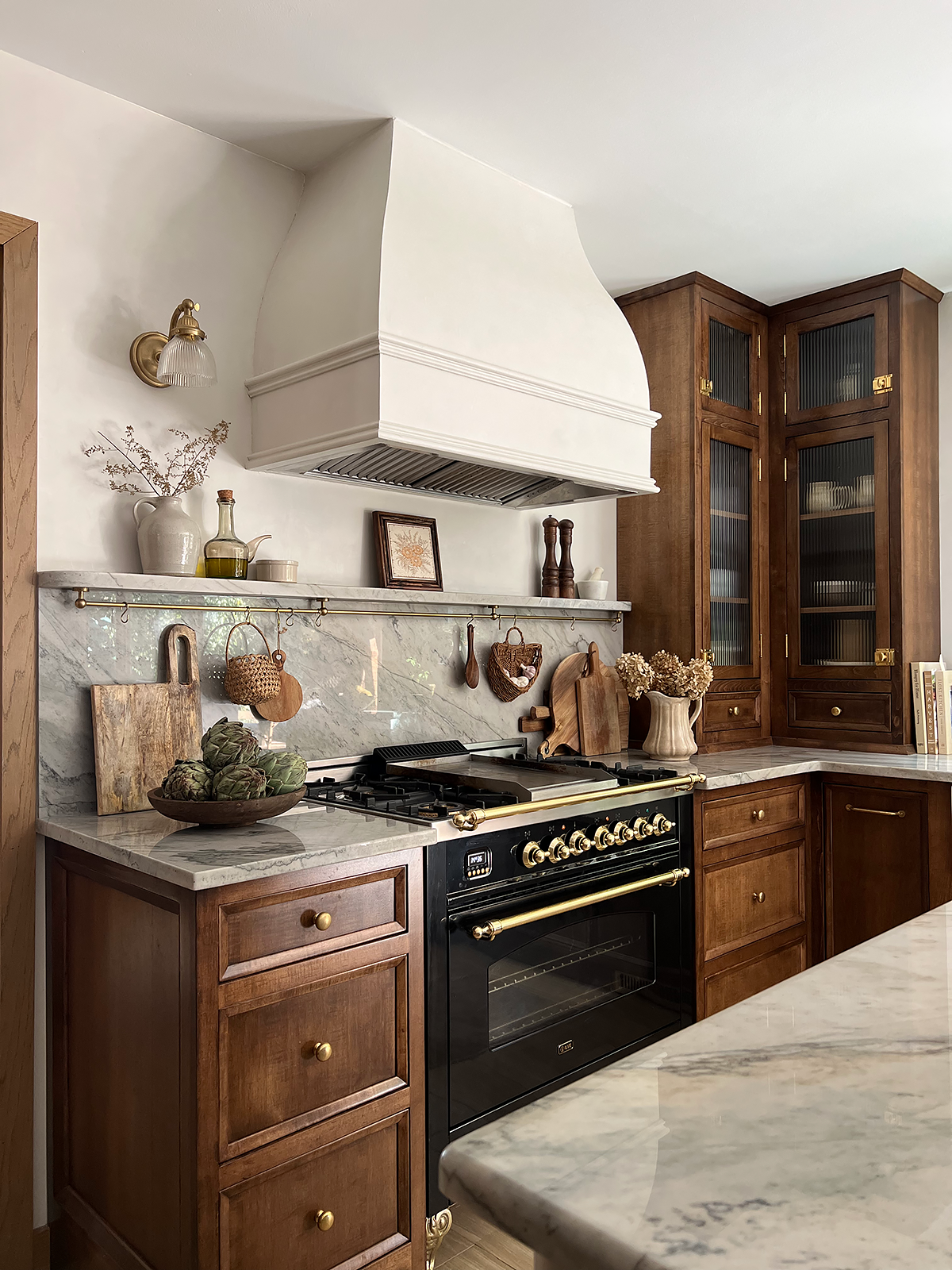 I did my research and Ilve kept popping up as a top choice. Not only are they gorgeous but customers raved about how well they performed in the kitchen. And to my surprise, the style we wanted was actually available to ship and would arrive within a few weeks! Or so we thought. While it did in fact ship from Italy, when it got to the warehouse for inspection in the states, it was damaged and listed as not repairable. Womp. So we had to get a new one ordered and by that time, our model was out of stock. So we joined the many who were hopelessly waiting and waiting for their appliances to arrive only to have the arrival date keep getting pushed back.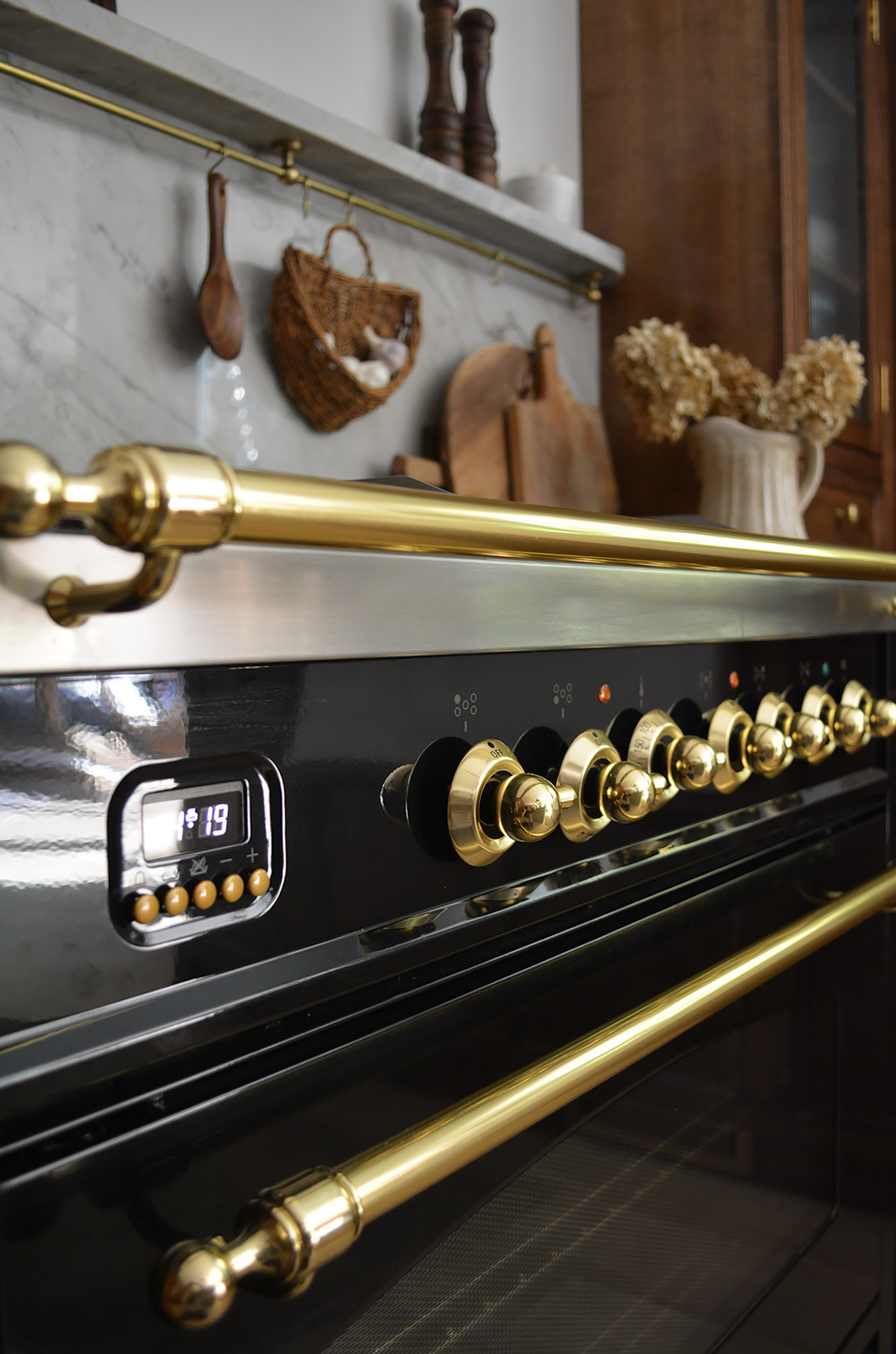 After lots of adjusted delivery dates, we finally received it in late July and it felt like adding the missing piece of a puzzle. Our kitchen felt complete with it in place and we've been happy with how it cooks as well!
FISHER & PAYKEL INTEGRATED REFRIGERATOR
If you've ever researched integrated refrigerators then you know they can cost you an arm and a leg. I felt it silly to spend more on a fridge than we did on our countertops so when I came across the Fisher & Paykel Integrated Refrigerator through a google search for a fraction of what the others were costing, I hoped it would be the perfect fit for us.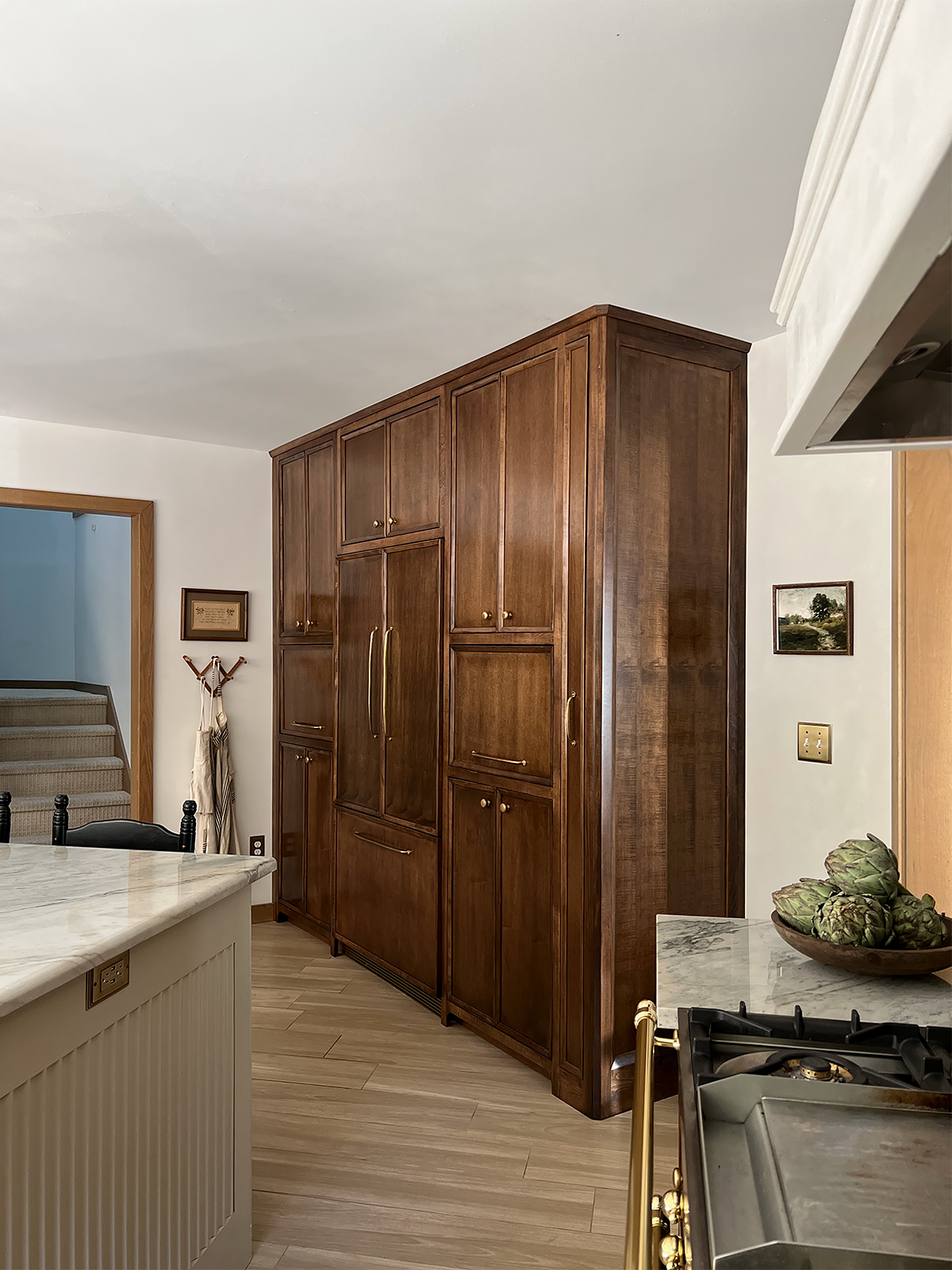 I had never heard of Fisher & Paykel so I was a little hesitant at first but after doing some quick googling, the reviews spoke for themselves. We also have a good family friend who in the appliance business that I ended up ordering ours though, and he assured me they were a respectable and quality brand. Ben built custom fronts that easily attached and help the fridge look like it's just another part of our beautiful wood kitchen cabinets.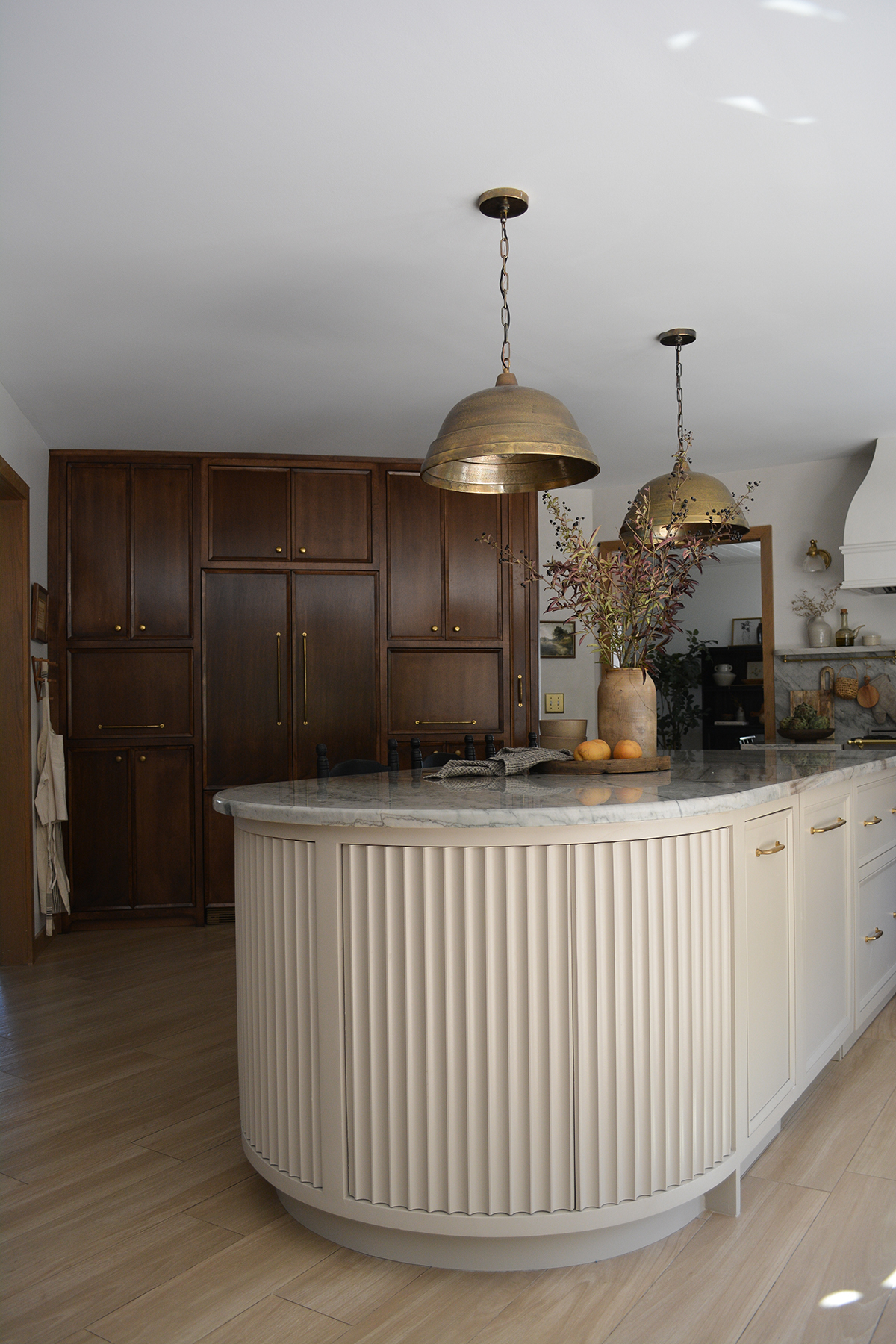 The profile of this fridge is a little smaller because it's counter depth so it can be flush with the rest of the cabinets. It's not as deep as we were used to but it's been an easy adjustment. My FIL also has a fridge down in the basement that we can use for overflow or when we host large gatherings. Overall, we haven't had any issues and totally recommend this fridge!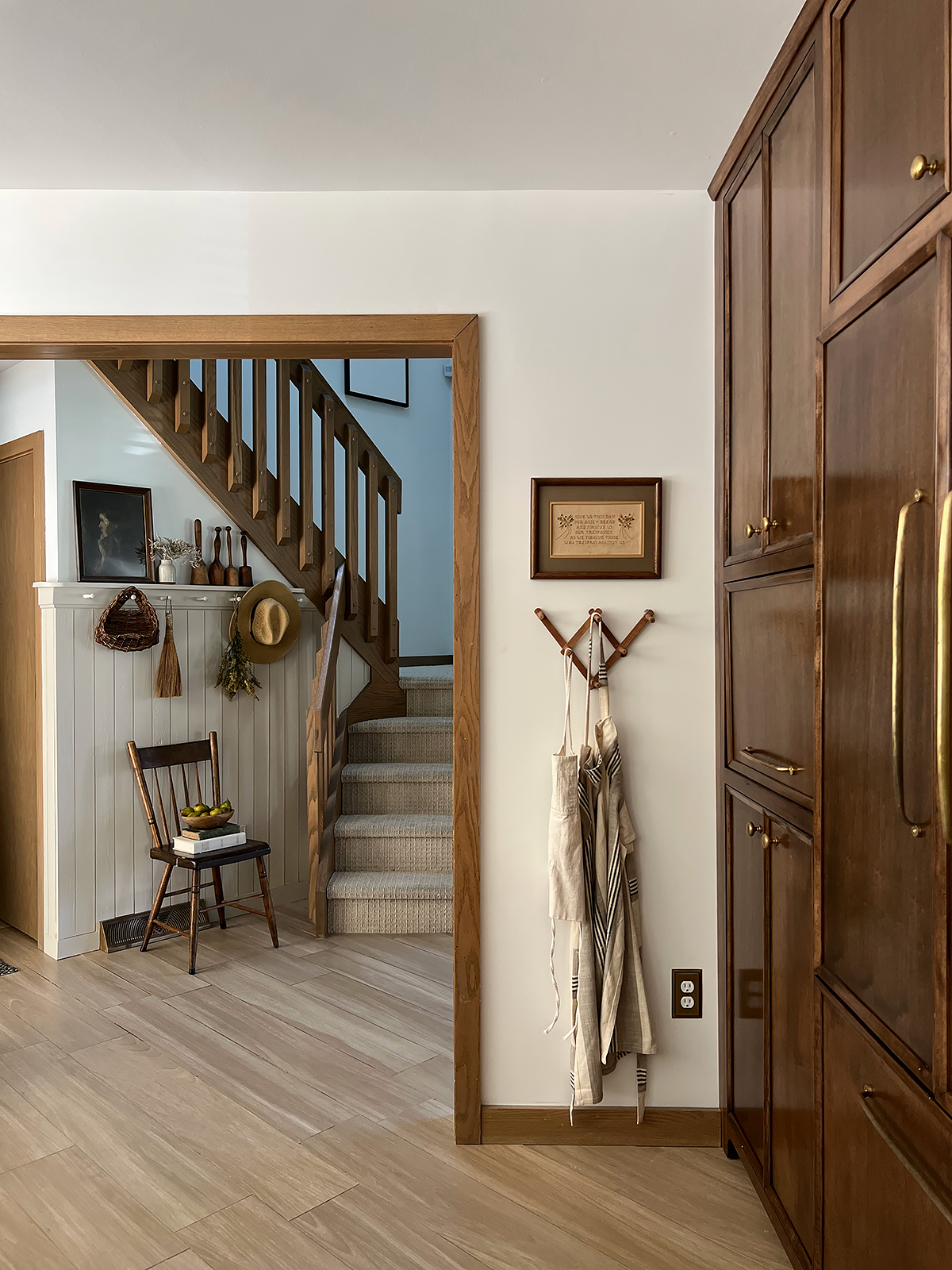 TALL PANTRY CABINETS
This is also the hub of our storage. Since we don't have a pantry I wanted to take advantage of this wall and create tall pantry cabinets with ample storage space. This is where our toaster, microwave and coffee maker live, along with lots of pull out drawers and shelves for storing all the things. If you want to take a look inside check out my small hidden appliance storage post.
FISHER & PAYKEL INTEGRATED DISHWASHER
We decided to stay with the same brand for our dishwasher and went with the Fisher & Paykel integrated Dishwasher and haven't had any issues here either. Again, Ben built a custom front for it and it seamlessly blends into the rest of the cabinetry.
UNLACQUERED BRASS HARDWARE
Hardware is like the jewelry of the kitchen and I pretty much knew from the start that I'd be using brass. It just pairs so beautifully with our wood stained kitchen cabinets and is a timeless combination. The reason I chose unlacquered brass instead of polished brass is because of the way it patinas over time. It's a raw brass so it will age naturally and it darkens to give it a more used look. To some, it might seem silly to use unlacquered brass and if you always want your hardware looking bright and shiny then it's definitely not the option for you.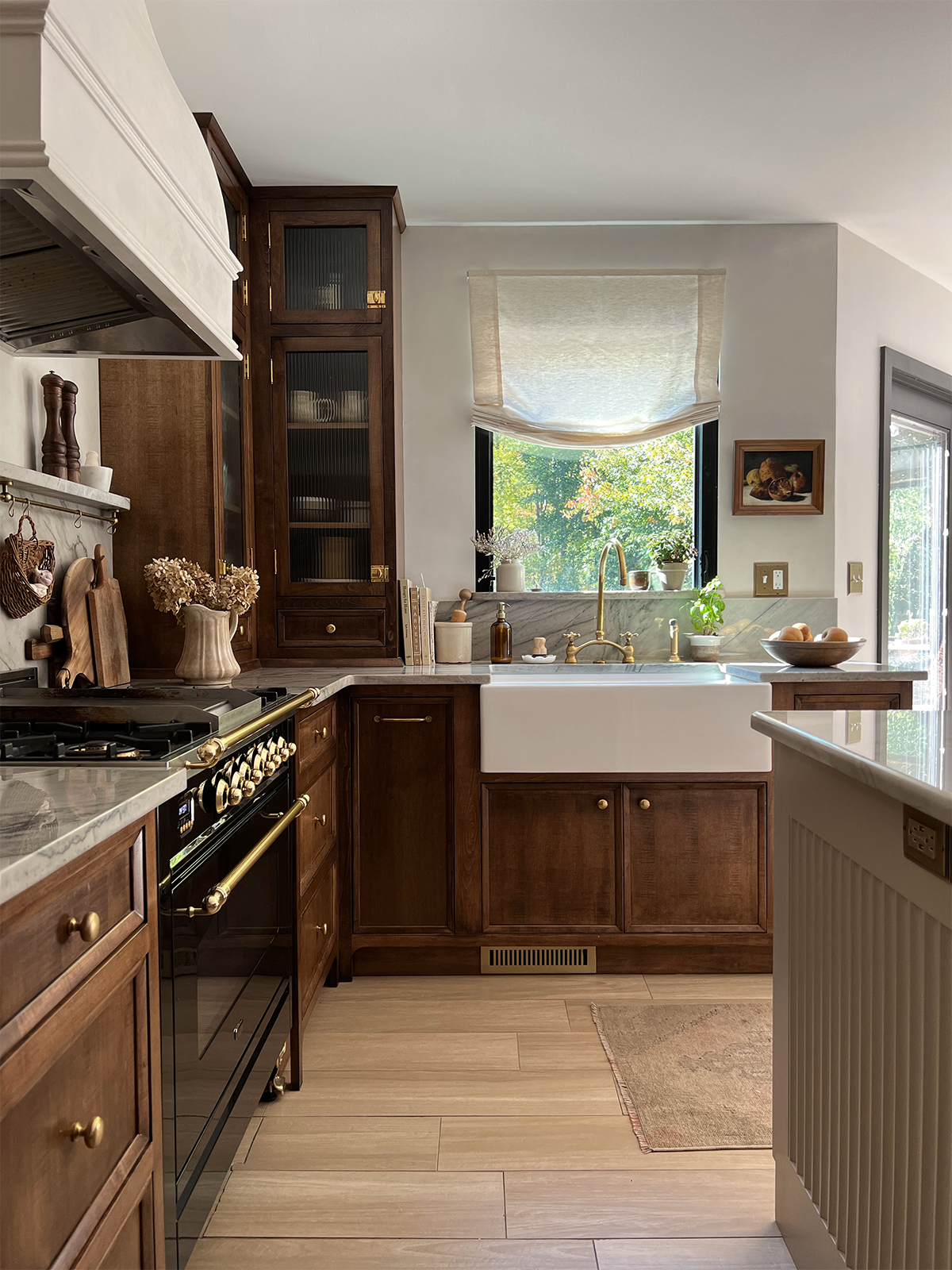 But to me, it's just another way to add character and a lived in feel to our kitchen. Like I mentioned before, I didn't want our kitchen to feel brand new and using finishes like this help make it feel like it's been here all along.
The hardware is the Massey collection from Rejuvenation and is definitely a bit of an investment but it's something I will never change or get tired of. It's classic and timeless and adds another element of warmth to this space. All the appliance pulls are from this collection as well in the same finish.
PLASTER HOOD
I shard this process on instagram but I had originally wanted to DIY our hood. And then Hoodsly reached out to me and after seeing their gorgeous hoods, I knew we would never come close to creating something as beautiful. Plus I really wanted curves, and those aren't the easiest to DIY. We decided on their Bell hood with classic trim which added another subtle traditional element. You can customize your hood to come in a variety of finishes and I chose to have mine delivered raw so I could apply Roman Clay.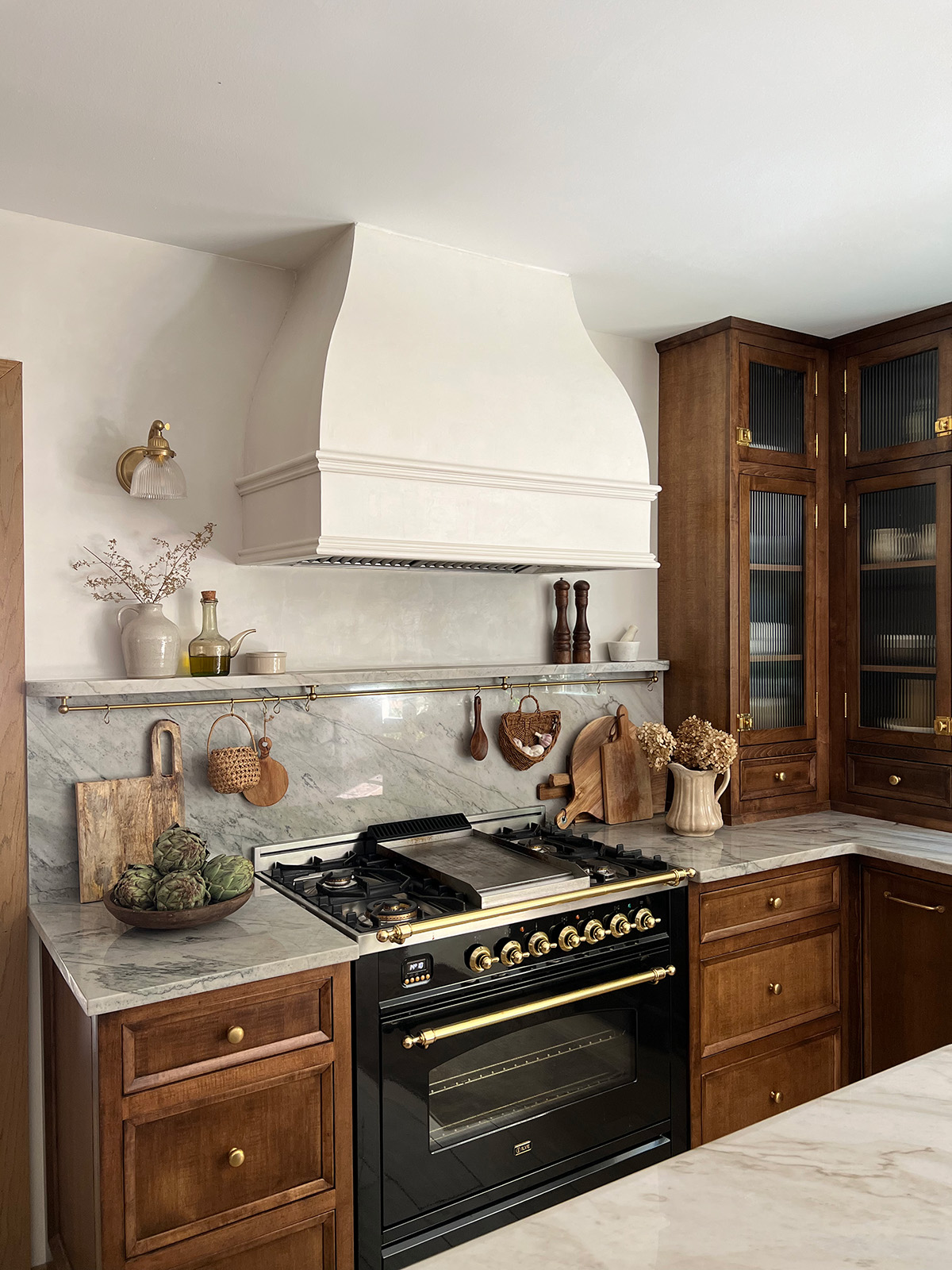 I've used roman clay a handful of times before, in the kids bathroom, and on the fireplace in the playroom which is connected to the kitchen. I wanted to tie the two together, so I used the same color, full circle. Roman clay gives you a beautiful smooth finish that resembles old world plaster, but is much easier to apply.
ROMAN CLAY WALLS
I went back and forth with what type of wall treatment I wanted in our kitchen for a while. The obvious choice was tile, but after ordering lots of samples I just did't find any that I loved and felt right. So I opted for the same Roman Clay application I used on the hood. It's subtle but adds another layer of depth and character.
COUNTER STOOLS
As I write this blog post I'm in the middle of refinishing my dream kitchen counter stools, but before I found them I settled on these cutie little stools from Facebook Marketplace that I also updated. I spray painted them black and they've been great placeholders for now. But they aren't the comfiest or sturdiest for the kids so I can't wait to replace them with my new ones. Stay tuned!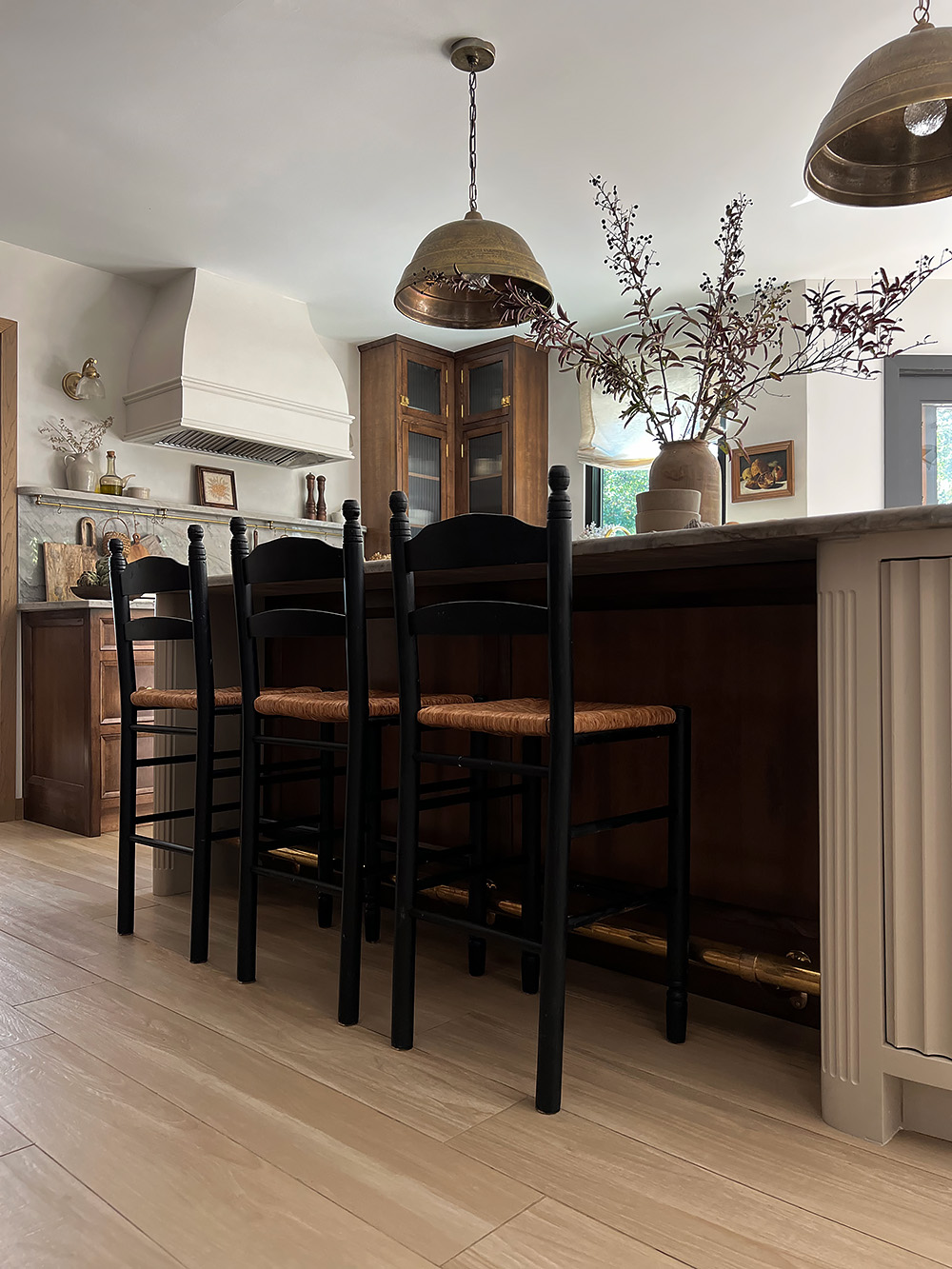 LIGHTING
BEADED GLASS SCONCES
If there's one major take away from our kitchen remodel it's not to settle for something you don't love. I experienced this not once but twice with the lighting in our kitchen. Early on, I chose pendants and sconces and had them delivered. I loved how they looked in the box but when it got to be time to install them they just didn't feel right. Especially the sconces. I changed these first and I'm so glad I did! I searched and searched until I found these gorgeous beaded glass sconces from Lightwork Design Co. on etsy. The craftsmanship is outstanding and I love knowing that I'm supporting a small business.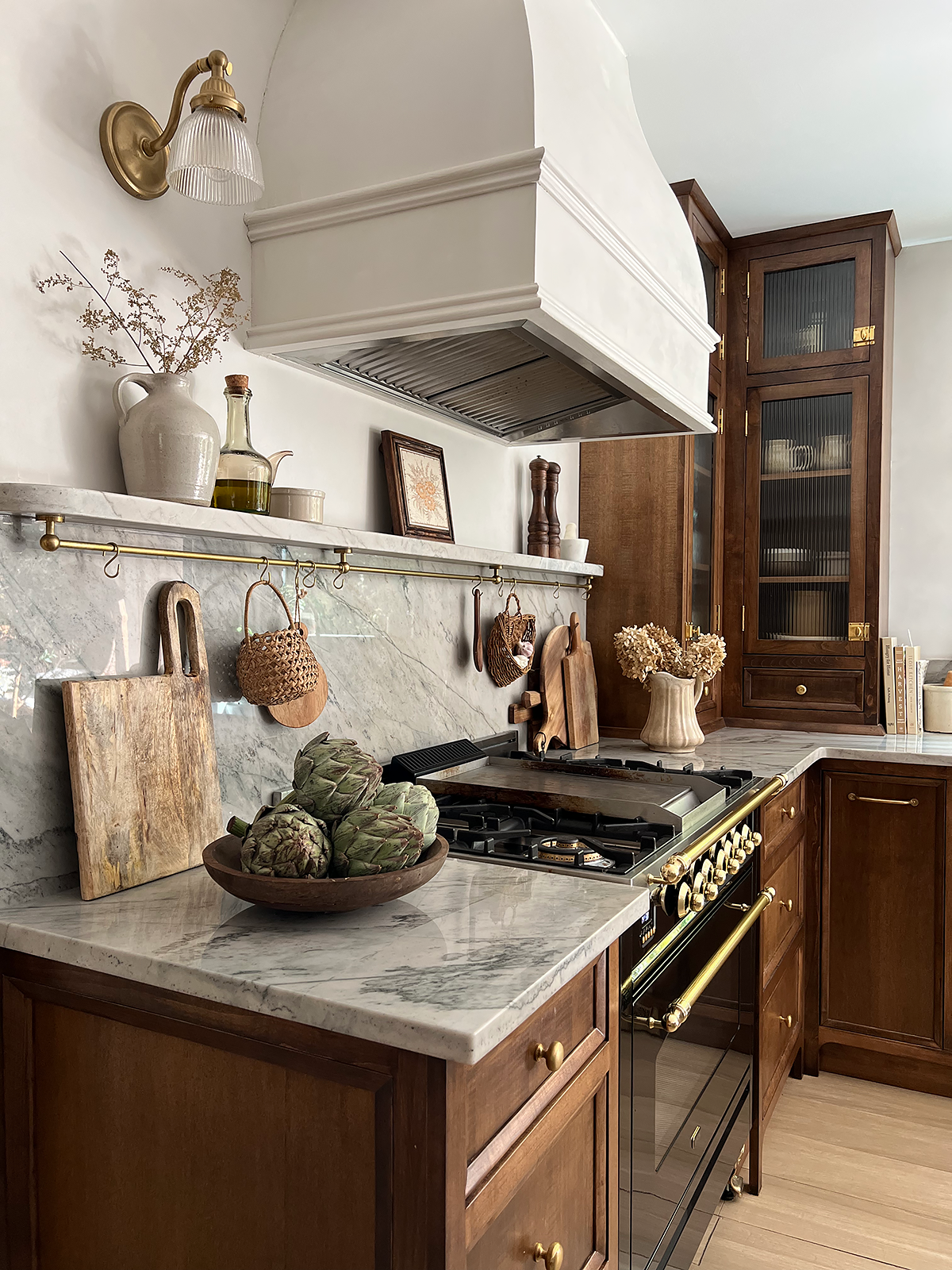 BRASS ISLAND PENDANTS
As for the pendants…I loved my first option but once things got to the final stage, they felt way too small in comparison to the size of the island. So then I ordered new ones that were BIG. If our ceilings were higher they might have worked. But when Dan and I were on opposite sides of the island, we couldn't see each other ha. So I sent those back and downsized for the same light but in a smaller size and these brass pendants couldn't be more perfect.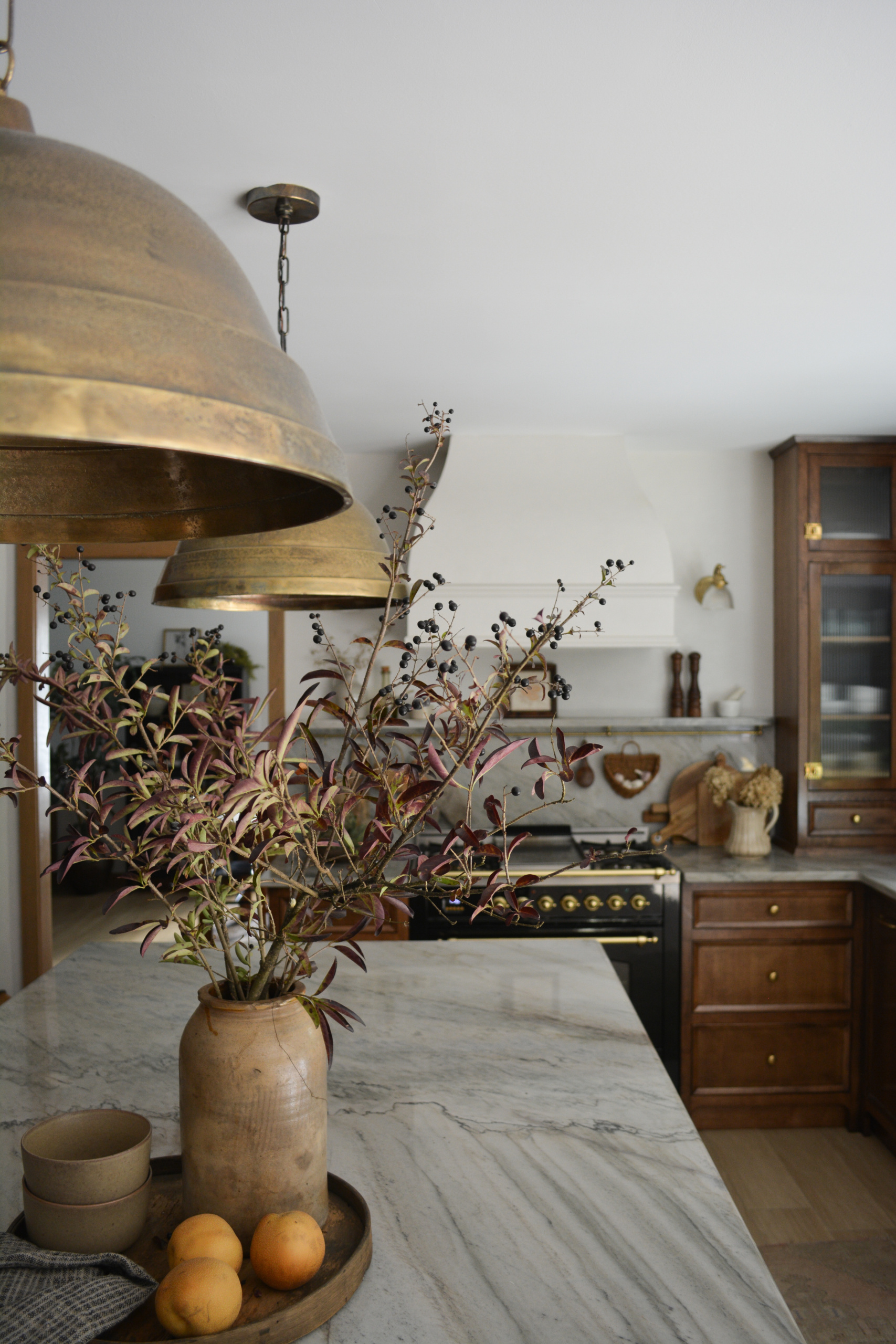 These brass island pendants have such a beautiful finish on them that looks aged and again adds to the lived in feel of our kitchen.
RELAXED ROMAN SHADE WINDOW TREATMENT
To dress up the window slightly, I opted for a relaxed roman shade in a linen fabric. This is actually going to get altered slightly however, because I didn't end up liking the color or the thick seams on the side. So stay tuned for an updated look! My amazing upholsterer, Yanni, is the best if you need any local upholstery done!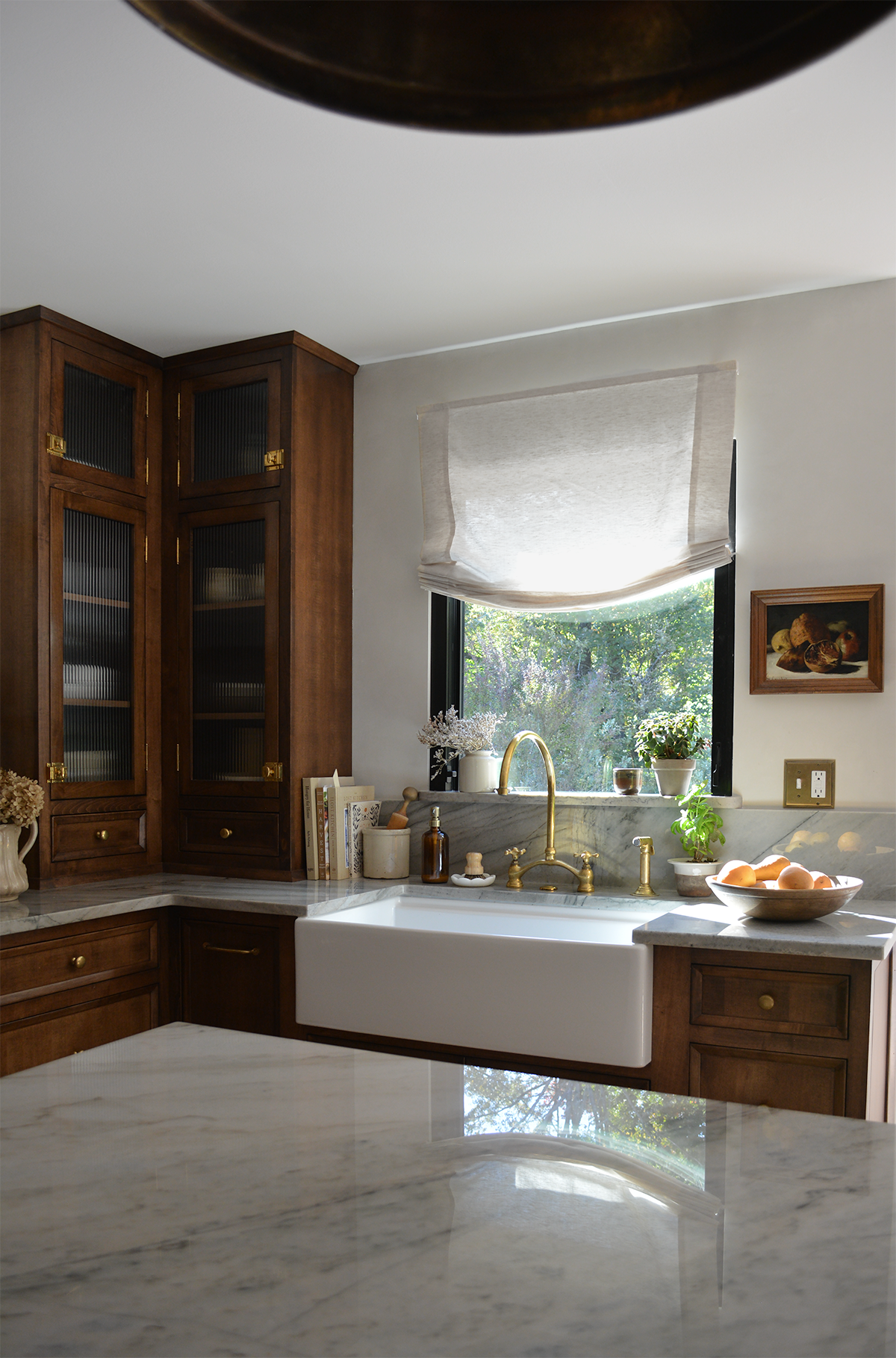 FIRECLAY SINK
Last but not least is the sink area under the window. This window was always here but we replaced it with an Impervia black window from Pella. The sink however, was not always here. It was in the corner where the cabinet now sits and it was probably my least favorite part of our old kitchen. You just stared right into the cabinets while doing the dishes. It created such a weird angle on the floor.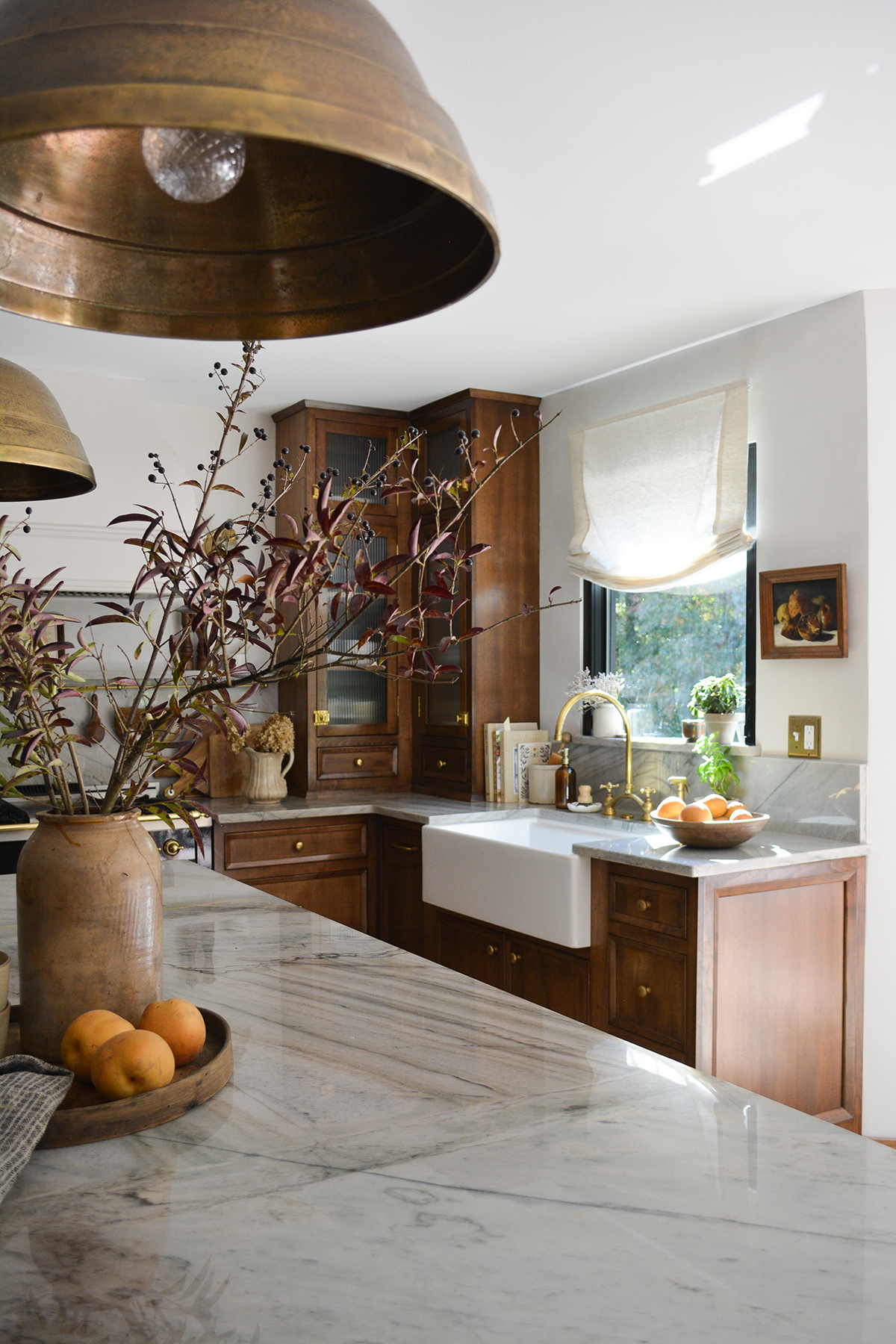 Moving the sink under the window was a no brainer for me. It gives me the most amazing view of our backyard so I can watch the kiddos more easily. We chose a fireclay sink from amazon that's a great price and has held up great thus far. I love this one because it has an off center drain which is a total game changer! It also comes with the metal rack and a cutting board that sits on the top edge.
UNLACQUERED BRASS FAUCET
I went with an unlacquered brass kitchen faucet and sprayer to tie into our hardware which also will patina and age over time. It's already starting to change a bit and I love the character it adds! One adjustment I made was increasing the spout reach which is how far the spout of the faucet comes out. I first ordered it and it felt too close to the back of the sink. The maker built me a new one with an 11″ spout reach which is SO much better!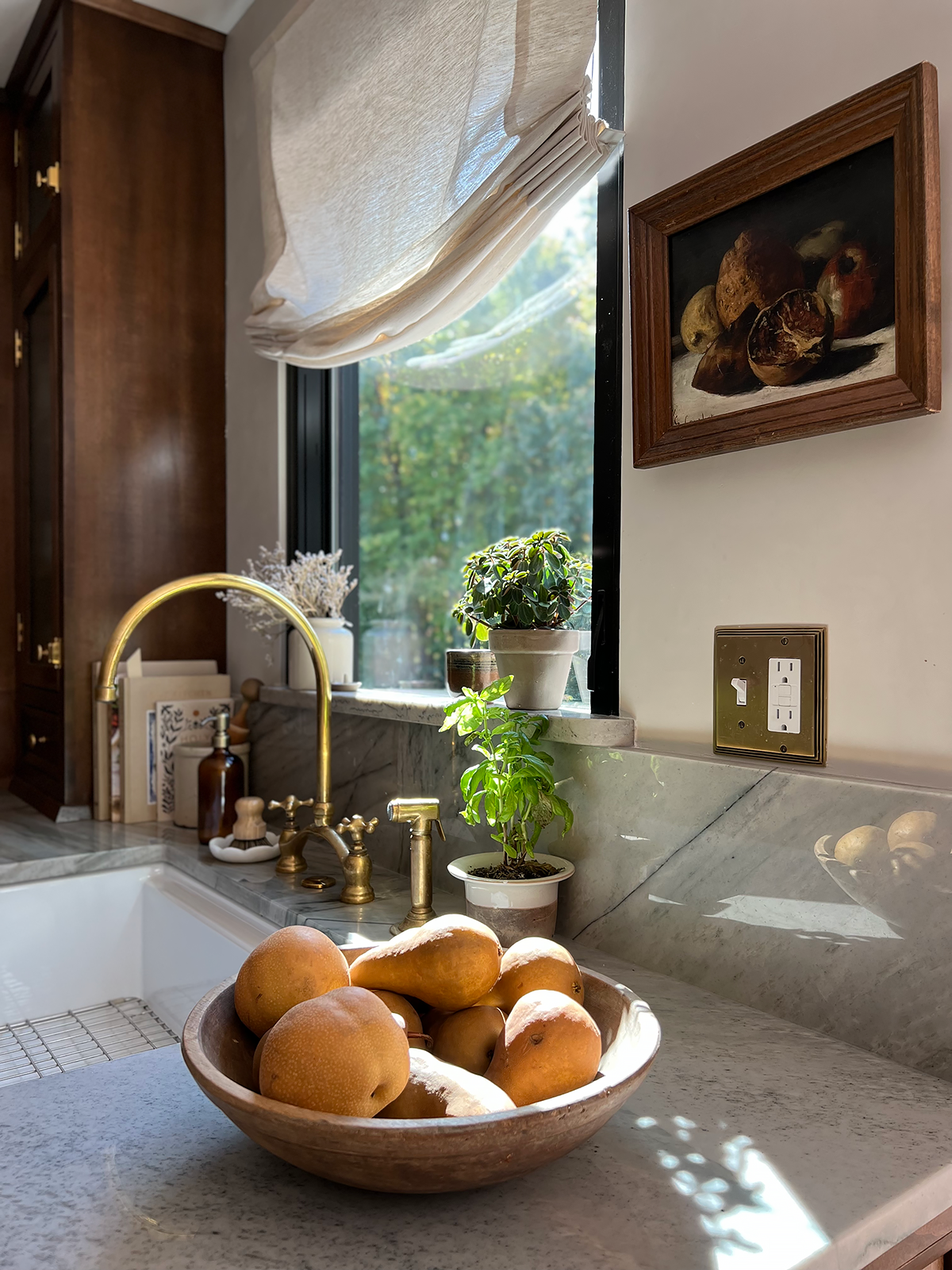 And as I mentioned above, the little brass button under the faucet is our garbage disposal! Such a happy accident from our countertop fabricators and I highly recommend putting one in if you have the opportunity 😉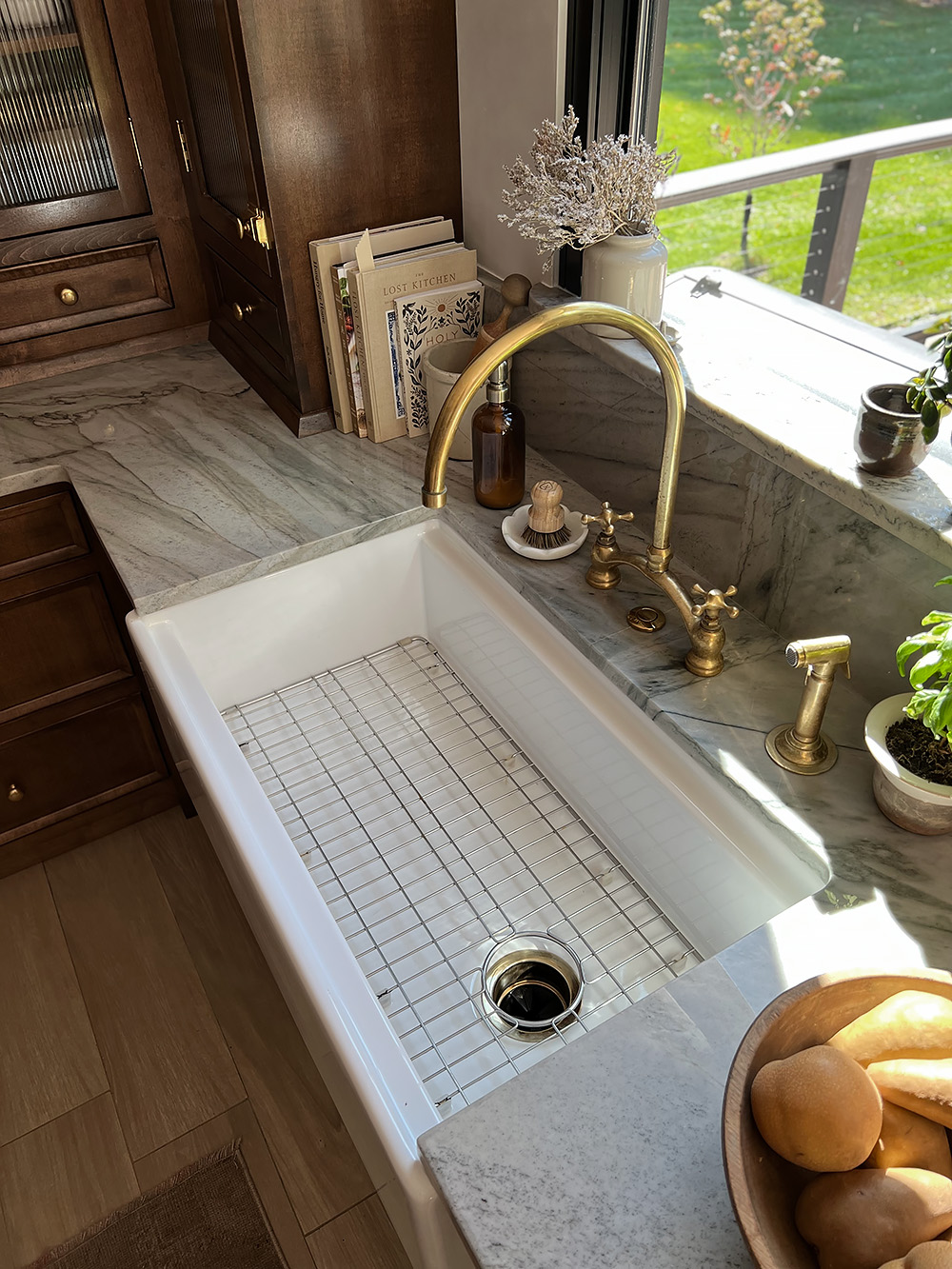 Phew that was a lot! If you have any other questions let me know but I want to thank you for all your encouragement and support along the way. This space is such a dream come true and I couldn't be more in love with our modern European inspired kitchen with stained wood cabinets.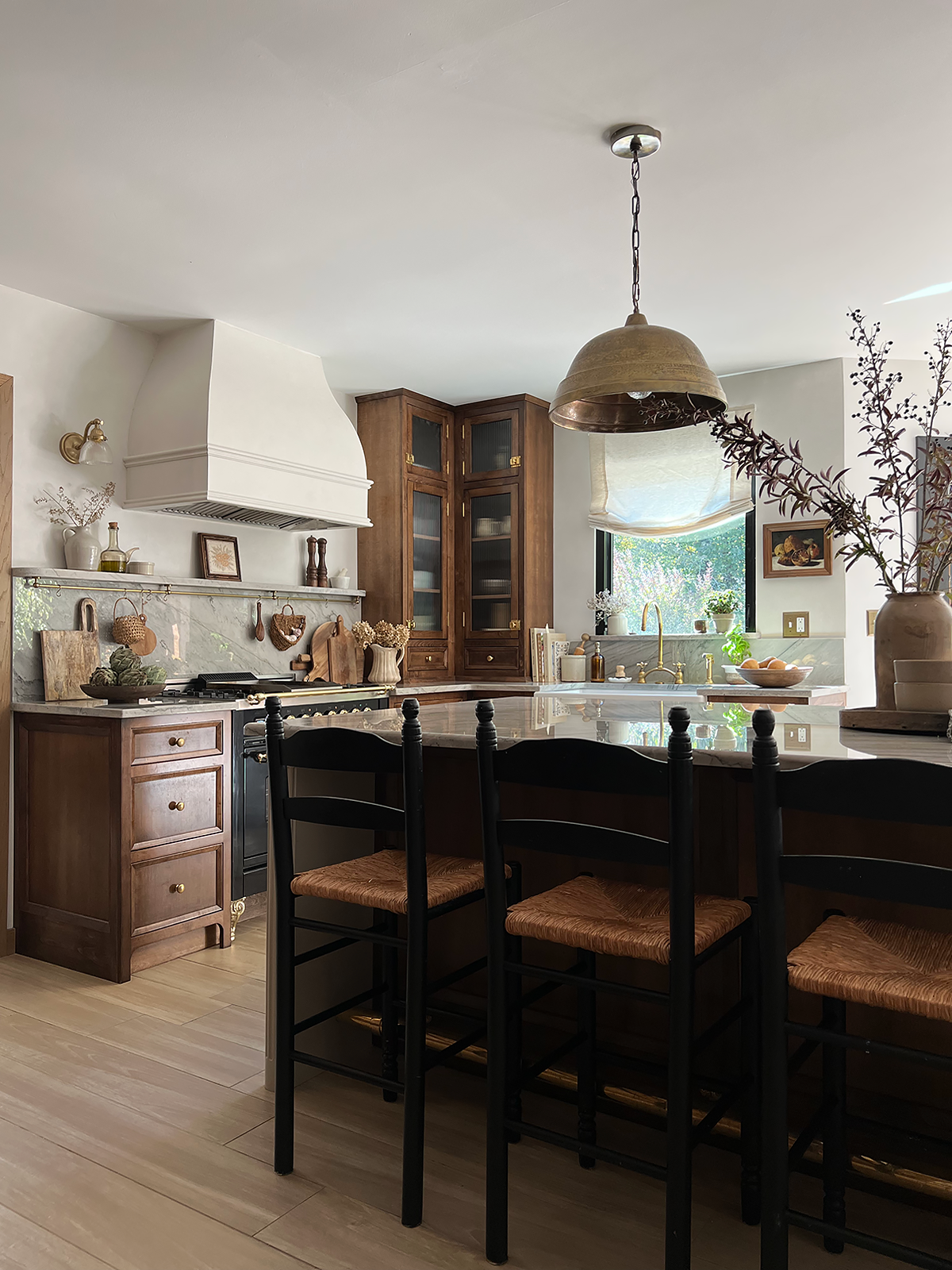 SHOP OUR KITCHEN
Island Paint Color: Balanced Beige
Walls: Portola Paints Roman Clay in Full Circle
Cabinets by Haug Cabinetry & Design
Cabinet Wood: Hard White Maple Plywood in a strip matched pattern
Cabinet Stain: Dark Walnut Varathane Gel Stain
Wood Look Tile Floors
C0untertops: Sea Pearl Quartzite
Hood
Beaded Glass Sconces
Brass Island Pendants
Brass Kitchen Rail
Fireclay Kitchen Sink
Unlacquered Brass Kitchen Faucet & Sprayer
Garbage Disposal Button
Garbage Disposal Flange
Marble Soap Dish
Switch Plate Covers
Black Window
Relaxed Roman Shade
Reeded Glass in Cabinet
Unlacquered Brass Hardware
Unlacquered Brass Cabinet Latches
Unlacquered Brass Hinges
Olive Oil Cruet
Counter Stools
Brass Foot Rail
Hanging Garlic Basket – Thrifted
Artowork – Thrifted