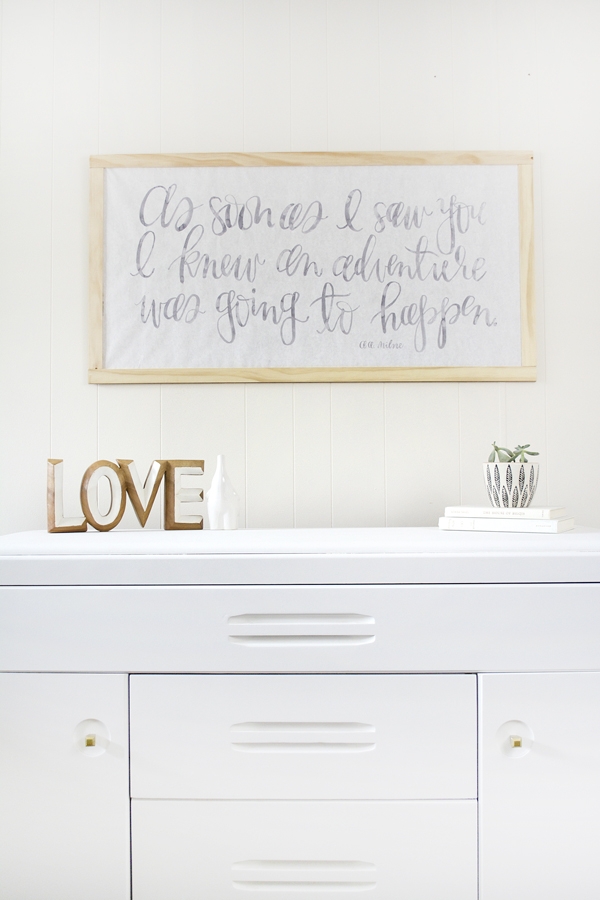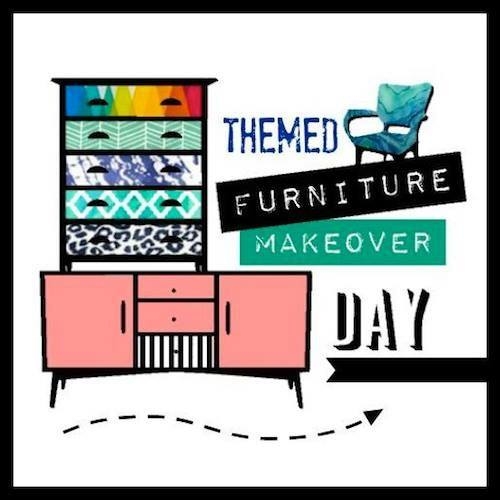 Welcome back to another Themed Furniture Makeover Day! If you missed last month's you can check it out here. And this month our theme was storage. I knew the piece I found to use as our changing table would be perfect for this theme. It's a BEAST and has lots of storage for all of Baby Berto's goodies 🙂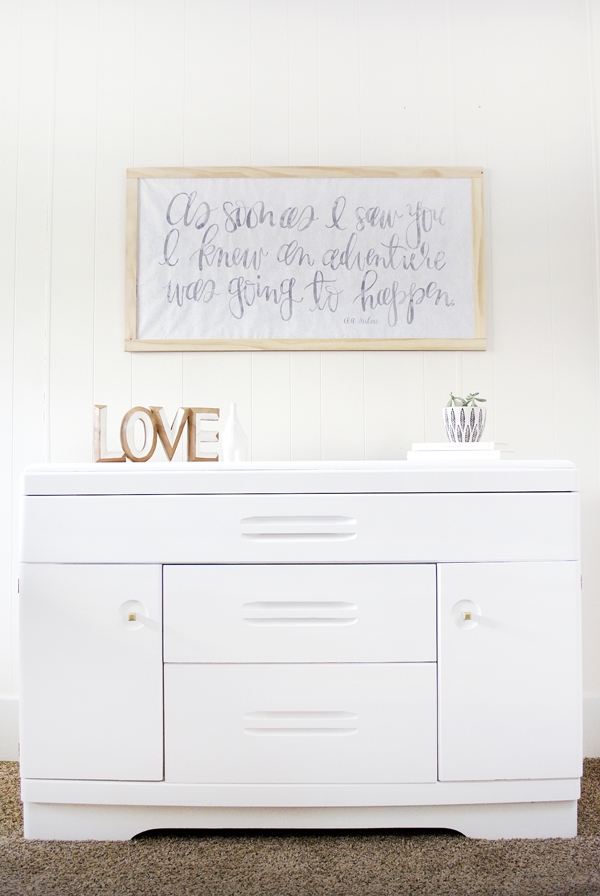 It may not look like a changing table right now, but I promise it's going to be one. Hence, the title of this post 😉 It's still a bit of a work in progress. I haven't even sealed it yet, but shhh. And obviously there will be a changing pad on top of it and the decor will be a bit different. As I mentioned, this thing is a beast. It's super heavy and sat outside in our yard with a tarp over it for quite a while before I finally got around to tackling it. While it was outside, it may have gotten a little wet and the back piece of particle board got totally ruined so we had to rip that off. And I haven't replaced it yet. Ha. But you would never know that by looking at it! Told ya it was a work in progress 😉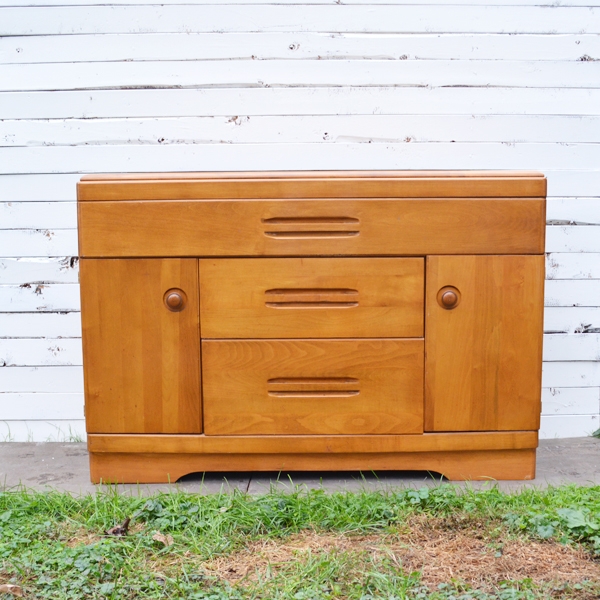 What was supposed to be a somewhat easy makeover, turned out to be a pain in the buns. After using my HomeRight sprayer on this piece, I was super excited to use it again. I prepped our backyard and got it all ready. You can see the missing backboard here 😉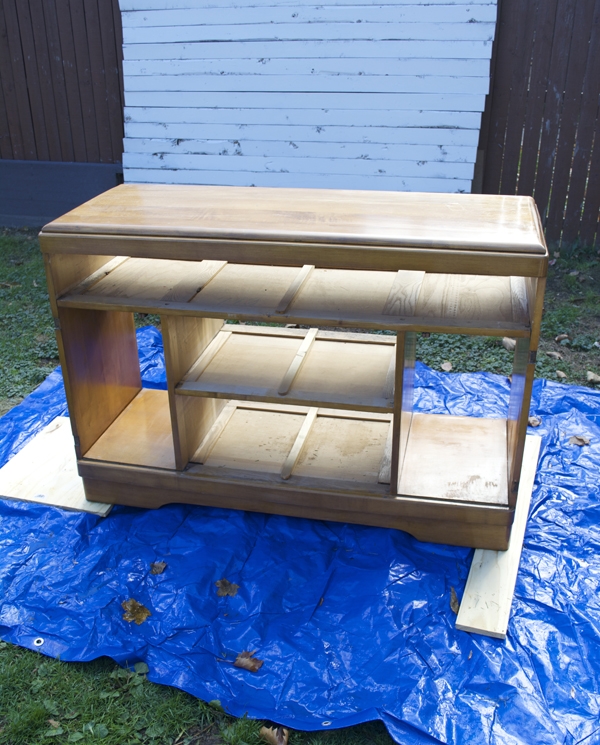 Everything started out great. I was using Annie Sloan's Pure White and I read some different articles about whether or not I needed to thin it before using it in my sprayer. Some people said they did and others said they didn't.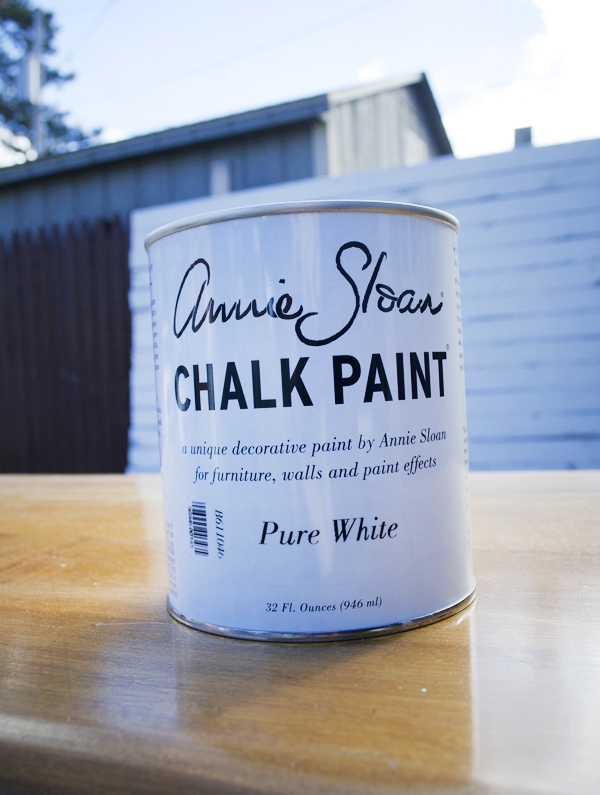 I didn't want to risk it so I used the little dripper that came with my sprayer and did the test. Basically you dip the whole thing into the can of paint and count how long it takes for all of it to drip out. Then you compare it to a little chart in the booklet they give you.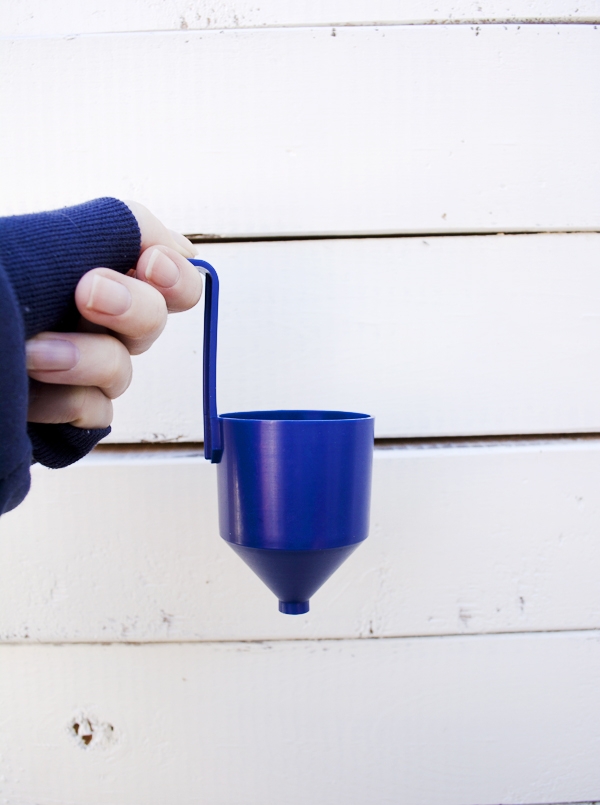 This stuff was going slow as molasses and I didn't even bother timing the whole thing. I knew I had to thin it.
I really ball parked it here. I poured my paint into my canister, about a cup, and then added about a tablespoon of water. Make sure you mix it up really well and then you're good to go!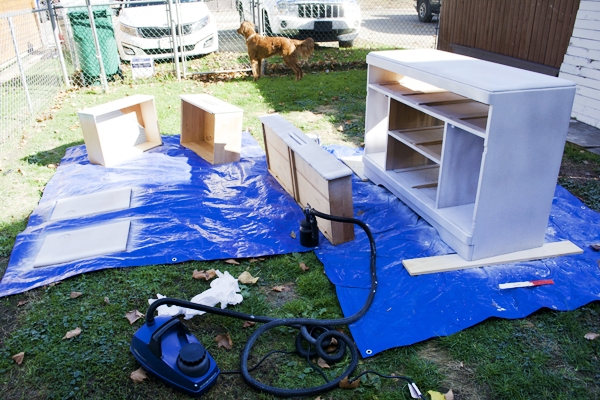 Still smooth sailing after one coat.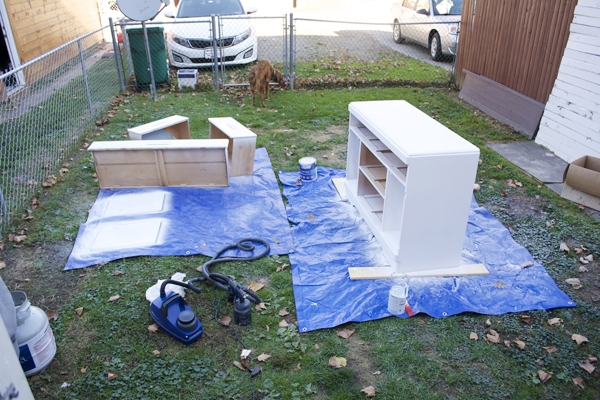 And after two coats.
Then things started going down hill…
Problem #1: I don't where these little buggers came from but our yard was FILLED with little mosquitos or some type of annoying bug. After each spray, they just kept landing on my piece and getting stuck in the paint! I had to use my tweezers to pluck them all off. Not cool.
Problem #2: This is partially my fault, but once I started spraying, I noticed a few yellow spots bleeding through. With ASCP you don't need to prime, but bleed through is such an unpredictable thing. Of course I was stubborn and just kept telling myself they would get covered up with each additional coat. Not the case. *If you start seeing bleed through, stop painting and PRIME. They WILL NOT get covered.
Problem #3: The weather. It was actually a really beautiful day. It probably got up to 60 and was partly sunny. I started working on this piece around 11ish and of course it was only getting chillier as the day went on. I don't know how cold it got, but it was cold enough that my paint started cracking and peeling! Ugh.
Hubby wasn't home and there was no way I could move this beast myself, so I had to just let it weather the cold until he came home and we could move it together. I was so annoyed though I needed to take the rest of the night off from this thing.
I was able to get 3 coats of paint on it with my sprayer which was pretty great coverage. I just needed to fix the bleed through and chipping. I sanded down all the spots that were peeling and then put a coat of stain blocking primer on it plus a little extra over the spots themselves. Luckily since I was painting this white, the primer kind of acted like another coat of paint as well. Once that was all done, I just needed to top it off with one last coat of Pure White.
Notice there are no photos of these mistakes. I was too angry ha. But trust me. It wasn't pretty.
I finished and photographed this piece in our dining room because a pregnant lady and a hubby with a bum knee aren't capable of carrying this thing up a flight of stairs into the nursery. Once it's up there, I'll style it differently 🙂
I got the knobs from Anthropologie and let's just talk about that sign for a minute. Is it not the best? It's a DIY coming at you soon that I had a little help from a bloggy friend on. It's actually going to be going over the crib. Eek. I can't wait 🙂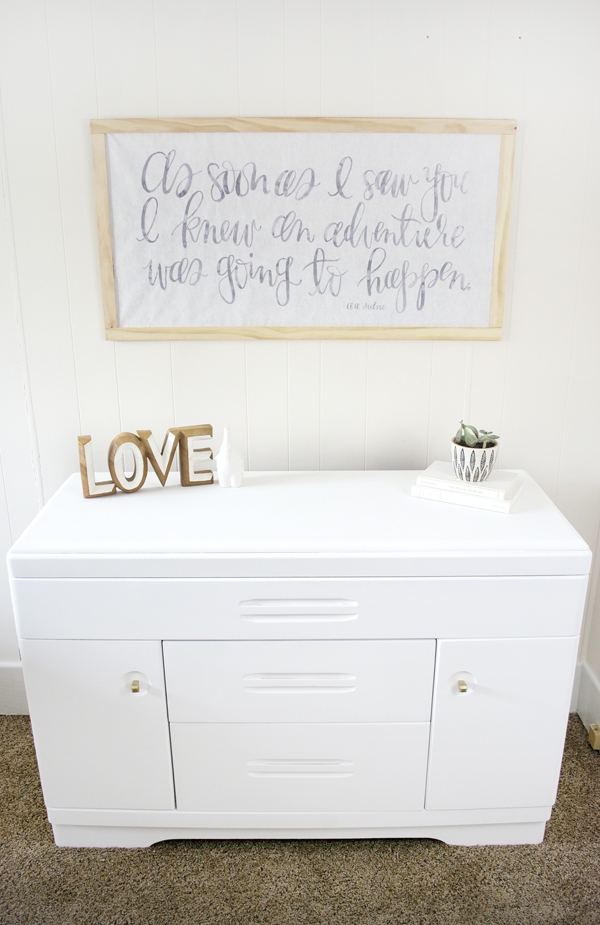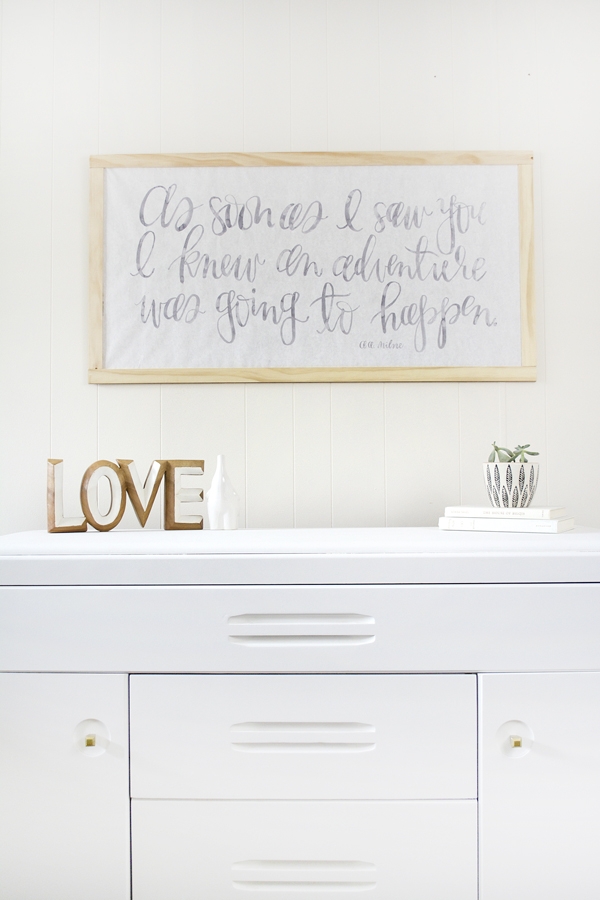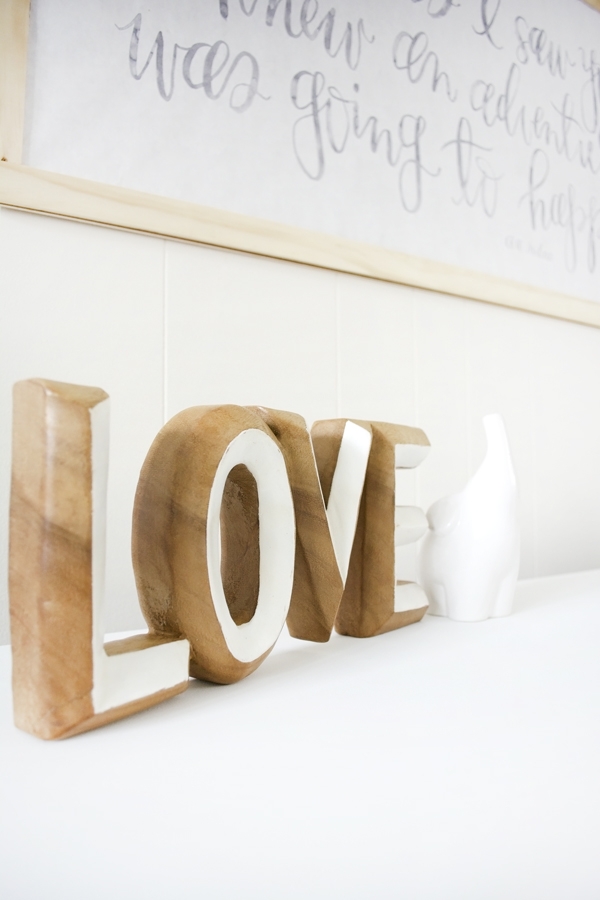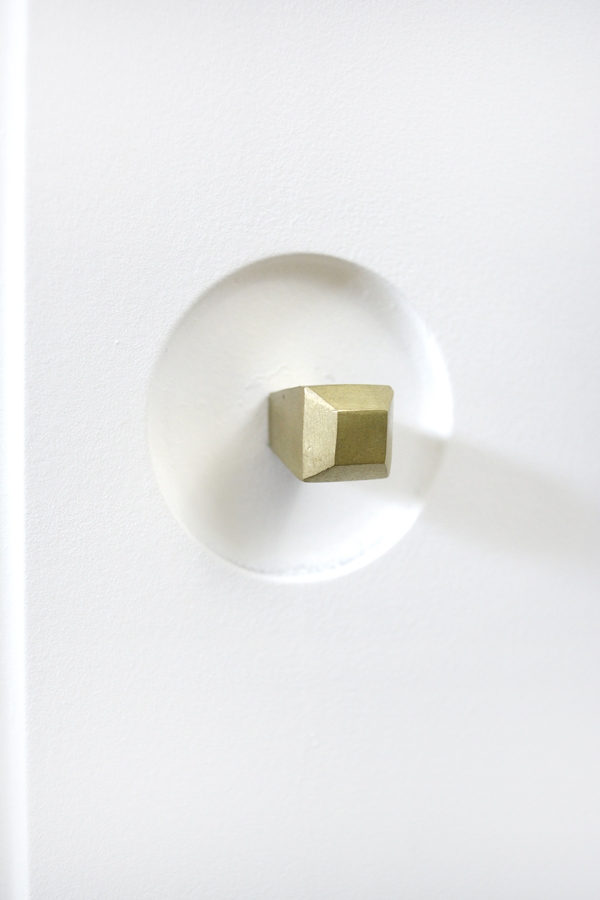 So I've still got some work to do, but at least the hard part is done. I love how clean and simple this piece is. It's going to be fun to style it once it's up in the nursery!
Don't forget to check out all the other amazing makeovers below!