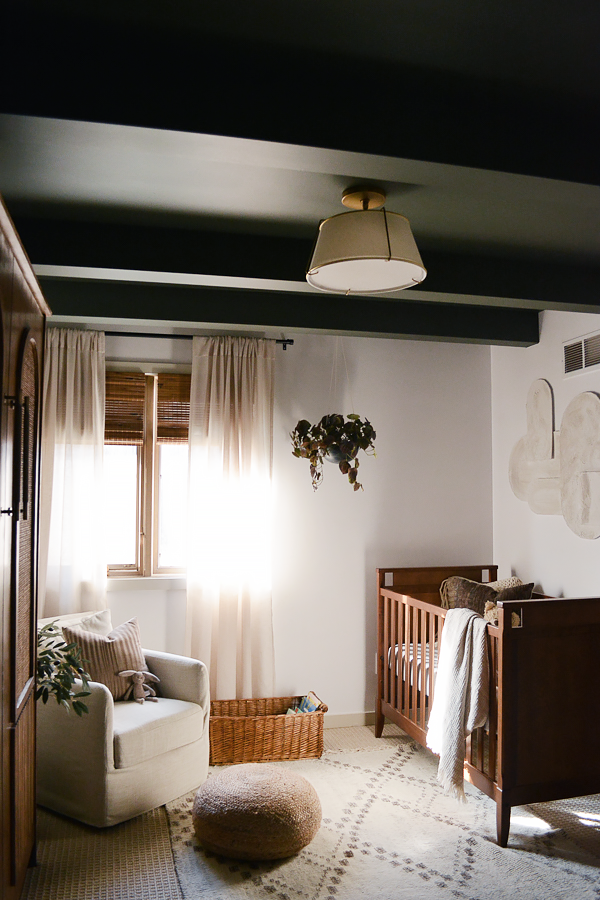 NURSERY & GUEST ROOM REVEAL
I was determined to finish this space before Odelia's arrival and we did, just in time. It just took me a little while to write the blog post 😉 Today I'm finally sharing the Nursery & Guest Room Reveal with you!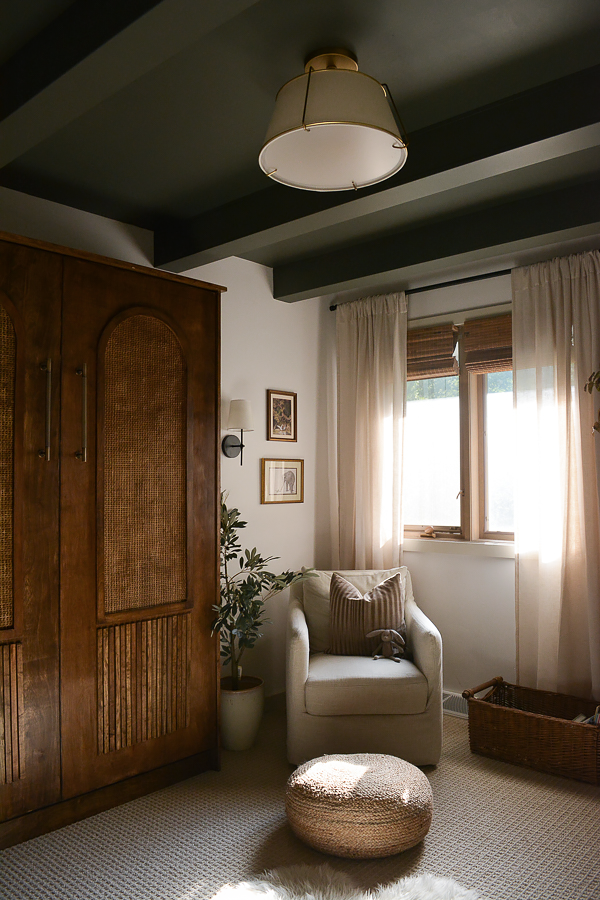 When we found out we were having a third child, we started thinking about room arrangements right away. Without knowing the gender of the baby, it made it harder to think about room sharing. But I don't think either Eloise or Hawk wanted to give up their own space :-p
My FIL was currently using this bedroom as his own but offered to move down into the basement so we could turn it into a nursery. But we still needed some place for my parents to stay when they come to visit. So a nursery/guest room combo made the most sense for us.
With minimal space to work with, we decided to do a Murphy bed which ended up being a TON of work. But SO worth it because I'm obsessed with it.
Here's a reminder of what the room looked like before.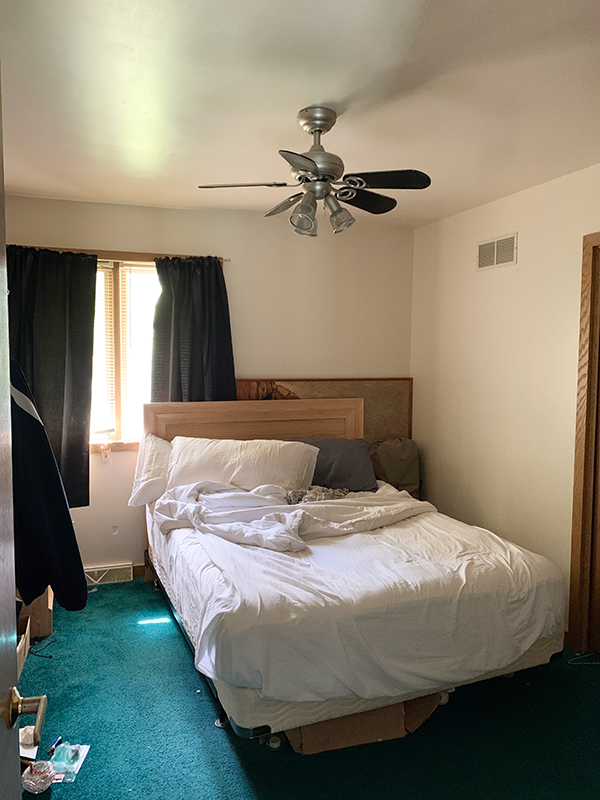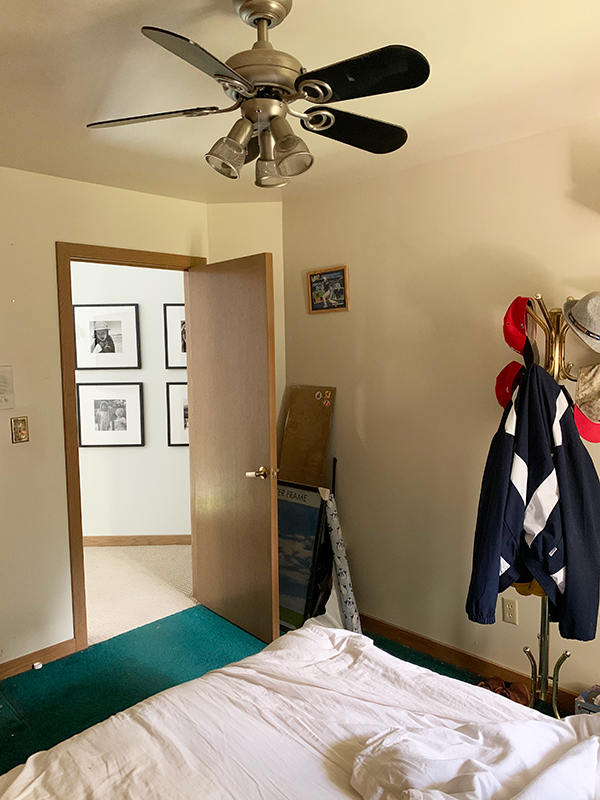 The day that green carpet got ripped out was the BEST DAY EVER.
I wanted to create a calm and cozy space for our sweet babe and I'd say I accomplished that 🙂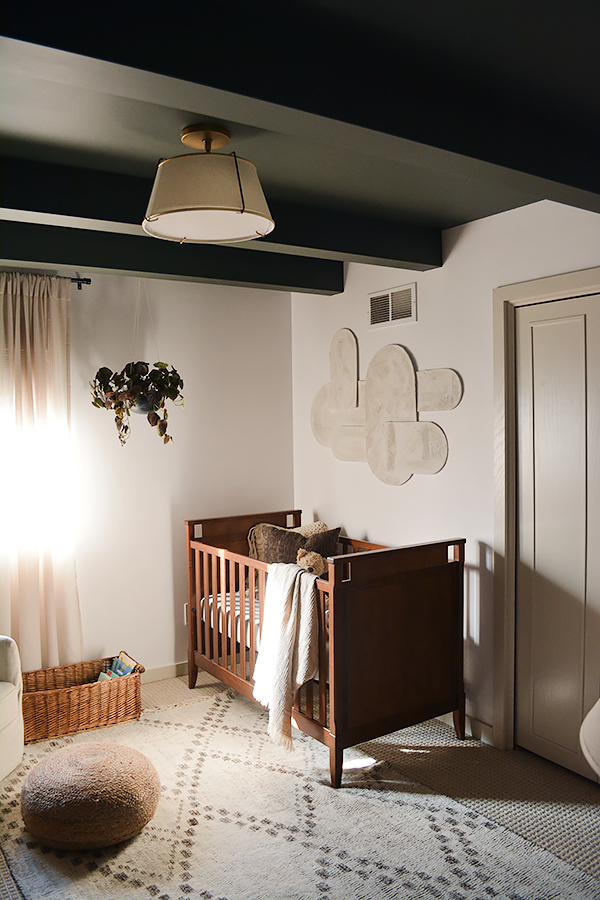 The faux ceiling beams were the first project we tackled in here and I LOVE how they turned out. They added instant character to an otherwise plain and boring room.
Painting the ceiling dark didn't make this room feel smaller at all but instead just made it cozier. It's Sable Evening by Valspar and is such an interesting color. It photographs green but in person appears more grey.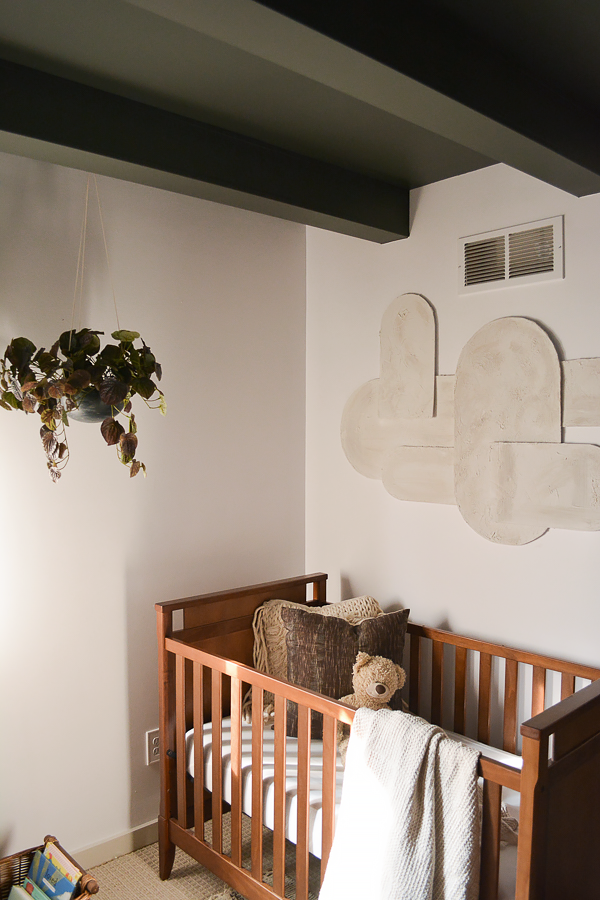 We used Hawk's crib and transitioned him to a big boy bed a couple weeks before Odelia was born. Great timing huh? He actually did great though and we didn't have any issues!
The artwork above the crib was a DIY that I shared on Instagram. I covered foam board in joint compound and used sponges and other brushes to create various textures. I love how this piece turned out and that it's so unique.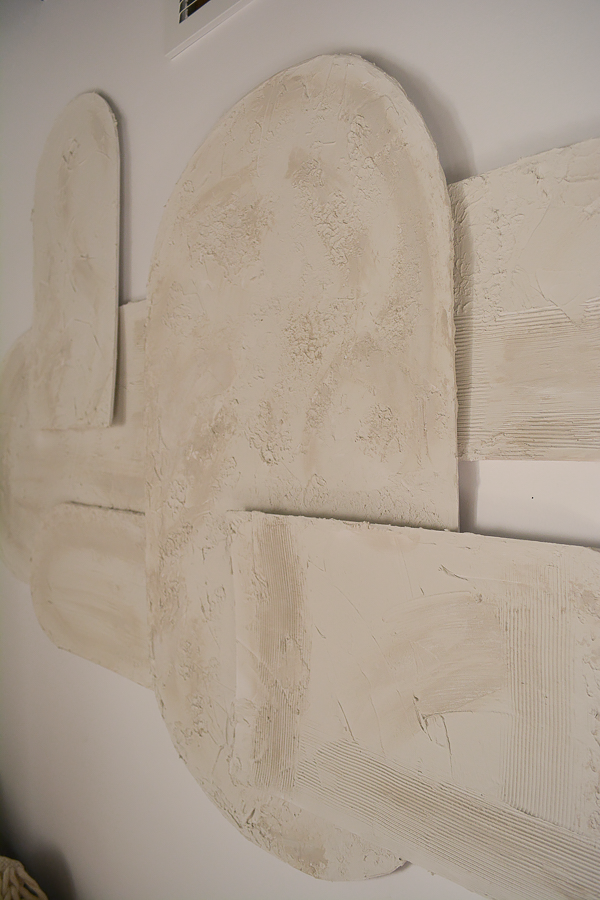 This little corner is my absolute favorite. Even before she was born, I would come and sit in here and just admire all the work we did to create such a beautiful room for our sweet babe.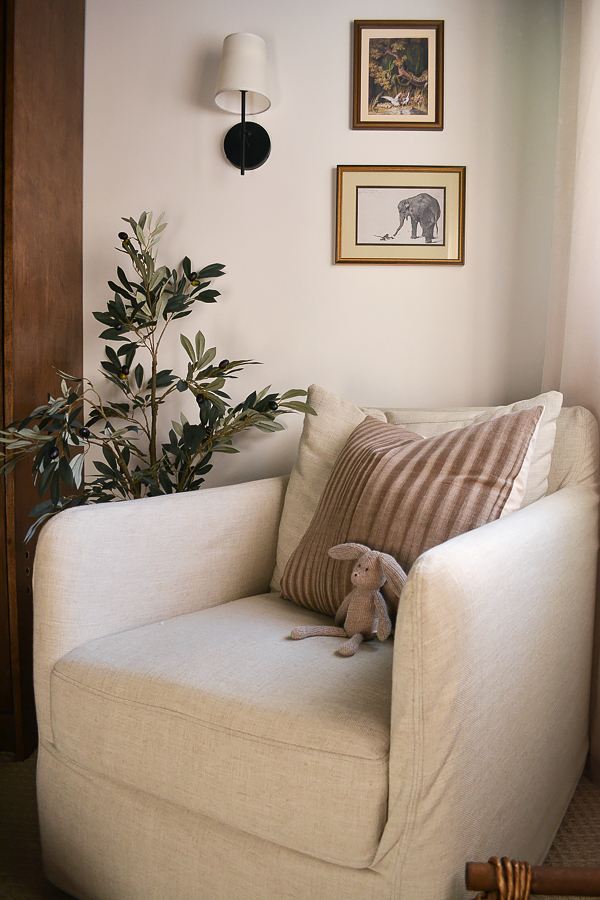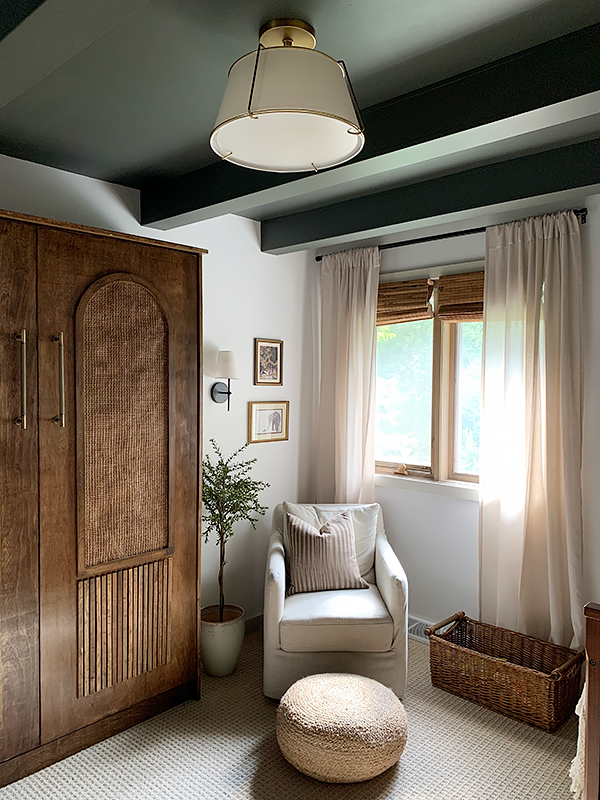 The Murphy bed was a serious undertaking. We bought a kit that came with a cut list and all the pieces you needed for the actual bed and frame mechanism.
We learned a lot of new skills throughout the process of building it and were so happy when we finished it and realized it actually successfully worked.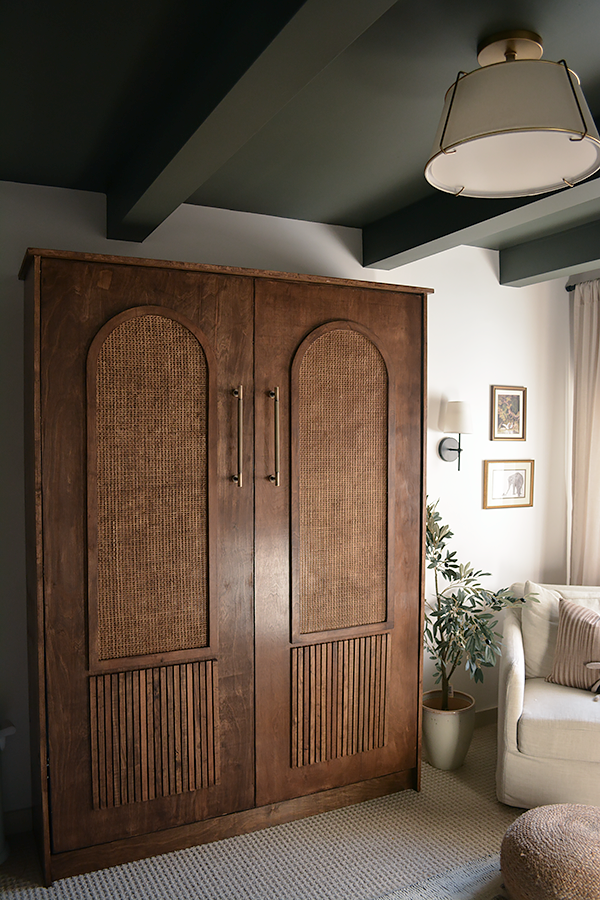 Something I've done with all our kids is use a dresser as a changing table. I found this one on Facebook Marketplace near my parents and had them pick it up for me. I keep the diapers and wipes in one of the top drawers to keep the clutter off the top.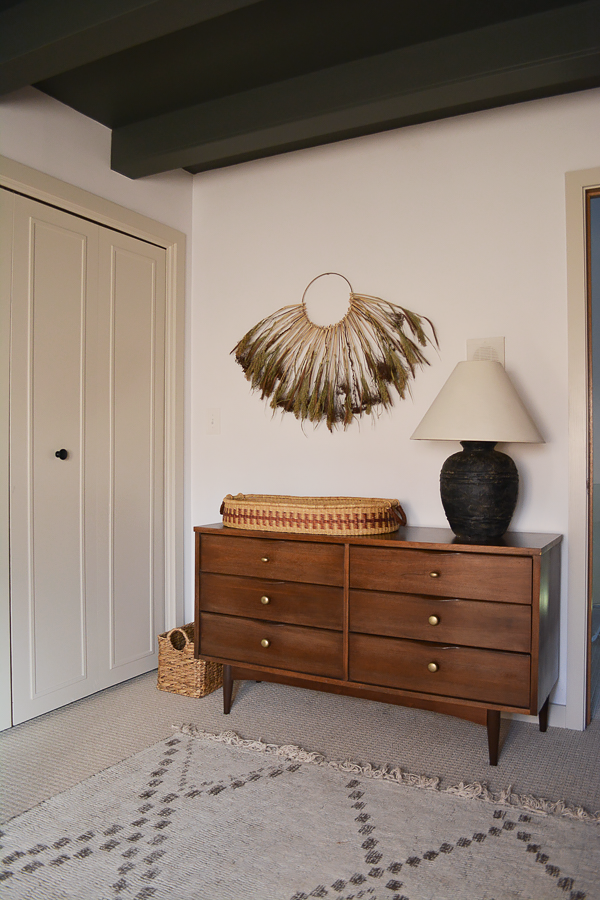 The lamp I found at our local Habitat Restore and gave it a makeover by painting it and adding some mud texture. I love the earthiness it adds to this space which goes along nicely with the wall hanging I made too.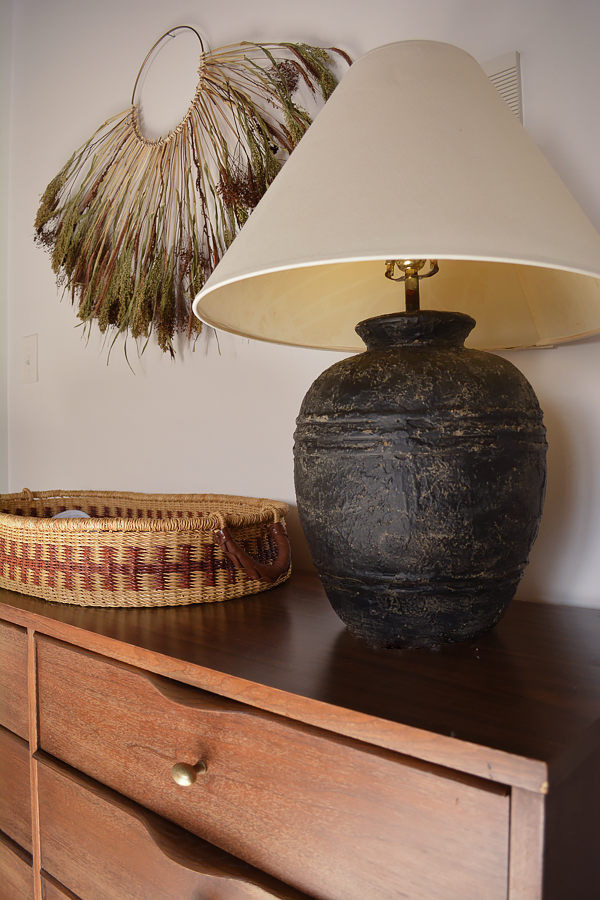 I used a bunch of various faux wheat grasses tied around a metal craft ring to create this beauty. The colors and textures are just so yummy!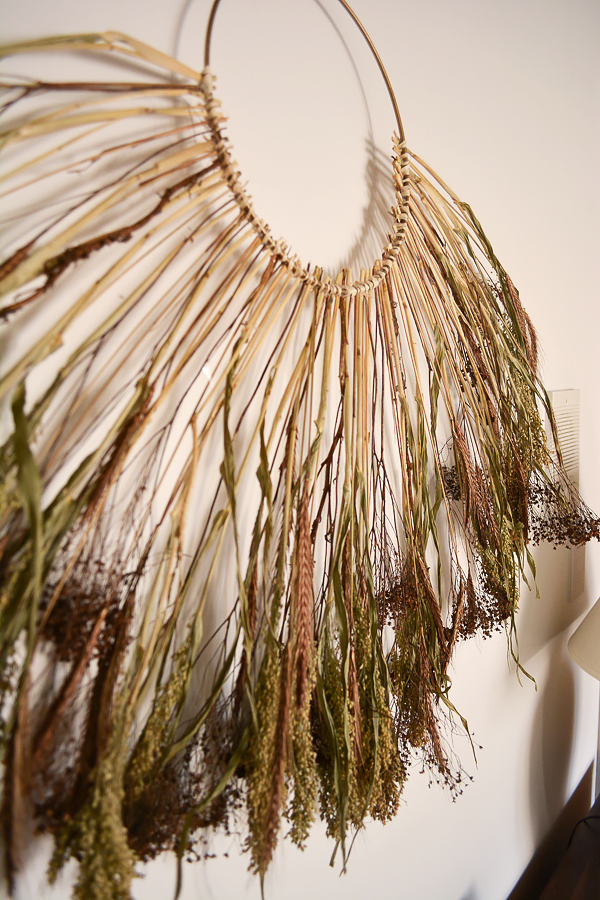 Creating so many thoughtful handmade and custom pieces for this room makes it so special and unique and I'm so glad that our sweet babe is finally here to enjoy it <3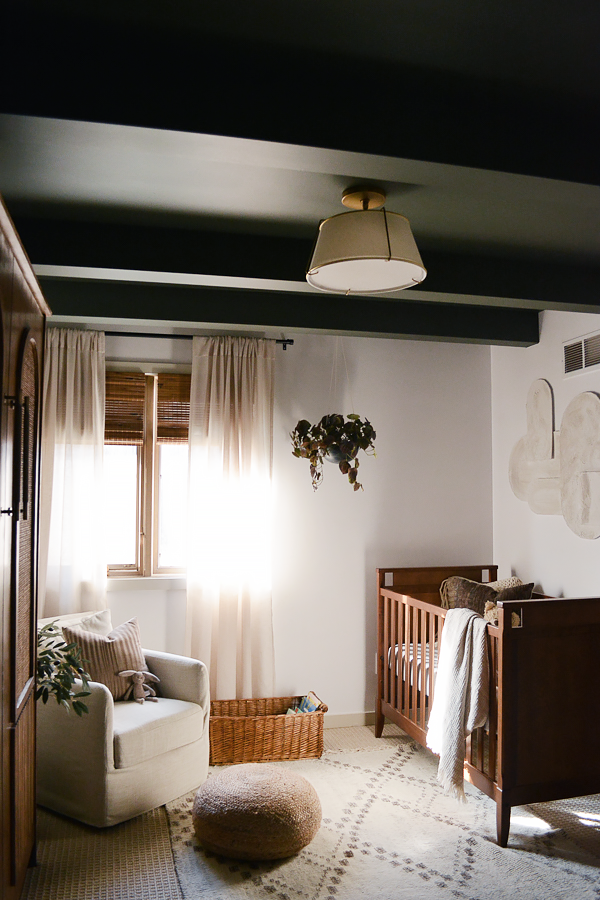 SHOP THE ROOM
Wall Color: Du Jour by Valspar
Ceiling Color: Sable Evening by Valspar
Doors and Trim: Baby Fawn by Benjamin Moore
Carpet: SHAW By Chance in Brushed Ivory
Dresser – Facebook Marketplace
Murphy Bed Tutorial – Kit purchased from Custom Woodworks
Chair
Shades – color Quince
Crib (no longer available)
Bear (build a bear)
Artwork above Crib (DIY – saved in instagram highlights)
Basket – thrifted
Plant Pot (local nursery)
Changing Basket
Art above changing basket (DIY saved to instagram highlights)
Lamp – thrifted and updated (see instagram highlights)
Everything else is linked below – click an image to shop!