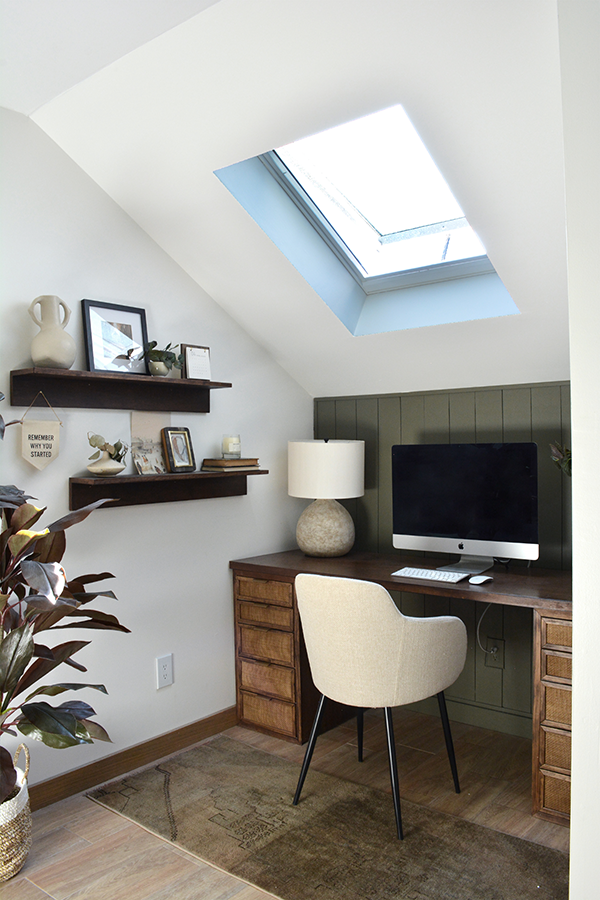 Adding Natural Light with New Skylights
This post is sponsored by VELUX, but all thoughts and opinions are my own.
Ever since we moved into this home 4 years ago, there's been a dark corner that I always wished had more natural light. My dreams finally came true and we had a new skylight installed from Velux that made such a huge difference!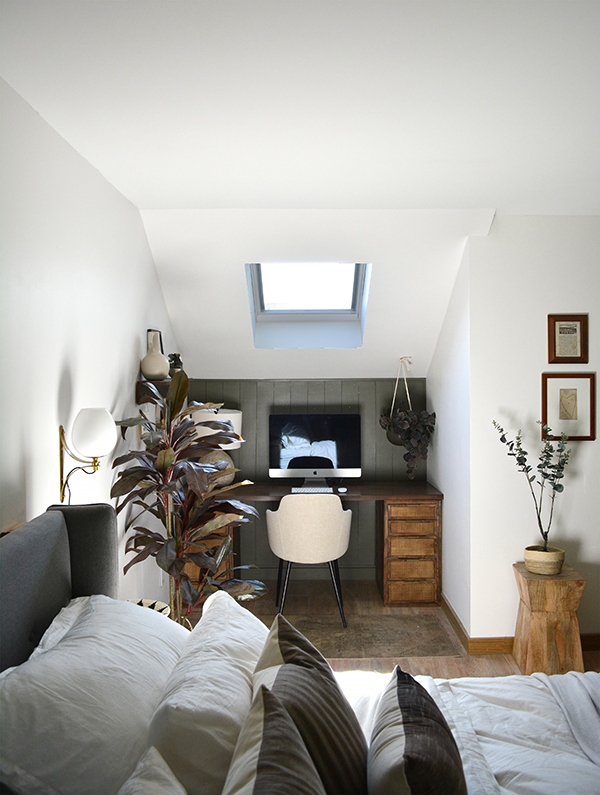 I don't have a designated office area, so we took this little nook in our master bedroom and turned it into my work space. It's always worked well, but has also always been SO dark. Some people like working in a dark, windowless corner, but I am not one of them.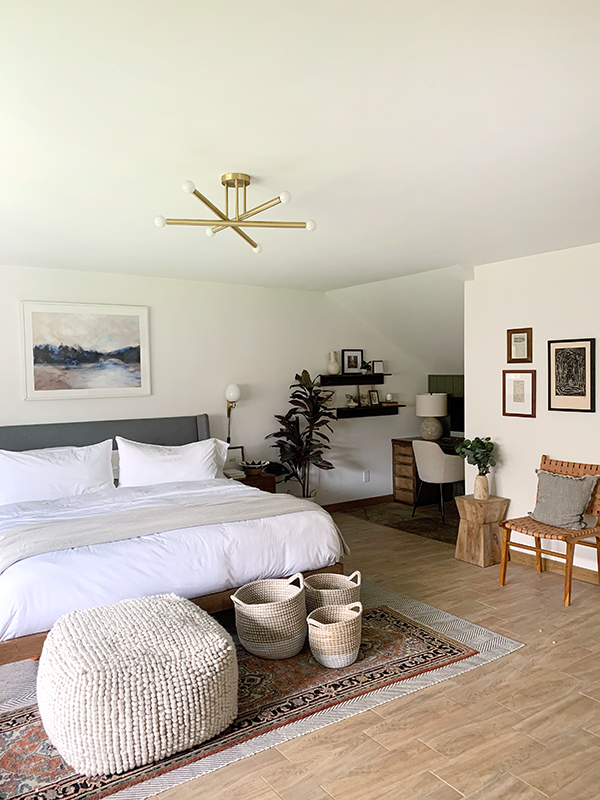 Adding a skylight on that angled wall was always something I thought about and now that it finally happened it feels like it was always meant to be!
Along with installing this new skylight in my office space, Velux replaced all our old acrylic bubble skylights with their No Leak Solar Powered Fresh Air Skylights with solar blinds and home automation. We had two above our main stairwell, and one in the bathroom we just remodeled.
I'm going to walk you through the install day and share everything you need to know about getting a skylight installed/replacing old ones!
INSTALLING NEW SKYLIGHTS
I had seen other people use Velux in their homes before so did a little further research and was so impressed with their company. Great reviews and they offer a 10-year No Leak warranty on product and installation. Plus our old skylights that are original to our home were going to need to be replaced soon anyway and these new ones are way more energy efficient.
Before install, a rep from VELUX and the VELUX-certified installer, Sun-Up Construction, came to our house to measure for the new skylight and replacements. They also showed me different blind color options and brought a sample skylight for me to check out. It was super helpful to see what it actually looked like.
On the day of install, the crew from SUN-UP Construction arrived bright and early and got started right away. I can't praise them enough – they were so incredibly kind to our family, didn't get annoyed with the kids wanting to watch EVERYTHING and worked hard with smiles on their faces the whole time.
VELUX has an installer locator where you search by your ZIP code to find an installer in your area.
I of course was most interested to watch the new skylight in my office nook get installed. They had to do some work on the roof first before cutting the actual hole.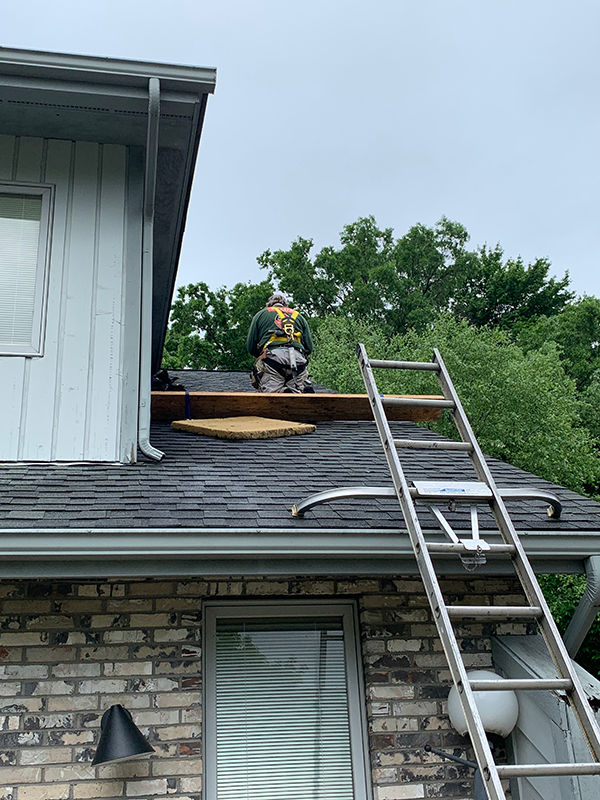 And a little prep work inside too. See how dark it was in here?!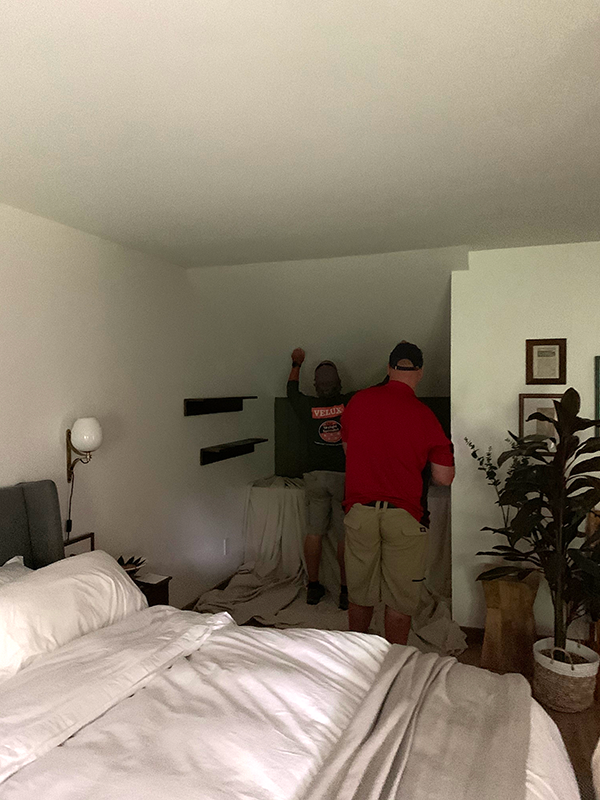 I literally sat on the other side of our room just waiting for that moment when they made the cut and let all the natural light start streaming through!
Ahh!! Such an amazing feeling to see the sun shining through and lighting up that corner! Natural light is known to be mood boosting and I totally felt an instant one as soon as they cut through the ceiling.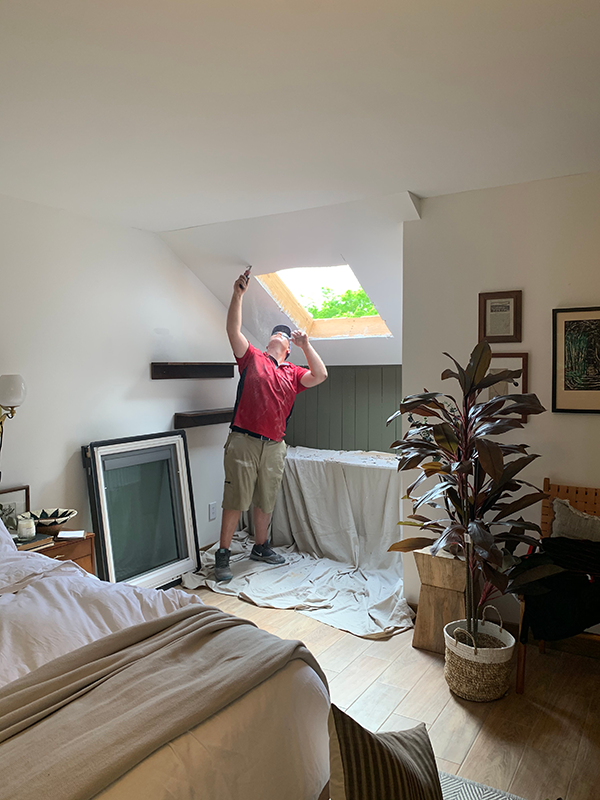 I was surprised how quickly things went and how mess free the whole process was. They laid down some drop cloths, and there was really very minimal dust and debris. All of which they cleaned up before leaving.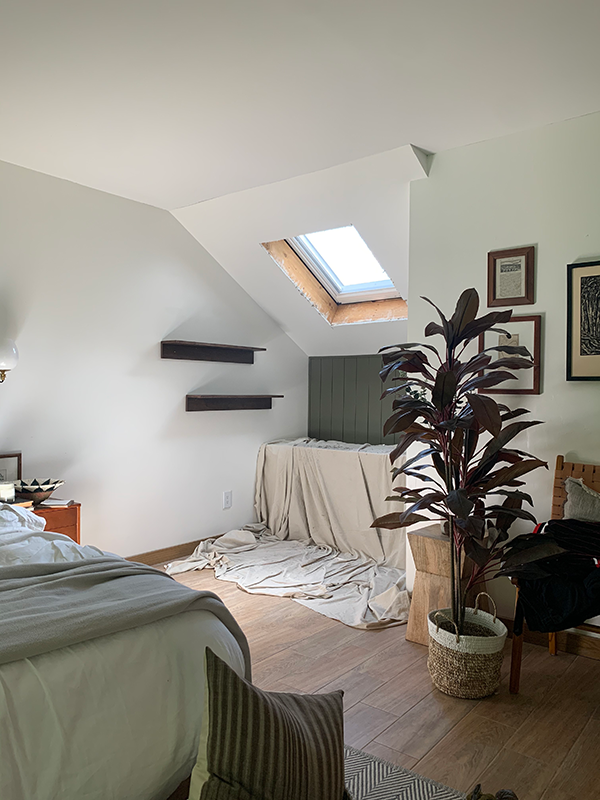 When you get a new skylgiht installed, you have two options for finishing it off inside. You can have them add a trim casing around the skylight if you want to frame it out more, or you can do a simple drywall finish which is what I opted for. Since we don't have any other decorative moulding on the ceilings or surrounding areas, I wanted a clean simple look to match the rest of my decor.
They framed it out with drywall and then had a finisher come later that week to patch and mud it all. Then I opted to paint it myself which took about 10 minutes.
The skylights in our stairwell were up next and in this photo you can see how old and yucky the originals were. You couldn't see the sky through them and they didn't open.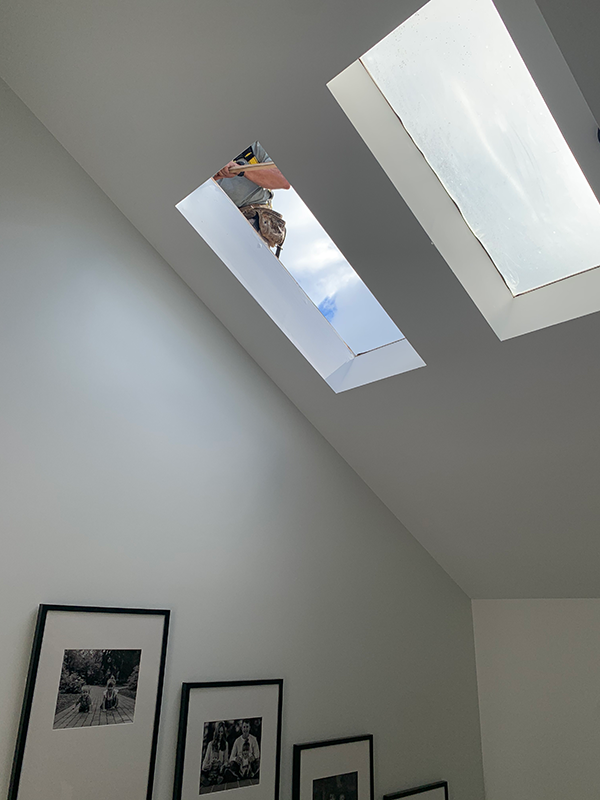 Even from the outside they weren't very pretty. The new ones were much flatter and sit more flush on the roof so they blend into your home more.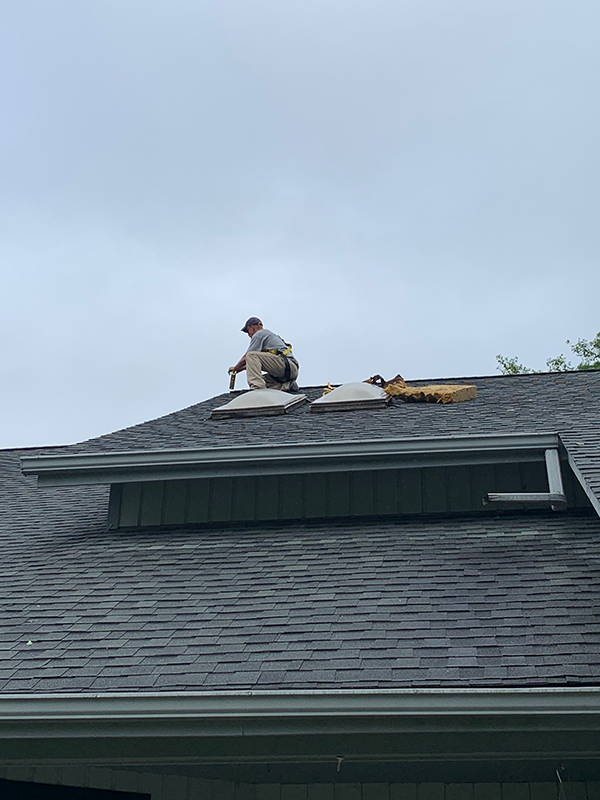 As soon as they were in you could tell an immediate difference. So much more natural light was coming through and it totally brightened up this area a ton!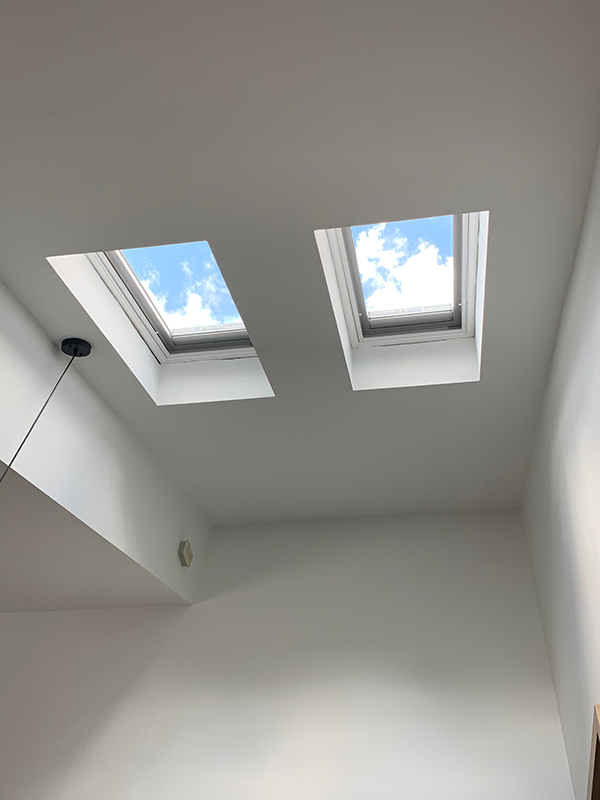 The one in the bathroom was the same old ugly bubble skylight that got replaced with a No Leak Solar Powered Fresh Air Skylight as well.
FEATURES AND BENEFITS OF OUR NEW SKYLIGHTS
All of our new skylights can open to let fresh air flow through each room which has been an amazing upgrade to have. Who doesn't love feeling a fresh breeze throughout your house? And even the sound of the birds chirping and all the summer sounds going on outside is such a calming thing to listen to.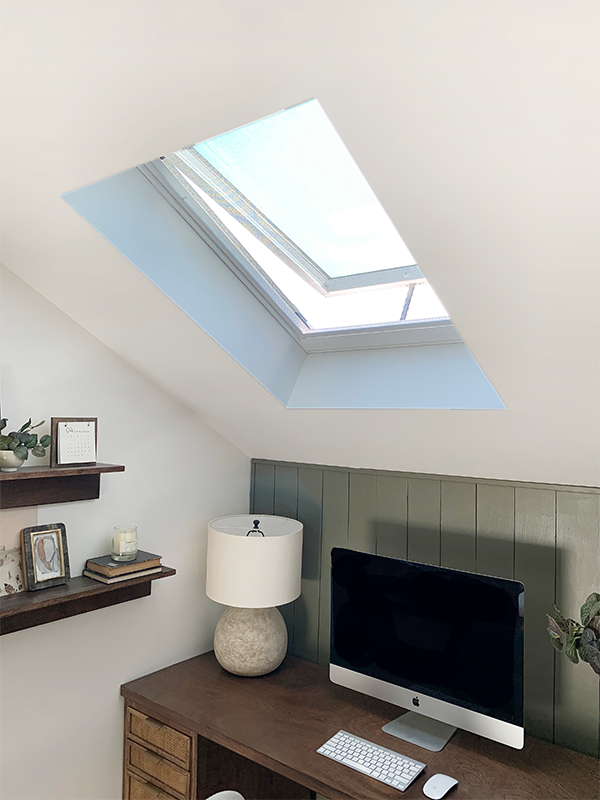 They all have screens on them as well, so that no bugs get inside!
You can control them with a remote or through the smartphone app but they also come with a rain sensor that automatically closes them if it senses rain is in the area. They're also totally solar powered, so there's no need for wiring!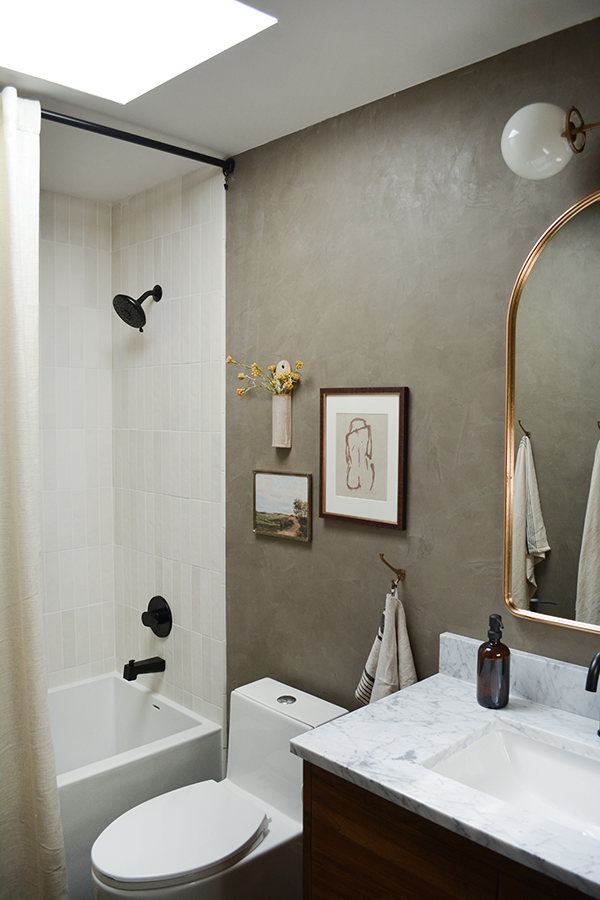 In our bedroom, we went with the room darkening blinds so that no light creeps in when we're trying to sleep. It also helps keep the heat out during the day.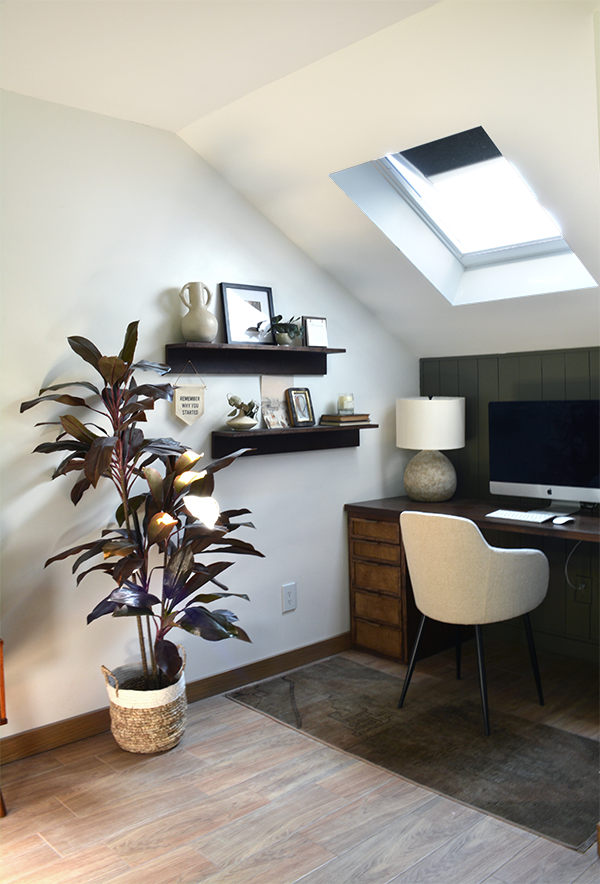 For the stairwell, we went with light filtering blinds that still allow some light in, but also increase the energy efficiency of the skylight as well.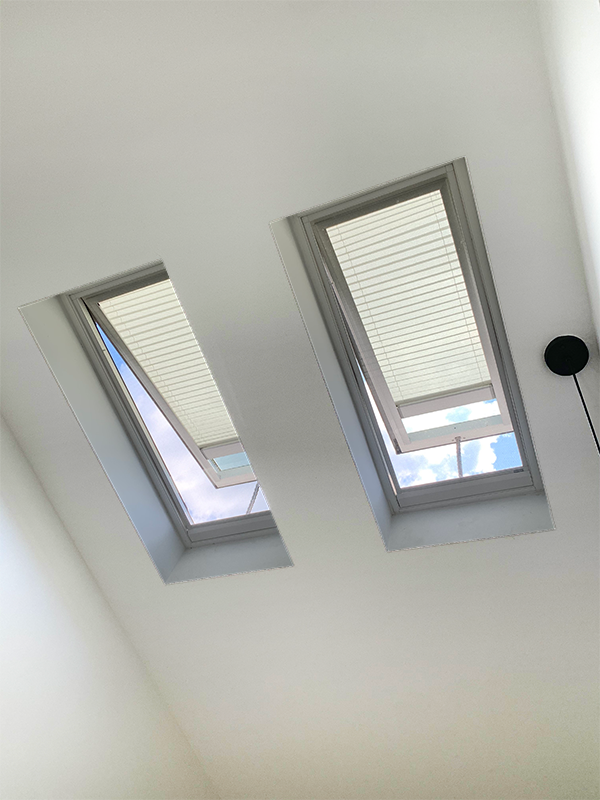 Since the bathroom is so small and the skylight is the only source of natural light, we opted for no blinds in there. But it has been SO nice to have a skylight that opens, especially to air out all the humidity after a bath or shower.
Another super cool thing is The VELUX Active Smartphone App which allows you to automate your skylights. The app connects to an indoor climate sensor that monitors temperature, humidity and CO2 levels and compares them to an online weather station. It automatically opens the skylights for air flow if that will improve the conditions inside your home.
Same with the blinds – it will extend them for me when the forecast shows a hot, sunny day, to prevent heat buildup and then retract them when the sun has passed.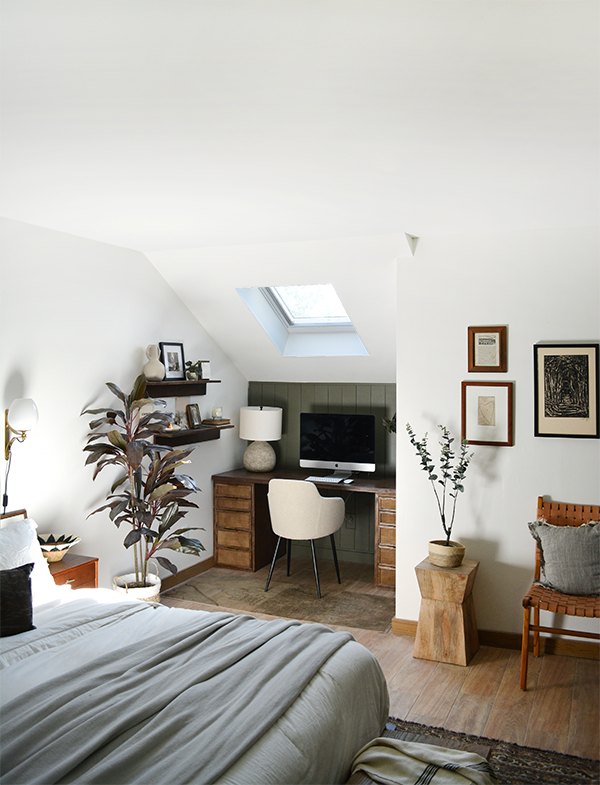 It's such a useful app that gives you so much control over your skylights and really allows you to customize your experience with them so they work the best for you and your home.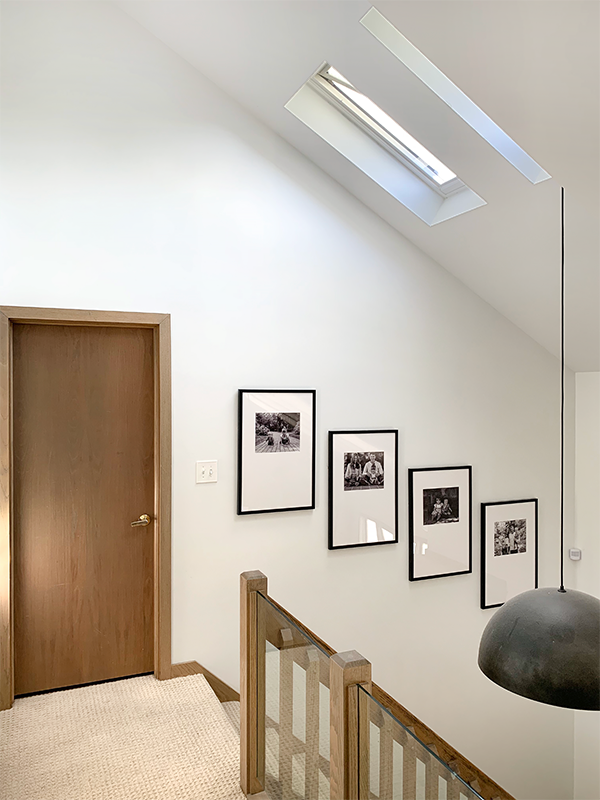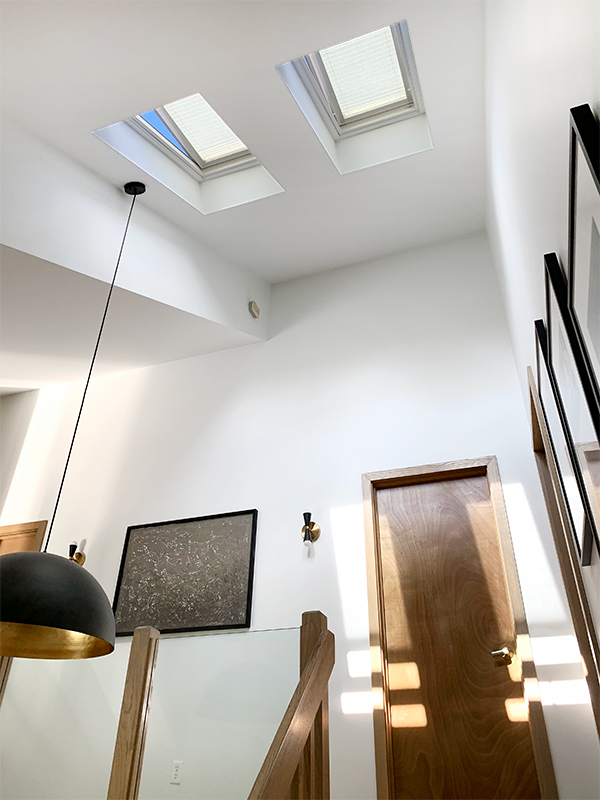 I can't tell you how much happier I am when I sit down at my desk to do work now. The natural light is an instant mood booster and my new skylight has totally improved the look and functionality of my workspace. Being able to look up and see the bright blue sky above me is such a simple pleasure that I'll never take for granted again. What was once a dark dreary corner, is now full of light and energy and I couldn't love it more.
BEFORE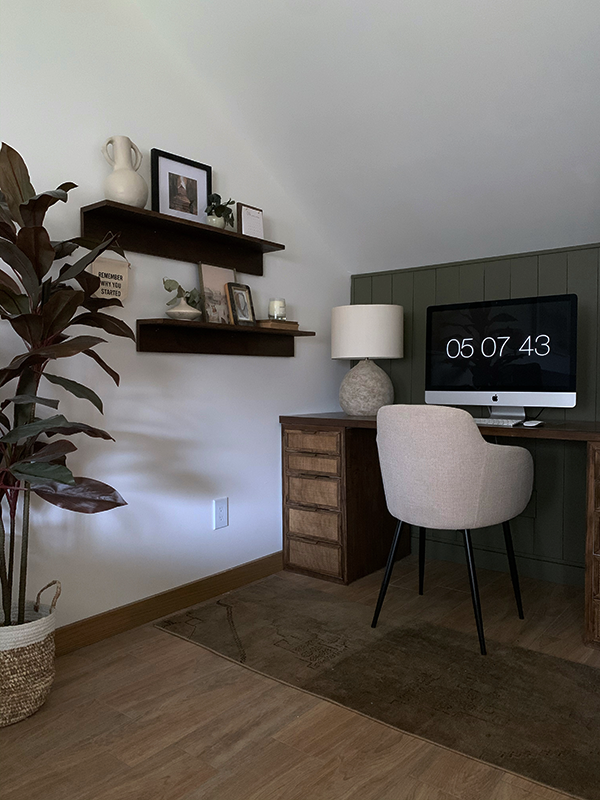 AFTER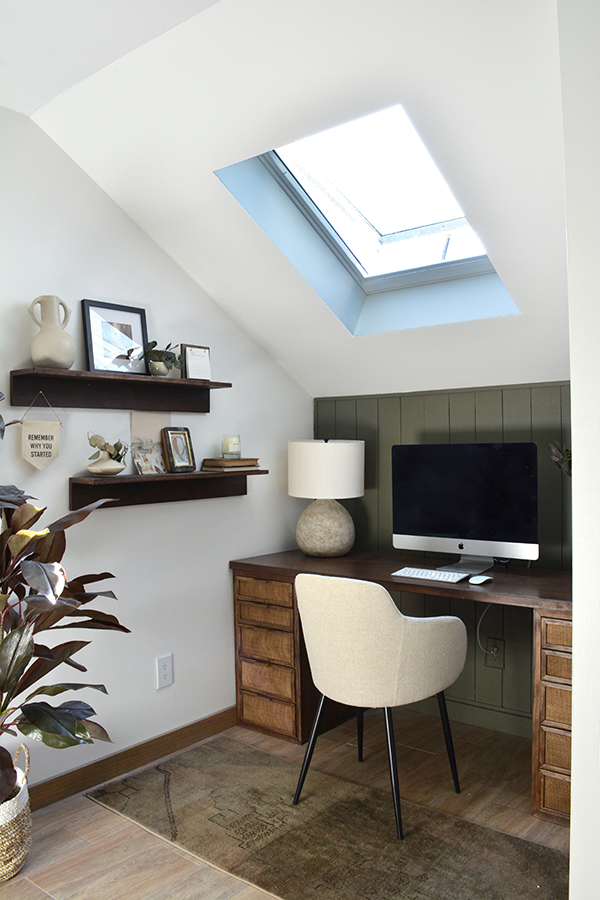 COST BREAKDOWN
SO many of you wanted to know about the cost of new skylights, so I wanted to break that down for you too. Keep in mind VELUX hooked us up with skylights that have all the bells and whistles so the cost breakdown is on the higher end.
Cost of Product (4 VELUX No Leak Solar Powered "Fresh Air" skylights, flashing kits for each, blinds for three and the automation kit) – $6,502
Installation Cost – $3,860
TOTAL: $10,362
If we only had the ONE NEW skylight installed in our bedroom this is what that cost would have looked like:
Installation – $1,500
One No Leak Solar Powered "Fresh Air" Skylight – $1,289
Solar Powered Room Darkening Blind – $400
Step Flashing Kit – $100
TOTAL: $3,289
Installation costs vary per installation and location and a number of different factors. Things like a flat ceiling vs. a vaulted ceiling also make an impact as well as if any structural modifications need to be made to the roof. The VELUX website provides a great deal of information on installation costs so you can see if it's the right fit for you!
VIRTUAL DESIGN CONSULTATION
VELUX also offers a virtual design consultation service where you can chat with a daylight designer right from the comfort of your own home. They will answer any questions you have, offer advice, recommend a local installer and so much more. If you're on the fence about new skylights, this is a great service to take advantage of!
FAQs
I asked you guys on instagram if you had any questions so I wanted to make sure to answer all of those too! Most of you wanted to know about cost – so see above for that info.
Is there a remote for both the blind and the opener? Yes! Each blind and skylight has it's own remote and can also be controlled separately through the app on your phone.
Did VELUX do all the installation or did you need a contractor? VELUX arranged for one of its 5-Star Skylight Specialists, SUN-UP Construction, to do the install. SUN-UP is a certified VELUX installer, but is its own independent business. A separate drywall finisher did the finish/mud on the new drywall around the interior of the new skylight in the bedroom. To find a VELUX certified installer near you, they have a handy

locator tool

– just enter your ZIP code.

Can you install with a metal roof? Yes, this is best done when the roofing installation is being done because the installer will need make cut outs in the metal panels for the skylight.
Can you add a blind to an already existing skylight? Yes! Blinds can be purchased online at the VELUX Blinds Shop
How do you make sure it doesn't leak? VELUX is known as "The No Leak Skylight" and offers a 10 year product and installation warranty. The installation method includes 3 layers of water protection: a deck seal, all-weather underlayment and engineered step flashing. You can watch a

skylight installation video

to see how it's done.

How do you keep them clean? For the inside, if in reach use standard window cleaner like Windex and a soft cloth. For the exterior many window washing companies will clean skylights. For the exterior soapy water and a soft rag will get the larger debris off and can be finished with windex and a soft rag. Window washing companies that do interior washing will have the ladders needed to reach skylights that are out of reach from the floor.
Was a permit required? For us, no. In some locations, yes. Your installer will know what's required and typically will pull permits if they are needed.
How long did it take? The crew arrived around 7:30 AM and was done by around 3 pm!
Is there a screen to keep bugs out? Yes! They all come with built in screens
Does it sense rain? Yes! It has a built in sensor that closes the skylight at the first sign of rain. On my new skylights the

rain sensor

reacts to the sound of the rain hitting the roof and the sensor itself and closes the skylights.

Can skylights be installed on flat roofs too? Yes!
Was it a mess during install? Not at all! They put some drop cloths down but there was very minimal dust/mess. All of which they cleaned up before leaving!
I hope this information was helpful to see what goes into installing and replacing skylights. It was definitely an eye opening experience for me to watch the whole process.
We're in love with our new skylights and so grateful to VELUX for making it such an easy and smooth process!