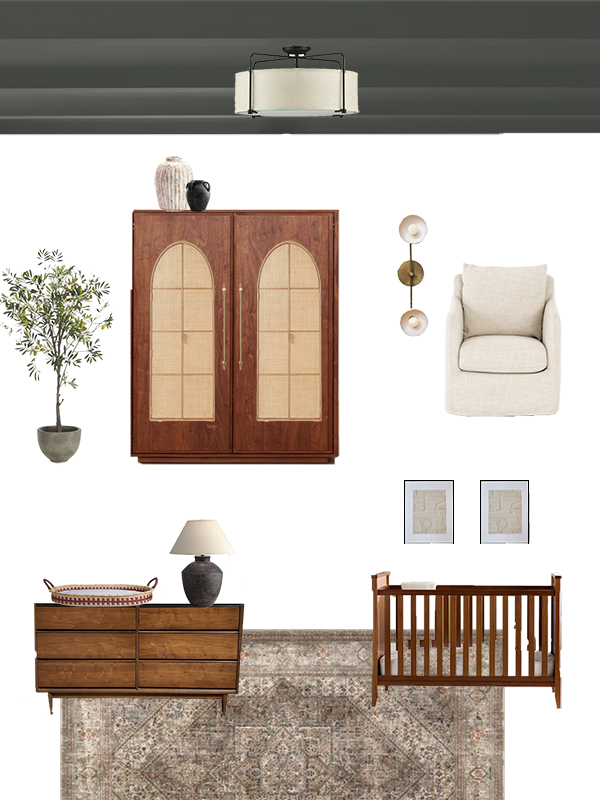 Nursery and Guest Room Plans
Now that the kid's bathroom is finally finished, it's time to start working on the nursery/guest room! This babe is going to be here in two short months so it's about time we got started!
My FIL currently still has a bedroom upstairs even though he spends most of the time in his finished basement. Earlier this year he finished the bathroom down there that has a shower so he could start the transition. Then he had a wall built to close off a space for a bedroom. So the plan is that he will move down into the basement and we will turn his bedroom upstairs in a nursery/guest room.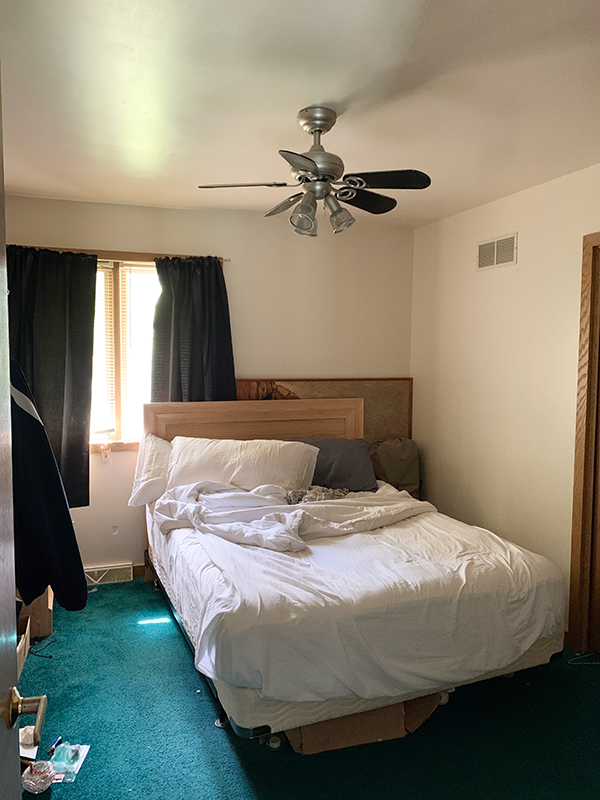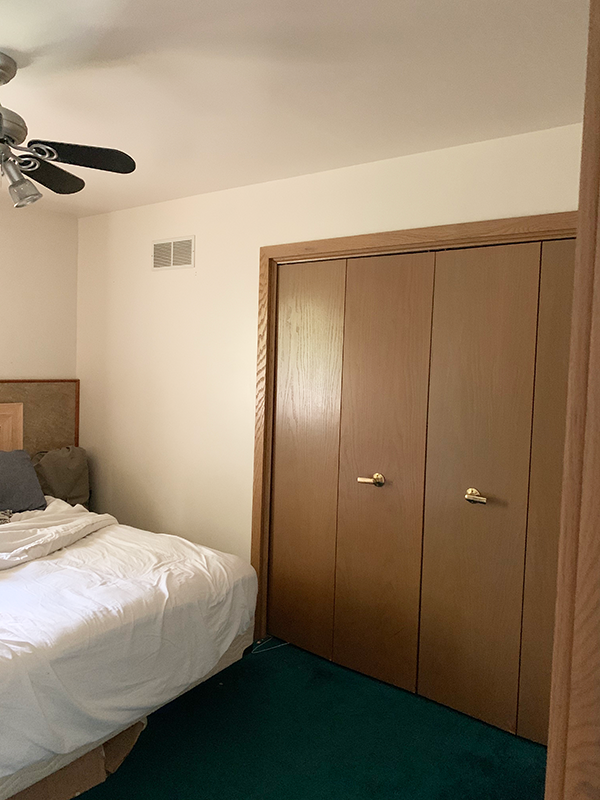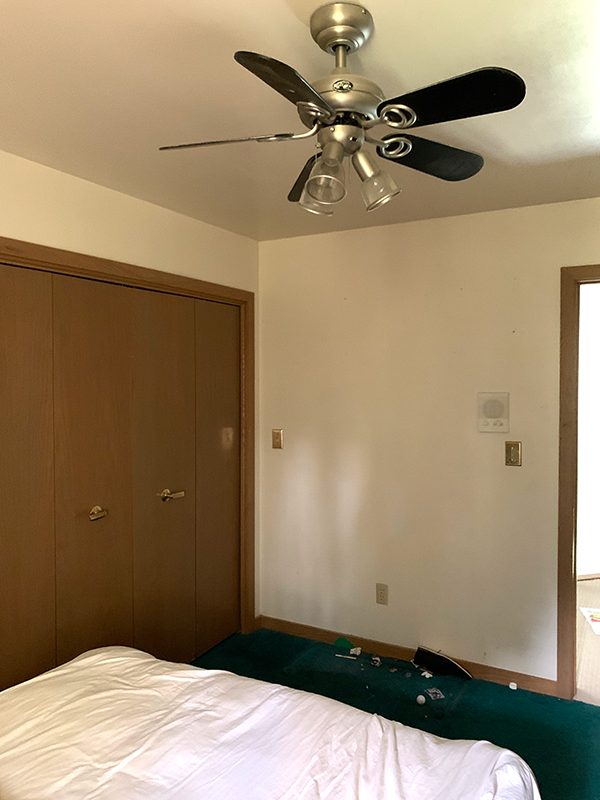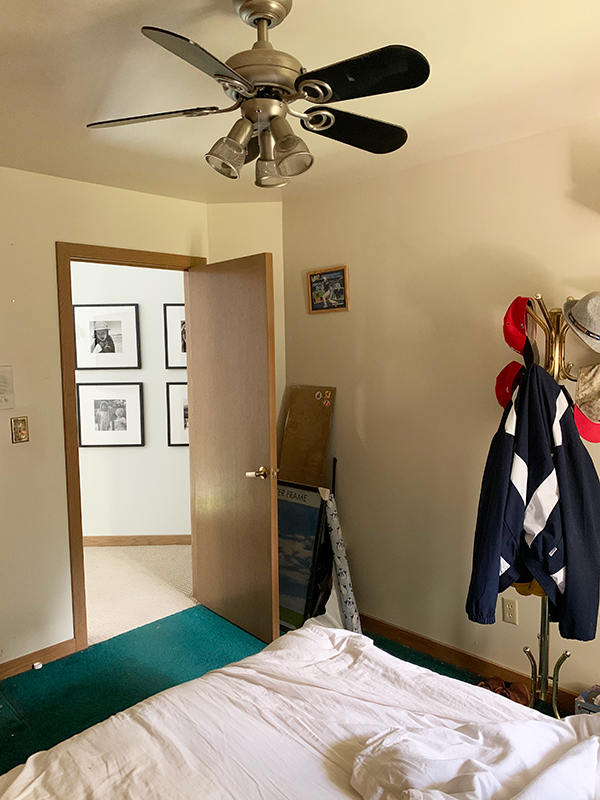 My parents are our most frequent visitors, and they come enough that a guest room is needed. And when they do, then the baby will just stay in our room. Once he/she gets older, we will probably look into doing some room sharing between all the kiddos and making this solely a guest room.
The room isn't huge so in order to make a bed and a crib fit, we have to get creative. I was torn between doing a murphy bed and a sleeper sofa, and ultimately decided on a murphy bed. We already bought the kit which comes with all the pieces you need to create the pull down mechanism, and then a cut list for wood so you can build the frame for it.
My friend, Anita just finished a DIY Murphy Bed and it's giving me all sorts of inspo.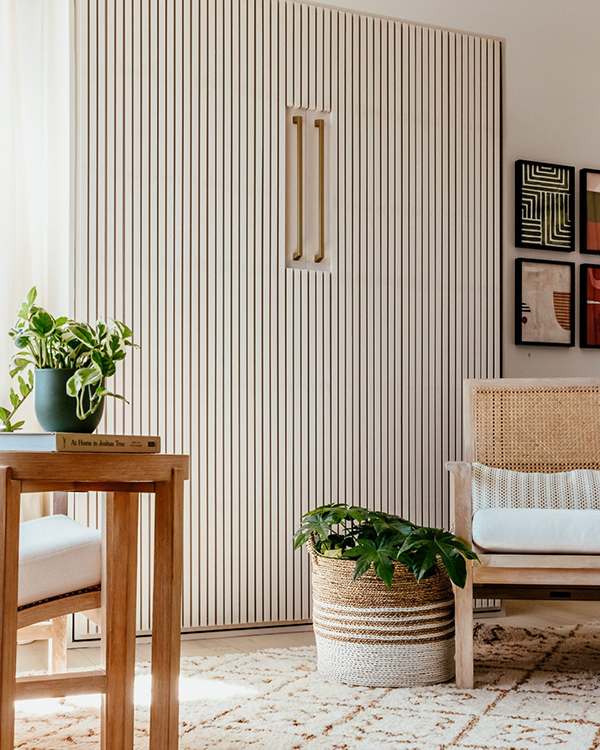 I'm super excited about this (even though the instructions look semi daunting) because we can customize it any way we want. It will essentially look like a tall armoire when it's closed so I've been brainstorming what kind of treatment to do to the front cabinet faces.
We're planning on using Hawk's crib even though he's currently still in it ha. We'll be transitioning him to a toddler bed soon or we still have Eloise's old crib that converts to a bed and we'll give him that for a bit.
The other thing I've already got is a dresser/changing table. I used a vintage dresser in hawk's room the same way and wanted to do it in here too. I found it on Facebook Marketplace near my parents and had them go pick it up for me.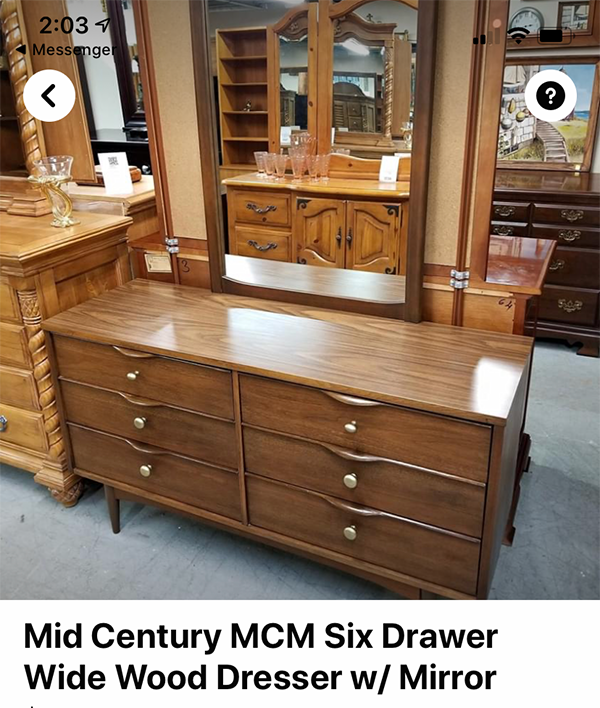 Dan and I were chatting about the design for this room and he started giving me a hard time teasing that it's going to look exactly like every other room in our house. To which I said, yes ha. Because that's my style and that's what I like. :-p I then asked him what he would do if he was designing it.
So today I have BOTH of our mood boards to share with you! I told him what pieces he needed to pick out and I helped him put it all together in Photoshop. It was fun to see what he came up with!
DAN'S MOOD BOARD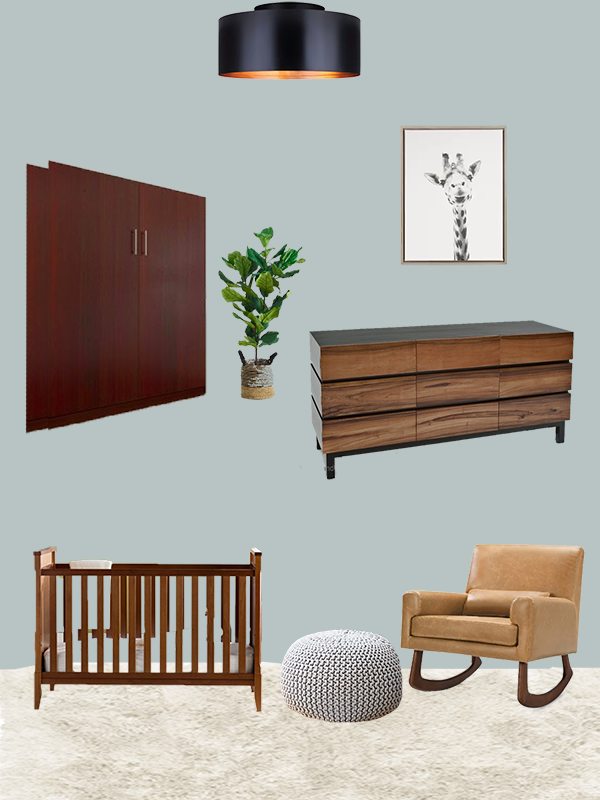 LIGHT | CHAIR | POUF | GIRAFFE PRINT
Apparently he's very confident that we're having a boy haha. I will say I was surprised by some of his choices because I thought for sure it would be way more colorful. But all the pieces he chose are very clean and modern which I like. I just don't like the overall vibe :-p He said I've brainwashed him and he can't even think for himself anymore ha. He even chose a faux fiddle! I've trained him well.
BRE'S MOOD BOARD(S)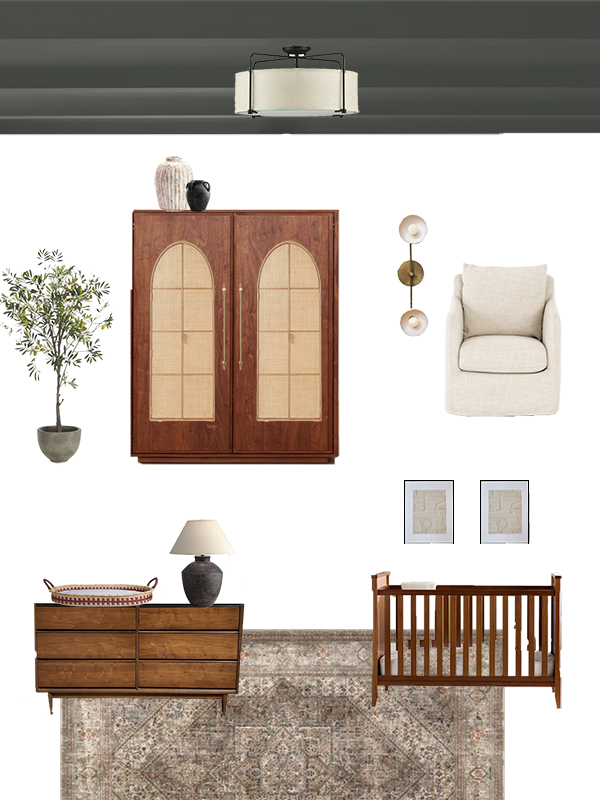 LIGHT | CHAIR | SCONCE | LAMP | RUG | CHANGING BASKET
I'm still not 100% on the design of the murphy bed, but I'm going to do something with cane or wood slats or a combination of the two. For now, the arched cane insets is what I've come up with but I'm sure it will probably change along the way.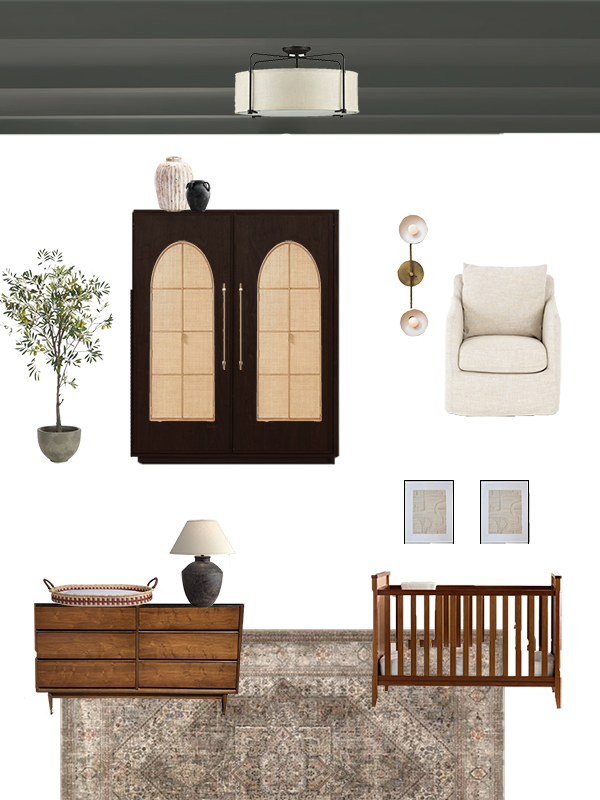 I'm also torn about the color of the murphy bed. I love the wood tone but not sure if it's too much with the other wood pieces in the room. I thought painting or staining it black could be a fun way to break it all up.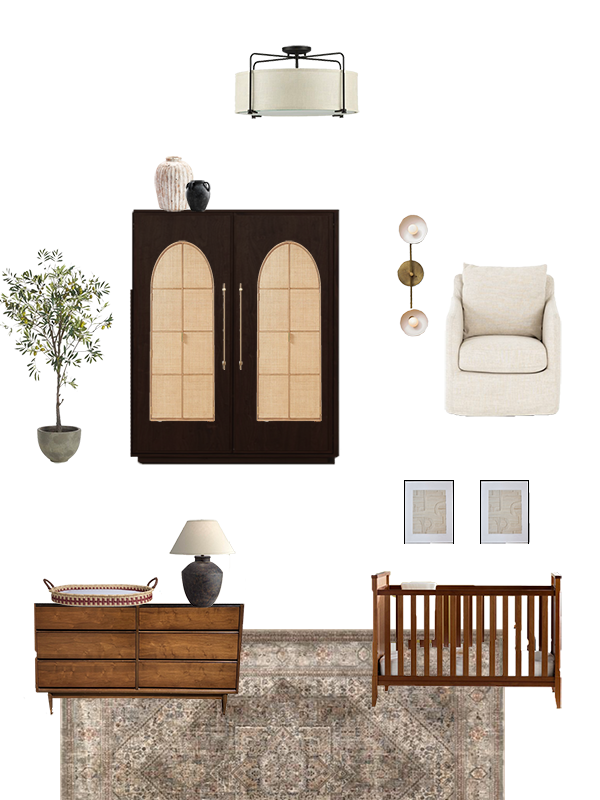 And lastly, I'm sure you're wondering what the ceiling treatment is all about. I'm still undecided about that too but was totally inspired by this design from Pierre Yovanovitch I found on Pinterest.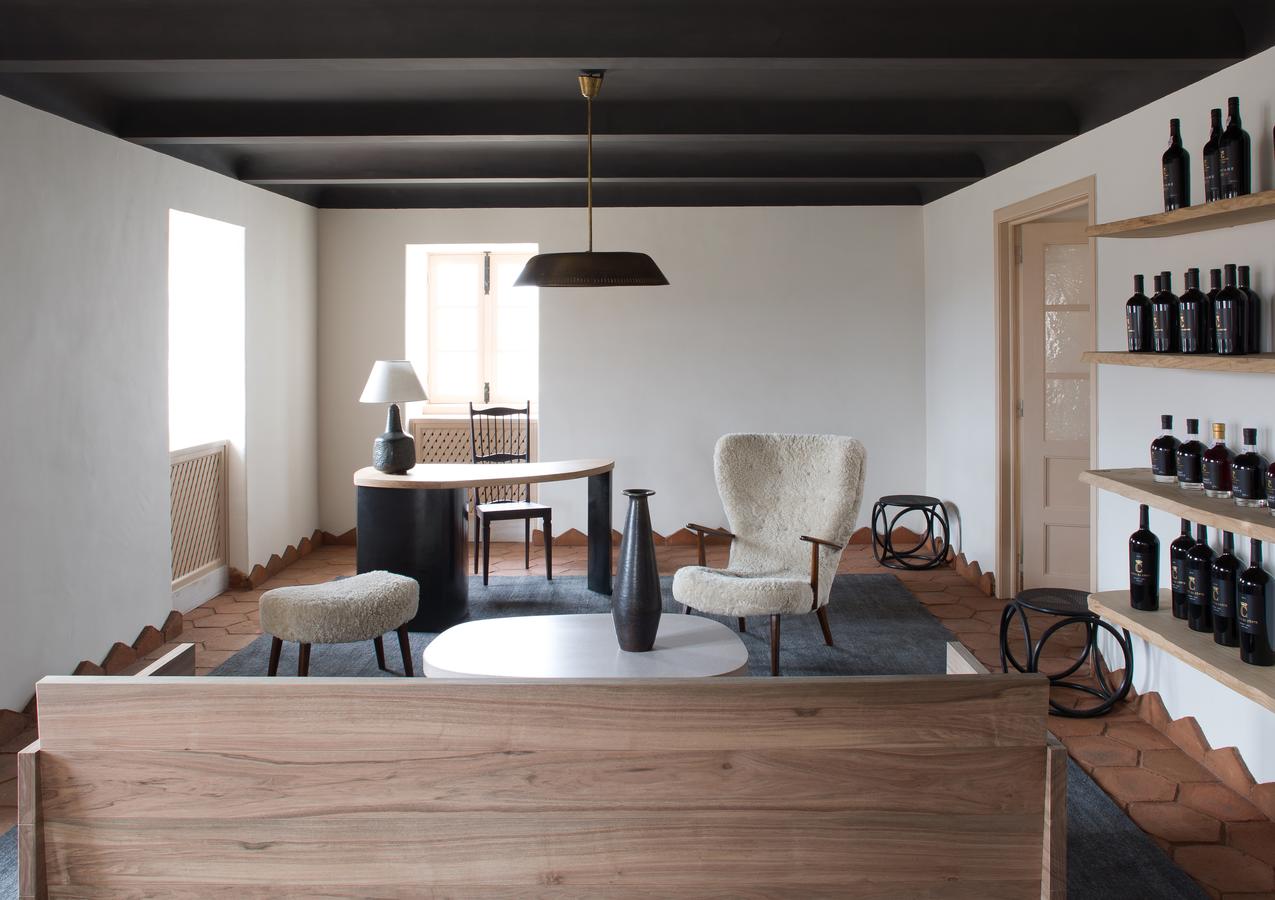 Painting it dark with some faux beams adds such a dramatic yet subtle architectural element that I can't get out of my head.
My other idea would be to just paint the whole room white and do contrast trim in a light mushroom color similar to what I just painted our door from the house to the garage.
Similar to this from Juniper Home.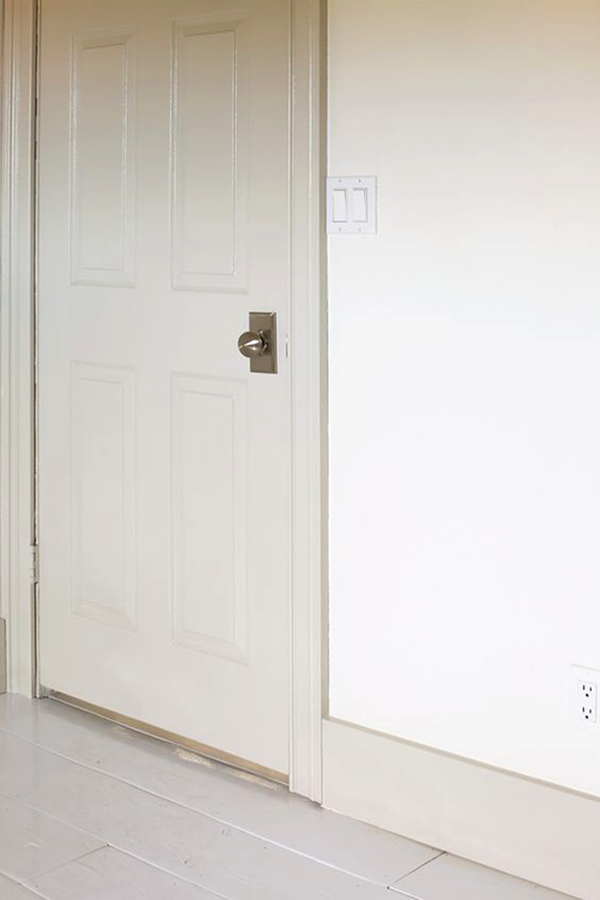 What's your vote? I'm torn! Or maybe I do both??
We started moving some of the furniture from my FIL's room down into the basement earlier this week and we're going to get the carpet replaced soon. So if we're painting, we probably want to do it before the new carpet is put in which means I need to make a decision ASAP!
We've got a lot of work to do but I'm excited about the plans for this space! And can't wait to take a long break once this babe arrives 🙂