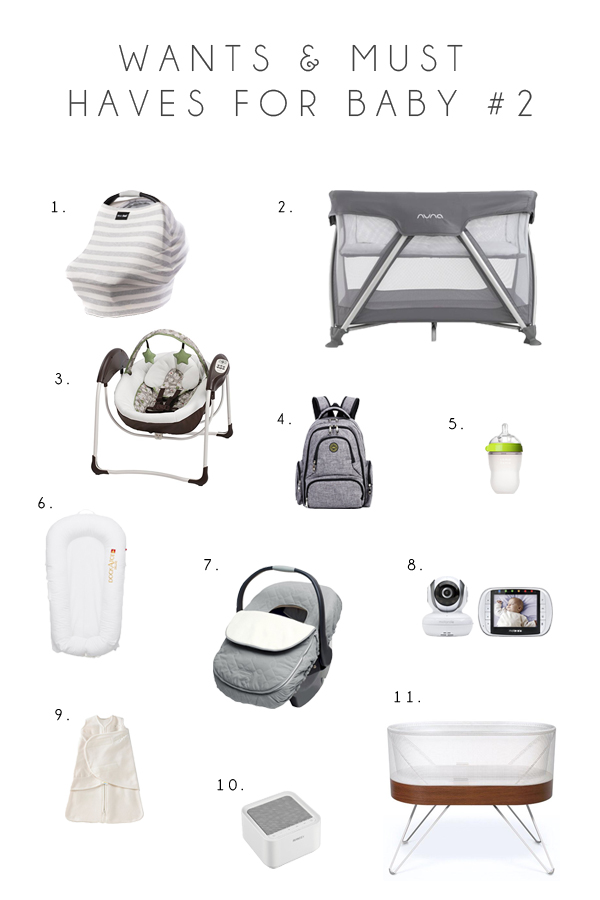 Ok I haven't shared much baby stuff this time around because I know you guys care more about DIY but it's all that's on my mind lately so I figured I might as well sneak in a couple posts. After your first babe, you figure out what works best for you. But I know every baby is different and I'm sure this one will not be exactly like Eloise. It's crazy that after only 19 months there are so many new products out there that I want to try. But I also have my go tos that we'll be definitely using again.
Must Haves for Baby #2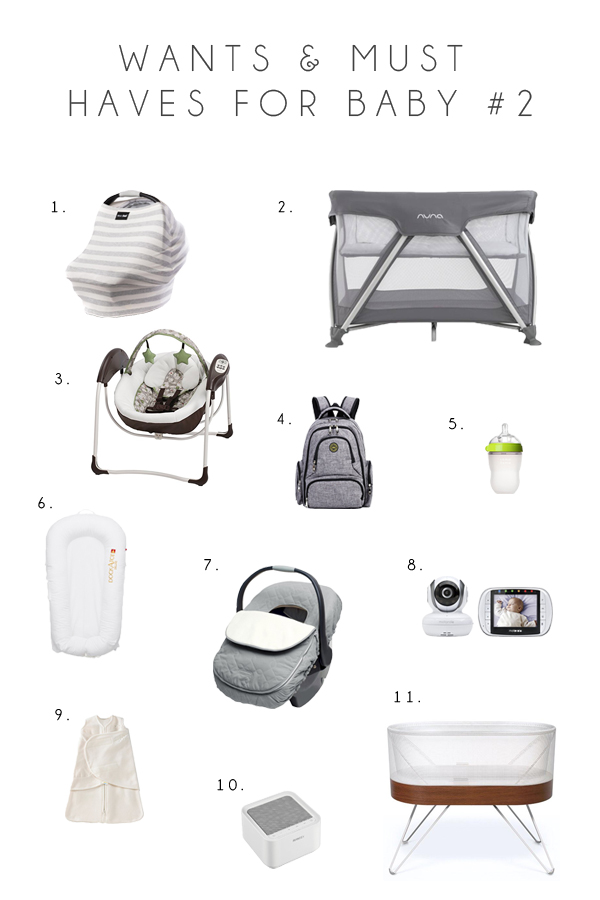 *affiliate links included
1 :: Milk Snob Nursing/Car Seat Cover
I bought this for myself when I had Eloise and I absolutely loved it. It duals as a light weight car seat cover and a stylish nursing cover. I will say I used it more as the car seat cover because I never had to do too much nursing in public, but it's perfect for those spring/summer days when your babe needs a little coverage from the sun. But it's still totally breathable too!
2 :: NUNA Sena Play Crib
We used this with Eloise too and will definitely be bringing it back out for baby #2. I was on a mission to find a pack and play that wasn't hideous but also didn't cost a fortune. We kept this in our living room and she napped in it during the day. I love that it blends into our decor and doesn't have an obnoxious pattern on it.
3 :: Graco Glider Lite
This swing was a huge lifesaver for us. Like I said, I know every baby is different but Eloise LOVED this swing. She would instantly fall asleep basically as soon as we put her in it. It has 6 speed settings and music options you can play. Fingers crossed this little dude feels the same way about it.
4 :: Backpack Diaper Bag
My first diaper bag was a cross shoulder bag, which was cute and I liked it but it kept getting in the way and was hard to carry around. I finally decided to try out a backpack and was so mad at myself for not doing it sooner! Backpacks are seriously the way to go. I found this one on Amazon and decided to give it a try since it's cute and SO affordable. It's a great size for newborns and when you have a ton of crap so I know I'll be busting it out again. I downsized to a cuter little leather backpack once Eloise got older that I'm sad to put away, but this one is more practical and functional for a new babe!
5 :: Comotomo Bottles
We used Tommee Tippee Bottles with Eloise but I've heard awesome things about these Comotomo bottles. After use with one babe, I feel like it's time to replace them anyway, so I'm going to give something new a try! I love that they're made of silicon and are squeezable so baby can grab them easily.
6 :: DockATot
I'm super excited about this product. I have a ton of friends who have raved about it and use it daily. We had a Bobby Lounger with Eloise which was great, but I love the size and shape of this one and know we'll get a ton of use out of it.
7 :: JJ Cole Carseat Cover
We used this with Eloise as well and it was perfect for the colder winter temps. It has a fleece liner and is super stylish.
8 :: Motorola Wireless Baby Monitor
We still use this today (when do you stop using a monitor??) and it's worked great for us. The video picture on it is amazing, you can talk to your baby through it, play music, adjust the camera position and so much more. I debated getting a dual camera monitor, but Eloise's room is right next to ours and we can hear her pretty well, so I think I'm just going to move this one into the new babe's room.
9 :: HALO SleepSacks
I absolutely love these. We used them basically for the first 4 months of Eloise's life, until she started busting out of them. They keep their arms down and you're able to wrap them super snug so they don't toss and turn.
10 :: White Noise Machine
This was something we never bought with Eloise. We used an app on our phones a lot during the day and then at night had this little stuffed animal giraffe that played music for like 5 minutes. It's definitely something we'll be buying this time around and I love how simple and plain this one looks.
11 :: The SNOO
This was definitely a wish list item, but I worked my blogger magic and am super excited to work with The Happiest Baby to get one of these bad boys. It was created by the doctor who wrote Happiest Baby on the Block, which was one of the only "baby books" Dan and I read the first time around. It has built in noise and motion, all that help baby sleep safely and longer as well as it's own velcro sleep sack that keeps baby in place. A friend has totally raved about it and I can't wait to use it. We'll keep the little guy in here for the first 3-4 months in our room most likely.
And since baby #2 is getting all sorts of fun new stuff, your first child needs something too. Check out these Top 40 Toddler Toys perfect to make them feel special and keep them occupied while you're taking care of your newborn!
Click through to shop!