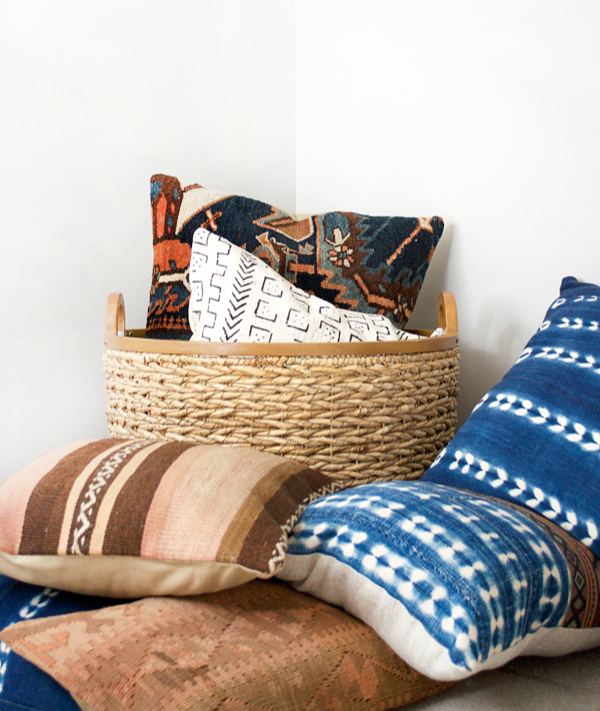 I've always loved pillows. They're the perfect way to change up your decor and it usually requires minimal effort. Now that we're in a new home and I'm redecorating, I'm in need of pillows. A lot of pillows. But of course I don't want to spend a fortune on them. I've scoured the internet for the best places to buy affordable boho pillows and figured I'd share my resources with you so you can be a happy pillow shopper too 🙂
THE BEST PLACES TO BUY AFFORDABLE BOHO PILLOWS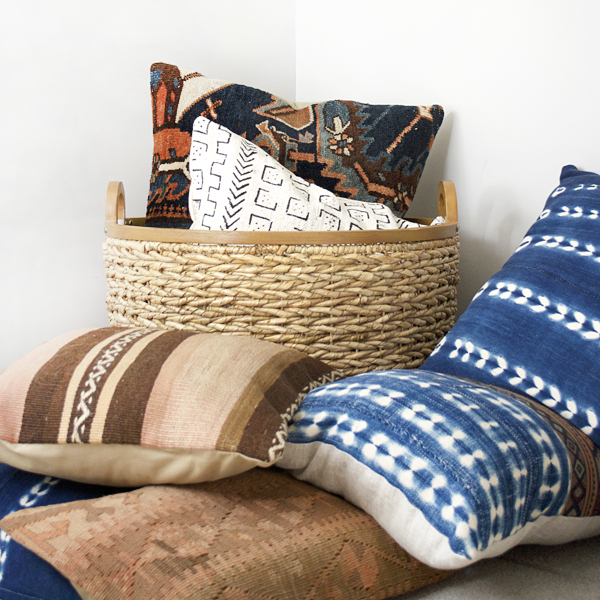 *affiliate links are included*
ETSY
This is probably the first place that comes to mind and there are sooo many great small business on here. If you're looking for some vintage mudcloth, two of my favs are The Ivory Gull and Norwegian Wood Online. I've become close with both of these ladies and they keep impressing me time and time again with their gorgeous patterns and quality sewing skills. Mudcloth can run pretty pricey but both these shops are super reasonable.
Another great Etsy shop is My Mercantile Shop. Along with some more indigo mudcloth, she's got some super affordable kilim pillows that are to die for.
Handloom Weaves also has some kilim beauties from Turkey that range from $20-$40.
eBay
I recently discovered a super awesome pillow shop called Anatolia Kilim Collection. I've ordered two already and I'm already plotting my next purchase. Most pillows here range from $9-$12 with a $12 shipping fee. But that's still a killer deal. And they're coming straight from Turkey and shipping is lightning fast. Totally worth it if you ask me.
AMAZON
I don't know why I never thought to look on amazon for pillows. They sell everything else, right? SARO LIFESTYLE has some pretty awesome kilims that qualify for prime which is pretty awesome.


This site has kilims galore, including square and lumbars. They range in price from $12-$28 and with such a huge selection, you're bound to get lost browsing these beauties for a while. You've been warned 😉
I came across this site one night after doing a google search and quickly got sucked down the pillow rabbit hole. I love the variety of colors she carries and unique patterns. Another site you can easily get lost on.
MARSHALLS
I'm not sure if every store is the same but I stopped in ours the other day and they had a crazy good selection of boho looking pillows! I got one for the nursery for $20 and they were all super cheap!
I'm sure there are tons more shops out there, but these are some of my favs. And just a heads up that most of these shops sell just the pillow case cover, so you still need to buy a filler. What I usually do is buy a big bag of fluff from the craft store and stuff them with that. Or check the clearance section at stores for cheap, ugly pillows that will fit!
If you've got any other places that are your go to…share your pillow love with me!