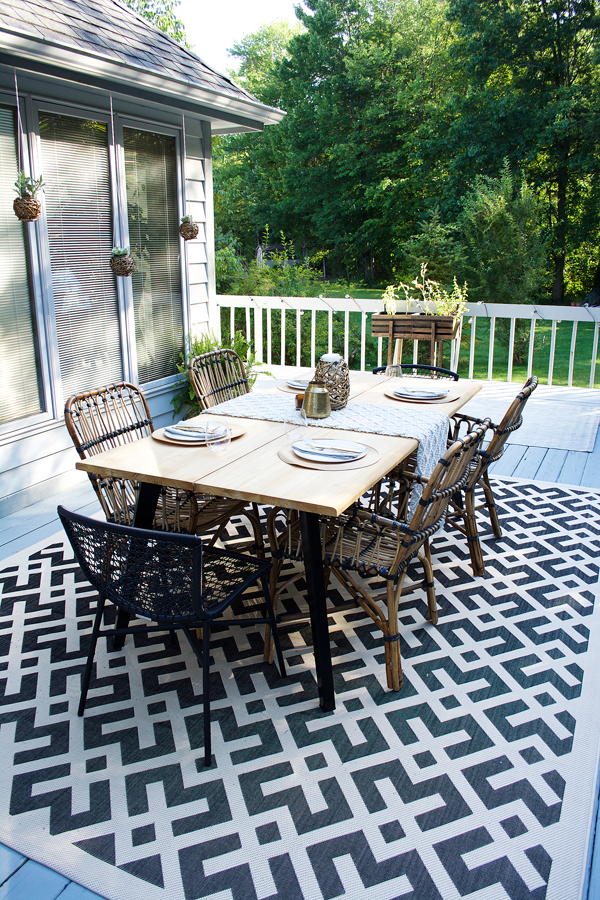 Summer might be coming to an end but you better believe we're getting as much use out of our back porch as possible before the temps cool down. We're lucky to have a great outdoor space where we can entertain, but until recently, it wasn't a space any of us really wanted to hang out in. The paint was chipping, boards were broken and our mismatched dated furniture was less than desirable to sit at.
Then Article came to the rescue. I introduced them to you guys when we got this gorgeous daybed for our bedroom, and this time I'm teaming up with them and four other bloggers to share our tips for hosting the Perfect Summer Soiree and making the most out of your outdoor space with beautiful and functional furniture.
TEIPS FOR HOSTING THE PERFECT SUMMER EVENING WITH FRIENDS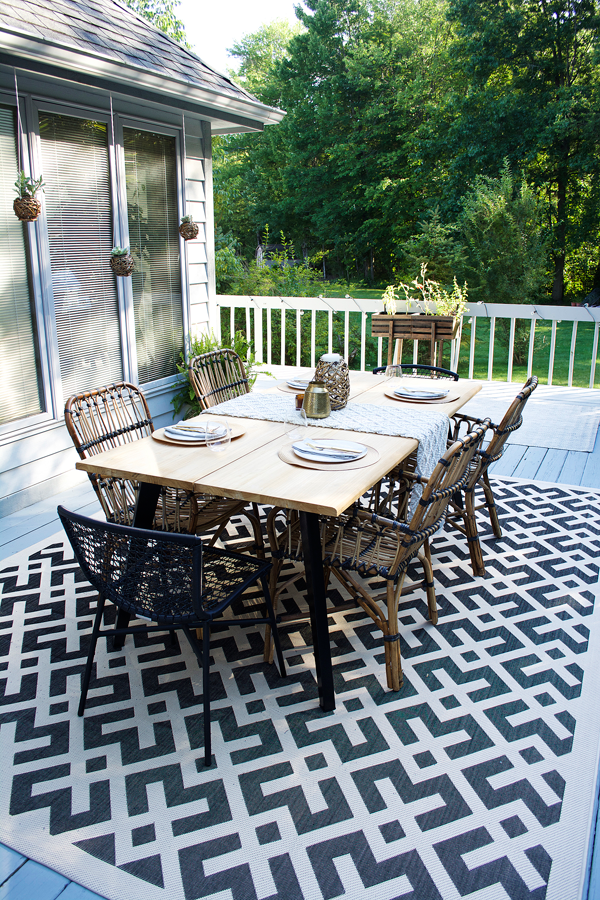 Start with a Good Foundation
Now I'll admit our porch isn't my dream situation. I'd prefer if the wood was stained, and I'd love to add a pergola or some type of coverage somewhere. But it's a huge area and giving it a little TLC totally brought things back to life.
We power washed first, and then restained to give the whole porch a fresh clean look. The stain is a paint that matches the color of the trim on the house, which really isn't a bad color, and just by doing that, things started looking so much better.
Once that was done it was time to add to that foundation with a gorgeous rug to anchor the whole space. I went with THIS ONE from Plush Rugs and couldn't love it more. I was a little nervous about having an outdoor rug, as I know a lot of people are, but so far it's holding up great to the weather and I can tell it's going to last a long time. The pattern is so fun and pairs perfectly with our furniture. We also added this little guy to the other side in front of the grill for some added texture.
Article has also recently launched a new line of outdoor rugs you can check out HERE. And they're made from recycled plastic bottles…how cool is that?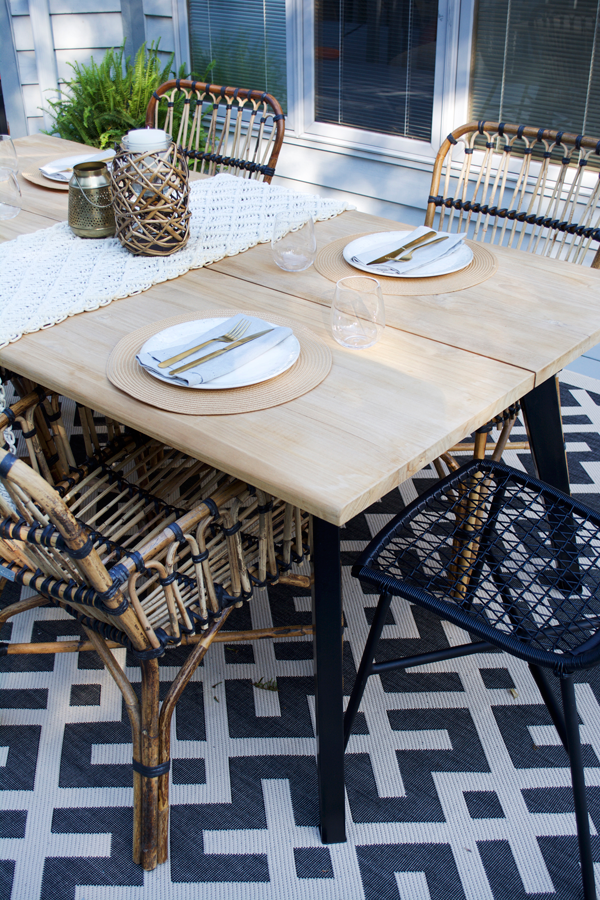 COMFORTABLE AND STYLISH FURNITURE
I honestly don't think I could love a table more. When I spotted the Lisse Dining Table on Article's site, I immediately fell in love and when it arrived, it was even more gorgeous in person. It's nice and thick and made of beautiful teak wood that will naturally develop a gorgeous silvery color over time, which I can't wait to see.
The wood top paired with the galvanized legs makes for the perfect combination and totally sets the stage for the rest of the furniture. A good table can last a long time, and I already know this guy is going to be with us for quite a while.
I was a little nervous about how to keep it clean, but it's been great outside so far, and you just need to occasionally wipe it down with a wet rag. If we start getting some more serious weather, I might cover it, and we'll definitely bring it inside in the winter, but it's been holding up great. Oaks totally approves of it too.
For the chairs, I did a little mixing and matching to add some variety. The Malou dining chairs are seriously so gorgeous and I love the modern simplicity of the Sala chairs. I honestly chose both because of their looks, but they are both so comfy! I thought I was going to have to add cushions, which I still might do, but it's totally not necessary.
We've been sitting in these a lot, and even at 28 weeks pregnant, I don't feel uncomfortable. And that's saying something 😉 They both fit in perfectly with my boho modern vibe that I use throughout our house and make it feel like we have our own little oasis on our back porch.
IT'S ALL IN THE DETAILS

Once you've got your main pieces of decor and furniture down, it's time to make your space feel like you through details and decor. Since this is an outdoor space, you want to remember to decorate with items that can withstand a little wind and rain.
I found this gorgeous macrame table runner at HomeGoods that I knew would be perfect on the Lisse. I decided to put it across the middle of the table so it didn't get in the way when we ate. I wanted to keep things simple so I added a few candle holders as a centerpiece that are both pretty and practical.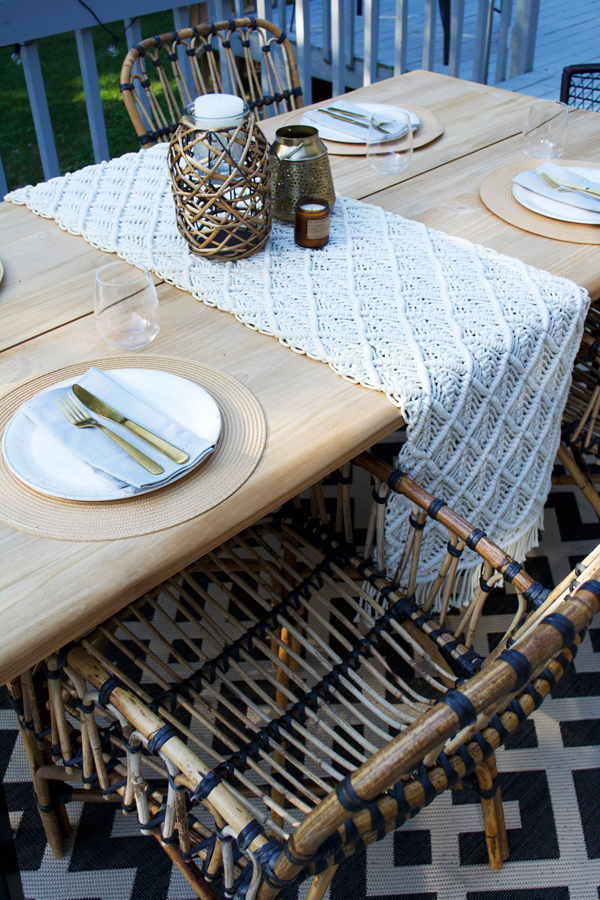 One of my favorite projects is these little hanging planters. I found the bamboo vases at Lowe's and they were originally meant for candles, but I decided to plop some succulents in there instead. Then I just added some rope to the sides and hung them up! An easy way to add some more texture and greenery.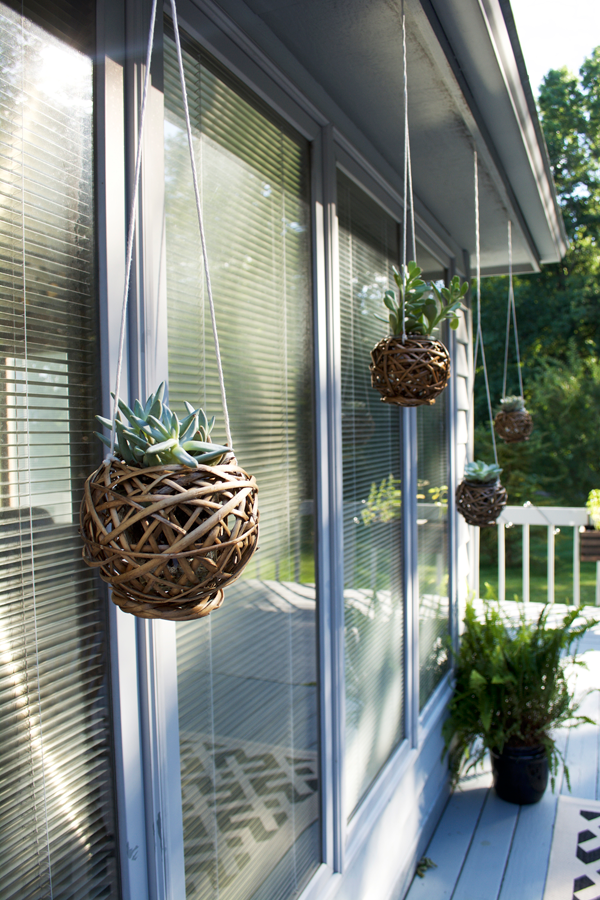 AN EASY AND DELICIOUS MEAL
When it's summer and it's hot, no one feels like slaving over a hot oven and preparing an enormous feast. One of our favorite things to make is pizza's on the grill. They're easy, delicious and you can please everyone with all the different toppings. We like to use naan bread as the base and then throw on lots of fresh veggies and chicken and a little balsamic glaze to top it off. They're always a crowd pleaser and it's easy clean up too!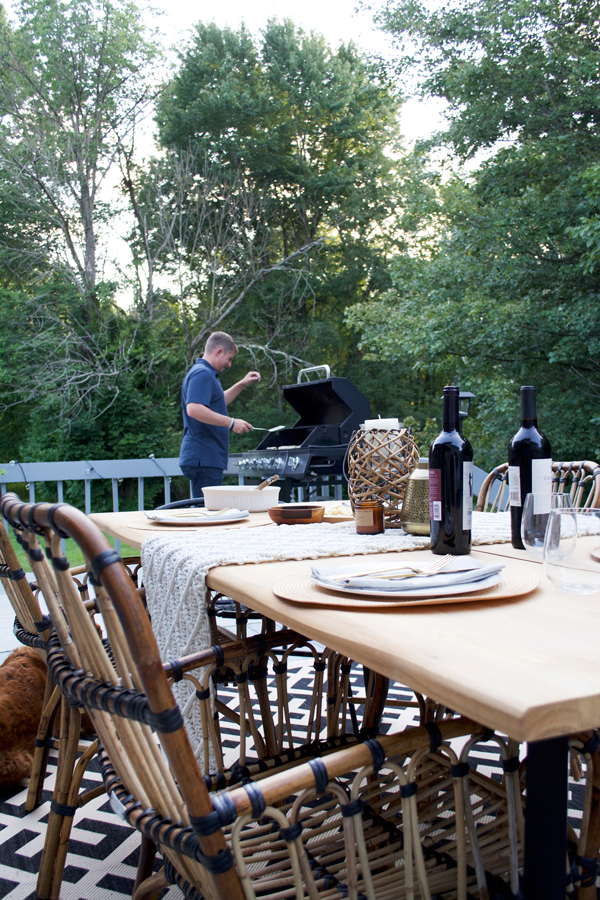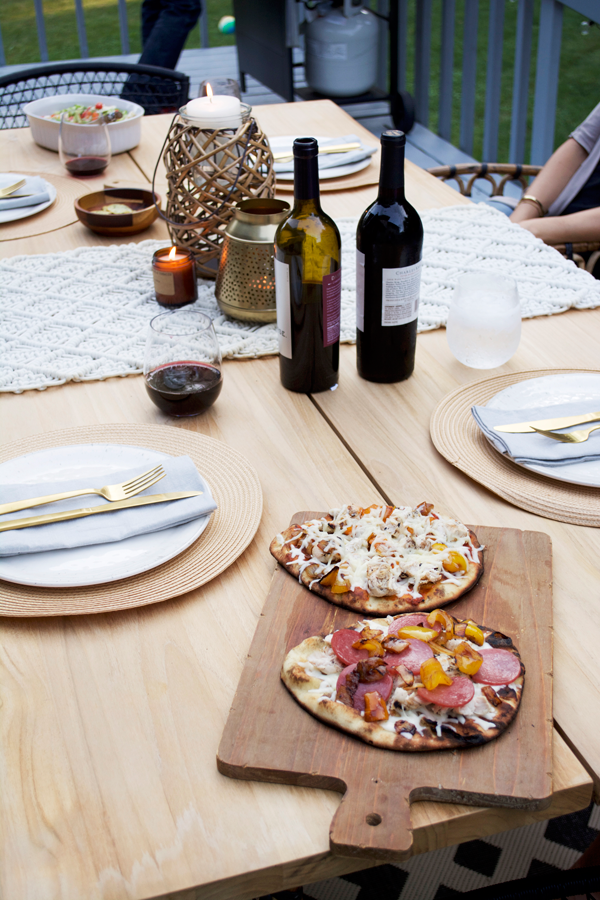 And what goes better with pizza than a nice bottle of wine? It's been getting a little cooler here at night already, so we've been bringing out the red wine. And when I say we, I mean everyone but me 🙁 3 more months then this mama can enjoy a nice big glass!
GOOD COMPANY AND GOOD MUSIC

Once you've got all the furniture, food and decor under control, it's time to finally enjoy your space! One thing that's a must for me when we entertain is having on some music in the background. My go to for dinner parties/get togethers is the Van Morrison station on pandora. We have THESE Bluetooth speakers and I'm obsessed with them. I bring them outside when we eat, I use them in the garage when I'm working on a project – you name it. They were a gift from some friends and they're literally one of the best gifts we ever received because we use them so much!
And then of course, it's time to invite everyone over to enjoy your space with you! I love sharing our home with others and until now, I never really wanted to. It's definitely a work in progress, but I'm learning to work with what we have and embrace all the projects that we have been able to take on so far.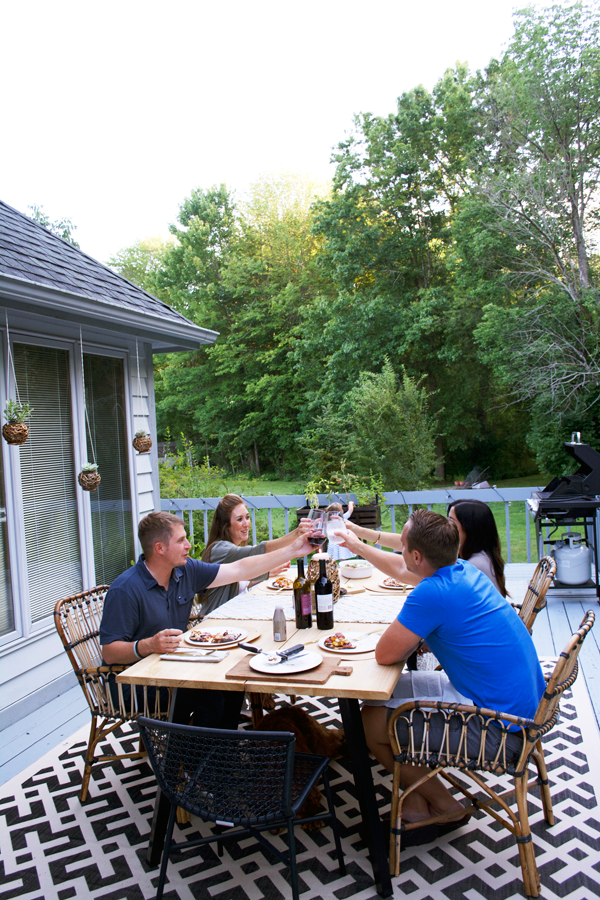 So who's coming over for dinner?!
Don't forget to check out some fun tips from these bloggers and see how they used Article furniture to bring their summer spaces to life.
Bethany Menzel || Jenna's Kitchen || Advice From a 20 Something || One Brass Fox
Huge thanks to Article for providing the furniture and Plush Rugs for the rugs and for helping me create a gorgeous outdoor space we can enjoy all summer!
SHOP THIS POST
*affiliate links included
Table
Rattan Chairs
Black Chairs
Black and Cream Rug
Small rug by grill
Macrame Table Runner (similar)
Gold Candle Holder
Bamboo Candle Holder
Mini Bamboo Candle Holders
Placemats
Silverware