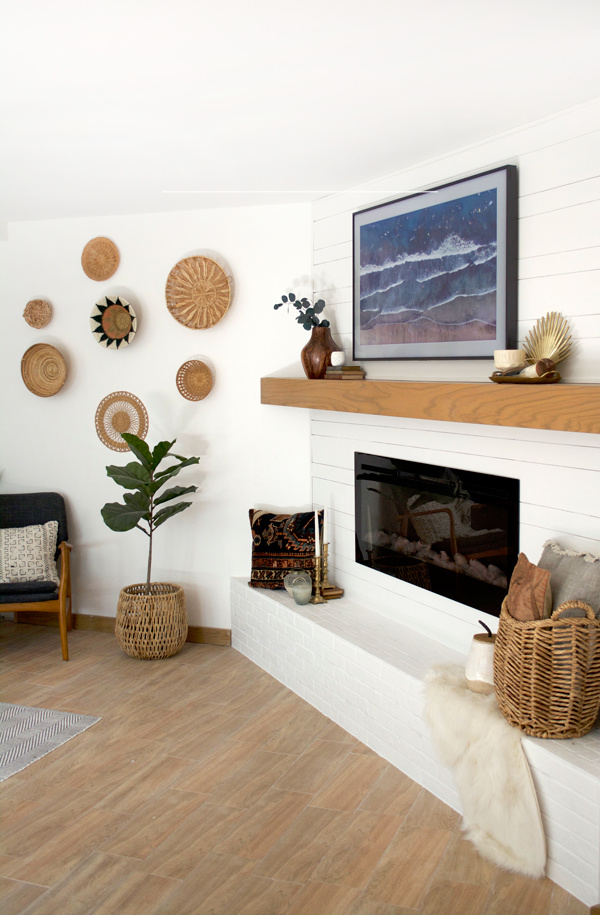 You guys got a peek at our simple and modern mantle makeover already when I shared our amazing new TV last week, but now it's time for all the details! This was the last piece of our master suite renovation and I'm so happy that it's finally done and we can fully enjoy everything.
This weird corner mantle seemed so awkward and a waste of space so we decided to build it out a bit while keeping things fairly simple to blend in with the rest of our decor. I've never had a real mantle to decorate before and I'm already looking forward to sprucing it up for the holidays 🙂
SIMPLE AND MODERN MANTEL MAKEOVER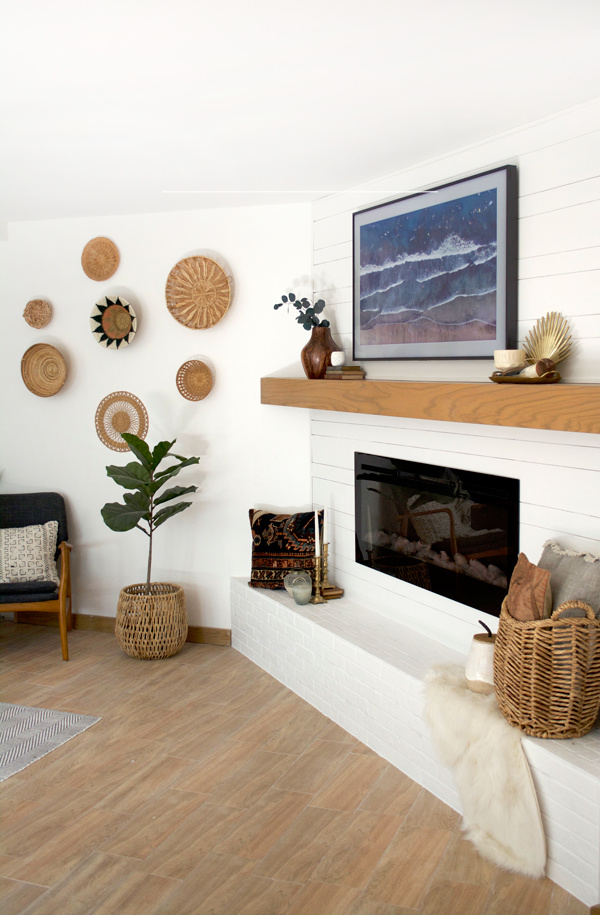 Here's a little refresher of what it looked like before (when we moved in):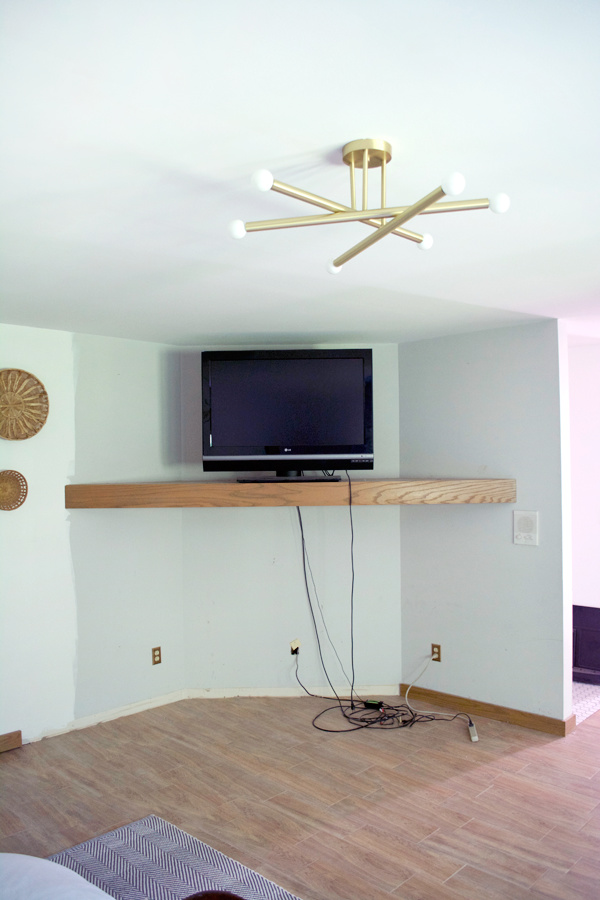 First things first was getting a new wall framed out. We called back our amazing contractor that we used on our bathroom reno and he got everything done in about 4 hours.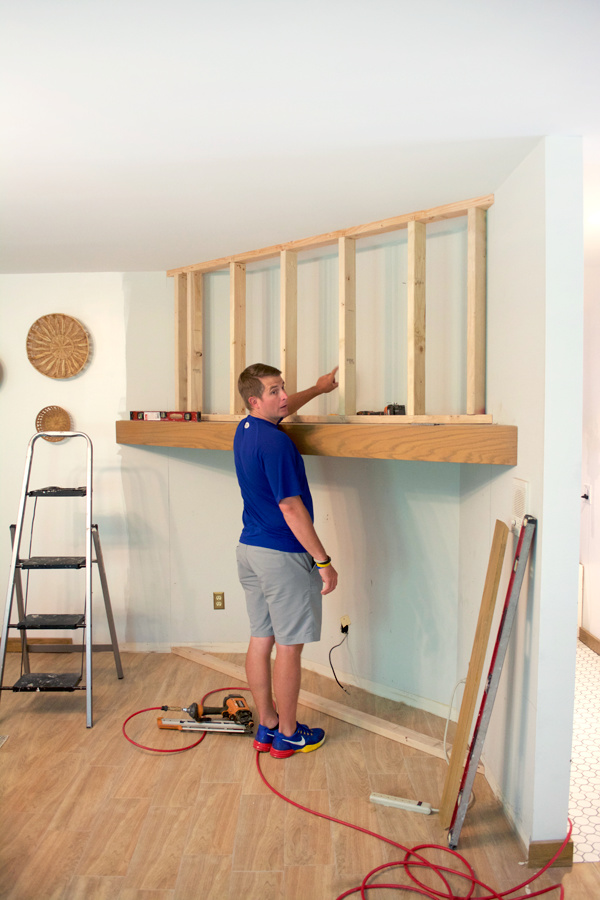 He built a frame up from the existing mantle, and a frame down as well as adding the little ledge on the bottom. Then we (Dan) hung up all the drywall.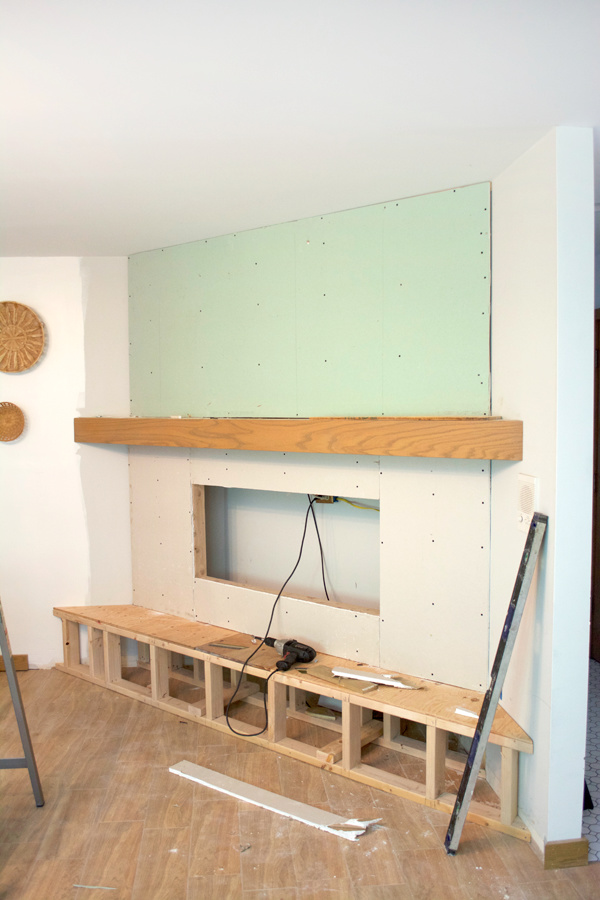 Once that was set it was time for the shiplap! I was really torn about what finishes I wanted on here. I know shiplap is totally overdone but it's just so clean and classic and I've never actually used it anywhere in our home so I wanted to go for it. But I changed it up just a bit. I've had this idea for a while to do alternating plank sizes and I'm super happy with how it turned out.
We used 1/2″ plywood that we had cut into 6″ and 3″ strips.
Make sure your first plank is level and then work your way up. We started with the thicker planks on the bottom and went from there. We used nickels in between the planks as spacers and marked the studs along the way so we knew where to nail.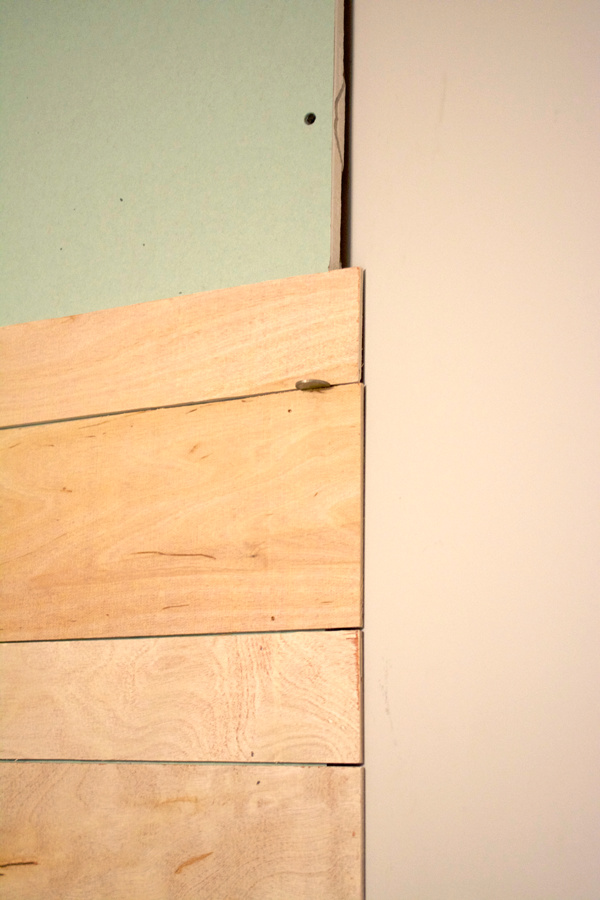 Since the plywood is so thin, we also put some PL-400 on the back to help secure it a little more.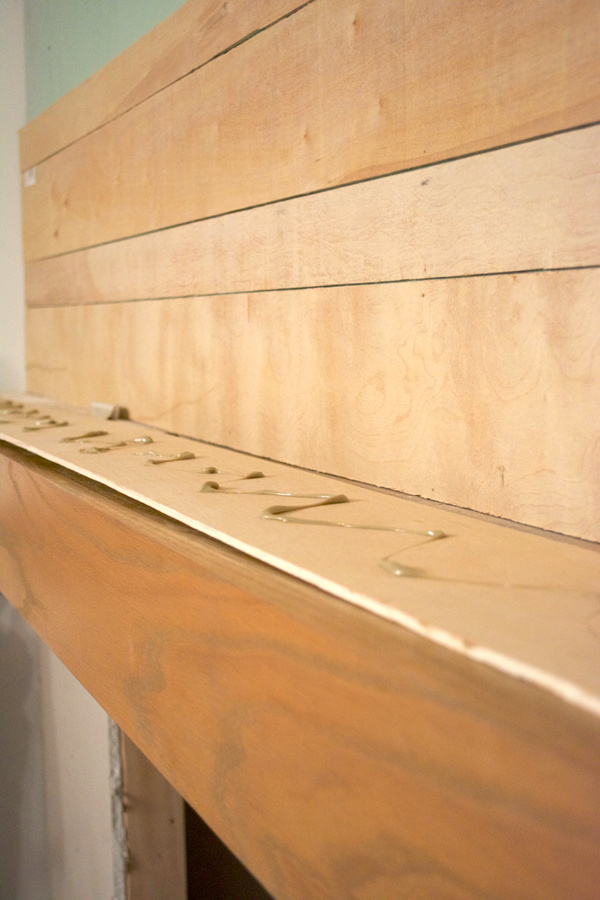 This is a pretty small area so it went quickly once we got started. We both liked the way the raw wood looked once we were done, but it was just too much wood.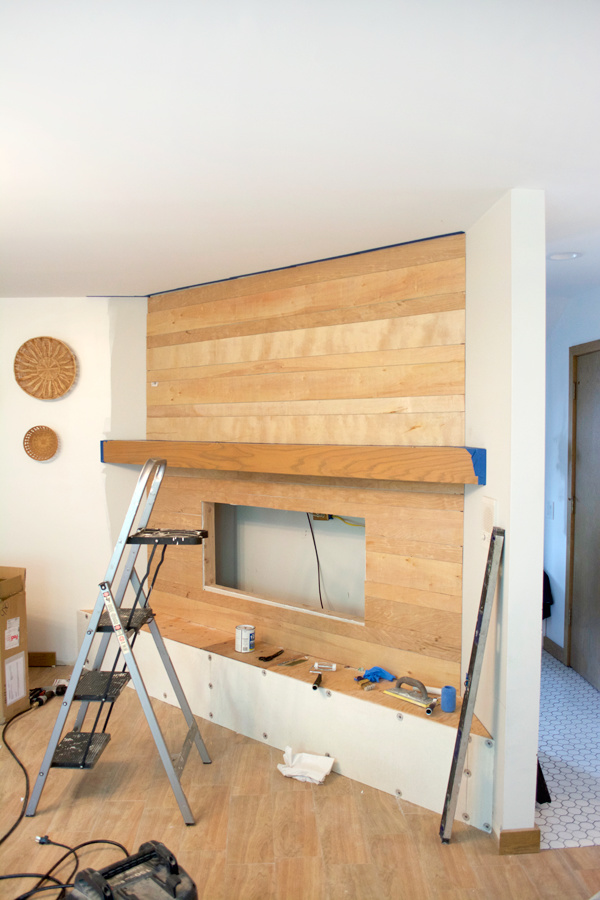 Once that was done, I apply one coat of primer and about 3 coats of paint. I used Zinsser Bulls Eye Primer and the same wall paint as in our bedroom – Valspar Reserve in Du Jour.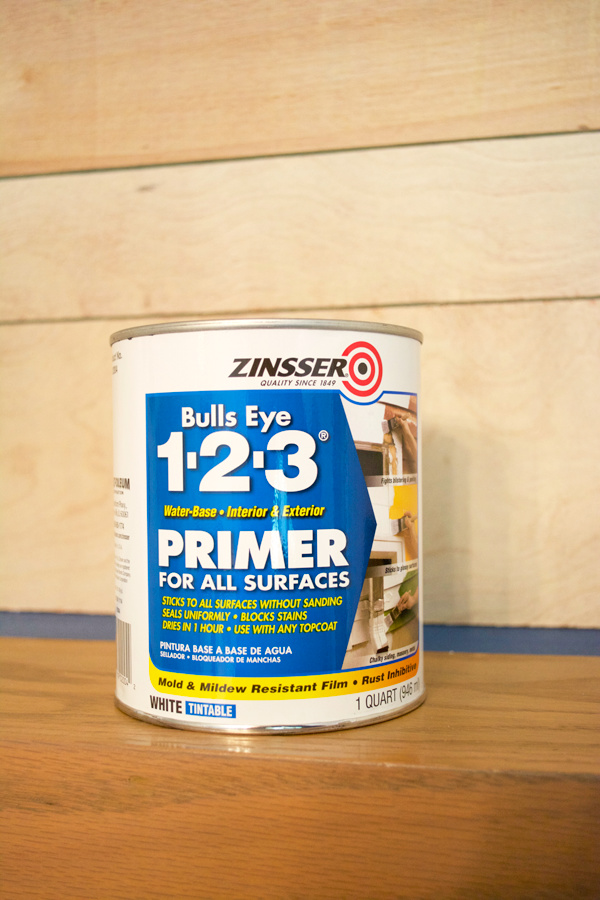 Next up was the tile (aka brick). We bought some brick look tile from our local tile guy that my FIL works with and then he installed it for us. He used a light grout so it would be easier to cover with the paint. THIS IS THE TILE WE BOUGHT and the color name is Warehouse BRX and they are 2×8.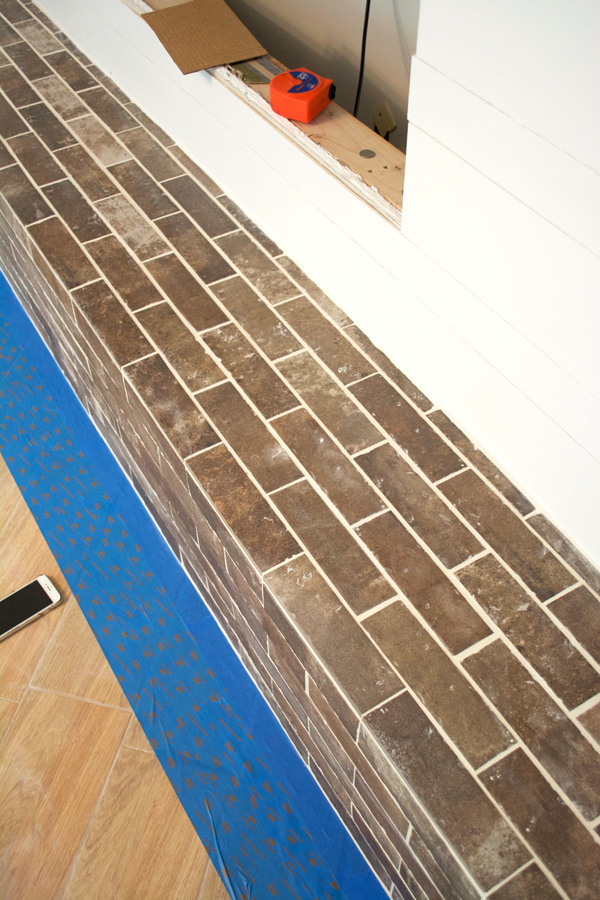 For the tile I did 1 coat of primer and only 1 coat of paint.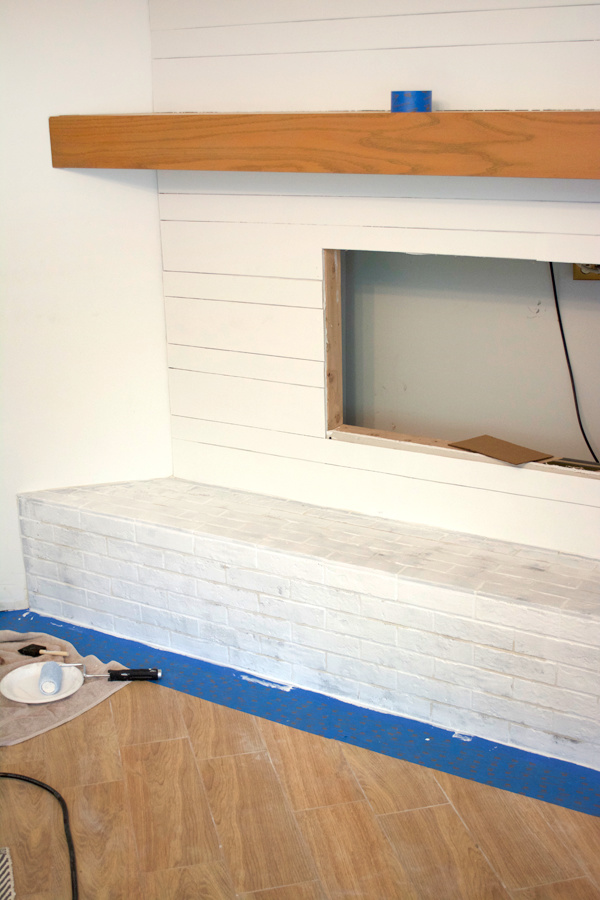 I wanted to leave a little variation underneath so it looked like actual painted brick, so one coat was perfect.
The last thing we added was some trim around the outside for a cleaner look.
THE FIREPLACE
Ok so now after all of the paint dried, we installed the fireplace first. I did some serious research on electric fireplaces. We thought about installing a gas one, but decided on electric in the end.
One thing I was surprised to find is that most mounted ones sit about 5″ off the wall which to me is just silly. The whole point of a mounted fireplace is to make it look streamlined into the wall right?
Luckily, I finally stumbled across ones that you could set into the wall as well, or as they're called, recessed. We bought this electric fireplace from Touchstone Home Products and I couldn't say enough good things about it.
It got great reviews, their customer service was on point. Can't beat that. It was a little pricier than some of the other electric fireplaces I saw, but none of those ones allowed you to mount it into the wall.
TIP

If you are building out a new wall for a fireplace, make sure you have the fireplace first so you can measure exactly the size you need to frame.
As far as installation…this was insanely easy. There were a few screws on either side that you remove to take off the front glass panel. Then just set that aside somewhere safe.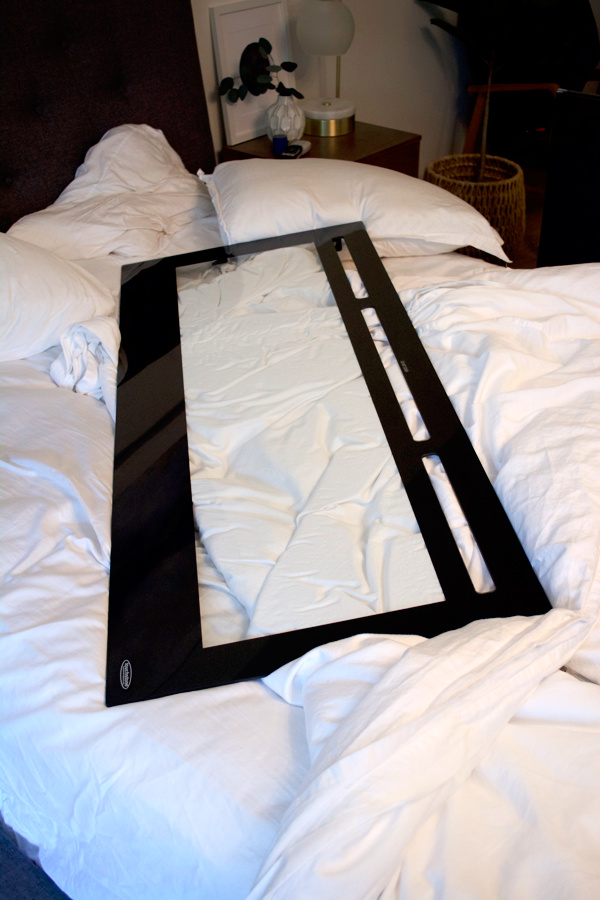 Then take the body of the fireplace and set it into your framed out hole. It comes with hardware and then you just screw it right into the wall. Then put the glass panel back over it and screw that back on. Easy peasy.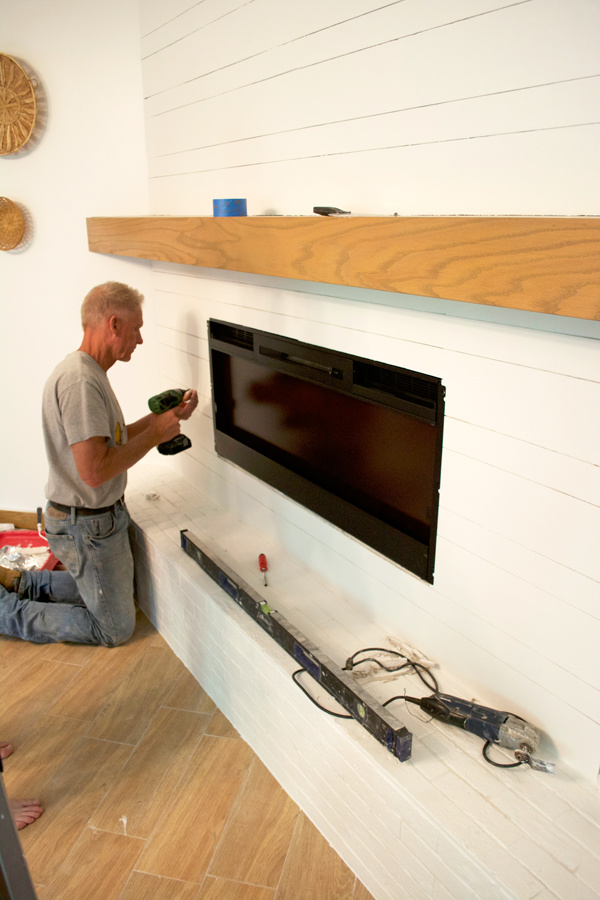 Lastly was our insanely amazing new Frame TV from Samsung.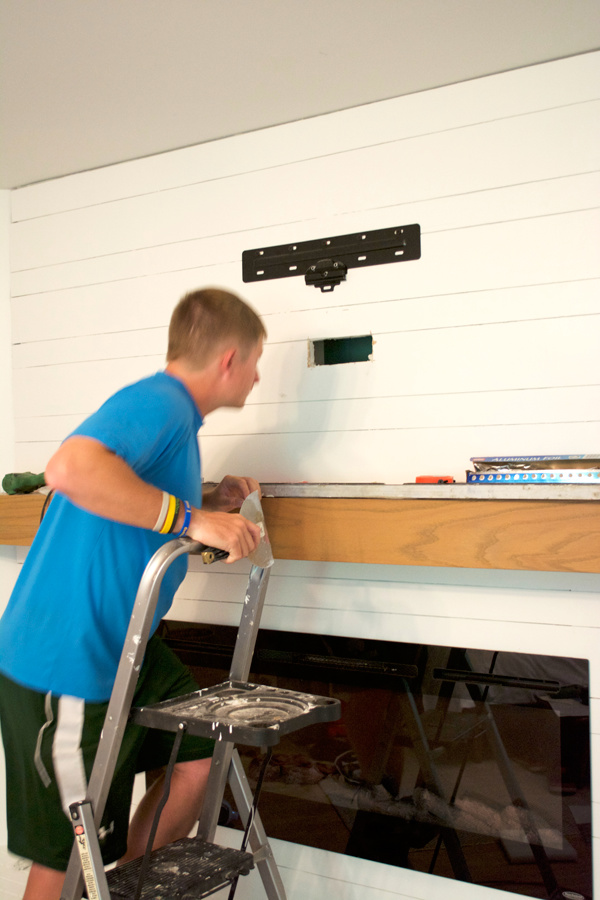 Basically we were able to put ALL THE CORDS in that hole we made in the middle to hide everything.
And once the TV was up – it was time to decorate!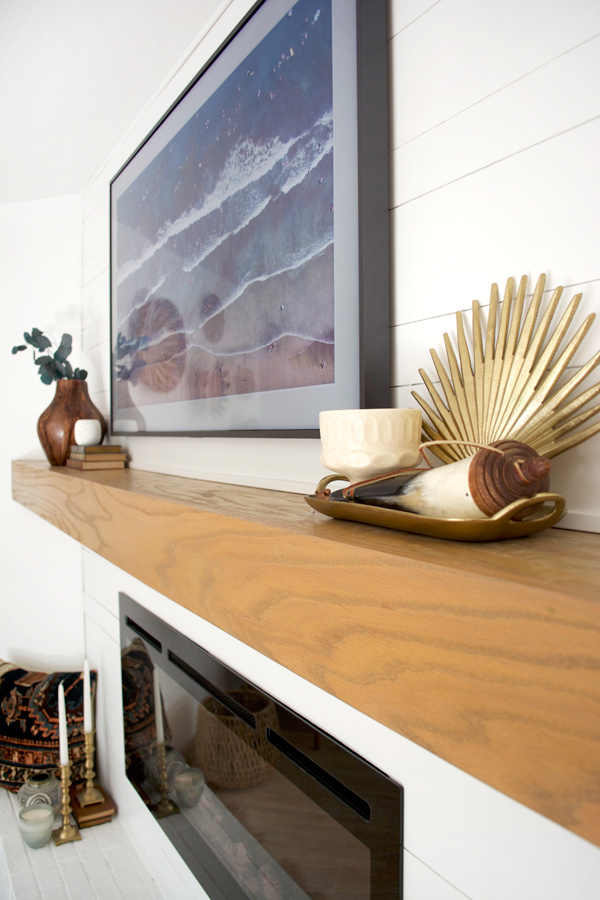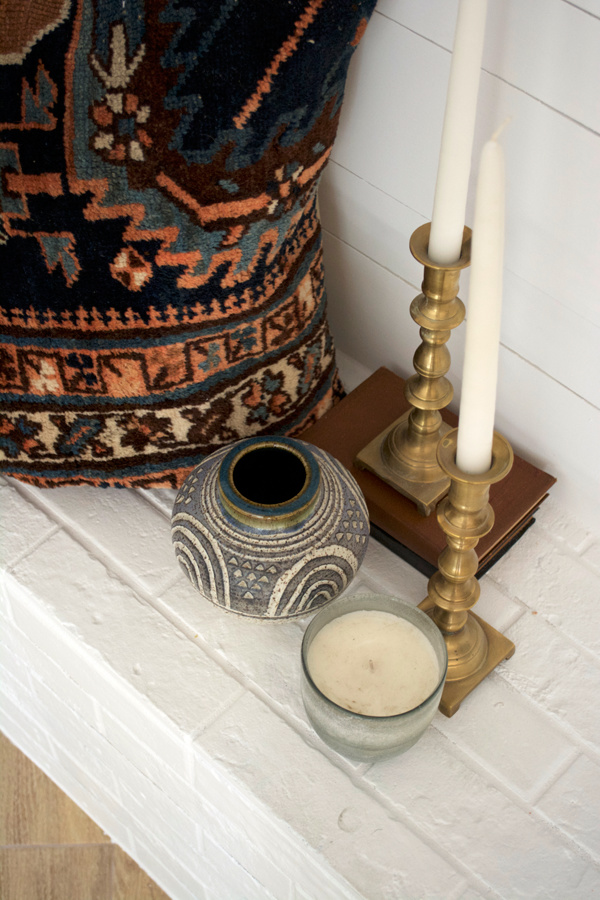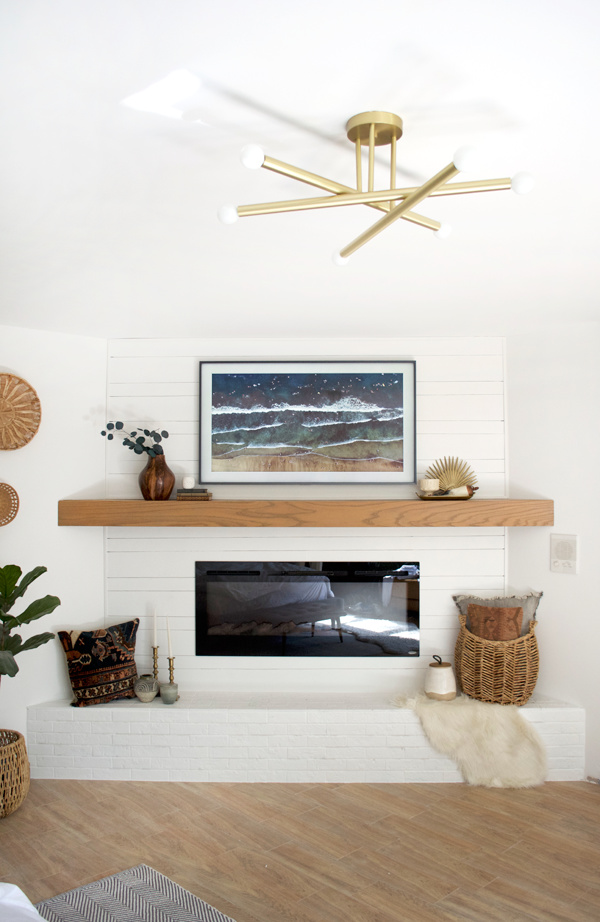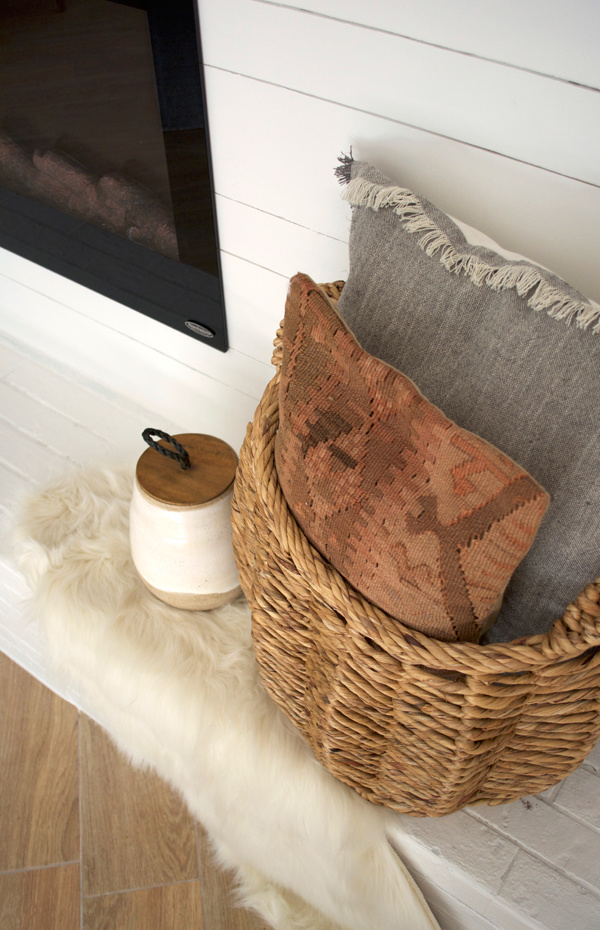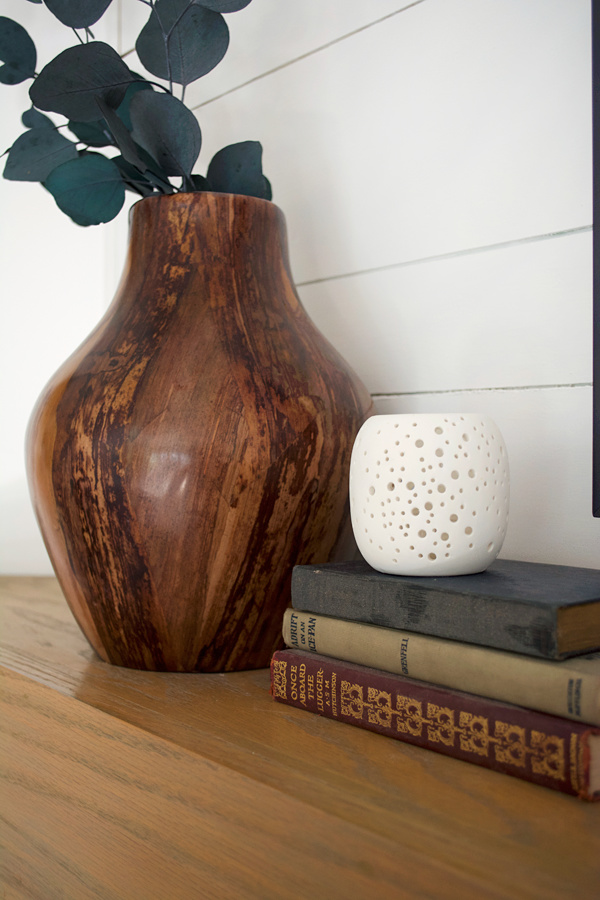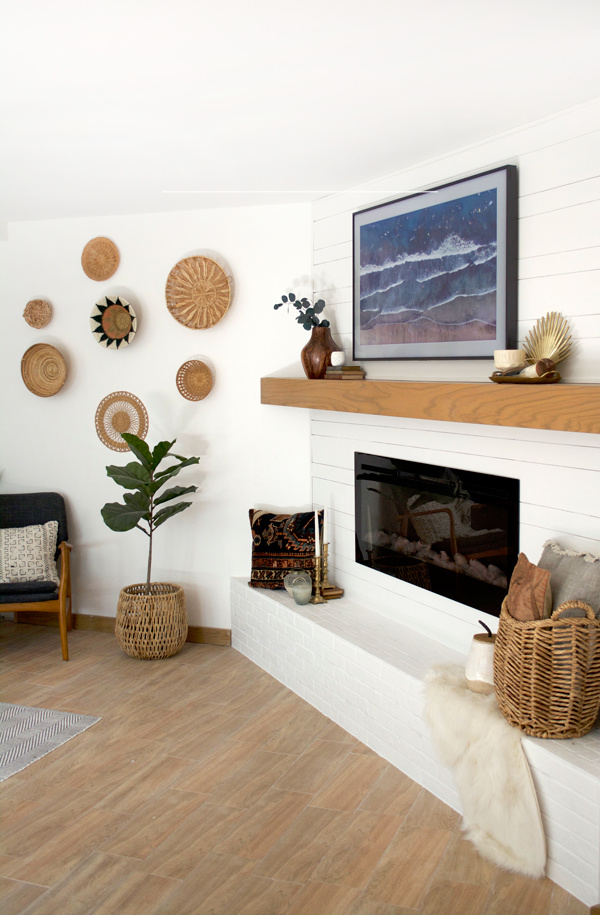 I'm sooo happy this simple and modern mantle makeover is finally done and our whole master suite is complete! We really have everything we need except a kitchen ha. I can't wait to get that fireplace going once fall comes.