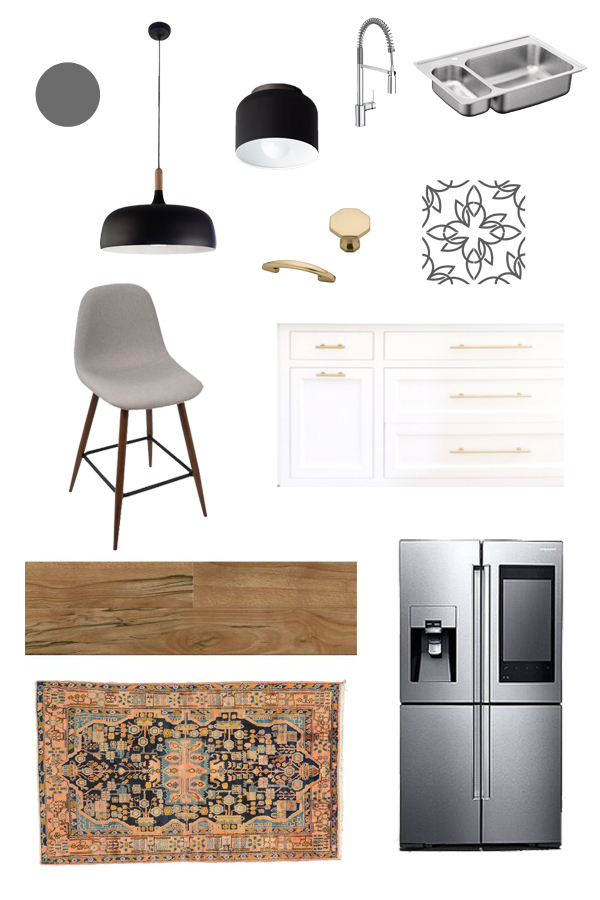 Once you start you can't stop right? Home renovations are seriously addicting (at least for me), but let's be honest, our bank account can't keep up. I've been lucky to work with some amazing sponsors which helps soften the blow but there are some rooms in our house that just aren't going to look the way we really want for a really long time. One of those being our kitchen.
It's actually a great space and it could be WAY worse but it's definitely not my style. We've got a new fridge on the way, and I figured this would be the perfect time to do some updates (mostly cosmetic) to at least bring it into the 21st century. Might as well bust out as many projects as I can before baby #2 arrives, right? 😉
BUDGET KITCHEN MAKEOVER
I've shared some pics of our kitchen before, although sparingly, but here's a little refresher of what we're working with.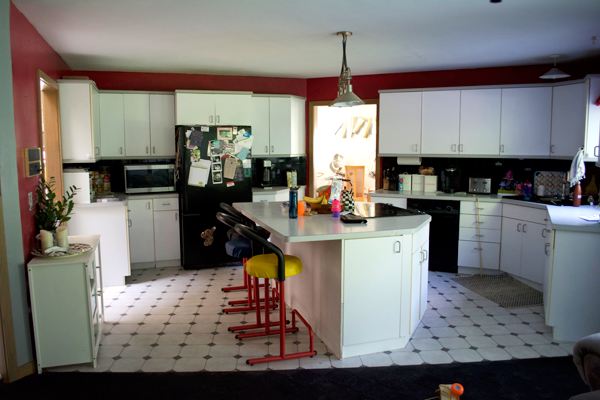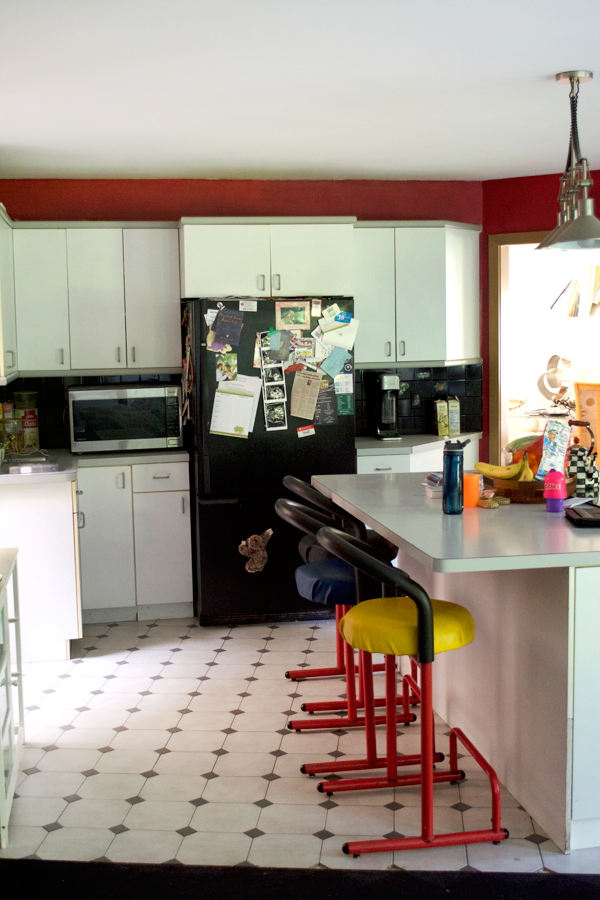 Total potential but in need of some serious updates. Obviously it's not going to look like my dream kitchen, so I'm not even going to share those inspo pics with you, but I did come up with a little mood board and a list of things we'll be tackling. Oh and you can follow along on Pinterest with my Dream Kitchen board to see what I'm pinning!
TO-DO LIST FOR BUDGET KITCHEN MAKEOVER

Paint the walls (my amazing dad actually did this already when we were in Charleston)
Get new bar stools (already changed these out too)
Paint the tile backsplash – to keep the costs minimal I'm going to paint over the black tile and possibly use a stencil to create the look of concrete tiles
Update the cabinets – not with new ones but by adding some trim to give the appearance of Shaker Style Cabinets and painting that weird grey trim
Paint the cabinets – white to match the walls
Add new hardware
New fridge
New lights – over the island and over the sink
Vintage rug
New decor
Replace white cabinet on the far left
Possibly update countertops – a lot of you have suggested either concrete or IKEA butcher block so I'm doing some more research on that!
New sink/faucet
Wood treatment on the backside of island?
I'm thinking about painting the island a different color than the rest of the cabinets but have no idea what color! Obvs something in the green/blue/gray family but I'm going to worry about painting the rest of the cabinets first. And I really want to do some sort of wood treatment or planking on the inside back of the island. Still thinking on that too.
I think that's it! The major piece is going to be the cabinets but I think they're going to make such a huge difference. I found some tutorials online where people have done the same thing and they've turned out so good. I'm not looking forward to painting them all but I know I'll be happy I did in the end.
So the main things we aren't changing right now are the floors and maybe countertops. Which again, could be way worse but I just hope with all the other updates they don't stick out and look even more out of place. It drives me crazy that the floor tile is at that weird angle but hopefully by covering up some of it with a gorgeous rug will distract your eye from that 😉
I came up with a little mood board to help me make some decisions and see how everything will work together. Paint color for the island still TBA but I threw in a little grey swatch for now.
MOOD BOARD FOR BUDGET KITCHEN MAKEOVER
*affiliate links included
stools :: hanging light :: flush mount light :: hexagon knobs :: brass pulls :: stencil :: faucet :: brass pulls
Since we're not doing a whole gut job right now, our kitchen probably won't look as clean and cohesive as my mood board but creating these is an absolute must for me before I begin any room makeover. It helps so much to see things paired together visually and helps me make design decisions that I would otherwise ponder over for weeks and weeks.
Over the weekend I got super motivated and started painting and adding trim to our cabinets. I'm quickly realizing how big of a project this is going to be mainly because of the amount of cupboards we have. But the good news is I'm not really giving myself a deadline for this project, so I don't need to rush and will just get it done as I can (aka between nap times).
Be sure to follow along on my insta stories for lots of behind the scenes updates as things start to come together!
Would love to hear if you've done a mini budget kitchen makeover before where you updated what you had and worked within a tight budget!