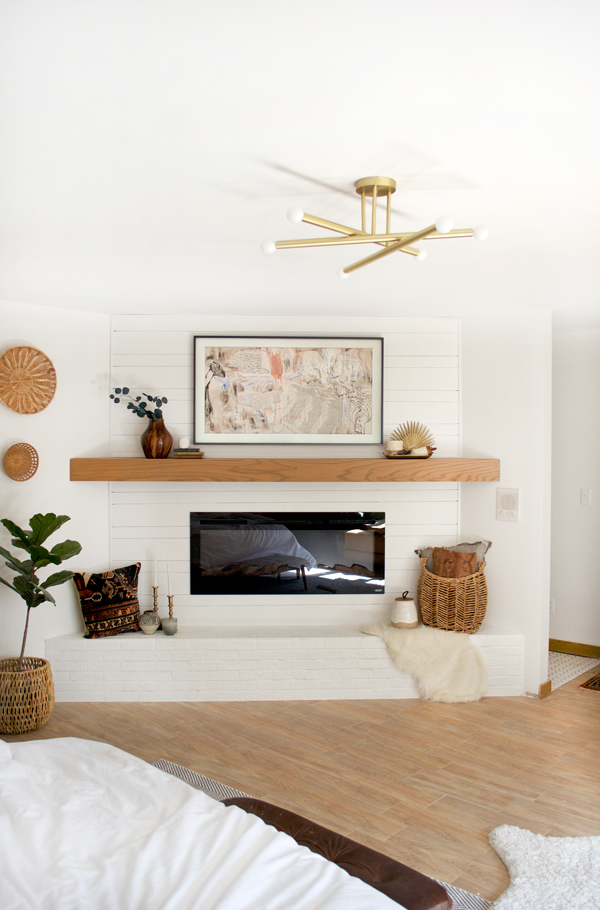 This post is sponsored by Samsung, but as always all thoughts are 100% my own.
Ah you guys! Our mantle makeover is finally finished! I'll be sharing all the details about that project soon but today I'm here to talk about something else. Our amazing new tv. I'm pretty sure everyone in the world feels like their TV is a huge eye sore and all the cables and wires hanging down drive them just as crazy as me.
I'll admit it, we watch a fair amount of tv in our house, and I hate how it automatically becomes the center of the room. Even though TVs have come a long way and are super thin and sleek now, they're still a tv and they still just look like a big electronic. That is, until now. Samsung recently launched their newest innovation that is a serious game changer for tv watchers everywhere.
And trust me, you're going to want one in every room of your house. So let me introduce you to The Frame and how stylishly blending your tv into your decor is easier than you think.
STYLISHLY BLENDING YOUR TV INTO YOUR DECOR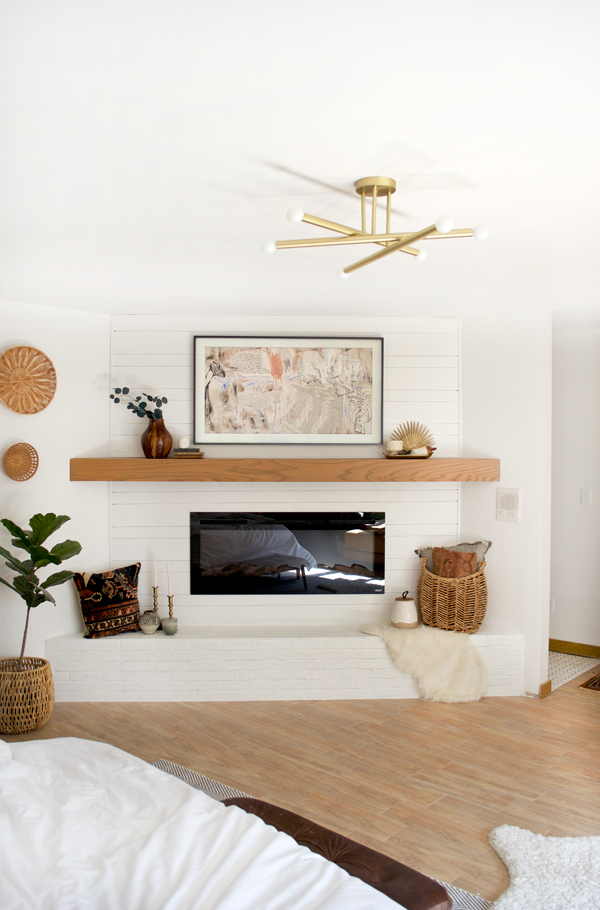 You might be looking at the photo above wondering where the tv is, right? Well what if I told you it's that beautiful piece of artwork hanging over the mantle? And that it can display hundreds of different images, including ones you can upload yourself, and then with the click of a button, you can be binge watching your favorite show on Netflix.
Yep, all of that is possible with The Frame. You guys, this thing is seriously amazing and I never thought I could be so in love with a TV!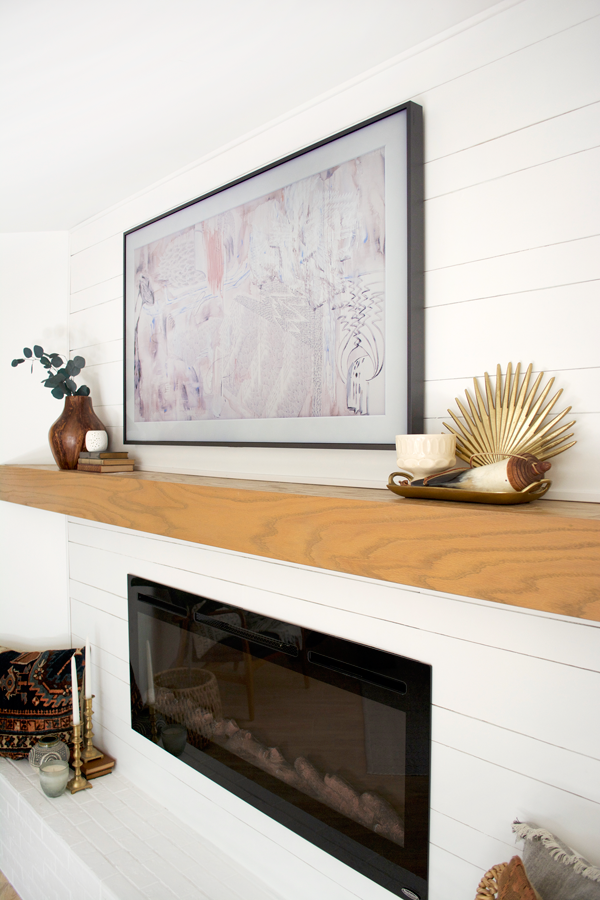 Dying to know more aren't you? It was designed in collaboration with Yves Behar who is a Swiss designer and entrepreneur and it was made to be both stylish and functional to compliment anyone's decor.
So basically when you're not watching TV – you can set it to Art Mode and have it display a gorgeous piece of art that you can choose from the curated gallery, or upload your own family photos or even purchase more art from the art store.
Along with choosing the image – you can adjust the settings to display two different mat styles as well as changing the color of the mat.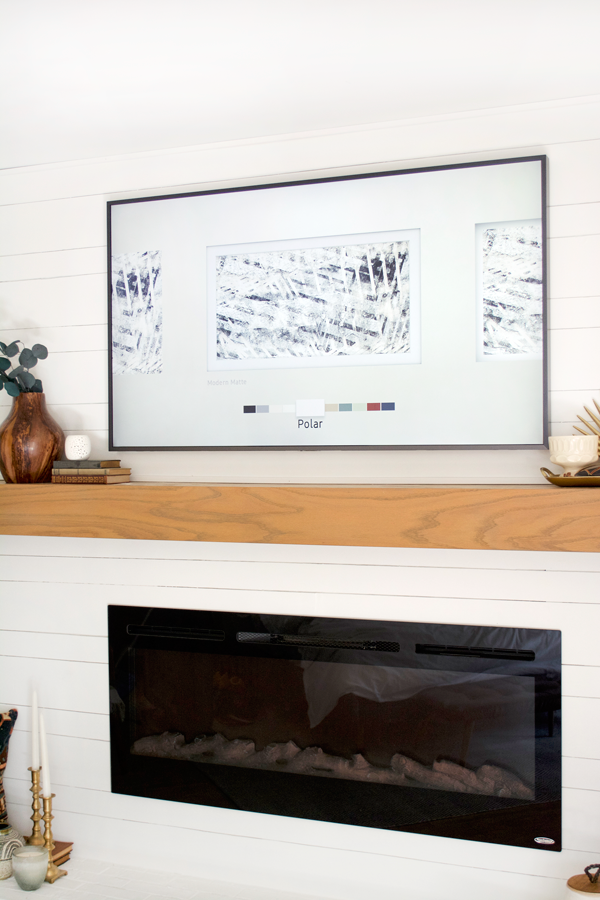 Another super cool feature is that The Frame adjusts to the lighting in the room when it's in Art Mode. So if you dim the lights, the screen will dim right along with them so it still totally looks like a piece of artwork. It will always look like it's just a part of your decor no matter what time of day it is. And you don't have to worry about leaving it on all day either. There's a motion sensor that detects when someone walks into the room and the screen will turn back on to appear as if it was always there.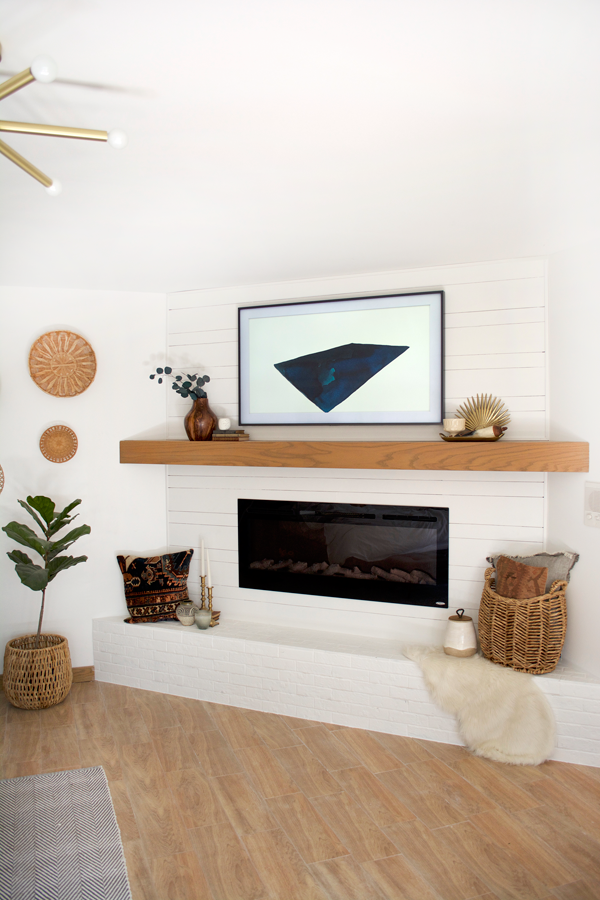 So you're probably wondering…where the heck are all our cords? That's right, there are ZERO wires hanging down from The Frame in our room. Now ours is a little different situation since we just renovated our mantle/fireplace. We were able to cut a hole in the wall behind The Frame and we had our contractor place a new outlet back there so everything plugs in behind the wall.
But even if you were just mounting it on the wall with the awesome No Gap Wall Mount system you would only have one little Invisible Connection cord that seamlessly blends into the wall. That cord connects into the One Connect Box that can be hidden anywhere or behind anything and still be able to pick up reception from the remote.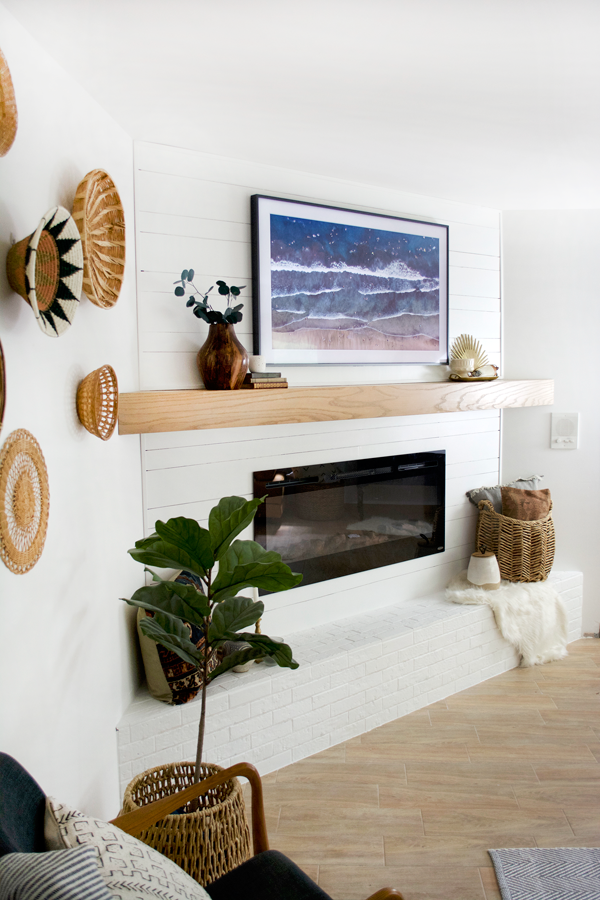 One thing we were curious about was our DirecTV box. We still needed to have it connected to The Frame, but now it just connects right into the One Connect Box. On it's own, the DirecTV box can't be read through a wall or tv stand, but anything that is connected into the One Connect Box becomes readable. Pretty awesome right?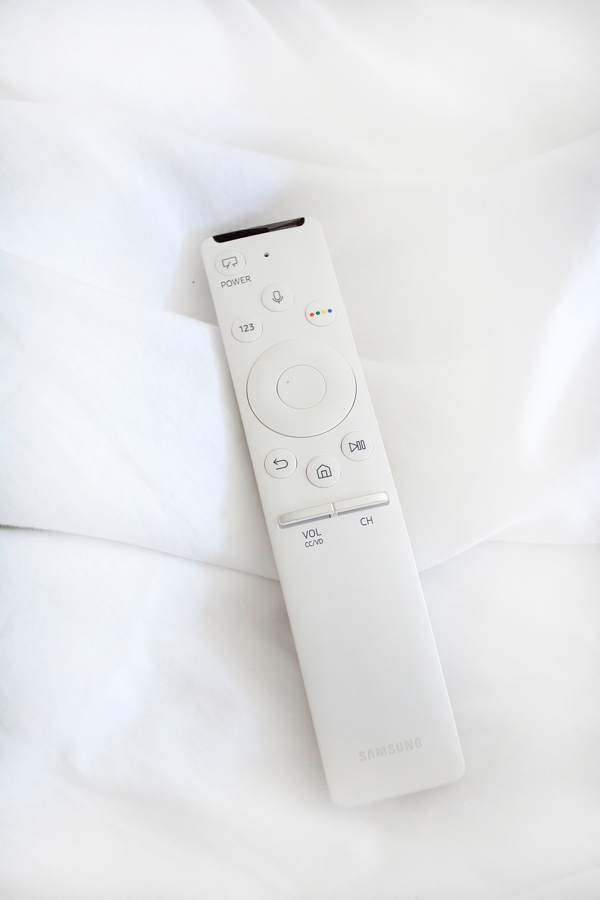 The Frame comes with this pretty and sleek remote, which looks like it has minimal options, but it's really all you need. You can still access your TV guide, past recorded shows and easily record new shows. And just because they upped the ante on the style, Samsung definitely didn't let the technology take a back seat.
The Frame displays all your favorite shows at 4K HDR Pro, which probably doesn't mean much to you, but basically it's insanely crisp and clear.
Another super cool thing is that the frame around the TV is interchangeable. If you're not feeling the black, you can easily change it out for wood (light or walnut), or white metal. I'm already thinking about trying the light wood one!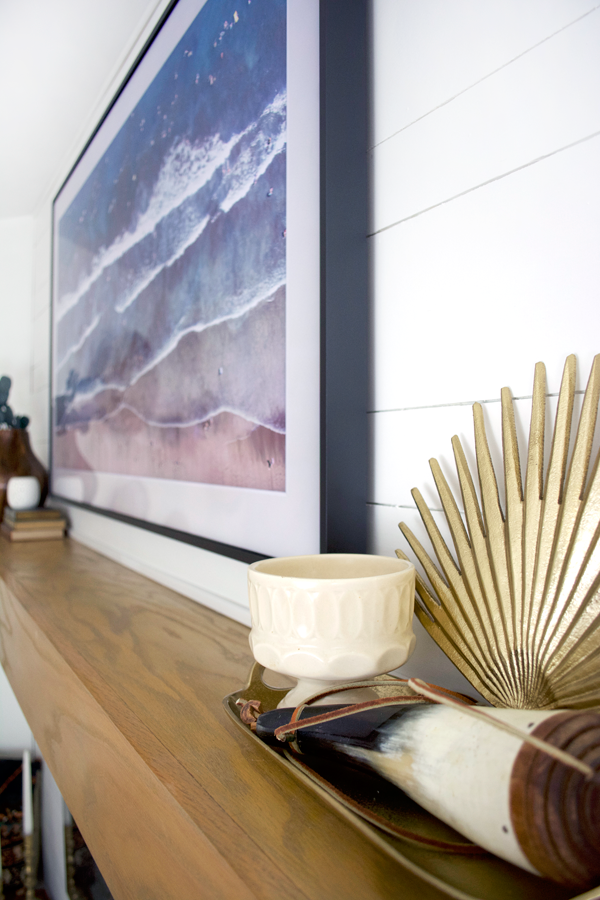 The last piece of our master bedroom is finally finished with this fireplace makeover (which I'll be sharing all the details about in a post soon) and I'm so happy with how it turned out.
A TV was a must have in this space, but with The Frame I get to seamlessly blend it into the rest of our decor and make it appear like it's just another beautiful piece of art.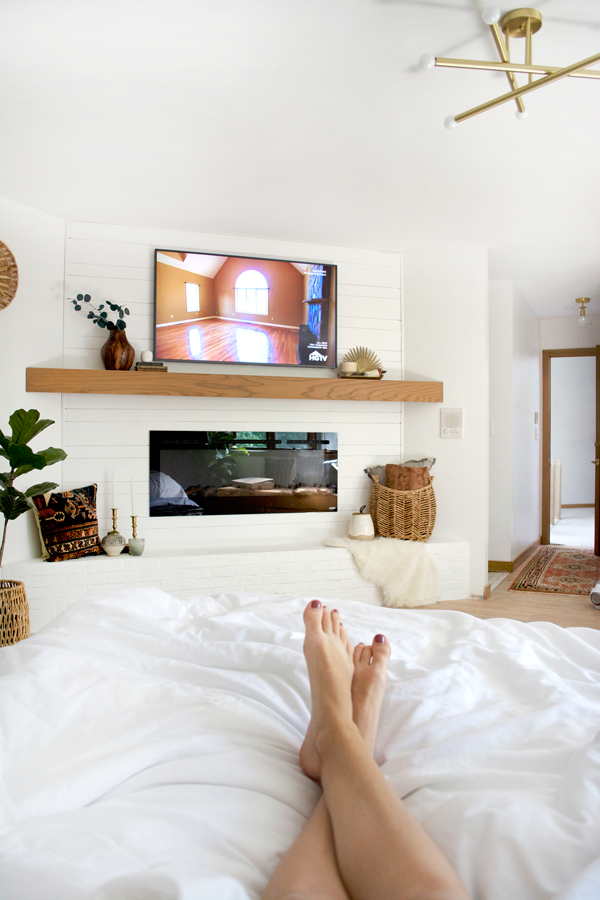 And can I tell you how excited I am that I'll have this set up for when baby #2 comes in November?! I'm seriously probably never going to leave our room. I just need to figure out how I can get someone to bring me food 😉
Eloise is already making herself familiar with the remote and choosing her own artwork 🙂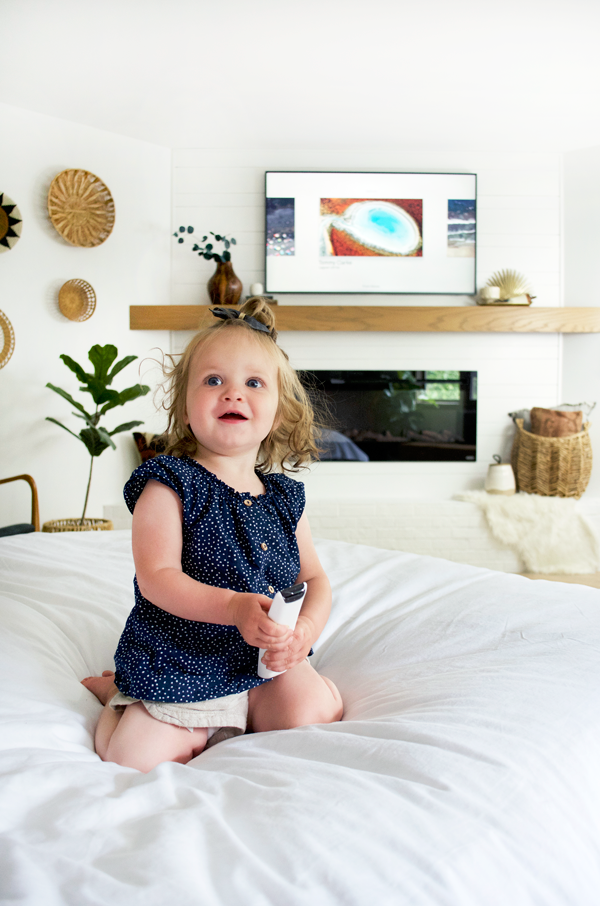 A huge thanks to Samsung for sponsoring this post and providing this gorgeous new TV!