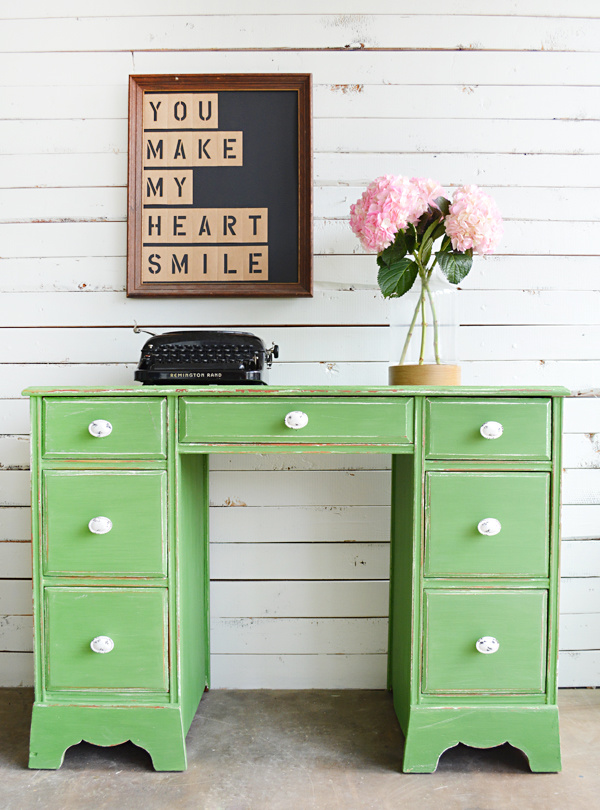 Oh hey friends! I've got a super fun makeover for you today as part of The Fab Furniture Flippin' Contest. It's a group I recently joined and each month there is a new theme and new sponsor. This month was Shabby Chic Storage and our Sponsor is The Old Fashion Milk Paint Co. The winner goes home with a prize package from OFMP and of course some bragging rights 😉
TAVERN GREEN SHABBY CHIC DESK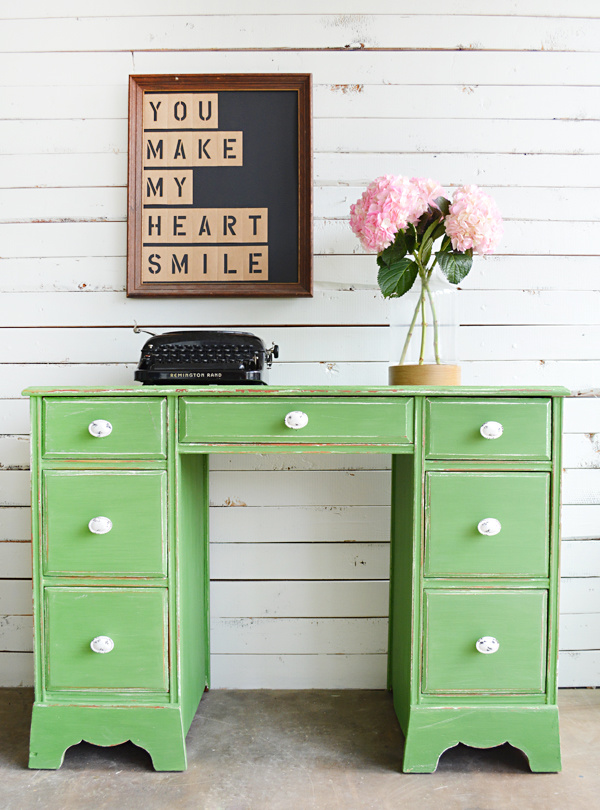 I knew this little desk I got for $5 during garage sale weekend would be the perfect piece for some shabby chic lovin. And it definitely needed some: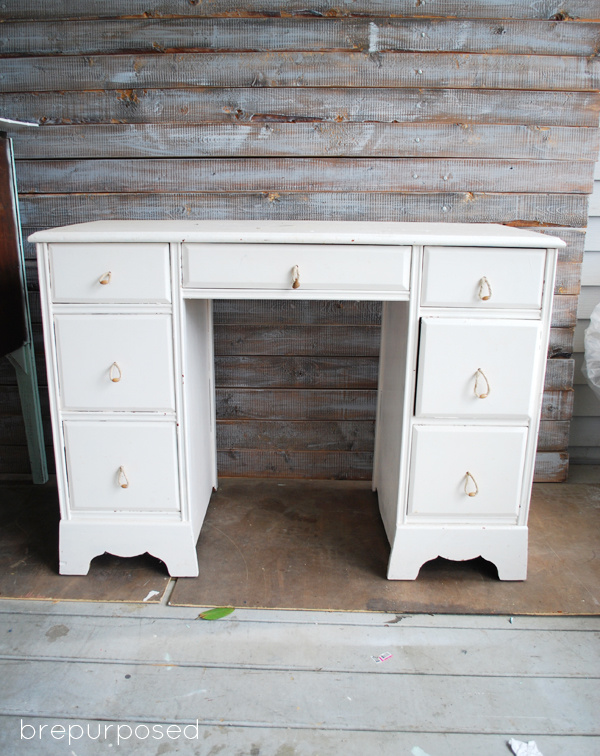 I think there was about 10 coats of paint on this thing and half of the drawers were impossible to open. Thank goodness for the hub's strong muscles 😉
I started by sanding down the top because that was one surface I knew I wanted to be smooth. And there were lots of random paint drops and bubbles all over it.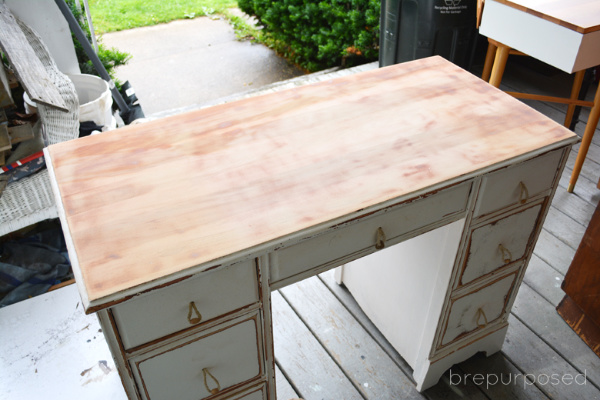 I love spending some quality time with my sander but man, I really wasn't joking when I said there was 10 coats of paint on there. Pretty sure I was dripping sweat all over it. I really didn't feel like sanding down the entire thing after that, so I just roughed up the edges and smoothed out any major problems.
This was my first time using OFMP and I was super excited to try it out. I'm surprised how quickly I was able to pick a color, because I'm the worst at making decisions. But Tavern Green just jumped out at me and it's a color I've never used before. Luckily they don't have mint otherwise you know I wouldn't have been able to resist 😉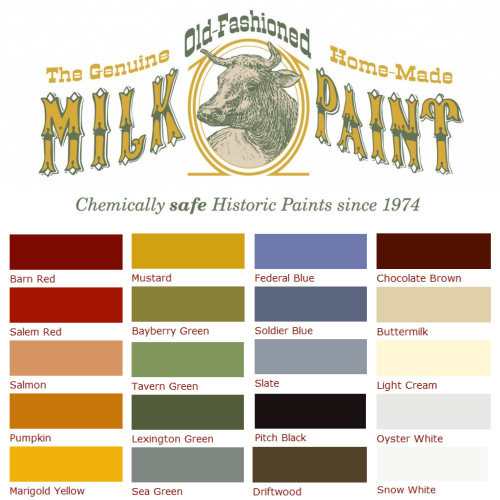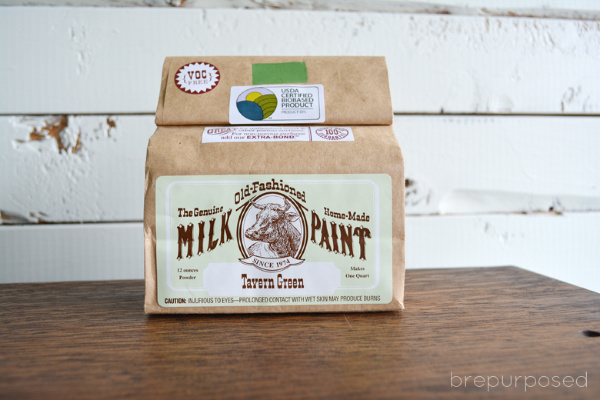 The only other milk paint I've used is Miss Mustard Seed's and it's definitely similar. It comes in a powder and you have to mix it yourself with water.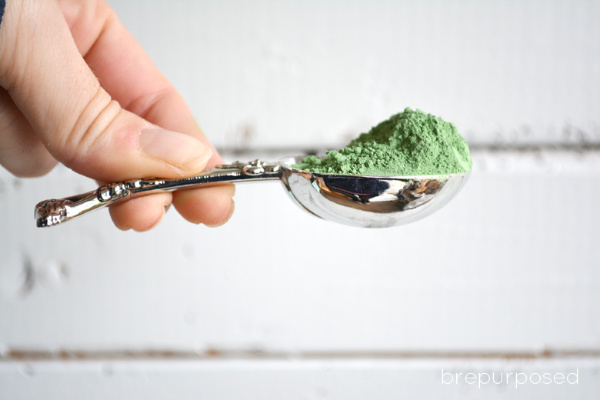 The directions say to mix equal parts powder with water so I split them up into separate containers for measuring.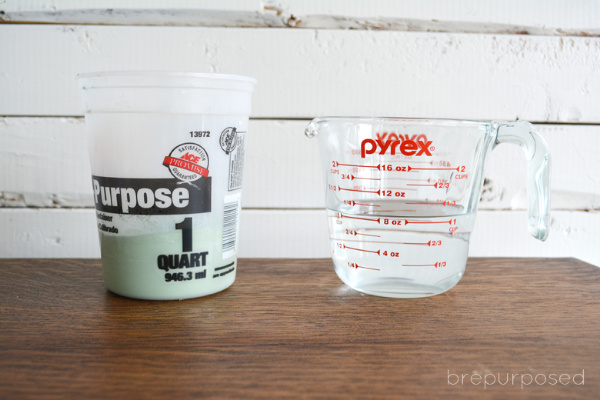 Next up I poured the water into the container with powder and stirred it for about 3 minutes with a paint stick.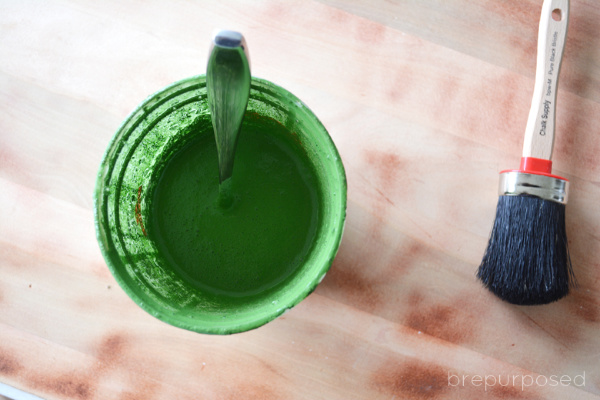 I was getting a little nervous because I felt like it wasn't mixing very well and was kind of clumpy. The more you stir though the smoother it gets and the directions also say to let it sit after mixing for about 10 minutes to let everything settle. After that things were much better. I did feel like it was a little watery though so I added another little scoop of powder.
Since I didn't use the bonding agent, I wasn't quite sure how the paint was going to adhere to the parts of the desk that I didn't sand all the way down. Here's what it looked like after one coat: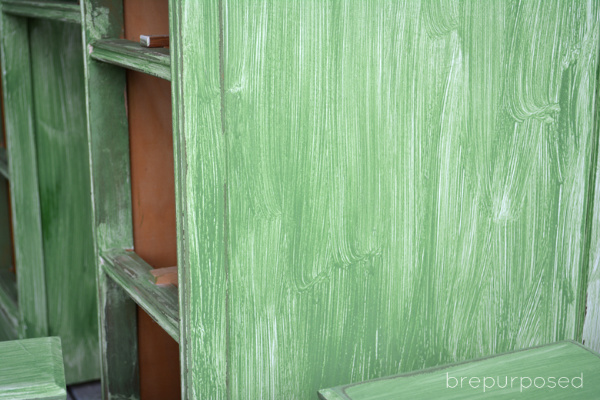 I probably could have added even more powder to thicken it up because I ended up doing 4 coats to get the coverage I wanted. That's definitely one difference I notice with Milk Paint vs. Chalk Paint. Milk Paint seems to be a bit thinner if you follow the measuring directions, whereas Chalk Paint is already pretty thick and creamy.
It seemed to be adhering pretty well though and I was excited to see where and if it would chip. Surprisingly, it really only chipped/crackled around the edges so I gave it an extra little bit of distressing to add to the shabby chic look.
Now I have to tell you about my new BFF. General Finishes Satin Finishing Wax. This stuff is seriously a game changer.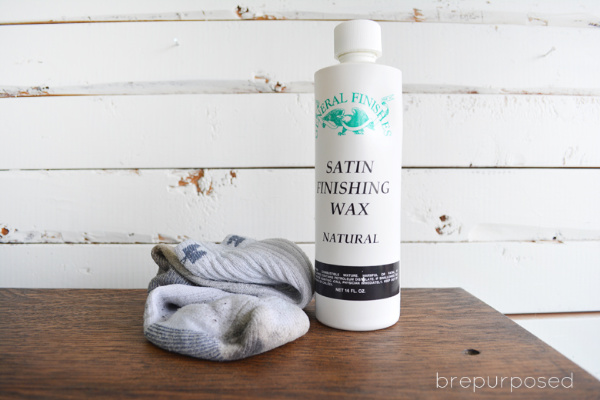 I first found out about it when Amanda from Ferpie and Fray raved about it. Everything she does is amazing so of course I had to try it out. Let me say this again. GAME CHANGER. I'll be honest, finishing a piece is my least favorite part of the whole process. I just haven't found a product that I love. But now I have 🙂 I apply it using an old sock, which was another tip from Amanda. I don't know about you, but I feel like every "lint free" cloth I buy, leaves hundreds of little lint bunnies all over my furniture! Old socks are the solution guys.
So this stuff reminds me of conditioner, but not quite as thick. You just dab some on your sock and go to town. And another thing I love about it is you can see exactly where it's going and what it's covering.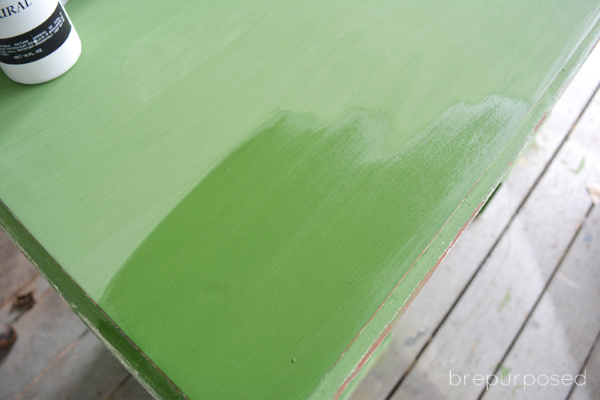 It deepens the color of the paint a bit but not as much as it looks here. It goes on like this but then dries up pretty quickly. I think the directions say you should buff it off after you wipe it down, but I haven't found that to be necessary. It leaves a super smooth finish and when you're done you can just toss your sock! I'm really not a fan of wax. It's such a process to put on and I feel like it's always streaky. I'm telling you, this stuff is where it's at.
I shared my plan for the drawers last week, but my paper from Spoonflower didn't get here in time so I bought some black and white fabric from Jo-Anns. Knobs are from none other than Hobby Lobby 🙂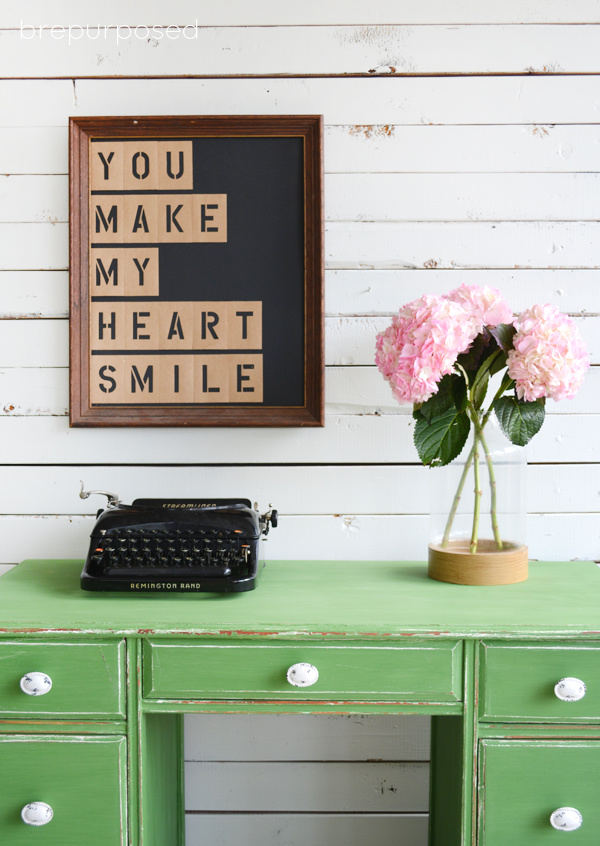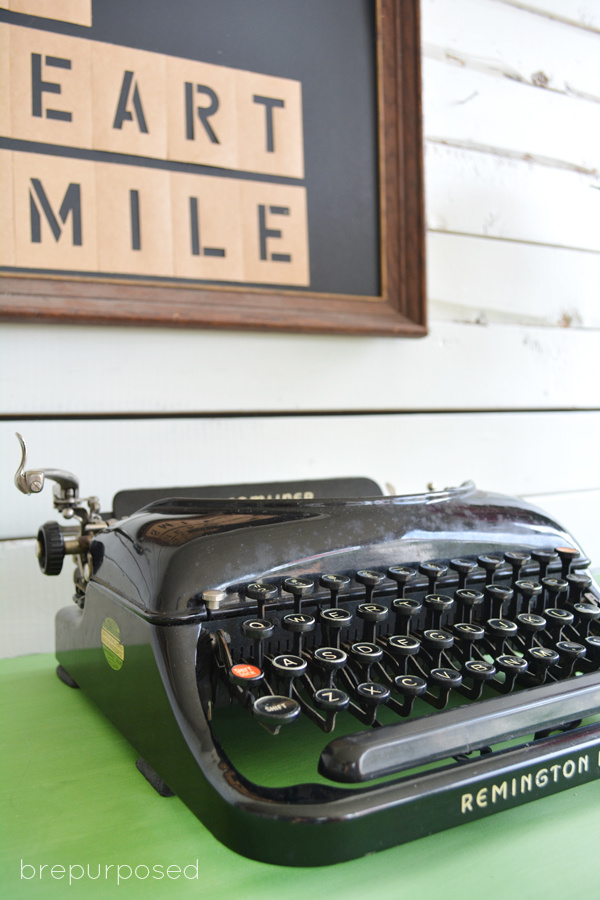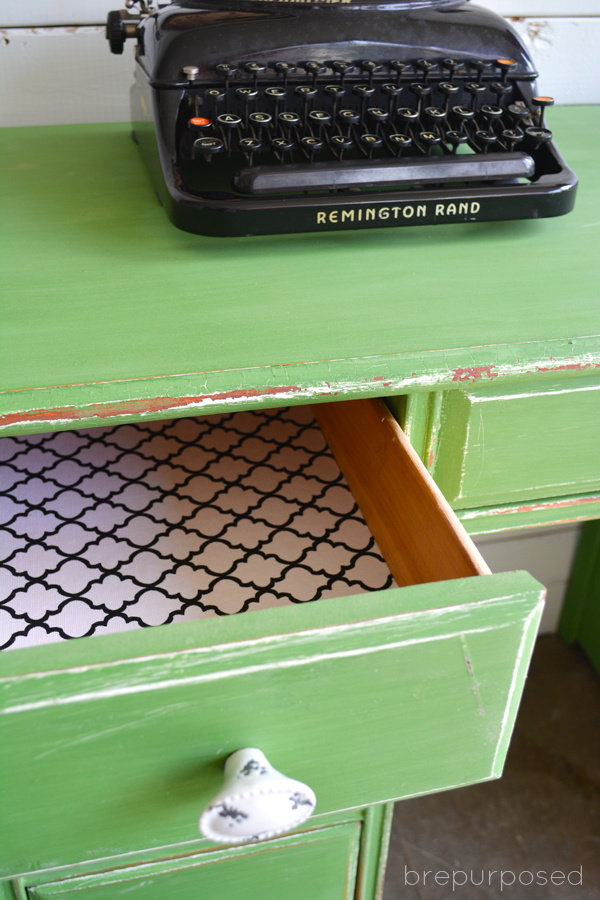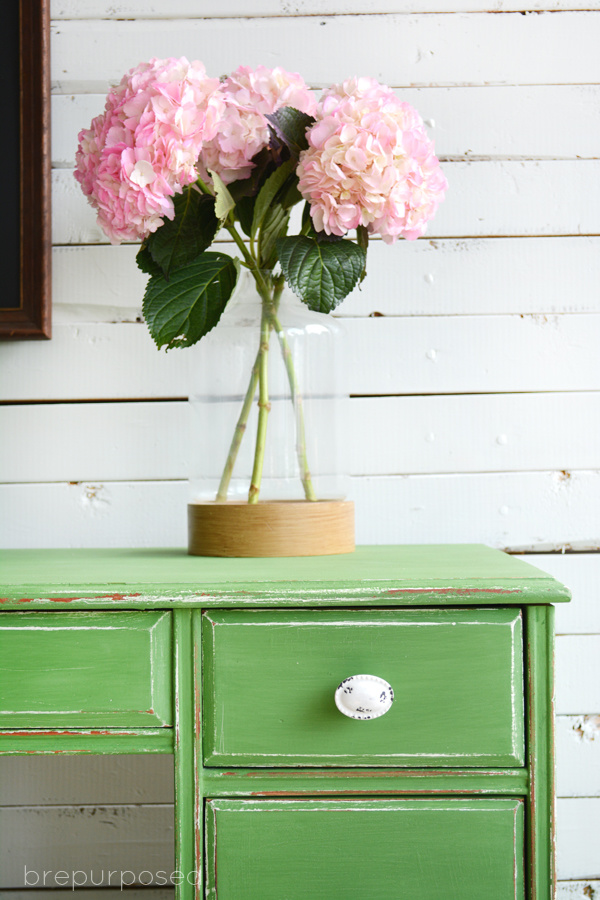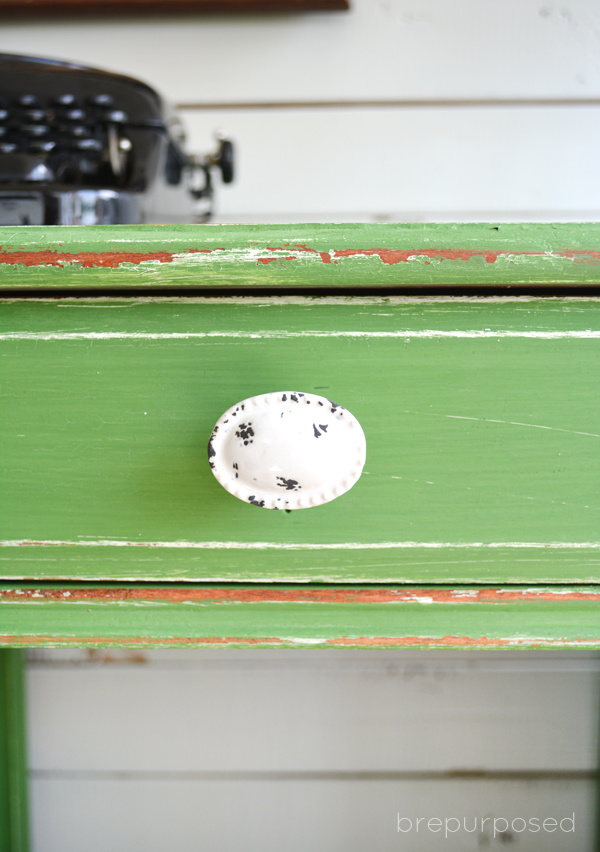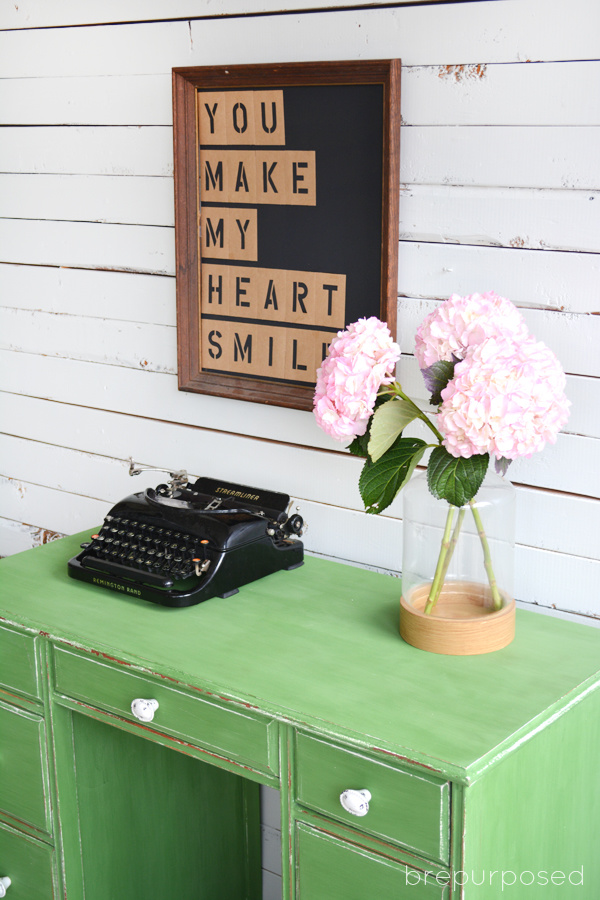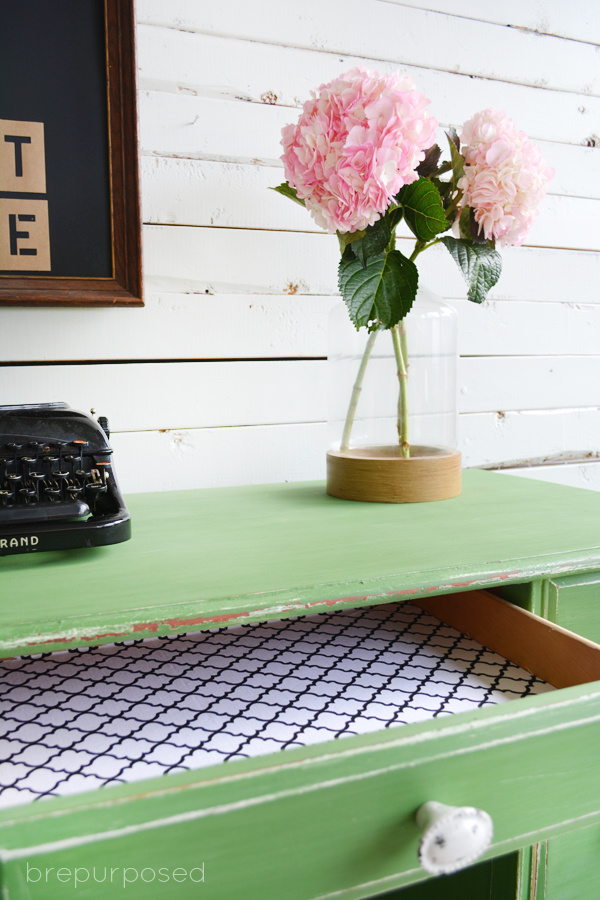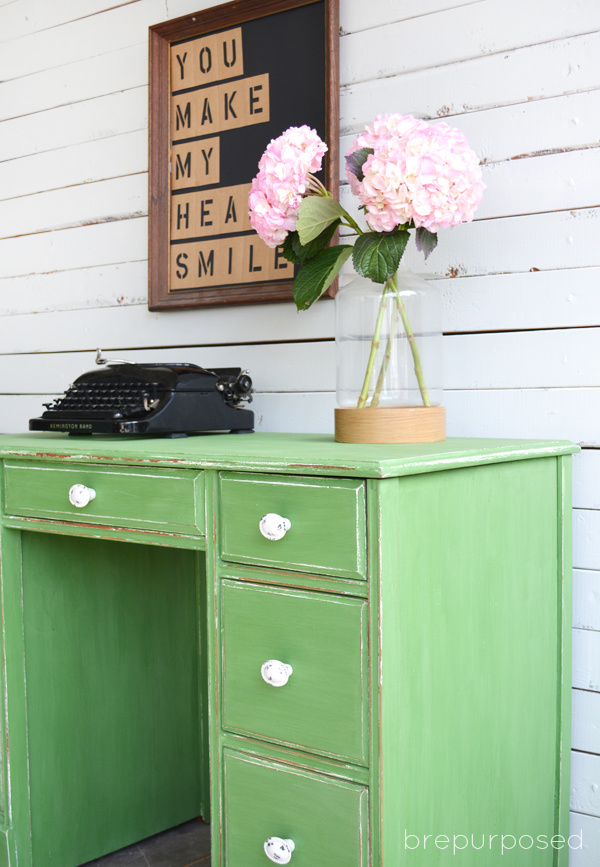 P.S. Don't you love the way this piece pops against my new backdrop?! I sure do 🙂
If you are a blogger who paints furniture and would like to join our monthly Fab Furniture Flippin' Contest, you can contact Stacy (info@anastasiavintage.com) or Evey (info@eveyscreations.com).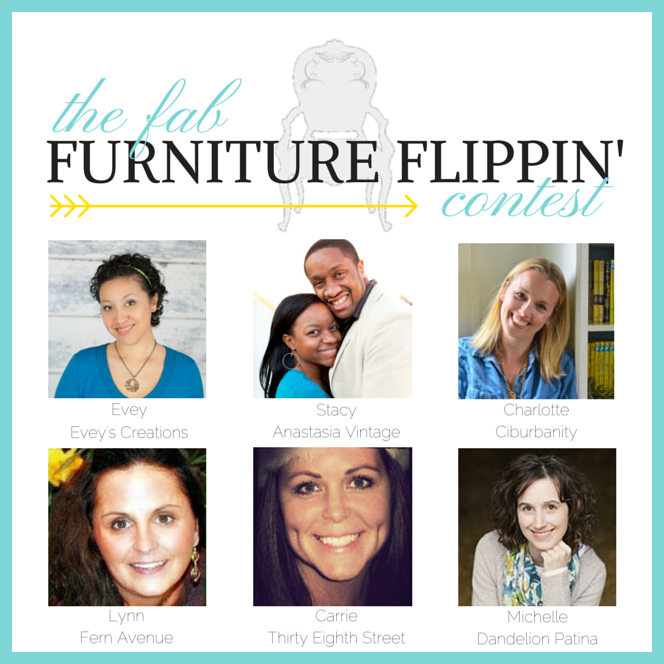 Have a happy hump day friends!