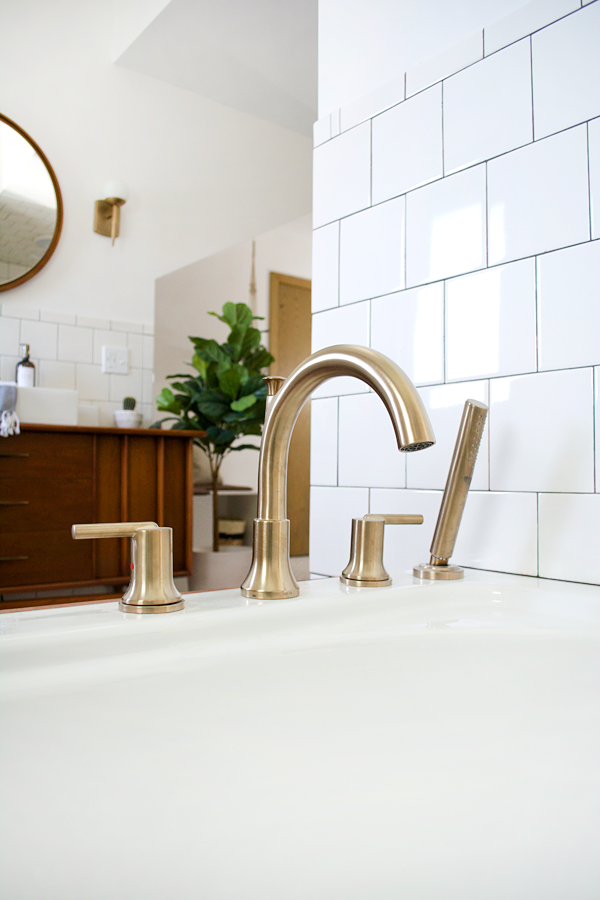 It's been about 7 months since we completed our Master En Suite renovation for the One Room Challenge and I thought it would be fun to share a little update on some of my favorite elements from this space as part of Delta's Inspired Living Program. I knew from the moment I started my design plan that I wanted brass fixtures, but was more concerned about looks than function. Luckily, Delta makes some pretty awesome products and we haven't had any trouble with them so far. There are definitely some things to consider when planning a renovation, but I'm so happy with our Stylish and Functional Fixtures in a Modern Vintage Bathroom.
This post was brought to you by the Delta Faucet Company. All opinions expressed are my own.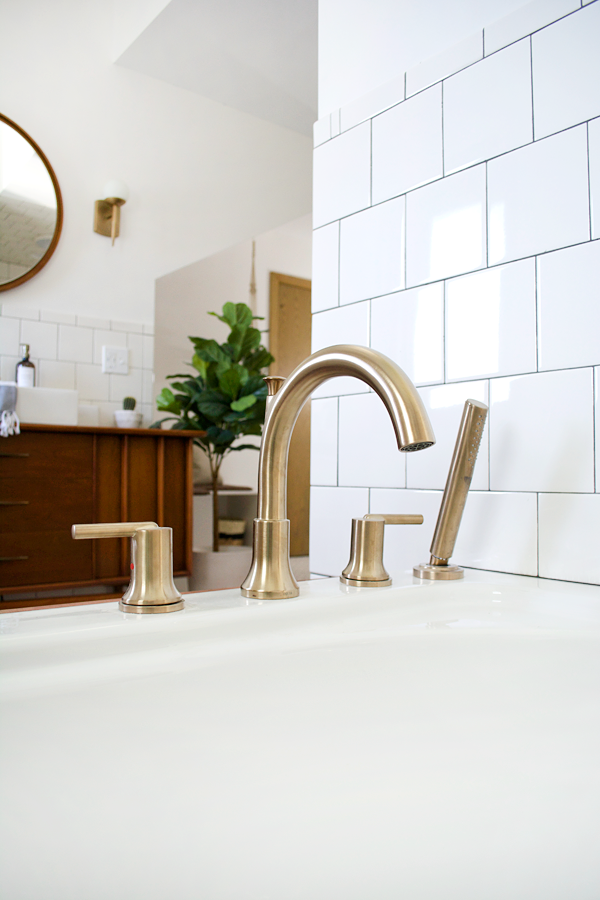 We went with Delta's Trinsic Line for the sink and bathtub faucets and I just love their sleek and modern look. For the bath we have the Trinsic Roman Tub with Hand Shower Trim. Because of the way we built our tub into the wood surround, we had to put the faucet on the side instead of the typical location at the foot of the tub. I was a little worried about how this was going to look, but all these months later and I'm still loving it. It's actually super convenient for giving Eloise baths which is a total win.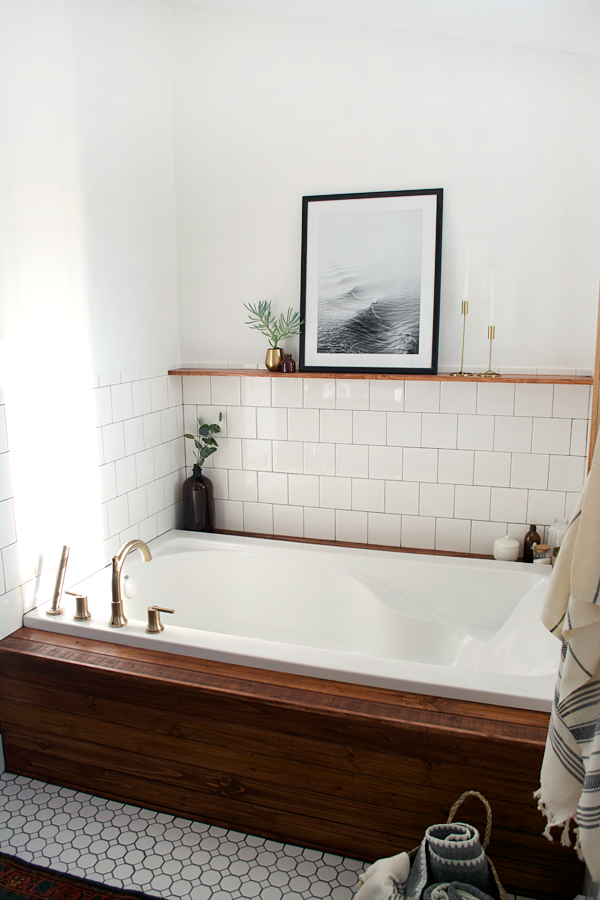 And speaking of baths. Although I don't personally use the sprayer much, I use it ALL.THE.TIME on Eloise. It's perfect for kiddo bath time and is super long so even if she squirms away to the other end of the tub, I can still reach her.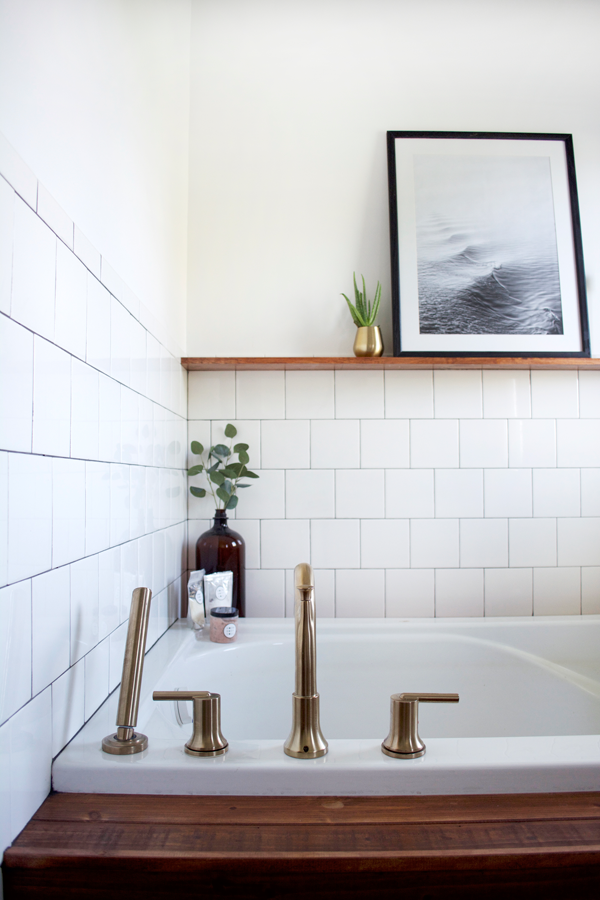 I absolutely love the Champagne Bronze color that these come in too. It's not an in your face gold/brass but is the perfect subtle shade that pairs well against all the white and wood in our bathroom.
On the vanity we have the Trinsic Two Handle Widespread Lavatory Faucet which fits perfectly with our vessel sink. It's basically the same as the one for the tub, just a bit smaller and without the sprayer.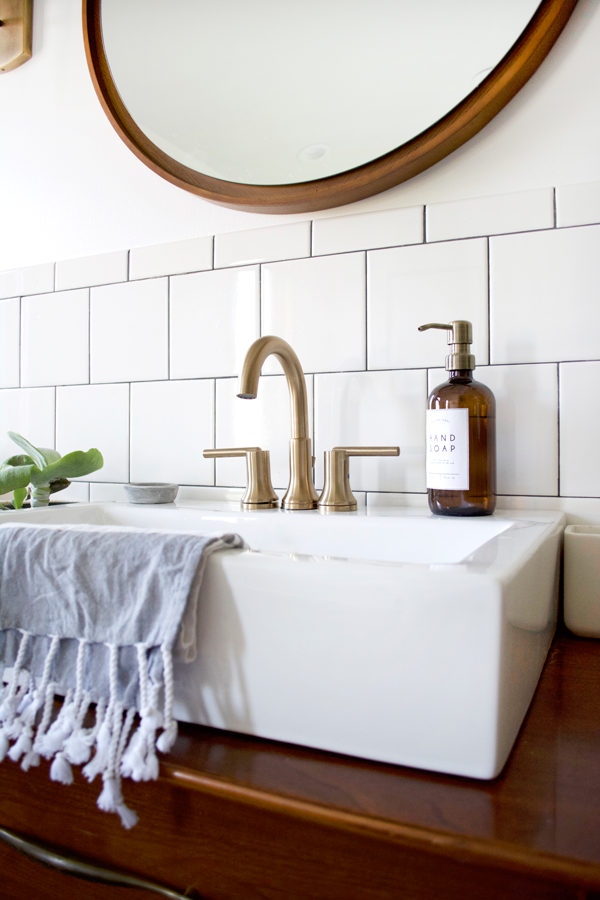 It goes so well with our sconces and I love how it pops off the white square tiles.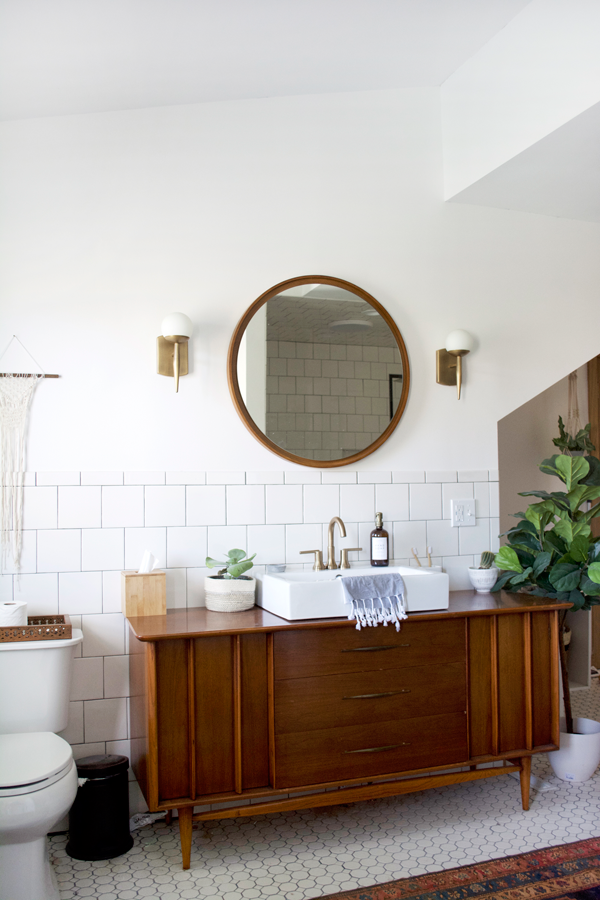 Now for the main event – the shower! The shower panel tends to steal the spotlight, but let me tell you, the shower head is just as amazing. Since we went with a somewhat open concept, we needed a rain shower head so that the water wouldn't be spraying out all over the place. The Delta Vero 1-Handle Shower Faucet with Rain Showerhead was perfect. It's in the same champagne bronze color as the other fixtures and has the same stylish look.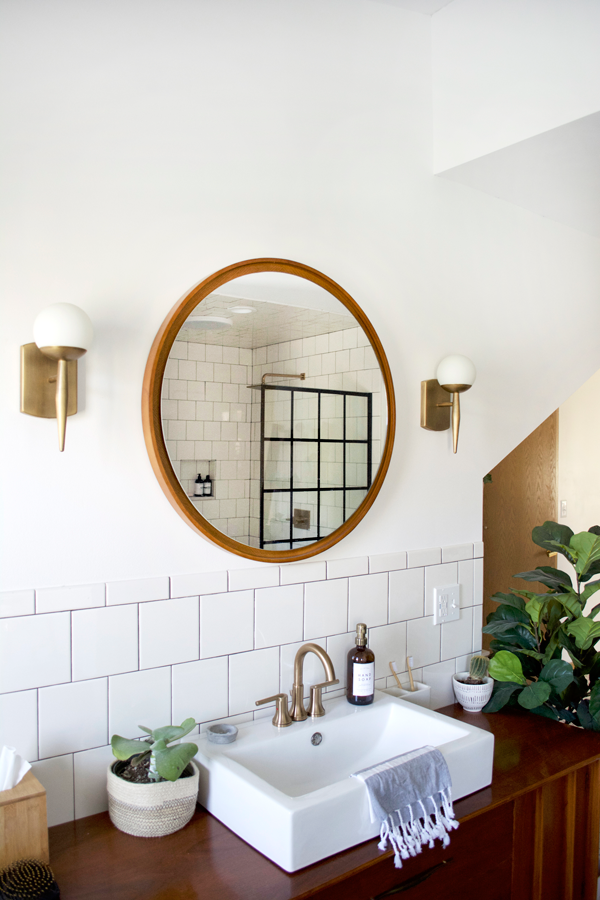 I seriously feel like I'm at a spa every time I take a shower. There's just something about the water falling straight down on you, rather than at an angle, that feels so much better.
Another perk of this shower head is that it's not like your typical rain shower head. You don't have to worry about installing plumbing lines in the ceiling since this one just comes straight out of the wall and bends down.You get the look and feel of a spa like fixture, without all the hassle of installation.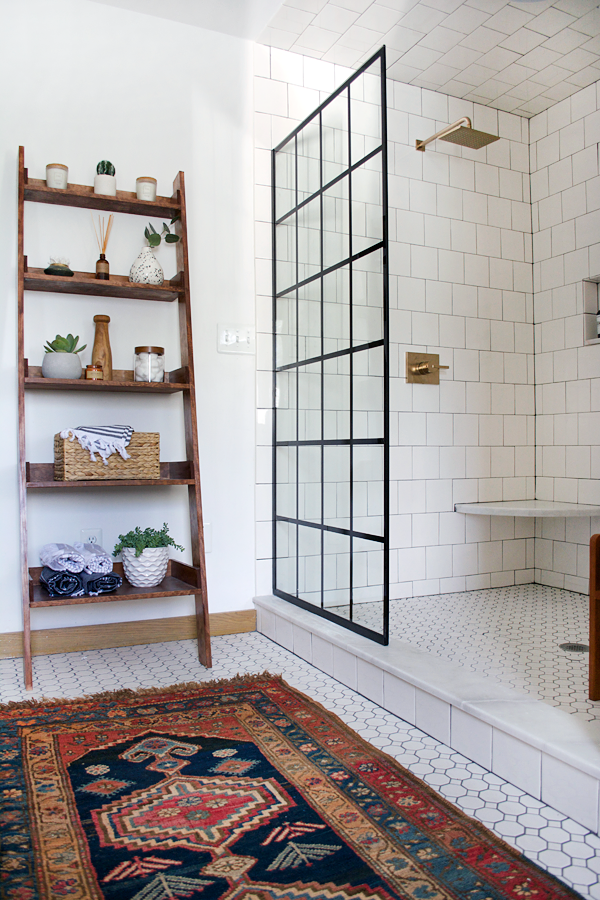 All of these fixtures are also super easy to keep clean. I usually just use some Scrubbing Bubbles or do a quick swipe with a clorox wipe and they immediately look brand new again.
If we were doing this bathroom renovation all over again, I would absolutely choose the same fixtures. Style and function are equally important to me and these definitely did not disappoint.
Be sure to check out the Inspired Living site for more design and DIY tips!