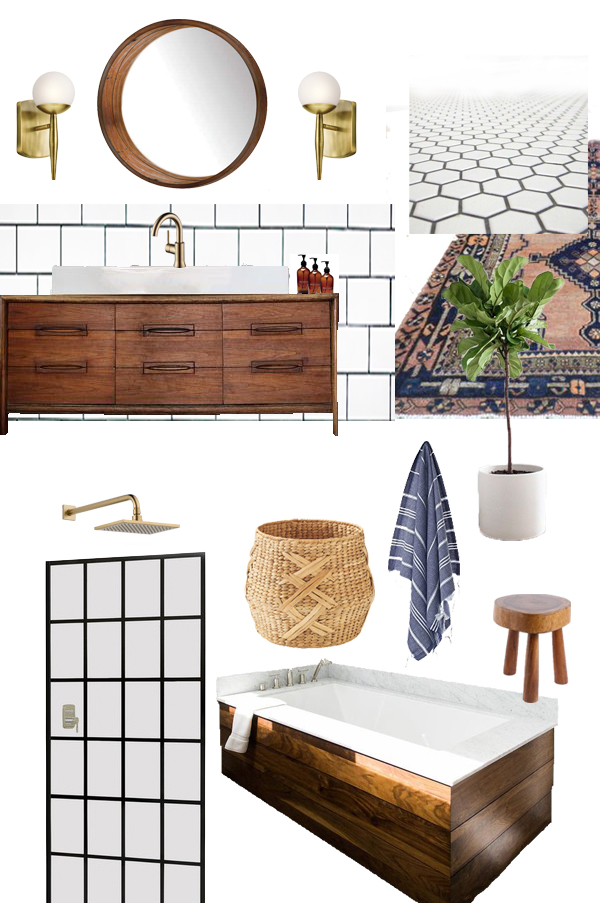 Ahh you guys!! I'm so excited it's time for another One Room Challenge!! If you missed our first one, you can check it out HERE. This time around we're tackling our master en suite and it's a much bigger job than the laundry room was. Fingers crossed we can get it all done in 6 weeks!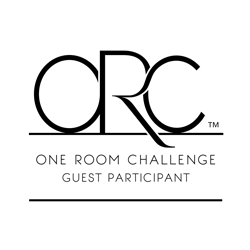 If you're new to the One Room Challenge, it's hosted by Linda of Calling it Home and it happens twice a year; in the fall and in the spring. It started with 20 or so featured designers transforming a space in 6 weeks but now anyone is allowed to link up and share their progress every week and the big reveal on week 6!
If you've seen our home, you know that pretty much every room needs some TLC. We're also working on some tweaks to our master bedroom right now and figured it would be a good time to just go for it and update the en suite too. So let's take a look at some before pictures!
Ok so when you walk into our room there is a hallway immediately to your right and this is what you see. It's on the outside of the bathroom and is this weird and awkward little vanity area that literally never gets used. Ideally it's a nice thought to have this separate area, but it just doesn't work in this space. That door you see on the right goes into our walk in closet.
So originally this space wasn't going to be a part of the renovation, but then we figured we might as well go for it and make the new bathroom one larger room.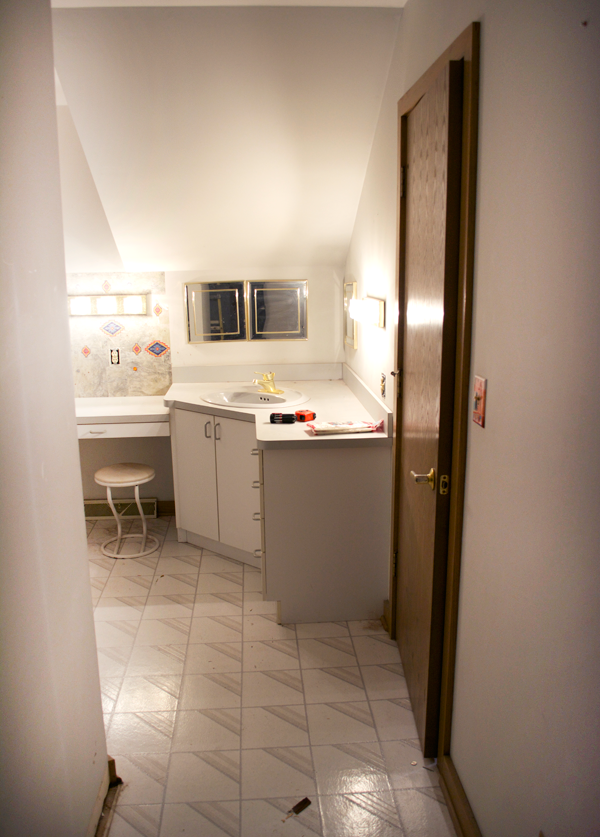 Here you can see where the current bathroom is – through that door.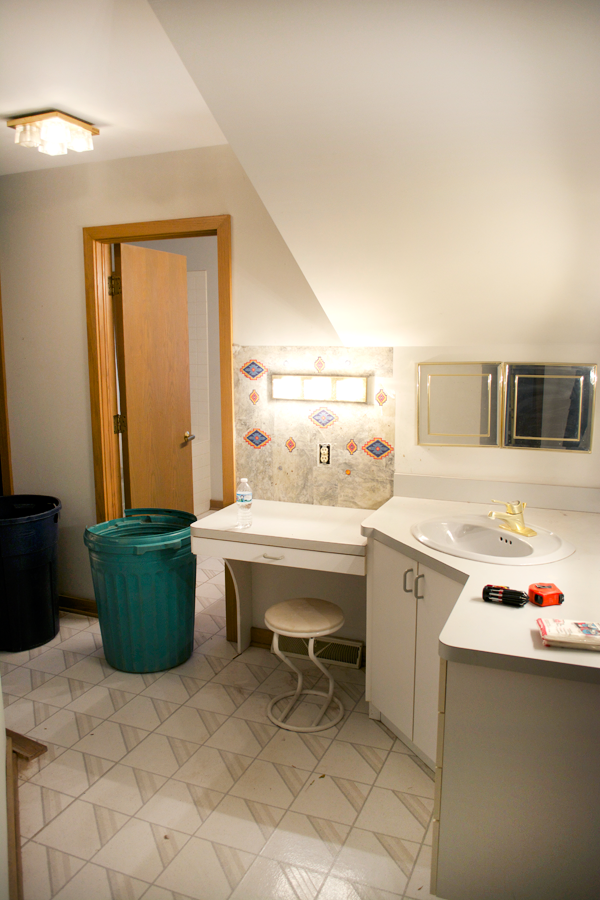 And here's what you see when you look through that door.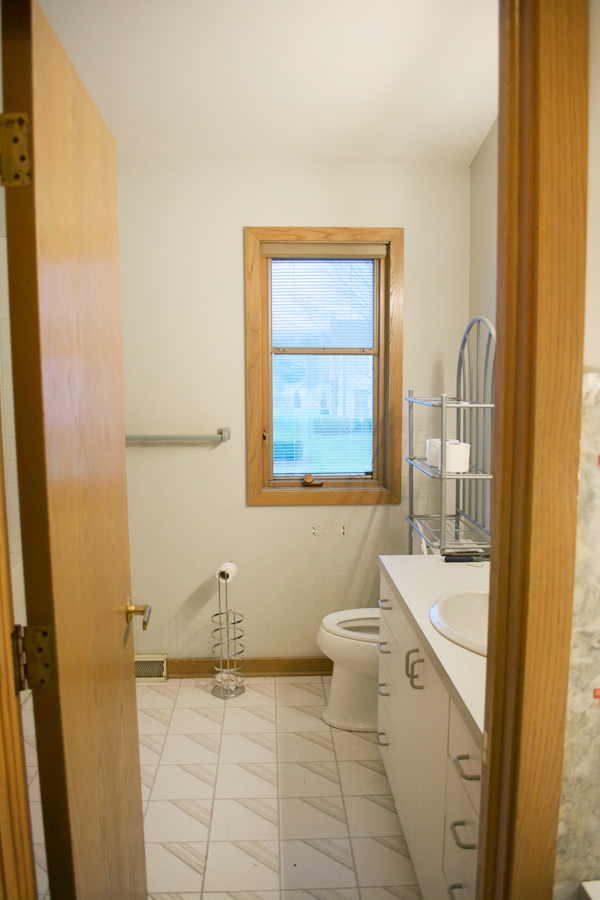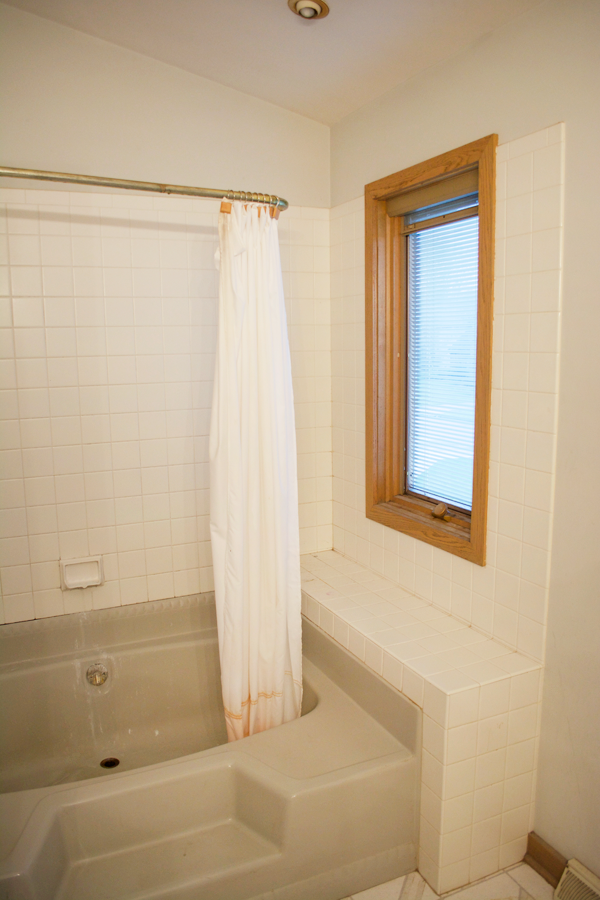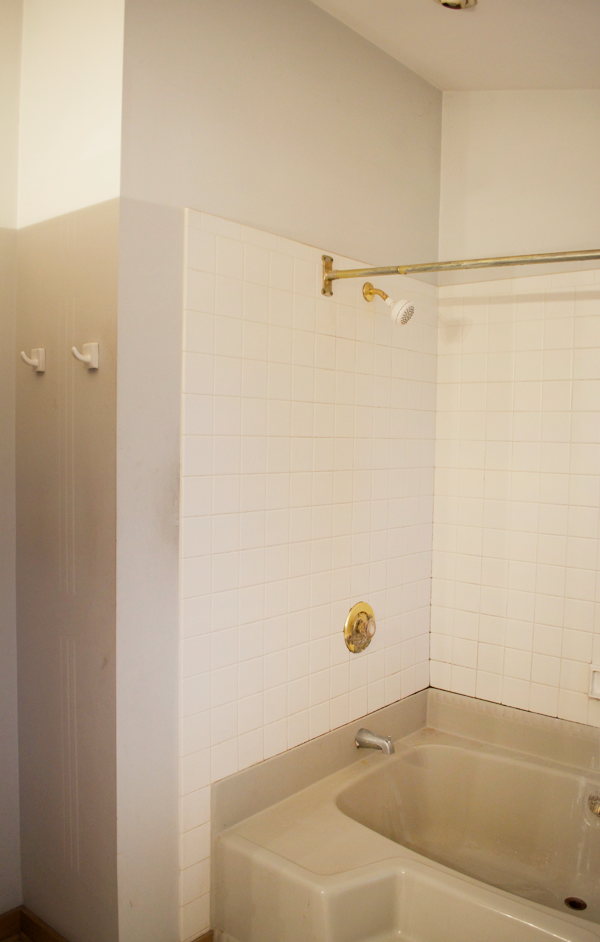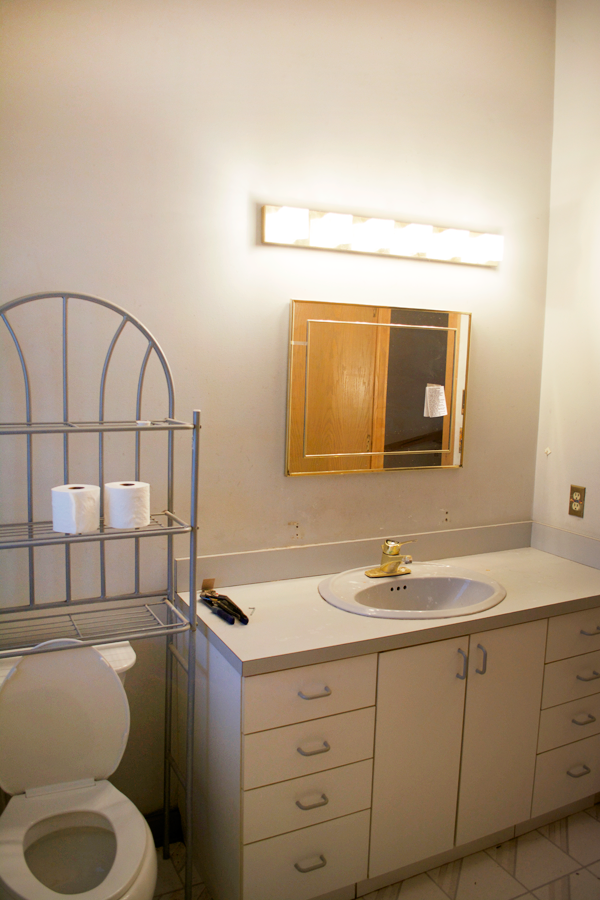 And here is a view from our bedroom. The space on the floor where we didn't put the new subfloor is where the new shower is going to be. So we're going to expand that all out right there and get rid of that closet and enclose it all so there is only one entrance to the bathroom.
So we hired a contractor to help us out since we were knocking down and adding new walls and there's a lot of plumbing and electrical that needed to be redone. He came last week to get started and has made a ton of progress since then! Once he's got the new bones set, we'll take it from there and do the rest ourselves.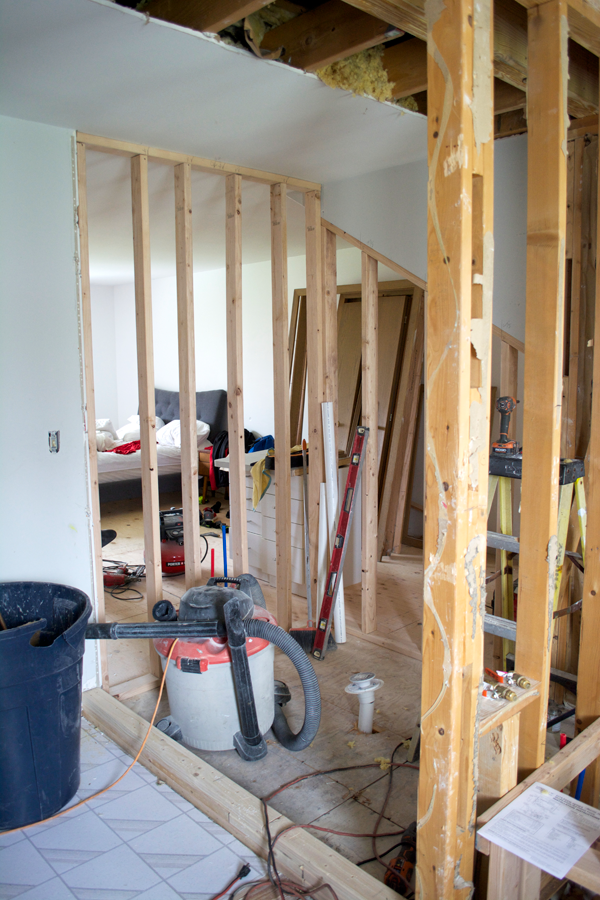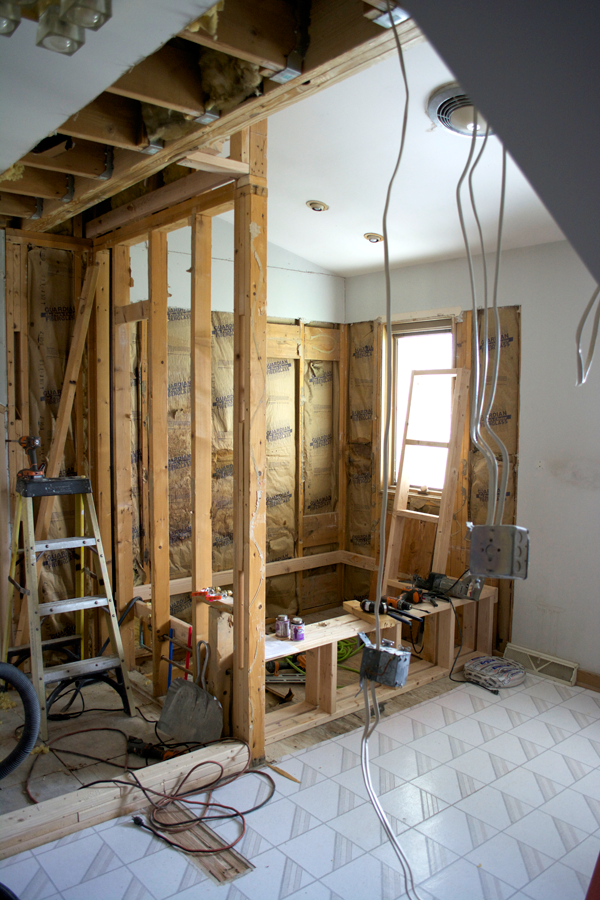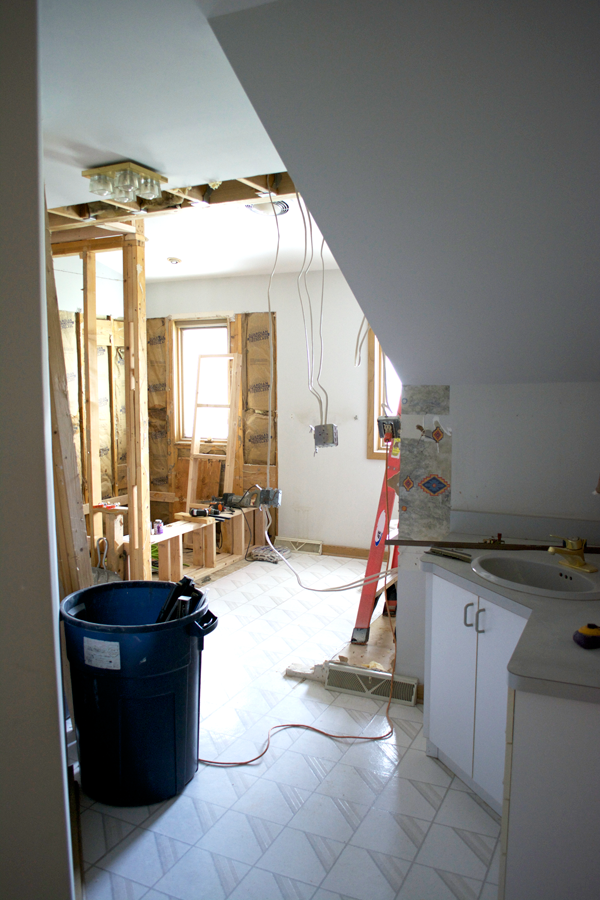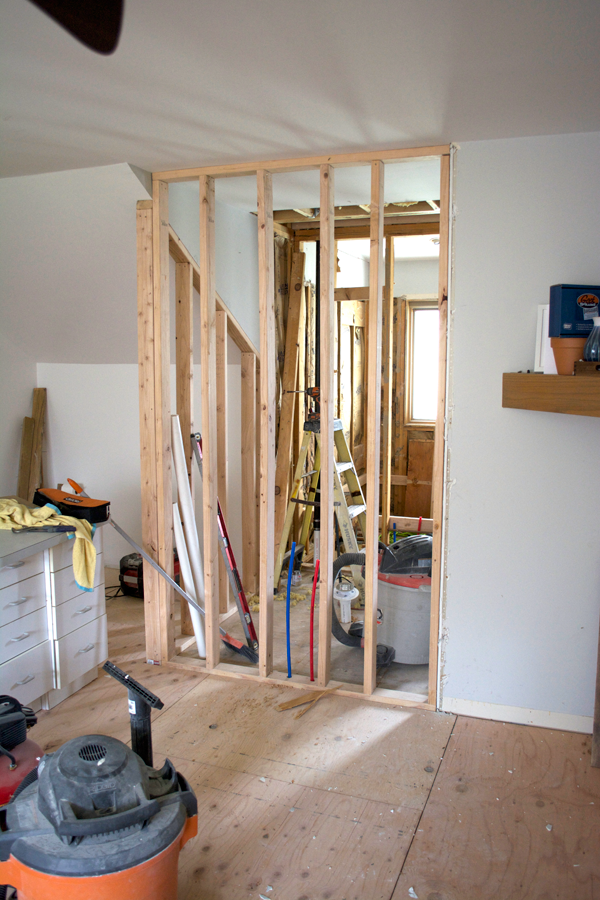 Yay progress! But those befores! SO bad right?! I cannot wait to pretty this room up. Let's talk plans.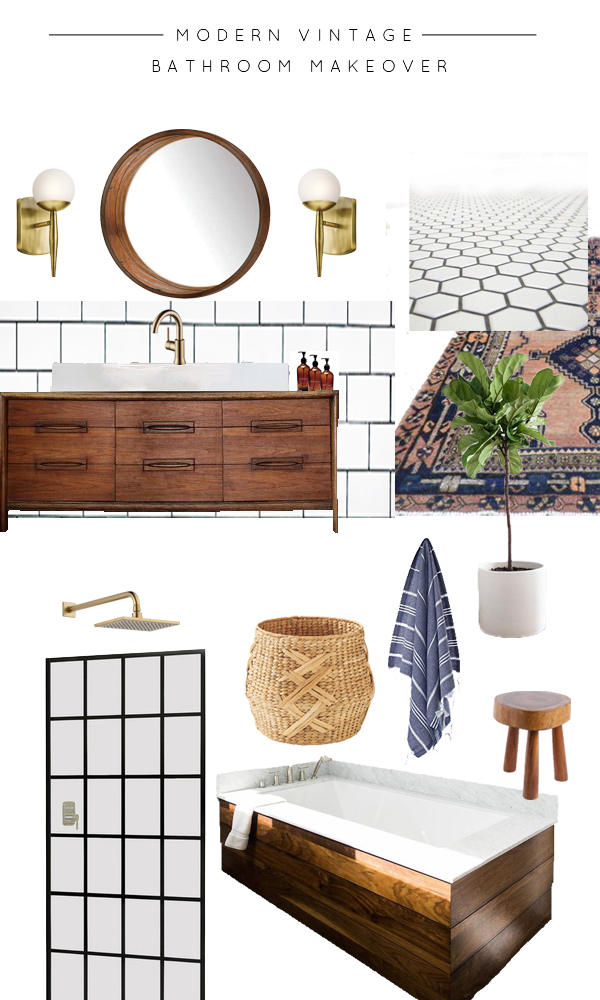 Lots of wood tones, brass fixtures and white walls/tile with some subtle pops of color here and there. I'm still debating if I'm going to paint an accent wall behind the vanity but I'll probably make that decision at the last minute once everything starts going in.
For that weird corner area where the vanity and sink were, I'm thinking of having a little bench, and some storage of some sort for linens and then a full length mirror on the opposite wall. But I'm not 100% on any of that yet.
If you want to check out some of my inspiration images you can follow my Pinterest board HERE or check out a round up post I did HERE.
Last time I included a to do list which I might throw in later on, but right now there is just way too much that needs to be done to list it all!
And last but not least I have to give a HUGE shout out to Lowe's who is sponsoring this project. I couldn't do it without them!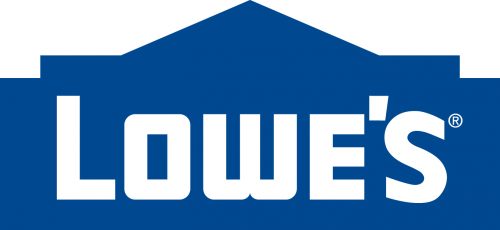 Don't forget you can head over to Calling it Home to check out all the participants!