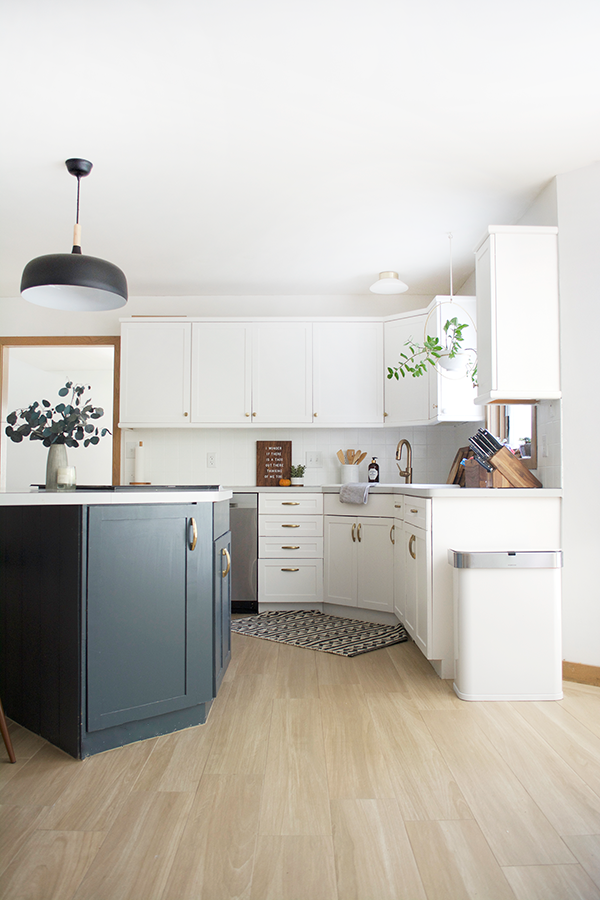 Oh.my.gosh you guys I can't even believe I get to write this post. I seriously still can't believe we actually have new floors! Most of you know the back story around here and since this isn't our house, we don't always get to do the things we want. But my FIL totally surprised me earlier this year when he said he was on board with replacing them all and now they're in and I couldn't love them more! Our new wood look tile floors are what dreams are made of and they have completely changed the whole vibe of our downstairs.
OUR NEW WOOD LOOK TILE FLOORS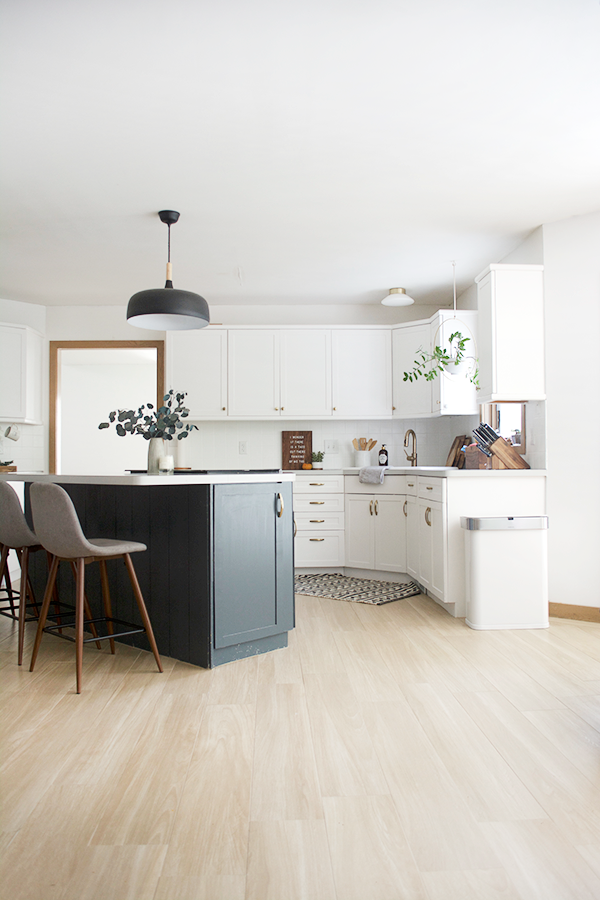 If you missed my other two posts in this series you can check out Why We Chose Wood Look Tile Floors and Installing Wood Look Tile Floors. We teamed up with Marazzi and replaced all our old cracked, dirty and gross floors with beautiful new Treverkchic in the color Francese. They are 8×48 planks and the perfect light wood color that could work well in any home.
We used the grout color Desert Khaki.
A lot of people ask if they get cold – which, they are tile, of course they aren't as comfortable as walking on carpet. But I really haven't noticed them being overly chilly to walk on. Ask me in the middle of winter and I might have a different answer 😉 I usually always have socks or slippers on anyway so that wasn't a huge deal for me.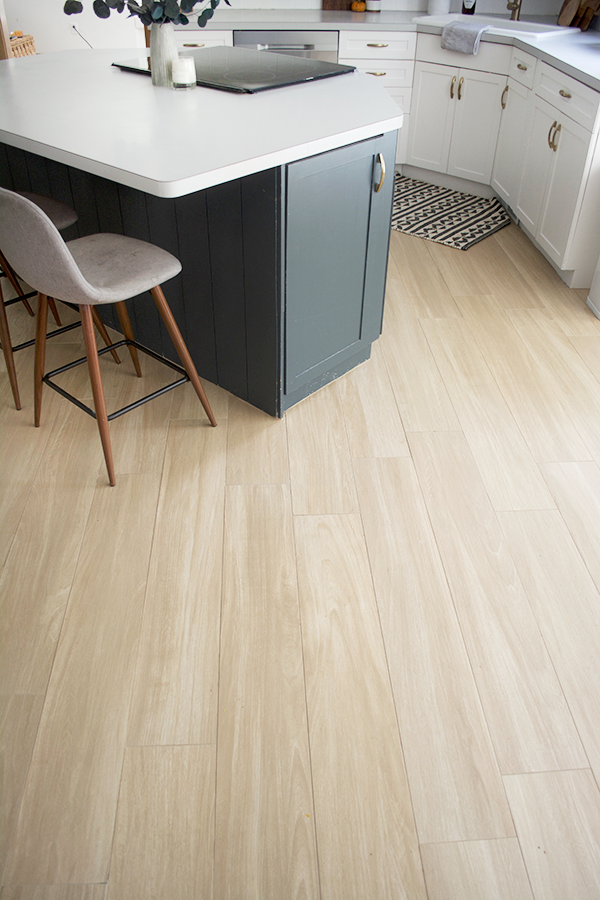 My one worry I did have thought, was about the hardness of them with two little kids. And so far so good! Naturally, they've had some falls, but it's no different than hitting their head on hardwood floors. Kids are resilient – they're back up in 5 seconds running around like crazy. Plus I'll be getting some area rugs for the larger spaces to help soften things up a bit for them. Especially in their new play room.
I just can't believe how different of a house this feels like. After we put them in, Dan said he felt like this was how it was always supposed to be. And that is the best thing to hear from a designers stand point because you know you made the right decision. He didn't agree with me 100% from the start which tile we should choose but he loves them just as much as me now.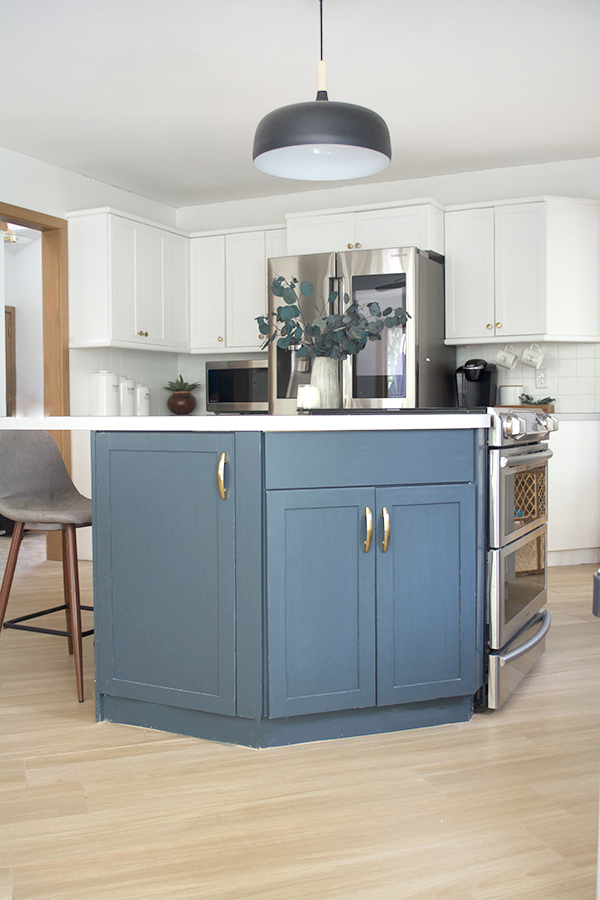 As much of an undertaking as this was, it was SO worth every day we were stuck upstairs in our bedroom, every cereal dinner we had and all the hard work from me, Dan and my FIL. This never would have happened without my FIL – he worked so hard on these floors and spent so much time on them. We owe him big time.
After living with carpet for so long, it's crazy to see how much dust and dirt accumulates in your house. And to think all of that used to get stuck on our carpets ugh. It just grosses me out. I'm never living with it again ha. And even though there are crumbs and little nuggets of who knows what all over our floors every day, they've been pretty easy to clean. Of course we're still in the middle of finishing up this renovation and we have two kids and a dog, so if there wasn't stuff all over the floor I'd be a little worried.
Right now, I've just been using a swiffer wet jet which has been working great, but I want to try some different products to see what's the most efficient in such a large space. If you have any tips – let me know! And if I see a little dirt spot or food stain, I'll just grab a wet wipe and scrub it right off.
Let's just take a little walk down memory lane and remember what our kitchen used to look like:
BEFORE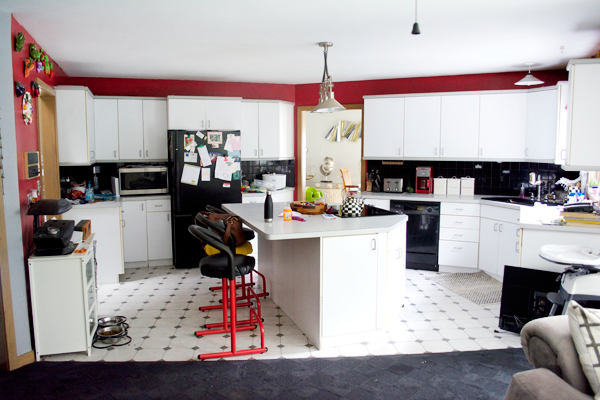 AFTER!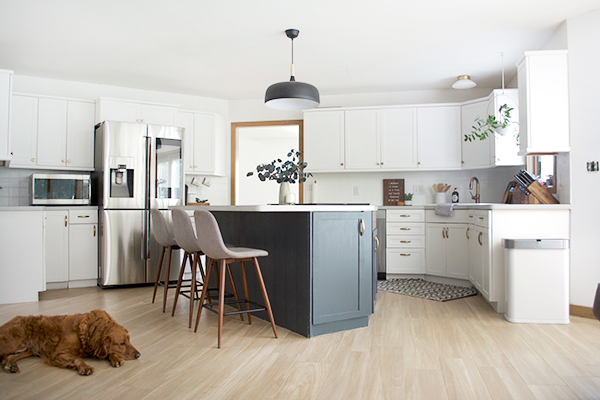 I can't even believe it's the same space. I've gotten asked if we'll ever gut our kitchen and truthfully, I'd be ok if we never did. Of course I would love to redesign the whole thing, but I'm proud of the work I put into and what I was able to accomplish without tearing anything out. And these floors are now the cherry on top 🙂
So I've only shown you our kitchen up to this point because it's the only space on the main level that's fully put back together. The other rooms are still in the process of getting a makeover – the family and dining room right now for the One Room Challenge and then the room opposite the kitchen which will be the kiddos new play room. So the rest of our house is still a disaster right now but here's a little peek at how the floors look in the other rooms!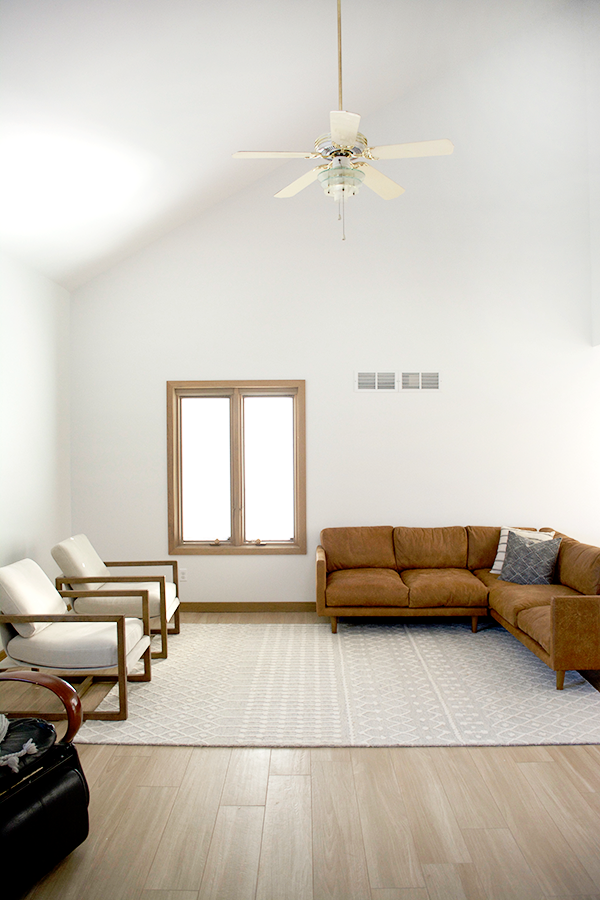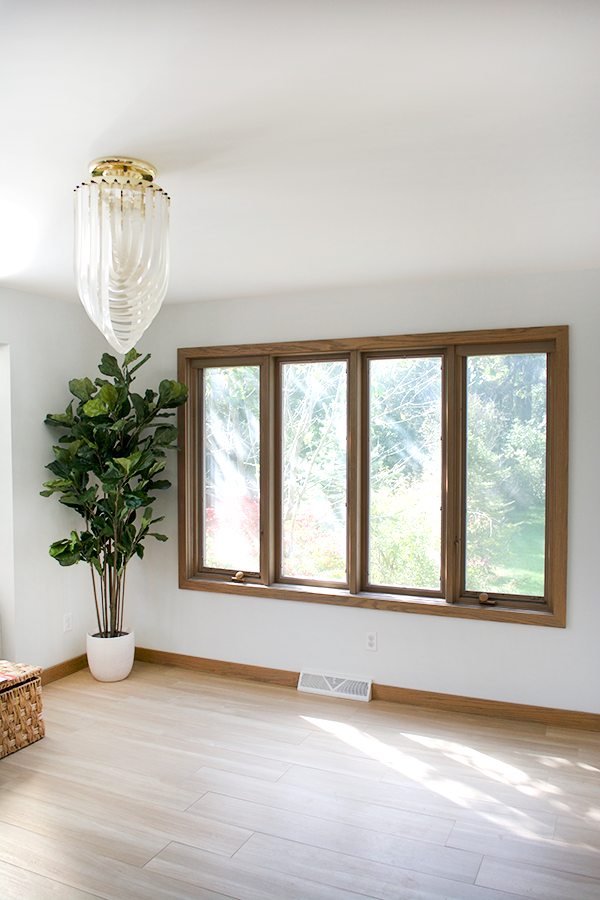 Since we were keeping all of our original oak trim, I had to pick something that would pair well with them and I think Treverkchic compliments them perfectly. I think going lighter was the key. Any darker and I think we would have had to replace all the doors/trim because it would have been wood overkill.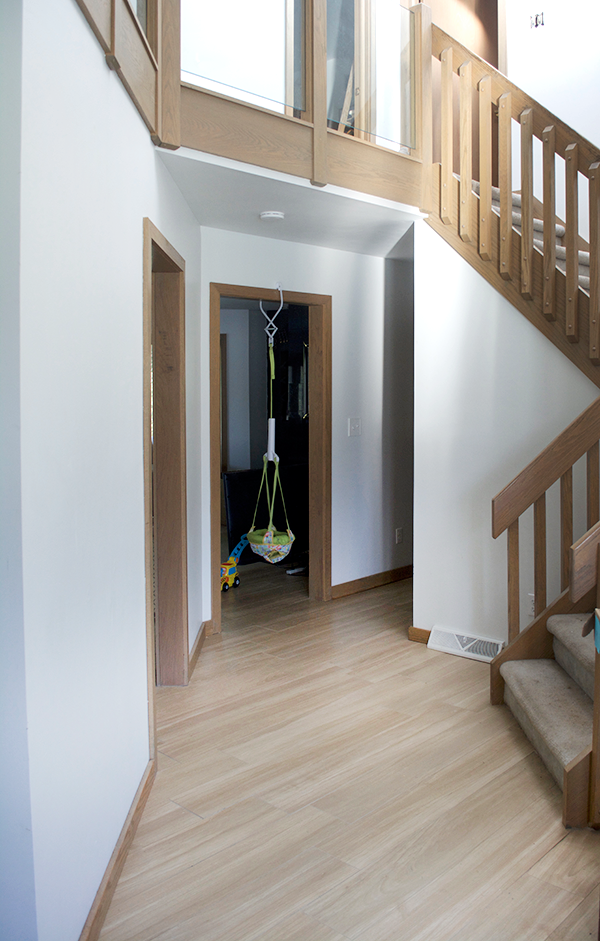 And a little bit of real life for ya 😉 This will be the kids new play room but right now it's where we're all hanging out while the other two rooms get finished first. Eloise loves all the room to drive her cars and play with her toys!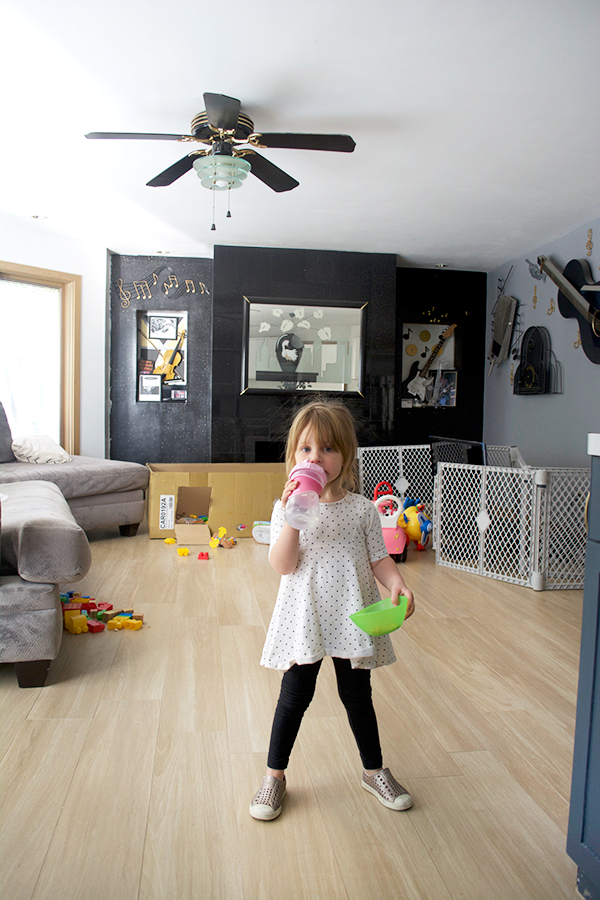 So we've still got A LOT of work ahead of us – but I'm so glad this part of it is done. I couldn't be more in love with these floors and can't wait to get the rest of the spaces decorated so they can really shine.
I want to give a HUGE thank you to Marazzi for providing this gorgeous tile and helping us transform our home.