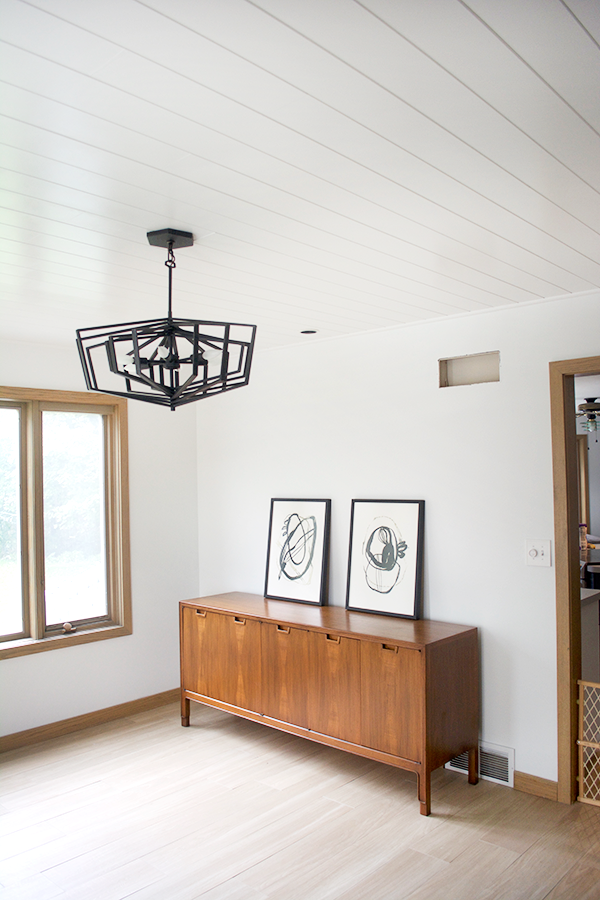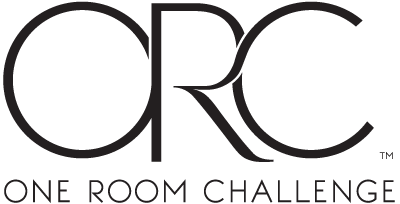 Holy crap it's week 4. The stress and anxiety is starting to settle in big time. Even though we've made a ton of progress – we still have a ton left to do!
If you're just joining in you can check out our previous weeks progress below:
The big piece that got worked on this past week was our entertainment system. To recap – I fell in love with this one from Arhaus – but not the price tag.
So I reached out to a local lumber company, Baird Brothers, to supply some wood for us so we could build it ourselves. Except they went one step further and totally helped us build it!
We're doing it a bit differently with full cabinets on the bottom. So it came to us in 3 parts and our job was to stain it, add the hardware and put it all together.
I don't mind staining but I definitely underestimated how much square footage there was to cover. I probably inhaled way too many bad fumes but I got it done and we're going to start assembling it tomorrow – yay!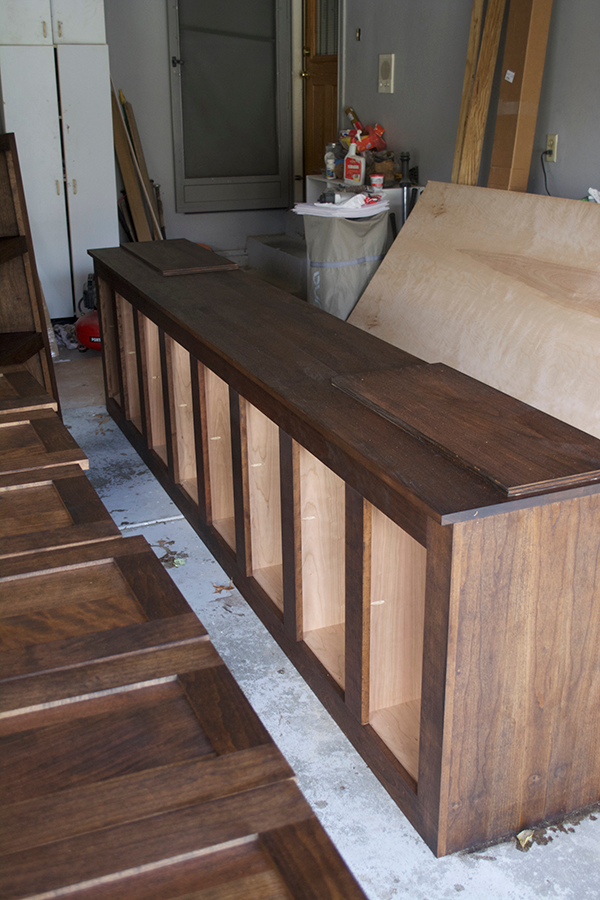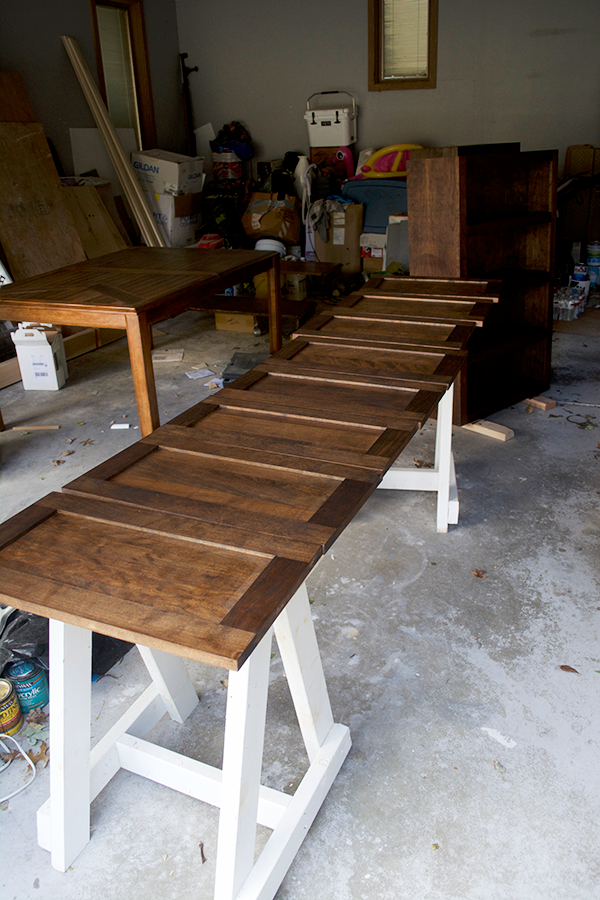 Once this piece is done I'll feel a lot better.
This is currently what our garage looks like :-p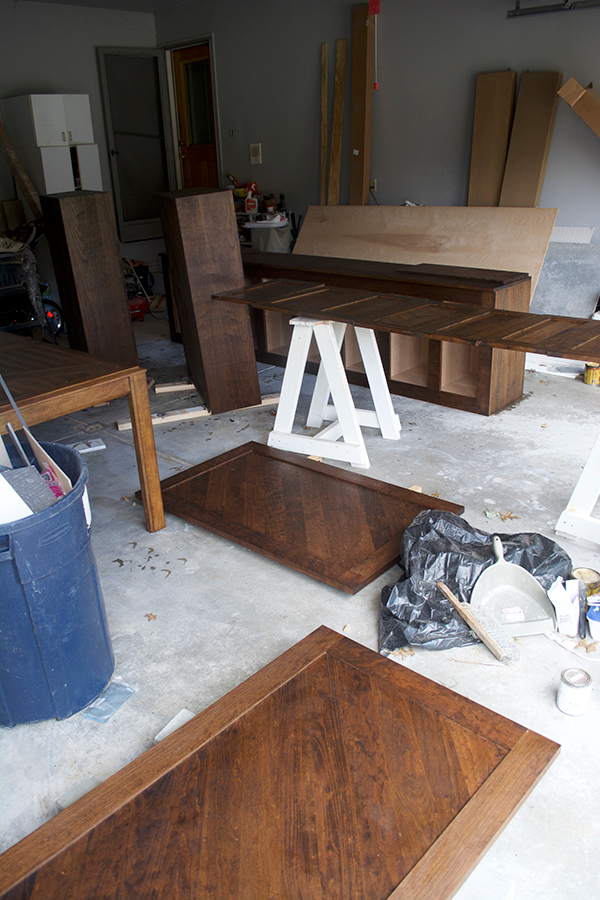 We also built a little floating window bench in the dining room. I'll share a tutorial for it after the reveal but we followed similar plans to this floating bench in our laundry room. My mom is going to make me a cushion for it because she's a way better sewer than me.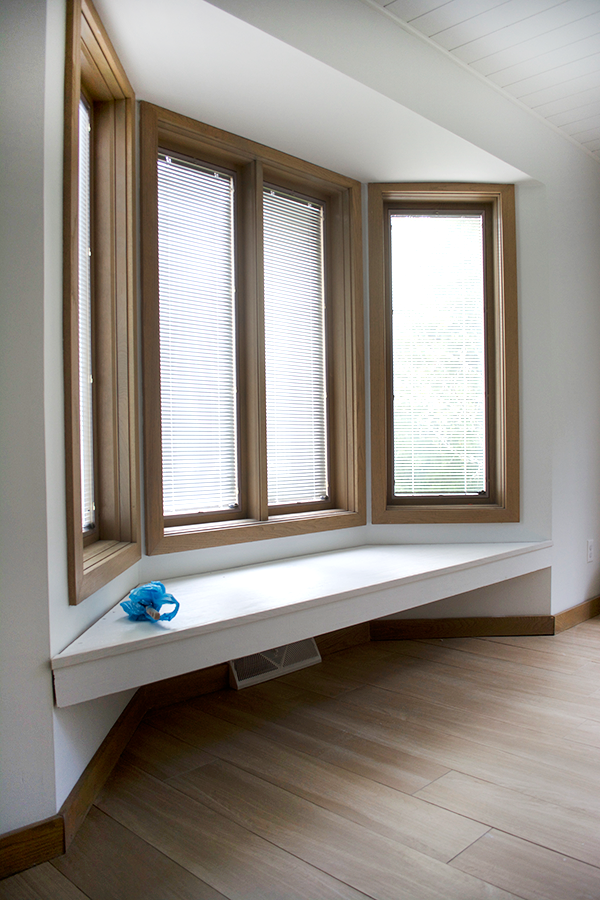 I also scored this amazing credenza on craigslist from Pittsburgh that I drove to pick up the other week. The color was slightly too orange for me so I ended up lightly sanding it and adding some darker gel stain to get it the color I wanted.
Anndd we got the shiplap ceiling up using pre-painted shiplap from Metrie. I love the character it adds to this space!
And we can't forget about the gorgeous light from Varaluz. You can adjust the arms of the chandelier to create different shapes – how cool is that?!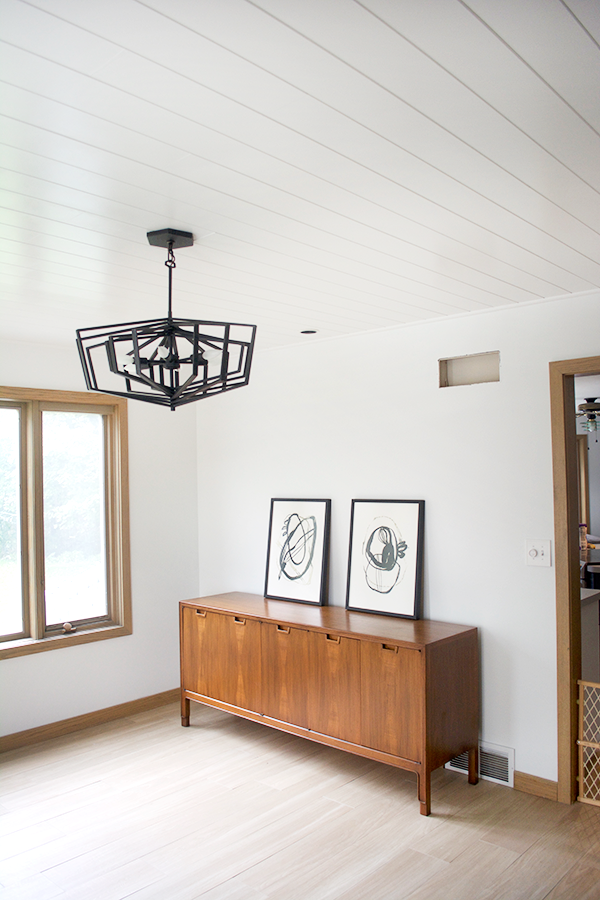 Our fireplace got done being tiled and I'm in love! The last part we have to do it clear out where the wood is and clean it up a bit. I think we're just going to put a fresh coat of black paint on the brick in there and call it day.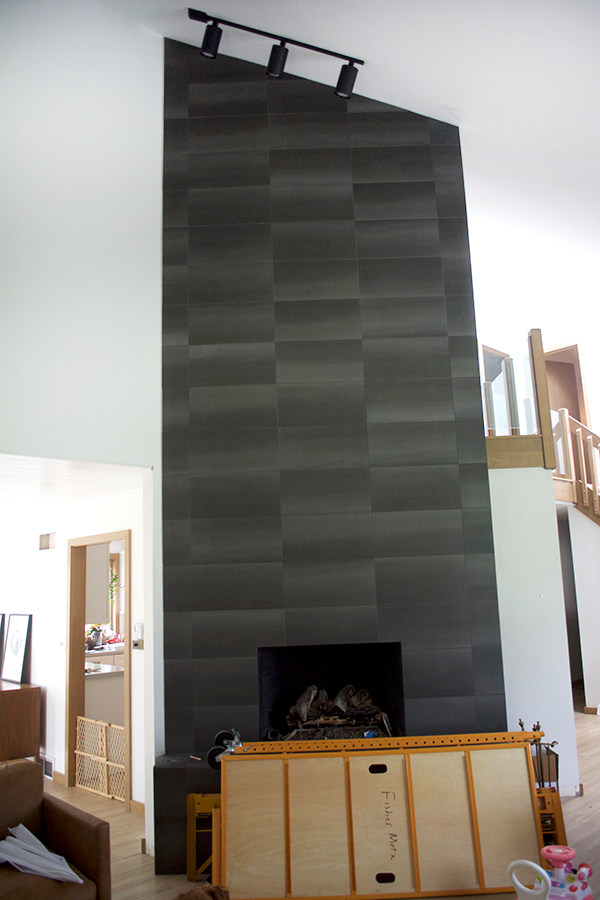 To the right of the fireplace we decided to do a tall cubby to stack fire wood. That should be pretty simple to build, I'm just not sure what color to paint or stain it! White? Grey to match the fireplace? Stain it? Gah I don't know!
Then the last thing left to build is a little wine rack for the dining room, then it's finally time to decorate!!
I can see the light at the end of the tunnel but it still feels so far away. I can't wait to just sit down and enjoy these spaces!
Oh and did I mention I'm throwing my son's first birthday party this weekend? Totally great timing in the middle of a ORC right?! :-p
Be sure to check out all the other featured designer's progress this week!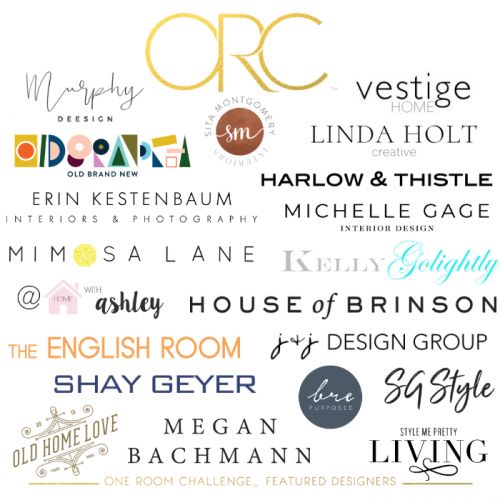 And another huge thanks to my sponsors!
Marazzi | Eclectic Goods | Baird Brothers | Article | Lamps Plus | Hayneedle | Varaluz | Metrie | Emtek