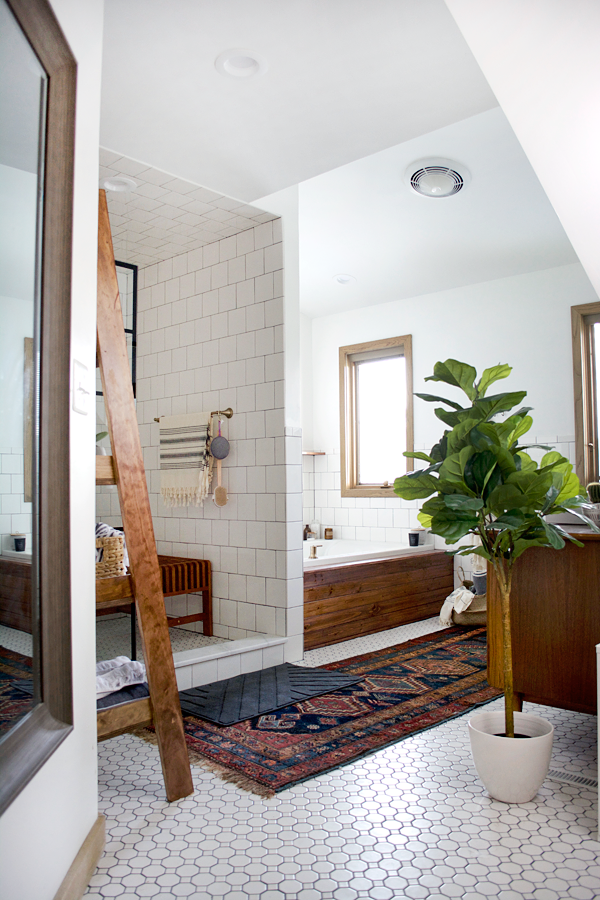 How to Maintain a Vintage Rug in the Bathroom
One thing I knew from the start of our bathroom renovation was that I wanted a gorgeous vintage rug. I didn't think much about the upkeep or really anything else besides finding the perfect size and color that would go with my design. And then I found the most gorgeous one from Swoon Rugs and I was sold.
Our bathroom is definitely a high traffic area and with the moisture from the shower, our rug does undergo some minor wear and tear (as any rug would). I've gotten a ton of questions about how I keep it from getting moldy and smelly so I thought I'd share some tips with you today!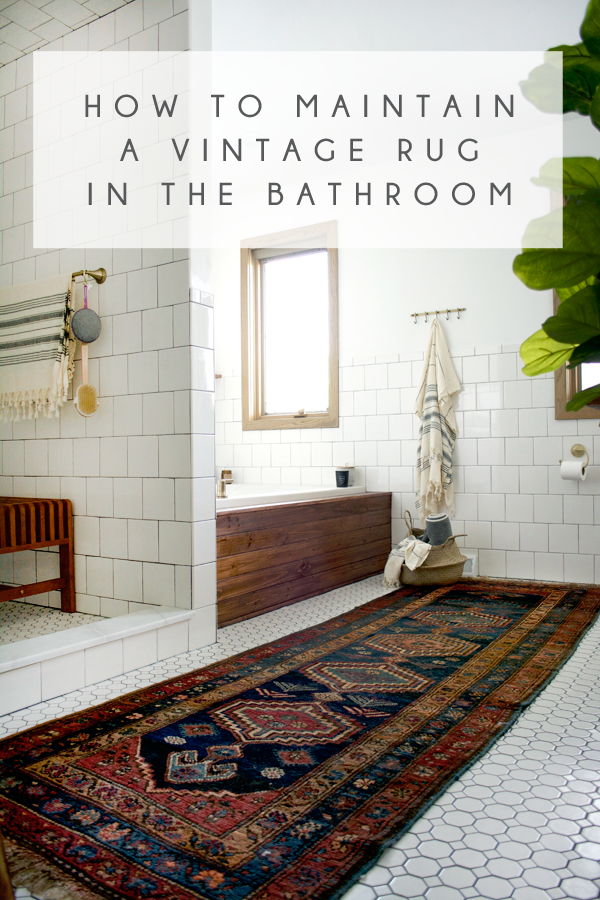 So I'll admit, I'm no rug expert at all. I honestly didn't really think much of it until I had a bunch of people ask me on instgram how I was taking care of it. I had to do some research and experimenting and these are just some things that worked for me.
1 :: USE A REGULAR BATH MAT

Don't use your gorgeous vintage rug as an actual bath mat. This is probably the first and most important thing you can do to maintain your rug. When you hop out of the shower or tub, you're dripping wet (even if you do your best to dry off). So I bought a small little bath mat that we keep right outside the shower or tub so that all the access water that comes with us goes onto that instead of our vintage rug.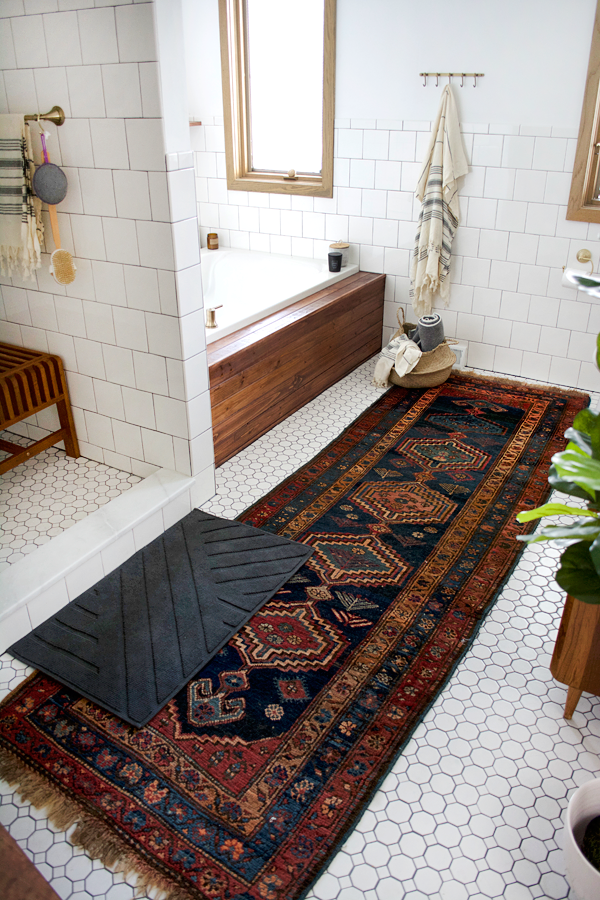 I usually just keep it down there because we're the only ones using the room anyway; but if it really bothered you, you could hang it up somewhere when you're not using it. And I'll just move it out of the way if I want to take a quick picture. And yes I'm sure some of the moisture from the bath mat seeps through onto the other rug but it's not in direct contact with the water so it's definitely keeping it more dry.
2 :: VACUUM

This is probably pretty obvious but vacuuming your rug regularly will keep it looking fresh and clean longer. The longer you let it collect dirt and dust, the harder it becomes to get it out. This is a pretty high traffic area for us, so I try and vacuum this guy at least once a week if not more. Make sure your vacuum is on the "bare floor" or "low carpet" setting to help it stay undamaged.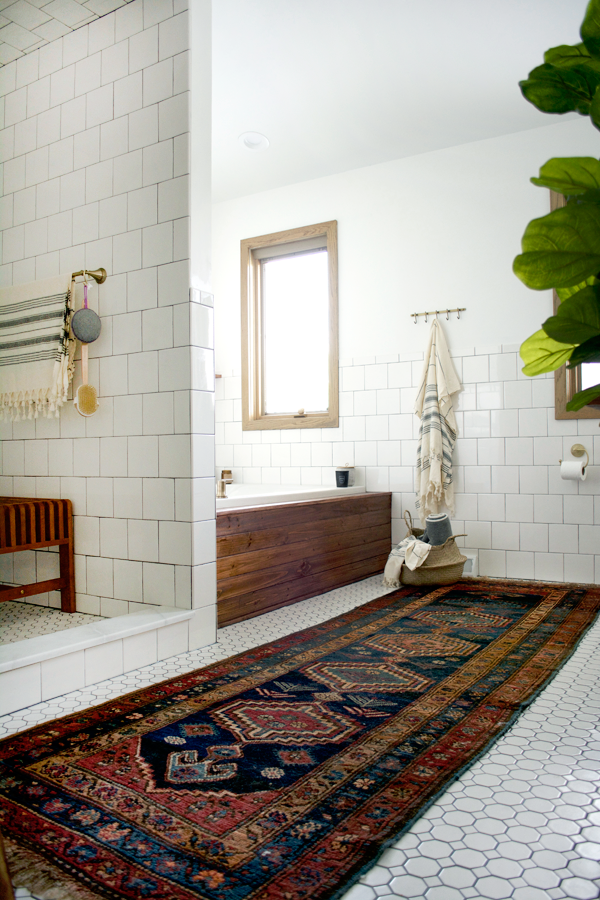 3 :: SPOT CLEAN

If you do get a stain on your rug that isn't too terrible, immediately blot it with a damp, undyed cloth to get out as much liquid and dirt as possible. Once that's dry, use hair shampoo since the protein of the wool is similar to human hair.
Make sure you don't scrub, just blot, as that will cause the stain to penetrate more deeply into the wool. Then you can just elevate that part of the rug on top of something or drape it over a ledge to allow it to dry.
The great thing about most vintage rugs is that they have so much character and pattern to them that most small stains or imperfections go unnoticed. That doesn't mean you should just ignore stains – but your rug has already survived years and years of wear and tear – it's stronger than you think!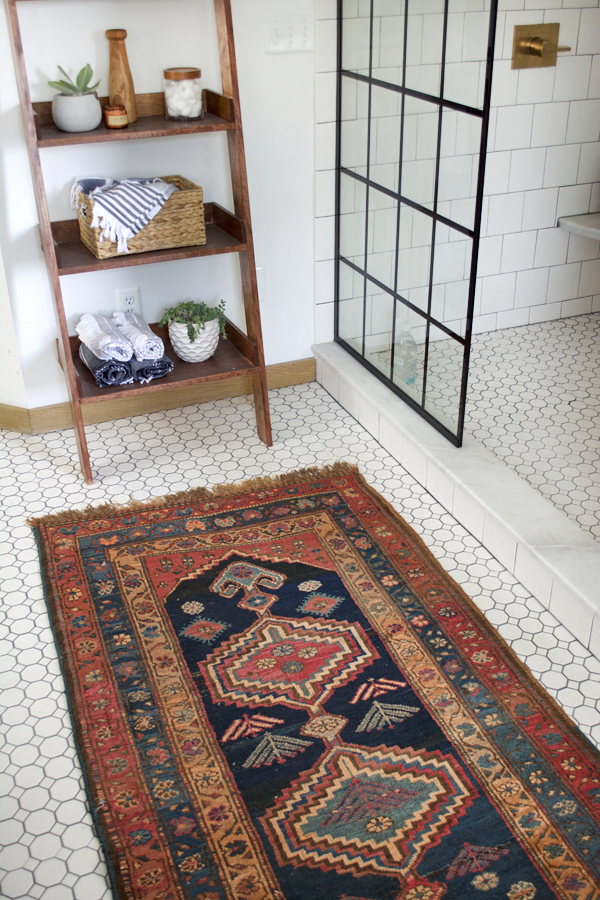 4 :: CALL IN THE PROFESSIONALS

If you get a really nasty stain on your rug that's too big or too bad for you to handle, call a professional. It will be worth it for them to take care of the problem and get your rug back to you in great shape.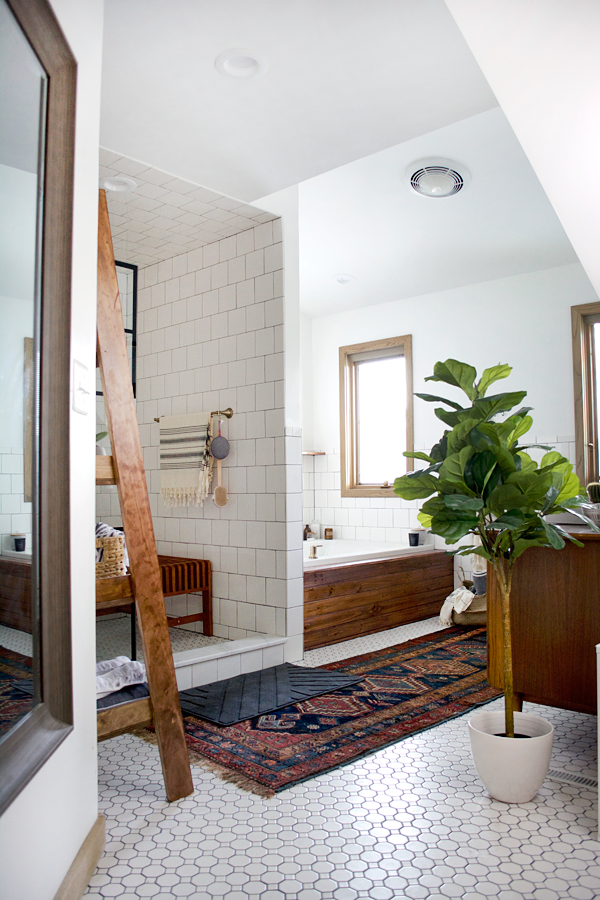 A lot of people question whether or not you should put a vintage rug in the bathroom but in all realty it's one of the best places for it! Wool is one of the easiest rug materials to clean and is one of the most durable. It can totally withstand all the traffic, dirt and moisture that will come through a bathroom.
I know moisture is a big question for a lot of people but wool allows more air flow through it than most other materials, which is why it's totally perfect for a bathroom. Just don't get it sopping wet every day and you'll be fine.
My friend Erin recently shared some great tips on how to wash your vintage rug that are totally worth checking out and my friend Cathy has even more tricks for buying and caring for vintage rugs.
So next time you're questioning whether or not to buy that beautiful vintage rug for your bathroom, don't think twice. You don't have to sacrifice style for practicality.
In the market for a new rug? Check out Swoon Rugs and all her gorgeous beauties!