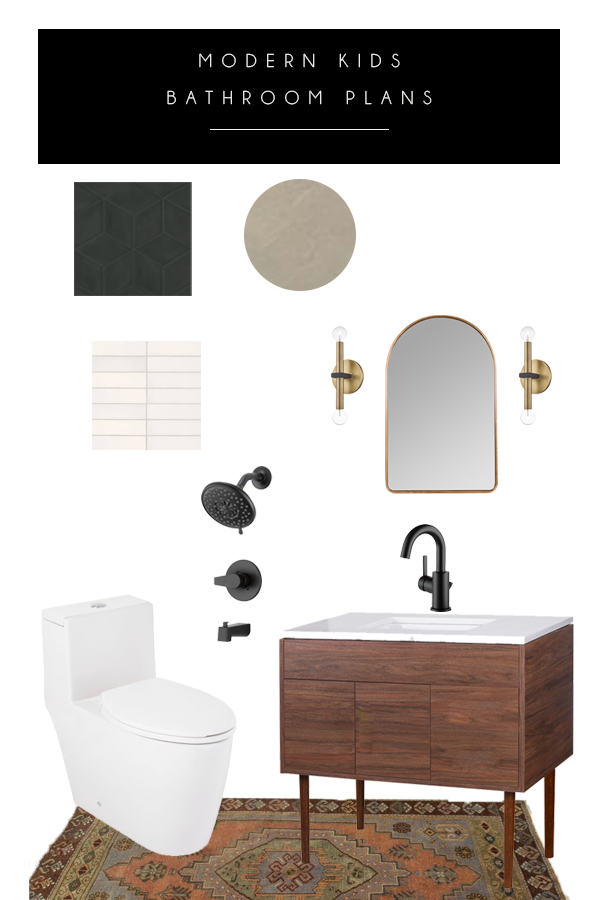 MODERN KID BATHROOM PLANS
We're almost ready to start demo on the other full bathroom in our house which means I need to finalize some plans! This will be the kid's new bathroom and also for any guests. So let's talk about my Kid & Guest Bathroom Plans!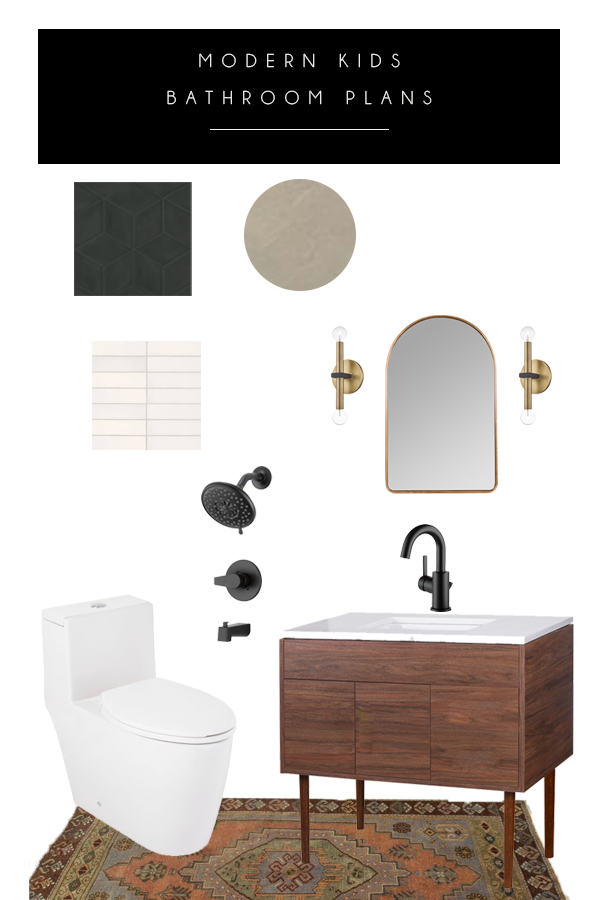 Of course we need some good before photos! My FIL currently uses this bathroom, but is almost finished completing his shower in his bathroom in the basement. So once he's done with that – demo up here will start!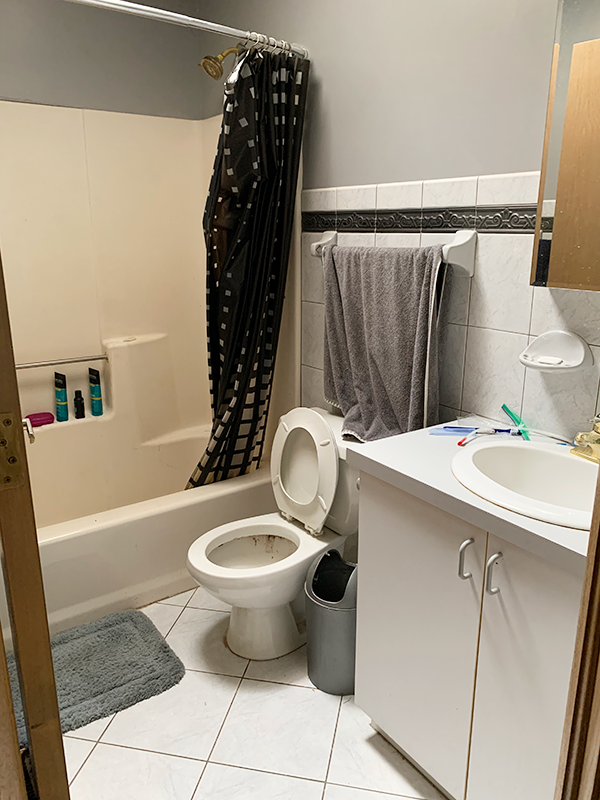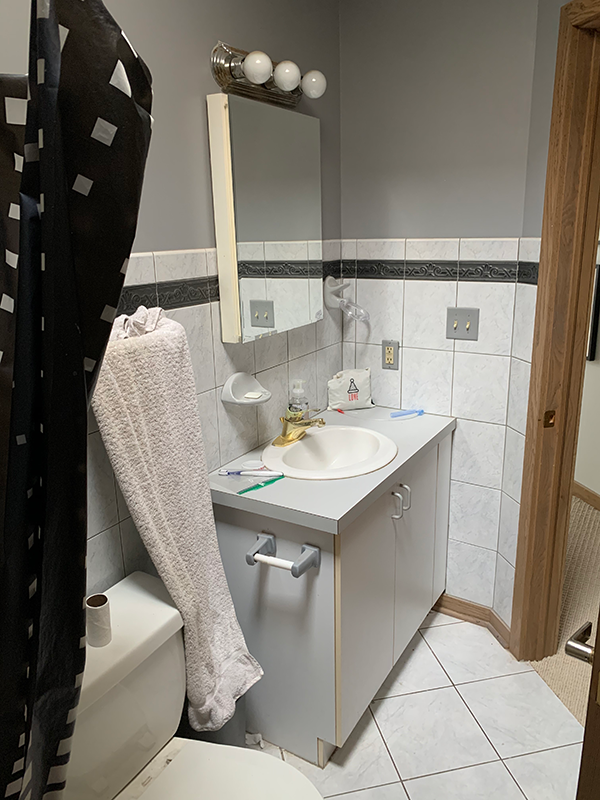 It's old, gross and I cannot WAIT to rip it all out.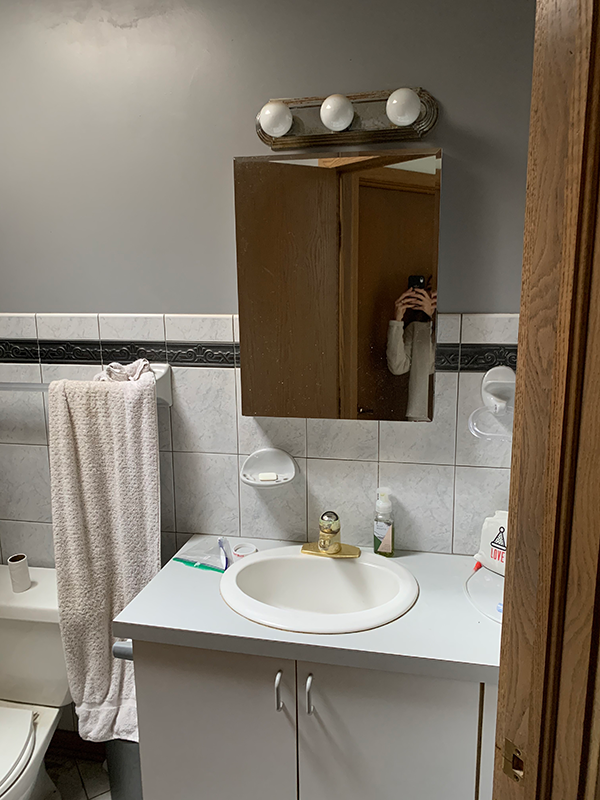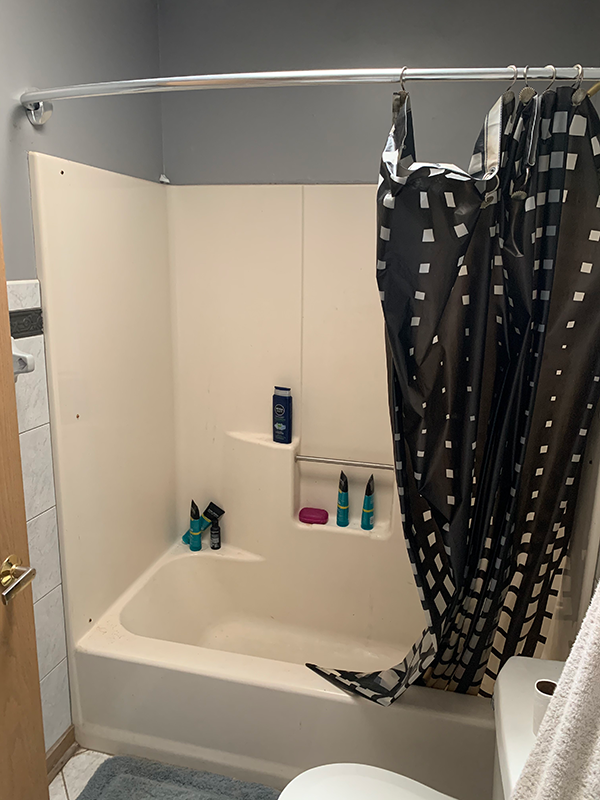 We'll be keeping the same layout of everything. Since it's pretty small there isn't much we can do to move anything around, which is fine.
Here's my mood board for the space!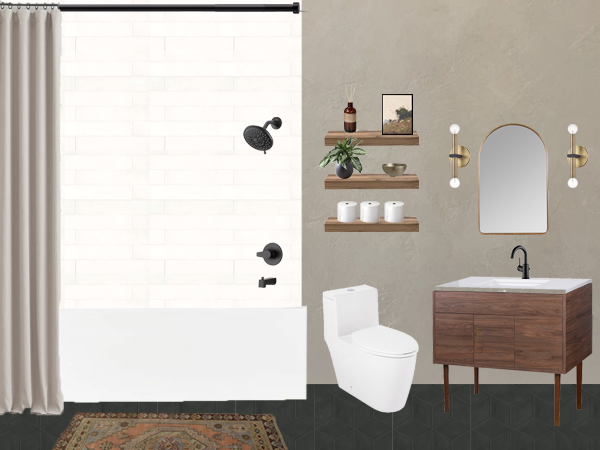 First up let's talk about the tile! If you've been following along on Instagram then you've seen some of my options but I think I've narrowed it down to my finalists.
For the floor tile I'm going dark. There isn't much square footage so I'm not too worried about keeping it clean which I know is a worry for some people.
I love the subtle pattern of this Allora tile from Bedrosians. I'm not sure if we'll do matching grout like this or perhaps just a shade lighter. But I don't want the pattern to stick out too much – I want it to be subdued.
For the walls in the shower, we'll be going all the way up to the ceiling on all three sides. I'm going lighter with this and thinking of using Bedrosians new line called Makoto.
The tiles are 2.5″ x 10″ and I haven't decided yet on whether they will run vertical or horizontal. Since it's a small space I'm thinking of doing vertical to make the ceilings appear taller but we shall see!
Both of these tiles are matte which I was a little concerned about the upkeep. Some people say they're harder to keep clean and some say they are easier. I'm just going to go for it and will have to deal with whatever happens from our water & environment.
I really wanted to do some sort of glass partition in the shower but realized it would be easiest with the kiddos to just have a shower curtain for now. It will be floor to ceiling in length for a bit of a classier look and I may have to have it custom made.
We're replacing the tub with this Acrylic Alcove Tub. It's clean and simple and I"m just so excited to rip that other one out ha.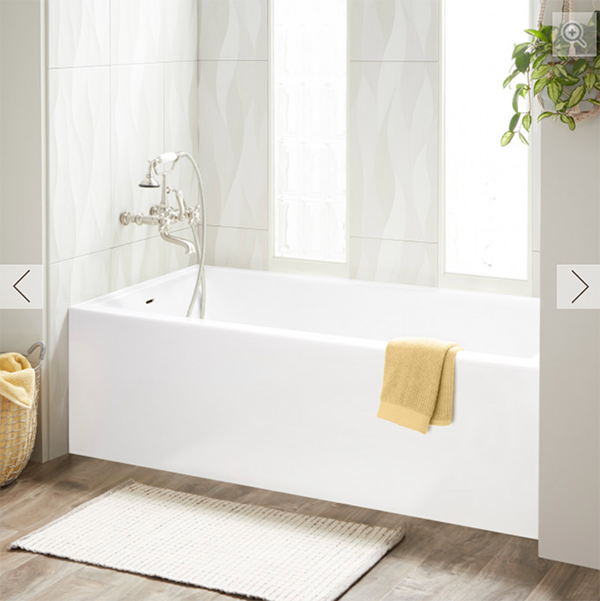 Above the toilet I'd like to create a built in cubby with some floating wood shelves to add some character to the space and a little more storage room. Since we're totally gutting it, it shouldn't be too hard to add this feature.
Now over to the vanity! I'm so in love with this piece. It's the Bivens Vanity from Signature Hardware.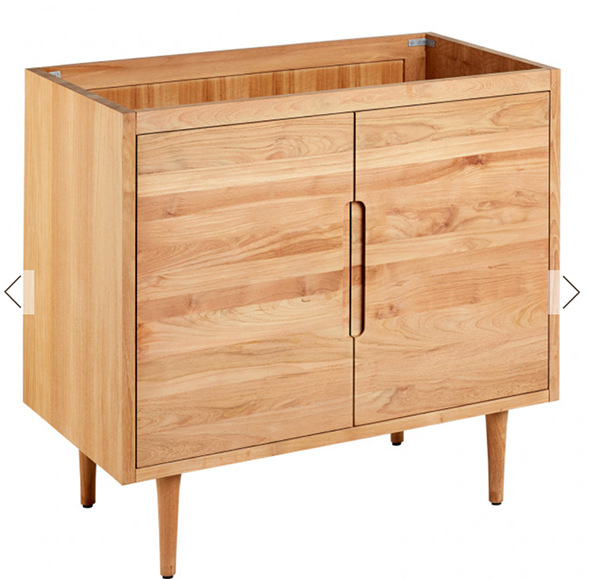 Yes it looks different than what's in my mood board and that's because I'm going to stain it. It's natural teak which I know can be tricky to stain sometimes but I'm going to give it a try and hopefully darken it up to go better with all the other wood pieces in our home.
It will have a white marble top and under-mount sink – paired with a matte black faucet.
All the other fixtures I've used in bathrooms have been brass but I thought it would be fun to switch it up this time and go with black.
Since the fixtures are black I want to mix in some brass elsewhere and am thinking of doing that with a fun arched mirror and some sconces. I haven't picked out specific ones for these yet but will probably be similar to what's in my mood board!
The last thing I've been thinking about is what to do with the rest of the walls. Right now there is tile that goes about 3/4 of the way up all the way around. It's such a small space I kind of want to let the walls breathe and not cover so much area with tile.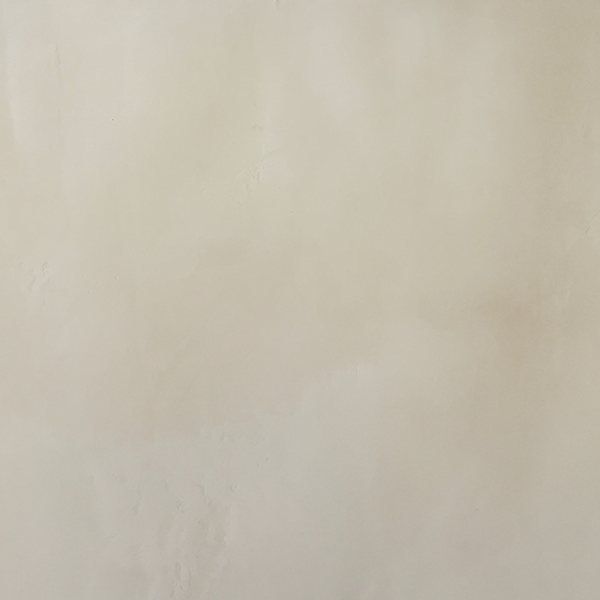 So I've been thinking about doing a roman clay treatment like we did on our fireplace makeover. I'm just doing some research to make sure it will be ok in a bathroom with moisture etc. because I know the kids will be splashing all over the place.
They have so many beautiful colors and I'll need to order some samples but I'm leaning towards an earthy color like the one above.
That pretty much sums it up! Like I mentioned, once my FIL finishes his shower in the basement we will be able to start demo on this one which should hopefully be in the next week or so!
Bathrooms have always been a favorite of mine and I can't wait to tackle another one. And get the kids out of ours 😛 What do you think of my Kids and Guest Bathroom Plans?? Be sure to follow along on instagram for more behind the scenes action!