When I started brainstorming the design for Hawkins' nursery, I knew I wanted a fun accent wall but didn't think I could commit to the whole wall. I was stuck between a dark paint color or some wallpaper and figured some board and batten would be the perfect way to break it up. It adds so much dimension to the space and it was so easy! And the little shelf is definitely my favorite part.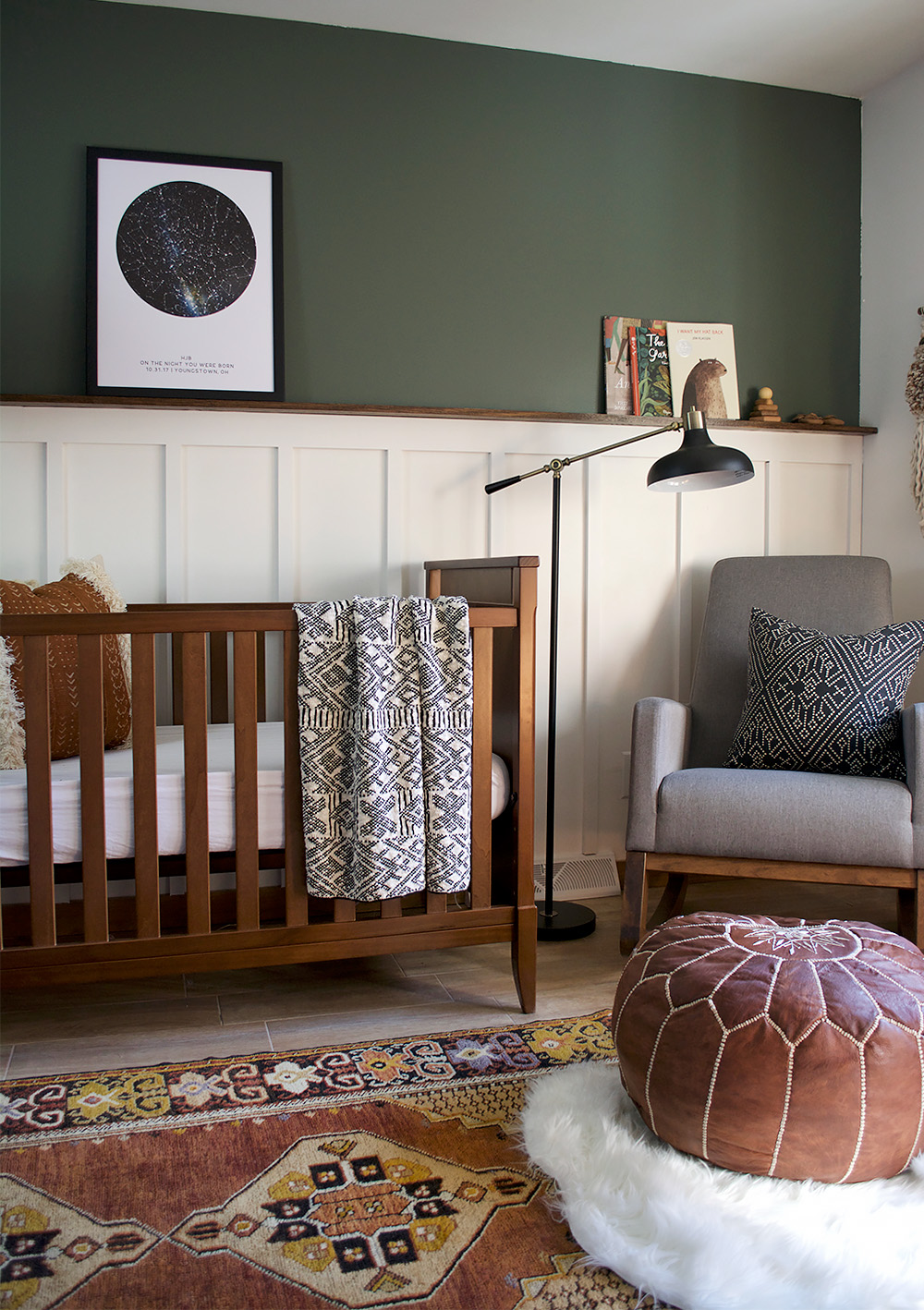 Supplies for DIY Board and Batten Wall
*affiliate links included
1x2s (select pine wood)
1x4s (select pine wood)
Paint
Paint Roller
Paint Brush
Nail Gun
Spackling
Painters Tape
Sand Paper
Caulk
Stain
Polycrylic
STEP 1
Tape off the top part of your wall and paint! I ended up going with Woodland Lichen by Sherwin Williams and I couldn't love it more.
Paint the bottom half the same color you'll be using for your board and batten. I used Du Jour by Valspar which is the same white paint color in most of the rooms in our home.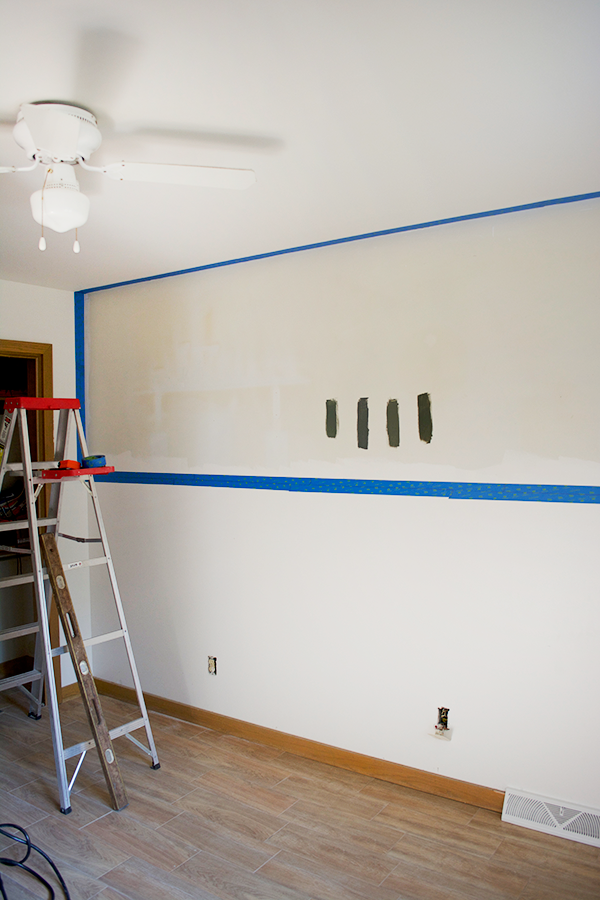 STEP 2
Cut your 1x2s to the desired length. Ours are 47″ and I just bought the 6 ft. pieces and cut them down.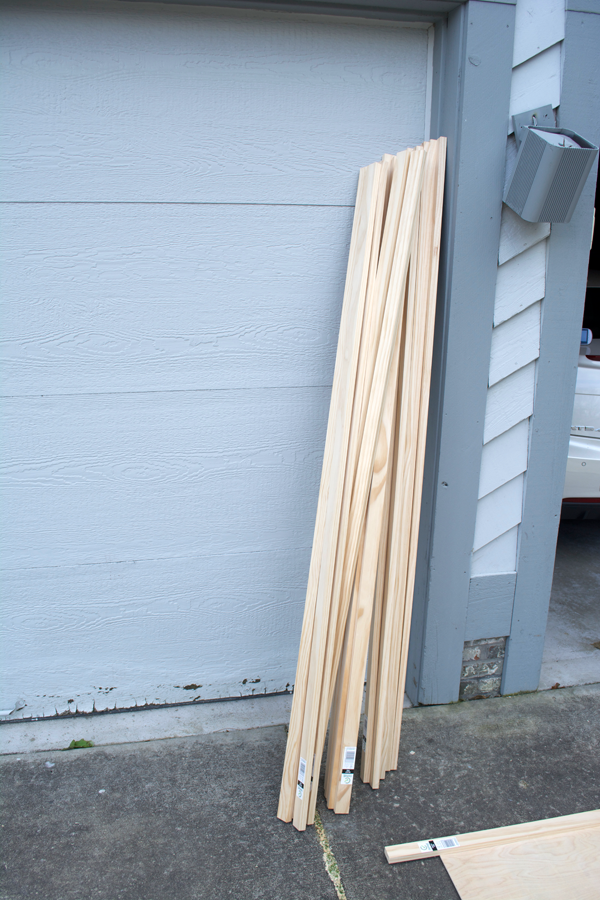 STEP 3
Measure your wall and calculate the spacing you want between each batten. Ours are about 10″ apart. Then attach them using your nail compressor. You could also use liquid nails for extra support.
Attach your 1×4 above them next. I bought one 8 ft. piece and then another shorter piece since I couldn't find anything longer at the time. I used some wood filler to fill in the seam and you can't even tell!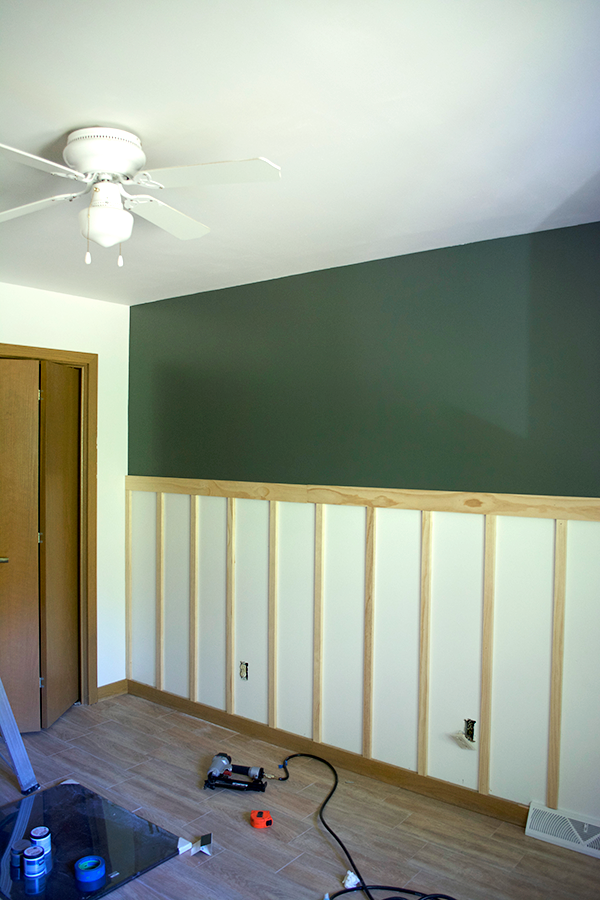 STEP 4
Use your spackling to fill in all the nail holes and then sand once it dries.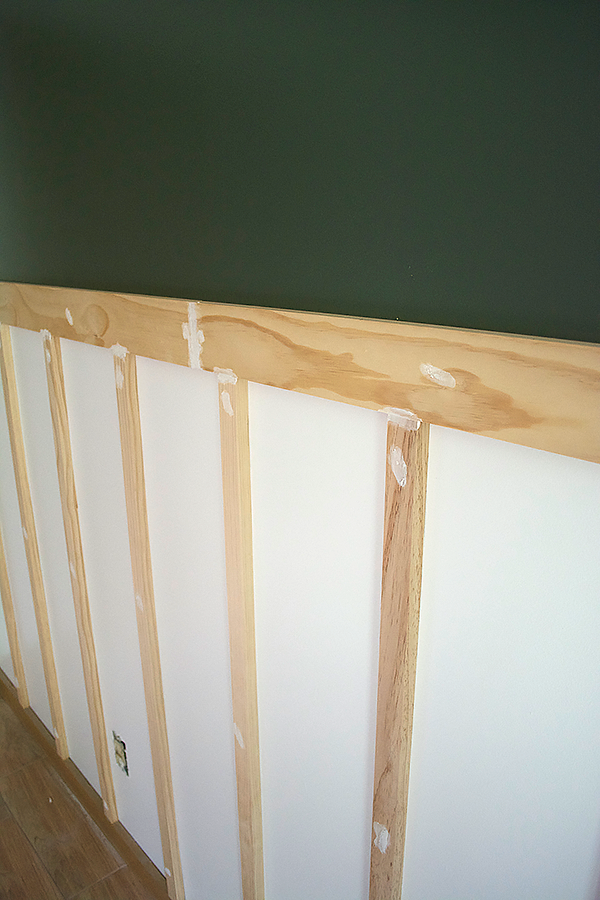 STEP 5
Caulk your edges. Your wood may be slightly bowed or your wall may not be perfectly straight so you may have some gaps. Caulking around all the edges will help give your wall a cleaner look!
STEP 6
Paint your board and batten! I used a small 1″ brush for the battens and a little foam roller for the board.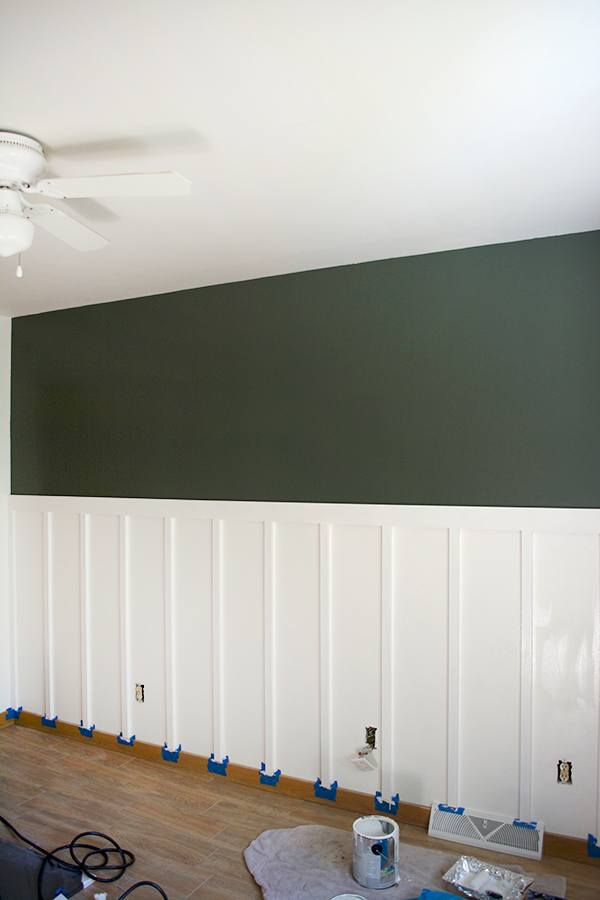 A lot of you were wondering about the bottom of the battens on our base trim. For us, our baseboards are completely flat, so the battens just rested perfectly right on top of it. If you have angled baseboards or ones with some type of shape to them, you can cut your battens at 45° angles to help them not stick out so much. Or you could buy a small piece of flat trim to add just above your baseboards to allow your battens to sit flat.
STEP 7
Add the shelf! For this piece I found a 12′ long 1×4 and then had to add another little piece on the end. There wasn't anything longer than 12′ at our Home Depot or Lowe's in the wood I wanted but you might have some luck at a local lumber yard!
I stained them using Dark Walnut and then sealed them up with some poly.
Then we just used our nail gun and nailed into the board right below it. Since I knew I wasn't going to be putting anything super heavy up there, this held it in place enough. You could also use some liquid nails to make it a little more secure.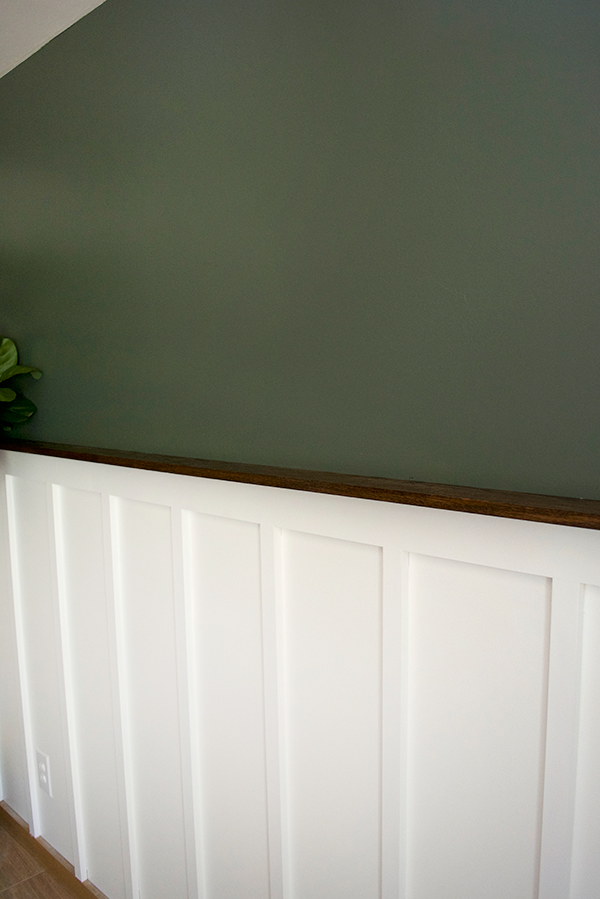 That's it! Really simple way to add some dimension and character to a wall. I'm already thinking about where else I could do something like this in our house. It's perfect in Hawk's nursery and I finally faced my fears of making a dark accent wall – no regrets!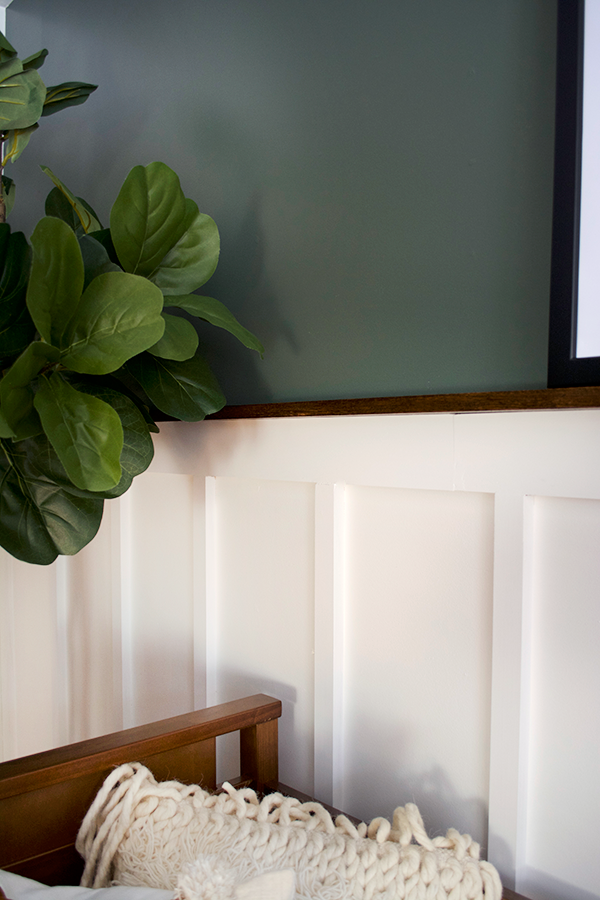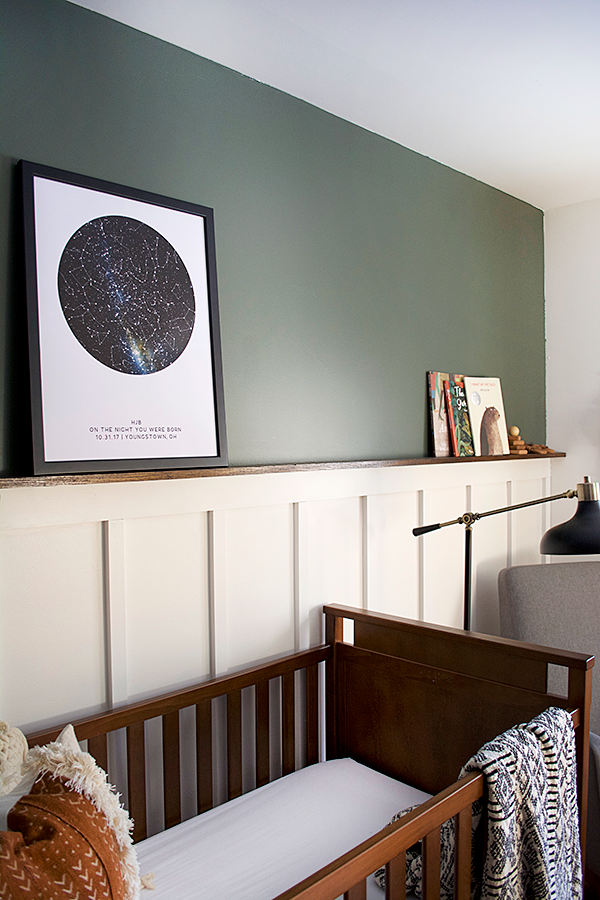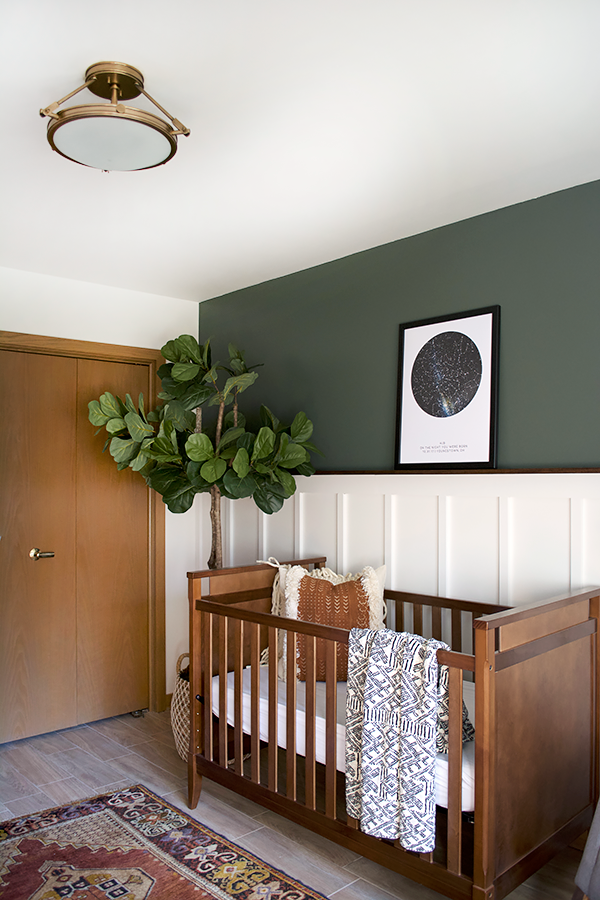 Have you ever considered adding board and batten to any walls in your home? Which room would you add it to?
You can read more about Hawk's room and find all the sources!
Pin for later!