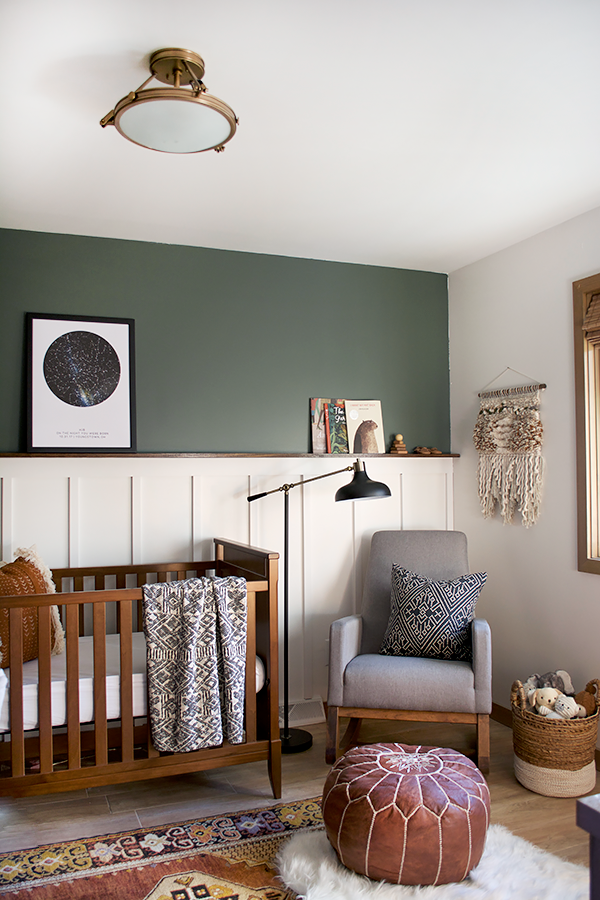 Room reveals are my favorite thing to share with you guys and I'm so excited I can finally share Hawkin's nursery with you! I've shared some sneak peeks but today you get the whole thing. It was so fun designing a room for a boy this time around since I got to do Eloise's room twice (here & here). I wanted to keep things pretty neutral and have it be a room he can grow into. So let's check out this Modern and Vintage Boy's Nursery Reveal!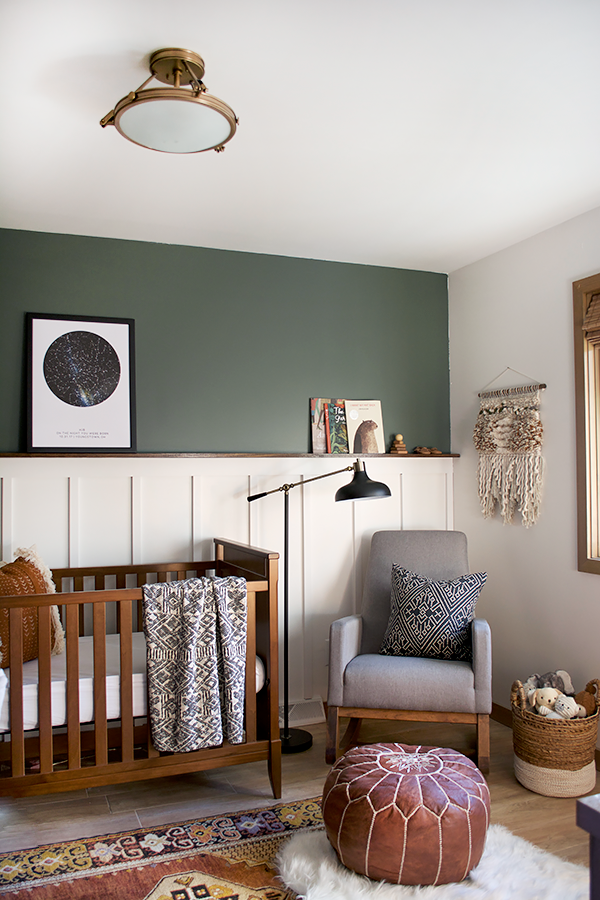 affiliate links included
MODERN AND VINTAGE NURSERY
This room was a hot mess before we started on it – if you need a little reminder you can check that out HERE. We added the board and batten treatment on the wall which I'll be sharing a tutorial for soon. I was torn between wallpaper on top of that or just an accent color and ultimately ended up going with a really pretty dark green. It's Woodland Lichen by Sherwin Williams.
I also had this vision of building a shelf just above the board and batten to put some books and things and it turned out even better than I imagined in my head.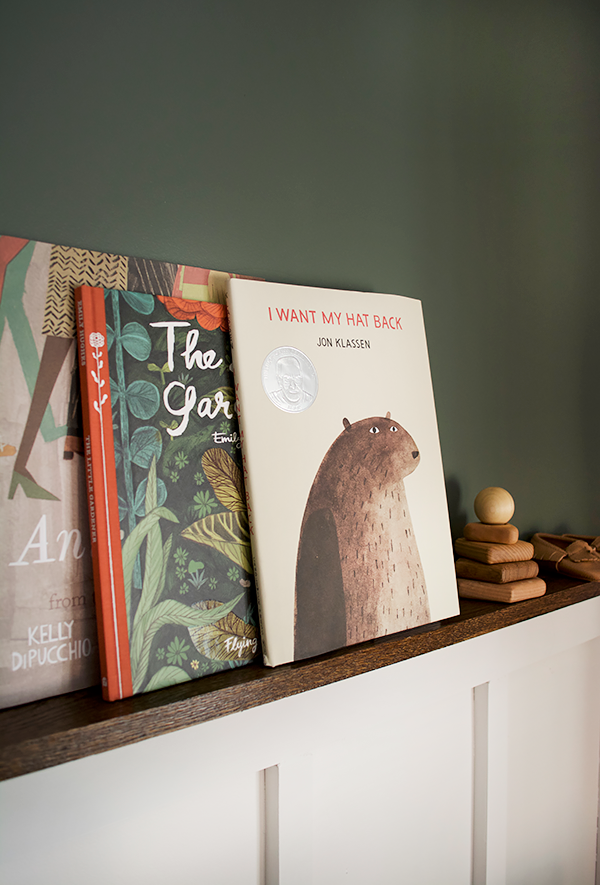 The art print above his crib is from Finch & Cotter and is a picture of the night sky from the night he was born which I think is so cool. You can customize it with whatever text you want and they'll pull an image from your city or even exact coordinates. If you're looking for a unique personalized gift for someone this would be perfect!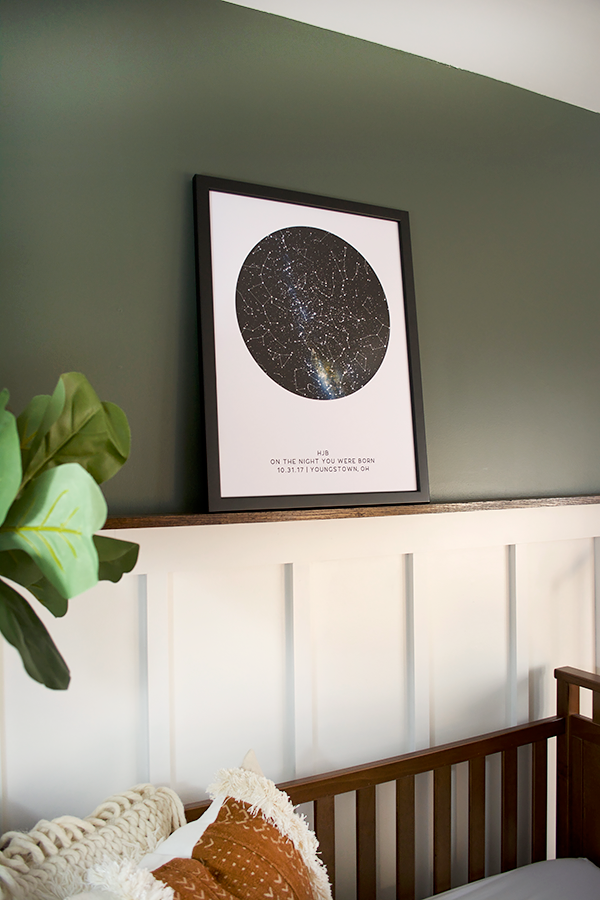 My friend Angie from Norwegian Wood made me this gorgeous mudcloth pillow cover. I gave her my idea and she made it come to life and it couldn't be more perfect. She's got an amazing little shop of goodies from pillow cases to hanging planters and everything is gorg.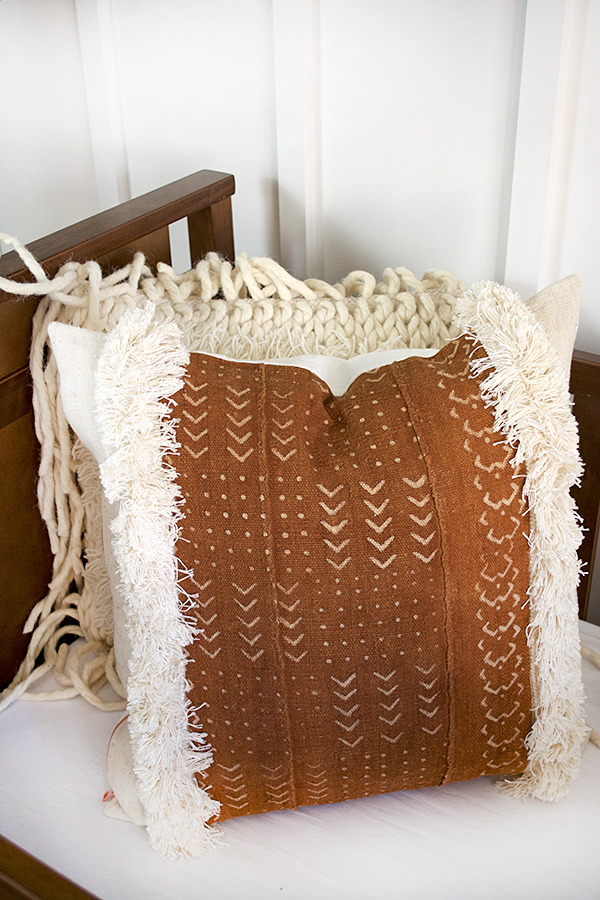 Obviously I needed to add some greenery and what better way than with a faux fiddle? This guy is large and in charge and I love it. He's from Wayfair and totally compatible with my black thumb 😉 And can we talk about that basket?? I'm obsessed and want like 10 more.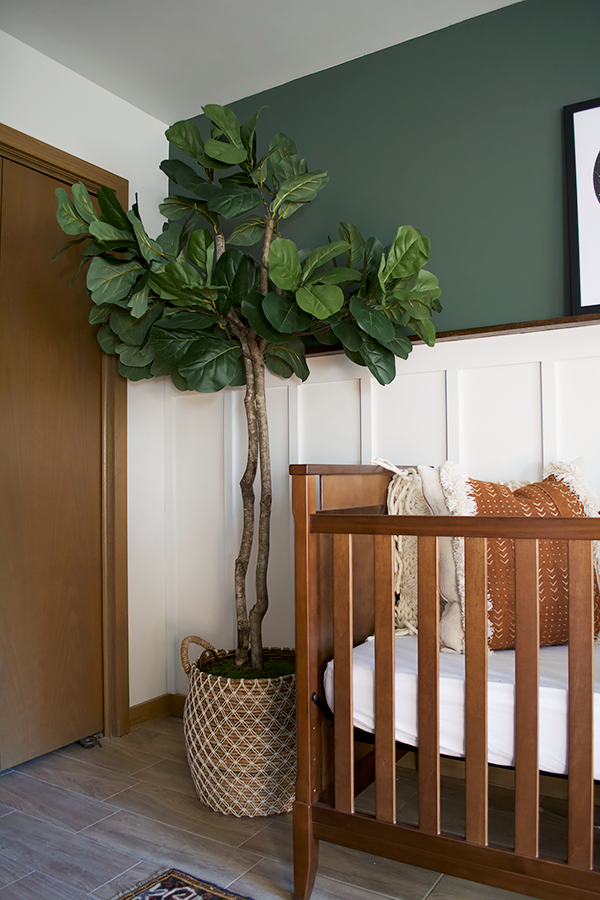 We got this crib from Wayfair and I'm totally in love with the simple modern design and how the wood ties in with the rest of the room and the earthy tones.
And speaking of earthy tones, how gorgeous is that rug?? You guys should be familiar with Tabitha from Swoon Rugs by now. I have one of her rugs in our bathroom too, and she has seriously pretty rugs in her shop.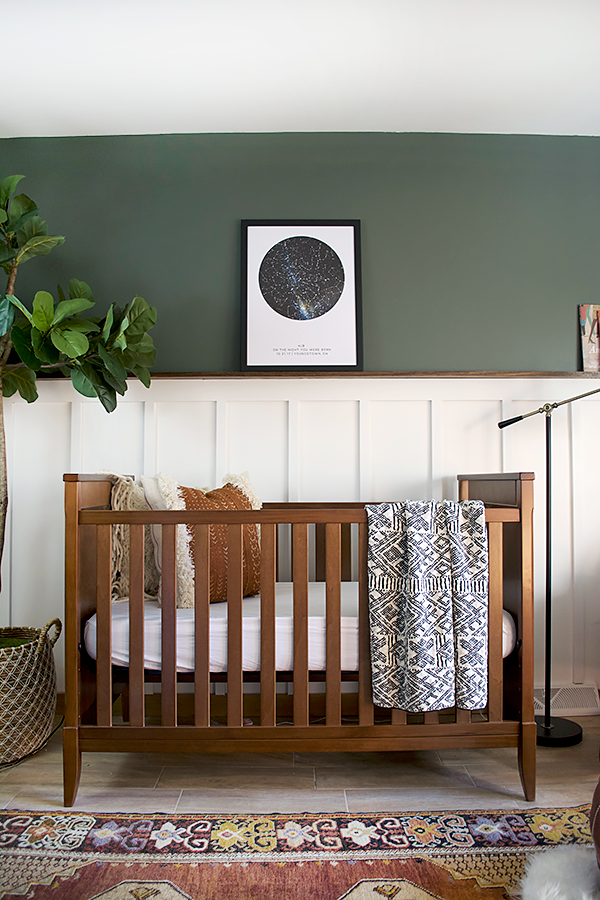 I shared some sneak peeks of this bookshelf that my Dad and I built together on instagram and will try to post a tutorial soon! I was inspired by a wine rack I found on Pinterest and he totally helped me bring my little drawing to life. I love having something unique like this in here that I hope stays in our family for years to come.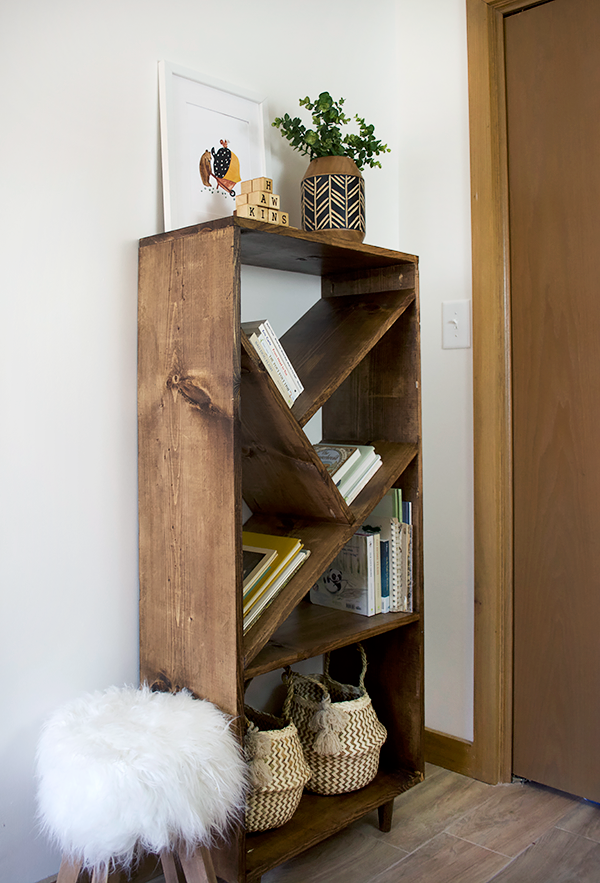 My friend Audrey from This Little Street is one crazy talented designer. She recently opened a shop and this cutie little art print is from her. It's called "Our friendship is squir-real" and as soon as I saw it I knew it would be perfect in here.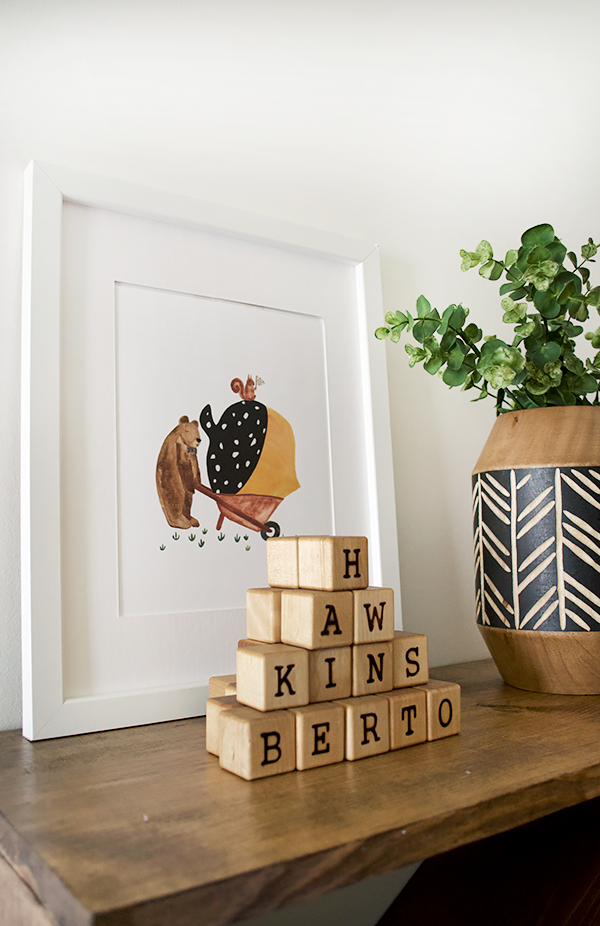 Now for one of my favorite little corners…the changing table. I used a dresser in Eloise's room too and knew I wanted to do the same in here. It's a vintage piece I scored on Craigslist back home in NY and made my parents go pick up for me. I love how big it is and how I can fit clothes, accessories and so much more in it.
I also knew I wanted a non traditional changing pad and had been eyeing these gorgeous baskets from Design Dua for a while. It fits in perfectly with the rest of the decor, plus I can use it for cute pictures and storage once he grows out of it.
Styling this vintage coat rack above the dresser was so fun. I stuck to a pretty neutral theme like the rest of the room and bought goodies from some of my favorite baby shops.
The little wooden wall hanging is from The River Haze shop. I've been a huge fan of Heidi's work for a while now and was so happy I finally had a place to put one of her beautiful creations.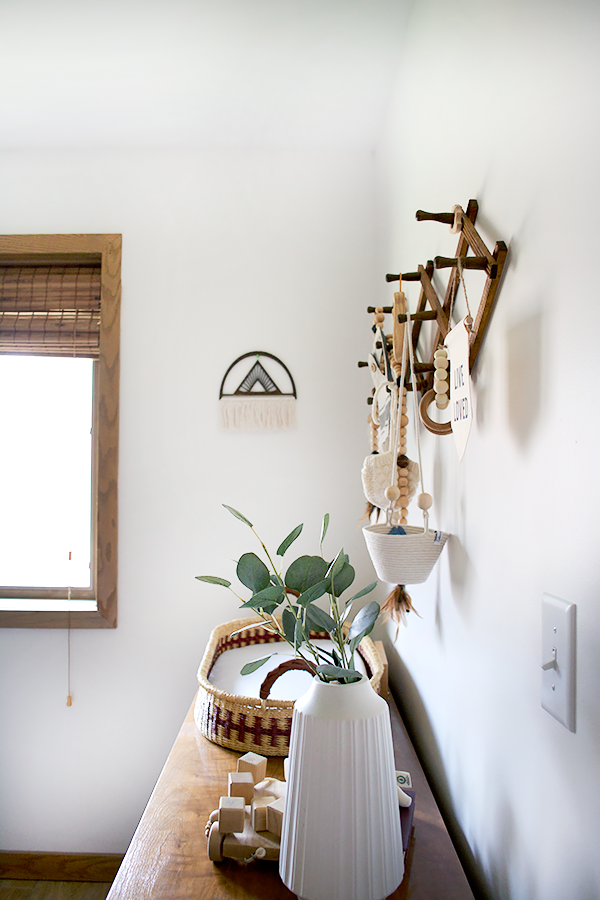 This wood bead garland from Bella Bloom Kids ties in perfectly with everything else and is so versatile. I can already see it moving around to different spots in the nursery.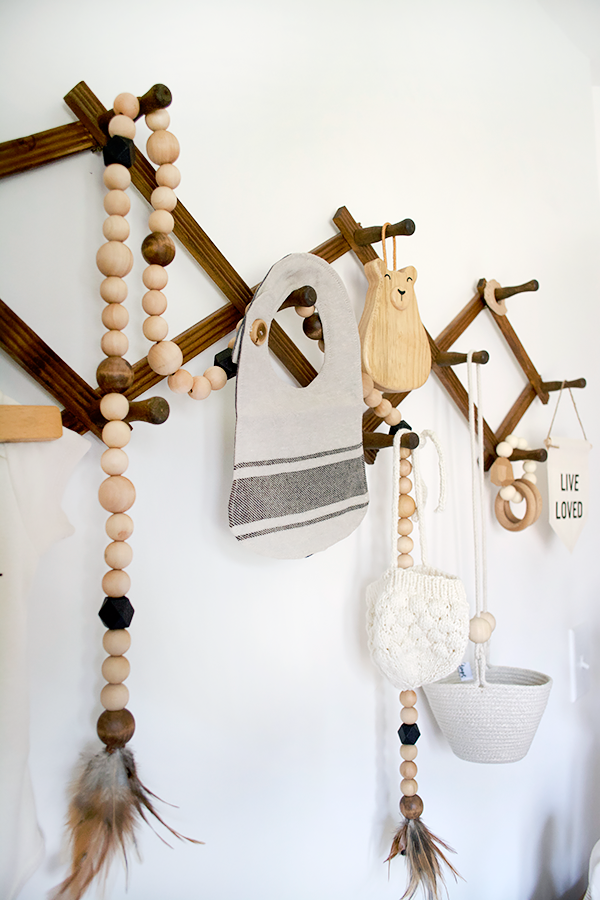 Even though Hawkins isn't sleeping in his crib yet, I've been spending a lot of time in here, especially this little corner. We still use the glider in Eloise's room constantly for bed time stories so we decided to get a new one for Hawkins. I was determined to find another one that was modern yet comfy and this guy is both of those things. And with the moroccan pouf to put my feet up on, it's really hard to get up after a feeding ha.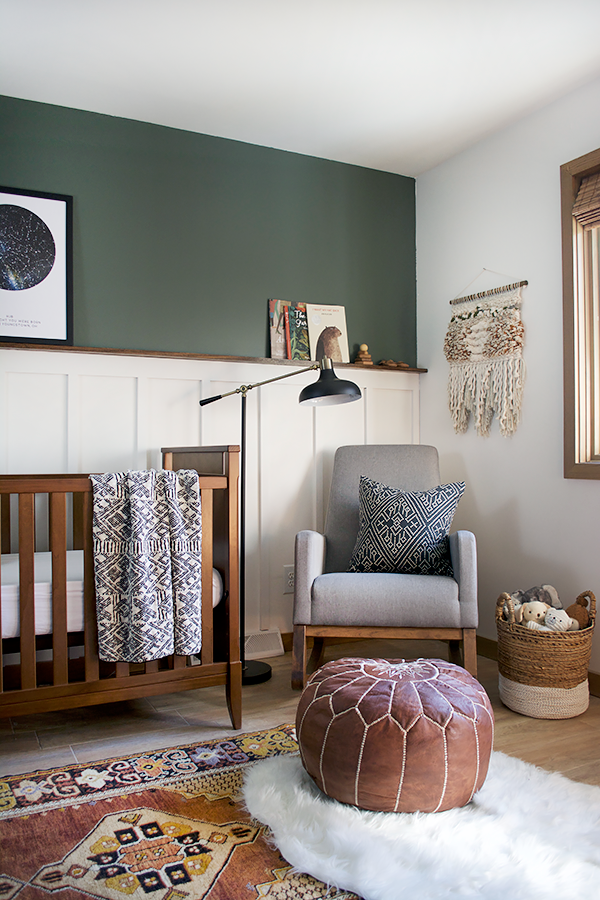 And can we talk about that beautiful weaving on the wall? I worked with Brittney from Wool & Wood Co. to create this custom piece and I couldn't love it more. She's a creative genius and I'm amazed by her talent to create such gorgeous pieces.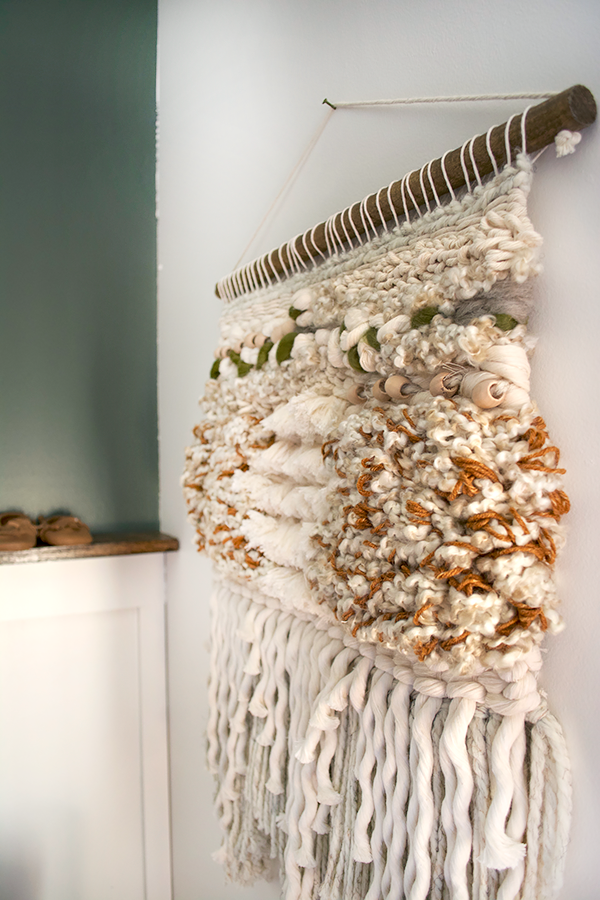 This room makes me so happy every time I walk in and I hope one day our little guy will appreciate it too.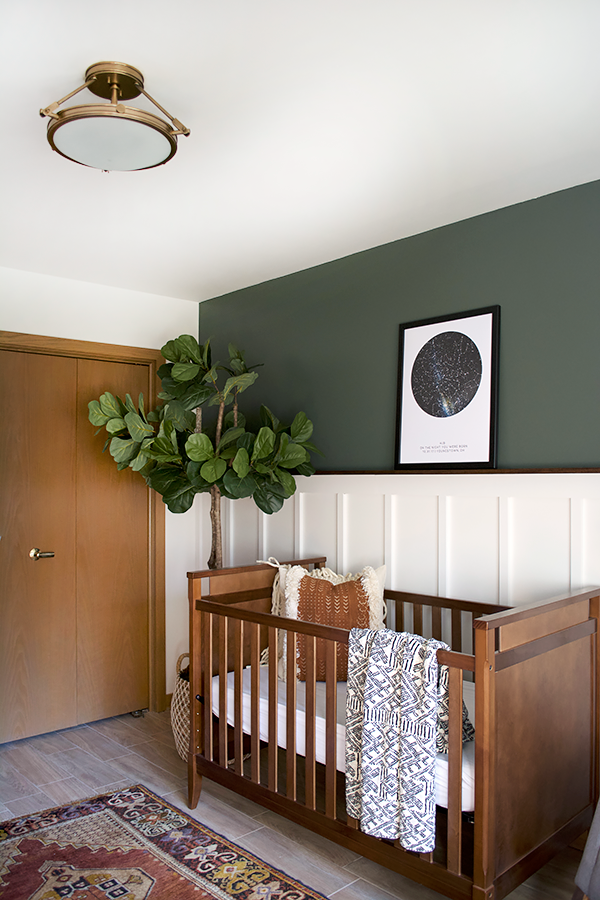 Looking for more nursery inspiration? Check out this beautiful Blue and White Nursery with Board and Batten walls.
SHOP THIS POST FOR A MODERN AND VINTAGE BOY'S NURSERY

WALL COLOR: Woodland Lichen by Sherwin Williams
Not shown above:
Blanket on crib – HomeGoods
Rug
Mudcloth Pillow
Pillow on chair – H&M (no longer available)
Floors
Wall Weaving
Night Sky Print
Basket Next to Chair – HomeGoods
Wood Bead Garland
Mama Says Be Kind Onesie
Changing Basket
Blinds (color: Arinos)
Art Print
Thank you to Wayfair for providing product for this post and helping my vision of a Modern and Vintage Boy's Nursery come to life!