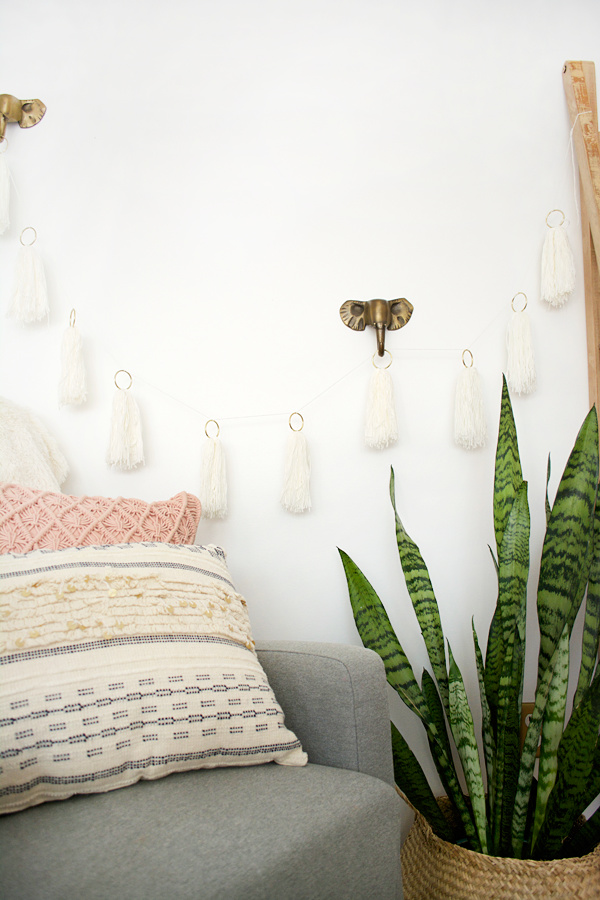 Feeling pretty good about the fact that I've managed two DIYs in the past two weeks! Finally getting back in the swing of things and I'm loving it. The two rooms in our house that I've been focusing on the most since we moved in are our master and the nursery. I've shared lots of peeks at our master on instagram but the nursery has been taking a little longer. But it's almost ready! I had one bare wall I really needed to figure something out for and this DIY String Tassel Garland ended up being just what it needed.
DIY STRING TASSEL GARLAND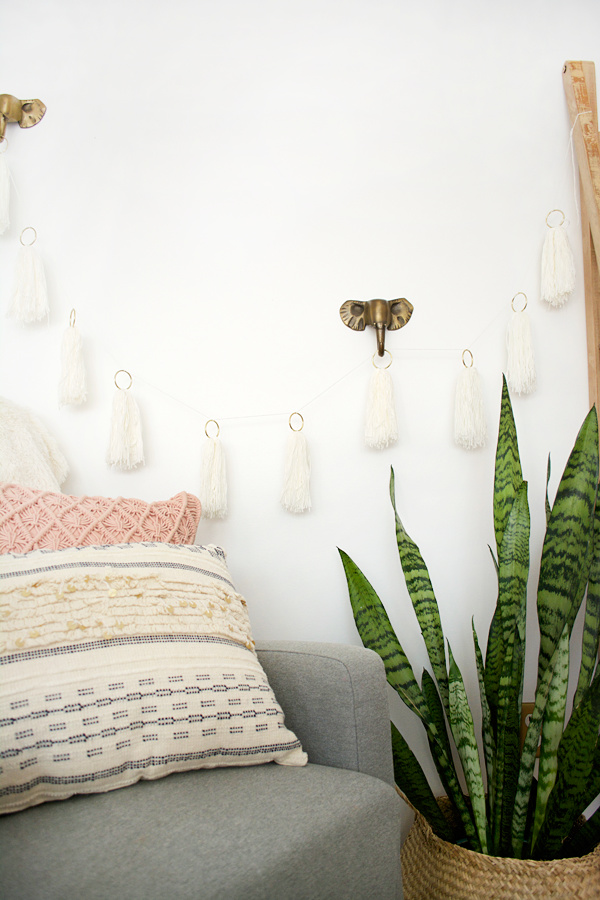 After I made my Giant Tassel Blanket I had the itch to make more. They're so easy to make and add such a fun element to pretty much anything you put them on. I'm going with a little more of a boho vibe in the nursery this time around and a friend of mine made this gorgeous macrame mobile for me, which I'll share more about later, so I thought the string tassels would tie in perfectly with that.
I got the idea when I found some super cute little gold macrame rings at Michaels and the rest just fell into place!
SUPPLIES
*affiliate links are included*
:: gold macrame rings
:: string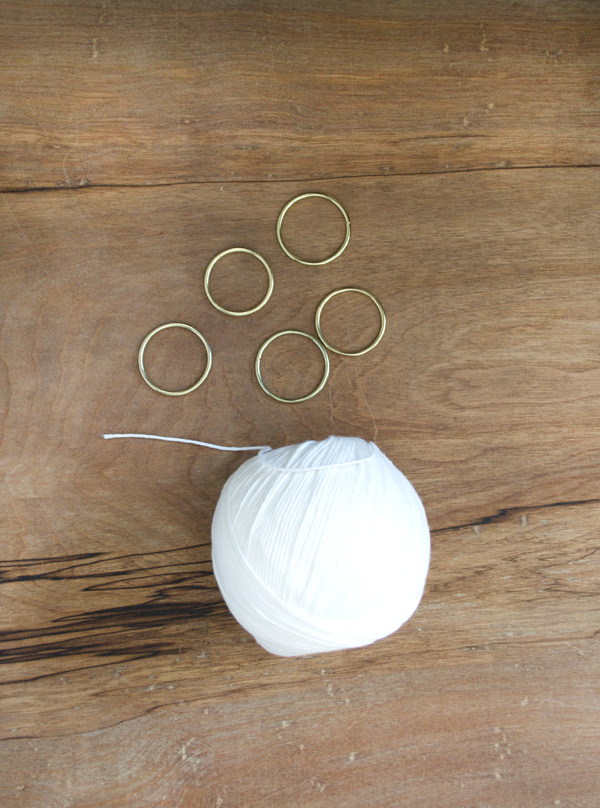 STEP 1
Wrap your string around an object that is approximately the length you want your tassels to be. Depending on how full you want them, you can wrap the string more. I wrapped mine 100 times around. Cut off the end of the string once you're done wrapping.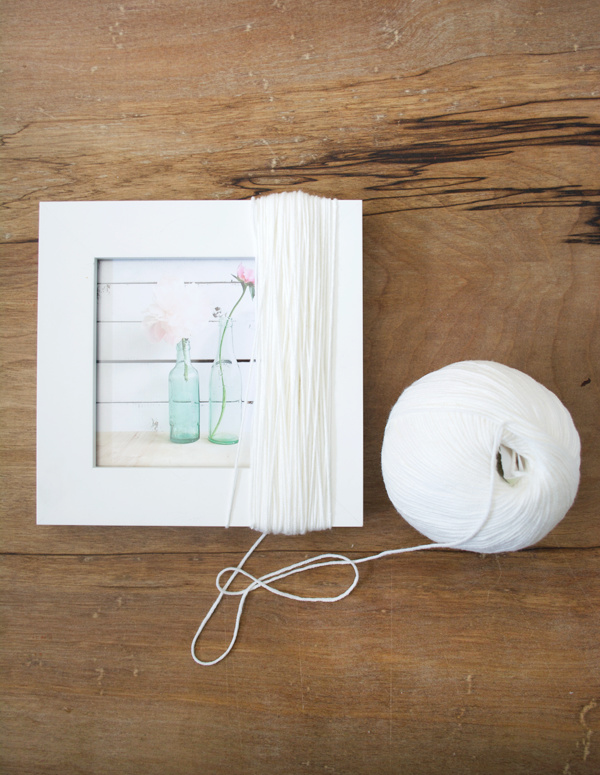 Step 2
Cut a piece of string about 8 inches long and slide it underneath all your wrapped string and then slide it up towards the top.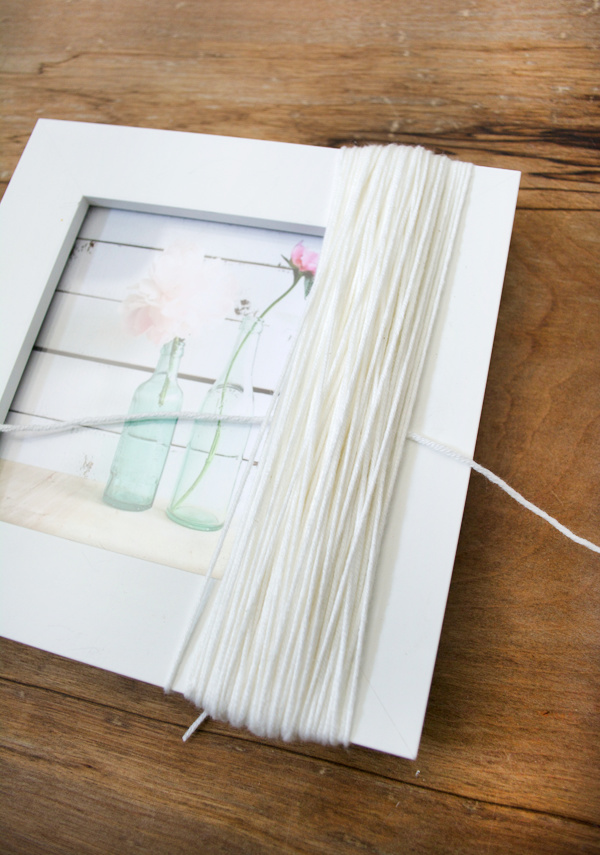 Step 3
Tie your ring to the piece of string you just moved to the top tightly, so the rest of the wrapped string gets pulled together.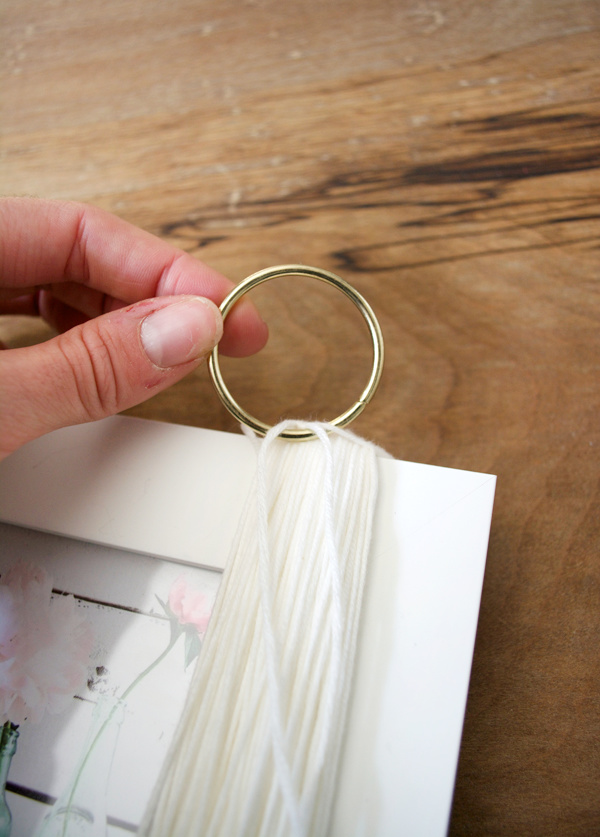 Step 4
Slide your scissors underneath all the string on the opposite end of the ring and cut straight across. Fluff out your tassel so it looks full and even.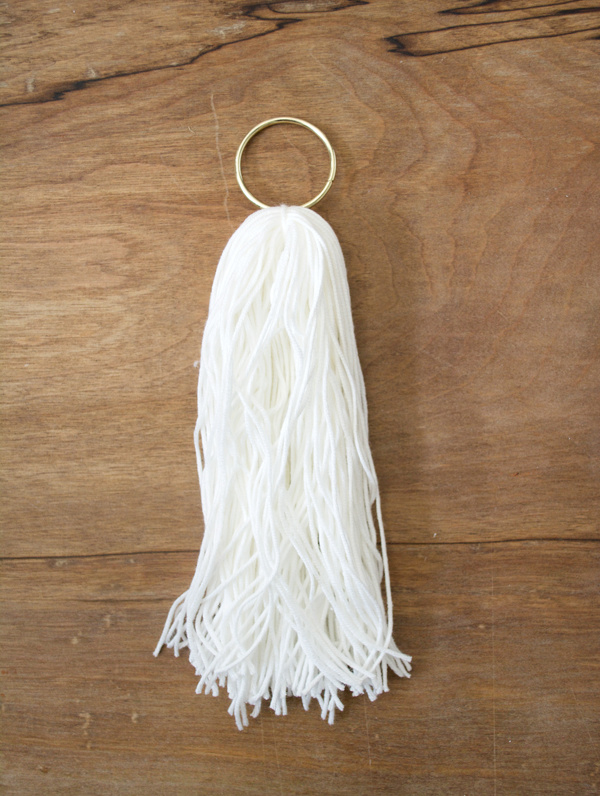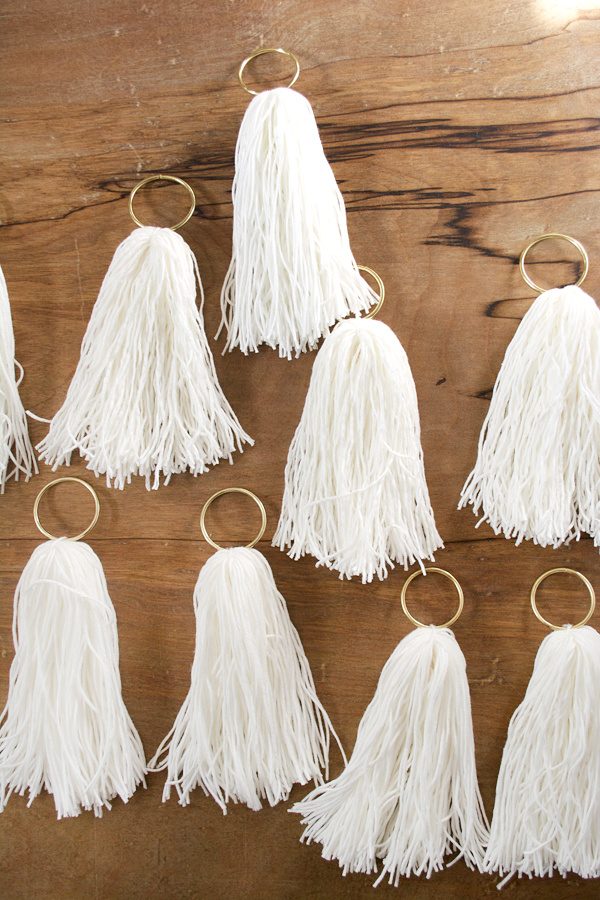 Step 5
Cut another piece of string a little bit longer than you want your whole garland to be. Space out your tassels and tie each one individually to the string and then you're ready to hang!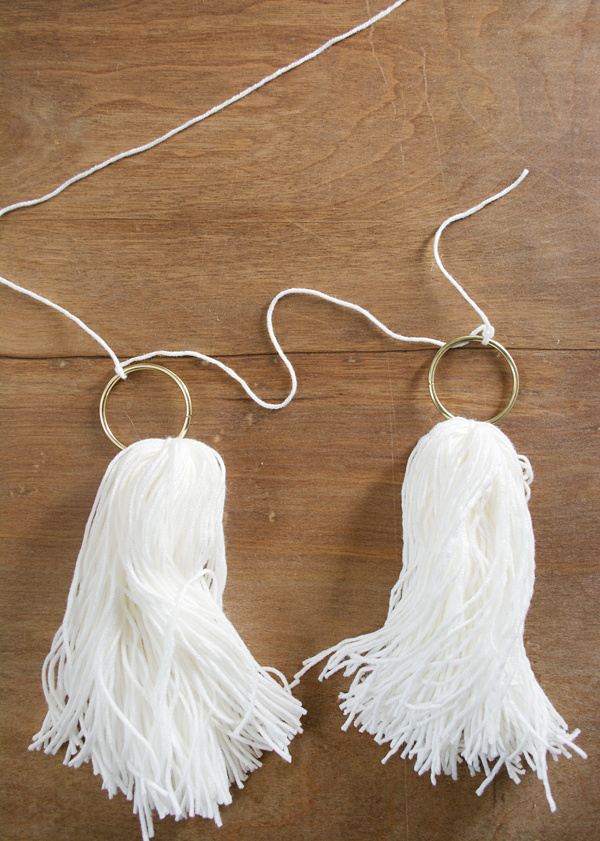 Tassels are so fun to make! And seriously so easy. I love how the little gold rings add some fun to these ones and make them a bit different. This garland is the perfect addition to this empty wall and my elephant hooks were the perfect place to hang it!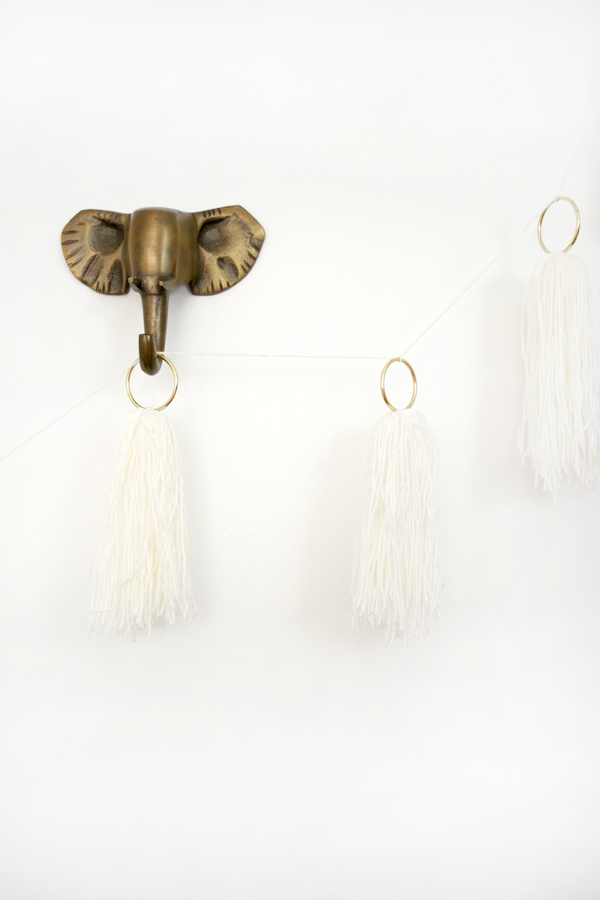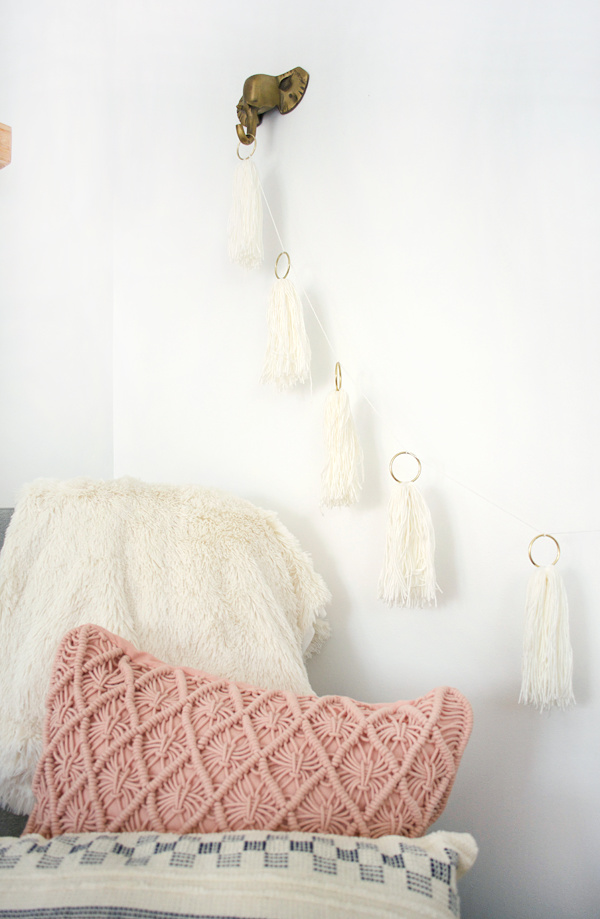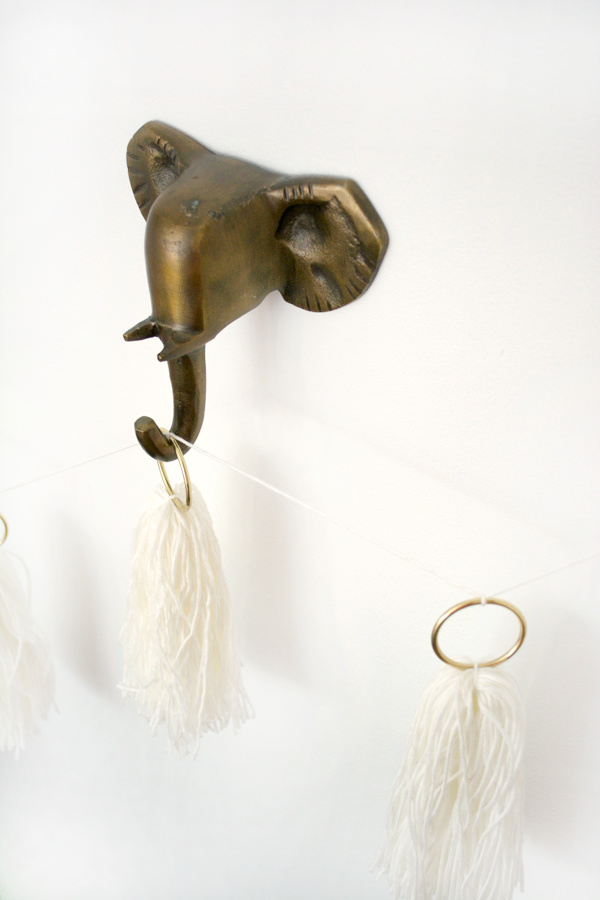 Can't wait to show you the rest of the nursery soon!
Looking for more tassel projects? Check out my DIY Giant Tassel Throw Blanket.