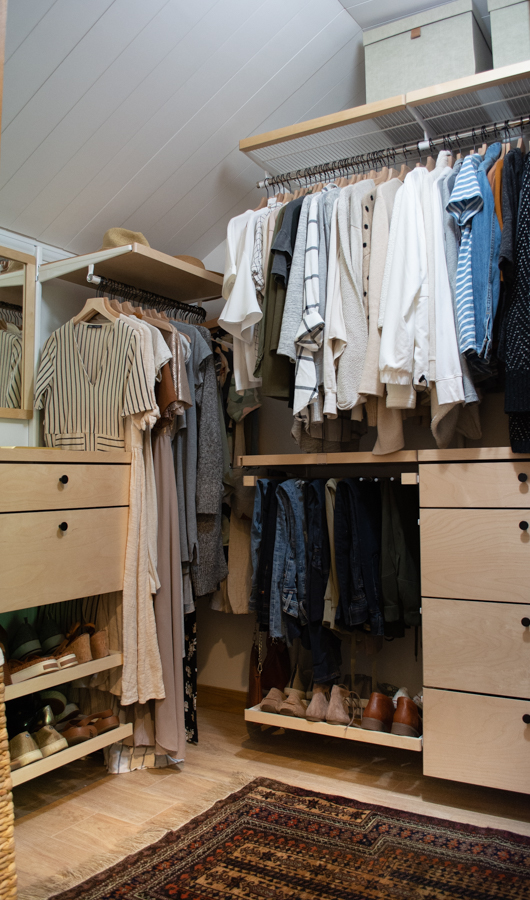 WALK-IN CLOSET MAKEOVER
We've updated our entire master en-suite since moving in except for our walk-in closet. It was finally time we gave this space some love and I can't believe how amazing it turned out!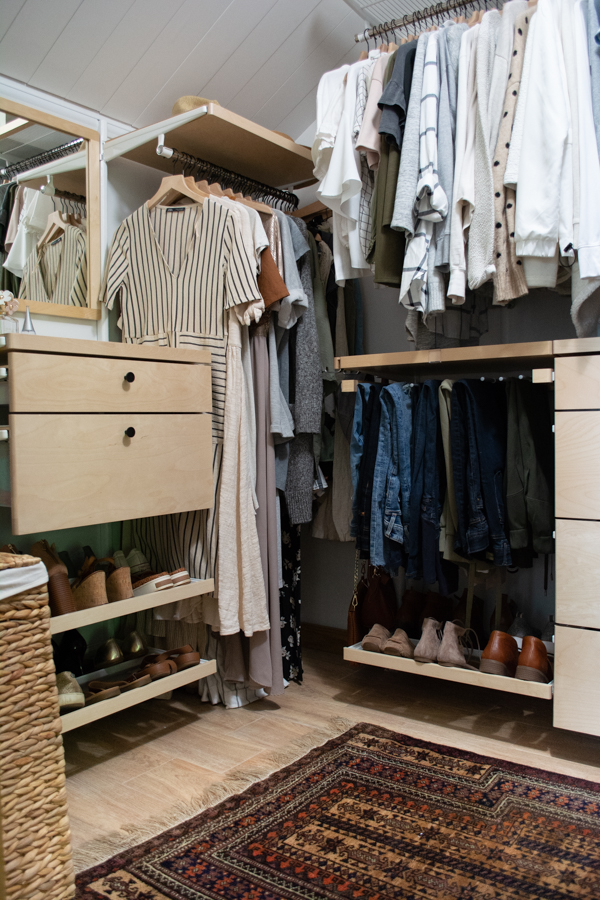 It was a complete mess for the longest time. Dirty, old carpet, textured swirly ceiling, and extremely dysfunctional storage. Let me show you what we were living with.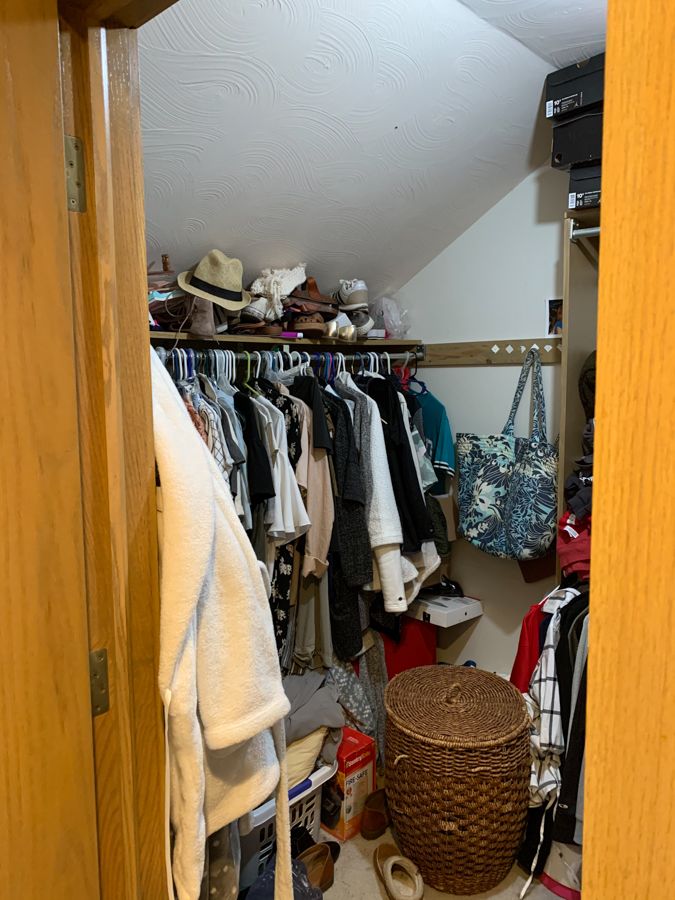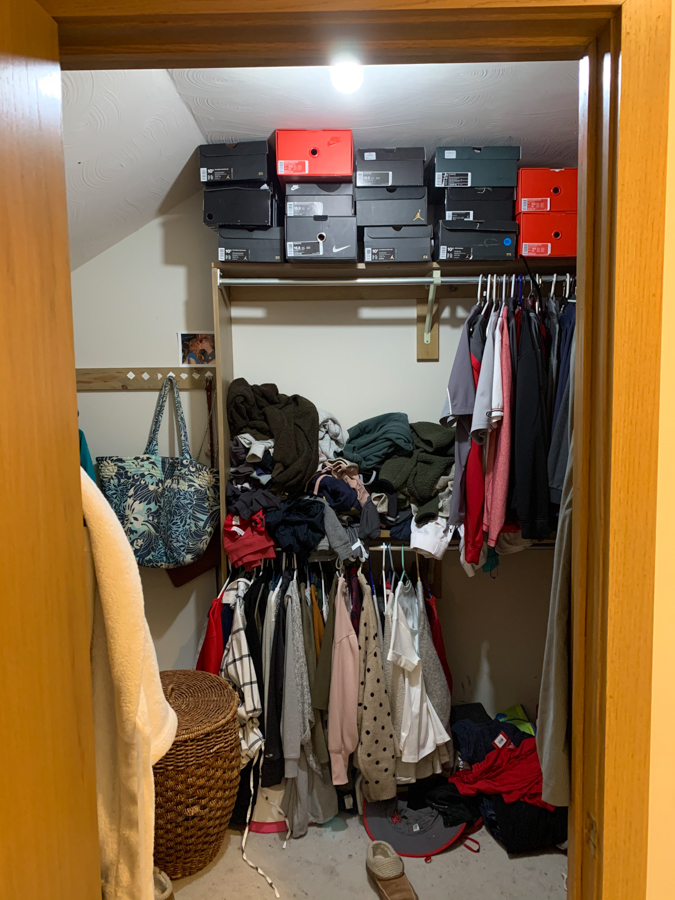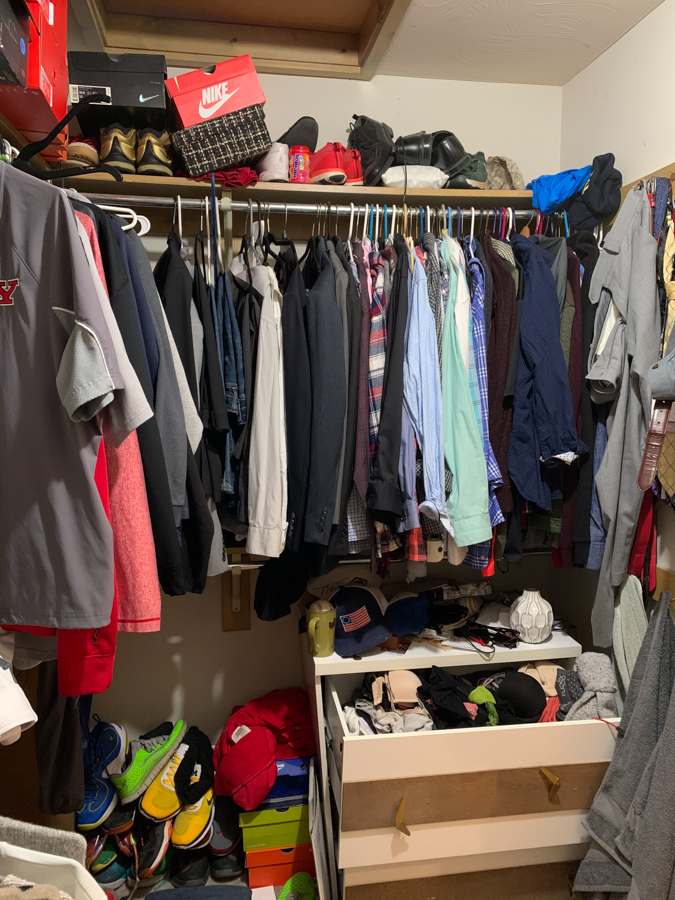 It was BAD. That little white dresser had been falling apart for years and held ALL our socks and under garments between the two of us. It was the best day ever when we finally dragged that to the curb ha.
We were looking into a few different options and closet systems and ultimately decided to go with the Elfa System from The Container Store. It's affordable, has a ton of customizable options and of course is beautiful.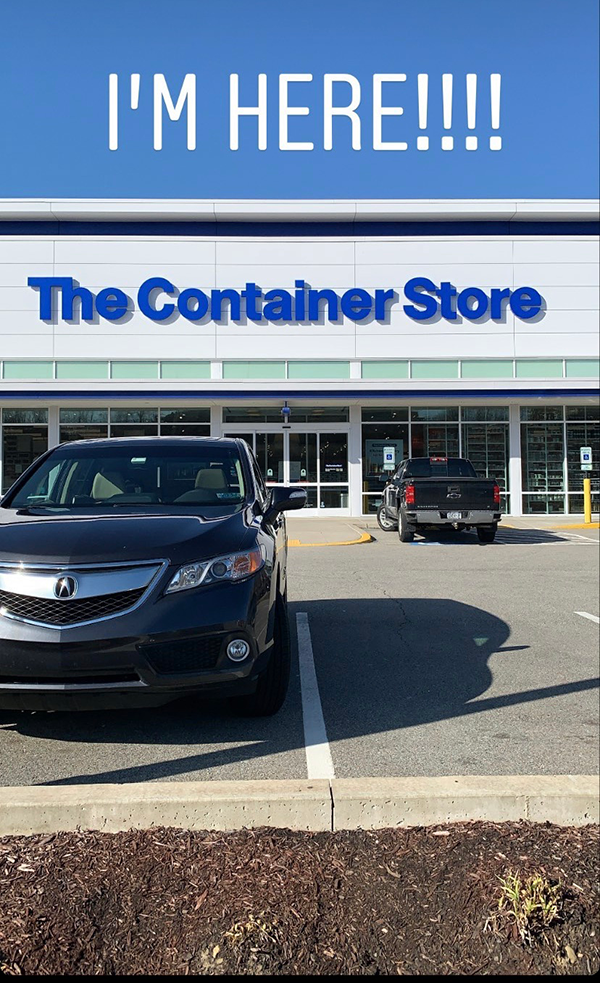 I went into the Pittsburgh store and worked with Stephanie who was amazing. This was my first time ever in The Container Store and I was like a little kid in a candy shop. If you're a neat freak and obsessed with things being perfectly organized, this is the place for you.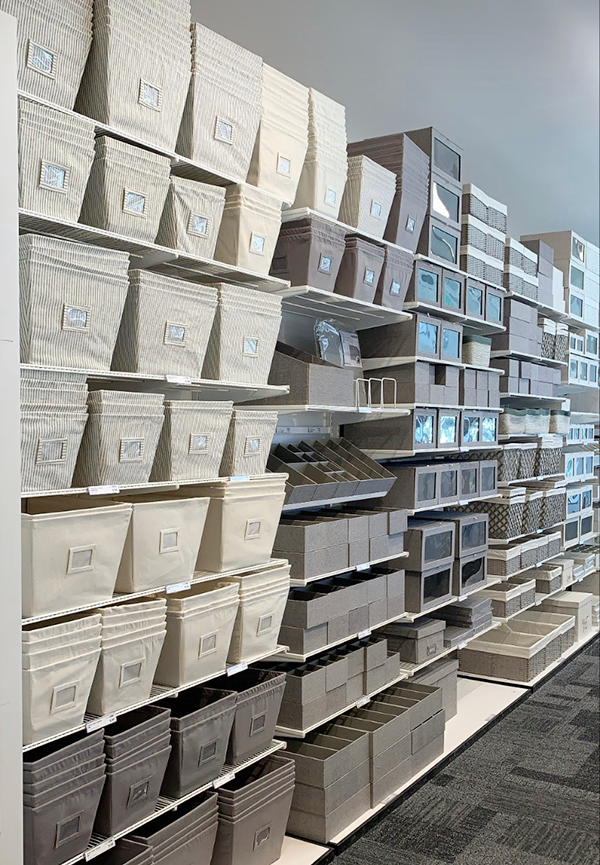 I'll admit I'm not the most organized person, but just walking around the aisles made me want to be better. Everything was so pretty!
Stephanie walked me through our design and helped make everything functional for Dan and I and I couldn't wait to see it come to life.
THE RENOVATIONS
Before it could get installed, we had to do some small renovations.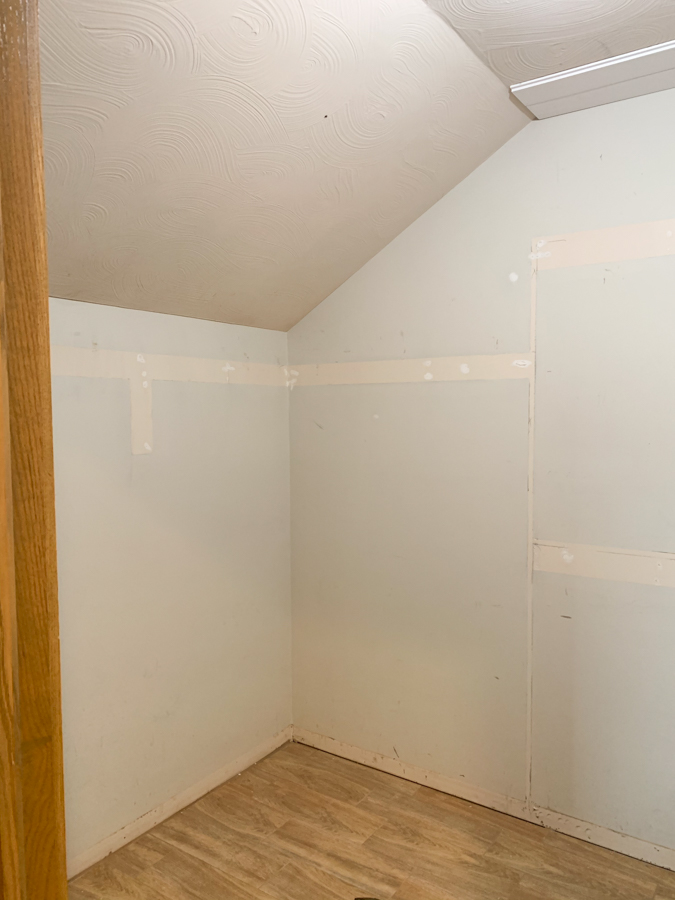 First up was ripping out the dirty, old carpet and replacing it with wood look tile. We used the same one we have in our bedroom for consistency. It's the Brighton Natural Wood Plank Ceramic Tile. We actually had enough left over from when we did our bedroom so it worked out perfectly!
Next, was getting rid of that terrible swirly ceiling. The easiest thing to do was to just cover it right up. So we decided to shiplap it!
We used this pre painted shiplap which is basically tongue and groove white MDF. It's super easy to install. You'll want to use some liquid nails on the back and then use a nail gun to shoot them into the ceiling.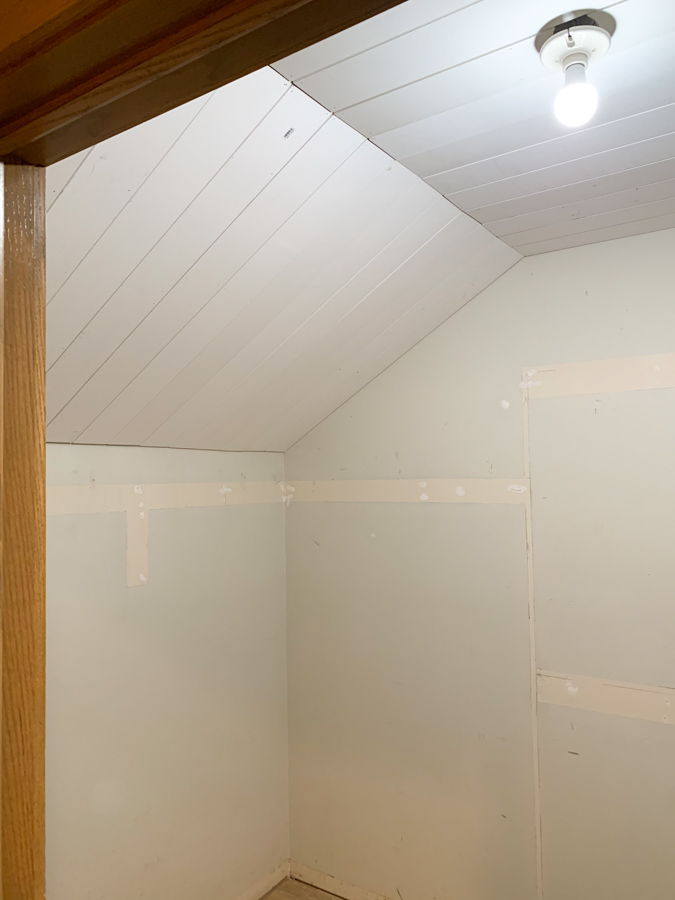 Once it was up, I went back through and caulked all the gaps and then painted the whole closet Du Jour by Valspar which is what we also have in our bedroom and bathroom. It's a great white!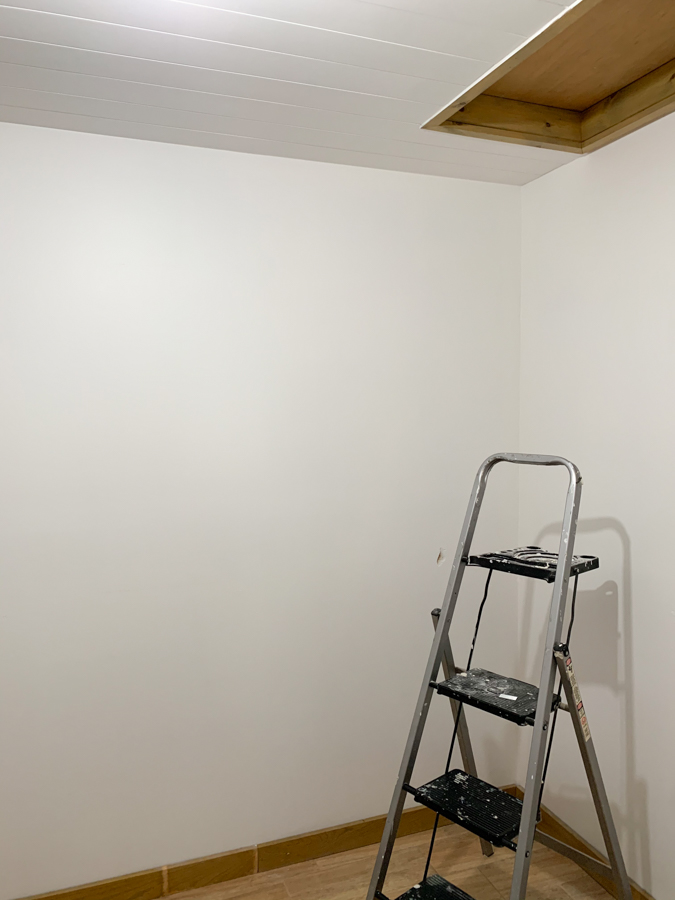 And then it sat like that for about 3 months ha. We started the reno right when everything with COVID started happening so our install got put on hold until further notice.
So even though we had a nice and clean walk-in closet, we had nowhere to hang our clothes! Luckily we have another small closet in our bedroom we were able to use for hanging some things and Dan had to put some of his stuff in Hawk's closet.
But our bedroom was a disaster that whole time with piles of clothes just laying on the daybed and all over the floor.
THE INSTALL
Fast forward to June and installs were finally up and running again and our closet was finally going to come to life!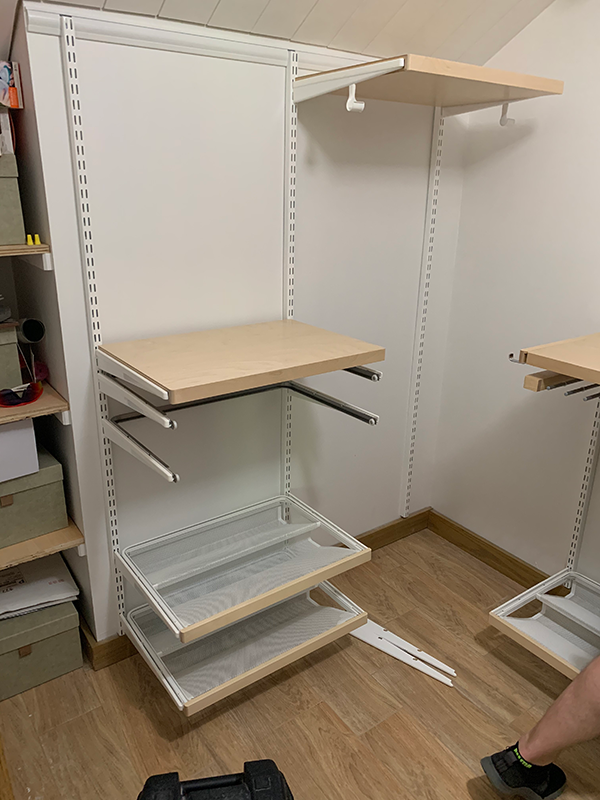 Ahhh it was so exciting to finally see it going up!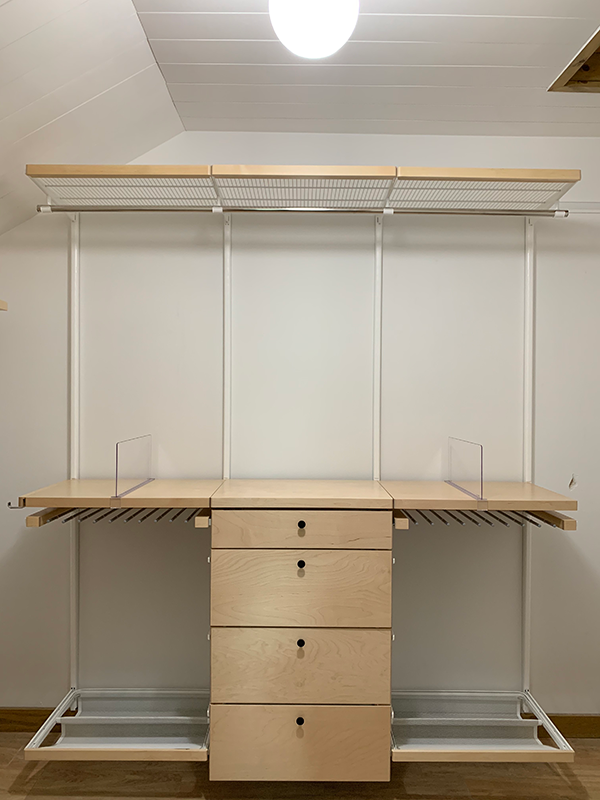 I went with the Birch and White and then black hardware and it's all so pretty!
THE REVEAL
Once it was installed, it was time for the fun part – putting everything in it!
I let Dan do his drawers, but I hung up all his clothes so I could perfectly color coordinate and organize how I wanted. I'm usually the one putting things away anyway, so it might as well make it work for me, right? :-p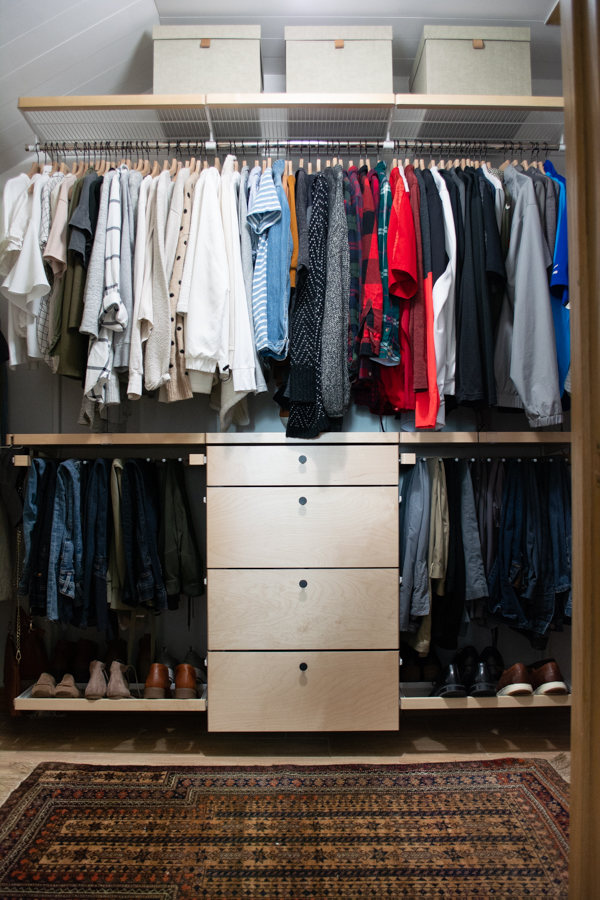 If you start on my side, you see I have a very neutral color palette in my clothes, just like my home decor ha. Dan's side is a lot more colorful.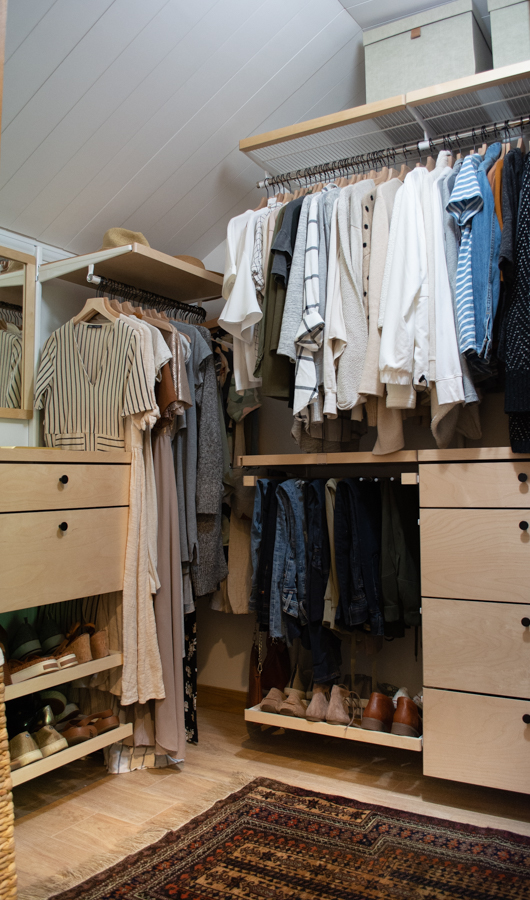 I can't even believe how much more functional our closet is now. I actually enjoy walking in here and picking out clothes and even putting them away!
This little corner always had these shelves which we decided to keep and put four of the Bigso Linen Marten Storage Boxes. They're perfect for things we don't use everyday and for winter storage.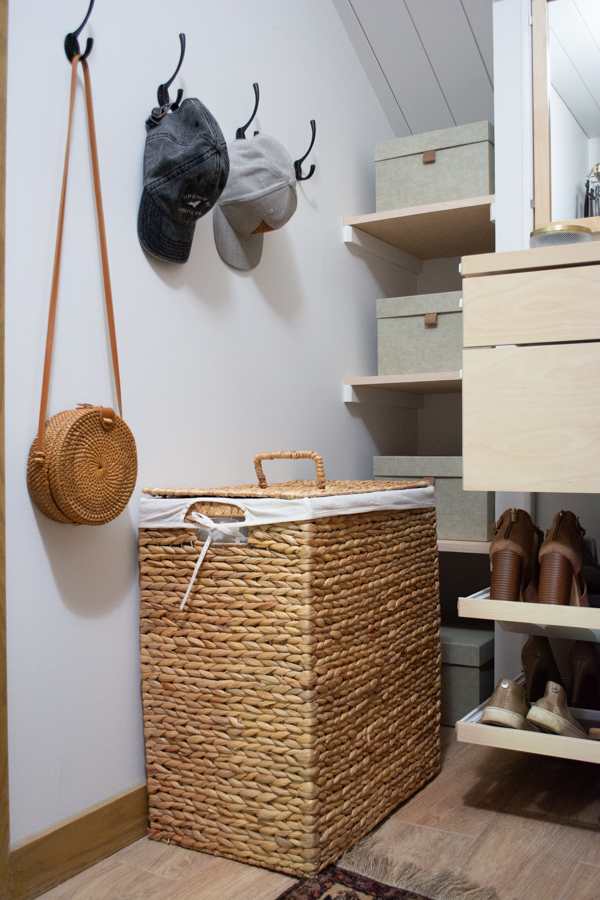 And I love having those black hat hooks there for things I use more regularly like purses and hats. And our hamper fits perfectly right in this little corner.
We basically split the closet in half, so the left is mine and the right is Dan's and then split it right down the middle. On my side, the Birch Elfa Mirror was a last minute addition. I wasn't sure if I would actually use it much since we have a full length mirror right outside in our bathroom. But this has quickly become my favorite area!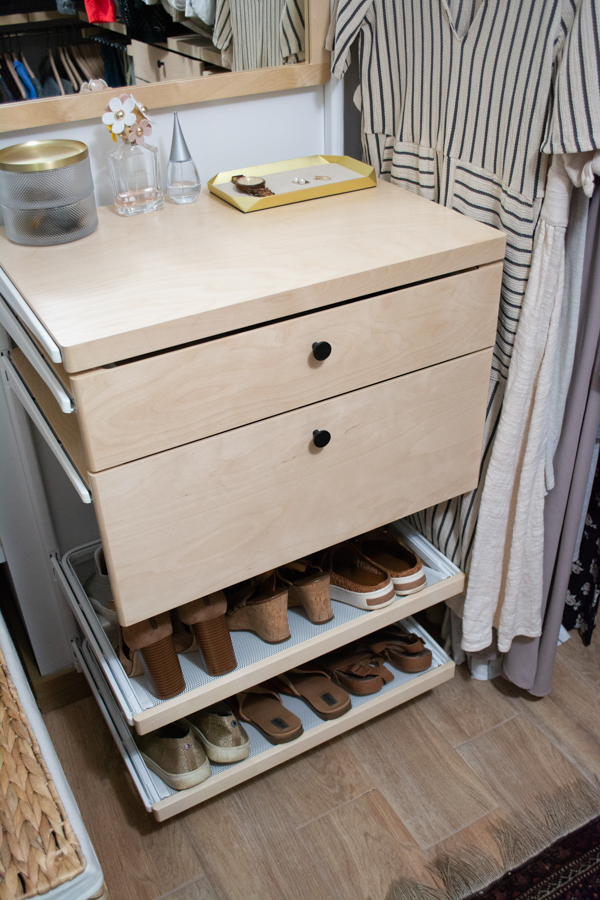 I LOVE having a little a little area where I can keep all my jewelry and perfume. It's like having a vanity without having a huge piece of furniture taking up lots of space. I used to keep things in a little dish on top of our sink in the bathroom which wasn't super practical.
The Umbra Gold Jewelry Tray is the best and is where I put all my jewelry I wear every day like my wedding rings, pearl earrings watch and necklace. And the Umbra Round Tesora Jewelry Organizer is great for all my other jewels I don't wear as often.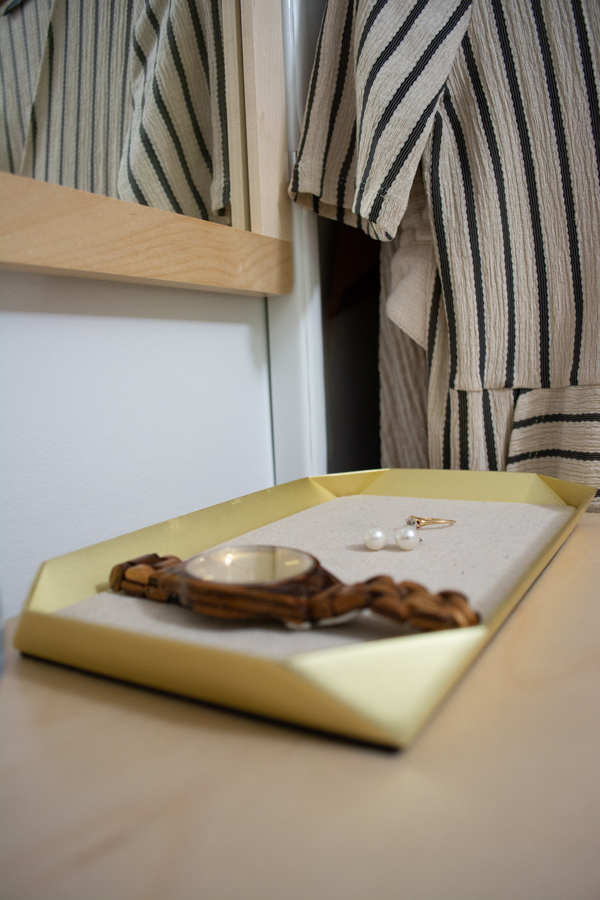 And can we talk about the shoe storage?! These Gliding Mesh Shoe Shelves are so functional and amazing. They pull out so you can see all your shoes and put them away easily.
I keep all my socks and undergarments in those drawers which feels SO good to have something that doesn't fall apart when I try and open it.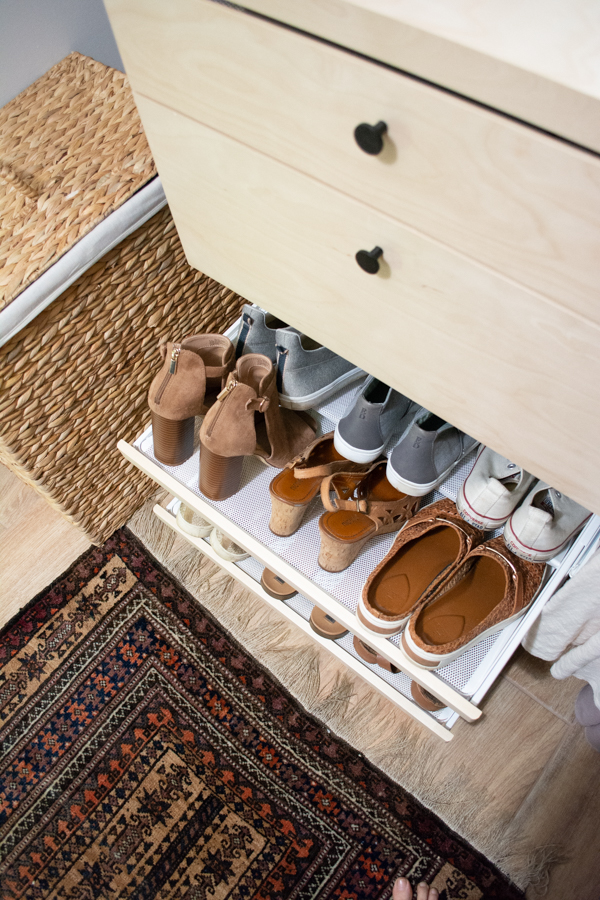 Of course every closet must have matching hangers am I right?! We have the Basic Lotus Wooden Hangers which match perfectly with all the other Birch elements.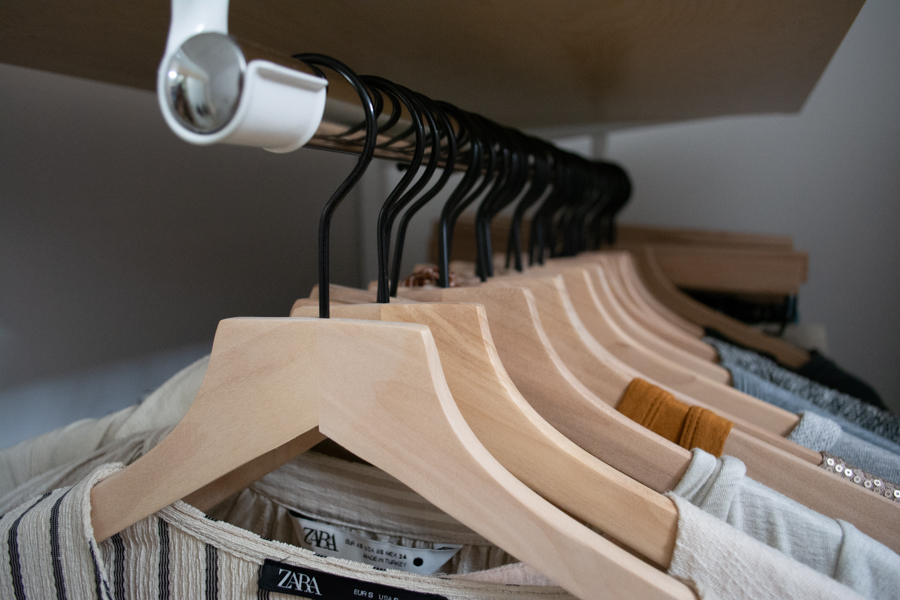 My other favorite thing in here is the pants storage! I always just folded my pants and threw them on those shelves in the corner which always resulted in a big 'ole mess. But these Gliding Pant Racks are seriously the best invention ever.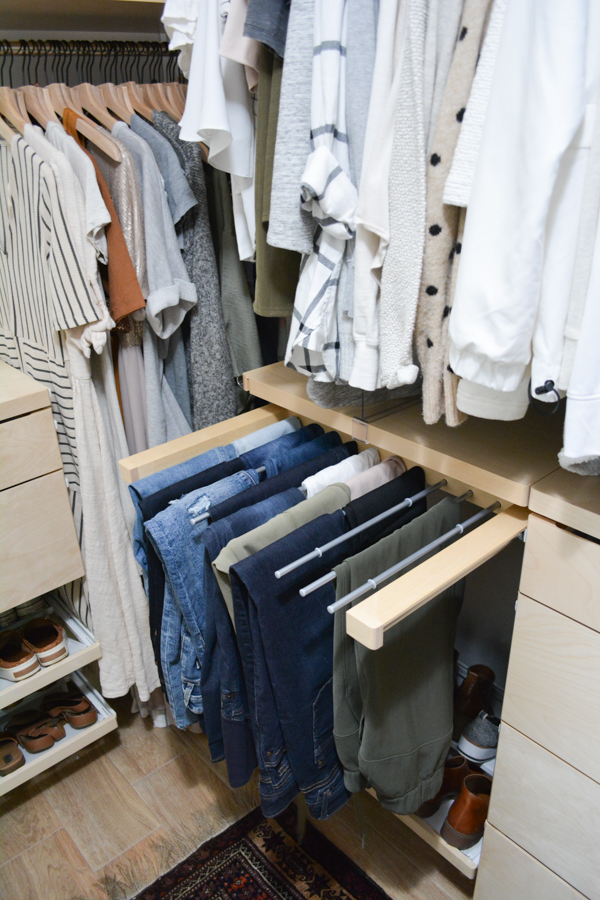 You just fold your pants over the little rods and then slide it under the shelf and tuck them away!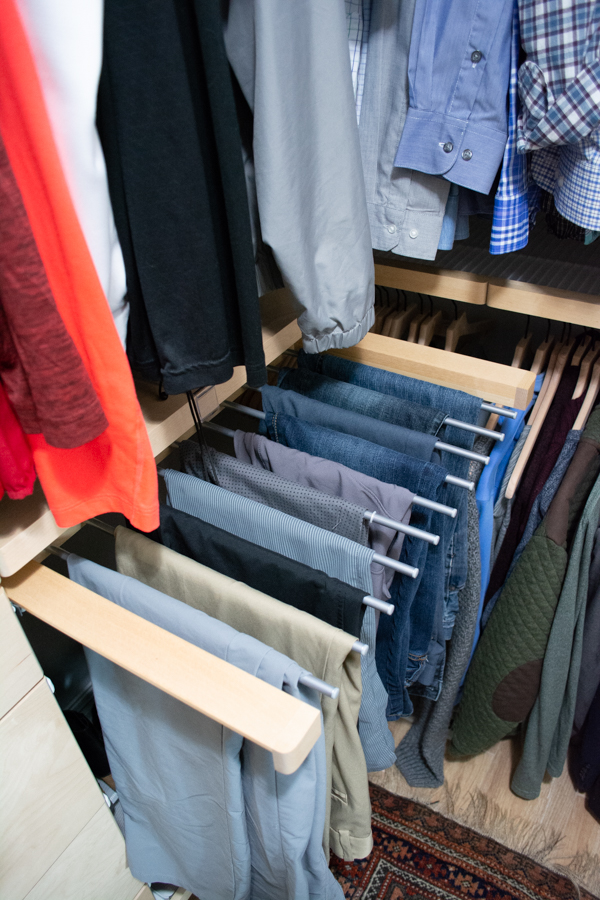 Dan and I split the drawers in the middle and one super nifty thing you can add to make things even more functional is dividers. They're moveable so you can slide them in either direction to adjust the size of your drawer space.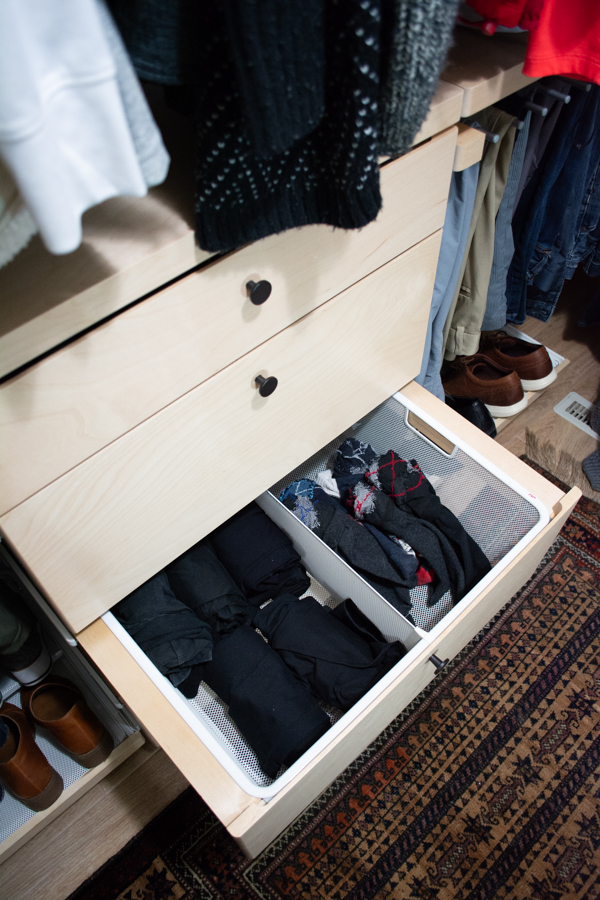 I never thought I would be so excited about a closet makeover, but this has been such a game changer for us!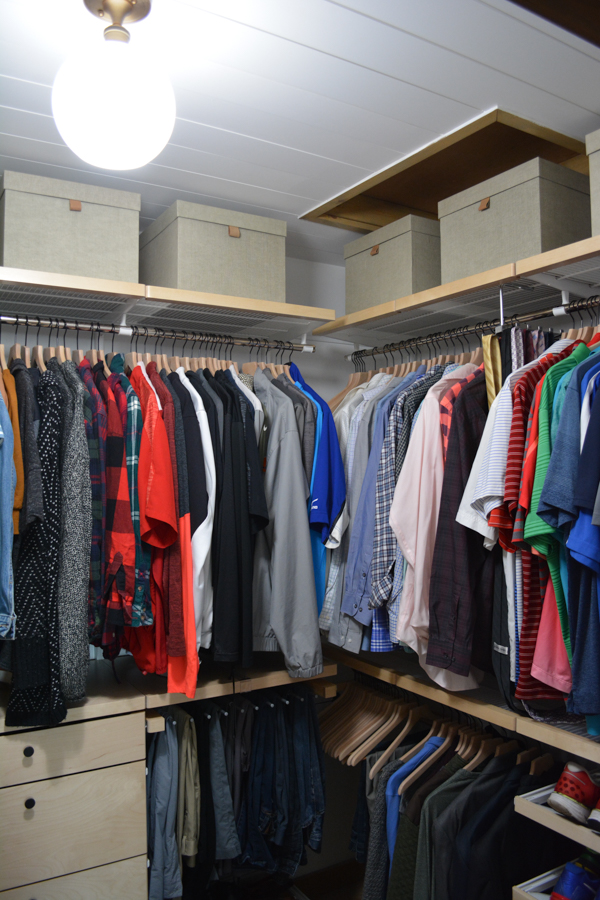 And Dan gets alllll the shoe storage he needs for his collection 😉 Anyone else's hubby have more shoes than they do?!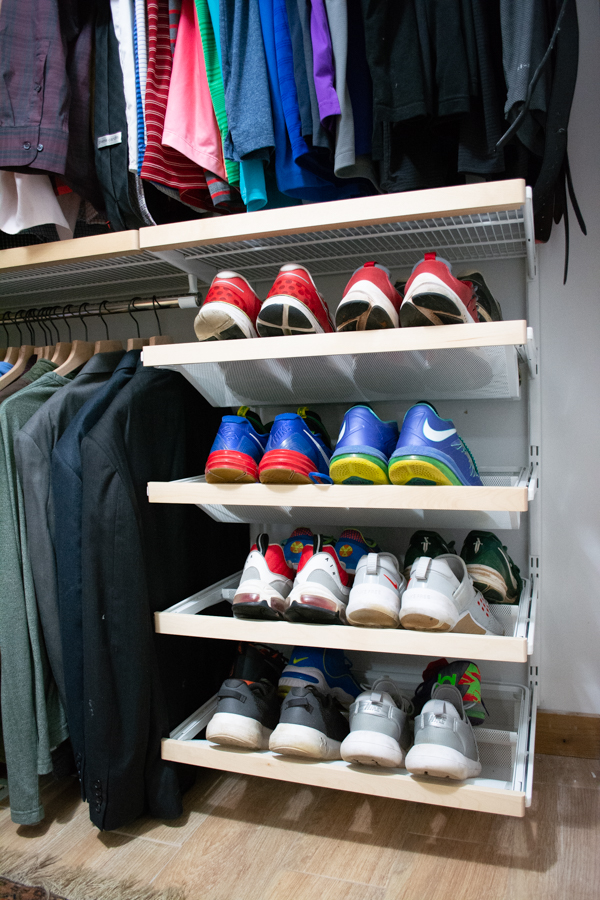 We couldn't be more in love with our new Elfa Closet System from The Container Store. It's amazing what a little organization can do and how much happier it makes us when we walk in here!
If you're looking to update a closet in your home The Container Store is holding their Custom Closets Event and you can score 25% off Elfa Closets!