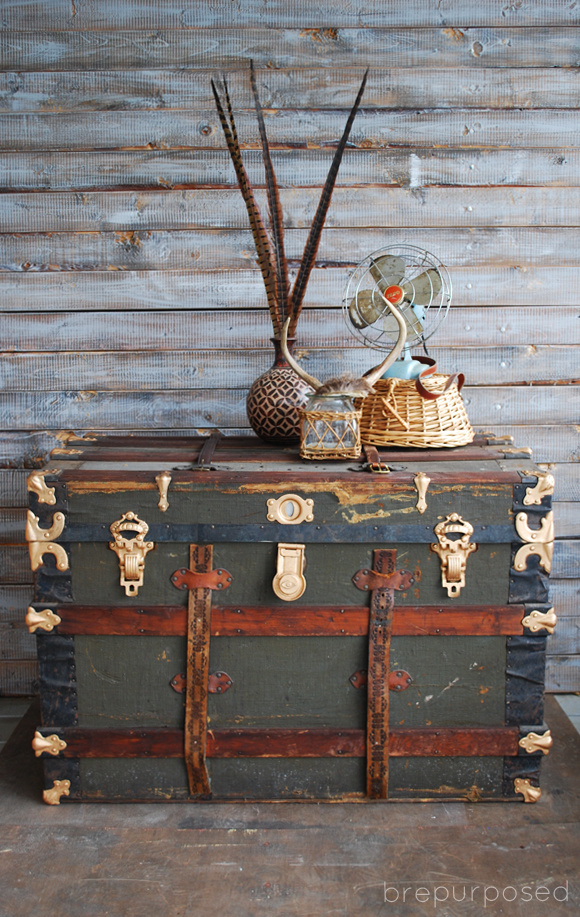 Hi friends! And welcome back to another Monthly DIY Challenge! Totally planned this one ahead because we just got back from our trip late last night and right now I'm probably sleeping and will be for the remainder of the day 🙂 You always need a vacation from your vacation right? I'll be sharing some pics from our trip soon!
this post contains affiliate links
STORAGE TRUNK MAKEOVER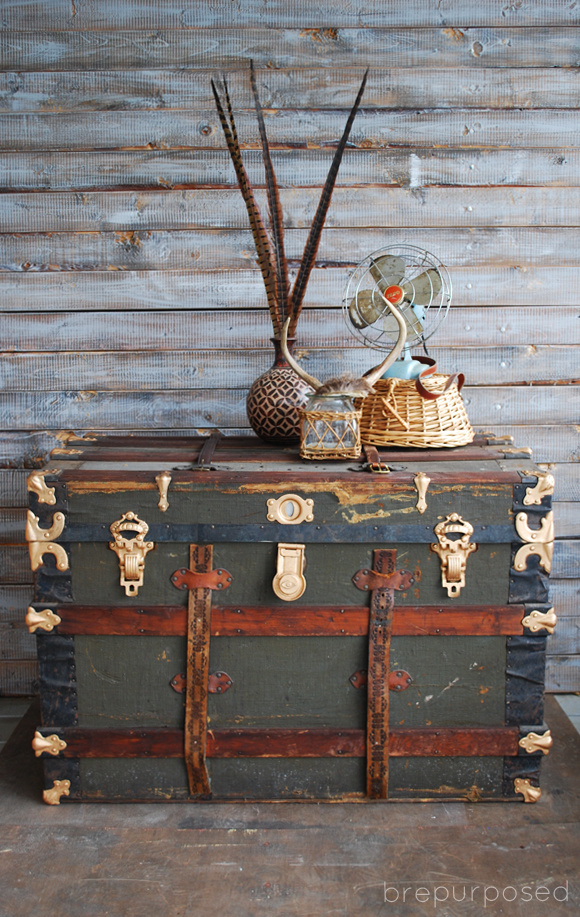 If you're new here, me and some of my bloggy buds get together every month and create something using the same product/material or with the same theme. This month was "Creative Storage Solutions" and I'm sharing this old trunk that I glammed up as a Christmas present for my brother!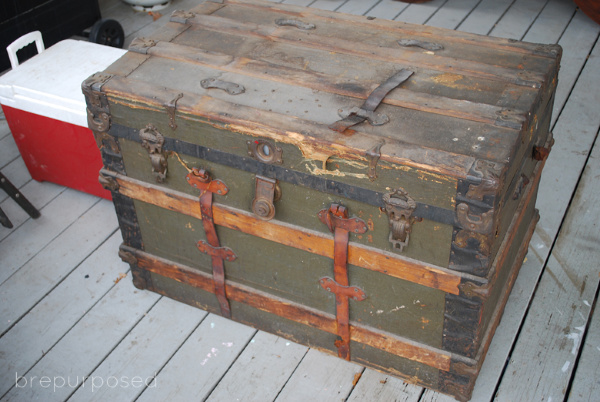 It was in the attic of his house and he wanted to see if there was anything I could do to bring it back to life. I honestly was a little hesitant at first because it was in pretty rough shape, but I knew it would be a fun challenge! I've redone a trunk before, and this one actually looks pretty similar. I turned that one into a coffee table that we use in our living room.
Here are some before shots: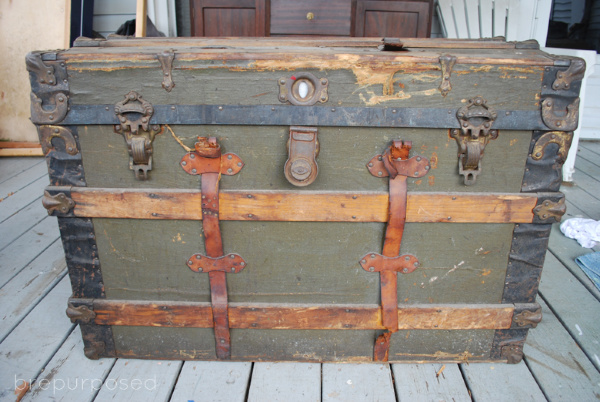 The inside was probably the worst part of it…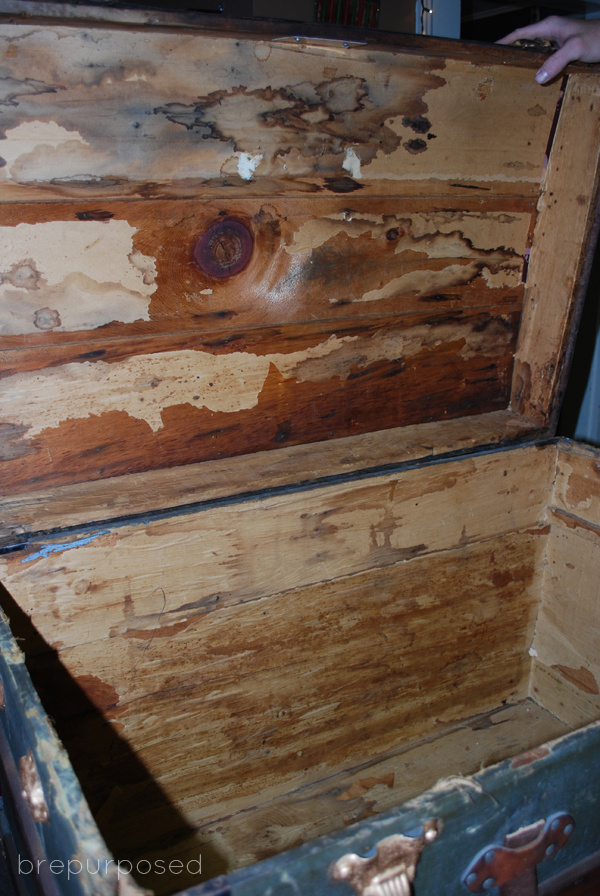 STEP ONE:
I started out by staining the wood panels with some General Finishes Gel Stain in Brown Mahogany.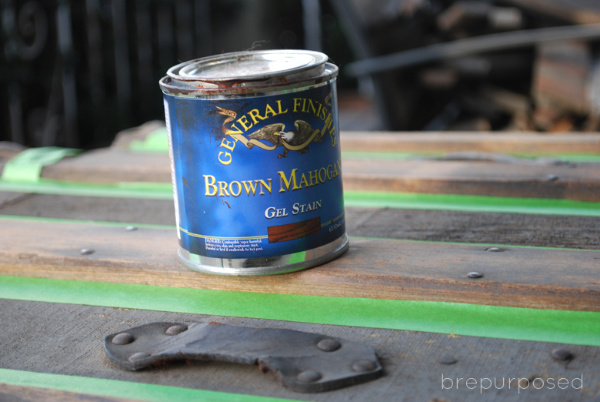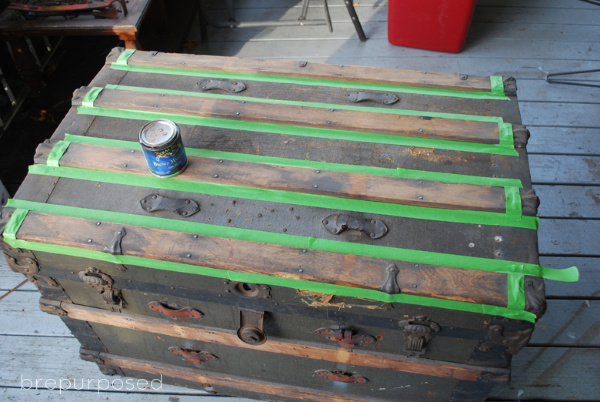 STEP TWO:
I really wanted make the metal accents pop so I grabbed a tube of Rub 'n Buff and a small paint brush and went to work. Ok, that's a lie. The hubs helped me a bunch on this project so I have to give some credit to him 😉 We BOTH went to work one night painting away while watching The Voice. (P.S. I'm still mad that Matt didn't win. He totally should have).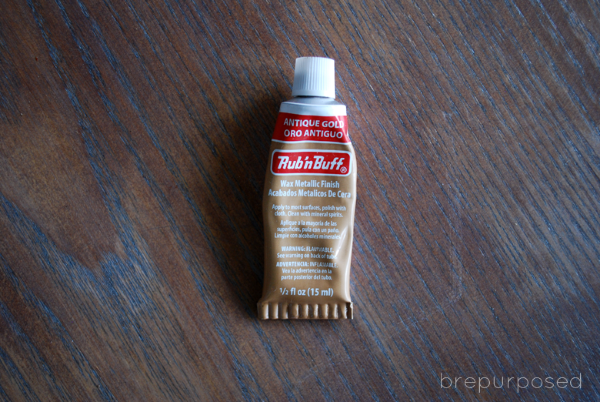 I still have not used this stuff the way it was meant to be used. I did something similar with it on this dresser and loved the way it turned out. I find that a lot of metallic paints I've tried are kind of watery and you need to use a lot of coats to get the affect you want.
Except for spray paint, but that would have been a huge pain to use in this case. The Rub 'n Buff goes on exactly the way it looks and covers so easily. It leaves a rough texture, which I think works well in this case.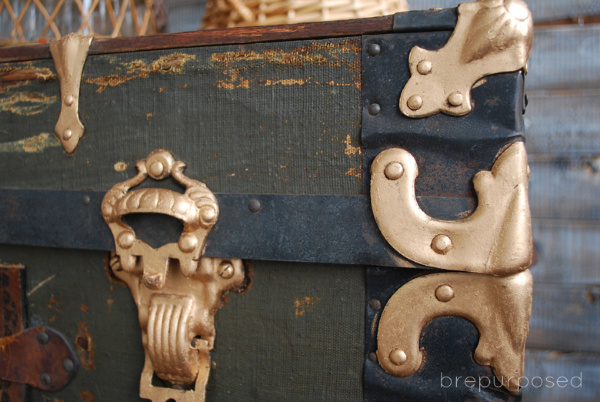 STEP THREE:
Once that was done, I moved on to the inside. Although it looks reeeaaalll bad, it really wasn't too hard to work with. It took some time to scrape off all the loose parchment paper or whatever it is that was in there and then I used a vacuum to clean it all out. I painted the whole inside with some left over paint I had to give it a clean, fresh look.
My brother wanted me to line it with some decorative paper, but what he ended up sending me was wallpaper border. Since it wasn't wide enough to cover a whole side, I just used a piece on the top, and then wrapped the rest around the bottom part.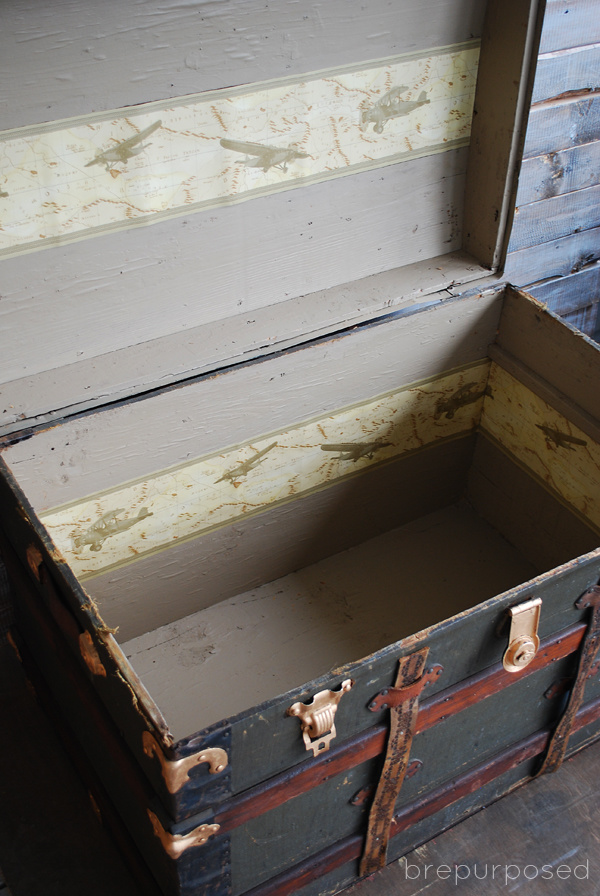 MUCH better than before 🙂
STEP FOUR:
Now as you could see, a lot of the leather straps had ripped off or were badly damaged. I wanted to replace what I could, and decided my best option would be to use old belts so I got one from Sal Val, a couple old one's from the hubby, and the cool decorative one on the front is from my FIL. All I had to do was cut them to size as needed, and used them on the front, top and for new handles as well.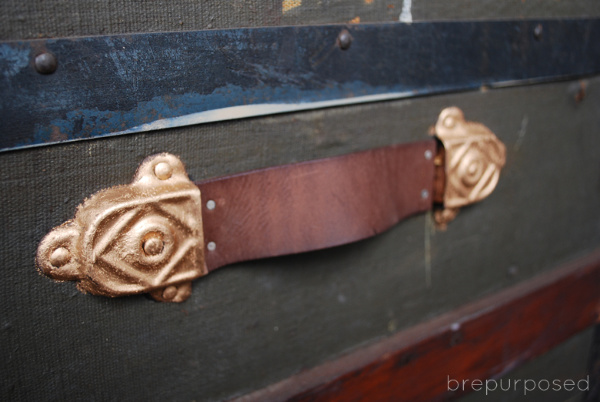 I love that there are mismatched belts on there and think it adds some fun character and new history to pass on!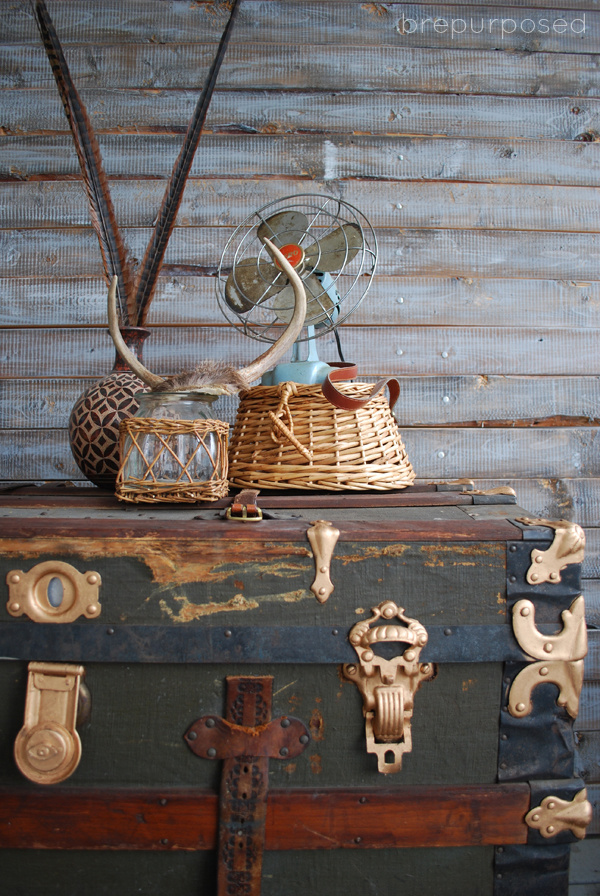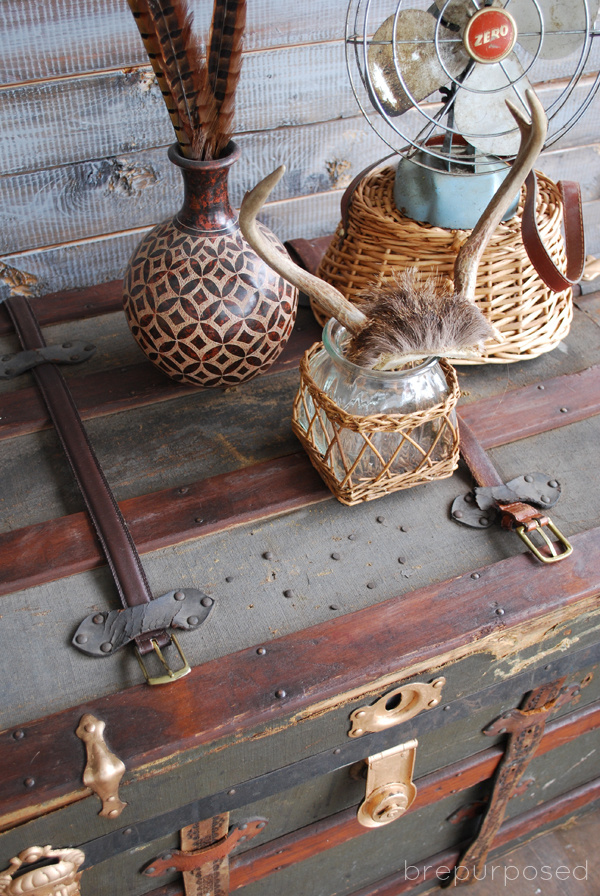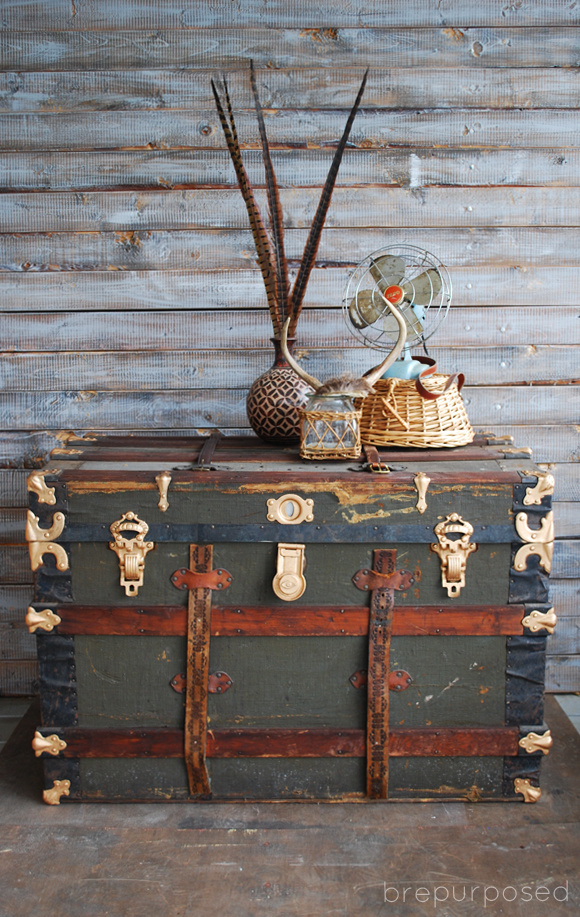 I love giving Christmas gifts that are handmade, and this one was so fun to work on! I also gave my mom a table that I'll be posting about soon!
Be sure to check out all my bloggy friend's projects below too!
Have a fabulous day everyone 🙂