The anxiety and panic is starting to set in and I might be freaking out just a little. Even though we have the majority of the big stuff done, it's still stressful being on a deadline and knowing we only have one short week left. Ah! In case you're just joining you can check out the other weeks here: week 1 :: week 2 :: week 3 :: week 4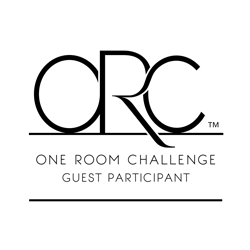 this post is sponsored by Crates & Pallet – all thoughts and opinions are 100% my own
affiliate links are included.
Ok so last time we chatted, we had a bench, a new light, some cabinets and my wood wall was almost done. This past week we've been busy getting the other wall finished up that the washer and dryer are on.
We ended up getting a custom cabinet built for the sink which I'm SO happy with. If you're local, and are in need of some cabinetry, the guys at Salem Mill & Cabinet Co. are amazing. Bruce and Andrew hooked me up with this gorgeous piece. It's so well made and even better than what I imagined. I told them I wanted to paint and stain it myself so they left it unfinished for me.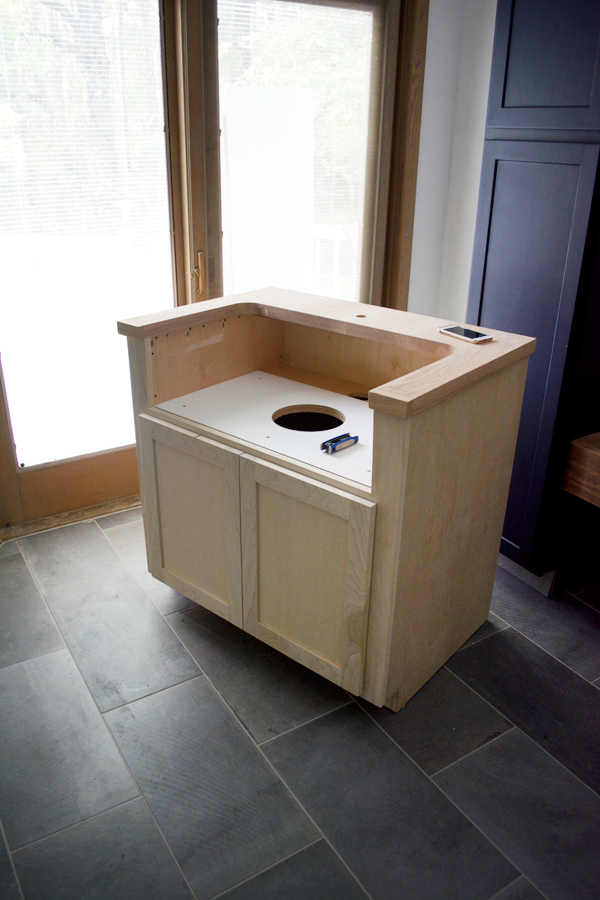 I painted the base the same color as the tall cabinets on the other wall (Anchors Aweigh by Sherwin Williams) and stained the top to match our door slab counter top.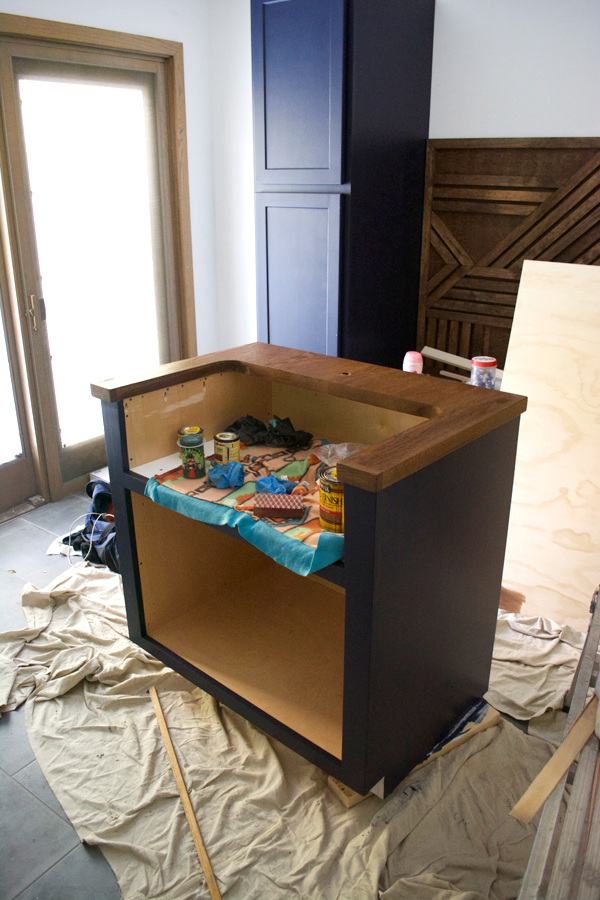 We have to cut a hole in the back and bottom for the water pipes and then we can install it which we'll be doing today.
For the countertop, we screwed in some supports to hold it up.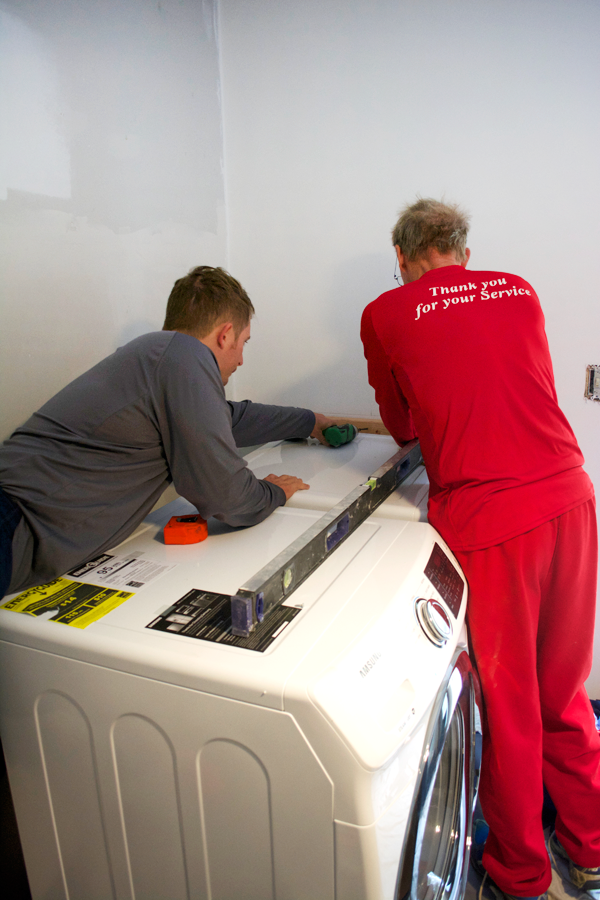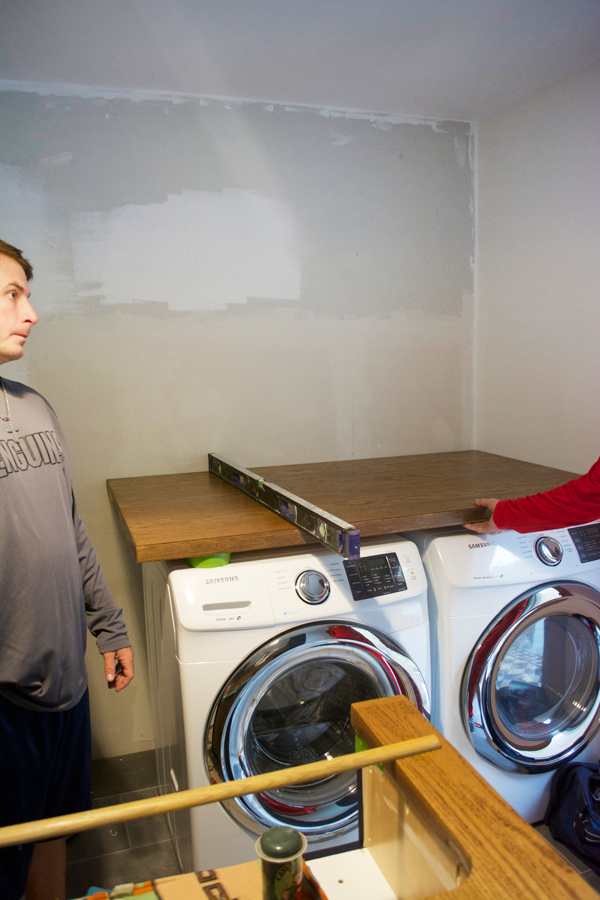 Once we measured it's location, we took it off and my FIL tiled the wall. This was before the dark grout.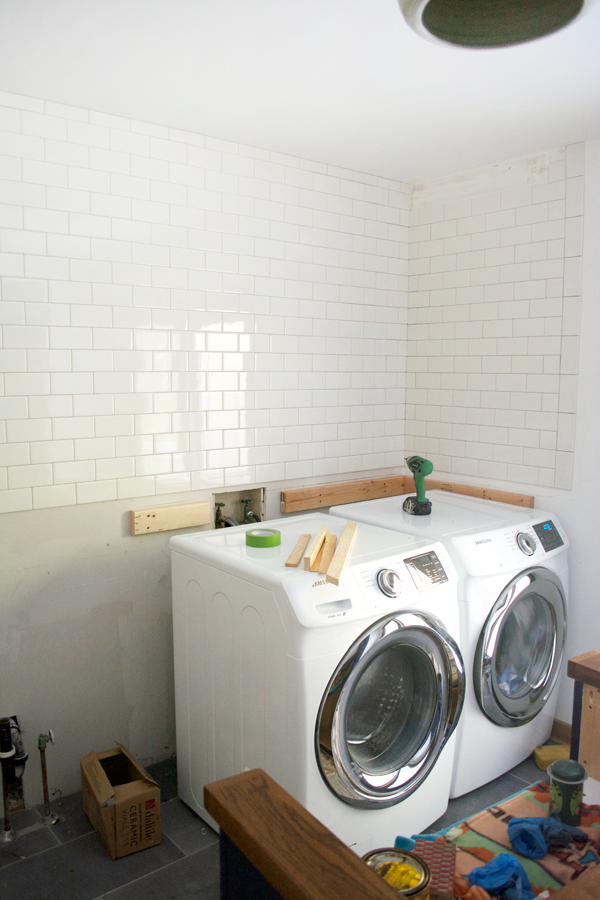 And after (sorry for the terrible night time photo!)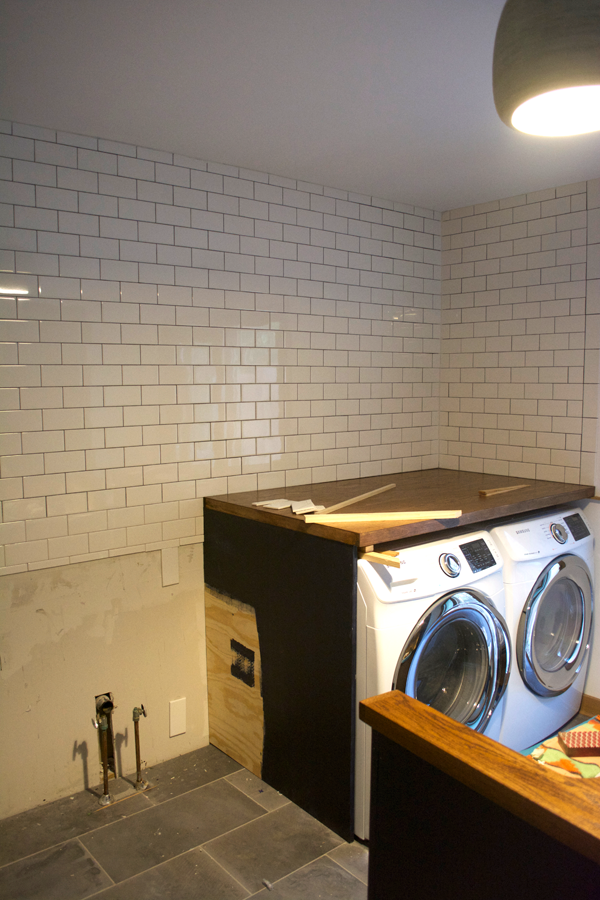 Now centered on this wall above the washer and dryer is going to be a shelf with some fancy hardware from my amazing sponsor Crates & Pallet.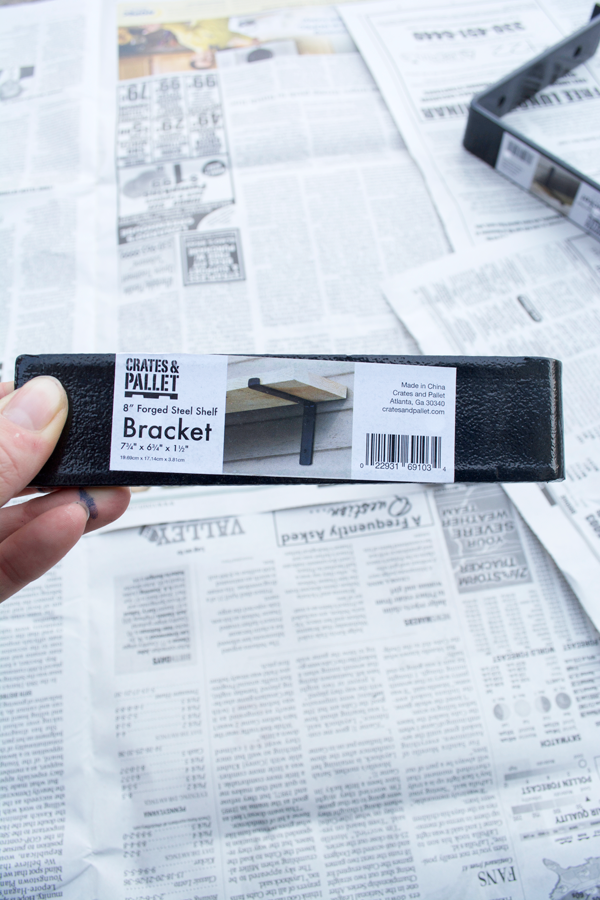 There are some super pricey options out there – especially since I wanted brass ones to match the hardware going on the cabinets, but this was a way cheaper alternative and they're gorgeous!
The shelf just sits right in there and the brackets wraps a bit around the front which I love.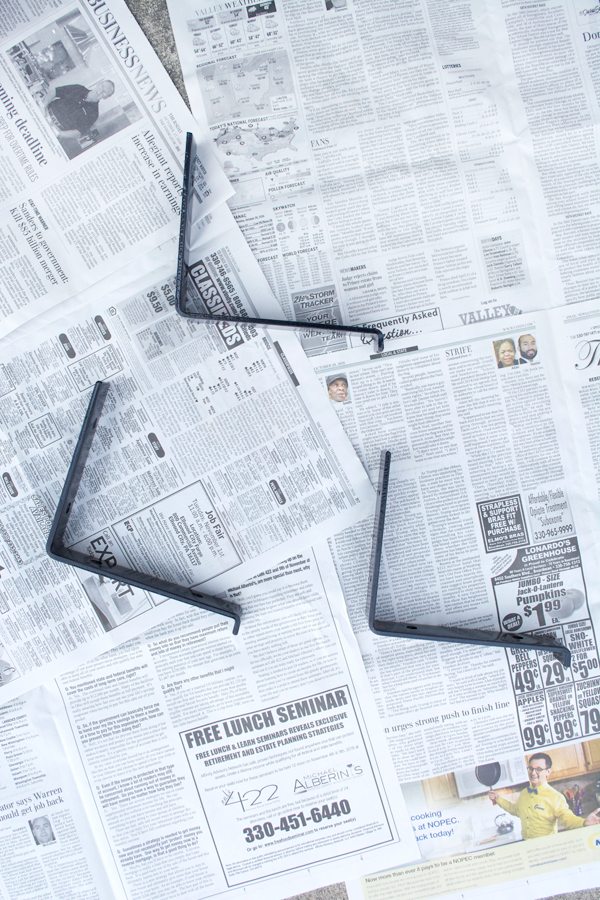 Since I was going for more of a brass color rather than gold – this is the spray paint I used.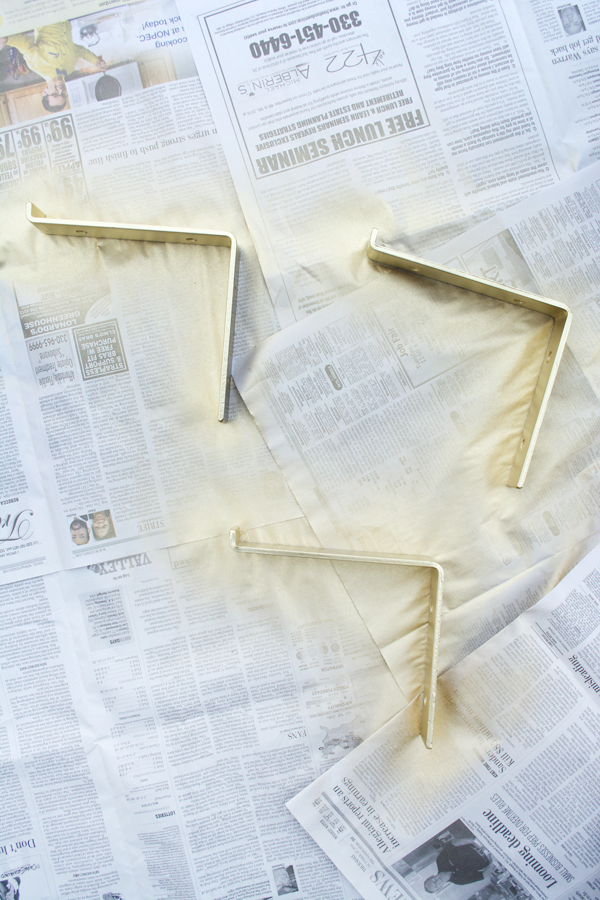 I bought a piece of wood and stained it up to match everything else and I can't wait to get this guy hung up!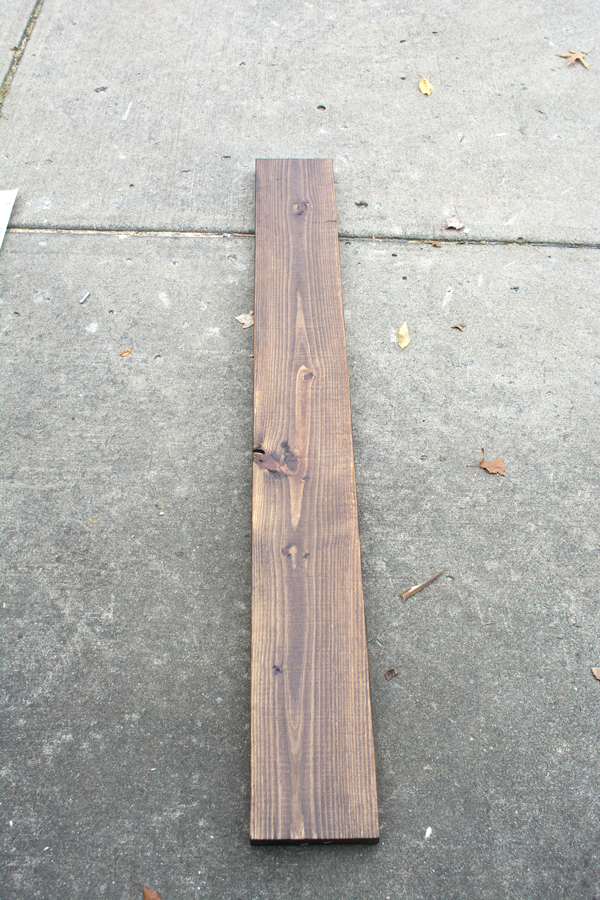 After the reveal, I'll be sharing a more in depth post about installing the shelf and using these brackets but in the meantime you can purchase them online from the Home Depot HERE. You can also check out all the other awesome products that Crates & Pallet has HERE!
Oh and I ordered this gorgeous rug from Etsy that I'm IN LOVE with.
Are you ready for the big reveal next week?! I had a mini panic attack when I thought the hardware I ordered for the cabinets wouldn't be here in time, but we're all good now 🙂 Lots of decorating and small details to take care of this weekend and then I'll finally have the laundry room of my dreams!
Let's take a look at what's left!
Tear down existing wall tile
Install new Drywall 
Tape and patch drywall and other holes in the walls
Paint walls
Remove old light and install new one
Tile wall that washer and dryer are on
Tile over existing floor tile with new tile
Reattach base boards and trim
Paint sink vanity
Install sink into vanity
Install new washer and dryer
Stain door slab countertop
Install countertop
Hang wooden shelf and style it
Paint tall cabinets
Install a DIY bench between cabinets
DIY wood treatment above bench
DIY system for hanging clothes
DECORATE!
As always a huge thanks to my amazing sponsors who are making this all possible! Blanco, Lamps.com, Crates & Pallet and HomeRight!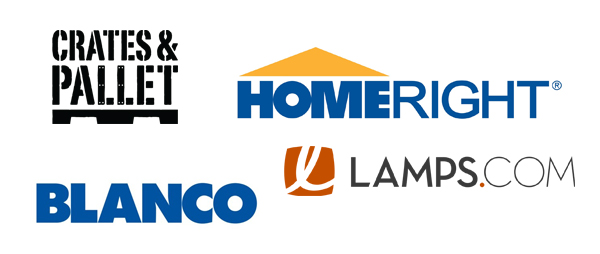 Don't forget you can follow along over at Calling it Home and see all the other makeovers in progress!