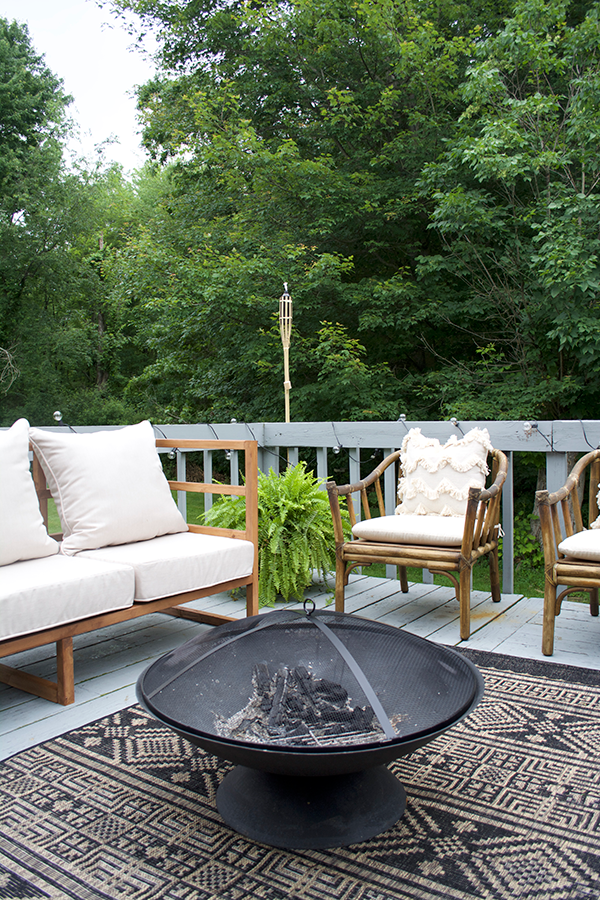 This post is sponsored by BEHR® but all thoughts and opinions are my own.
Last year I gave our back porch a little makeover with a new dining table and chairs. I'm still loving that set up but it only takes up a portion of the space. Our porch is huge and there was still one empty corner that needed some love. I bought a little fire pit earlier this year and planned to create a cozy corner with some seating but struggled to find patio furniture I liked that was affordable.
That's when BEHR contacted me and asked me to be a part of their 2018 Think Outside the House campaign. Can you say perfect timing? The campaign is all about using their exterior line of paints and stains to help you complete a weekend project within a $1,000 budget. I knew an outdoor sofa and side table would be the perfect pieces to create so we got to work on our Modern Outdoor Porch Makeover.
This is what our sad little corner used to look like. It needed a LOT of help.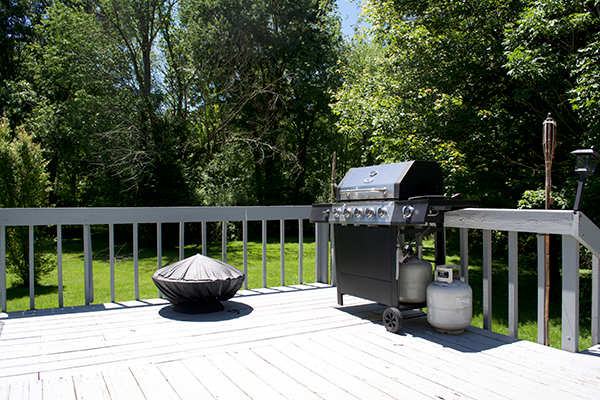 And this is what it looks like now!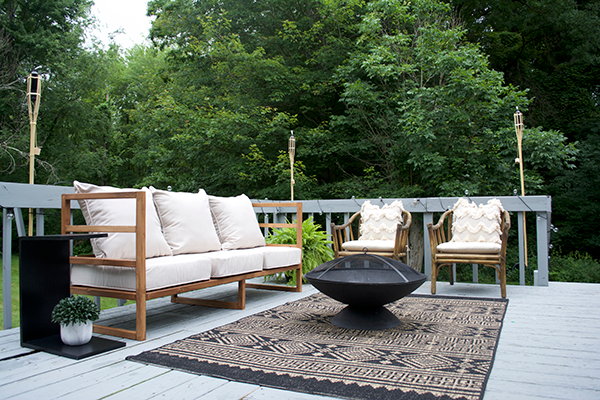 To start, I began researching plans for outdoor sofas but a lot of them used 2x4s and seemed very chunky and heavy to me. I wanted something a little more modern and clean. So I decided we'd just wing it and make our own plans based off this gorgeous piece I found: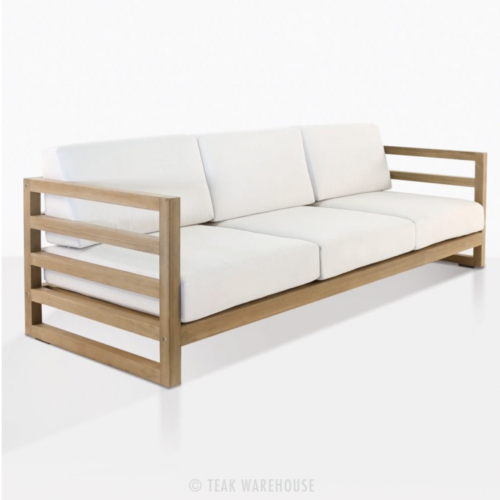 It's over $3k (no thanks) but looked fairly simple to replicate so we got to work. I have to give a huge shout out to Dan because I made him help me build this on Father's Day when it was 90° outside. That's true love. We were both dripping with sweat but it was totally worth it.
I'll be sharing a full tutorial for how we made the sofa soon, but for now I'm just going to give you a little sneak peek of some of the process!
We used 2×2 cedar boards from The Home Depot® and built out the sides first.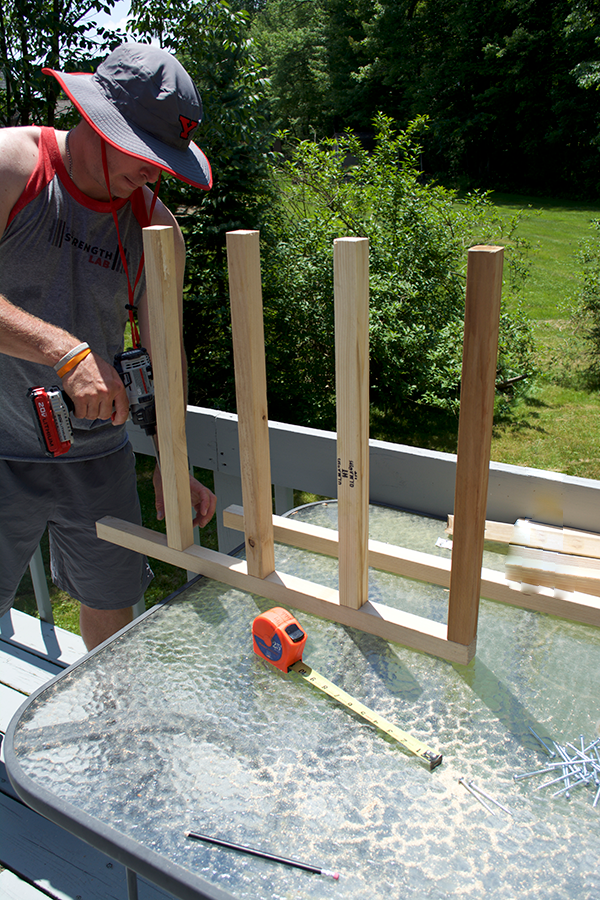 For the whole project we used the Kreg Jig Pocket Hole system which is AMAZING. I only started using it last year but it's been a total game changer for projects.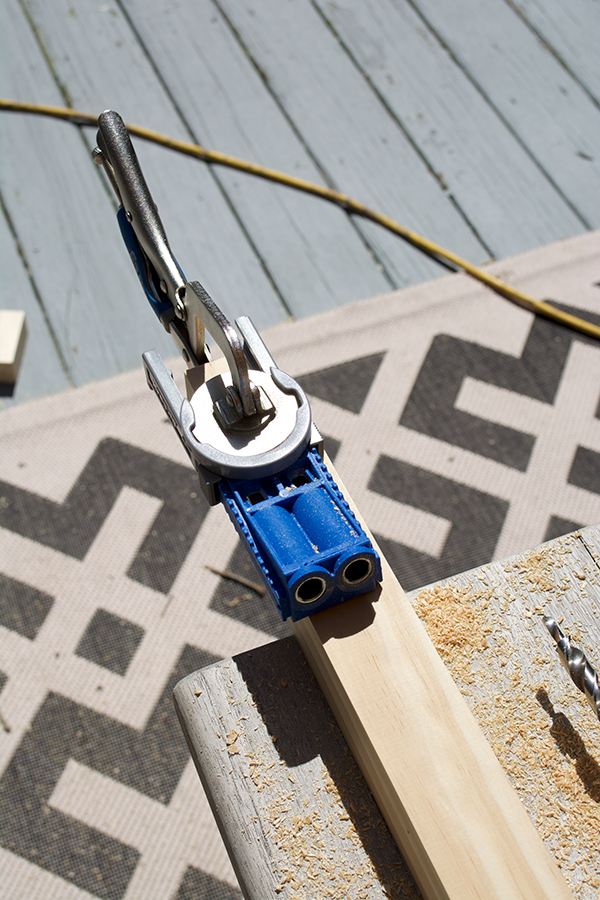 Then we built the bench portion.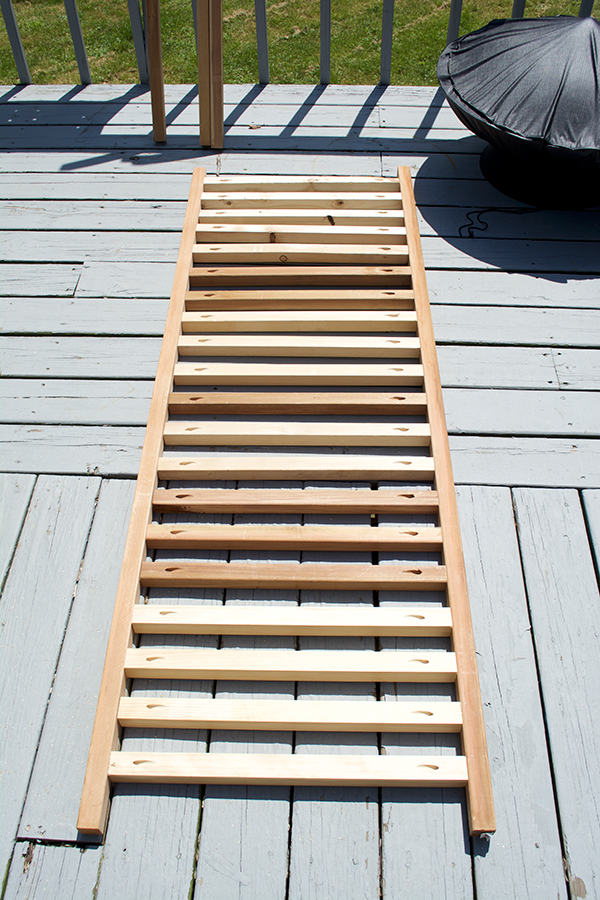 Once it was all put together it looked like this: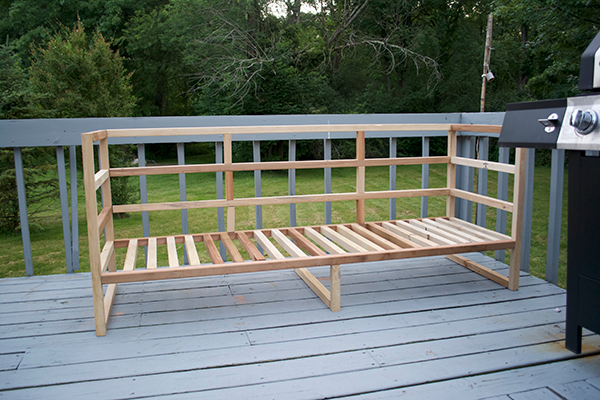 I'm not going to lie, this turned out way better than I thought it was going to. I'm OBSESSED.
I've never actually stained anything that was going to be used outdoors but the BEHR products are
amazing. Before you use their stain you need to use a wood cleaner to get all the yucky stuff off it and
help the stain soak in better.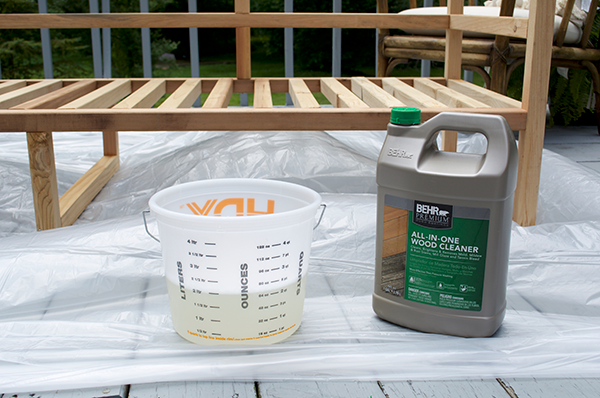 This BEHR PREMIUM® All-In-One Wood Cleaner takes some time, but it's totally worth it. First you wet
the wood surface, spray the cleaner onto your wood, work the cleaner into the wood with a bristle
brush, let it soak in for 10-15 minutes then scrub it all with a bristle brush. Then you rinse it off with
water and you're ready to stain!
For the stain I went with the color Chocolate in BEHR PREMIUM® Semi-Transparent Waterproofing Stain & Sealer. I wanted to still be able to see the grain of the wood and semi-transparent is the perfect option for that.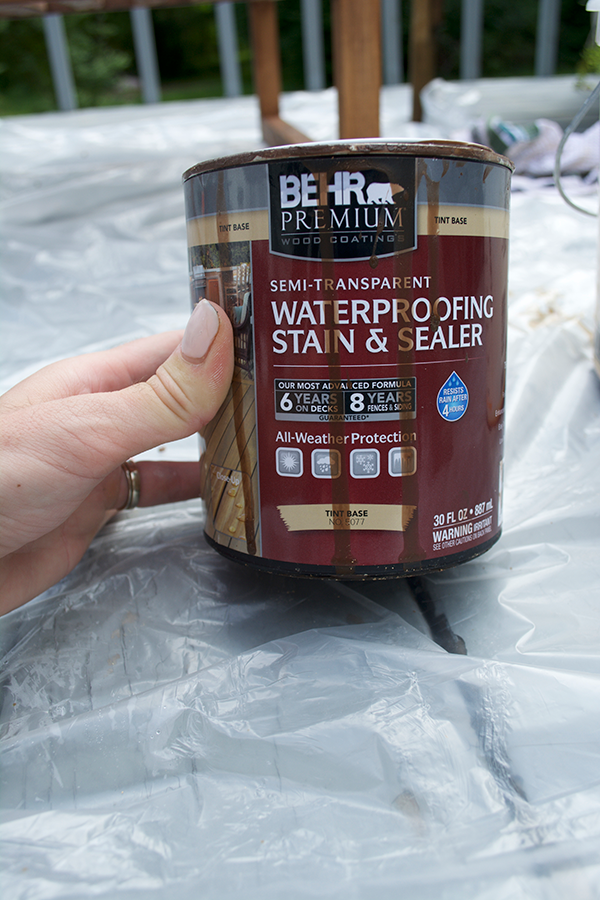 The color was exactly what I wanted and it can be exposed to water and rain only 4 hours after applying. Good thing, because it rained the night after I stained it :-p
I got some gorgeous cushions from The Home Depot and I seriously couldn't be more in love with this piece!
To go along with our sofa I made a little side table too. I wanted to keep this super simple and modern but functional as well.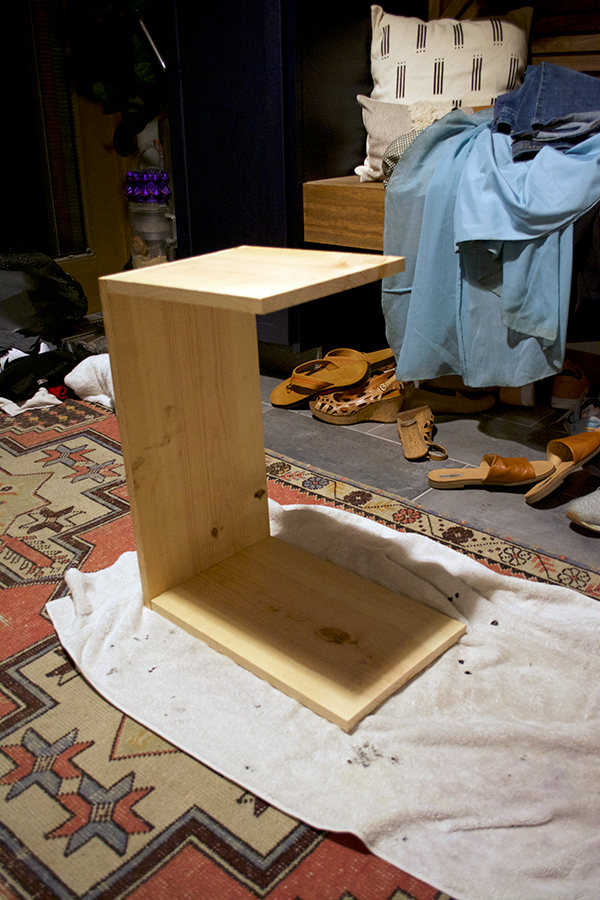 The bottom portion is a little bit longer than the top which I think adds a unique style to it. I thought about staining part of it and painting part of it, but ultimately decided to just paint the whole thing.
I used BEHR Premium Plus Ultra® Exterior paint in Black and it's the perfect compliment to the rest of the black accents in the space.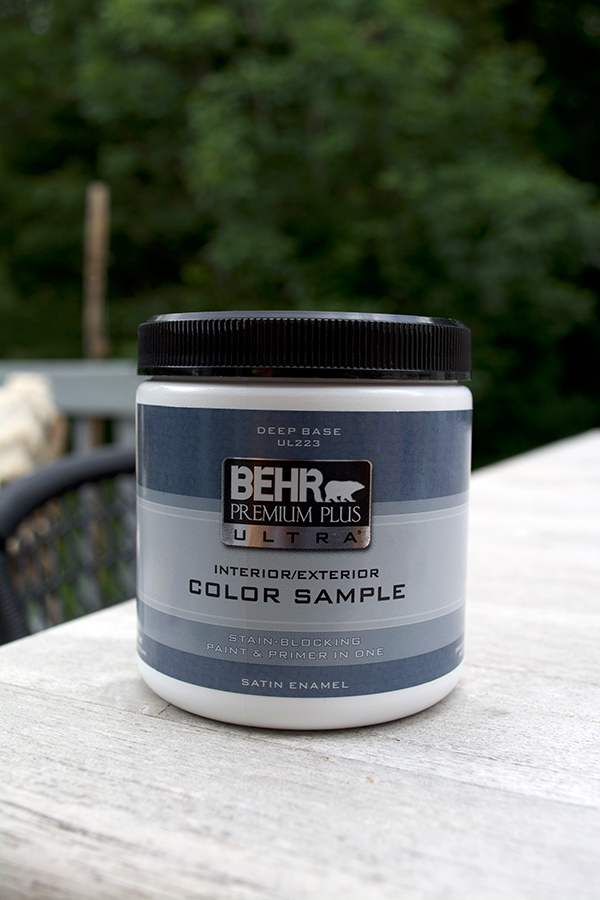 My table already got rained on and it's holding up great! Eloise also tried to water the fake plant that I put on it and splashed water all over it and it wiped right off without leaving any stains. So if you were wondering, it's totally kid proof 😉
I wrapped some small bulb lights around the porch railing but I recently saw these cute DIY Outdoor Globe Lights that I want to try my hand at! How cute are they?!
I snagged some super cute chairs for $40 on Facebook marketplace to add to the space and bought some new cushions and pillows for them.
Last but not least is a gorgeous little rug that I found online at Home Depot! It's so good. These affordable outdoor rugs are also a great option!
I'm SO glad that BEHR asked me to be a part of this campaign because it gave me a reason to create some gorgeous new furniture and give our porch the makeover it needed. We've already been out here enjoying the fire and some s'mores and I can't wait to enjoy it for the rest of the summer!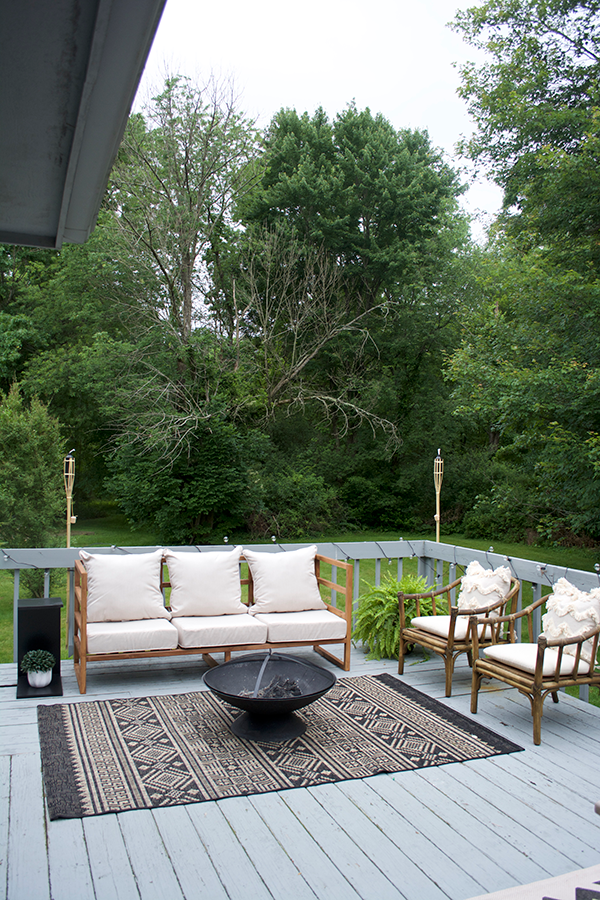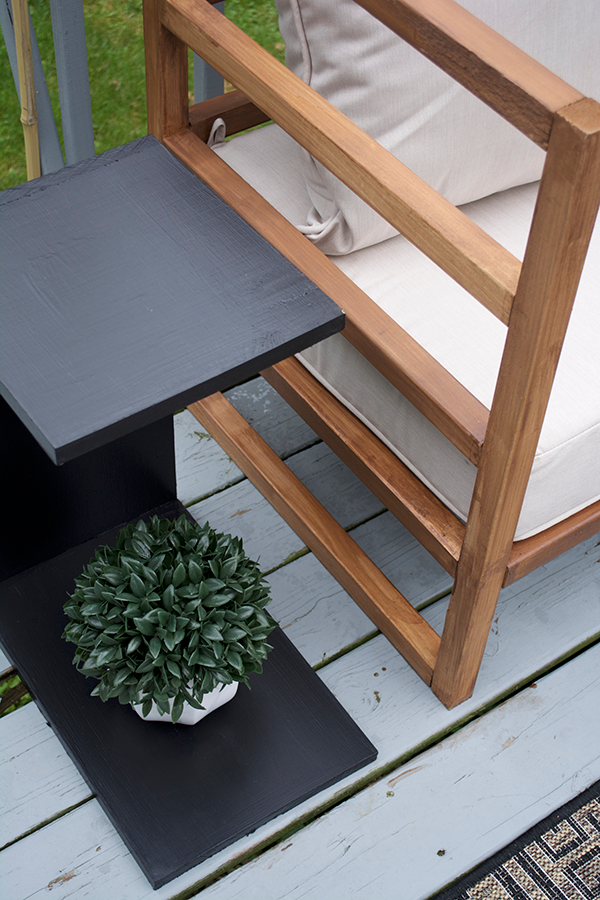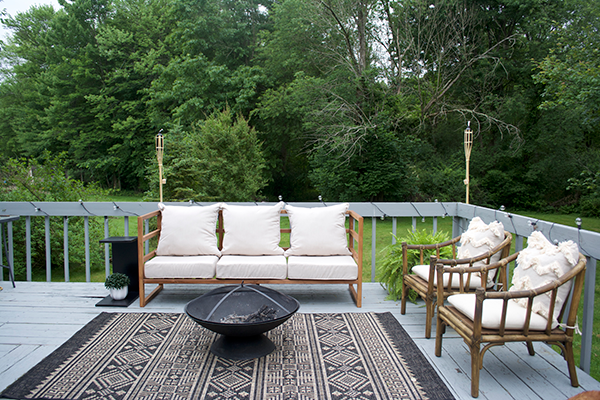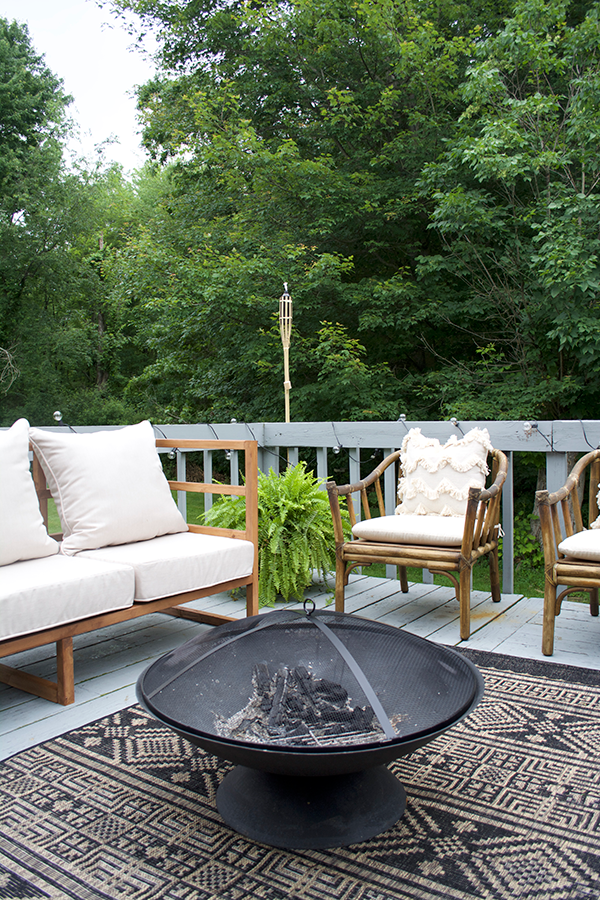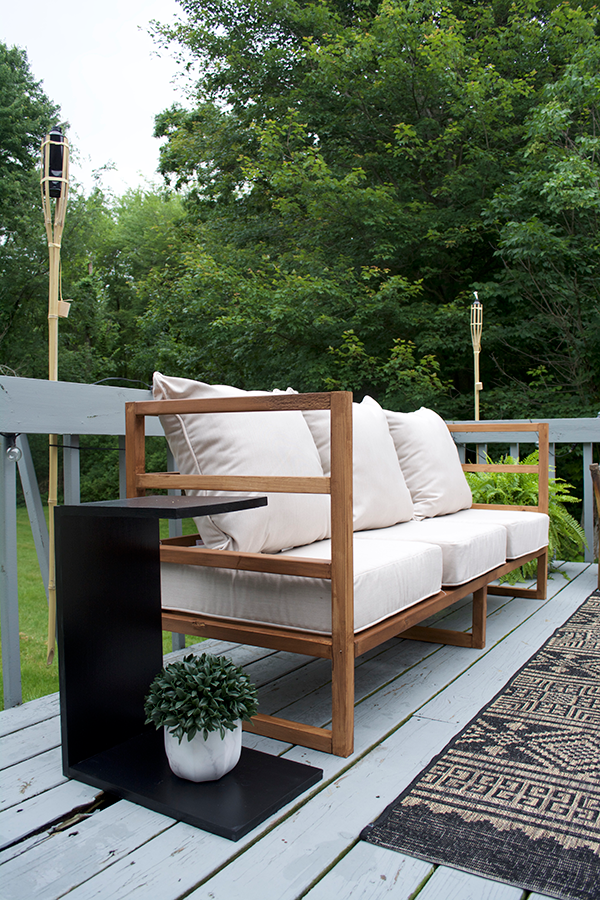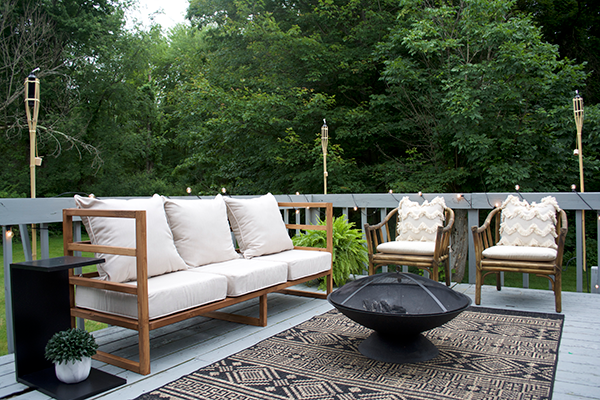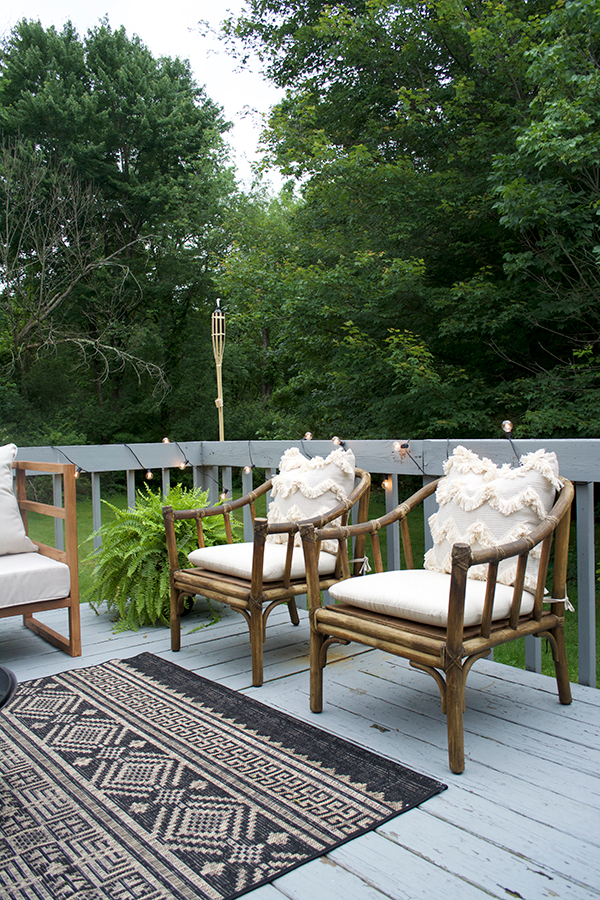 If this post has given you the itch to build something you totally should! And then show me so I can see it and share it!
SHOP THIS POST!