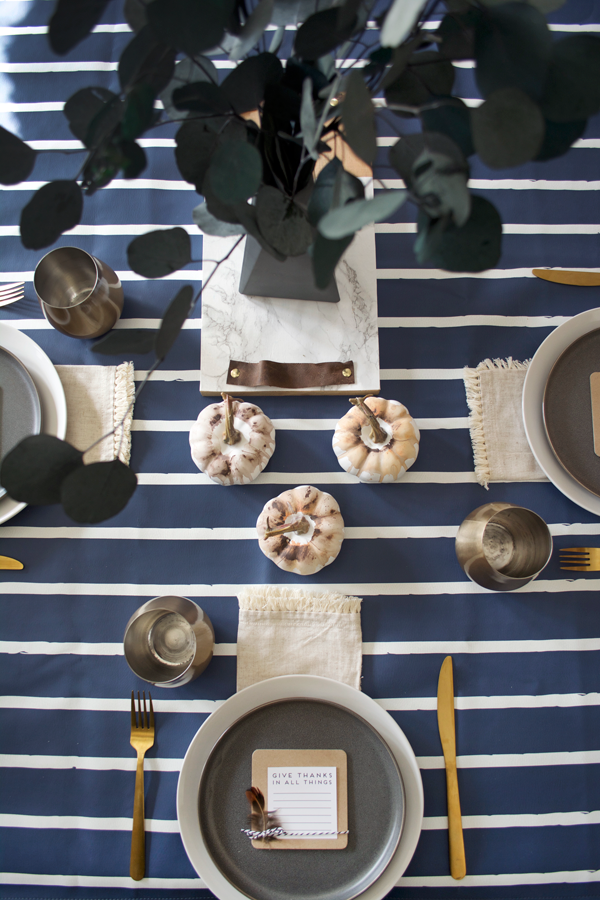 I've shown you guys a few very unedited photos of our dining room which needs a LOT of love, but we do have a nice big table. It's not necessarily my style, but until we get around to working on this room, we'll be keeping it. The top of it is one big mirror (ugh) so when I had the opportunity to work with Gathre and their tablecloth collaboration with Studio McGee(!), I was so excited a.) because I'm obsessed with Studio McGee and b.) I'd finally have a pretty tablecloth to cover up this eye sore of a table. We're definitely hosting Thanksgiving this year seeing as we'll have a 3 week old baby so I figured it was a good time to get a head start!
Modern Fall Tablescape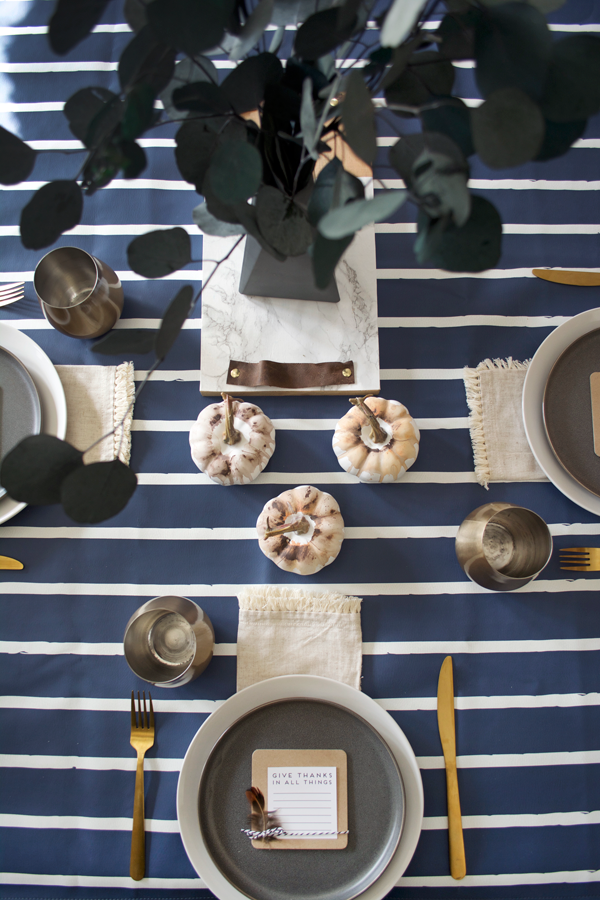 If you're not familiar with Gathre, they make the most stylish bonded leather playmats for kiddos. They come in all shapes and sizes and are perfect to use around the house, under a high chair or outside for a picnic. So when I heard they were teaming up with Studio McGee to create some gorgeous tablecloths made of the same high quality leather, I knew they'd be just as awesome.
We have the Navy Stripe Tablecloth which sets the stage for some gorgeous neutral accents. Because you all know I don't do bold and bright around here 😉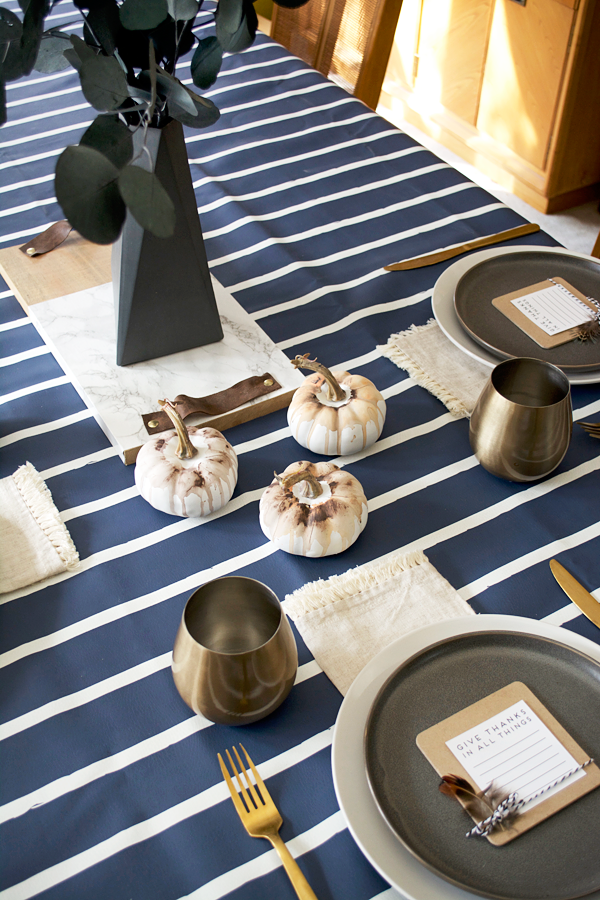 It's been a while since I made a free printable for you guys, so I wanted to share that with you too. I created these cute little place settings with some printables that say "Give Thanks in All Things" and all your guests can write what they're thankful for on them.
Check out the video below for the quick and easy tutorial!

You can print them out HERE.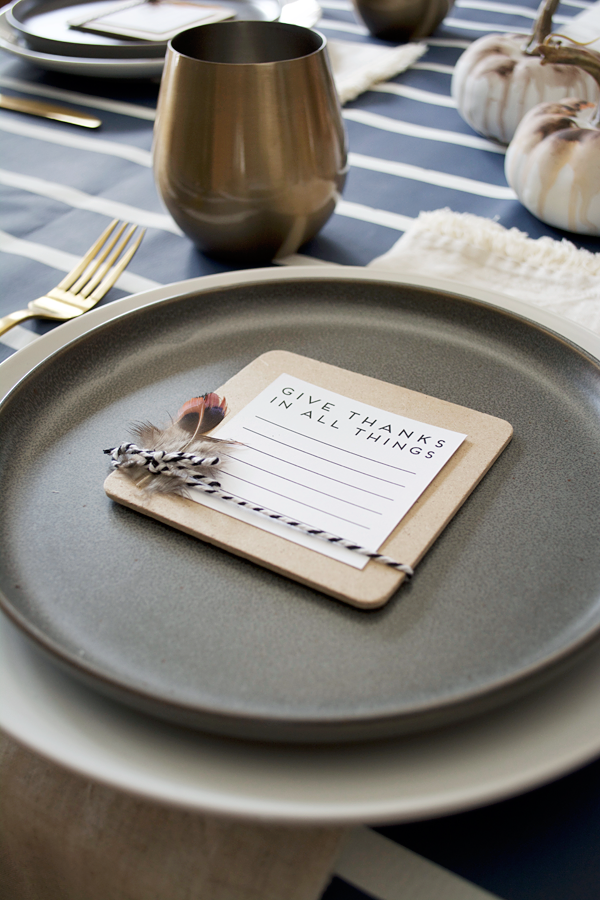 I'm all about easy these days and these are simple and clean and go perfectly with my modern fall tablescape. They don't require a lot of work but look super cute and like you put a lot of effort into them 😉 Plus it will be a good way to spark some conversation and talk about what everyone is thankful for!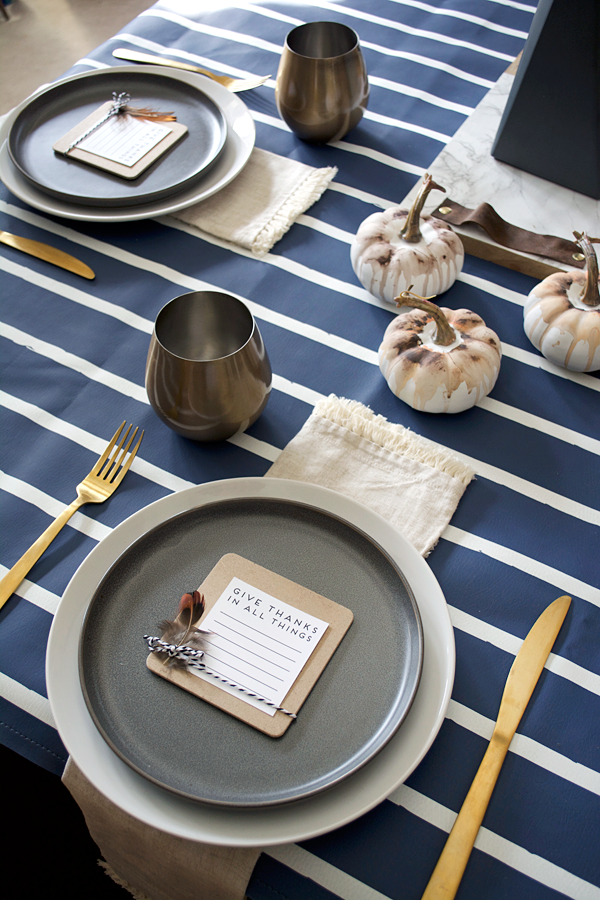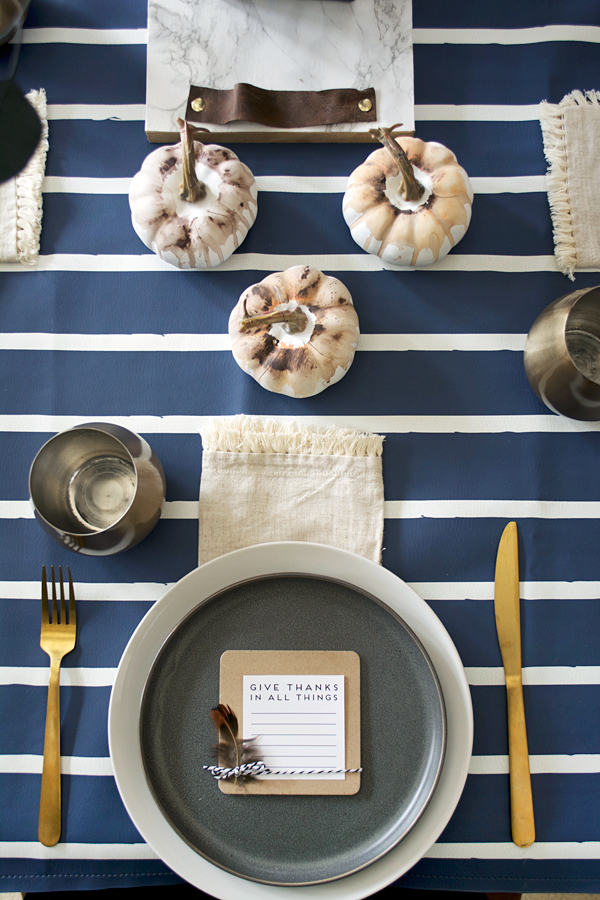 I'm super excited to be able to give on of you lucky guys the chance to win $100 store credit to Gathre so you can purchase your own gorgeous tablecloth (or playmat!). Just enter below!
I'm sorry I've been really bad at updating you guys on life lately! This babe is scheduled to get here Thursday morning (we opted for a scheduled c-section after I had one with Eloise). I'll be taking a little bit of a break from the blog but I'll try and share a little birth announcement when I can! In the meantime, I'll probably still be hanging out over on instagram and sharing lots of baby goodness on my stories so make sure you're following me there! <3