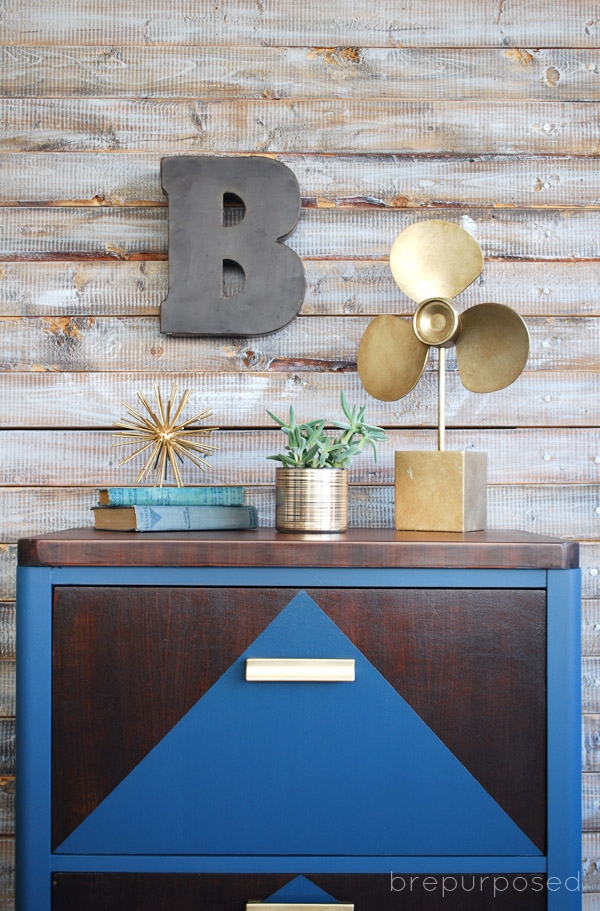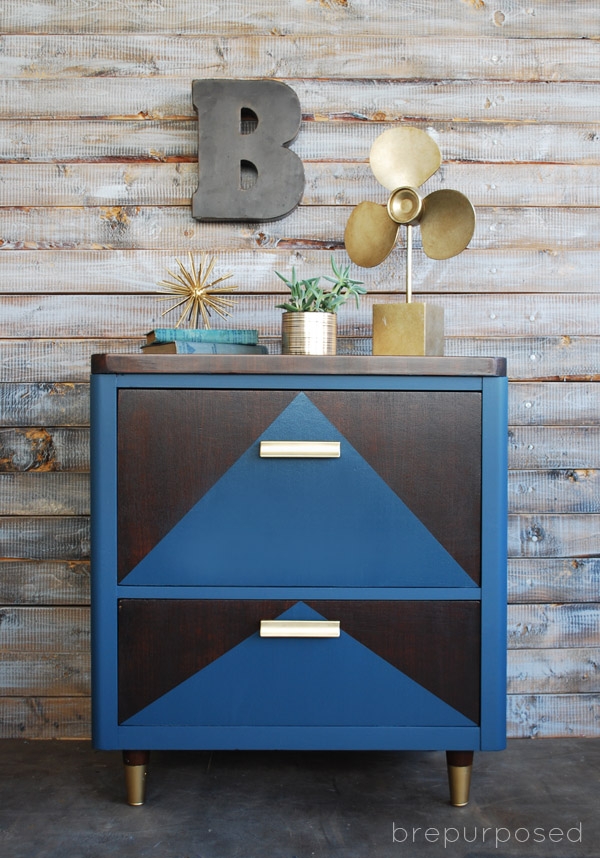 I hope you all had the same gorgeous weather we had here this weekend! It was so nice to finally be able to work outside on our porch again and enjoy some nice long walks with Oakley without freezing my buns off. After peanut butter, walks are his favorite. If you couldn't tell from this picture. Love him so much <3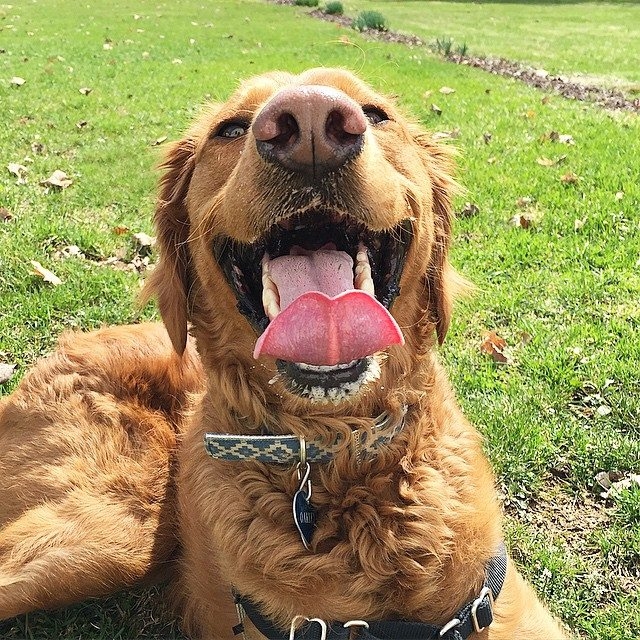 Ok back to today's post. I've been getting pretty crafty up in here lately so I'm excited to be sharing a furniture makeover with you today. I shared this piece in my What's On My Porch post a little while back. I picked it up from our local Habitat Restore which is usually a hit or miss with furniture. They mostly have old doors, shutters, sinks, toilets etc. But every once in a while they have a gem like this.
I had blue in mind for a color pretty much right away. If you follow me on instagram I posted a couple weeks ago about how our local Ace Hardware was having a sale on sample pints of Valspar paint. 99 cents a pop guys. I somehow refrained from buying one of every color and only got 10. They're the perfect size for a small piece of furniture like this and Cadet Song was my choice for this guy.
To avoid having to do much prepping, I used my Vintage Storehouse Restoration Co. Chalky Paint Powder.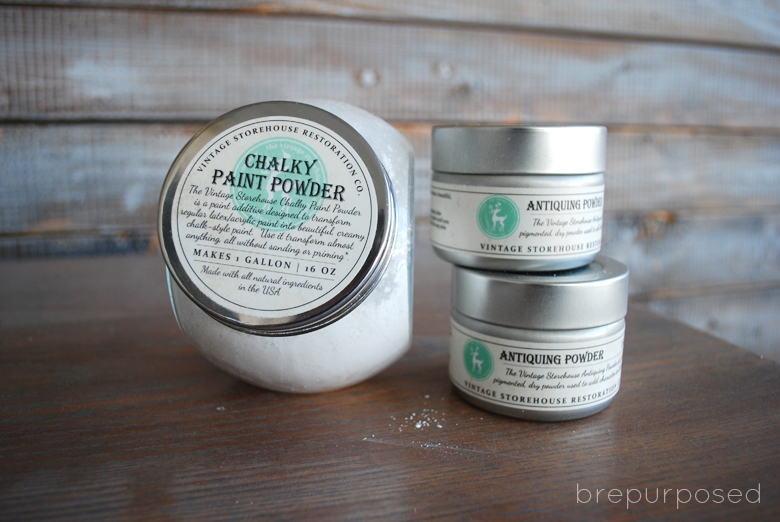 It's so easy to use and turns any of those little samples into ready to use chalk paint.
After I painted the body of this piece in the Cadet Song (3 coats) I sanded down the drawer fronts and applied my Java Gel Stain.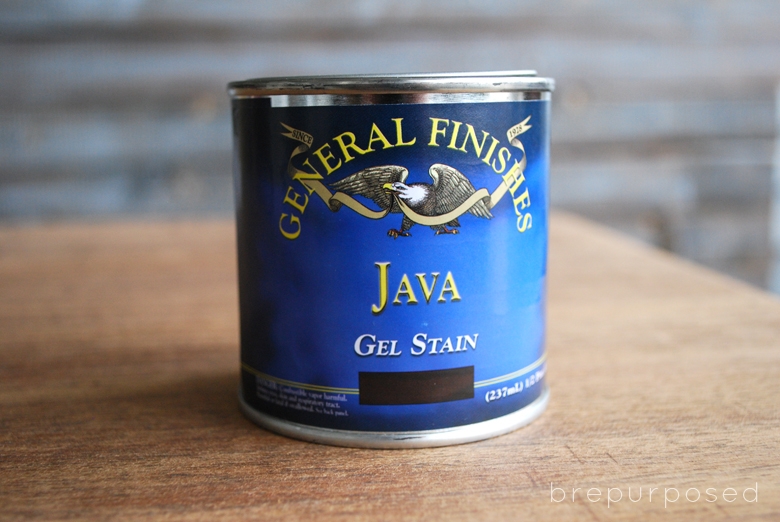 Now, I have to give a shout out to Reeves from The Weathered Door here because she is the pro when it comes to geometric patterns on drawers. This is just one amazing example. I decided to try my hand at it using a tip that she shared on how to get straight lines. After staining and sealing my drawers, I taped off my pattern.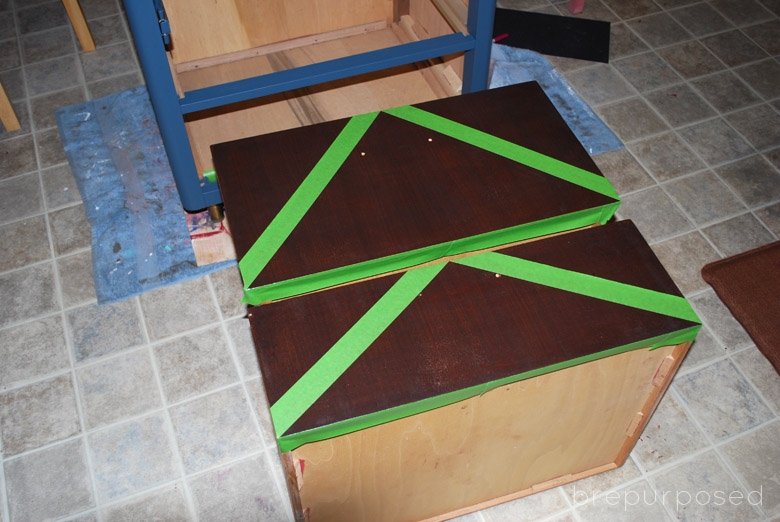 Now here's the magic trick: after your tape is down, use your poly or whatever protective coat you applied to your drawers (I used General Finishes High Performance Top Coat in Satin) and add another layer on top of the tape and the part of the drawer you're going to paint. Now trust me when I say this works. I used to get so frustrated when I would pull my tape up and see jagged edges. Isn't it the worst?! But now you know the solution 😉 You can read Reeve's full post about it here.
After all your coats of paint are done, peel off your tape and do a happy dance!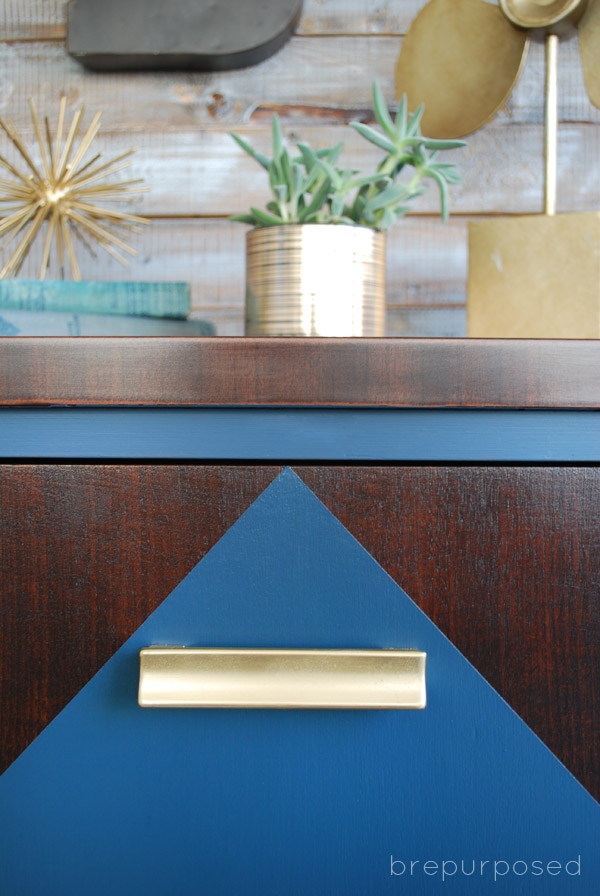 Amazing right? I've never created such a perfectly straight line with paint before and I was pretty pumped about it 🙂
Once everything was dry, I sealed the piece using my GF Topcoat. The hardware got a fresh coat of gold spray paint and I used my Java Gel Stain on the inside of the drawers as well. Plus some fun paper to line the drawers from Spoonflower.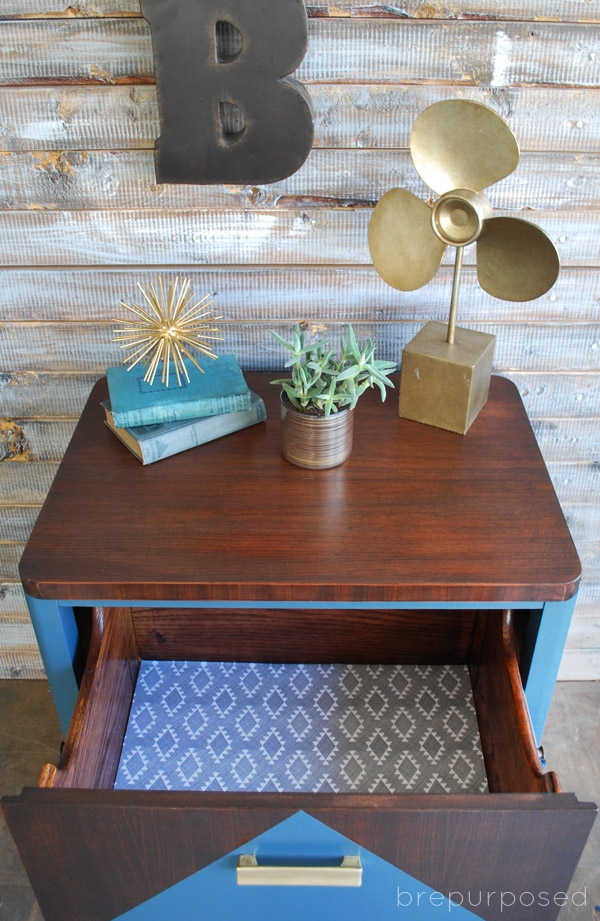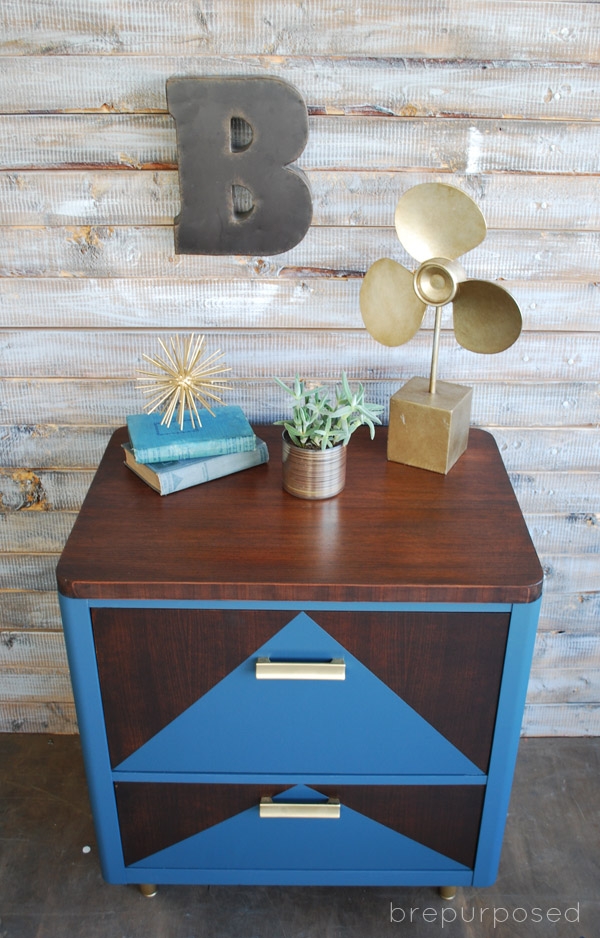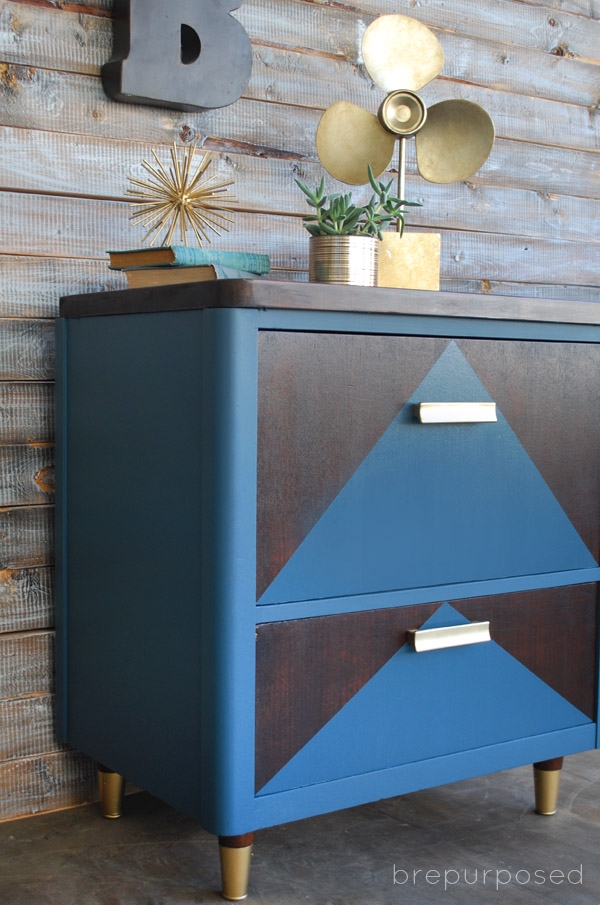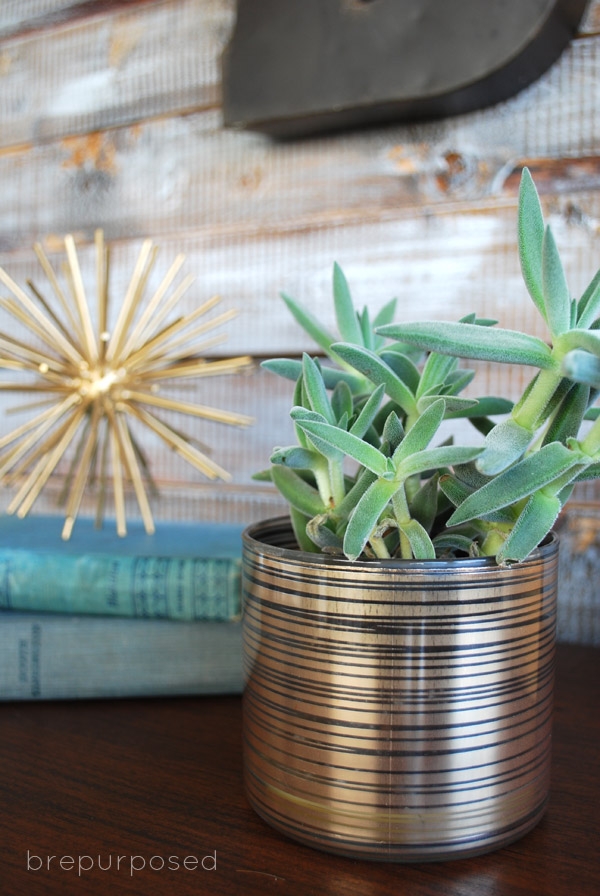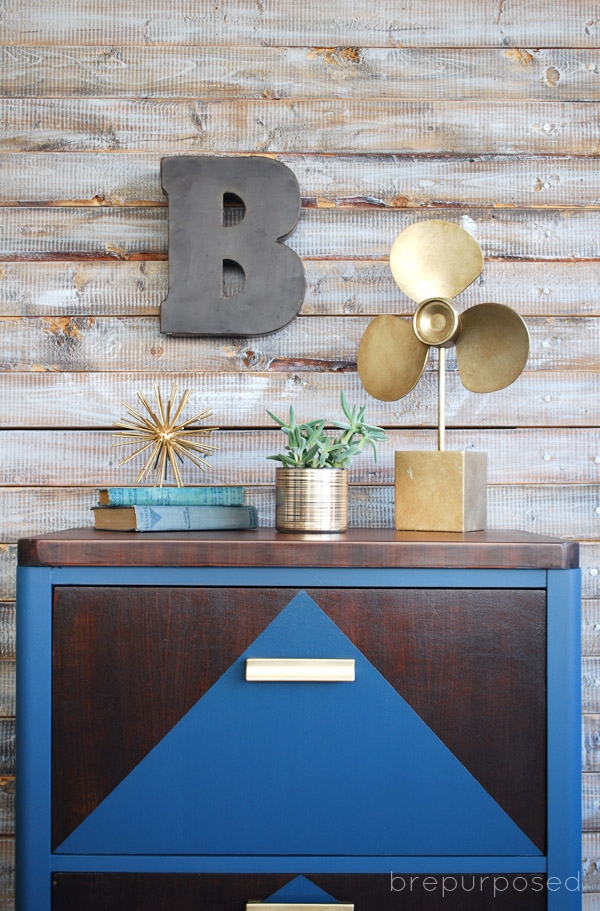 It was great to try out a new technique and have it work so well. Of course, I wouldn't expect anything less from Reeves. Thanks again!
Hope you all enjoy your Monday 🙂