Ah I am SO dang excited to share our kitchen plans with you today! Seeing these drawings makes everything come to life and I cannot wait to get started on this renovation. It's happening way sooner than I had planned so you're not going to have to wait long for all the action to start. Let's dive in!
This kitchen from Ashley Montgomery designs stopped me in my scroll the moment I first laid eyes on it. This is the overall vibe and feel I want for our kitchen. Warm, inviting, cozy and sophisticated all at the same time.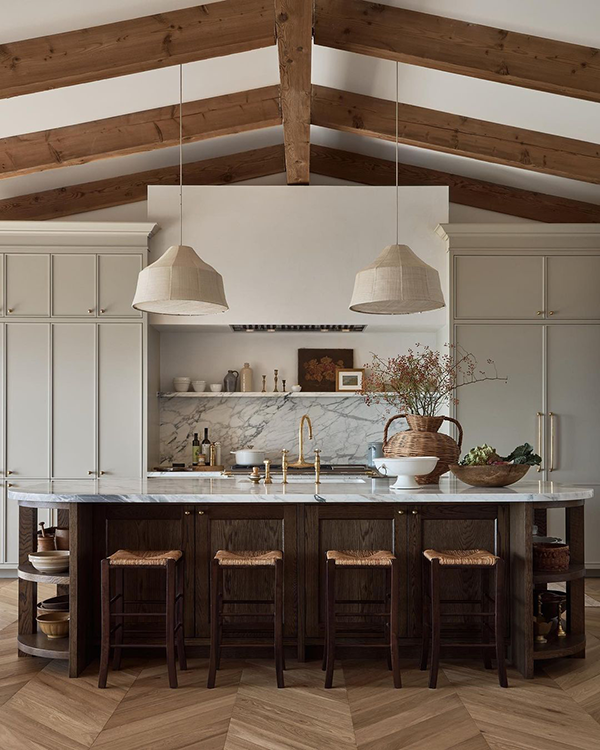 OUR CURRENT KITCHEN
First let me walk you through our current kitchen. Five years ago, I gave it a cosmetic update by doing things like painting the cabinets and backsplash and adding new hardware and lighting. Those changes made such a huge difference and made me really appreciate our kitchen more until we were ready for a bigger update. I would have loved gutting our kitchen 5 years ago, but it wasn't in our budget and I think it was a blessing to wait because I feel like I've had 5 years to really hone in on my style and figure out what I want.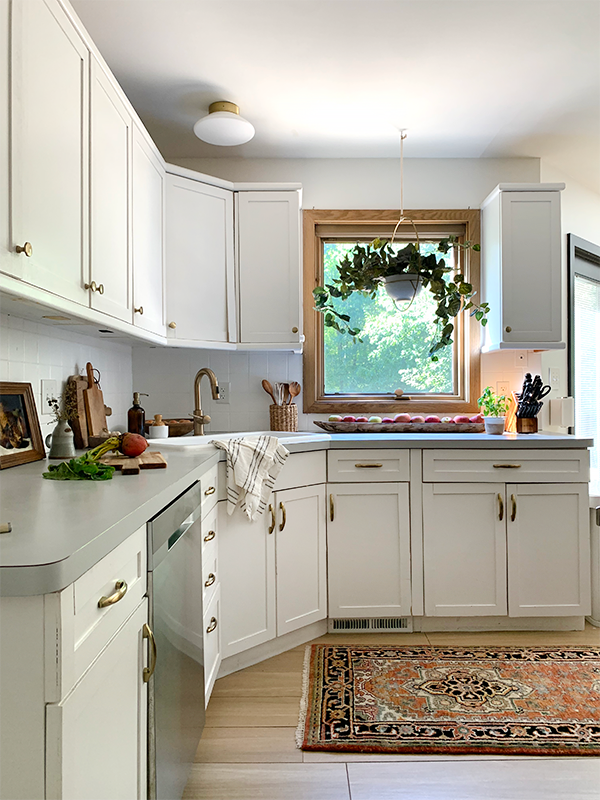 There isn't much we are changing about the layout – we aren't knocking down any walls or anything major like that. The shape and positioning of the island will change and we're just relocating things to make the space work better for us.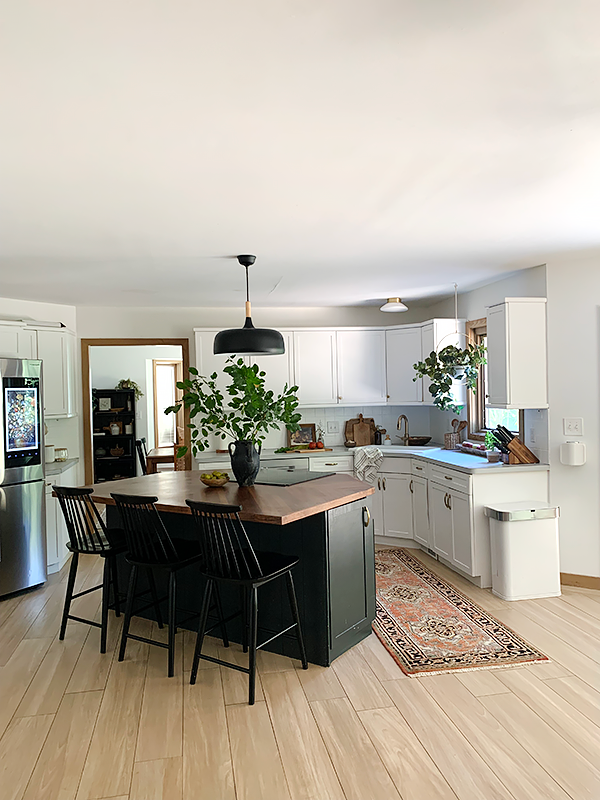 We met with a few different people and decided to work with Ben Haug who owns Springfield Woodworks. One of my instagram followers recommended him and after our first meeting I had a gut feeling he would be our guy. He's been super detail oriented throughout the whole process and I feel like he really understands my vision. He works for himself and comes from a long line of cabinet makers in his family – and he's going to let me come watch him build it all – which means you get to see all the behind the scenes too!
NEW KITCHEN PLANS
Let's start with the fridge wall. We will have two tall pantry cabinets on either side of our integrated fridge, so it will look like one large panel of cabinetry. The bottom half of the pantry cabinets will have pull out drawers for all the snacks and such and the top section will have stationary shelving.
What I'm most excited about over here is the middle section on these cabinets. They will lift open on hydraulic hinges to access our microwave on one side, and small appliances/coffee maker on the other. Can I get an AMEN for hiding all that not so pretty stuff?!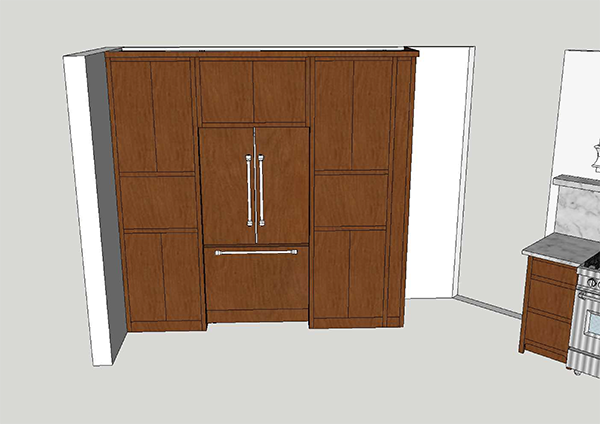 Moving over to the range wall. This will be centered with drawer storage on either side. Our countertops will extend up for a full height backsplash and then extend out with a 4″ shelf. I plan to tile above the shelf to the ceiling and will have two sconces on either side of the hood.
The hood is just a placeholder for now – this is something we decided to tackle on our own to save money so we need to come up with a finalized design. But I'm pretty sure it's going to be in the same roman clay finish as our fireplace on the other side of the room.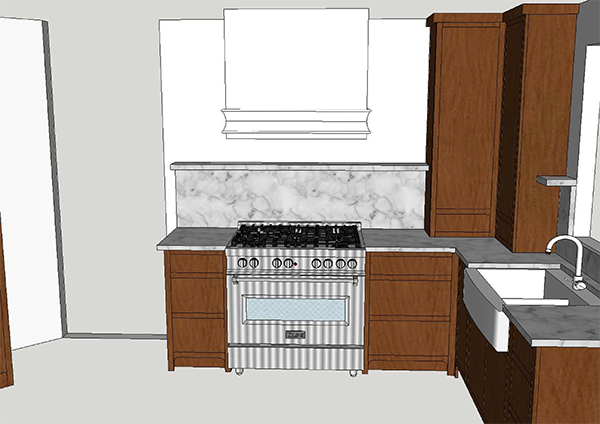 The sink is moving in front of the window and we're squaring off that awkward angle that is currently there.
I'm still up in the air about having the full height backsplash and shelves on this wall. Tiny shelves usually bother me but I do like how it would be a consistent design element carried over from the other wall. If we don't do the same thing, we may just tile the whole wall or do a shorter backsplash. I think because of the counter cabinet separating the two walls, we could get away with doing something different, so we'll see!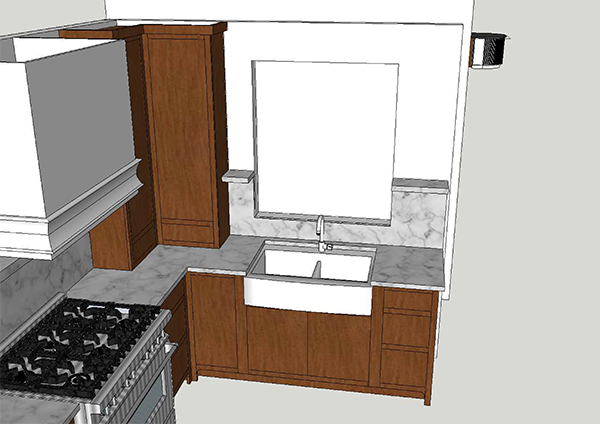 And speaking of the countertop cabinet – when I had my call with Whittney Parkinson on the Expert this was her idea! I mentioned wanting maybe a singular cabinet here but she came up with the idea of a corner cabinet which feels a little more built in and intentional. The fronts will be reeded glass and they'll have exposed brass hardware – ah I can't wait! It will be nice to have this extra storage here since we don't have any uppers.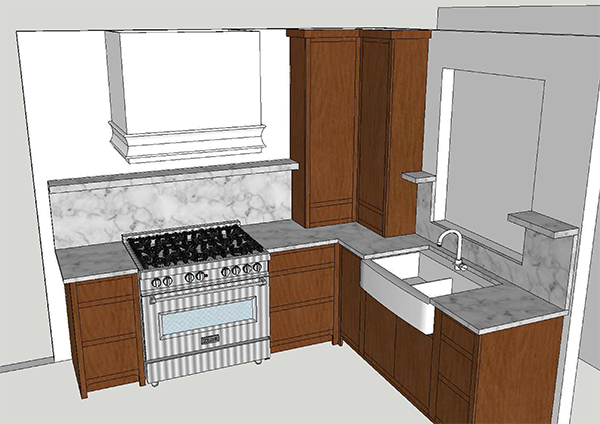 Now for the ISLAND. I knew I wanted something unique and different and I knew I wanted to add some curves somewhere in here. I kept seeing lots of oval and curved islands on pinterest and was so drawn to them and couldn't get them out of my head! So we're making it happen. The island will hold two deep drawers for pots and pans and dinnerware, the integrated dishwasher will be in the middle and the pull out trash will be on the left.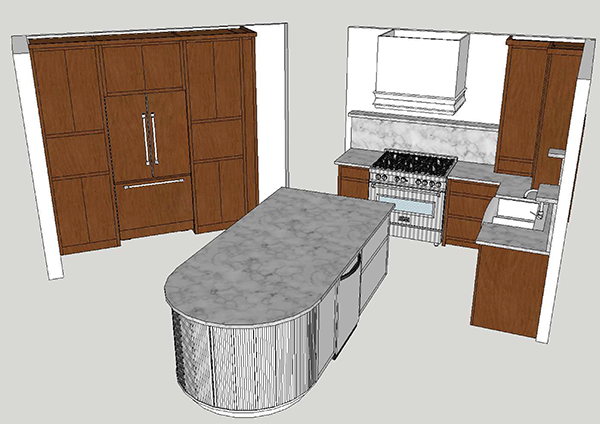 The rounded part of the island will have storage as well and have concealed doors that push open. The detail on the outside is going to be fluted. It's all about the details and I'm BEYOND excited about this. I was inspired by this image on pinterest: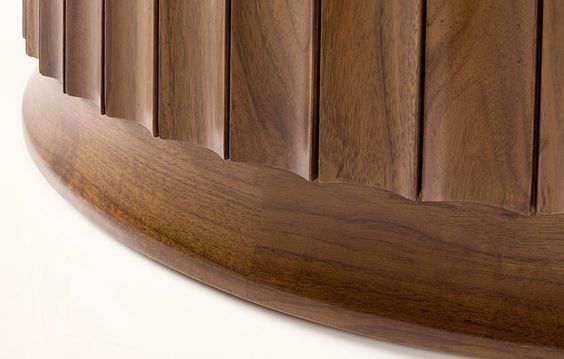 It's going to be SO GOOD. And between the two panels where the bar stools will go, I'm adding a brass foot rail. Eek!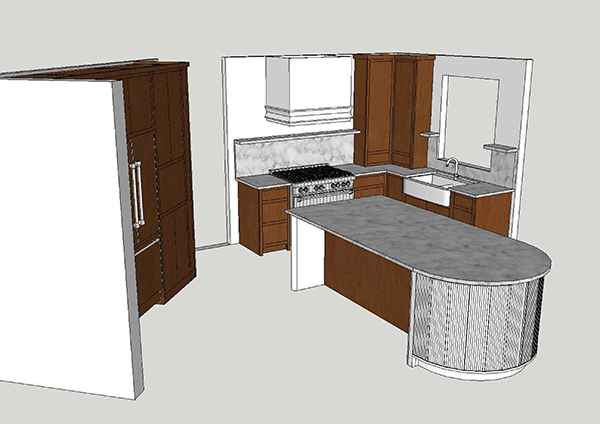 THE FINISHES
These drawings don't accurately depict all the finishes so let me show you my mood boards! I'm sure you're not surprised that it's very earthy and neutral 😉 There's nothing wrong with white kitchens, they are classic! But after living with one, I know it's just not me.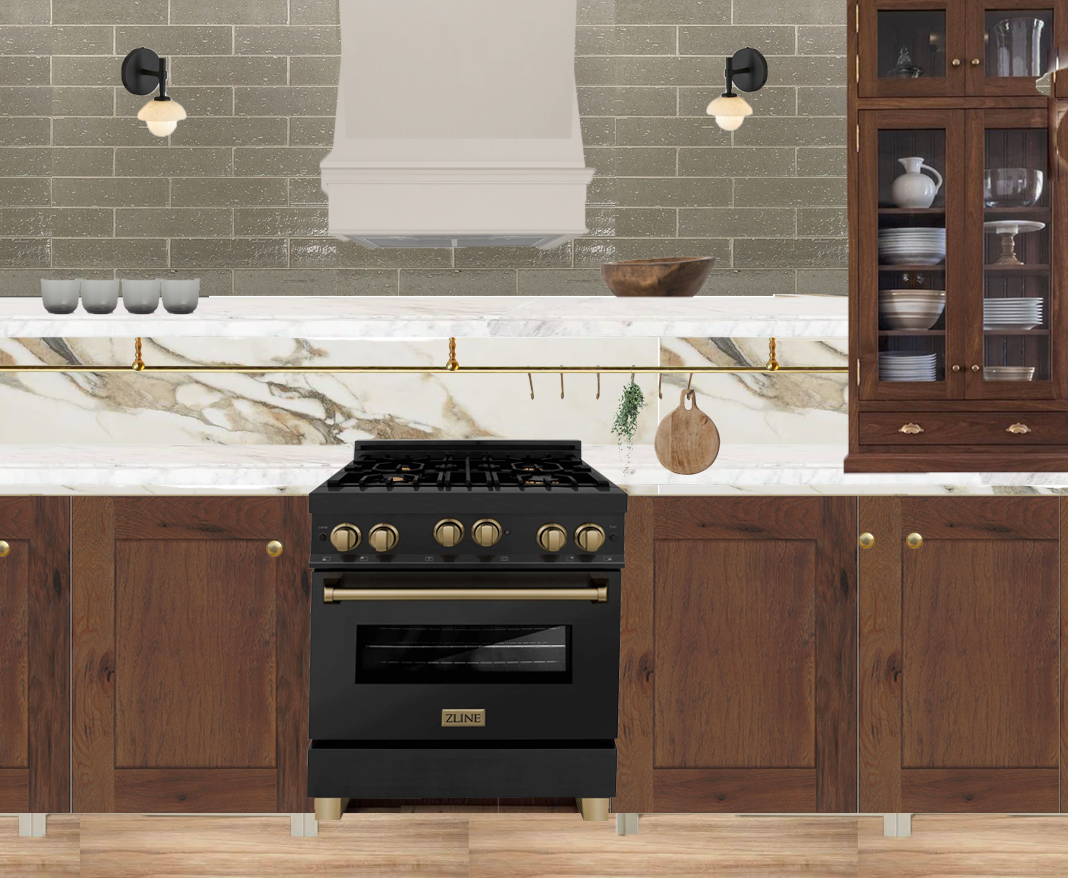 Let's talk about the main cabinetry – they're going to be stained wood in my favorite dark walnut tone. I was torn on the design of these for a while, going back and forth between a standard shaker style, or something a little more modern and then I was watching Jean Stoffer's instagram stories one day and saw this: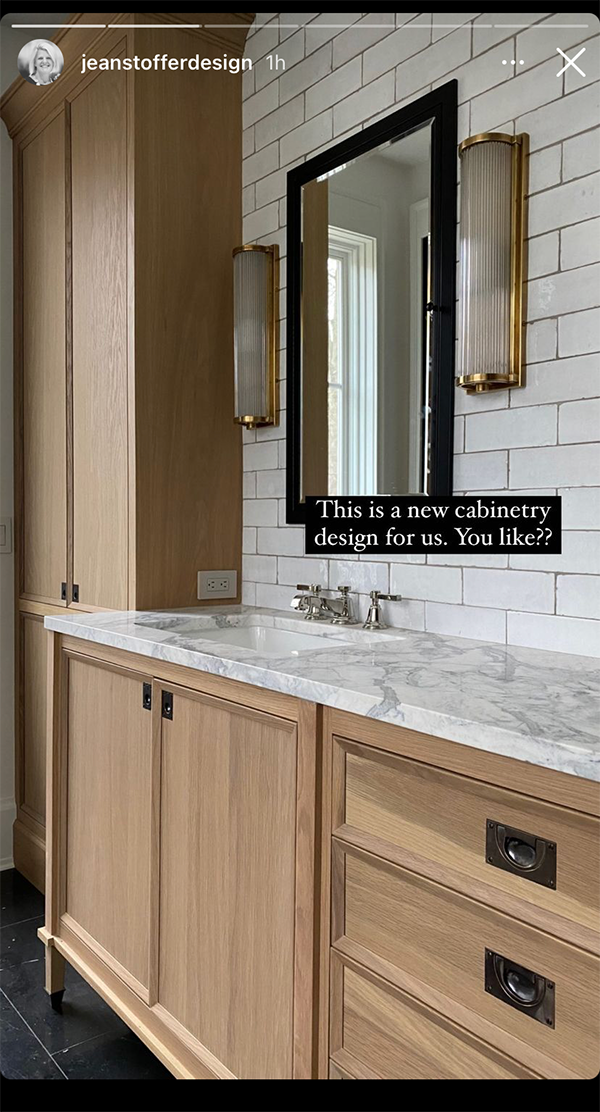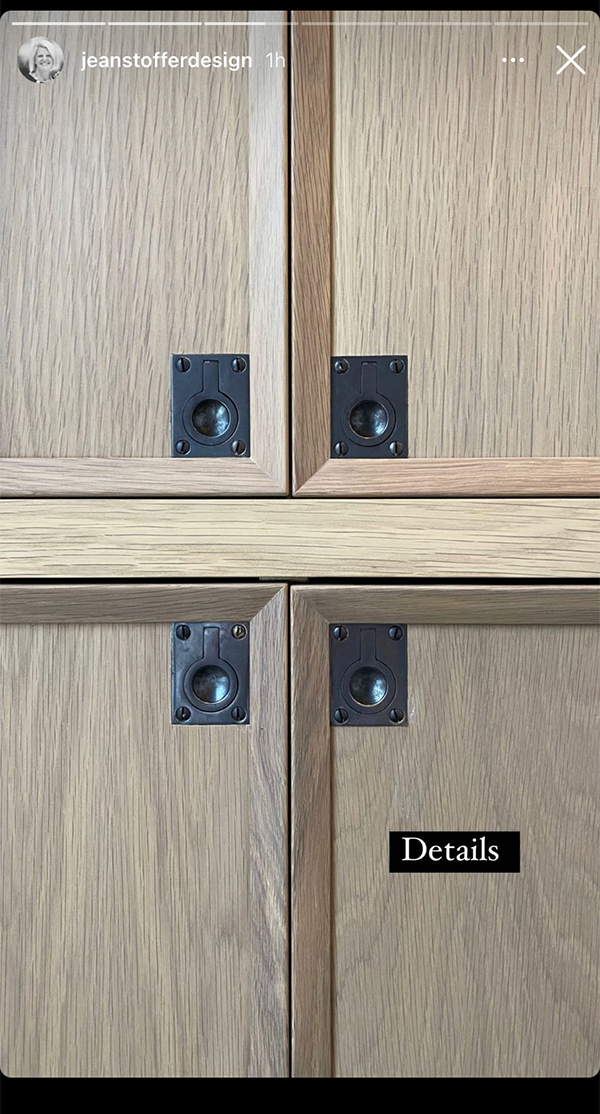 Aren't they beautiful?! I love that they still have a modern flare but could honestly pair with any style. The angled edge is what stole my heart! They will all be inset, just like these photos but will be a darker stain and we'll have different hardware.
Below the shelf I want to attach a brass hanging rail for little trinkets and things. And I'm still torn on the tile. You know I love green and I'd love to try and find a subtle muted green tile I could use here but I'm struggling. I may go with something more neutral in the beige/off white family. Lots of decision making I'll share on instagram with you!
The lights are also just place holders for now, I've saved a bajillion different sconces but I can't make up my mind :-p
I need to go check out some countertops asap but I'm leaning towards something with a lighter base and some heavy veining. Wish me luck!
Over to the sink wall – like I said, I'm not 100% sure yet if we will carry the backsplash up the same height as the other side, or maybe do something like this and just tile the whole wall. I'm really torn and keep agonizing over what to do!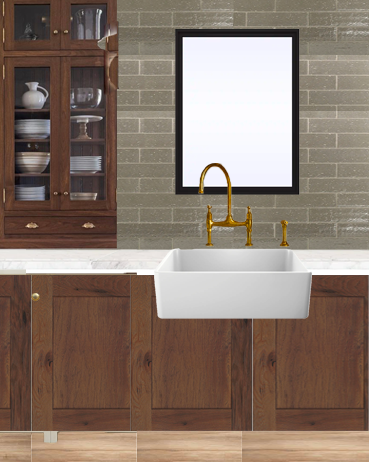 Now for the pièce de ré·sis·tance! My quick little mock up doesn't do it justice at ALL. haha but this gives you an idea of my vision for it. Main portion will be painted a mushroomy color but I want to keep the back panel stained to match the other wood. I want to add some sort of subtle design element here (some moulding or paneling) but haven't decided what!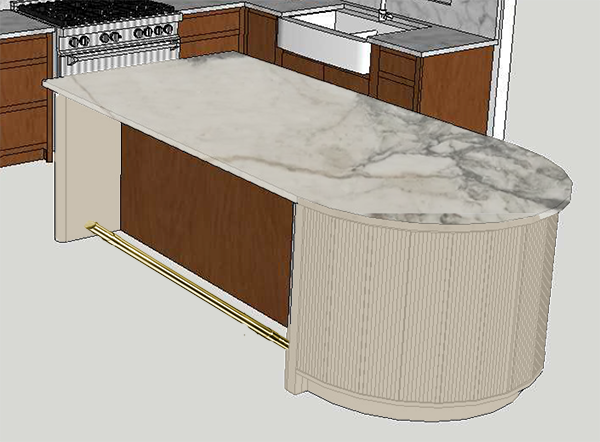 I have no clue on bar stools yet but that beautiful brass foot rail already has my heart leaping! I need to look into where to purchase that or DIY it somehow but it's a detail I'm so excited about!
Here's a few more inspiration images that I've saved on Pinterest: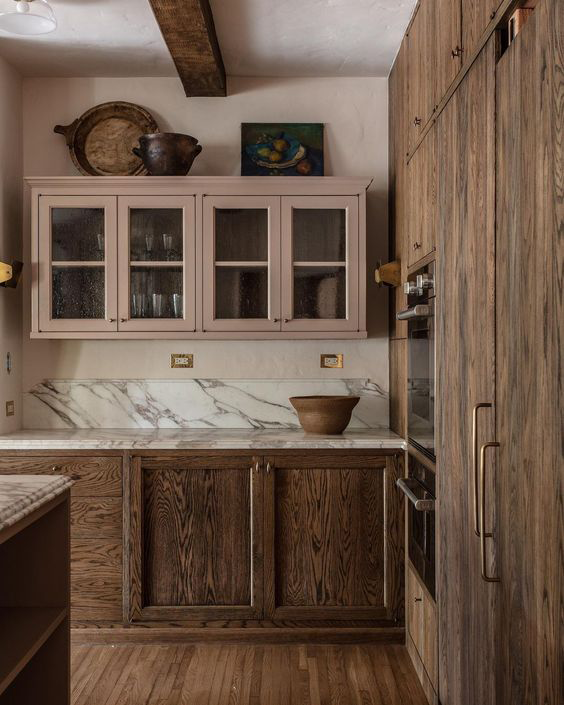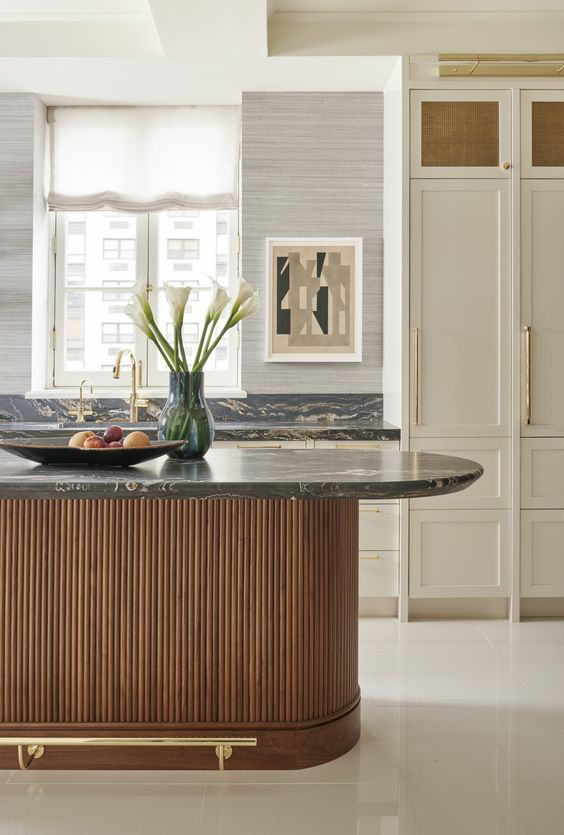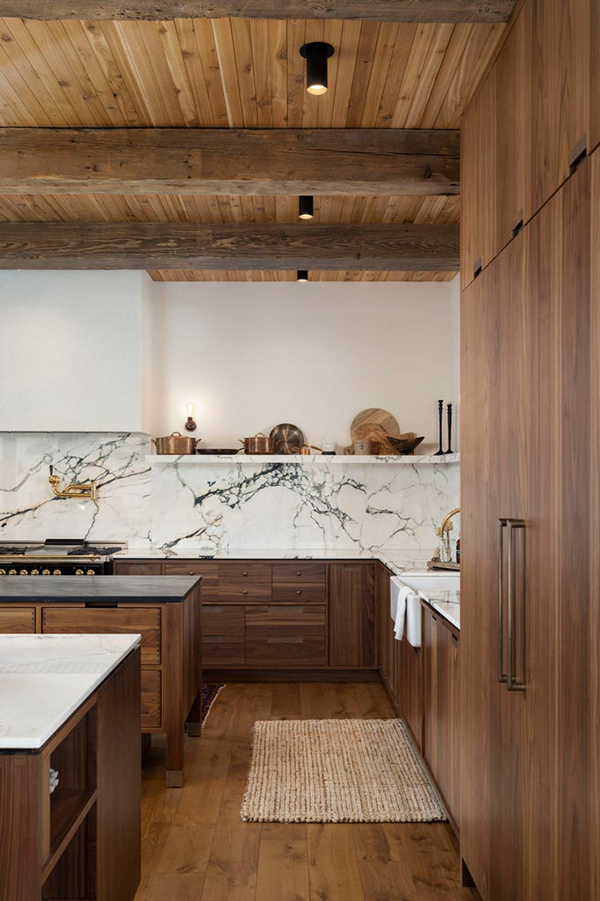 Ben is starting in about THREE weeks and it will take him about FOUR to build, so things are moving FAST! And I've still got a lot of decisions to make. But I'm excited and looking forward to bringing my vision to life!