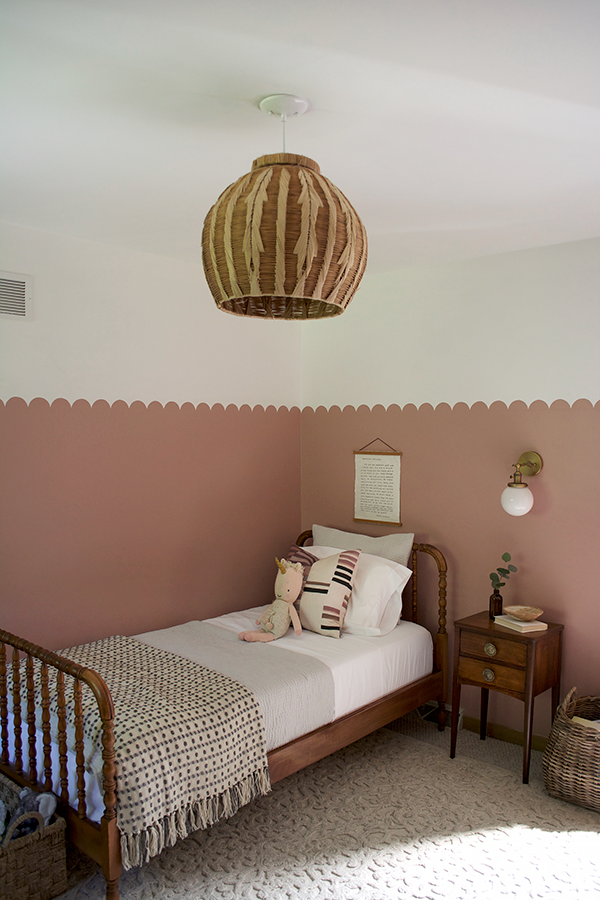 GIRLS PINK ROOM MAKEOVER
It's finally here! Eloise's big girl room is finally finished and I couldn't be happier with how it turned out. She's got a beautiful space that will grow with her and she loves it so much! So let's check out this Girls Pink Room Makeover!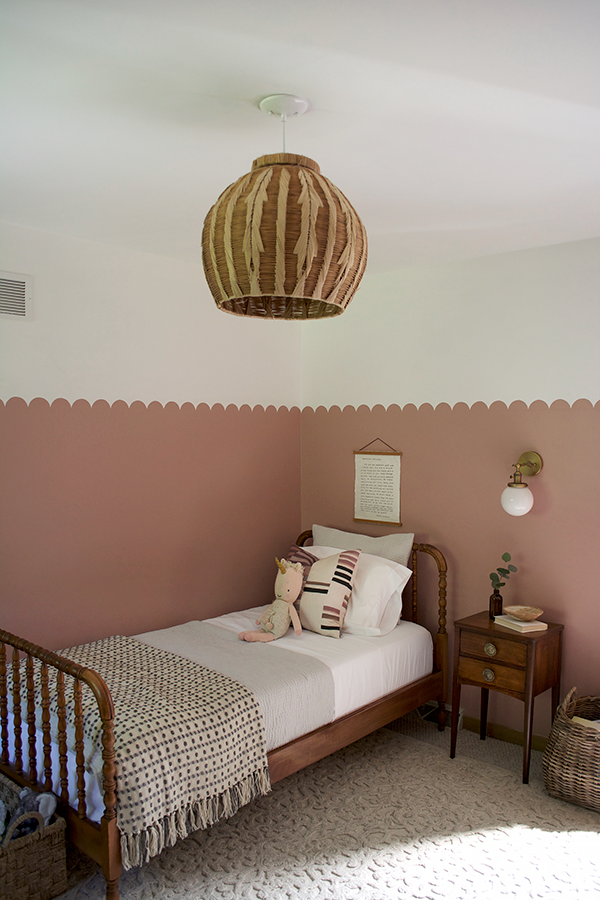 I created a mood board earlier this year with this fun scalloped design wall and when I brought it to life it turned out even better than I imagined. Eloise wanted pink walls from the start but I knew I would be picking a pretty muted and more mauve color – Retro Pink by Behr ended up being perfect!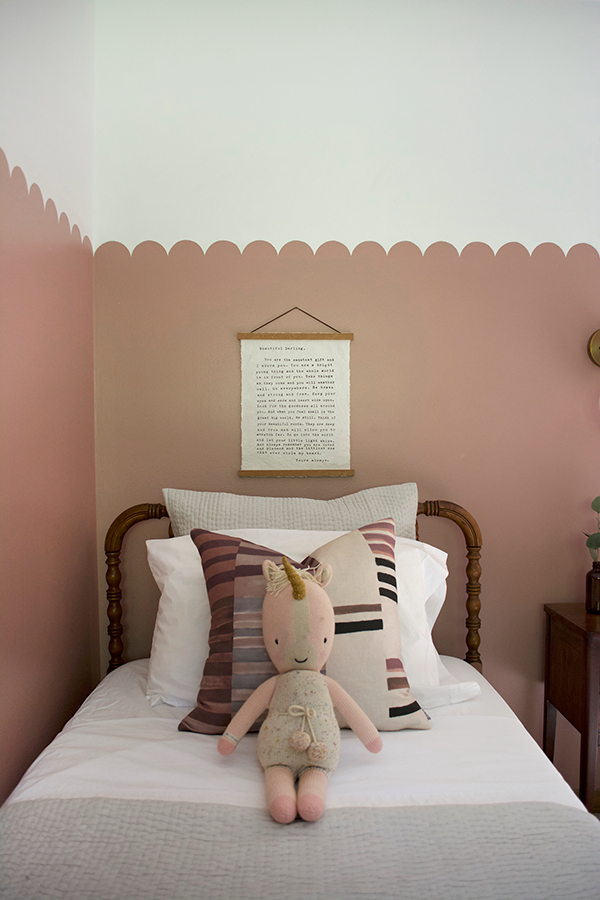 I took my time with this space and didn't rush into things which felt really nice and allowed me to be patient and wait for the perfect pieces.
I struggled with finding a bed for her for a while. At first I really wanted to get her one of those gorgeous wicker daybeds but they're super pricey. I tried hunting one down on Facebook Marketplace but didn't have any luck.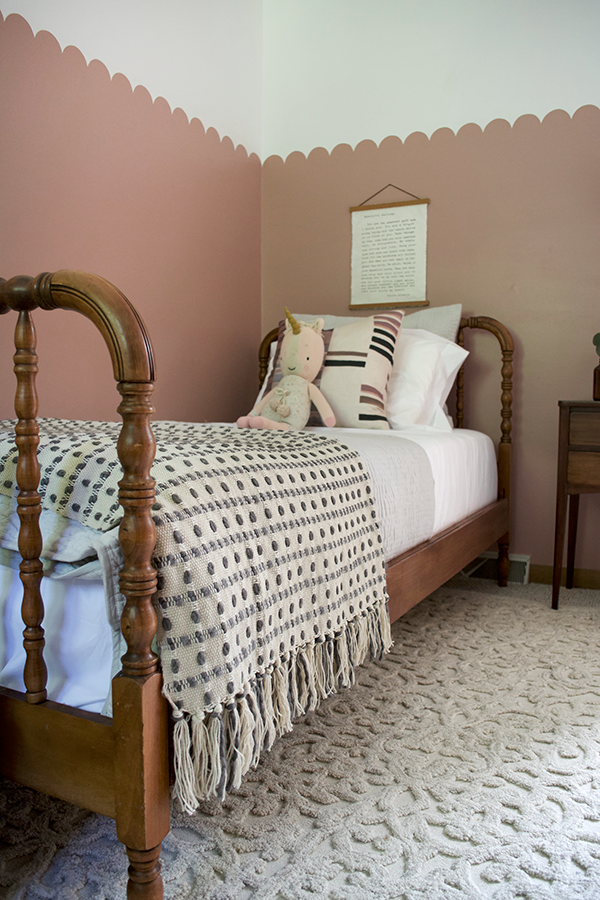 So then I started searching for other twin beds and hit the jackpot on Craigslist with this vintage Jenny Lind bed I scored for $40!! Once I had that, everything else started falling into place.
One of the first things I purchased for her room was this throw pillow from McGee & Co. As soon as I saw it I knew it would be perfect and match her walls and it did not disappoint!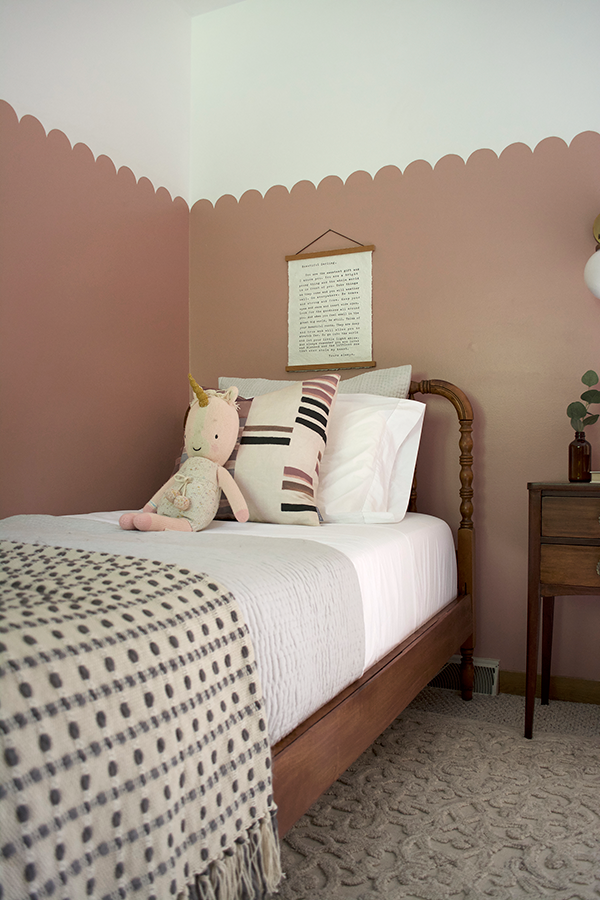 The rest of her bedding is from Garnet Hill with the exception of the Dotography throw blanket which is from Mackenzie Childs.
When I was home at my parents over the summer I found this sweet handmade quote from Sugarboo & Co. that I knew I had to get for Eloise's room. Hanging it above her bed ended up being the perfect spot for it and I love the sweet message.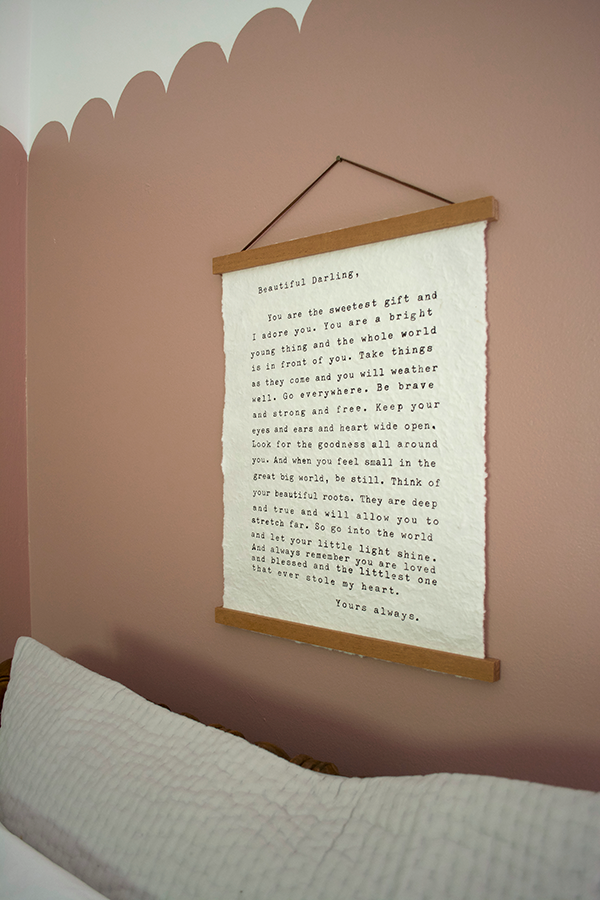 Another piece I struggled to find for a while was a nightstand. It was the last furniture piece I needed and I just wasn't having any luck. I wanted to keep everything vintage or second hand as much as I could and I was starting to get impatient when I found the perfect one!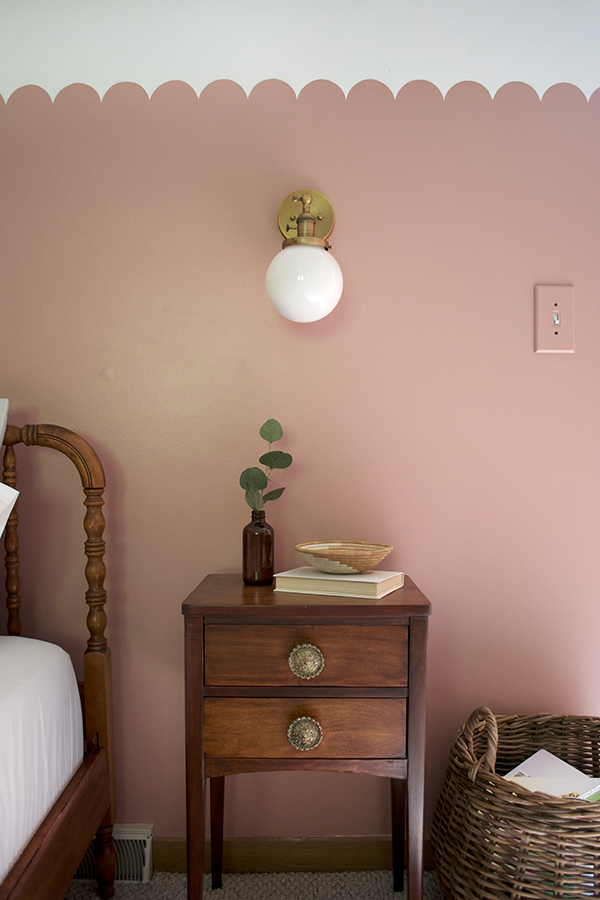 It needed some work but it was only $25 so it was totally worth it. I stripped it down and gave it a fresh coat of stain and some new knobs and I couldn't be happier about the transformation. They are the Engraved Flower Metal Knobs from Hobby Lobby.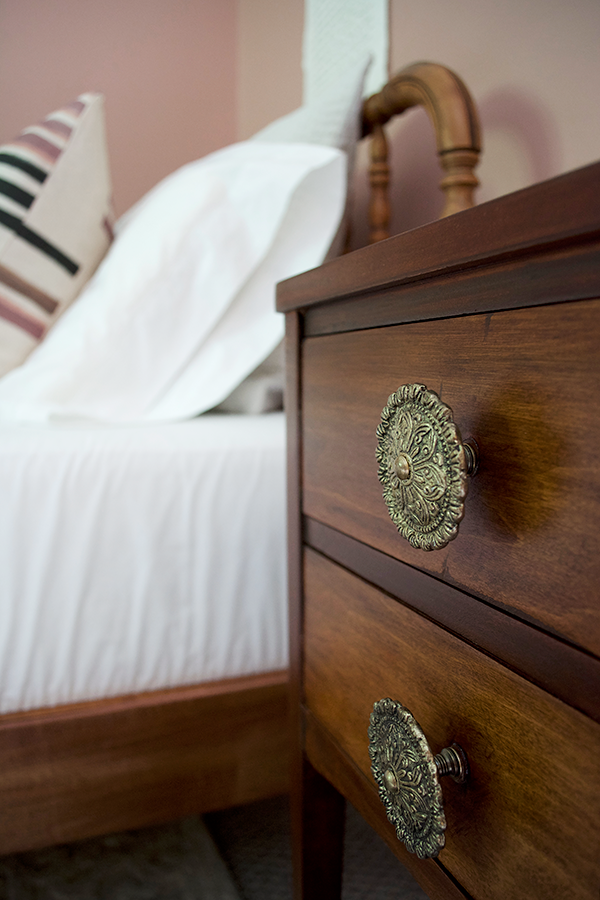 The last thing I want to talk about on this side of the room is the globe sconce above the nightstand. There was no light there before and we didn't want to have an electrician come, so I used the magic light trick from Brooke over at Nesting with Grace.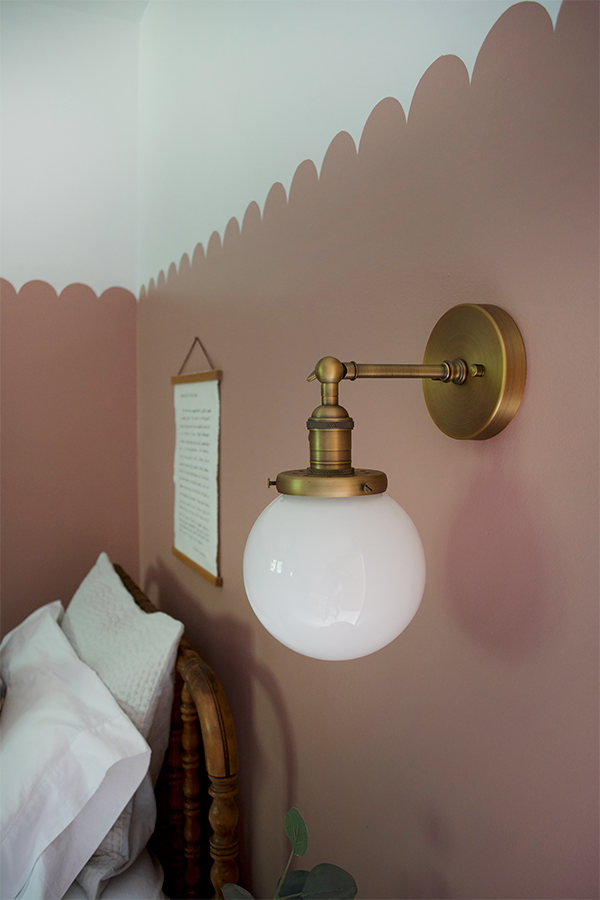 You can check out more over on Instagram under Eloise's Room Highlight on my profile, but basically, I used a battery powered puck lights inside the sconce. It comes with a remote and you can turn it on and off that way which allows you to buy and use a hardwired sconce without hardwiring it! So genius!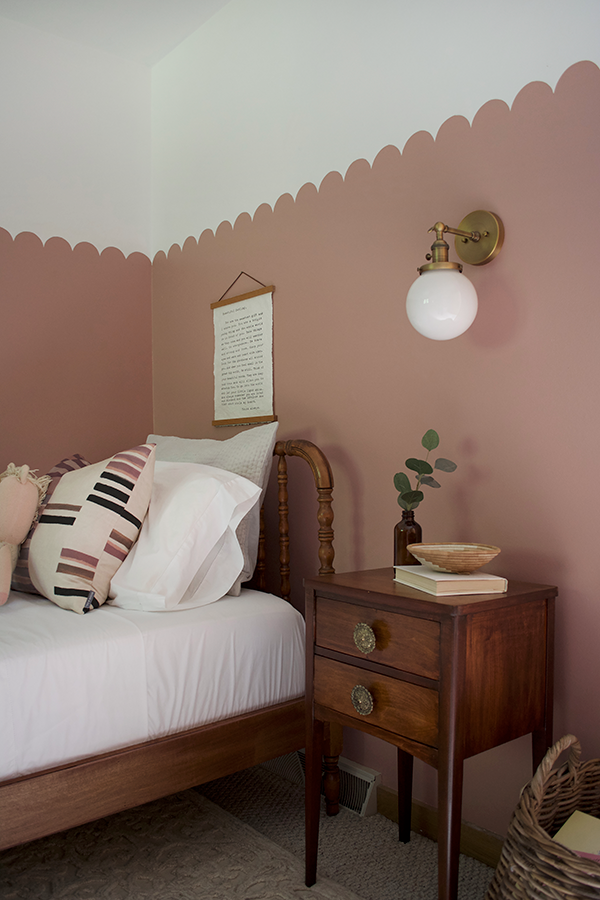 Alright, let's talk about the wall to the left when you first walk in! I could have put a lot of things here like another dresser, or a bookshelf, but I had this little IKEA table we weren't using anymore and wanted to give it new life.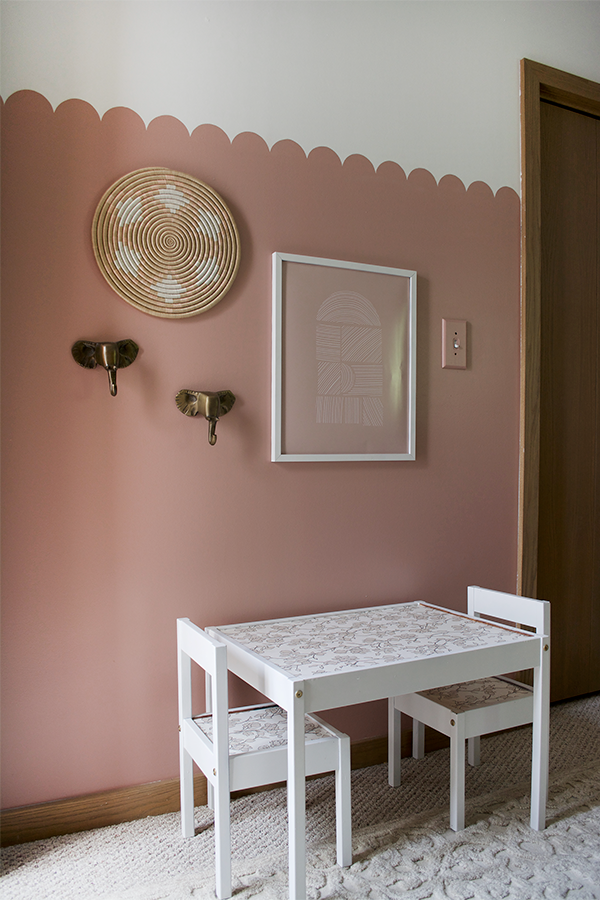 I spray painted the frame of the table and chairs white and then added some leftover floral wallpaper from her closet to the tops using some heavy duty Mod Podge.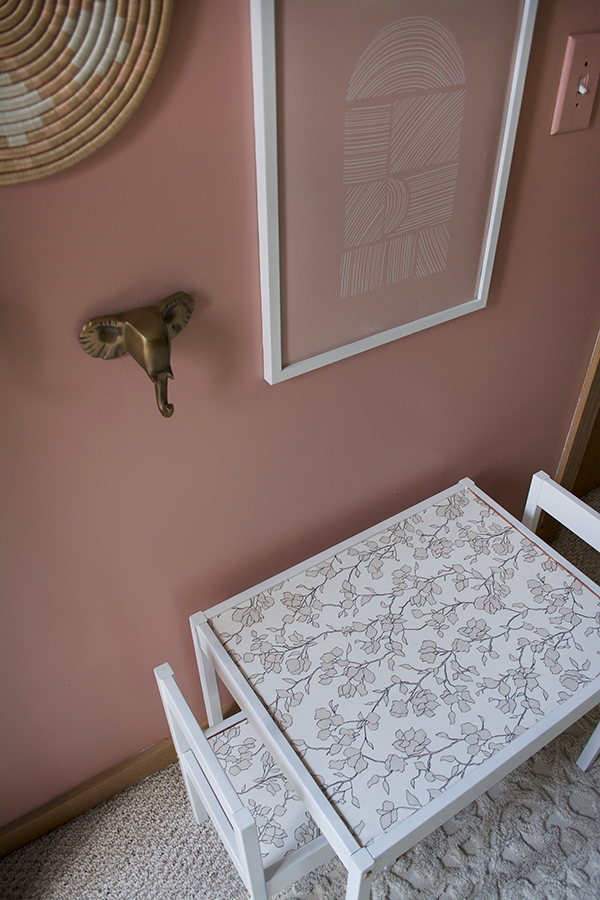 It's the perfect spot for her to sit and color or eat a snack and she LOVES to hang things on her elephant hooks (which used to be in her nursery). They were from Land of Nod but aren't around anymore 🙁
Another vintage piece in her room is her dresser which I found at a local antique store. It's such a perfect size for her and she can reach all her clothes that are in it without a problem.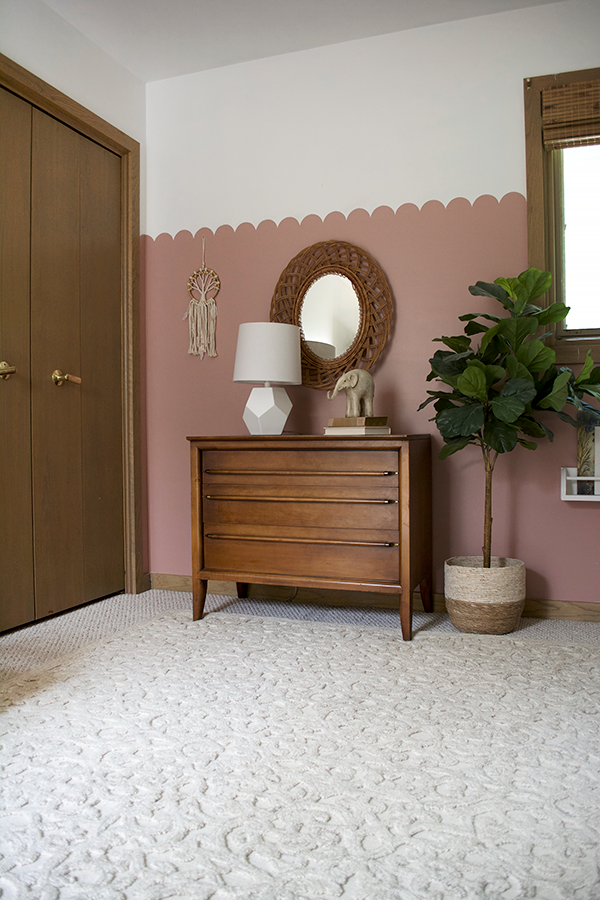 I kept things simple over here and brought in the faux fiddle that used to be in my office nook in our bedroom. Maybe when she's older we'll graduate to a living plant, but for now, faux is the way to go.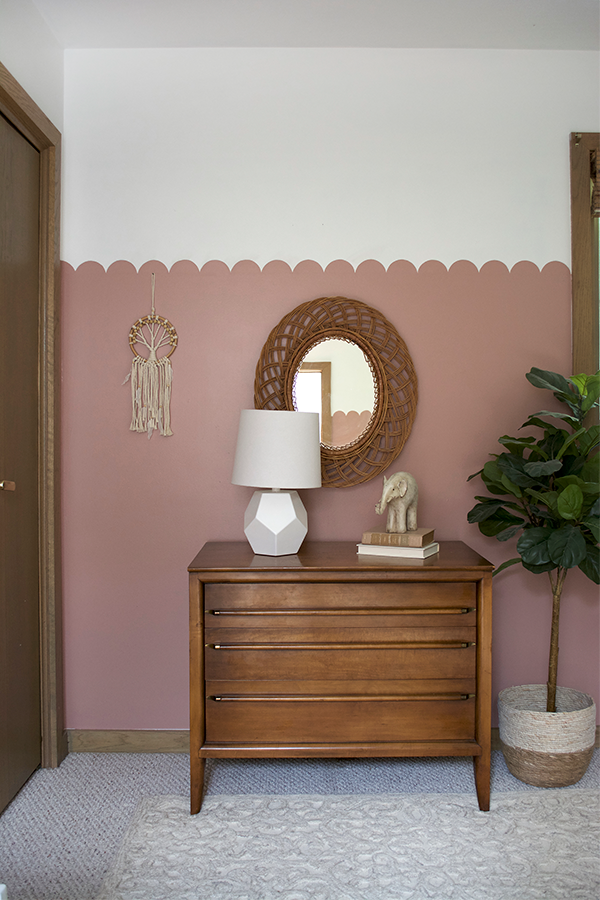 The lamp is also from Land of Nod that I used in her first nursery. The books, and mirror are thrifted, the elephant statue was a gift and the dream catcher is from our trip to Costa Rica earlier this year.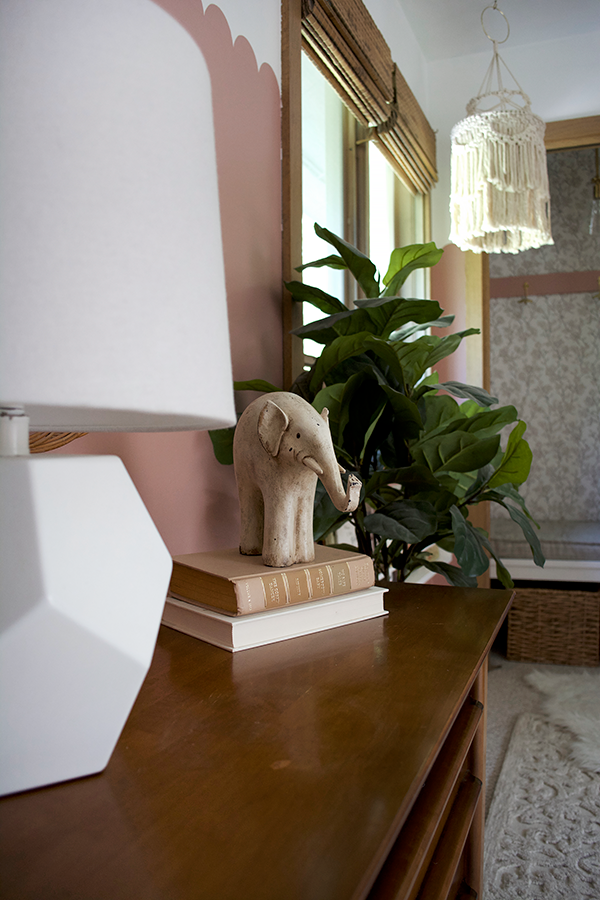 Ok on to the last little area in here – the closet reading nook! I already wrote a post on this so go check out her DIY Closet Reading Nook if you haven't already.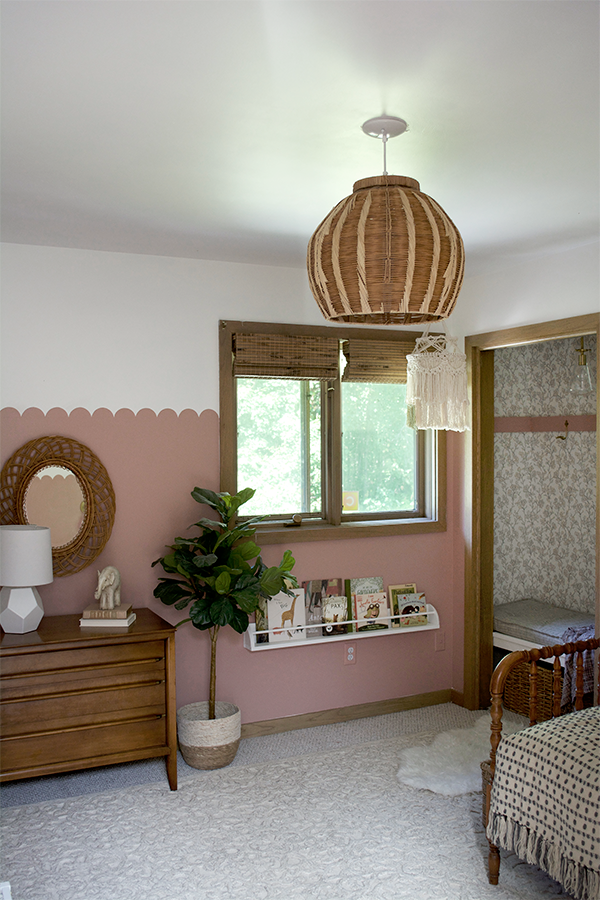 Since she has two closets and we didn't need both, I thought it would be so fun to turn one into a little reading area for her. And I'm so glad we did! It turned out so cute and she loves to sit in here and read and hang all her purses up on the hooks.
I used regular wallpaper that was actually super easy to hang, but removable wallpaper is a great option too if you want to switch it out or do something else!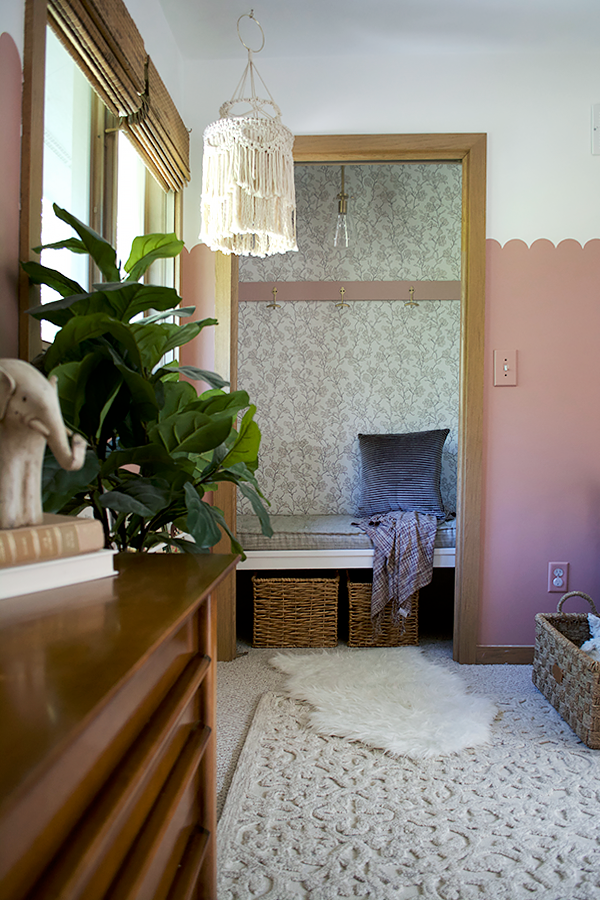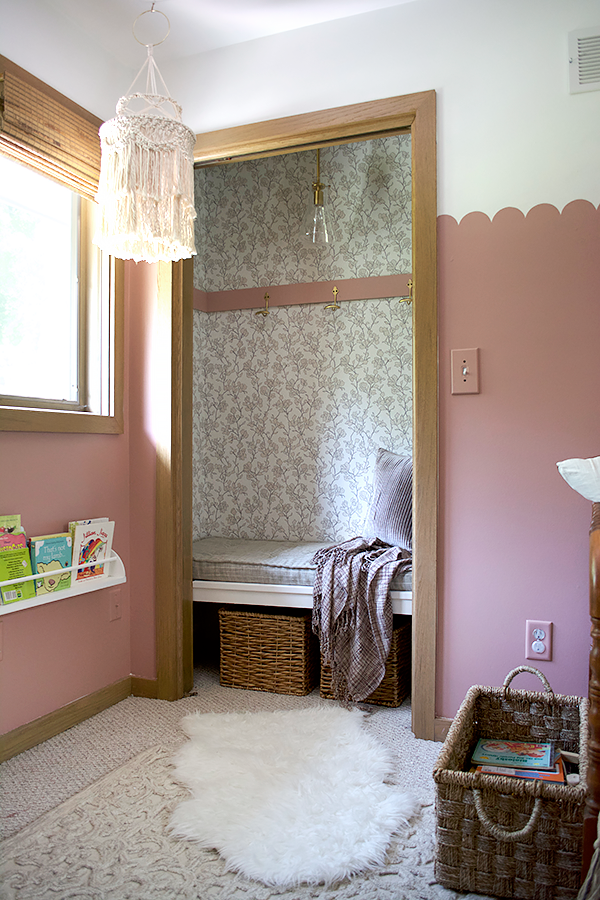 We built this little book holder so she could have a place to keep some of her books nearby. I love that it doubles as something pretty and functional. And I'm totally going to add some of these Books to Empower Girls.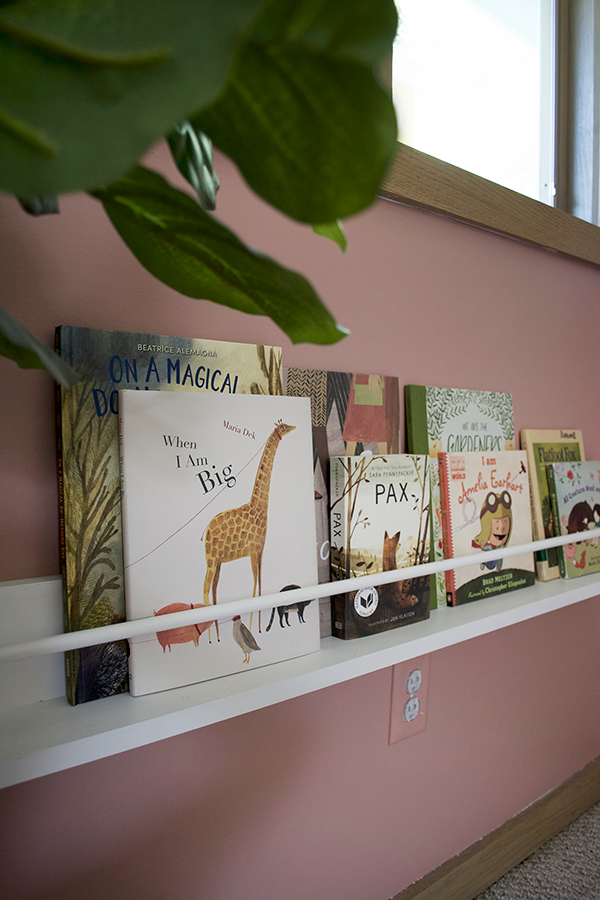 I'm so so happy with how her room turned out! And love that it is filled with so many vintage pieces as well as DIY projects. A lot of love went into creating this space for her and it makes my heart melt to see how much Eloise loves it too.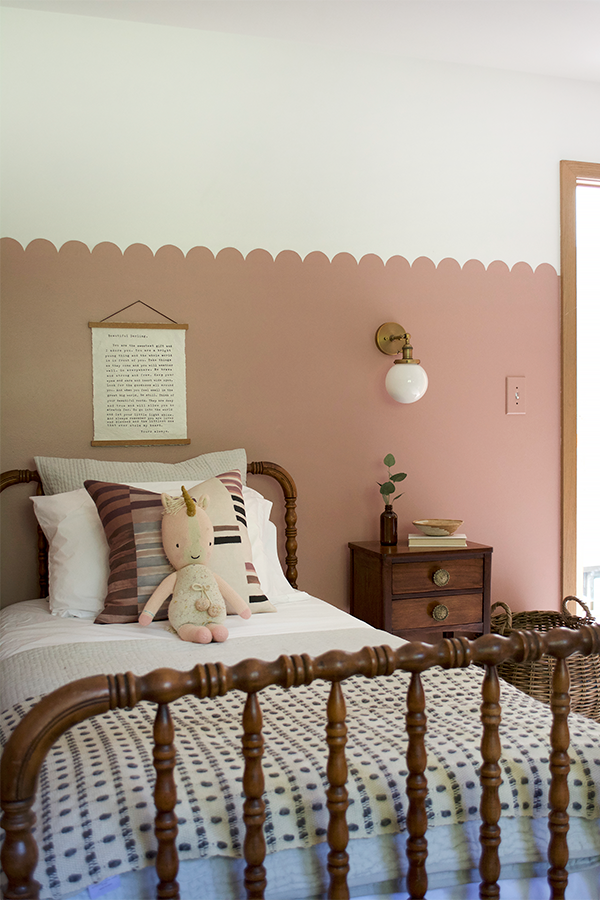 I hope you enjoyed this Girls Pink Room Makeover as much as I enjoyed creating it! I linked everything below, but if I missed anything let me know!
SOURCE LIST FOR LITTLE GIRLS PINK ROOM

PAINT COLOR – Retro Pink by Behr
DIY Basket Turned Pendant Light :: DIY Closet Turned Reading Nook :: DIY Painted Scalloped Wall :: Rug :: Nightstand (vintage) :: Ella the Unicorn :: Globe Sconce :: Bedding – sheets & grey quilt :: Throw Blanket on Bed :: Pink Pillow with Stripes on Bed :: Jenny Lind Bed (vintage) :: Basket at End of Bed (Magnolia brand from HomeGoods) :: Art above Bed :: IKEA Kids Table :: Elephant Hooks (discontinued) :: Pink Art Print :: Woven Round Wall Hanging :: Dresser (vintage) :: White Lamp :: Mirror (vintage) :: Dream Catcher (Costa Rica) :: Macrame Mobile :: Wallpaper :: Book Holder (DIY) :: Bench Cushion (custom) :: Velvet Pillow in Closet :: Hooks in Closet :: Pendant in Closet :: Throw Blanket in Closet (discontinued) :: White Sheepskin Rug :: Blinds (color: Quince)