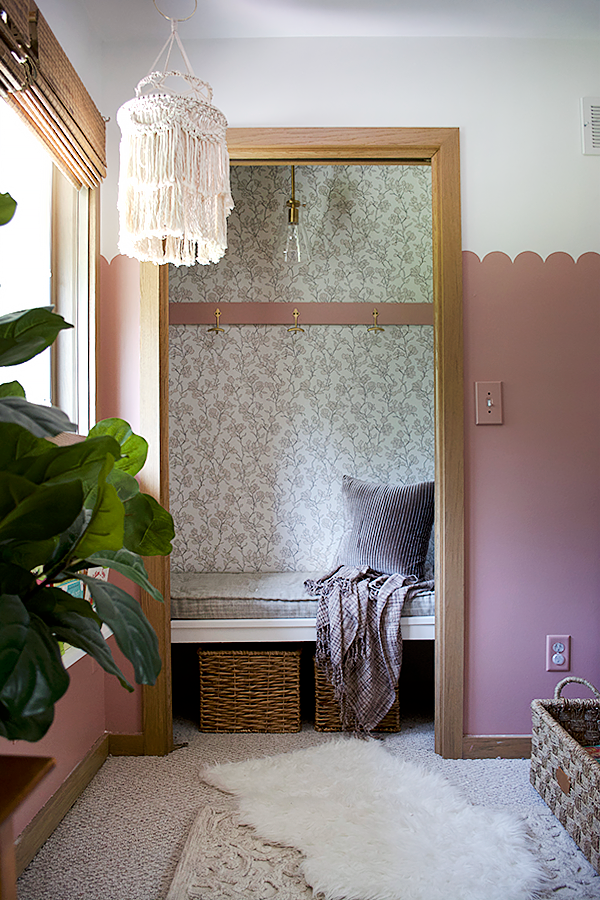 DIY CLOSET TURNED READING NOOK
*this post is sponsored by Walmart
When we transitioned Eloise out of her crib and into a new big girl bed, of course a whole room makeover was in order. She's always had two closets, but it didn't really make sense anymore and it just collected unnecessary clutter. So I decided to turn one of them into a little reading nook!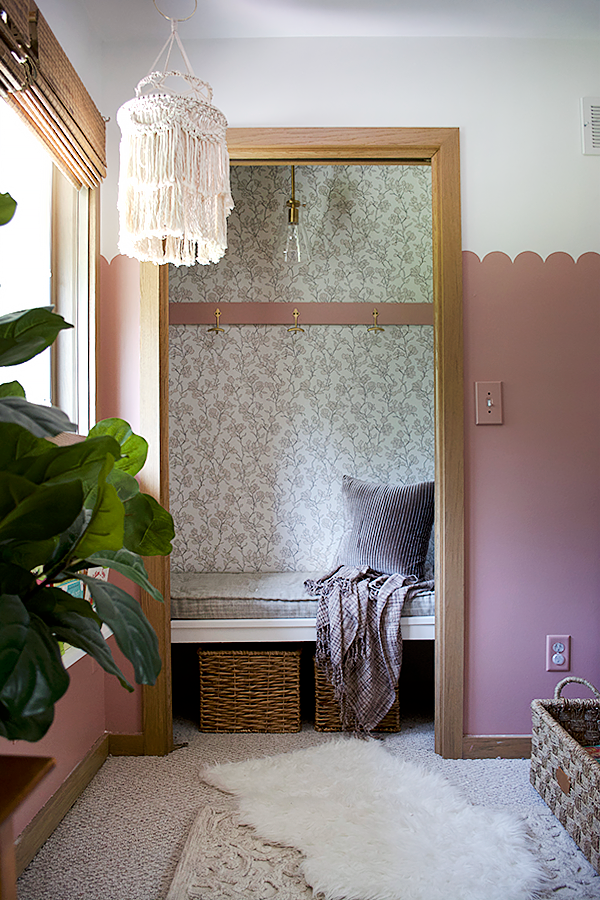 HOW TO TRANSFORM YOUR CLOSET INTO A READING NOOK
The first thing to do was remove the closet door. These bi-fold doors are trickier than they look to take off – and we have them ALL over our house. It never gets easier trying to figure out how to remove them!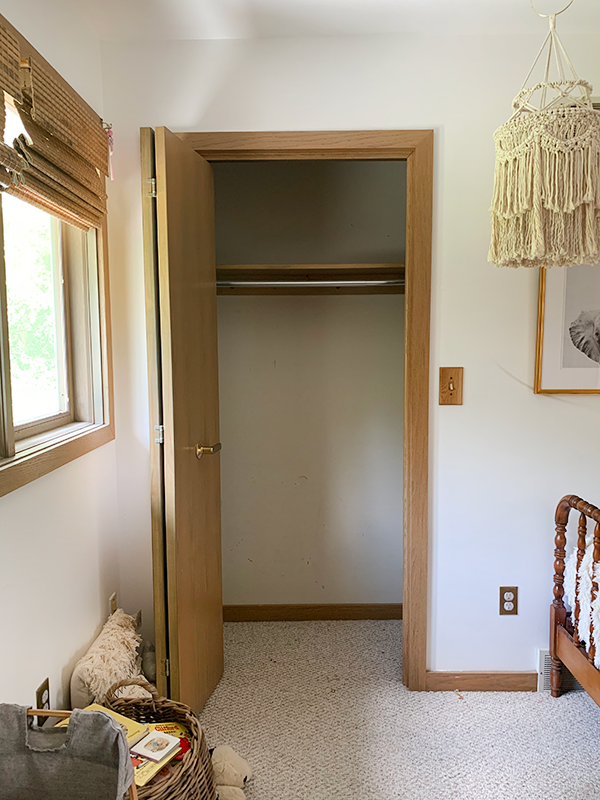 Then we built a bench seat simply by drilling some 2x4s into the studs in the wall.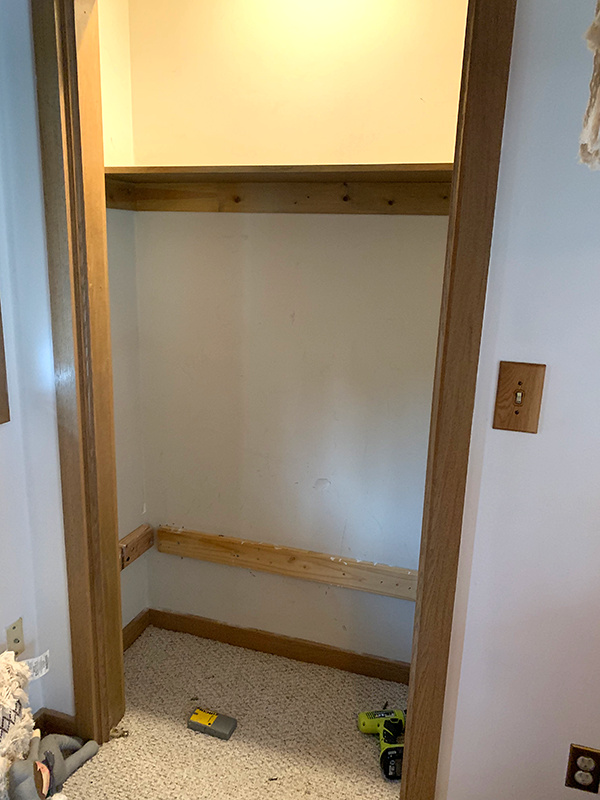 To create the seat portion of the bench, we used 3/4″ plywood cut to size and drilled it into the 2x4s.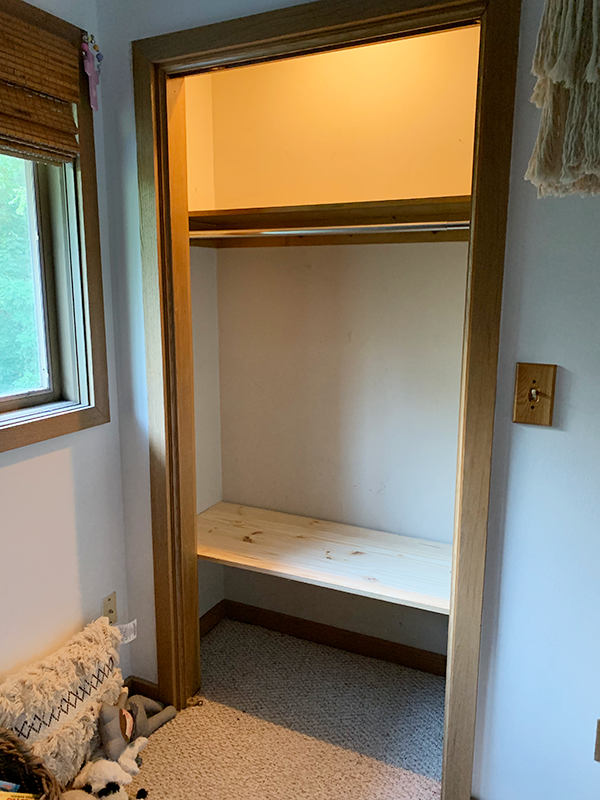 Adding wallpaper is a great way to add some personality and flare. This delicate floral pattern I love so much and was the perfect touch for Eloise's room.
I also painted the bench white for a more subtle look and to help it blend in.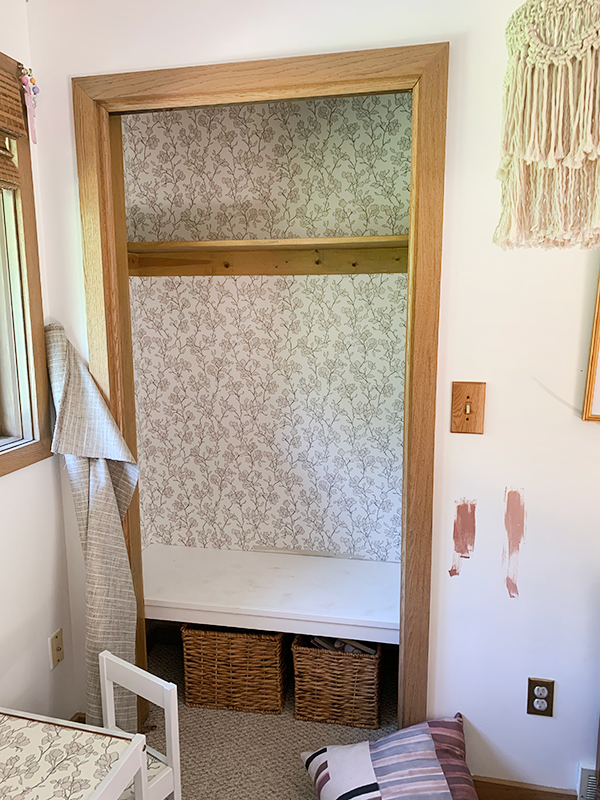 I thought I would want to keep the shelf on top but realized I don't really need it and that removing it would mean I could hang a pendant for some eye candy :-p
First I painted the trim inside the closet pink and added a gray bench cushion that my AWESOME neighbor sewed for me. I also love the look of leaving the bench wood like my friend Ashley did in her Entryway Coat Closet Makeover.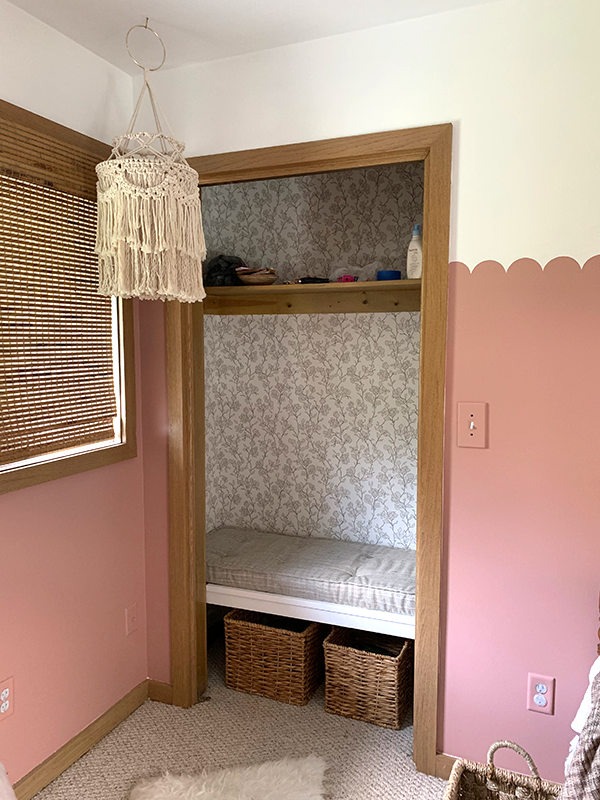 Then it was time to decorate!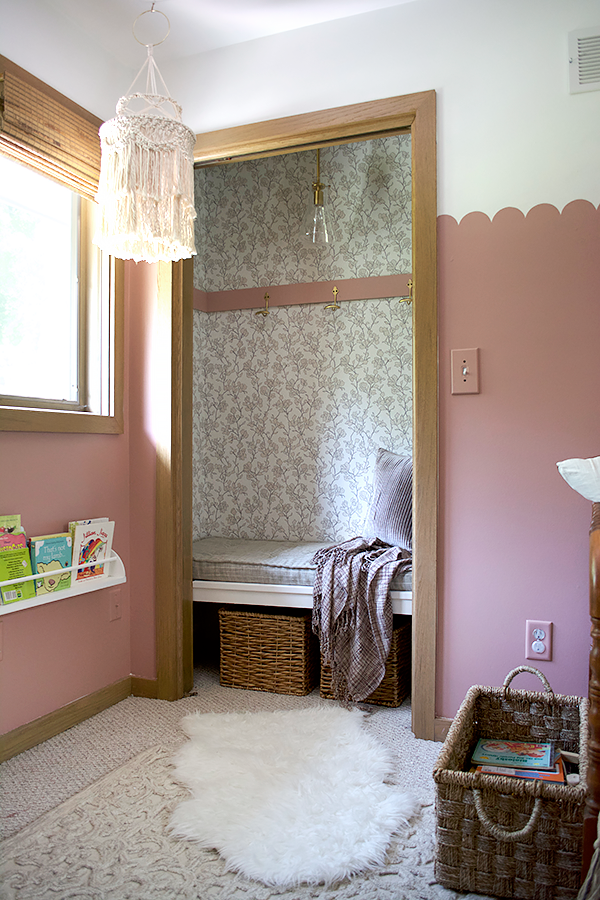 When I first started working on the design for Eloise's room, I was leaning towards a more vintage modern look. But things went in a more Vintage Chic direction and I'm not mad about it at all.
Some of the pieces that helped me achieve that look are from Walmart.com. I talked about their home decor selection a little bit last week but I've been so impressed with everything they have.
This Mini Brass Pendant was the crowning jewel of this whole space. I'm SO glad I decided to take out that top shelf so this beauty could shine.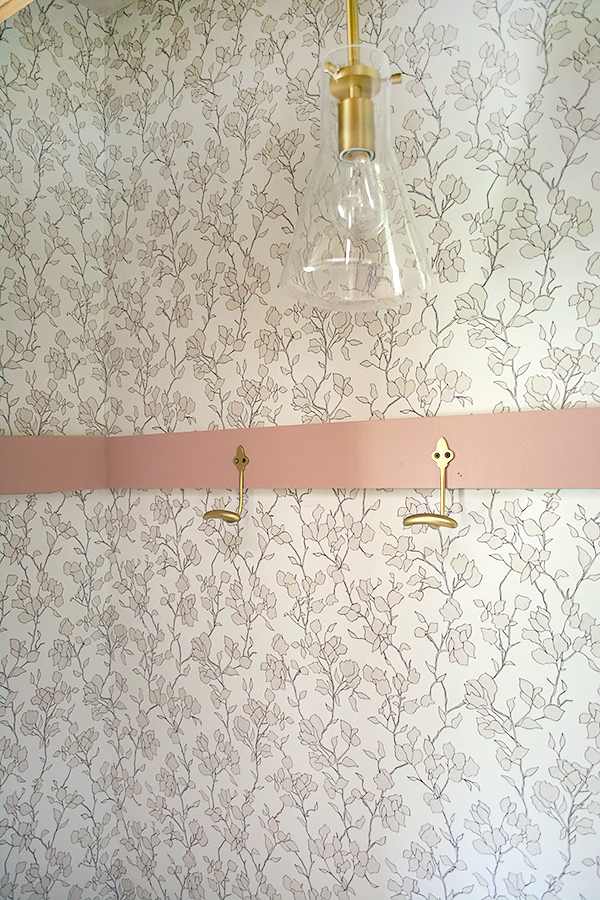 I don't think anything says Vintage Chic quite like velvet, and this gorgeous pleated velvet pillow adds the perfect texture and elegance to the space. It's SO soft and it's only $14!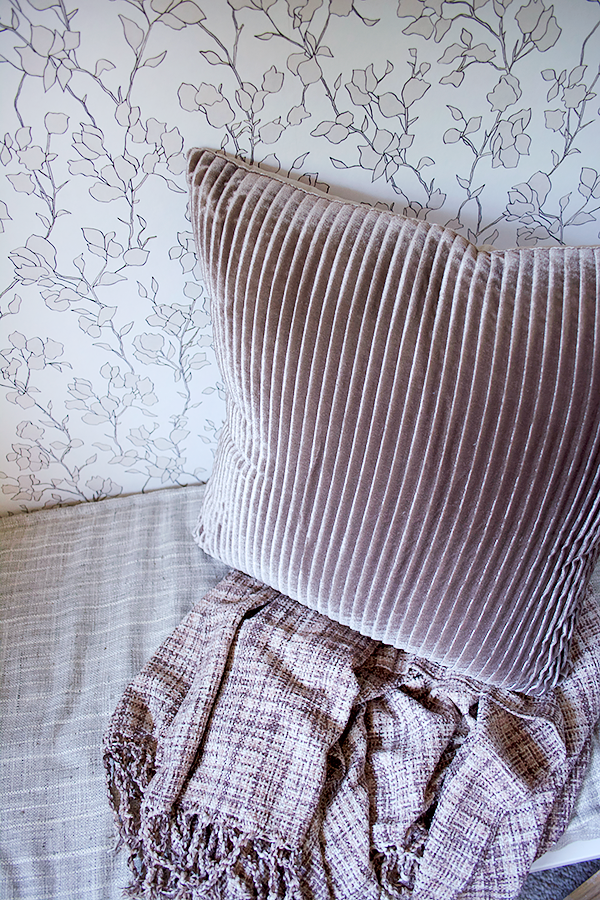 I know I can always count on Walmart for everyday low prices which is so important when I'm trying to stay on budget. Their free returns is another reason I love shopping with them – because sometimes you just have to order a few things to try, right? 😉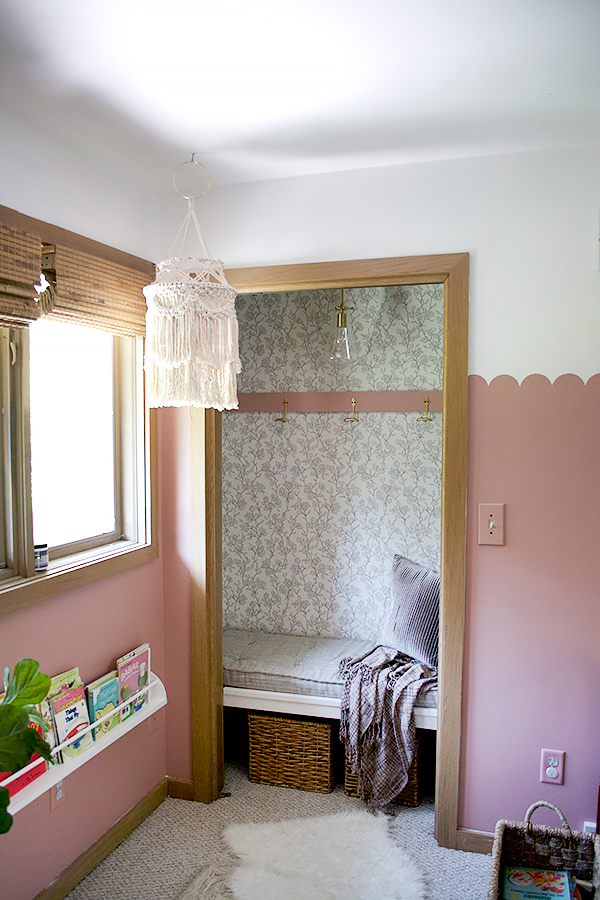 Want to get the Vintage Chic look in your home? I've put together some beautiful and affordable options to help you get started!