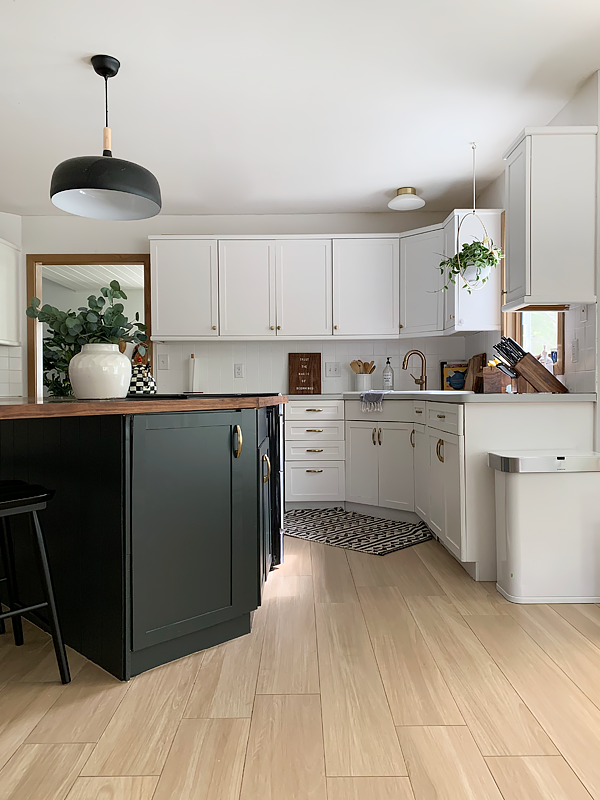 We've accomplished a lot in our home since moving in almost 3 years ago, but a kitchen renovation is not one of them. We have, however, made some budget friendly updates that have totally transformed our space. So if you're waiting to save up for your dream kitchen, or just want to give it a little refresh, these budget friendly kitchen updates are for you!
BUDGET FRIENDLY KITCHEN UPDATES
If you've been a follower for a while, you may remember what our kitchen looked like when we first moved in. Let me give you a little refresher: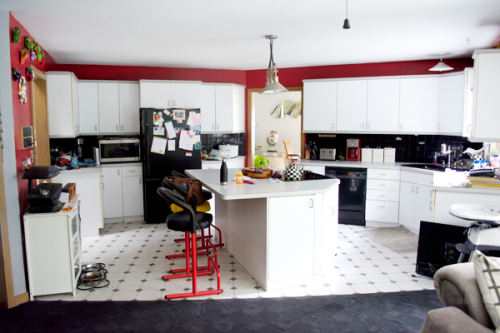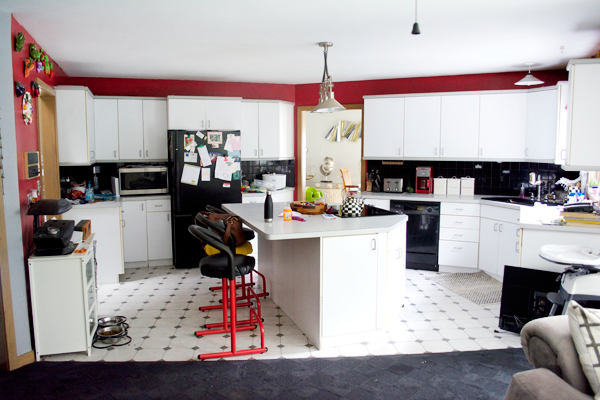 It needed A LOT of help. But we weren't ready to dish out all our cash money on a full reno. Especially since we had just moved in with my FIL. I didn't want to completely turn his whole world upside down. So we lived with it like this for about a year. And then I just couldn't take it anymore ha.
PAINT YOUR CABINETS
One of the first things I decided I was going to do was paint and add trim to our cabinets. Luckily the shape and style of ours were flat and simple so it was easy to transform them. Before I painted them, I added trim around the outside with strips of plywood to achieve a shaker style look.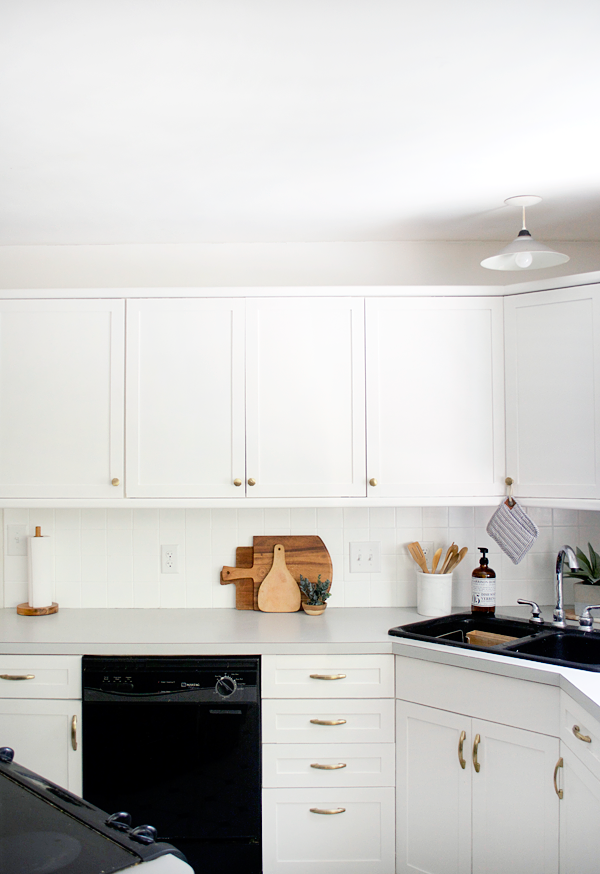 Our cabinets were already a light grey/white color, so I just gave them a fresh coat of a brighter white (Du Jour by Valspar) and then used a darker color (Astronomical by Behr) on the island.
To see more about the steps I took to get this look you can read my post on HOW TO ADD TRIM AND PAINT YOUR LAMINATE CABINETS.
ADD NEW HARDWARE
After I painted our cabinets, I knew I needed to add some fresh new hardware to go with my more modern look. Even if you like your cabinets already but not the hardware, this is a great way to make a big impact with a small change in your kitchen. Introducing a new metal color can really help change things up too.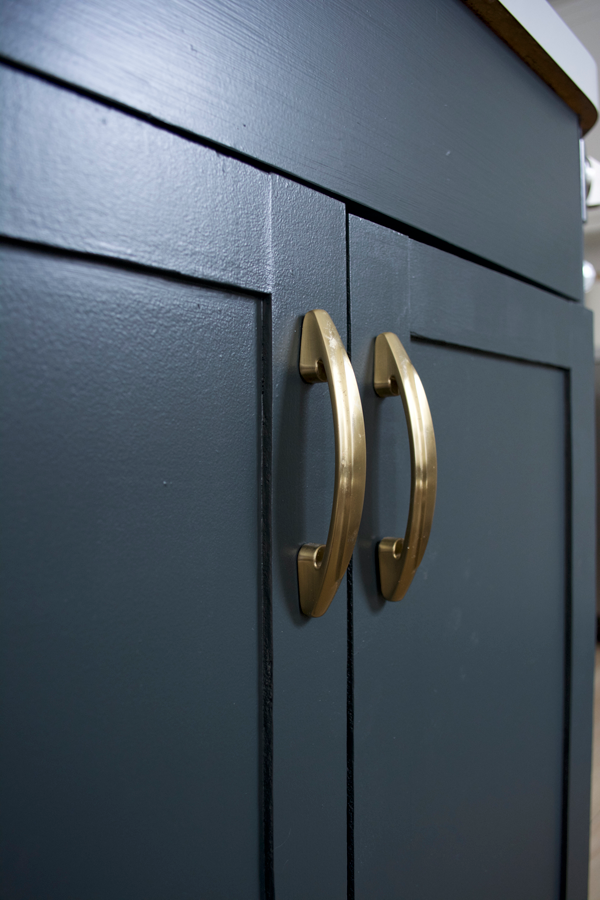 Shop below to see some of my favorite affordable hardware! Ours are from D Lawless Hardware.


PAINT YOUR BACKSPLASH
Our backsplash was another thing that needed to be addressed in our kitchen. I don't mind black tile, but it just didn't work with the look I was going for. Instead of ripping it all out and dealing with the mess that that comes with, I decided to paint it instead. This made SUCH a huge difference in our space.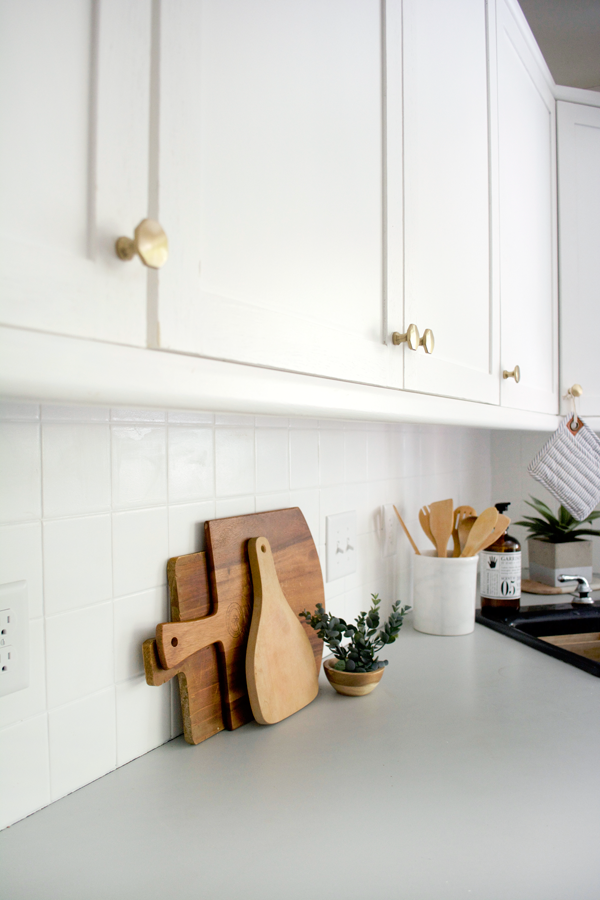 You can paint it a solid color, or you can get creative and use a stencil to try and mimic more expensive patterned tiles.
To see how I achieved this look, check out my post on HOW TO PAINT YOUR TILE BACKSPLASH.
PEEL N' STICK TILE BACKSPLASH
If you don't want to paint your backsplash, or if you don't have any existing tile, another great budget friendly update is to use peel 'n stick tile. I've never used this personally but have friends who have and it looks amazing!
Check out how Jess from Bright Green Door used Peel 'N Stick tile in her kitchen makeover.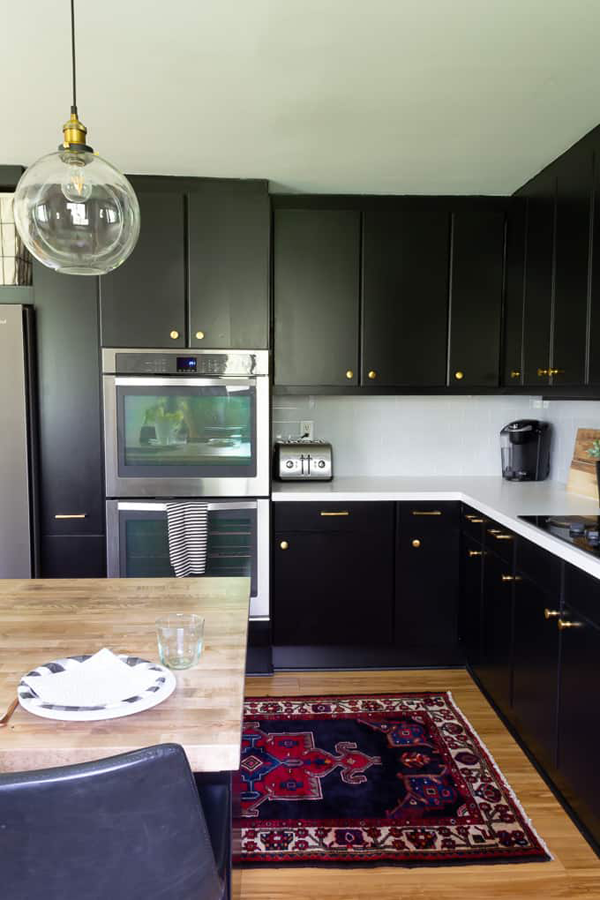 DIY OR PAINT YOUR COUNTERTOPS
Countertops can be one of the most expensive things to upgrade in a kitchen, but there are so many DIY friendly options that will save you a ton of money. We recently got a new island countertop, but I'm considering some of these ideas for our perimeters.
CONCRETE COUNTERTOPS
A Beautiful Mess shared a tutorial on how to create gorgeous DIY concrete countertops and they turned out SO good!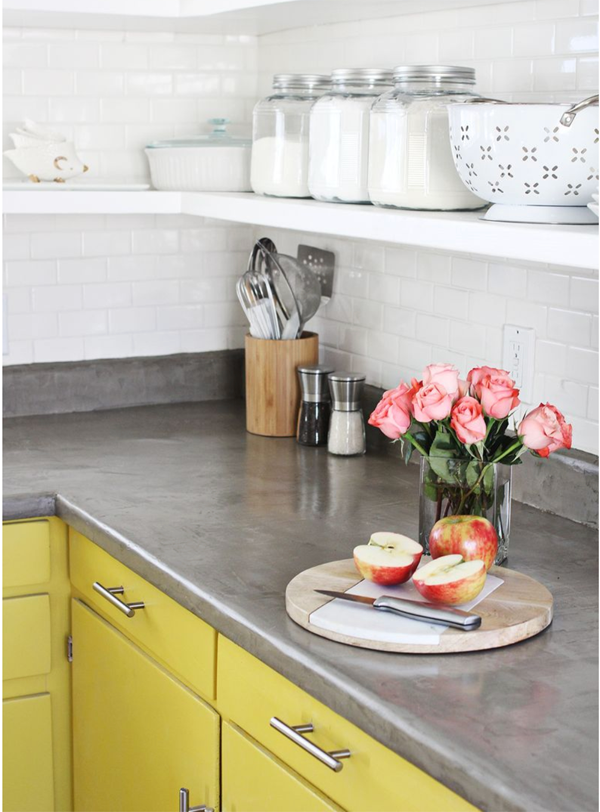 MARBLE CONTACT PAPER
My friends over at the Merrythought just shared an incredible $200 kitchen makeover that included some $13 DIY Marble Countertops – can you believe that's not real marble?!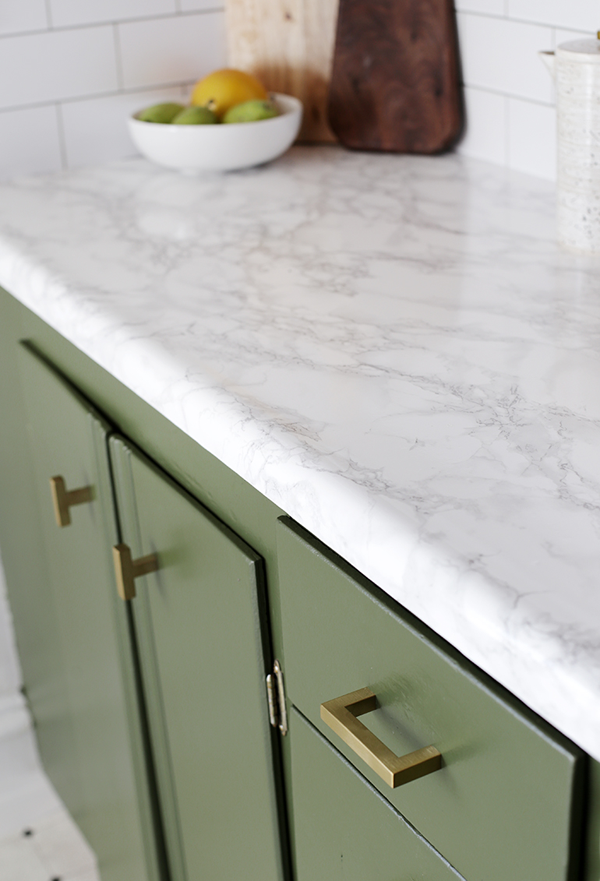 PAINT
And if either of those options aren't calling your name – you can just straight up paint them! Meredith Lynn painted her kitchen countertops and I can't believe how good they look.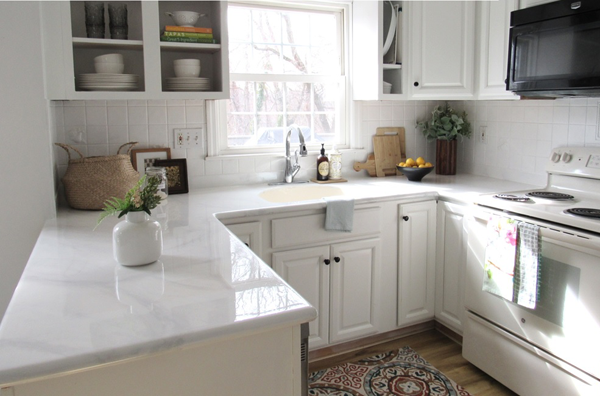 IKEA also sells a very affordable butcher block countertop if you want to go that route.
CHANGE OUT THE LIGHT FIXTURES
If you've got an old kitchen, chances are the light fixtures are long overdue for an upgrade. This is where you can have some fun and bring in some of your own personality to your space. Lighting over an island can make such a statement and totally transform a dated kitchen.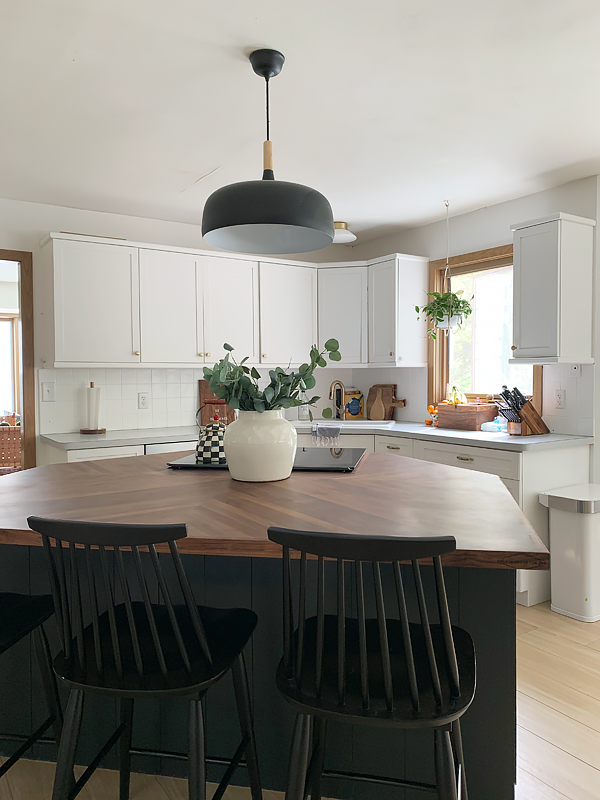 We did end up getting new appliances along the way which helped bring a more cohesive and updated look to our kitchen but the bulk of what I did was all cosmetic. Cabinets can cost thousands of dollars and by simply painting ours, along with the backsplash it brightened up a very dark room and brought it back to life.
So if you've got a kitchen that's crying for help but a renovation isn't in your near future, there's hope! These budget friendly updates are all so easy to make yourself and won't break the bank.