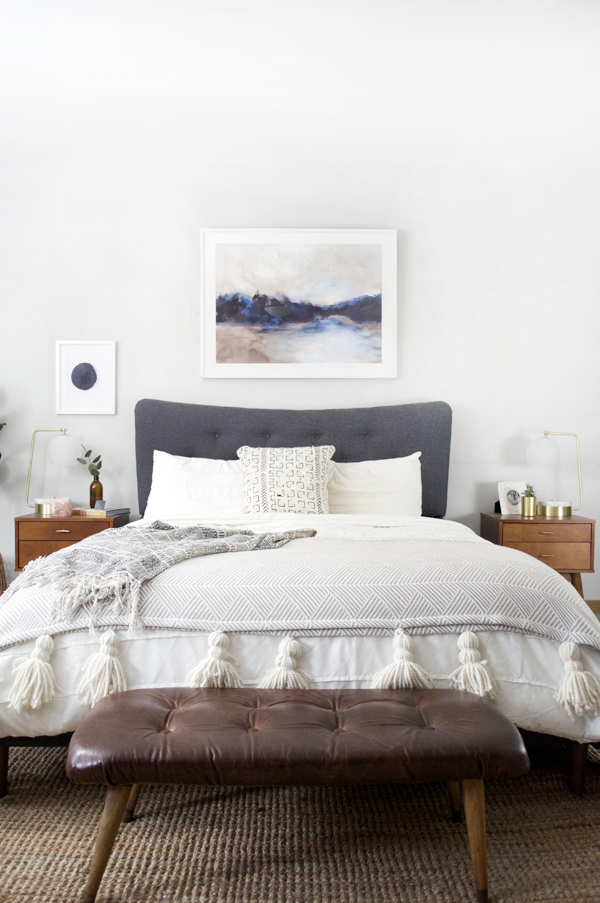 I've been patiently trying to figure out what to put above our bed. Some people have said they don't think it needed anything, but our room is pretty big, and from far back, the empty space just looked too empty. Of course art was my first idea but I feel like I'm the worst at picking it out. I love vintage and abstract pieces but always feel like something I might find at the thrift store would look awful in my home but amazing in someone else's. So I put art on the back burner for a while. I kind of wanted to try and find something a little more abstract. Maybe a juju hat, or some baskets or a little woven wall hanging. After that failed, I decided to look at some art pieces again and see if I could make a decision for our little modern boho bedroom.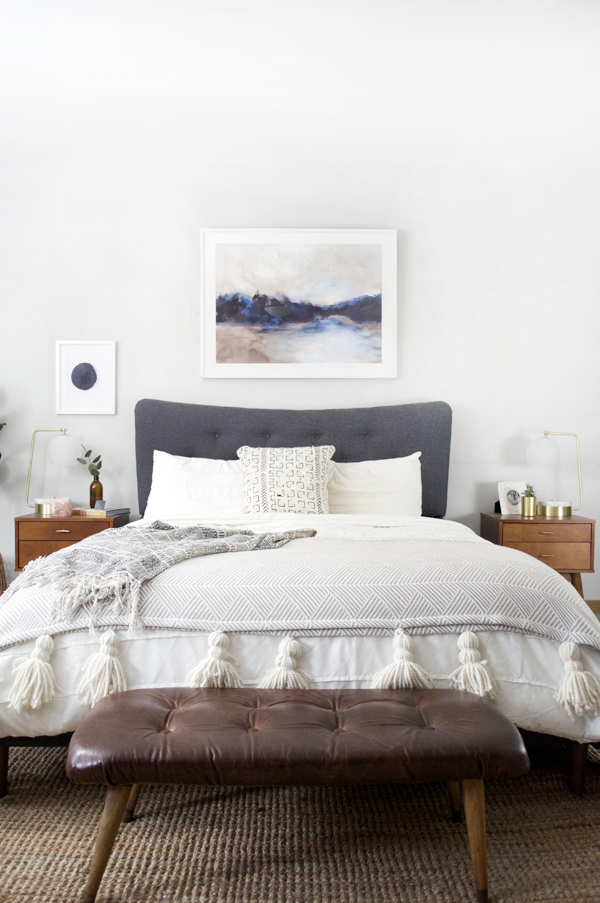 *affiliate links included*
What do you think?! I'm in LOVE with it. I knew I wanted something with a hint of blue, but nothing overpowering and I kept being drawn to the more abstract pieces. This print from Minted is called Saint Mary's Lake which I love because the church that Dan and I got married at is called Saint Mary's of the Lake so it's pretty much meant to be right? I didn't even realize the name until I decided it was the one.
Minted is always my go to when I'm looking for art, and it really didn't take me long to find this piece. It was one that originally stuck out to me and I just kept going back to it. I photoshopped it into a picture of our room to make sure it looked good and then I probably stared at that for like a week before I finally pulled the trigger. I also love reading the story behind the artist who created the art.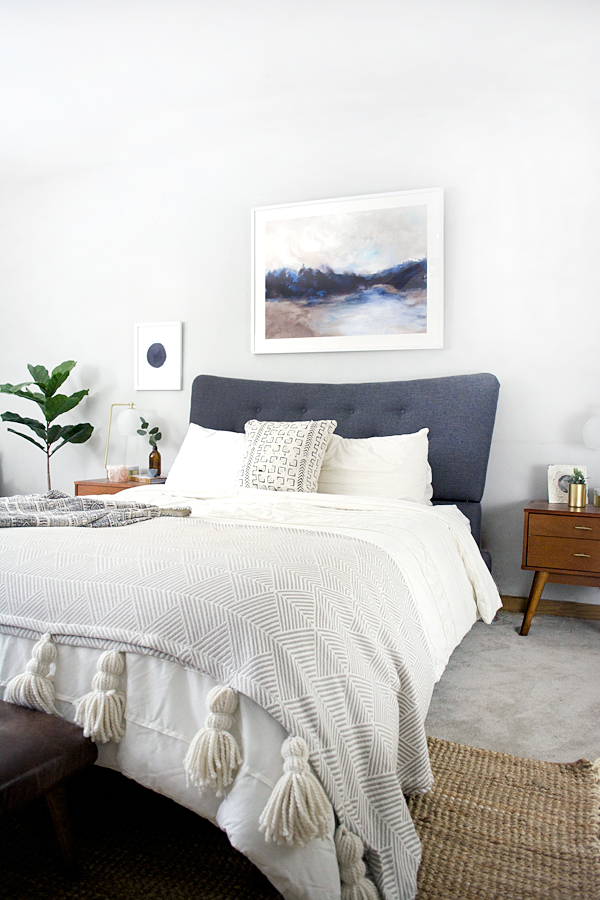 I think it's the perfect piece that anchors the room and makes it feel complete – at least this little part of it 😉 There's still a lot of work to do but this little update makes me feel like we're getting closer and closer. Since the artwork is so large and makes a statement on it's own, I didn't want to distract away from it too much. I switched around the pillows on our bed and put this mudcloth one from one of my favorite Etsy shops – The Ivory Gull. I don't know if it's the change of seasons or what, but I'm feeling really drawn to whites and lighter colors, and a more simple and minimal look.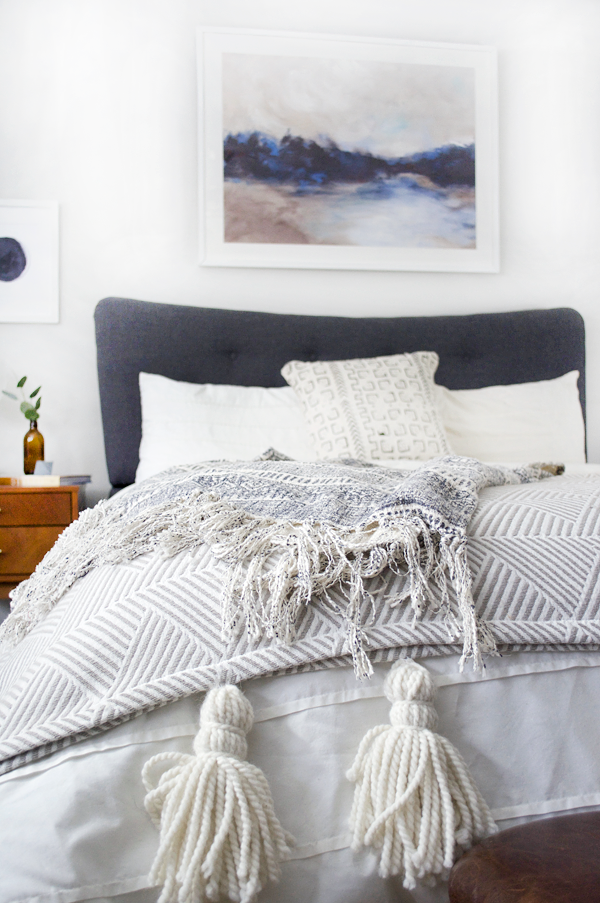 One thing I don't think I'll ever get sick of though is my giant tassel blanket. It's still one of my favorite DIYs and it was so easy.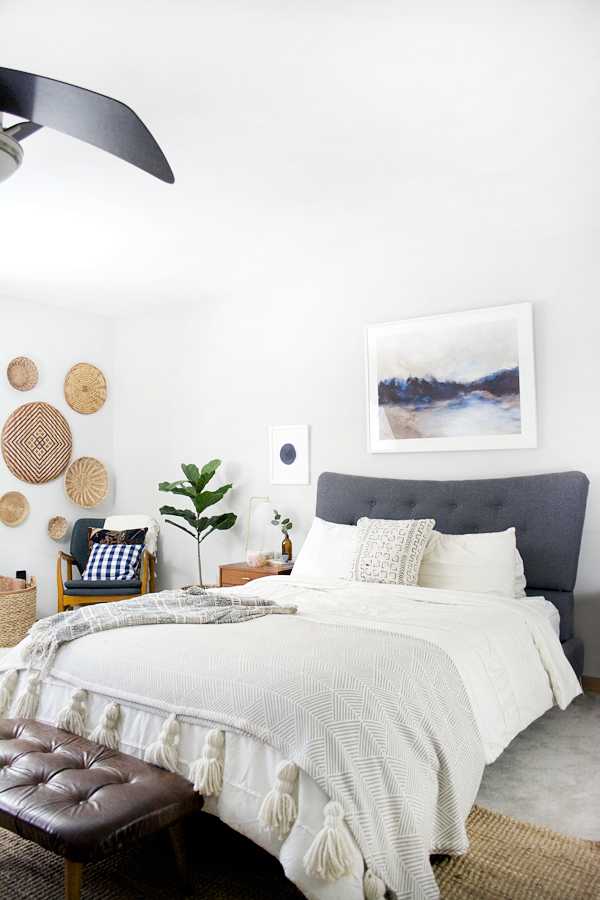 I still love our nightstands too. I got them from Target last year and added some different hardware and they've held up so great. If you're on the hunt for some – check out THIS POST for more options (all under $200!).
Next up on our list, is replacing the carpet in here. Hopefully within the next couple of months. We're leaning towards wood tile but we're still in the process of figuring all that out. This is the original carpet and it's so old and gross I can't wait to get it out of here. I also want to replace the ceiling fan, which really isn't bad, my FIL replaced it not too long ago, but I'd rather have a fun light up there.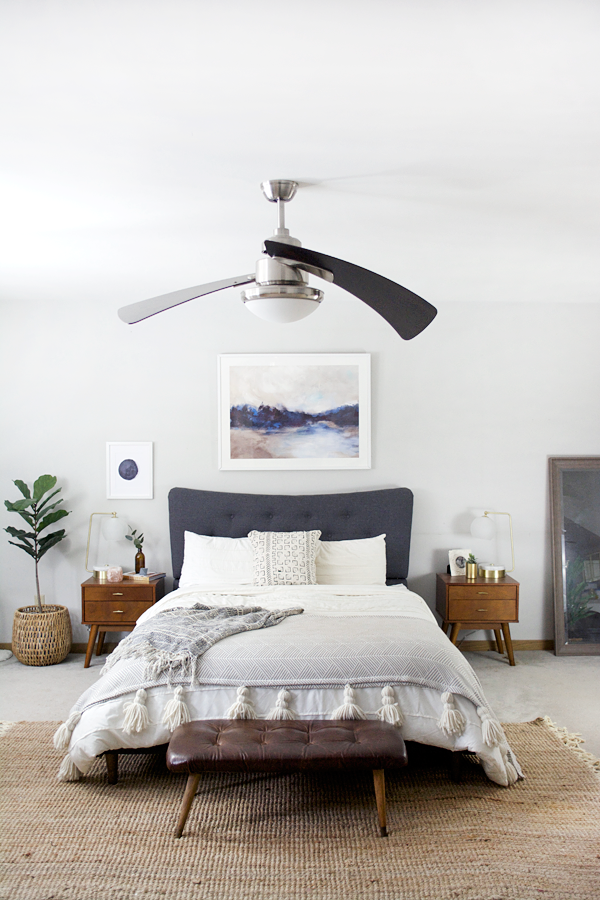 I get so happy when I walk into our bedroom and see this gorgeous piece of artwork. I love seeing this space come together and can't wait until it's complete.
DON'T FORGET! There's still time to enter the giveaway with Minted for a chance at $125 gift card to their site. Just CLICK HERE to enter.
Good luck friends and thank you to Minted for providing this gorgeous artwork!