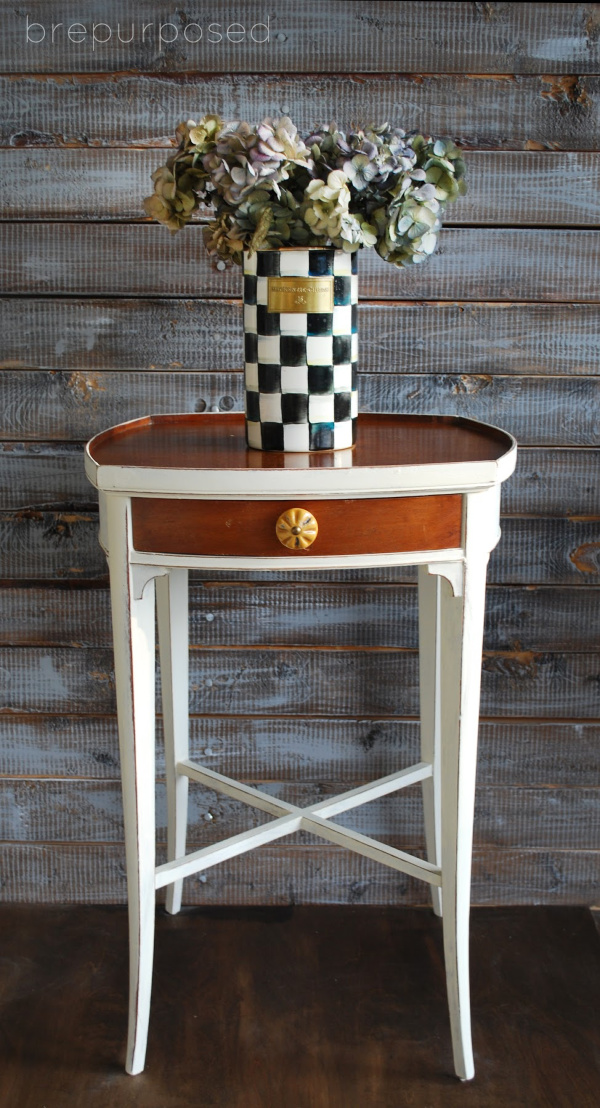 Do you know how hard it is to find a matching set of tables while thrifting? Near impossible, let me tell you.
Since I began this journey, I've come across maybe 2. And usually they are u-g-l-y. Hence why you have never seen me post about any before. And it really is quite a bummer because usually people prefer to have matching end tables or night stands. Makes sense.
Well, I finally hit the thrifting jack pot when I came across these babies at the antique store right down the block from our apartment. I can't wait to give them the nice two-toned look that I love so much!
TWO TONED NIGHT STANDS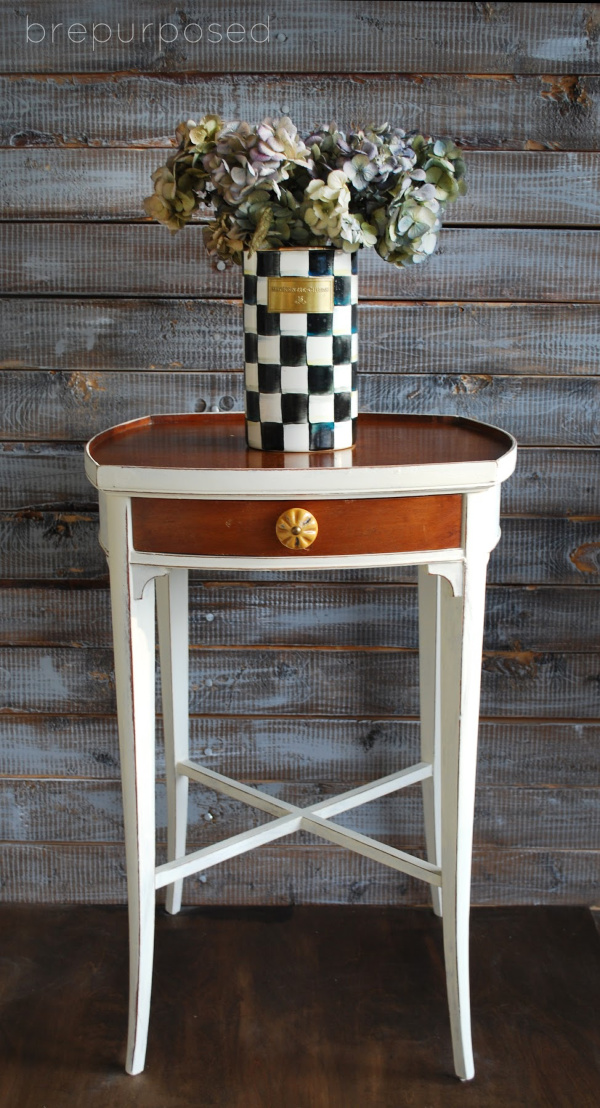 this post contains affiliate links
My parents were rearranging their bedroom and my mom wanted some new night stands to go with the changes. These tables came at the perfect time! I just love the shape of them and the tall skinny legs. Which, if you know my family, is the perfect analogy 🙂
They were in pretty good shape except for a few pieces of wood that had chipped off around the top, which I fixed up with some wood filler as seen in the photo.
I love when there is still something on a piece that indicates where it's from or what it's made of. It doesn't happen often but I get super excited when it does. Yes, I'm a furniture nerd.
I looked it up and it says that they issued two different labels like this: A red one which was placed on furniture made of solid mahogany lumber; and a blue one (like the one pictured) for furniture, particularly case goods, in which mahogany lumber and mahogany plywood are used.
Apparently they started labeling the furniture when aniline dyes were introduced into the American furniture market causing very confusing results. These labels insured your piece was made of real wood. From what I read, the number is the number assigned to the manufacturer who was a member of the Mahogany Association. Fun little history lesson for you 😉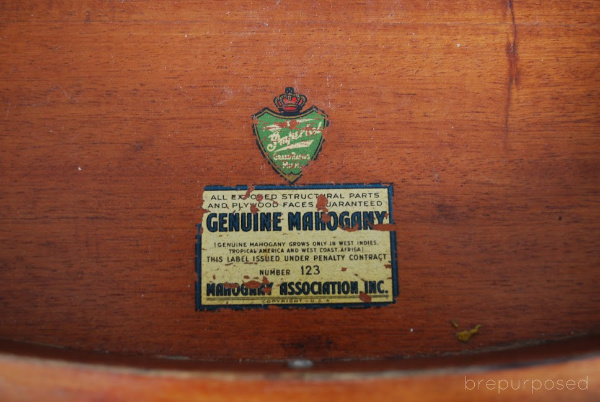 So back to the transformation. My mom wanted something neutral and liked the color of my Bird Table, so I went with Old White Chalk Paint again. I didn't intend to keep some of the wood exposed but it was in great shape and I'm really into the two tone look lately.
I used some coconut oil to clean up the wood and bring back the shine. This stuff works wonders. I sealed it with clear wax and of course got some new hardware at Hobby Lobby.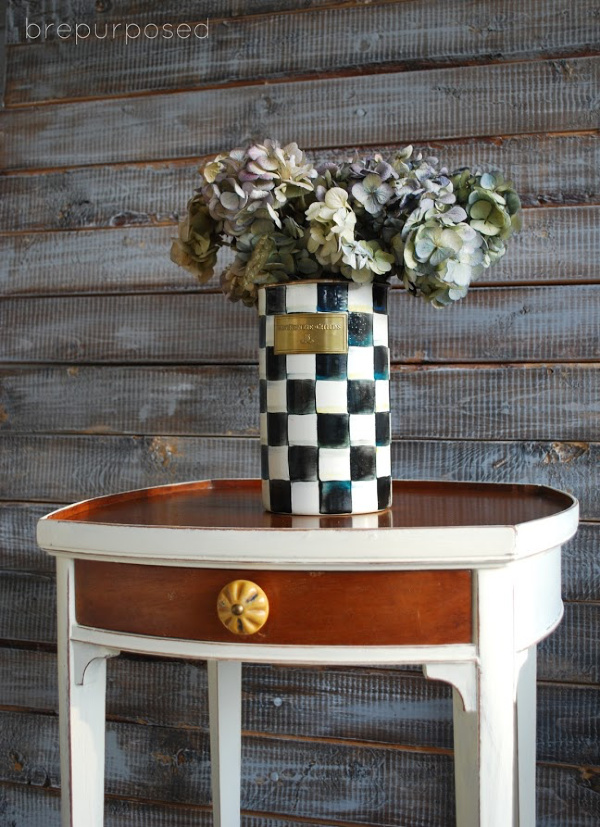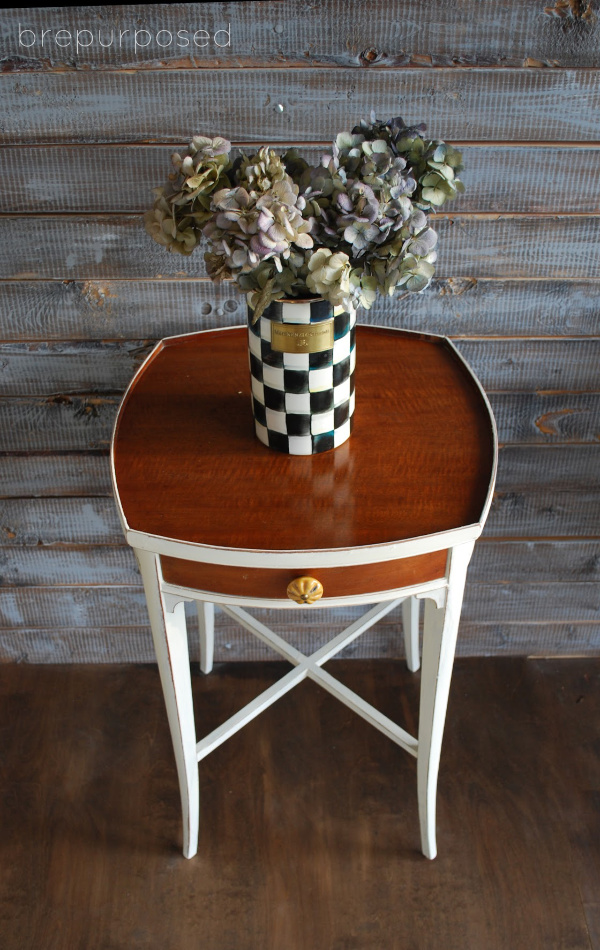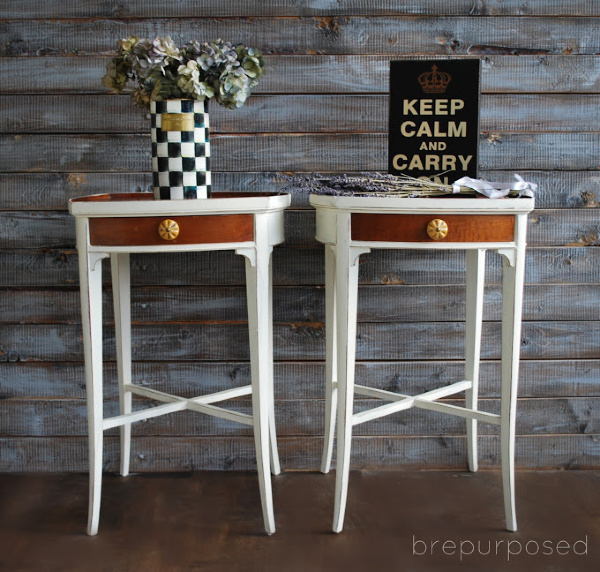 By the way, trying to stage two tables next to each other is HARD. That's definitely going to be something I look into and work on. Any tips?
All in all a successful transformation for my first set of matching tables, and I'm glad I got to do it for my Mom!
Hope you all have a fabulous day!