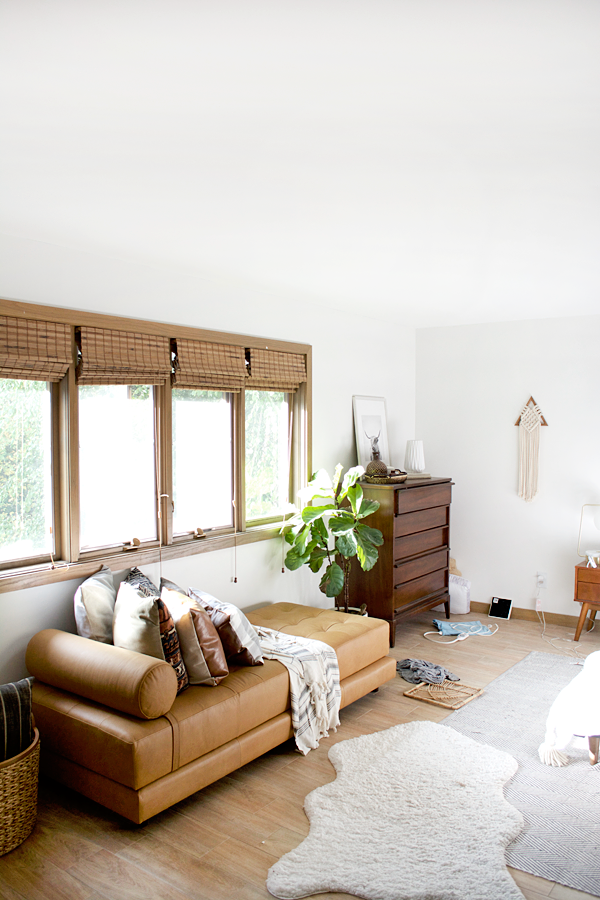 I rarely ever participate in Blog Hop House Tours because our house is usually a hot mess and I don't typically go all out decorating for the seasons. But when Kyla from House of Hipsters asked me to be a part of her No Make Up Home Tour I was totally on board. No styling, no staging – just your home, as is, laid out for everyone to see. This is how our house is 90% of the time anyway and I never want you guys to think I have my sh*t together because I most certainly don't. I love sharing pretty pictures on here and instagram, but the reality is that I'm human and our house hardly ever looks perfect.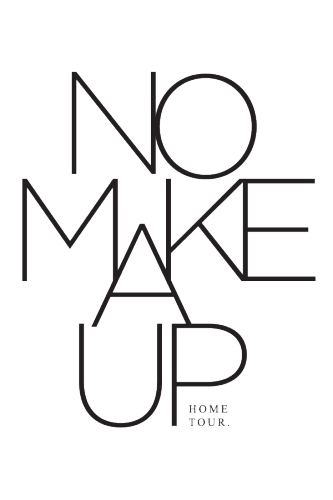 NO MAKE UP HOME TOUR
Oh and if you're new here, we moved in with my FIL last year. He's letting us do pretty much what we want with the house, but there are still some areas that we've hardly done anything to that need A LOT of work and are still very very stuck in the 90s.
So here's our home (at least the rooms that are "finished" and I share often) in it's day to day state. I literally didn't move one thing out of the way, I just took pictures as is one day, mess and all. Come on in!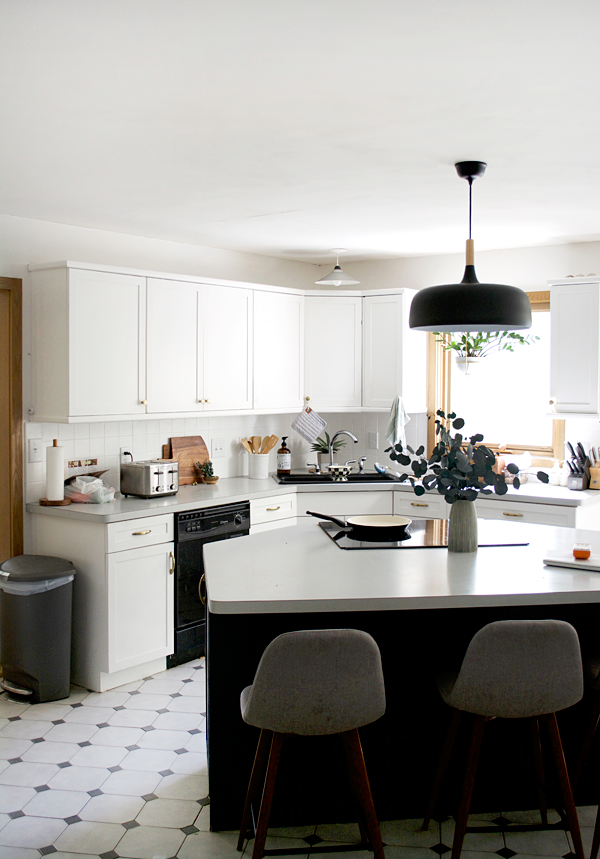 I try and go to bed with a clean kitchen but basically as soon as everyone wakes up it gets immediately dirty.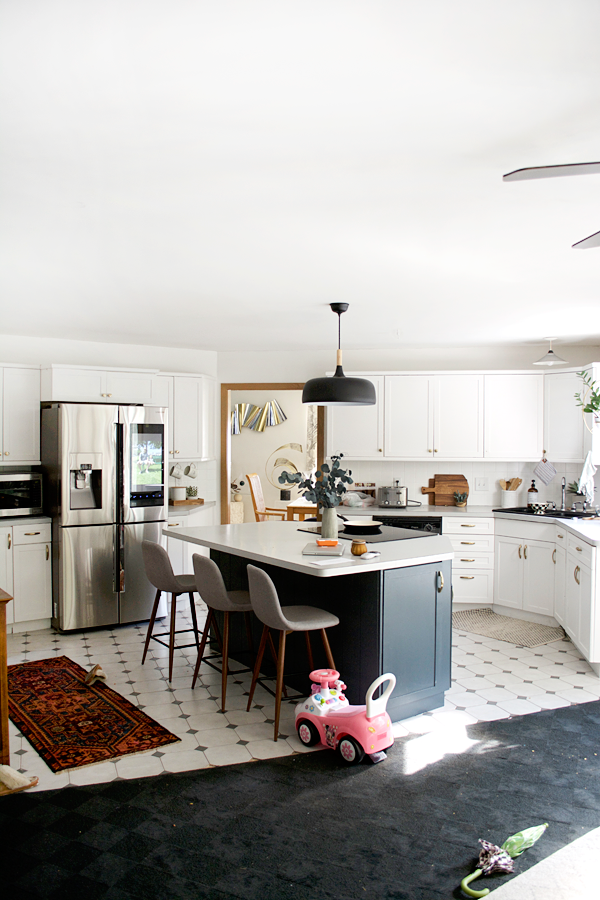 Our kitchen is directly connected to our main living room that has that terrible black carpet that I can NEVER keep clean. It literally shows everything.
I don't share our living room too often but this is where me and Eloise hang out for the majority of our day when we are home. Her toys are always thrown everywhere and I don't bother cleaning things up until after she goes to bed. The decor is also a sad mix of mine and my FIL's because it's just a room we haven't gotten around to fixing up yet. Plus I think he's having a hard time letting go of some of his stuff…aka the giant guitar above the tv haha.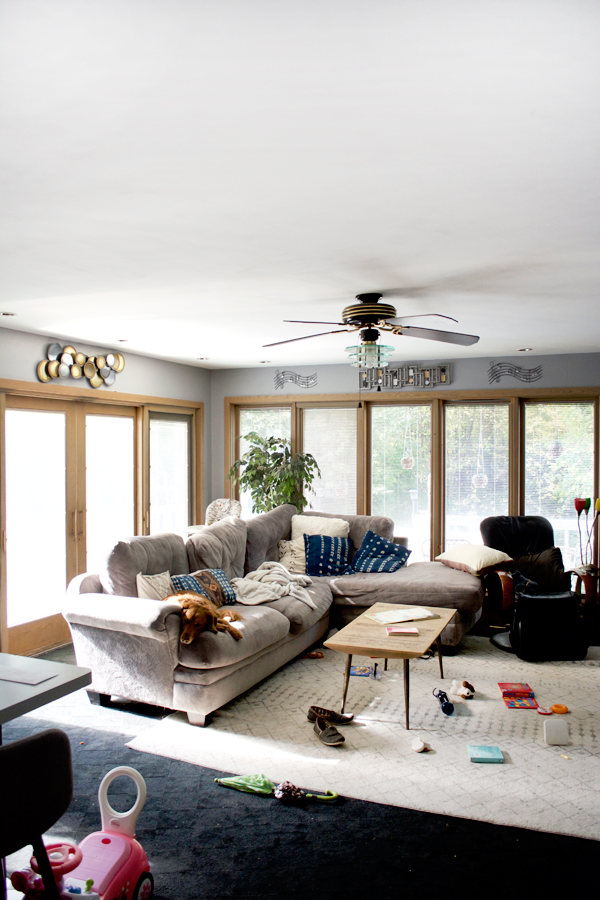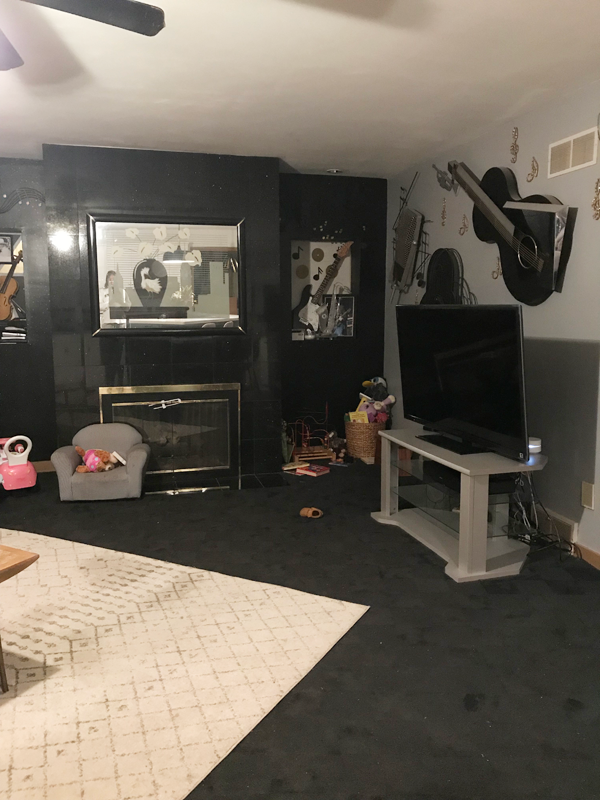 I wasn't going to show you photos of our formal living/dining room but decided last minute to throw some in. Be prepared. These go WAY beyond no makeup. Forgive the terrible lighting and iphone pics.
This is Eloise's "playroom". Very kid friendly with the glass tables and sharp pointy pieces of artwork on the walls, right?
This is a space we just haven't done much at all with yet and if I touched any of those art sculptures I'd probably get kicked out of the house. It's a battle I'm just not going to win right now…but we're working on it 😉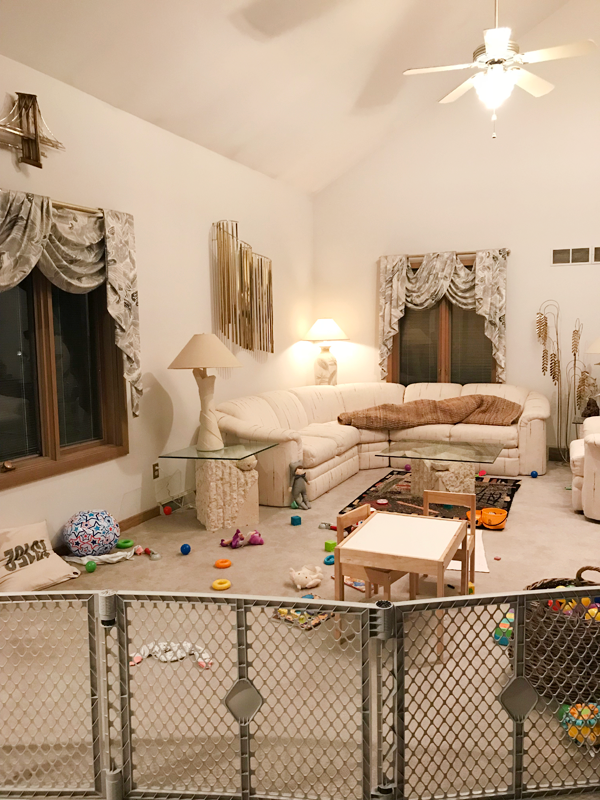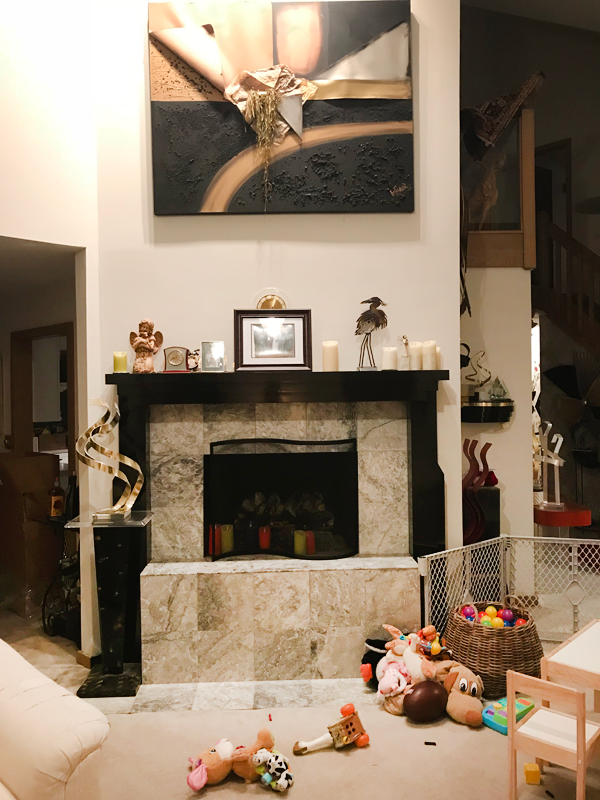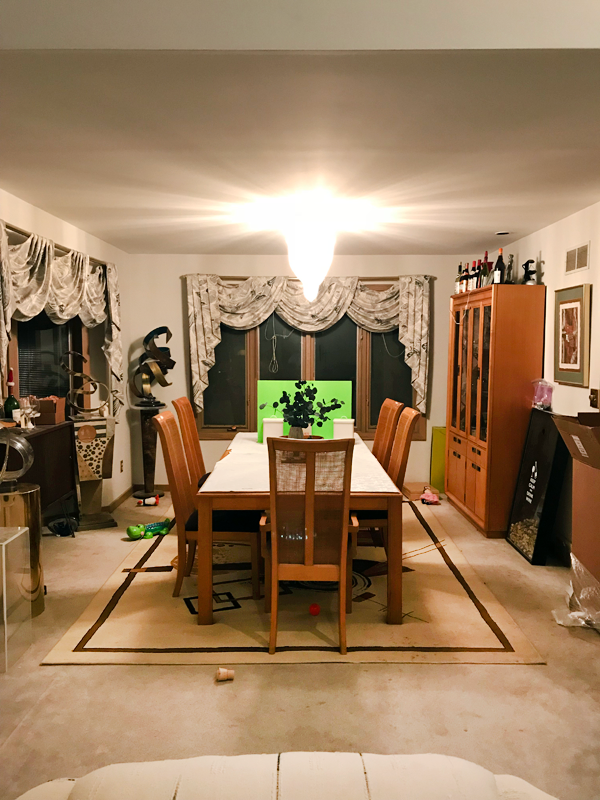 And here is the front entry…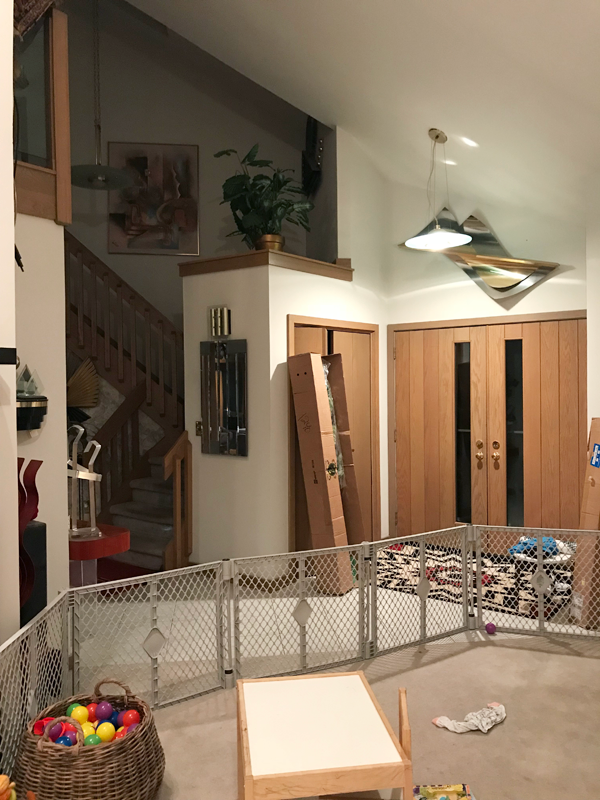 Down the hall into the laundry room….yep this is real life. We'll be painting over that wall soon. Very soon.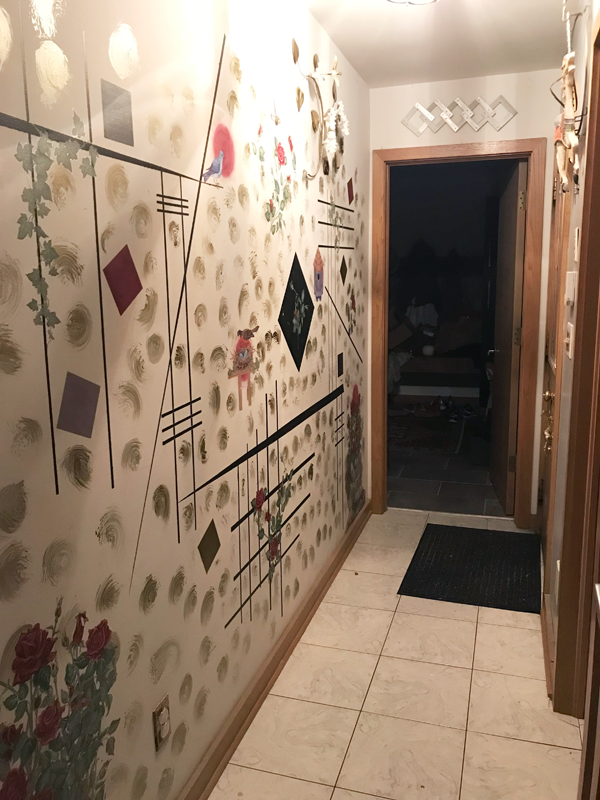 This bench has become a spot to just toss crap. Oh and don't mind the vacuum and terribly dead plant in the corner.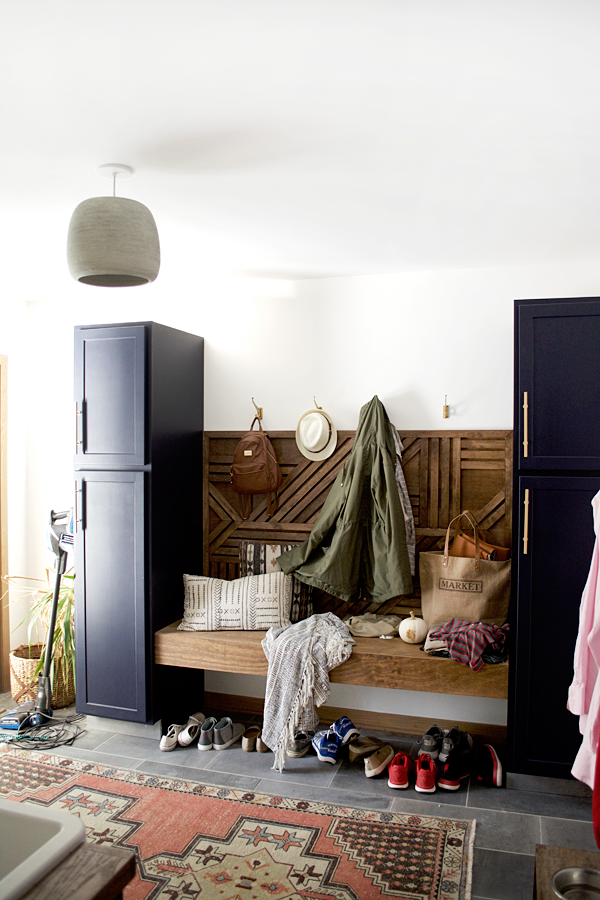 I loooove our countertop in here but it's also the perfect crap tossing spot and is hardly ever clean except when I throw everything off it to take a picture ha.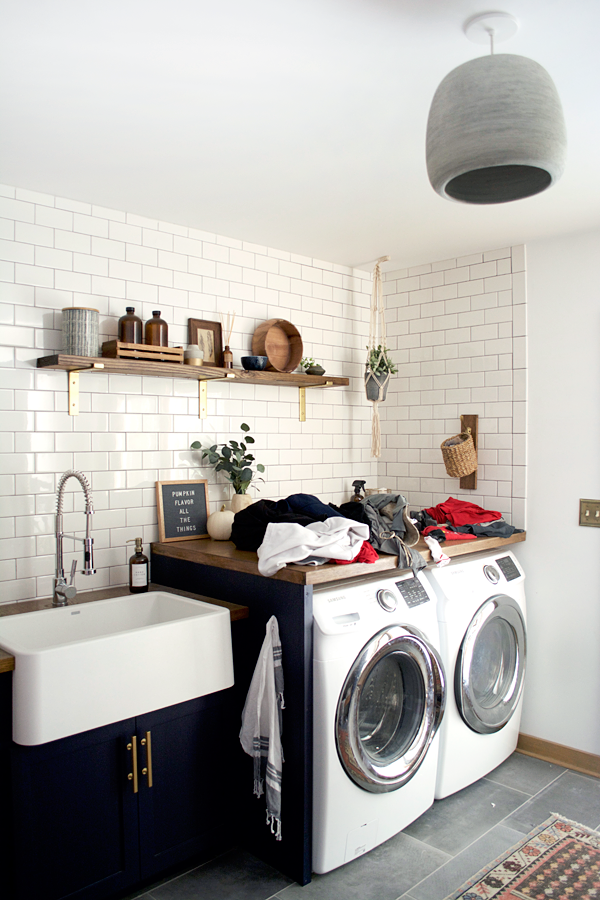 I'm pretty sure a couple of those shirts have been hanging there for at least 3 months…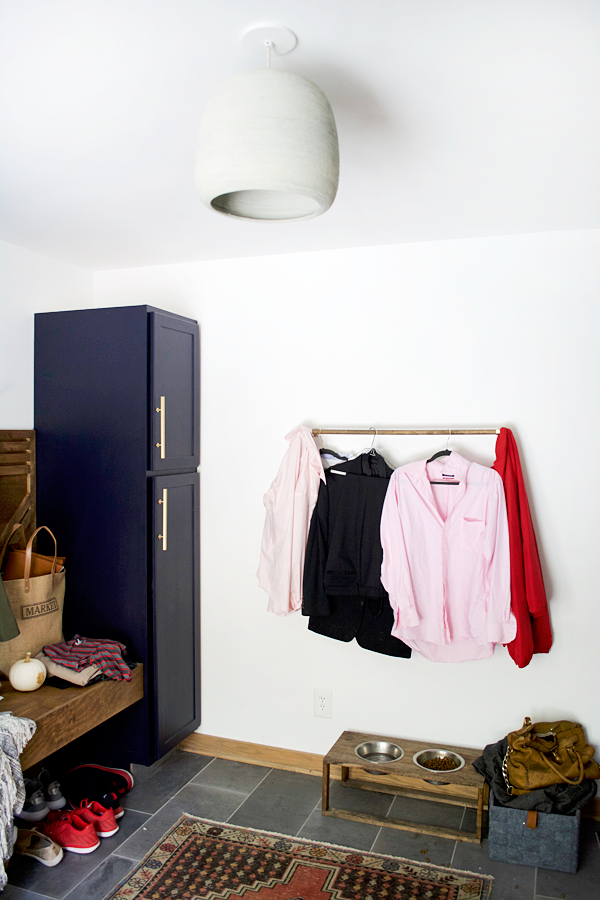 Moving upstairs…more stenciling. Eloise loves to stop and kiss the birds and butterflies on her way up but that's not going to stop me from painting over this wall very soon too ha.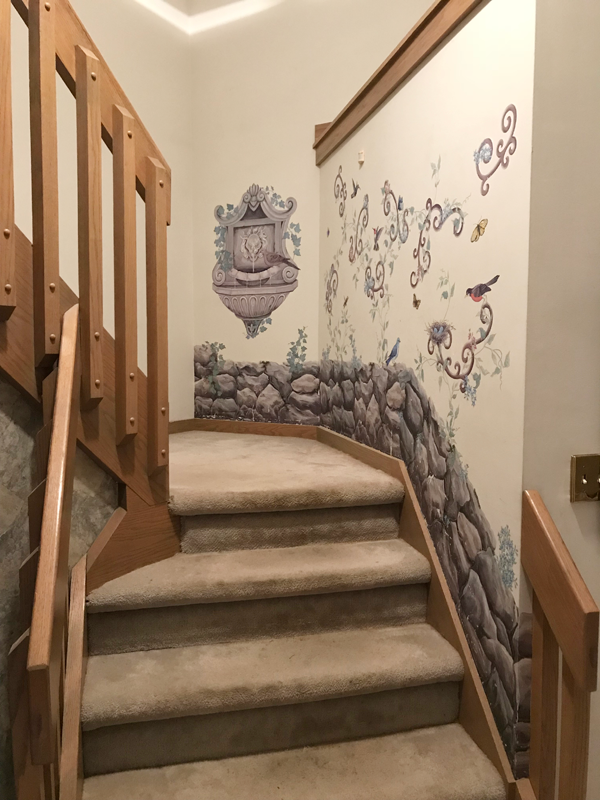 I really don't make the bed that often unless I need to take photos or I'm feeling super ambitious that day. But even if it does happen, it's usually not until later in the day anyway.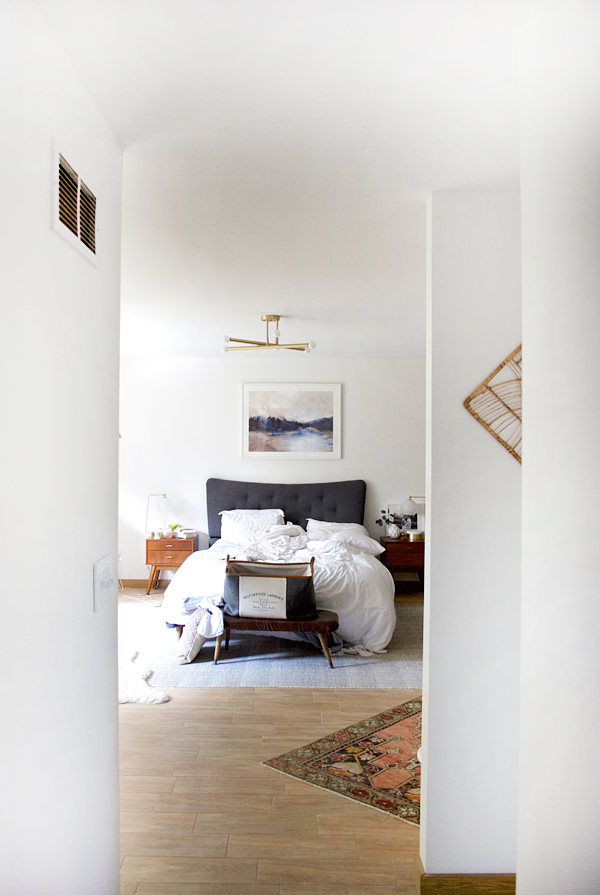 If you look closely you'll notice the eucalyptus is missing from the vase on the dresser. That's because I stole it to use down in the laundry room 😉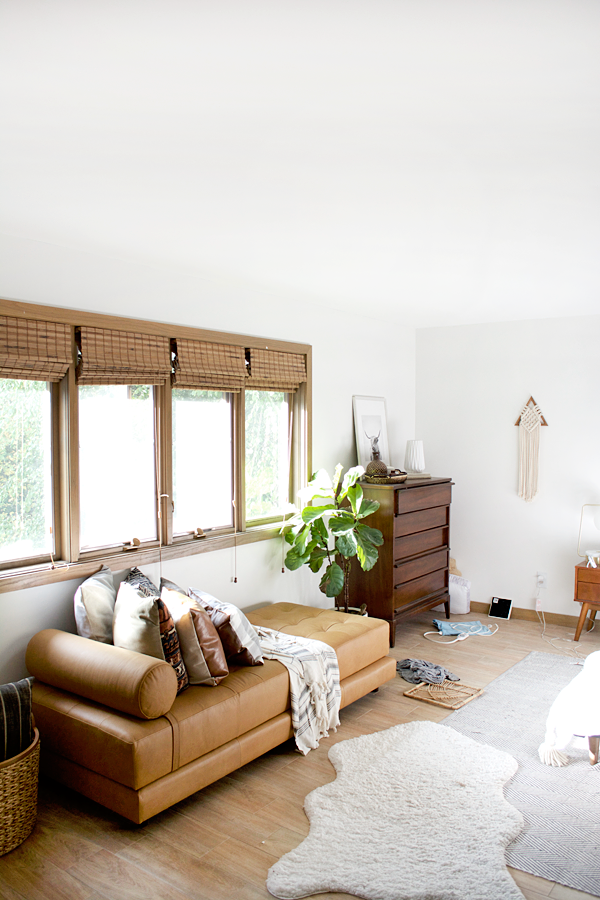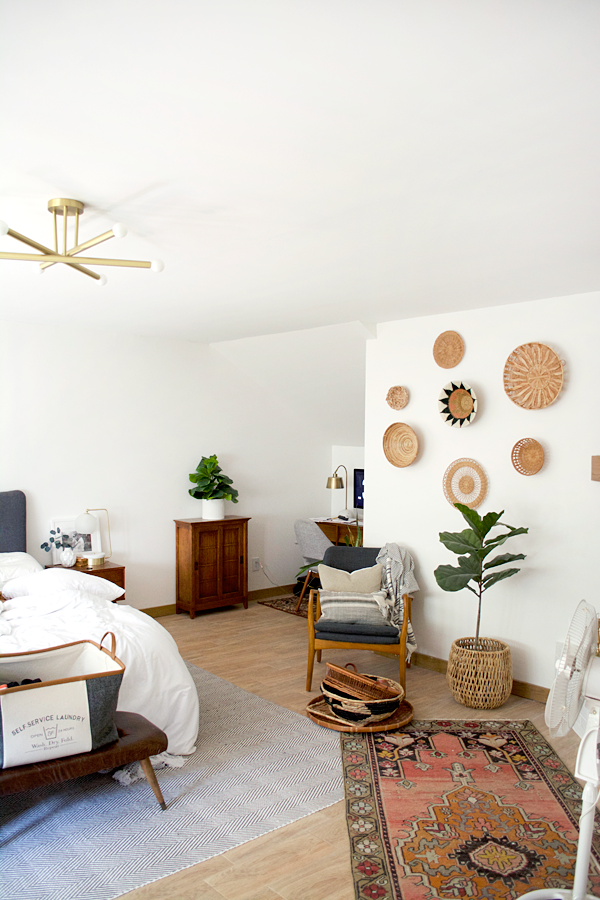 That poor snake plant has been dead for months and I've just been too lazy to move it ha. He stayed alive for a good 2 years without me watering him, but now I can't find another one to replace it! I'm still not 100% happy with my little desk nook – it still needs some work but I'm not sure what else to do.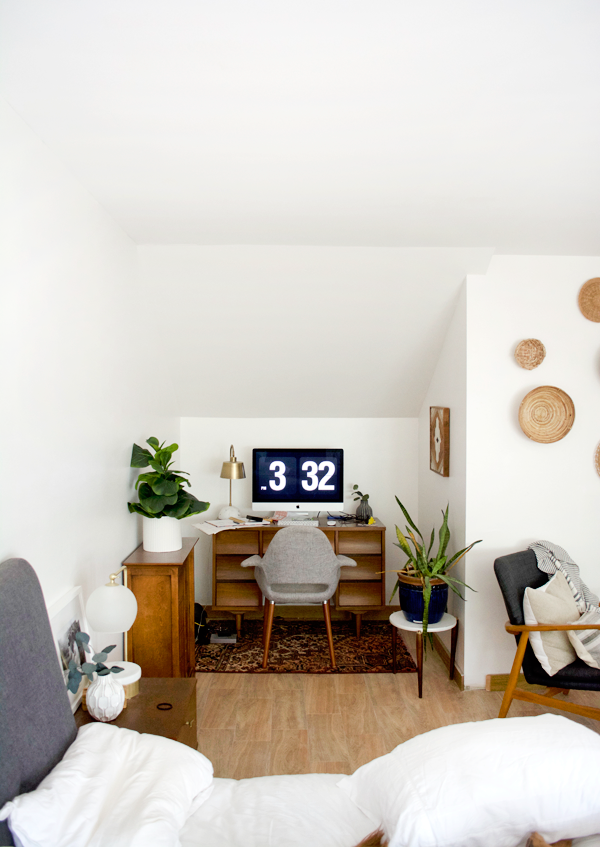 Oaks is always on our bed all snuggled in <3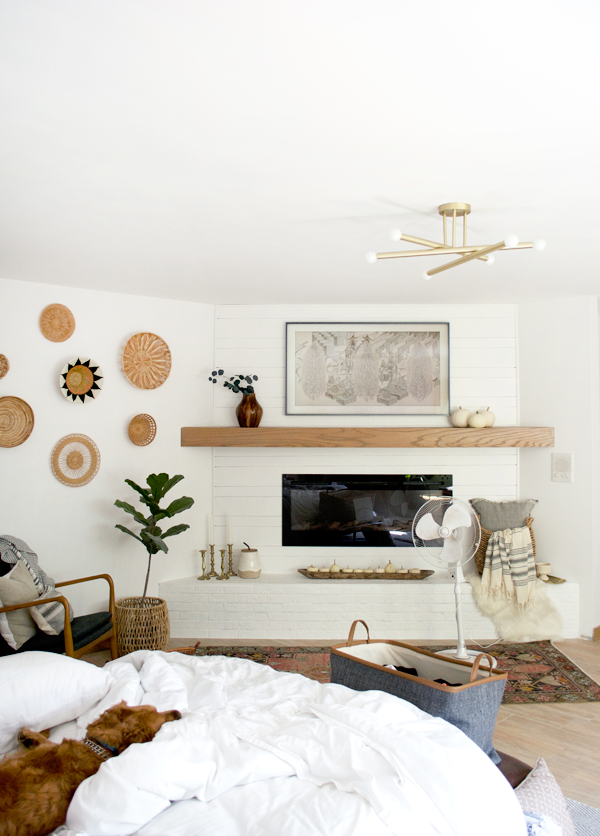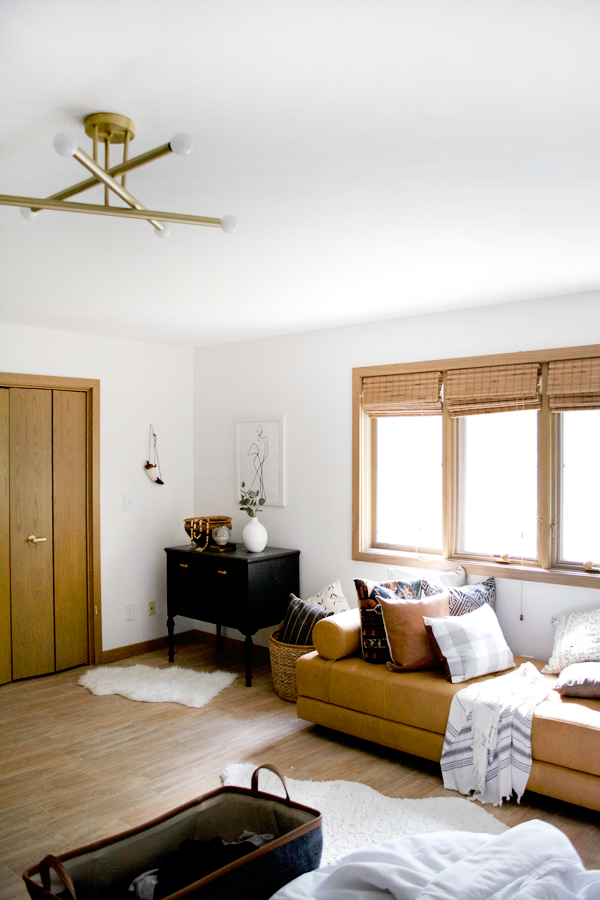 And into the bathroom we go…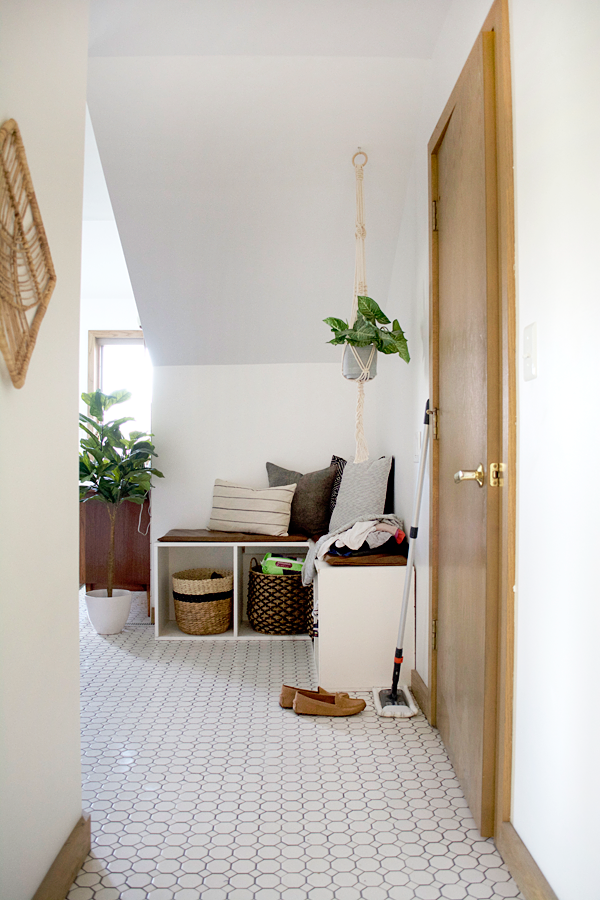 Eloise's bath toys are always all over the place. But I did finally replace all the dying plants in here with new ones 🙂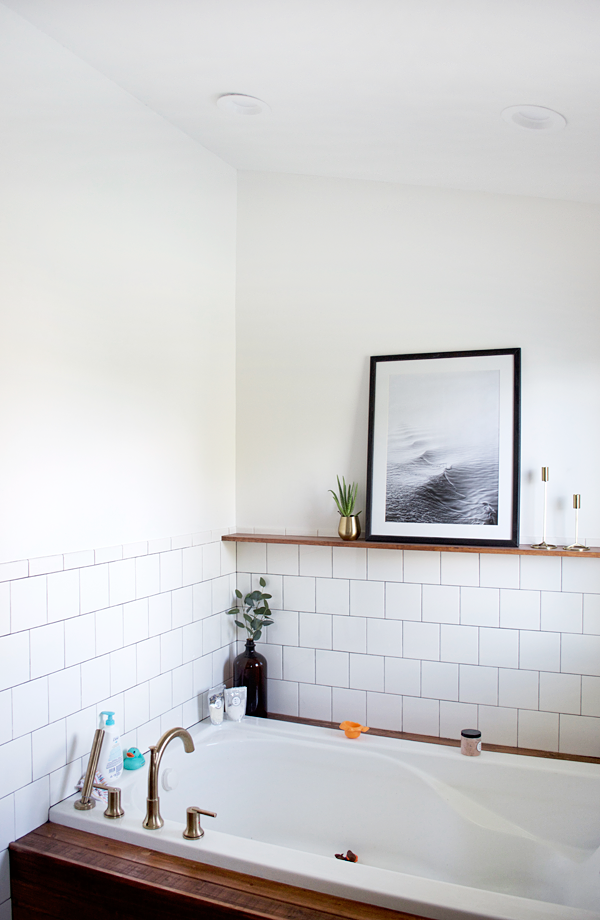 All the ones on the shelf are fake 😉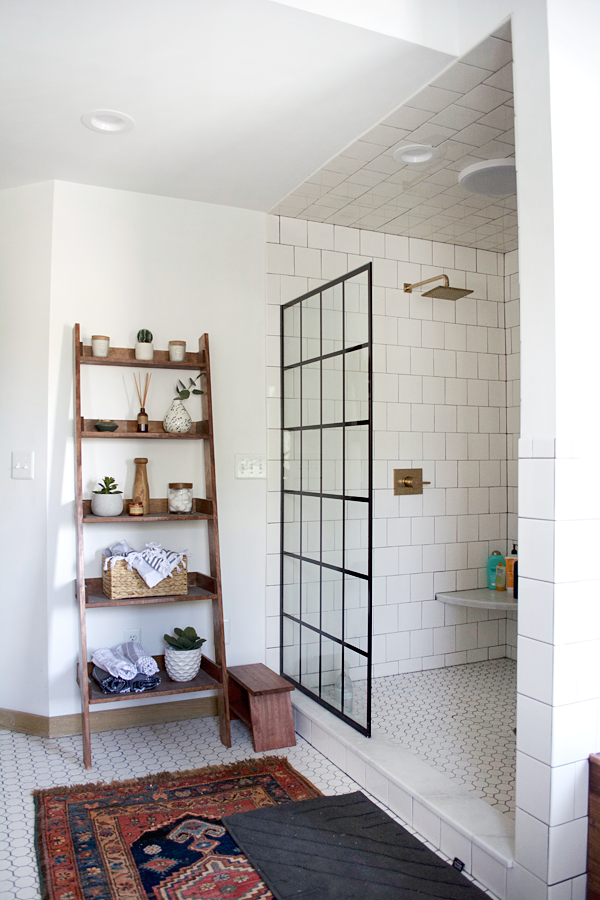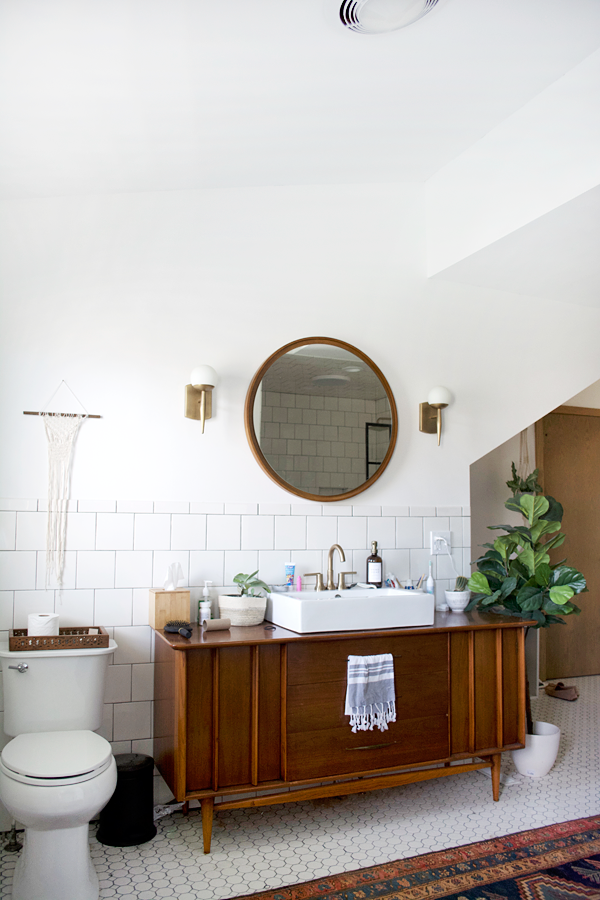 So there ya have it. If you randomly showed up to our house and I let you in, this is what it would most likely look like. With baby #2 on the way in about 2 weeks, I've been getting into nesting mode and have been trying to do some serious cleaning around here but I feel like it just gets dirty again the next day. Such is life, right?
Our house is obviously in a very confused state. Half 21st century modern design – half trapped in the 90s. But it just goes to show you that it's a work in progress and not every inch is updated or even close to where we would want it to be. We don't have the money to completely gut every room and make it our dream home, but I'm grateful for the changes we have been able to make and grateful to have a roof over our heads. We'll get there one day 🙂
I always want to be transparent and open with you guys – and this is true life for us. Yes I'll keep sharing the pretty and perfectly styled pictures, but just know that behind the scenes, this is what things usually look like.
There's a whole bunch of other bloggers taking part in this home tour so be sure to check out their "no make up" homes below too!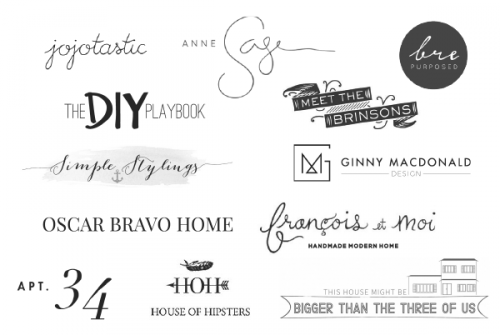 House of Hipsters :: Jojotastic :: House of Brinson :: Bigger Than The Three of Us :: Simple Stylings :: The DIY Playbook :: Oscar Bravo Home :: Apartment 34 :: Francois et Moi :: Anne Sage