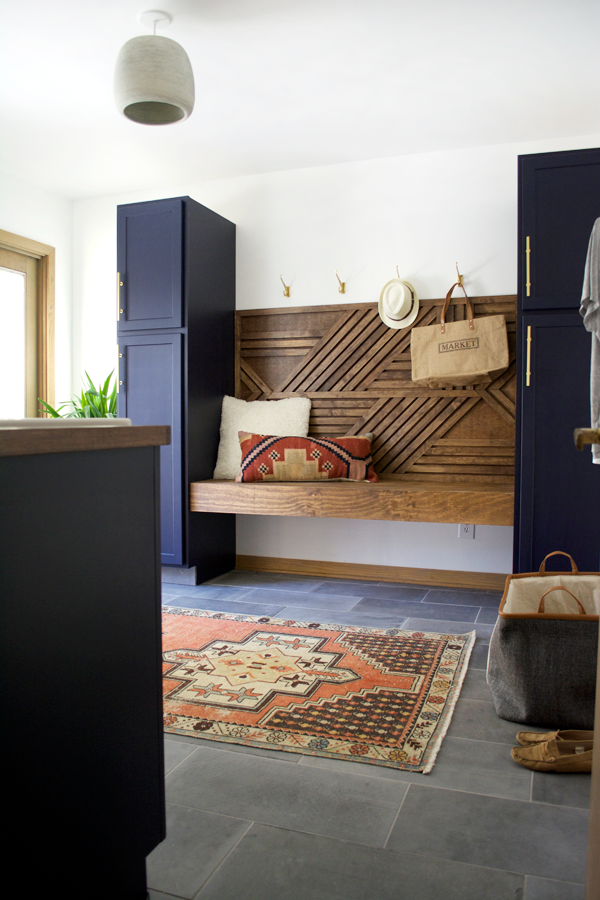 IT'S REVEAL DAY!!! I've been trying to contain my excitement and not share too many sneak peeks on social media, and now I can finally share it all! This was our first One Room Challenge hosted by Linda at Calling it Home and I have to say things went pretty smoothly for a full room gut.
I have to give a HUGE shout out to the hubs and my FIL because this literally would not have happened without them. I appreciate their help so much and am just so glad this space is finished! It came out even better than I had been picturing in my head since the beginning.
For those of you who are new or are just stopping by, we recently moved to OH and moved in with my FIL. Before this, we've always rented, so renovations were out of the question. It's definitely been a transition making this house feel like home for us, but this laundry room is the first real room I've made over from top to bottom and I couldn't be more in love with it.
If you want to check out our progress follow along from the beginning! week 1 :: week 2 :: week 3 :: week 4 :: week 5
MODERN NAVY LAUNDRY ROOM REVEAL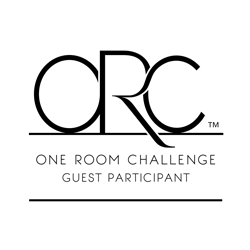 *this post contains affiliate links*
As a little refresher here is what we started with.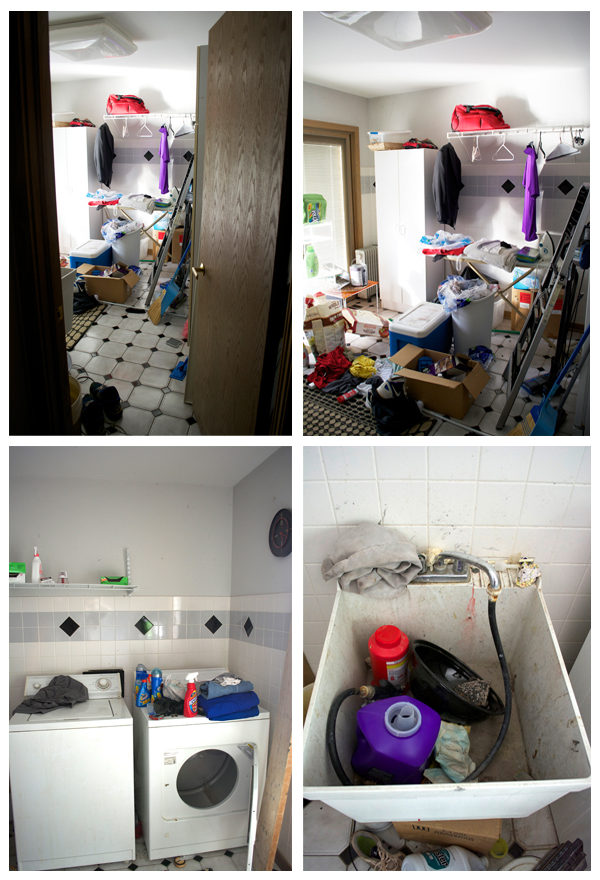 And here is where we are now!!!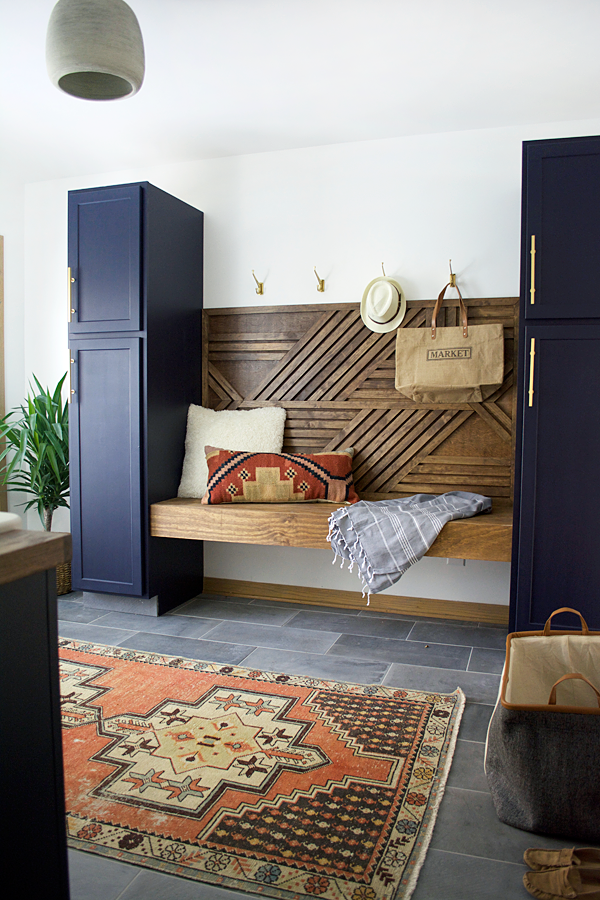 This is the view when you first walk in. I'm OBSESSED with how my wood wall turned out! This was my inspiration and I was surprised how simple it actually was. The most difficult part was trying to figure out what type of wood to use.
Tutorial for Geometric Wood Feature Wall.
The modern floating bench we built gives it all such a clean look and you know I couldn't pass up the opportunity to buy some new pillows 😉 The red one I found at Marshalls and the white fluffy one is from Target. The throw (which is actually a Turkish Towel but shhh) is from Mae Woven and the Market bag is from Indigo Tangerine.
And we can't leave out that gorgeous rug. I was nervous to pull the trigger on a rug because I knew it would be the anchor of the space but this one from UrbanRug couldn't be more perfect!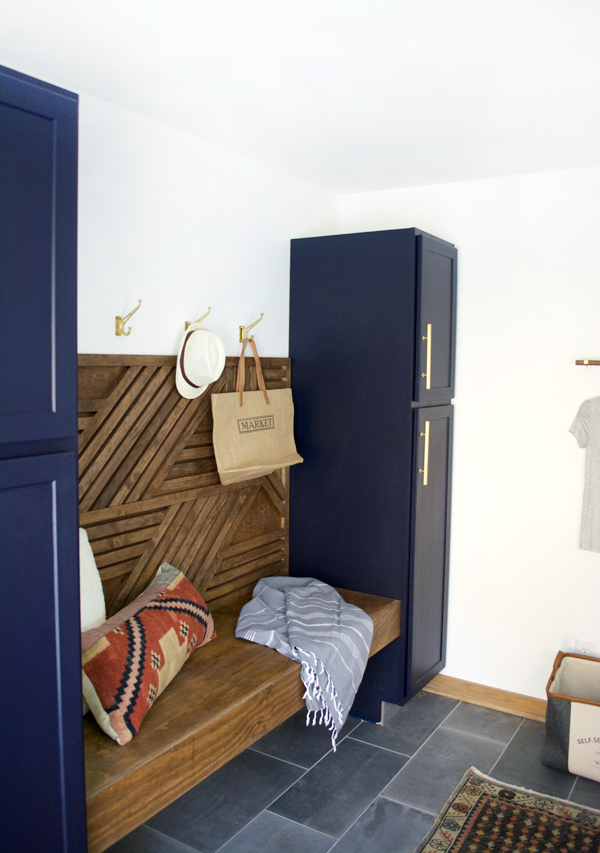 I literally come in here and sit on this bench and just stare at everything around me. It all makes me so happy!
The two tall cabinets my FIL got from a job he was working where the cabinet maker screwed up the measurements. We got them for a great price and even though they're laminate, you would never know and they were exactly the look I was going for. I painted them in Anchors Aweigh by Sherwin Williams. They have tons of storage space and are perfect for all the random stuff I want to hide.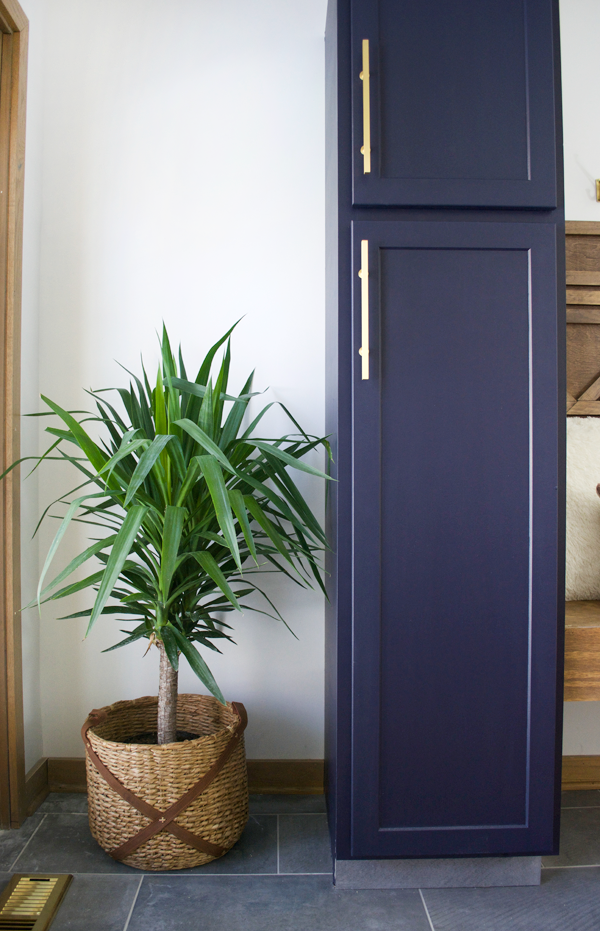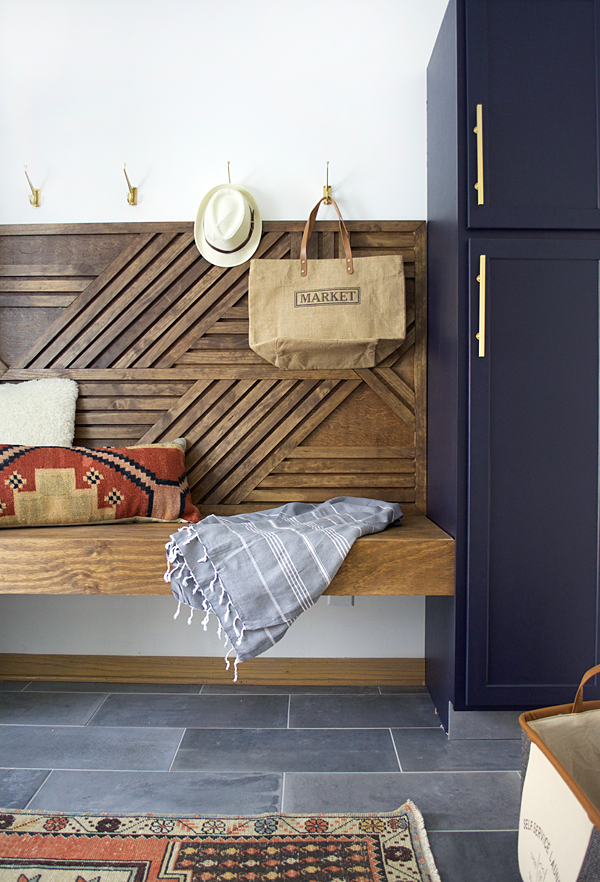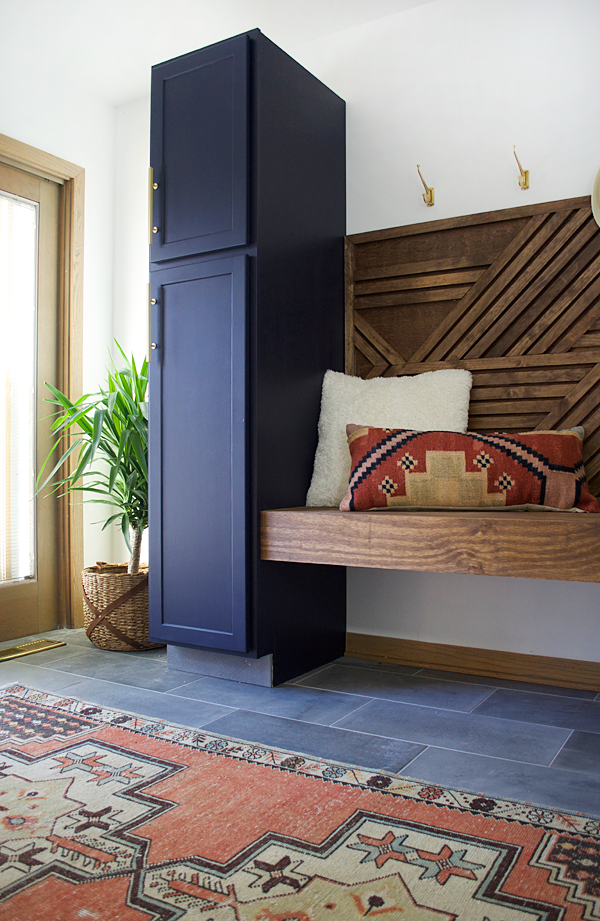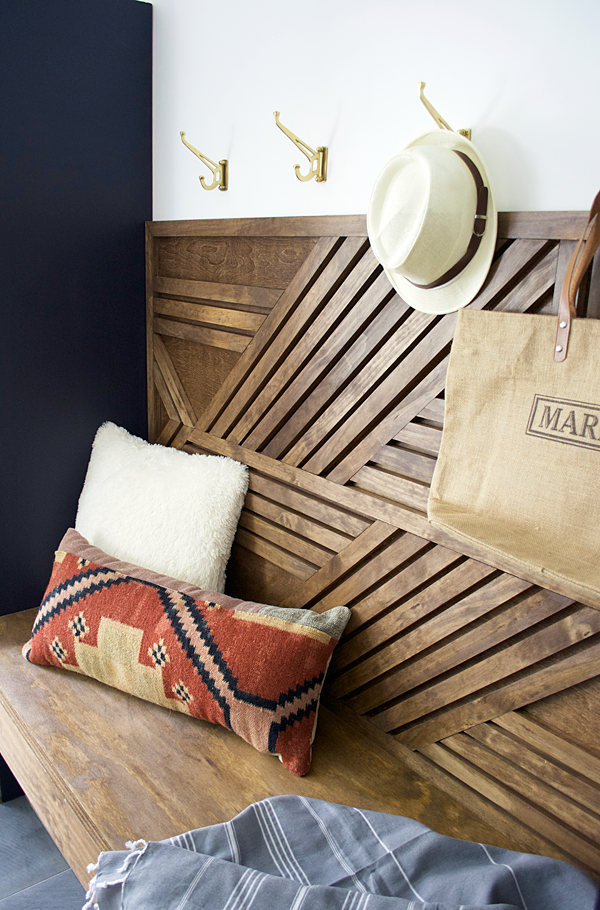 These brass hooks I found on Etsy from The Foundry Man. I gave them a quick coat of spray paint to brighten them up and match the rest of the hardware.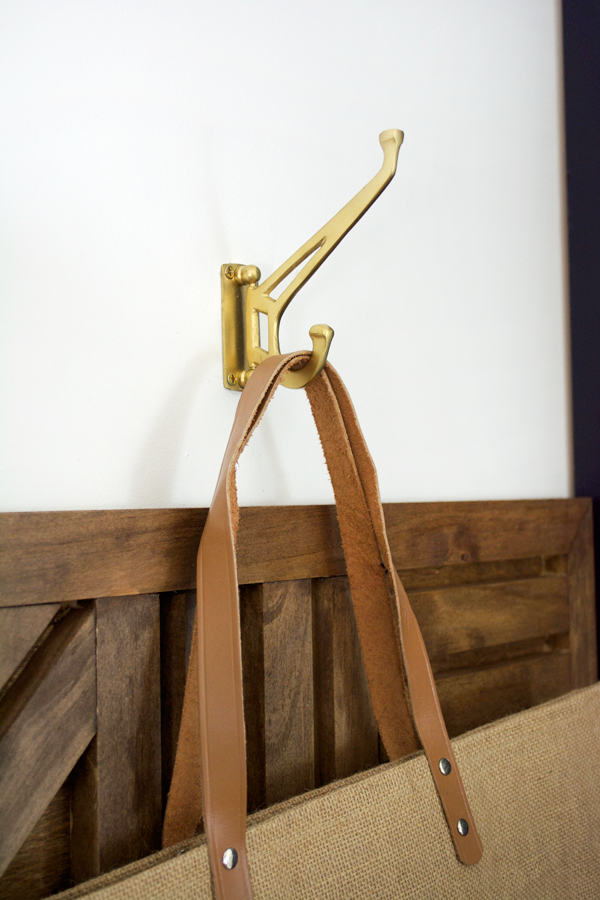 Ok now onto the other side!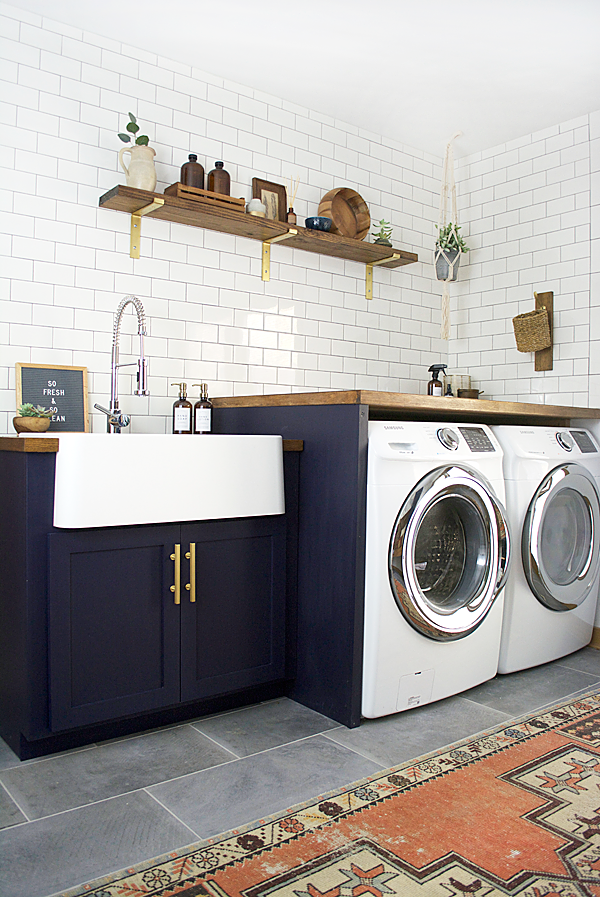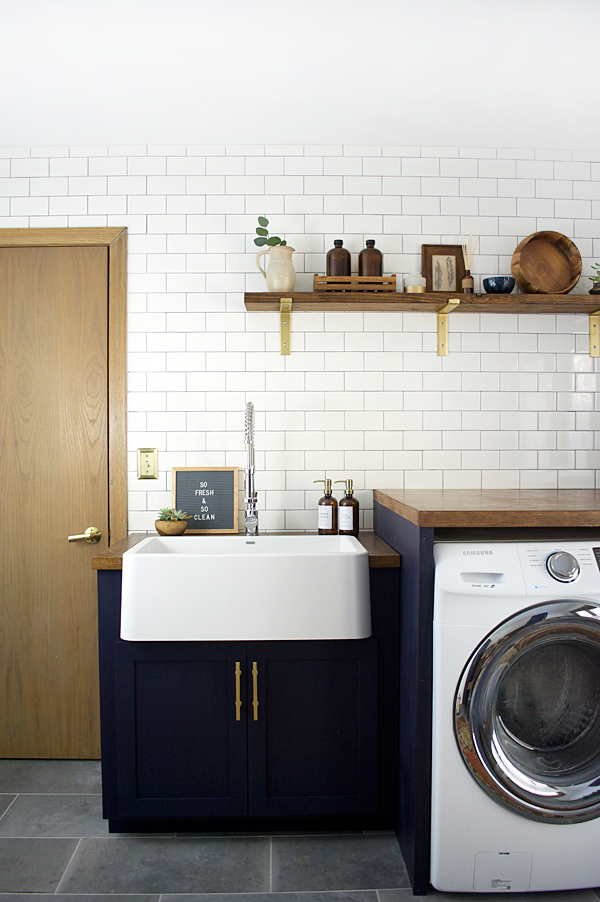 That sink!! Right?! I honestly might bring in our dirty dishes from the kitchen and do them in here. This thing is ah.mazing. It's the IKON sink from Blanco and it's heavenly. I paired it with their Meridian faucet and think it's the perfect combo for a laundry room. I wanted a pull down since the sink is so big – it makes it easier to wash it out and it will be nice for getting out stains.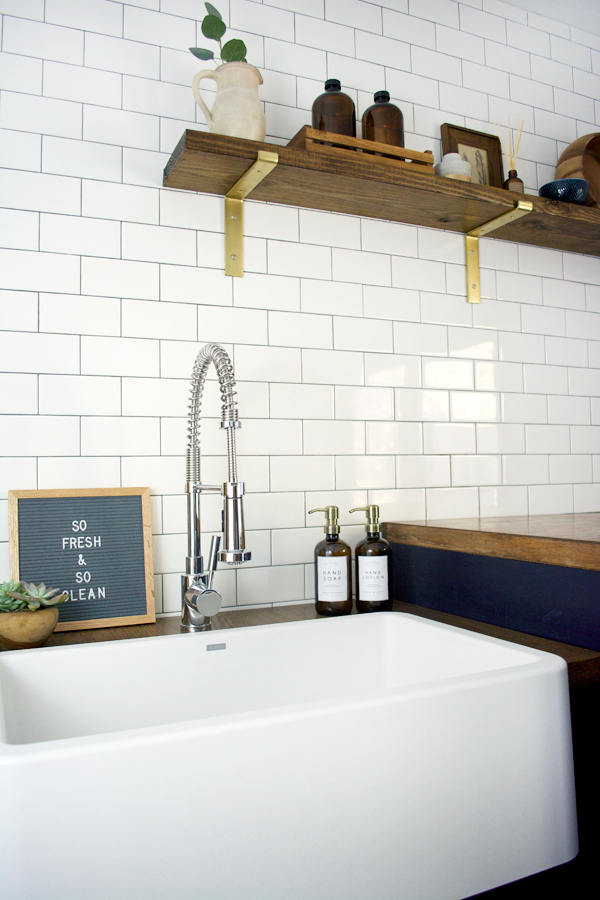 We've come a long way from the sink we had in here before. I was so happy to get rid of that thing! We had a custom cabinet built by Salem Mill & Cabinet Co. If you're local – check them out!
Bruce and Andrew did an incredible job on this piece and gave me exactly what I wanted. I had them give it to me unfinished and I painted it in the same navy color (Anchors Aweigh) to match the tall cabinets. All the hardware is from Lewis Dolin in brushed brass.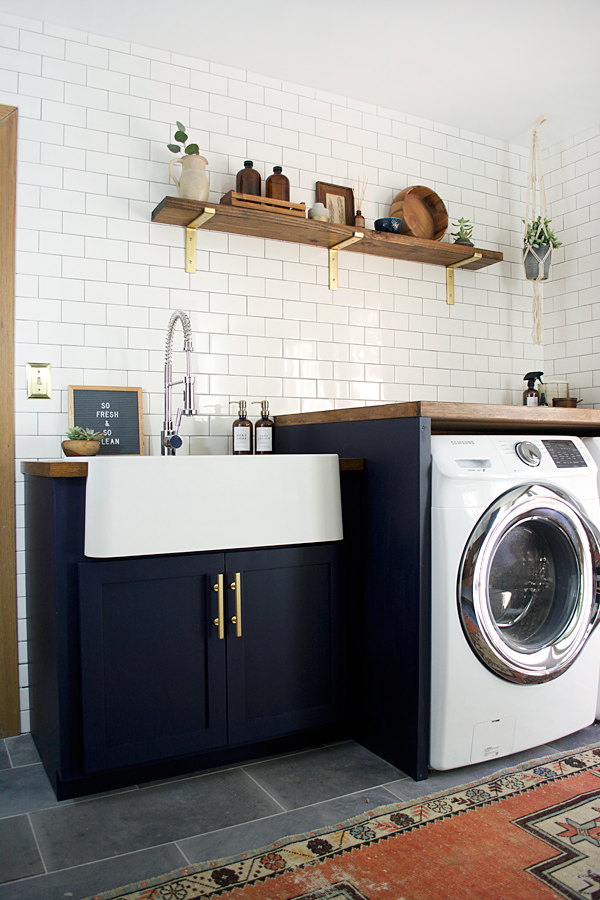 I knew I wanted some open shelving above the washer and dryer with some pretty hardware and Crates & Pallet provided these gorgeous brackets! They came in black but I gave them a quick coat of spray paint and now they look super high end for a fraction of the price!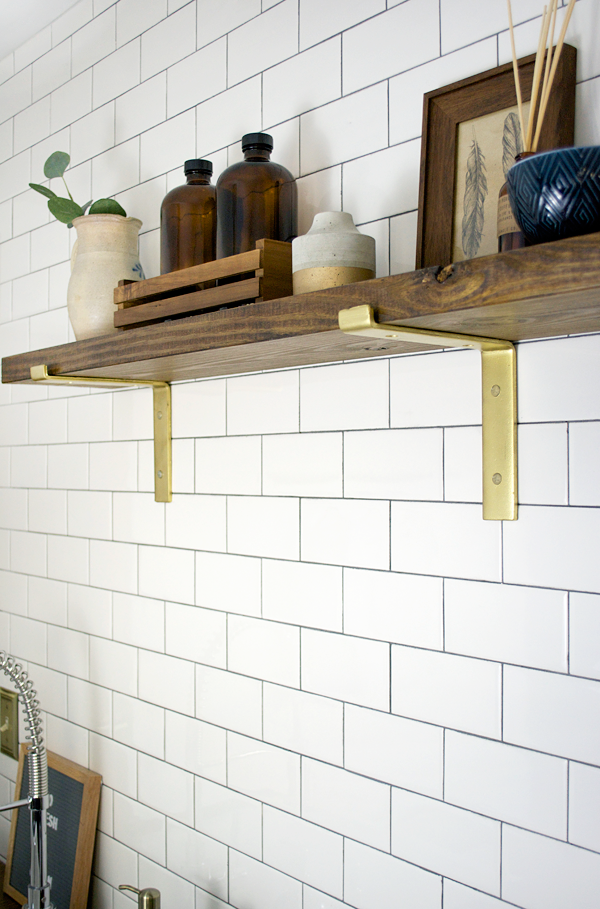 This reed diffuser from P.F. Candle Co. smells AMAZING and makes walking in this room even better.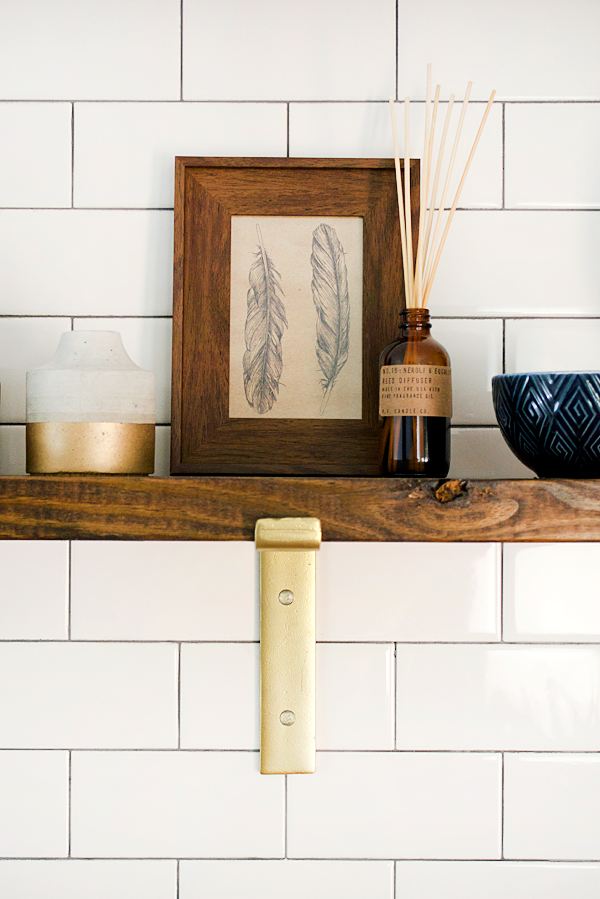 The hubs made fun of me for how many times I went back and forth styling this shelf. But I wanted it to be just right and that took some playing around. I'm pretty positive it won't stay like this forever, and I'll be back up there moving things around soon 😉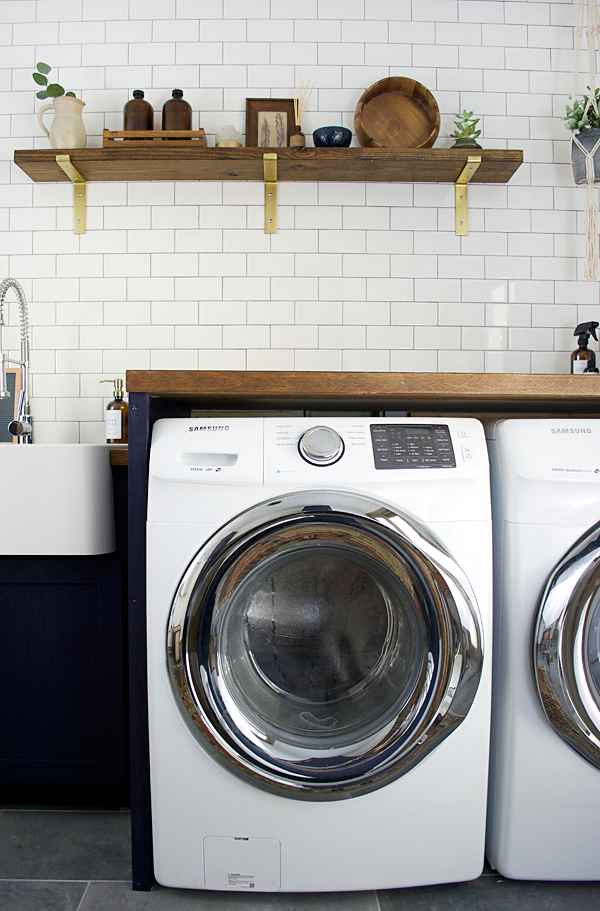 Our washer and dryer are the Samsung High Efficiency Front Loaders. I didn't know I could love an appliance so much. I won't be complaining about doing the laundry again for a while 🙂 We found the countertop in Pittsburgh at a place called Construction Junction. It's actually an old door slab and it was $20. Such a steal and totally gave me the butcher block look I wanted.
I shared this little lint basket holder on the blog yesterday and it's the perfect place to throw lint and random trash that I find in our pockets (mostly the hubby's pockets if we're being honest 😉
These soap and lotion dispenser were a bit of a DIY. I really wanted amber bottles with brass tops to match the rest of the accents in the room, but the only ones I could find with pretty labels were in Australia and didn't ship here. So I made my own! I ordered the tops and bottles separately and then created my own labels. I'll be sharing these soon as a free printable!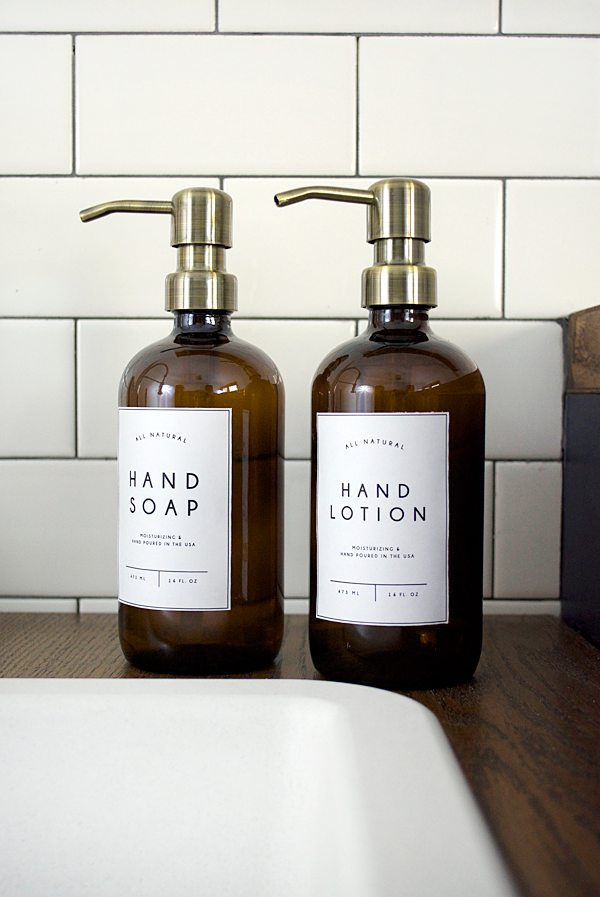 I also created one for some stain remover and found this pretty brass utensil holder at Target that I put dryer sheets in. And scent crystals are in the little bowl that has a mini spoon inside!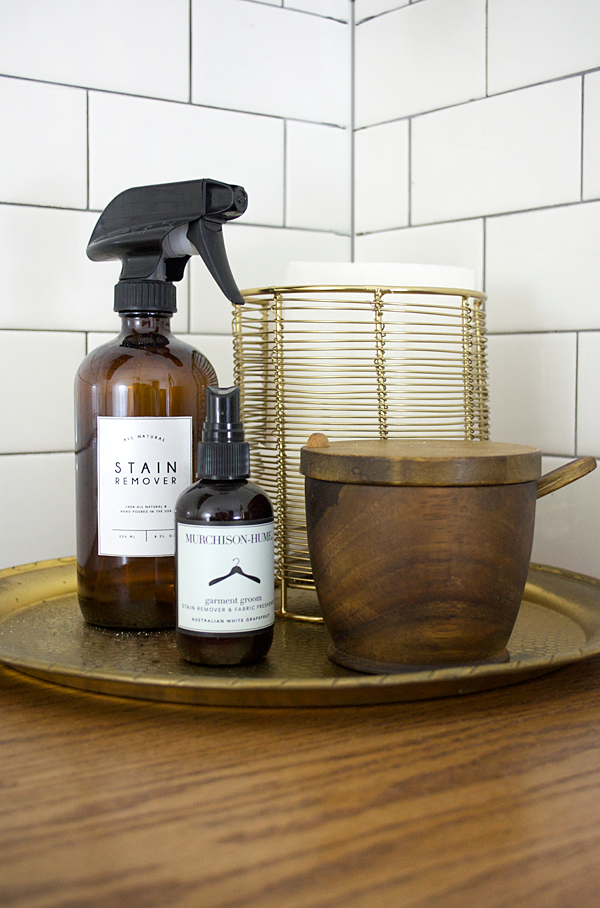 Of course I couldn't resist some succulents and I can't wait to come up with some more fun sayings for my Letterfolk Board!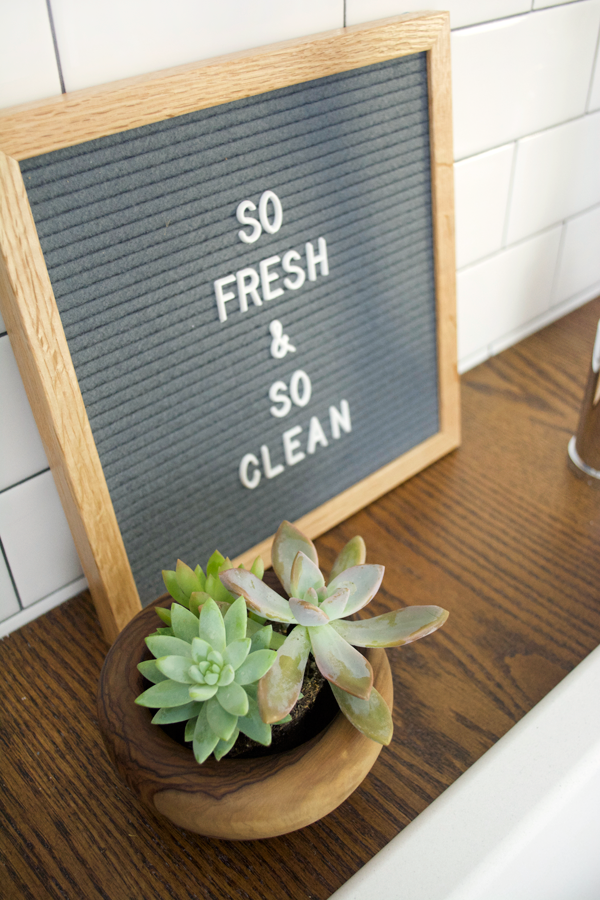 And we can't forget about this gorgeous light from lamps.com. I love how simple and modern it is and how it ties in with the concrete look of the floor tile.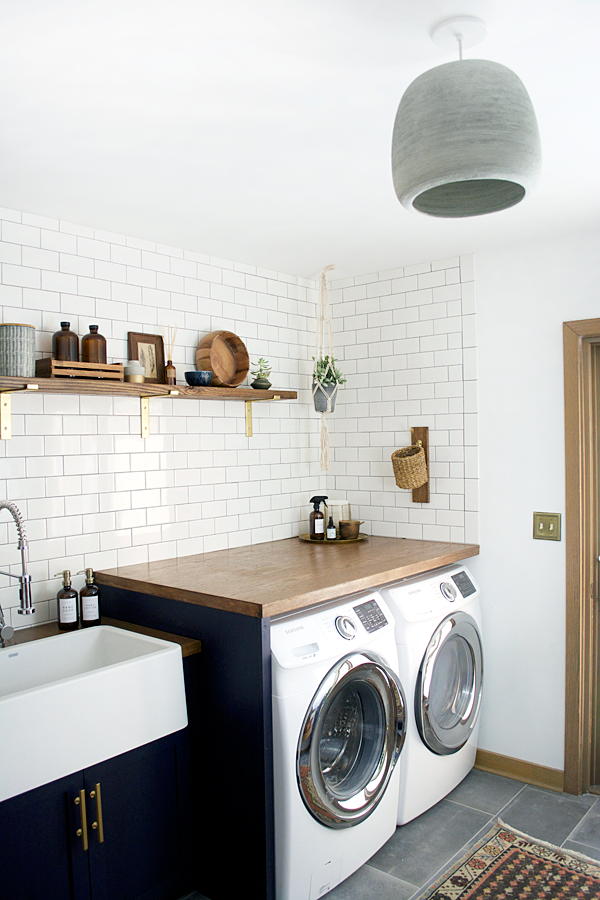 Now since this is a laundry room, we needed a little place to hang clothes. I wanted something simple that didn't take up too much room and ended up creating this DIY Clothes Rack.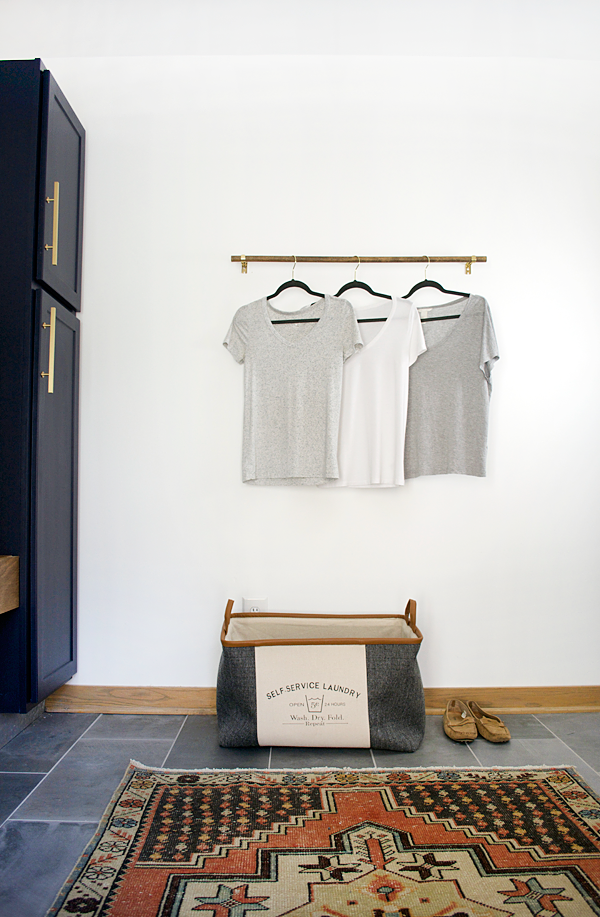 I found the perfect grey and gold hanger at Marshalls that I got way too excited about :-p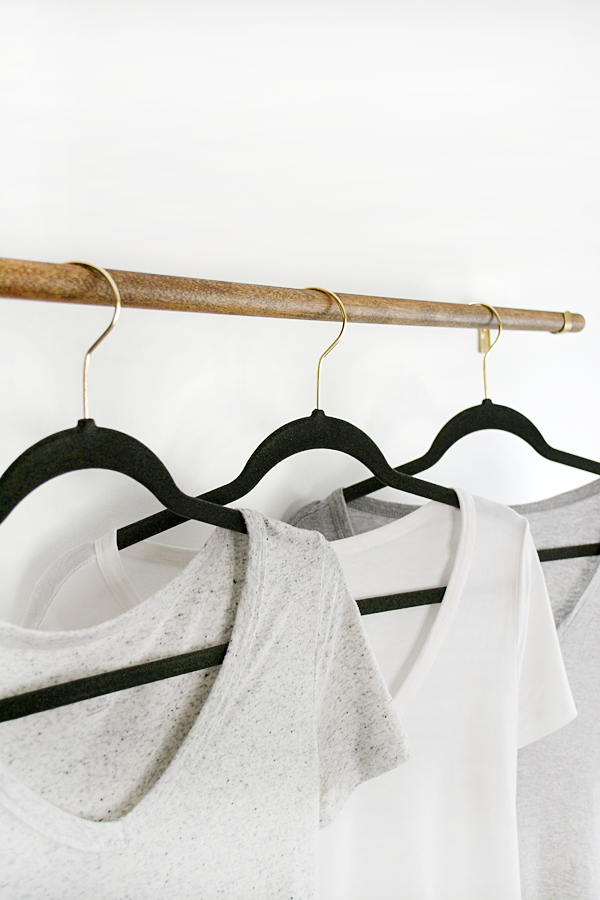 It doesn't stick out too far and still blends in with all the other decor. And I love my hamper I found at HomeGoods sitting below it!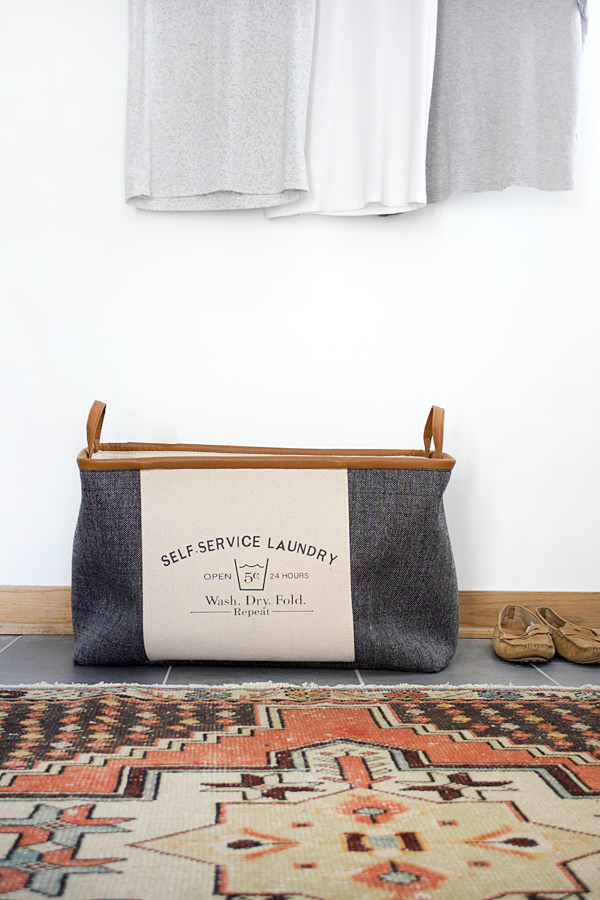 I could have shared a hundred more photos with you but I'll stop here 😉 I'm seriously in love with this space and SO happy with how it turned out. I might bring in a little bed and sleep here ha. It's by far the prettiest room in our house and now I've got the itch to redo all the others too! We'll see what the hubby has to say about that 😉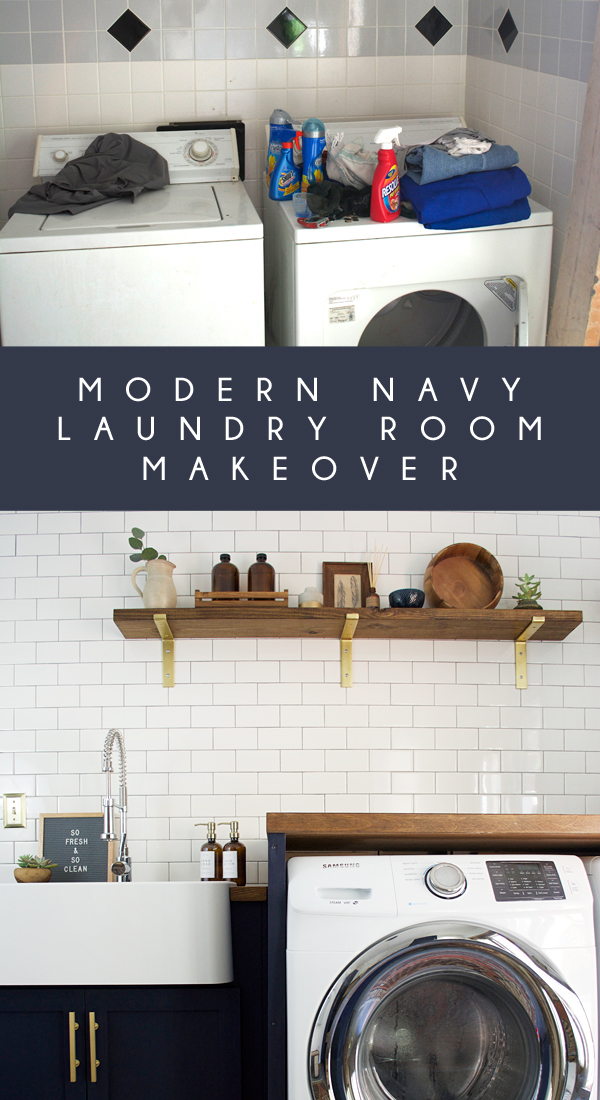 I want to give a BIG shout out to my AMAZING sponsors for making this all happen. They've been so great to work with and have provided some of the most gorgeous products. Blanco, Lamps.com, Crates & Pallet and HomeRight!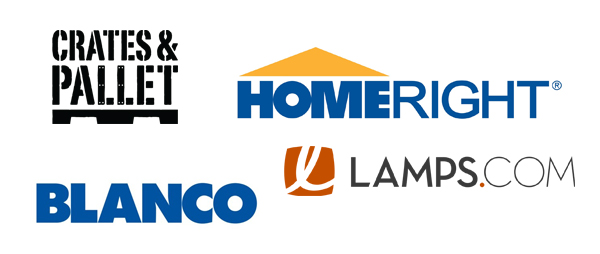 You can scroll through the above gallery to shop this post or click on these links below! If I missed anything just ask!

SOURCE LIST
Cabinet Color : Anchors Aweigh by Sherwin Williams
Floor Tile :  12 x24 Porcelain Tile from Sintesi – Atelier Series in the color Fumo bought locally from Buckeye Ceramic Tile
Sink Cabinet built locally by Salem Mill & Cabinet Co.
Wall Tile : American Olean Bright White 3×6 Subway Tile with Charcoal grout bought locally from Buckeye Ceramic Tile
Vintage Rug 
Red Pillow from Marshalls / White Pillow
Turkish Towel
Hat
Market Bag
Coat Hooks from this Etsy Shop
Plant Basket
Light
Sink
Faucet
Letterfolk Letter Board
Amber Bottle Soap & Lotion
Cabinet Hardware
Shelf Brackets
Brass Tray
Brass Utensil Holder
Garment Spray
Ceramic Pitcher on shelf – thrifted
Small Wood Bowl on Sink – thrifted
Wood Bowl on shelf – thrifted
Amber Bottles
Concrete and Gold Candle Holder
Feather Print – Target
Reed Diffuser
Small Blue Bowl – HomeGoods
Macrame Hanger
Candle Holder Turned Succulent Planter on Shelf
Lint Basket Holder
Laundry Hamper – HomeGoods
Plant – Yucca Cane from Lowe's
Countertop – Door Slab from Construction Junction
Want more posts like this delivered right to your inbox?