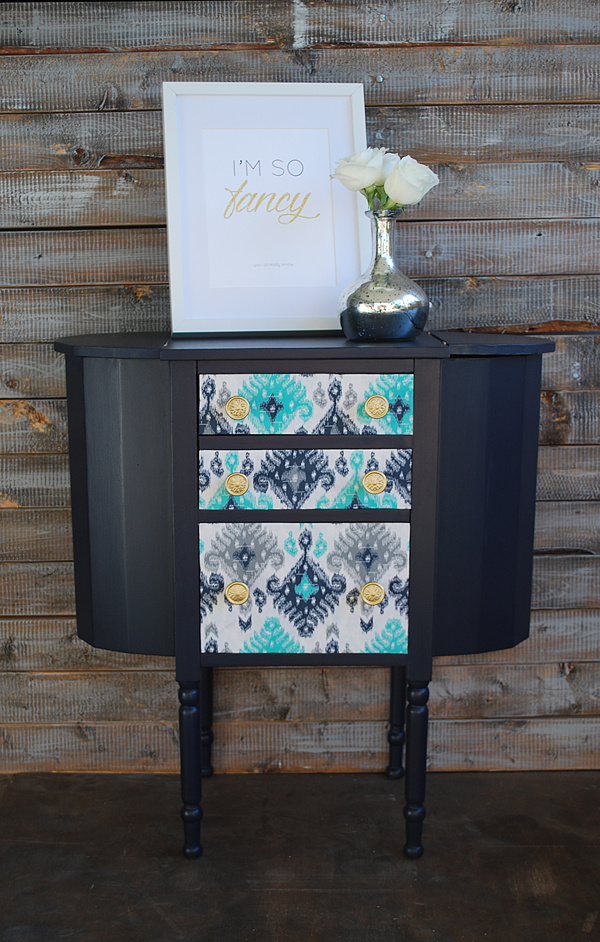 Say hello to my new little friend 🙂 Her name is Martha. Isn't she fancy?? I'm so excited to be sharing her with you today as part of Themed Furniture Makeover Day that Jen from Girl in the Garage so kindly invited me to be a part of!
this post contains affiliate links
MARTHA WASHINGTON SEWING CABINET :
DECOUPAGE FABRIC DRAWERS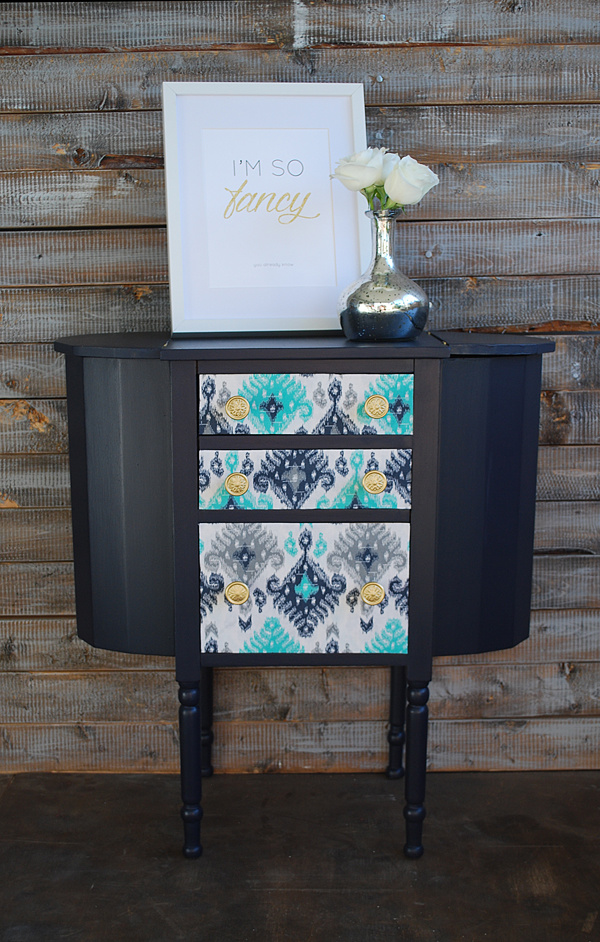 This month's theme is "Decoupage" and it's my first month of participating. I can't wait to see what the other ladies have in store.
Shout out to my momma for picking this up for me at a garage sale back home for $10. She's the best. I only know this is called a Martha Washington Sewing Cabinet because I saw a similar one on Hometalk. Here's what we were working with: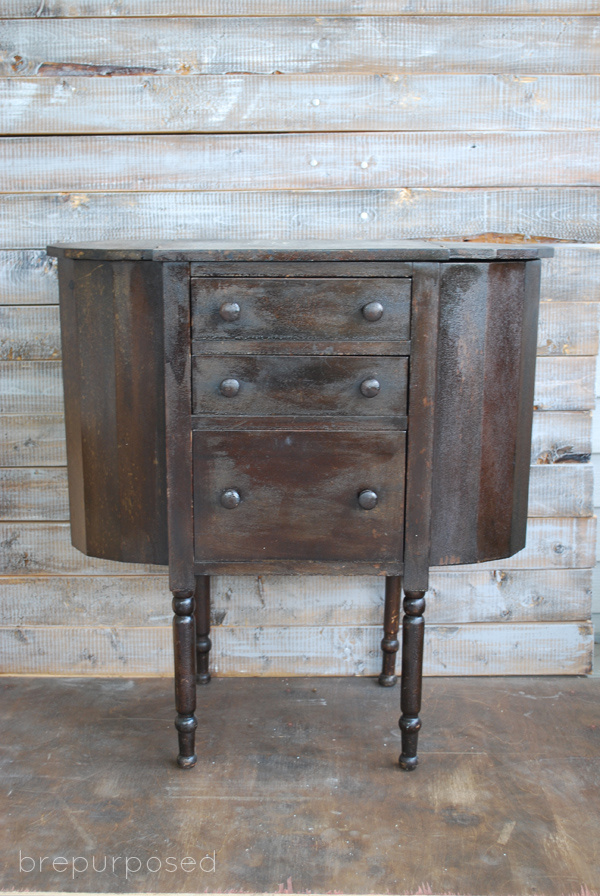 It had quite a rough texture on it which needed to go.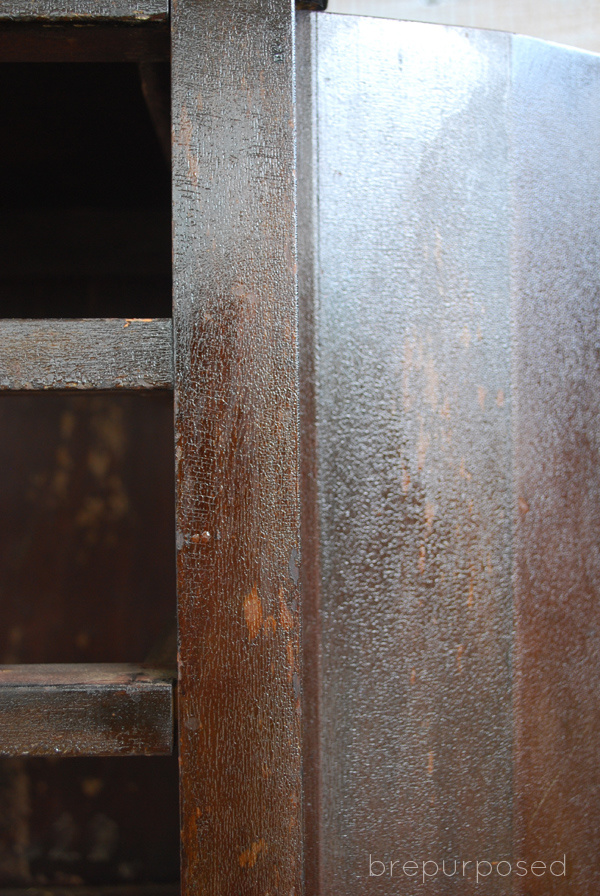 After sanding and wiping it down with a wet rag, I realized it was made out of a red wood. This was my first time using General Finishes paint, which says you don't need to prime, unless your wood is red toned or you're using a light color. So priming I did. Two coats and you could still see the red. I started to paint and hoped for the best!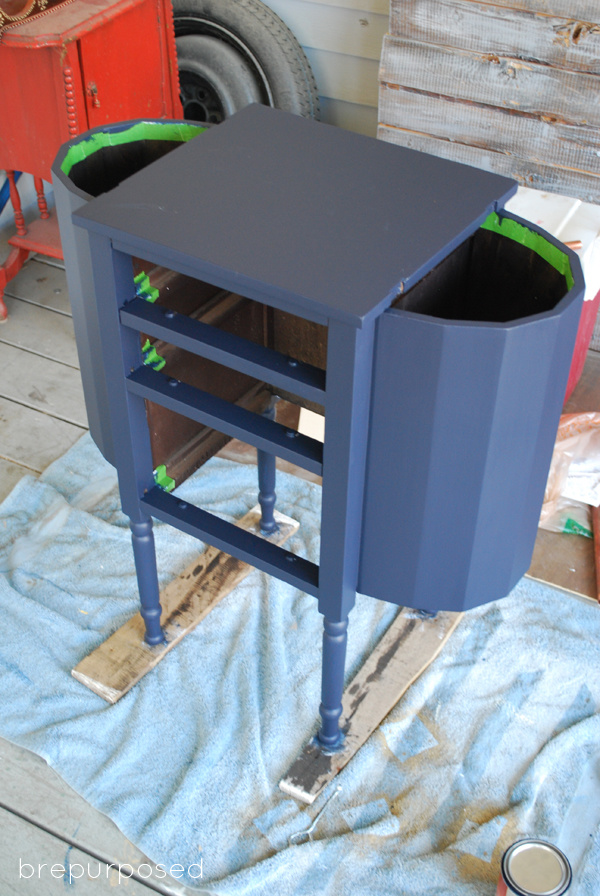 Luckily it didn't bleed through and the Coastal Blue went on super smooth. Love it! I sealed it up with General Finishes Flat Topcoat.
Before I started with my decoupage, I painted the sides of my drawers with some gold spray paint. I also used this for my knobs. (And as I'm writing this, I realized I forgot to take pictures of the drawers pulled out so you could actually see it. Trust me I did it!)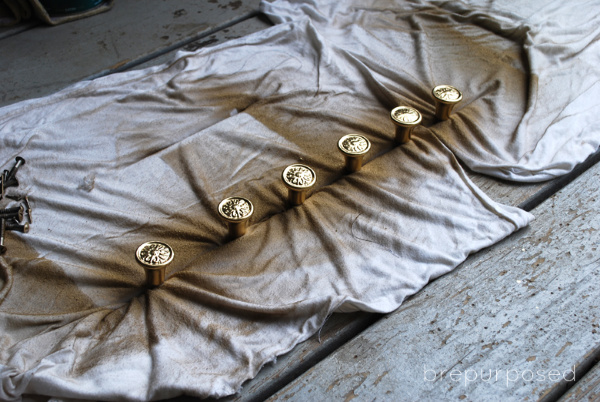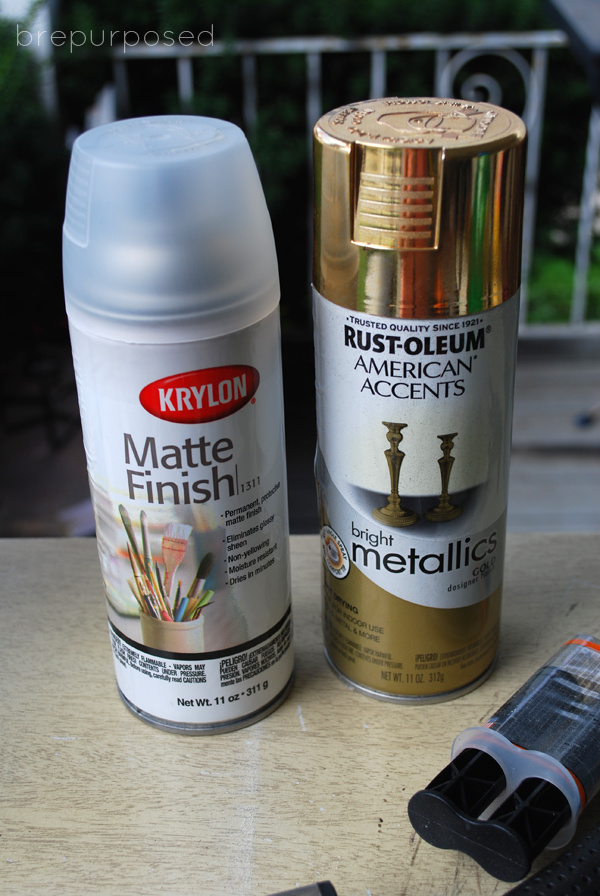 Cracks in your front porch make for perfect knob holders 🙂
Now for my decoupage. I love this fabric that I found at JoAnns and couldn't wait to use it. I traced each of my drawers onto this fun pattern and cut them out. Love my kitchen floor workshop 😉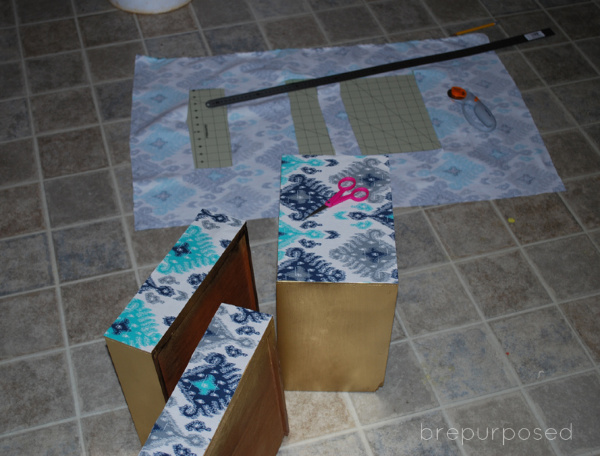 I used my Mod Podge and brushed on a layer right onto the drawer, placed the fabric, and then brushed on another coat on top.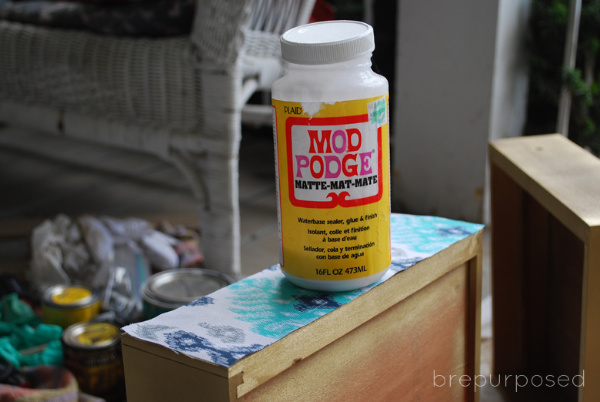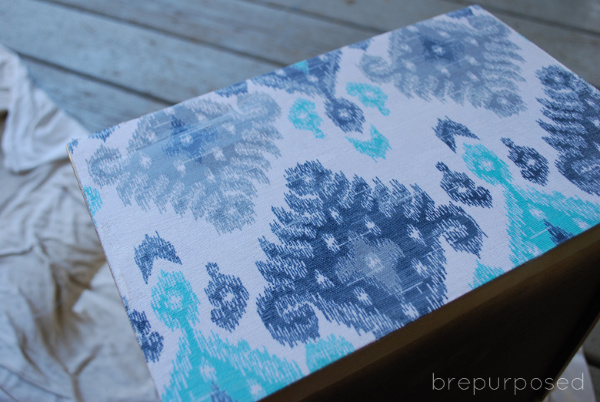 Something that makes me really happy about covering the drawers with fabric is the fact that I don't have to use wood filler to fill old knob holes. I don't know why but it's one of my least fav things to do.
On a similar note, another one of my least fav things to do was screw the hinges back in. These little suckers were a pain in my buns and I was ready to release some serious anger on Martha until my ever so patient hubs stepped in and helped 🙂
Once I added my knobs back in, Martha was ready for her beauty shots.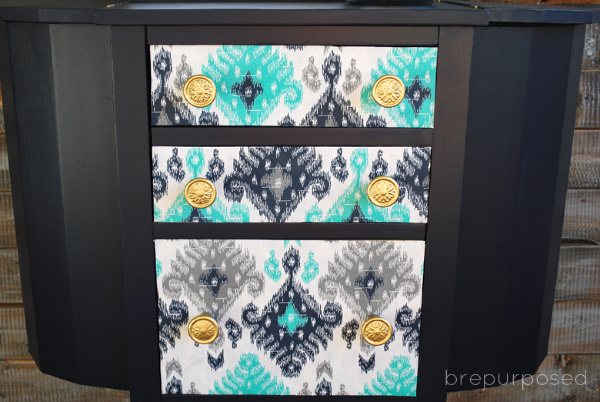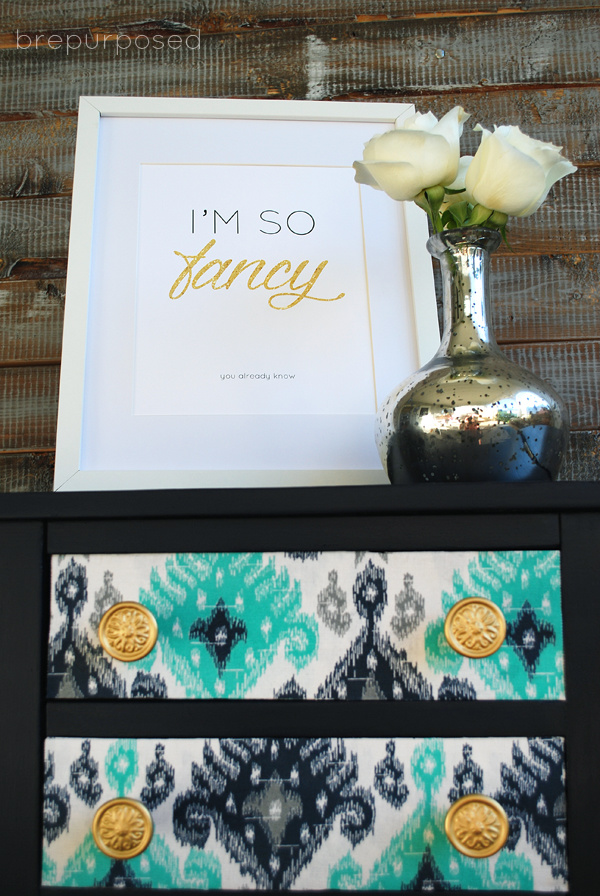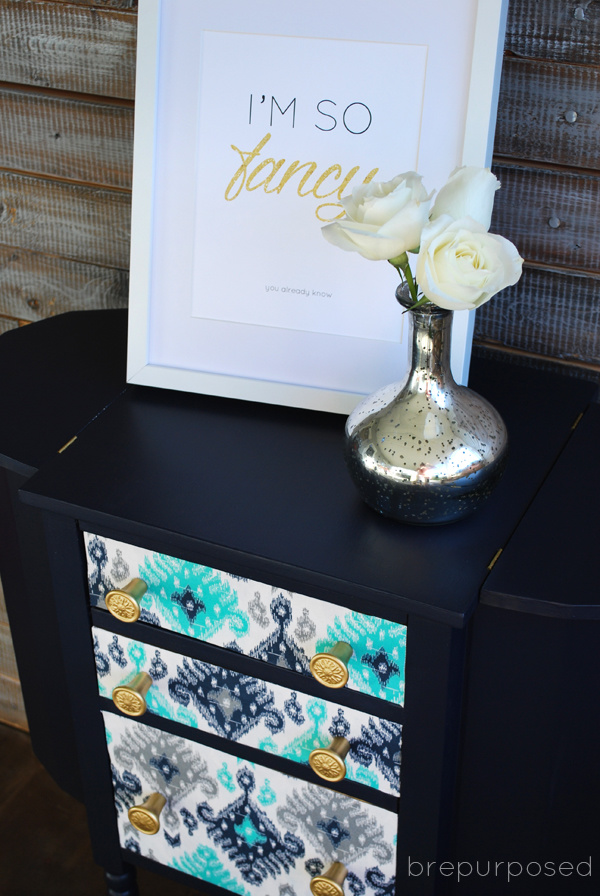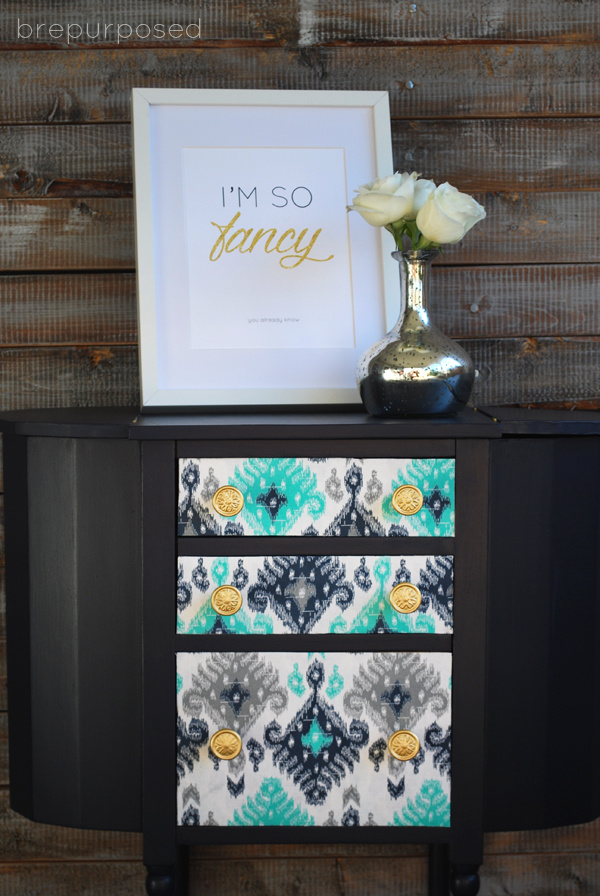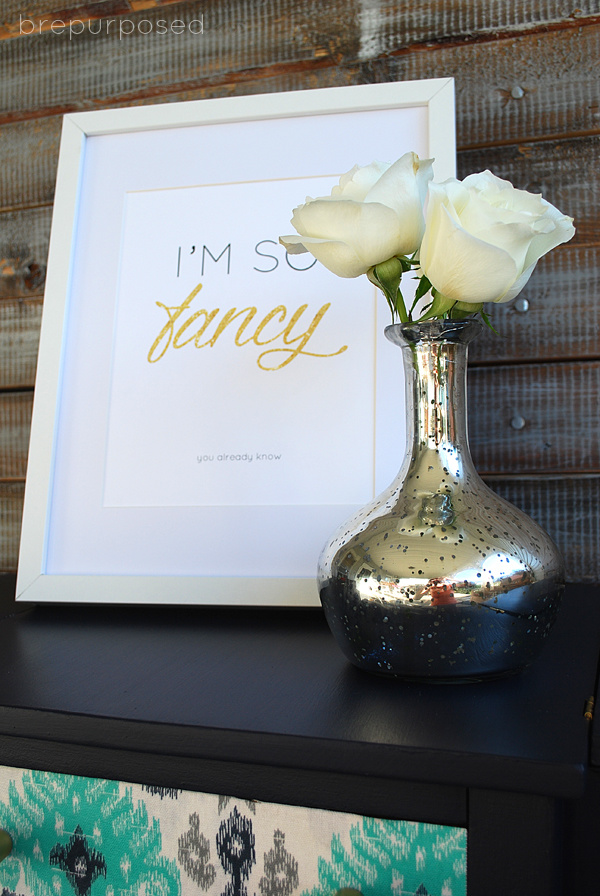 Make sure to browse the gallery below to see what my other bloggy friends decoupaged!
Oh and if you like my "fancy" print, go here to print it out. It was one of my freebies!
Have a fabulous day everyone!
[inlinkz_linkup id=439922 mode=1]