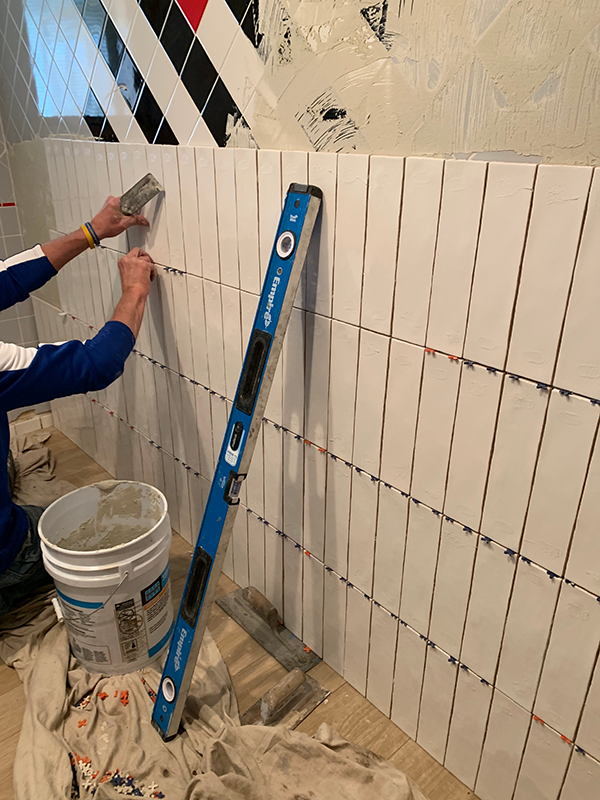 HOW TO TILE OVER EXISTING TILE
When we began talking about our plan for our half bathroom, we immediately decided to tile over the existing ceramic tile. So many of you were blown away by the fact that you could actually do this so I wanted to go more in depth about how to tile over tile.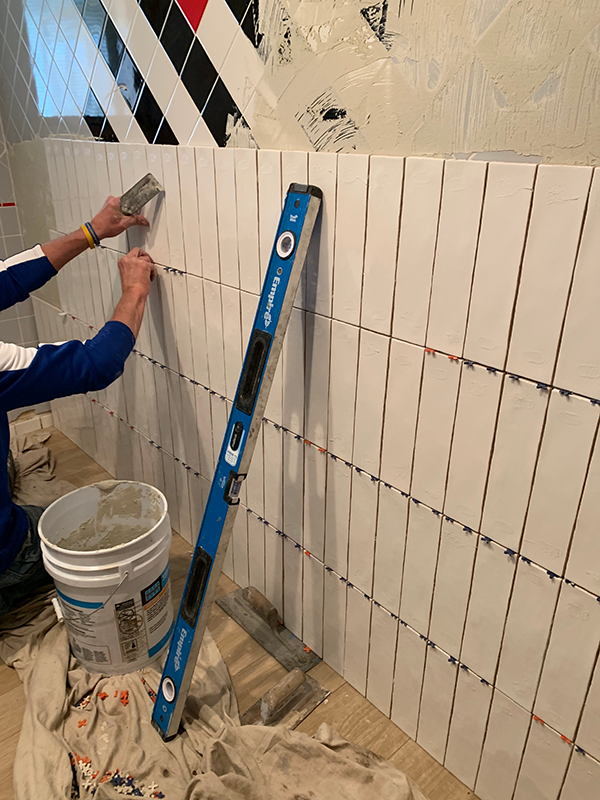 STEPS FOR TILING OVER TILE
Of course there are a lot of variables that need to be considered but I'm going to share our process with our bathroom walls and then go into more depth and answer all of your questions that you had from instagram.
STEP 1
Repair any minor cracks or missing tiles. Especially for floors you want a solid foundation – if there is a lot of damage I don't suggest doing it on the floor. For walls, it's not as big of a deal if there is some previous damage. We had some old base trim that we removed so we needed to do a little repair work where that was ripped out.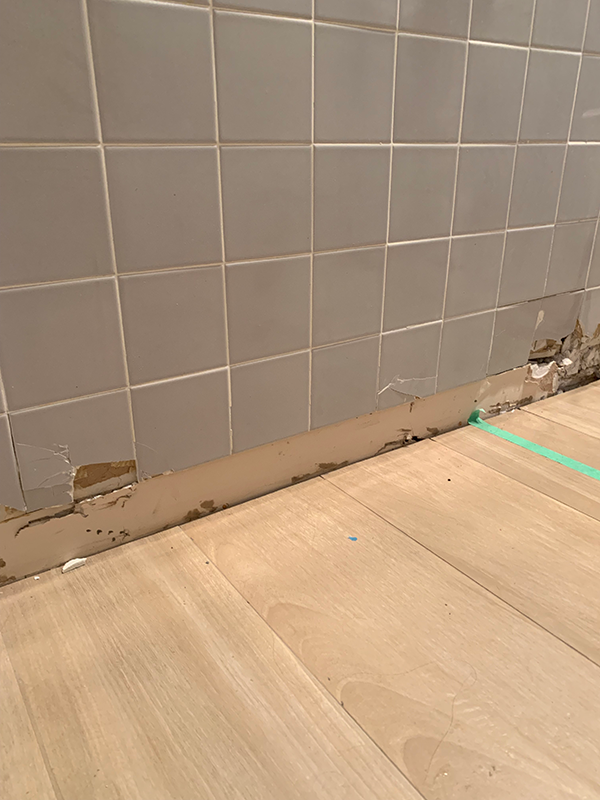 My FIL used some scrap tile he had to fill in the big gaps and make an even layer against the floor then just filled in the rest of the openings when he skimcoated.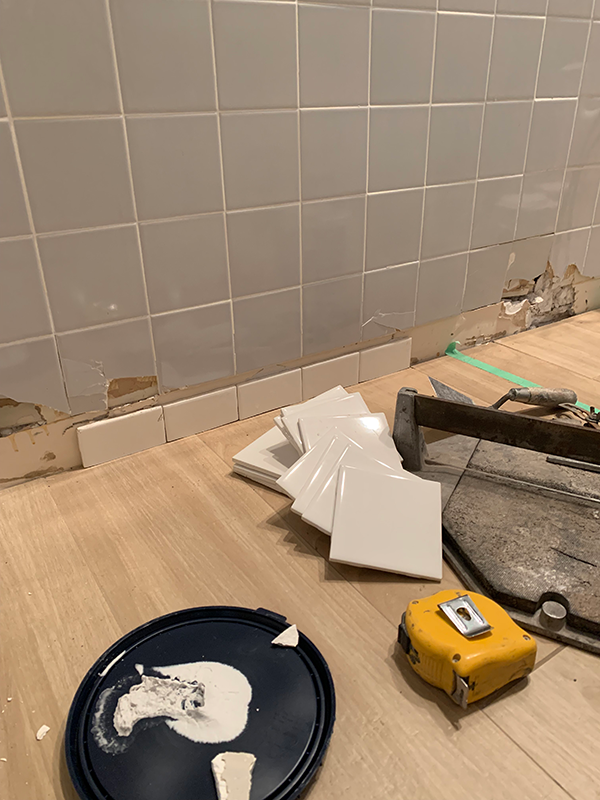 STEP 2
Skim coat over your existing tile. My FIL uses and recommends Laticrete 272 mortar mixed with 333 additive. This will guarantee your tiles to stick over pretty much anything. Make sure you've filled in all the grooves and any openings on your existing surface. Let this dry before moving on.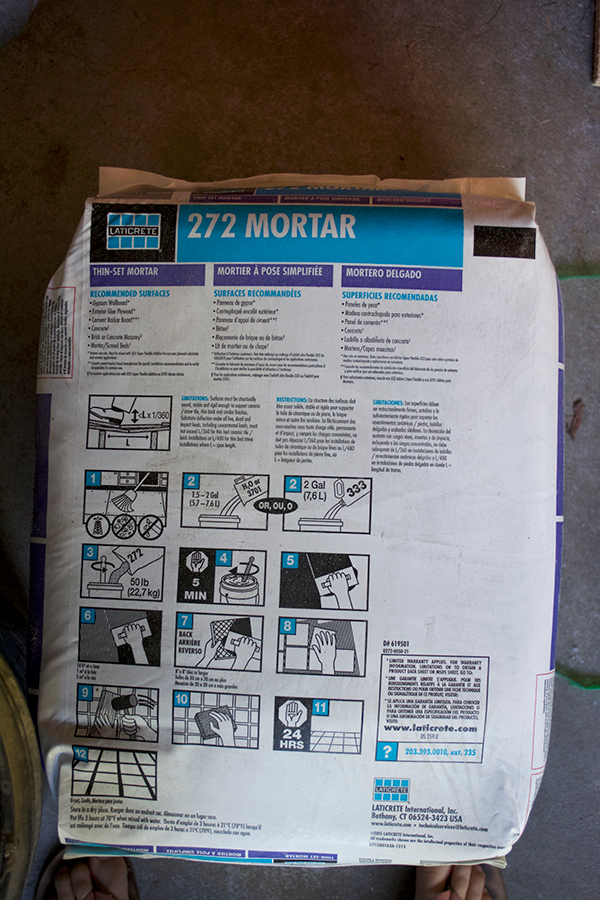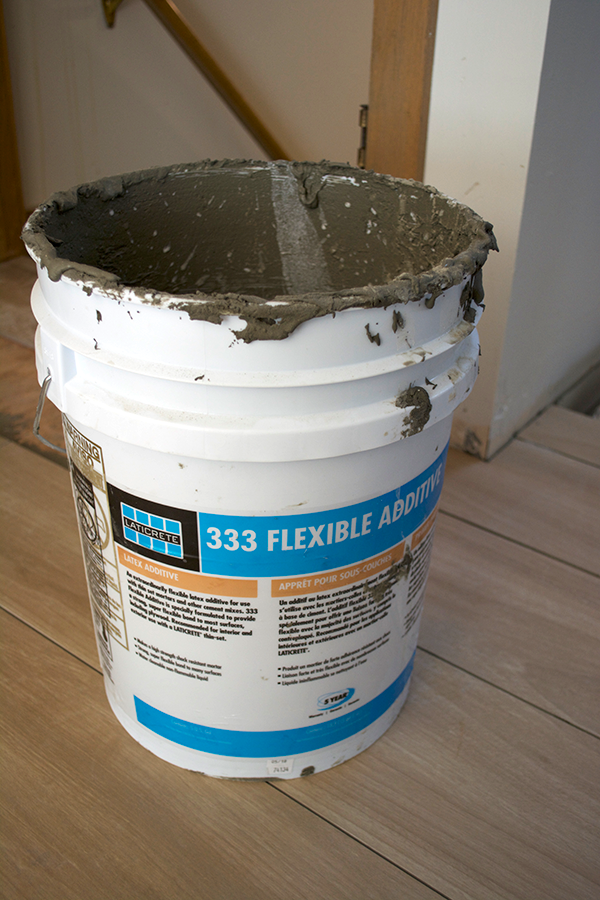 STEP 3
Start laying your new tile! Use the same mixture and start laying your tiles right on top of the previously dried layer.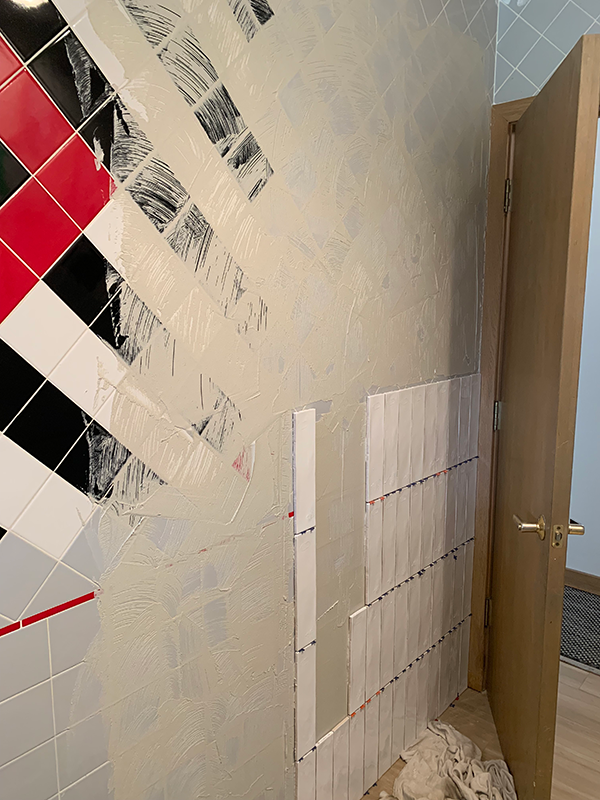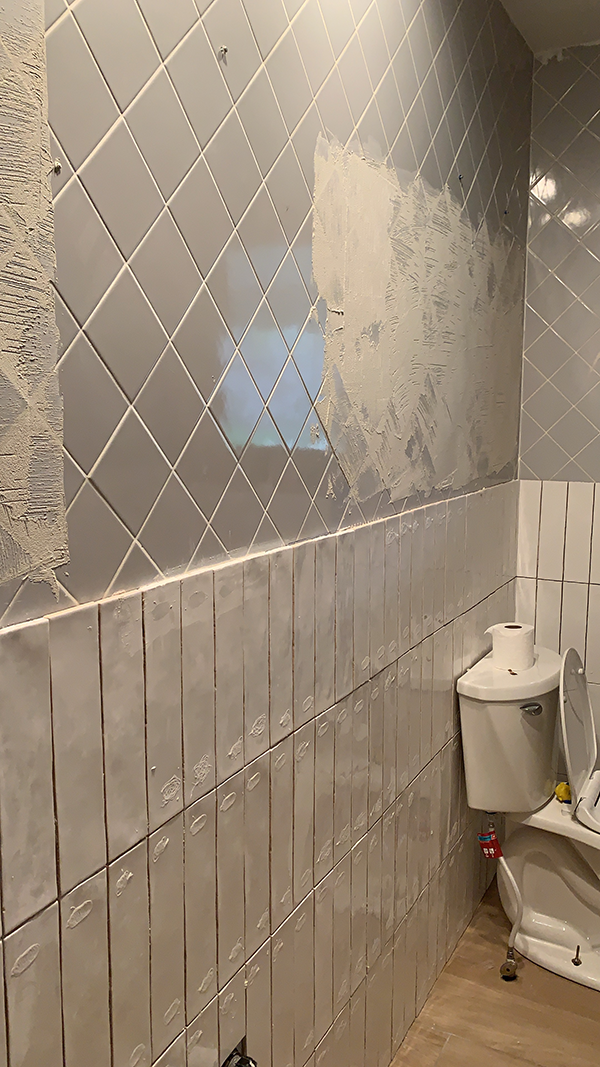 STEP 4
Grout. Adding in your grout prevents moisture from creeping into the seams and provides a durable layer between your tiles. We used white grout for this entire bathroom.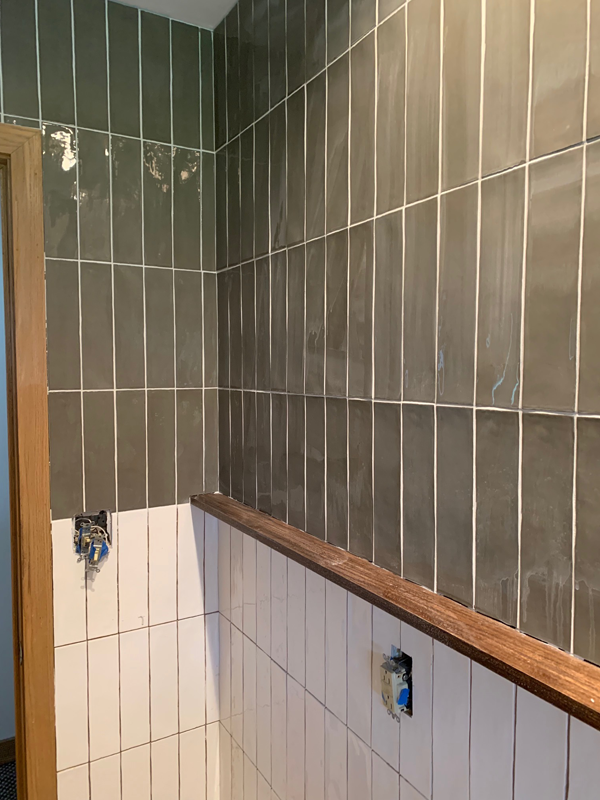 STEP 5
Fill in cracks along the floor, ceiling, windows etc. with caulk. There may be areas the grout couldn't get into easily and this is a great way to keep things fully sealed and add another layer of protection as well as create a more seamless and cohesive look.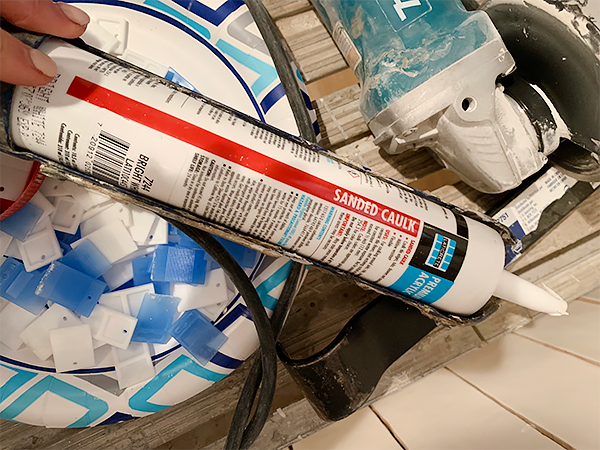 Ok so now that I've shared our process, I'm going to answer all the questions you had for my FIL about tiling over existing tile. Let's get started!
Can you tile over floor tile?
Yes – if you don't have any cracked or loose tiles. If it isn't 100% firm and solid, it won't be a good support for new tile. The weight of tile on tile is not a factor and isn't something you should worry about.
If there are minor cracks you can repair them by removing the whole tile and replacing it with a new one. Or you can fill in the cracks with something like Ultra-Set or Sikaflex.
There are also crack suppression kits you can use by Laticrete that you adhere to the floor – only recommended if you have 1/4″ crack or less.
What products do you need to tile over tile?
My FIL uses Laticrete 272 mortar mixed with 333 acrylic additive. This sticks to wood/concrete/basement floor – pretty much anything. First you should apply a coat over your existing tile. Once dry, use the same mixture to adhere your new tiles.
What are the pros and cons of tiling over tile?
Pros
You don't have to rip out your existing wall tile which will create a big mess
You don't have to put up new drywall after you've ripped out your old tile
Saves time
Saves money you would spend on demo
Cons
You might be restricted on the type of design you can do (ie. no shiplap or painted walls)
The added thickness of the tile may interfere with your door or window frames if you're doing it on a wall. If you're doing it on the floor, it will raise the height of the floor and may interfere with baseboards, or cabinets and thresholds between rooms.
What if tile only goes up half way – how do you transition?
You can use bull nose or chair rail tile to create a wainscot look. You could also put a wooden shelf like we did in here.
Isn't the security of the new layer dependent on the old which could be uncertain?
Yes. If there are a lot of cracks and damage, then you shouldn't do it. But there is no way to be sure of the structure of the home and the walls behind or below the old tile.
Any concern about mold/water damage behind existing tile?
If you see any mildew or blackening in the grout joints there may be water damage. Especially look directly around the tub/shower. If you don't see any discoloration you should be good to go.
Any considerations for future renos? ie. the next person has to remove both layers?
Hopefully whoever lives in our home after us likes the bathroom enough that they wouldn't want to rip it all out. 😉 Of course it would be more work for them, but that's not really something that would steer me in one direction or another. We did this reno for us – not for someone else.
Should you start at the wall or the center?
You should start at the center of the wall and you can either center the tile or center a joint – whichever will give you a better cut against the wall. Just measure it out and decide how you want it to look.
What about tiling over tile on the ceiling?
Yes. As long as you prepare it properly and follow the same steps as above it will be fine!
Will it work in a shower?
Yes but be sure to use the 272 and 333 and check for hairline cracks. There is a product you can use called Sikaflex – it's a water proofing membrane you can use over old tile to seal it before adding the new tile.
How did you handle where the wall tile and floor tile meet?
We caulked it for a seamless look.
Can you tile over brick?
Yes! First skimcoat and then take a hammer and chisel and knock off the high parts. Then continue with laying your new tile.
How do you get a seamless transition from carpet to bathroom tile?
The best way would be to use a transition strip. They make them out of different materials and colors and allow the different flooring to come to a clean end. If the tile and carpet aren't on the same level, they make ones with a slight slant so that it fills that gap.
How do you transition to a wood floor?
Again, using a transition strip is the best way to connect two different floors if they aren't on the same level. If they are on the same level, you could just grout and caulk right up to the wood floor.
Can you grout over old grout?
No. You would have to dig it all out or you could use a grout pen/marker to change the color of it.
I love how our bathroom turned out so much and it totally made sense for us to tile over out existing tile in the case. It allowed me to have fun with a unique tile pattern and gave me a space I love.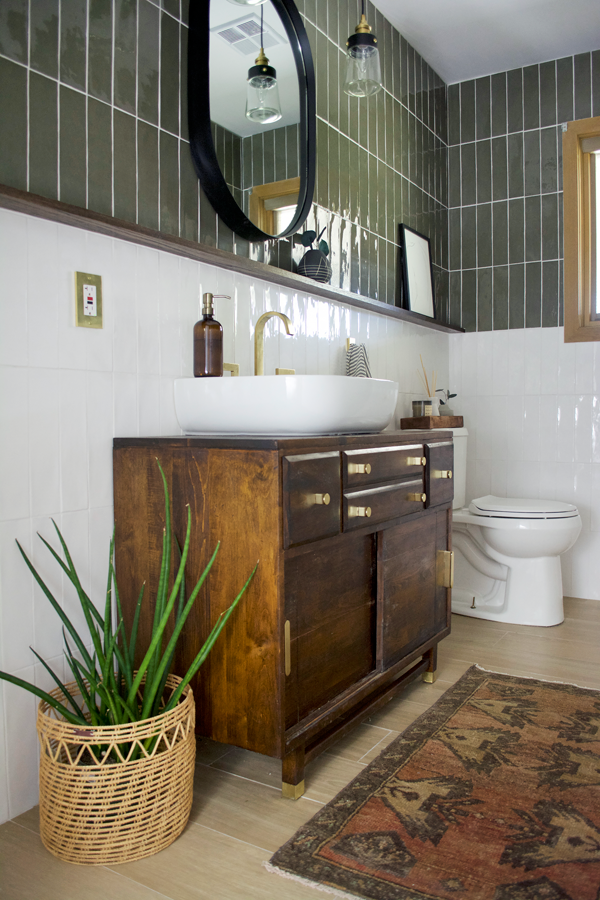 If you guys have any other questions about how to tile over tile on any surface then leave them below and I'll be sure to answer them! This is such a great option that will save you time and money and I hope this post will help you determine if it's the right decision for you!