Homemade Vanilla Extract is my most favorite gift to make for the holidays. It's super easy, requires only two ingredients and is always well received by everyone. Plus you can dress it up any way you like with pretty ribbon and accessories! Let me show you how easy it is to make!
HOW TO MAKE HOMEMADE VANILLA EXTRACT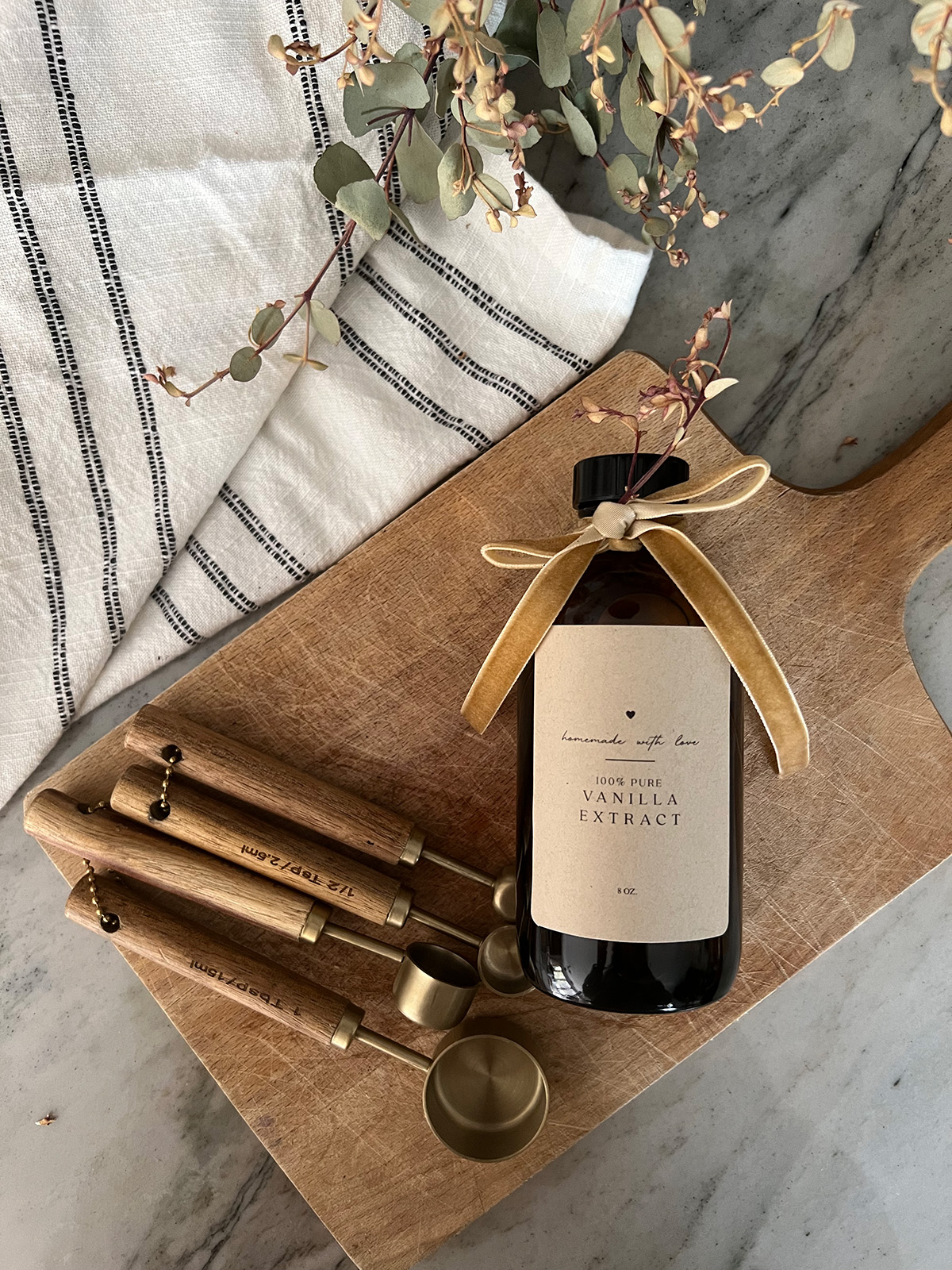 This isn't a new or revolutionary idea by any means. Homemade Vanilla recipes have been around for quite a while, and they're all pretty much the same. What makes each one unique, however, is the type of vanilla bean you use. And of course this pretty label that you won't find anywhere else.
I love the idea of giving homemade gifts for Christmas, and this is such an easy one to make!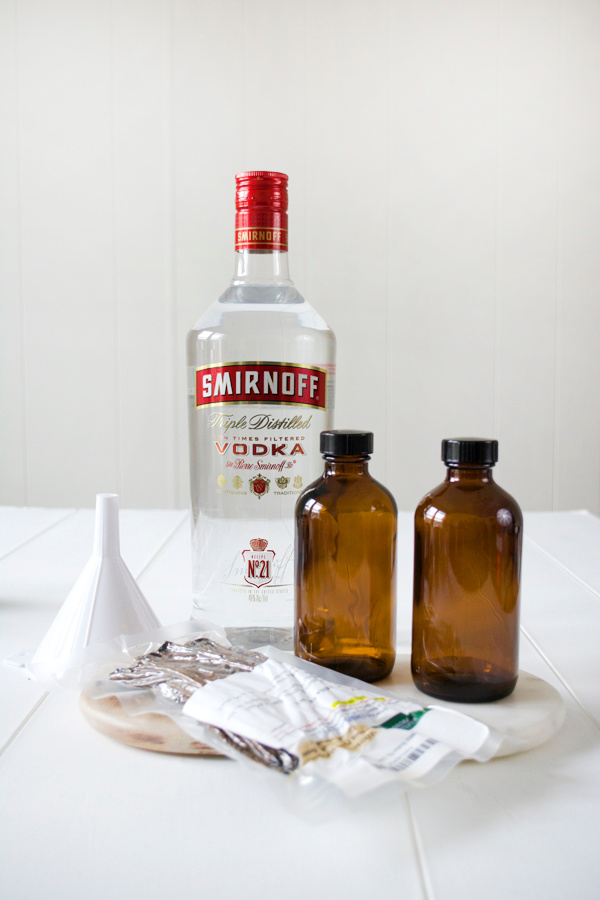 *this post contains affiliate links; you can read my full disclosure policy here*
---
WHY MAKE HOMEMADE VANILLA?
If you haven't noticed, the price of vanilla extract, like everything else right now, has gone up. You could easily spend $10-$20 for a good bottle in the store. By the time you buy all your supplies, you can be making 5-10 bottles for not that much more. You can also control the strength of your vanilla when you make it yourself. The stronger you make it, the more flavorful your recipes will be!
Another great thing about making homemade vanilla is that since you keep the beans in the bottle, you can keep adding more alcohol as you use it. The vanilla flavor will keep being released for many months so rest assured your bottle will last you much longer than a store bought one.
Ingredients for Homemade Vanilla
Vodka (any vodka will do, but I wouldn't recommend the super cheap stuff)
Vanilla Beans (5-6 per 8 oz. bottle)
Supplies for Homemade Vanilla
One thing to remember about making pure homemade vanilla extract, is that it takes time for the vodka to be fully infused before it's ready to use. The recommended time is 2 months, but after a month, you can open your bottles and see how strong they smell. If you plan on making these as gifts, just make sure you let your friends and family know when you bottled them, and when the vanilla will be ready.
There are so many different types of beans you can use. I went with these Tahitian Vanilla Beans, and they smell SO good.
You want to make sure that your vanilla beans are Grade B which are meant for extracting and produce the most flavor. Grade A beans are best for cooking with. Grade B are also usually cheaper which is a plus!
STEP 1
Cut your vanilla beans in half length wise. I found it easiest to cut the actual bean in half first, and then slice them down the middle. Make sure you have a good, sharp knife; it will make this step much easier. And watch your fingers!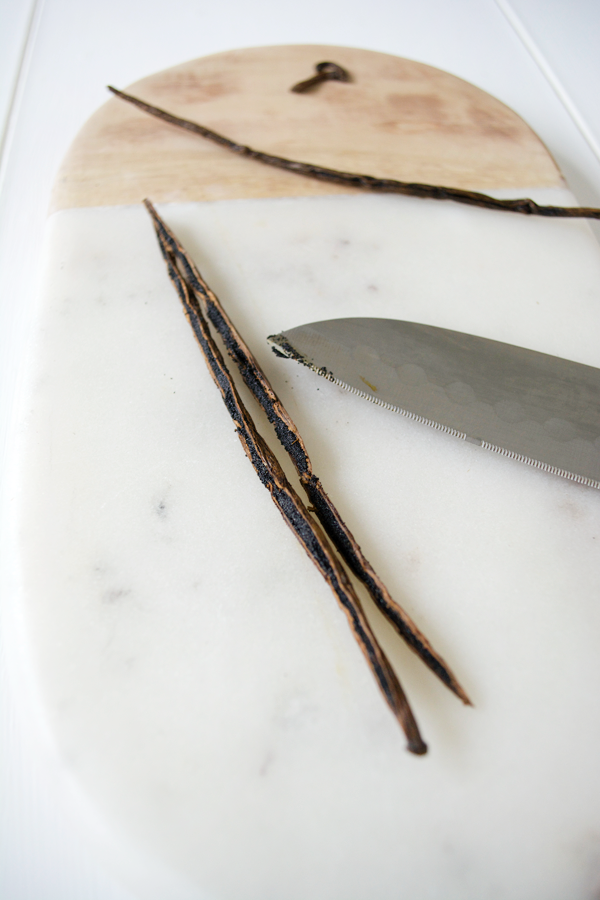 STEP 2
Place the beans in your bottle once they're cut and fill up each bottle with vodka. Place the top back on and then shake lightly.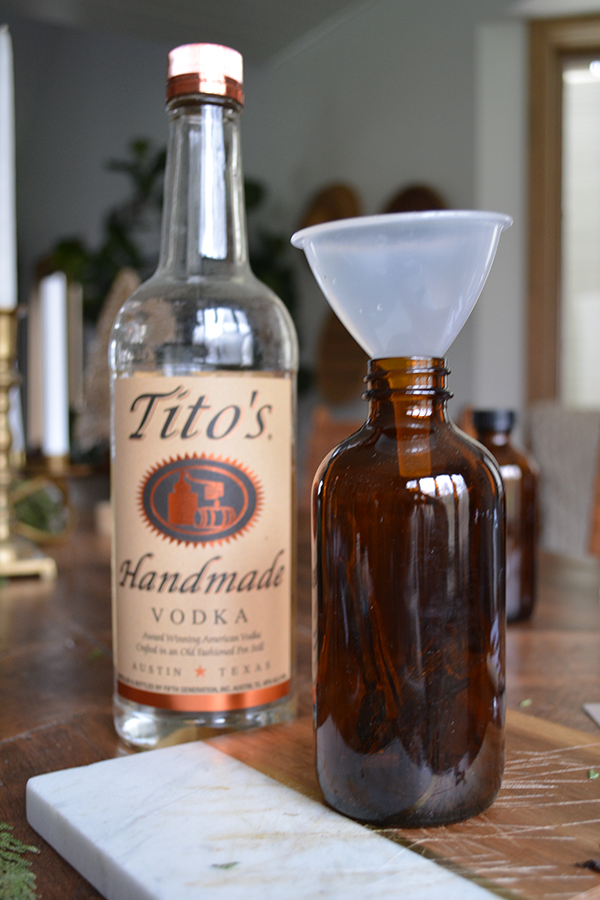 STEP 3
Apply your label! You can either print them out on cardstock and attach them with some super glue or you can get them printed online as a sticker label.
Below are the PDFs that you can print out yourself at home or upload online to order stickers. I've included 8 oz. and 4 oz. options!
If you want to print them on Avery like I did you can print the single labels below. Follow THIS LINK and under size you can enter 3″ high x 1.5″ wide for 8 oz. and 2.25″ high x 2″ wide. Then choose the Kraft Brown Paper option. Click "start designing" and then upload the PDF below!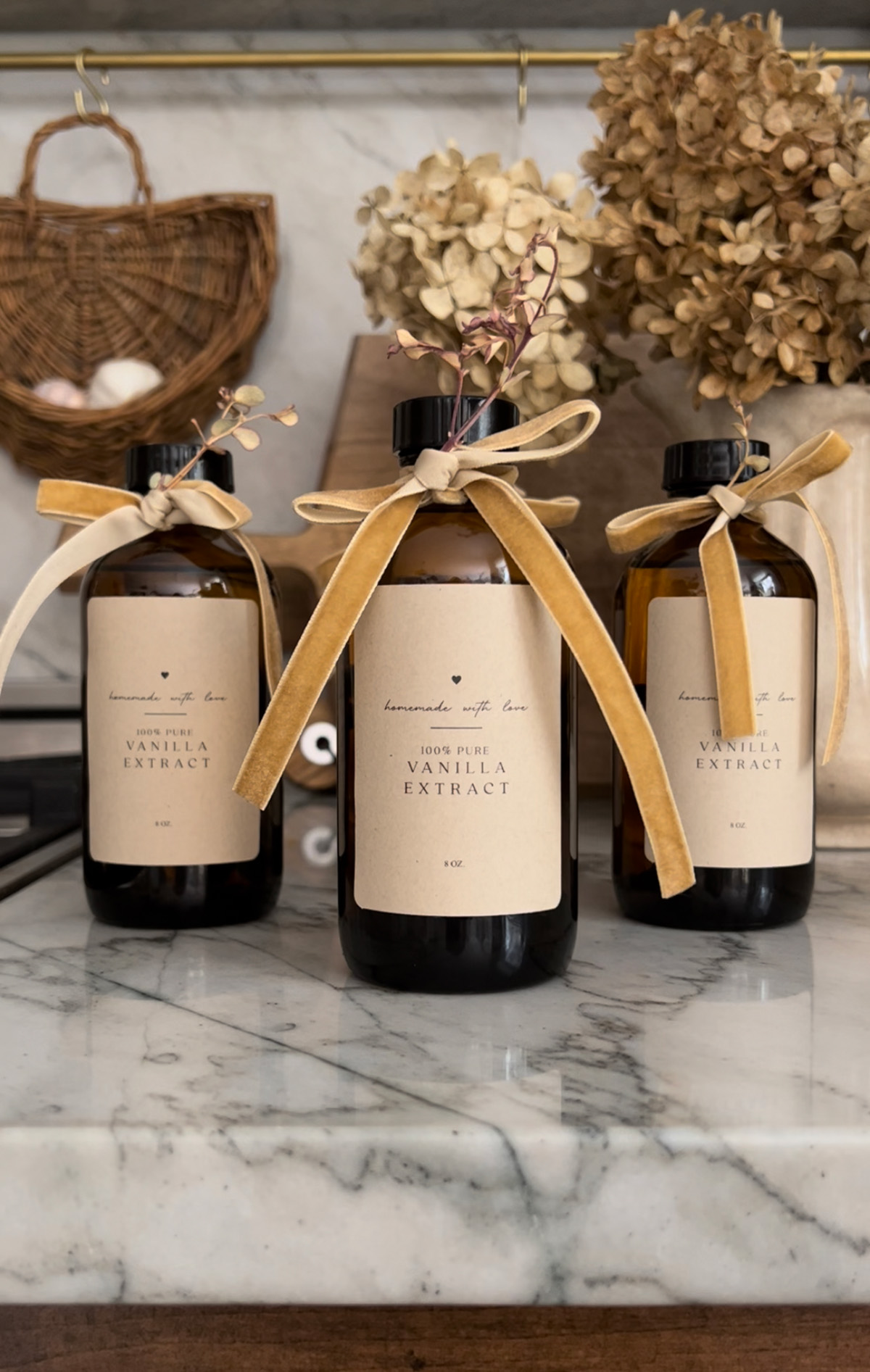 I finished my homemade vanilla off with a little sprig of a dried flower and this beautiful khaki velvet ribbon! The customization options are endless and the personal touches you add make it even more unique and special!
I look forward to giving away my homemade vanilla extract every year! Nothing beats a handmade gift and these are sure to bring a smile to anyone who receives it!