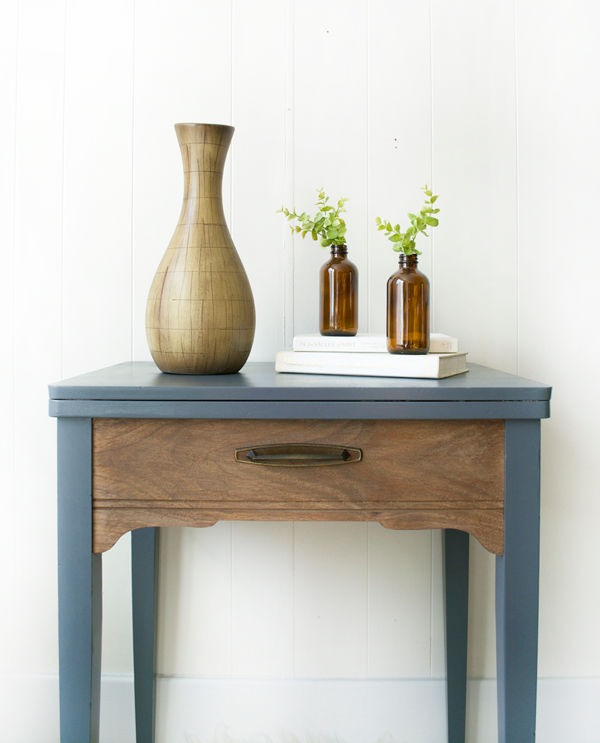 This post is sponsored by DecoArt. All thoughts and opinions are entirely my own. Thanks for supporting the brands that allow me to keep creating!
I love trying out new paints. There are so many options out there and it's always exciting to see how each variety works. So when DecoArt reached out and asked if I would try out their new Satin Enamel paint, you know I was game. I just needed something to try it on. So I set out to my favorite furniture shop and found the perfect piece to create this Grey Sewing Table Makeover.
GREY SEWING TABLE MAKEOVER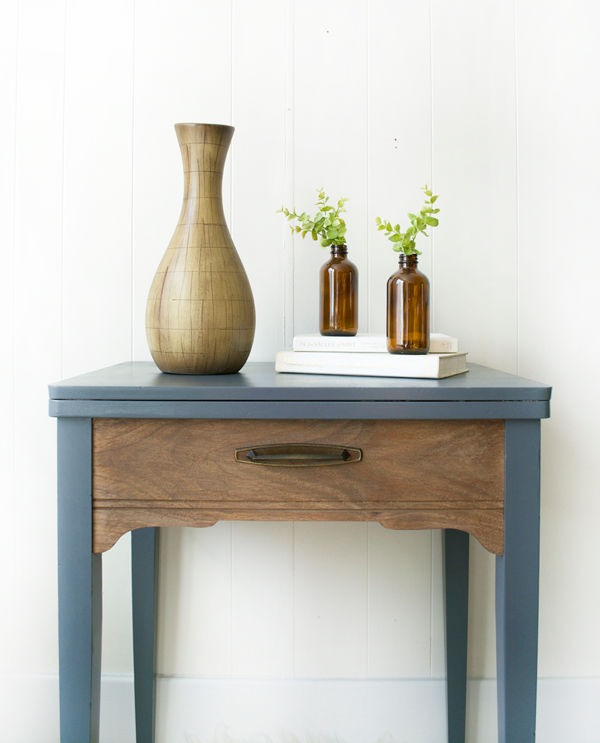 It's kind of a bummer that I'm always drawn to sewing tables, because they usually have fake drawers. But I just can't help it! How cute is this little guy? I love the clean lines and the drawer pull.
Funny story actually. So I had just finished painting this table and one of my friends sent me a snapchat which was a picture of the exact same table, and they were using it as a tv stand outside to watch the NBA playoffs one night. I immediately texted him asking who's table it was because I needed it so I could have a matching pair. His response? "It's yours…" HA. When we lived in our old place I used to stash some of my furniture in his garage when our porch got too full. Clearly forgot about this table, but apparently my tastes haven't changed!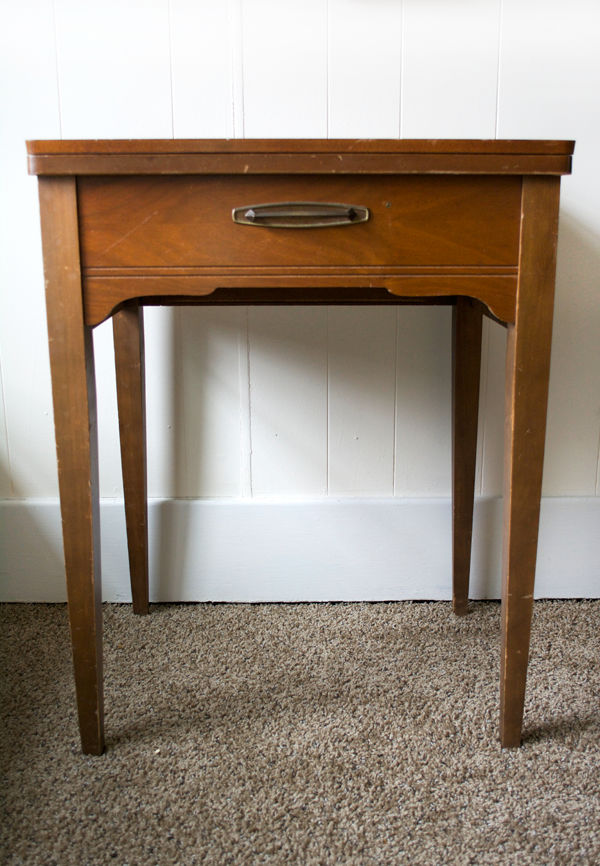 First step was to seal the top shut. Since it would no longer be used as a sewing table, there was no need to have it flip open anymore. I grabbed some Gorilla Glue which did the trick.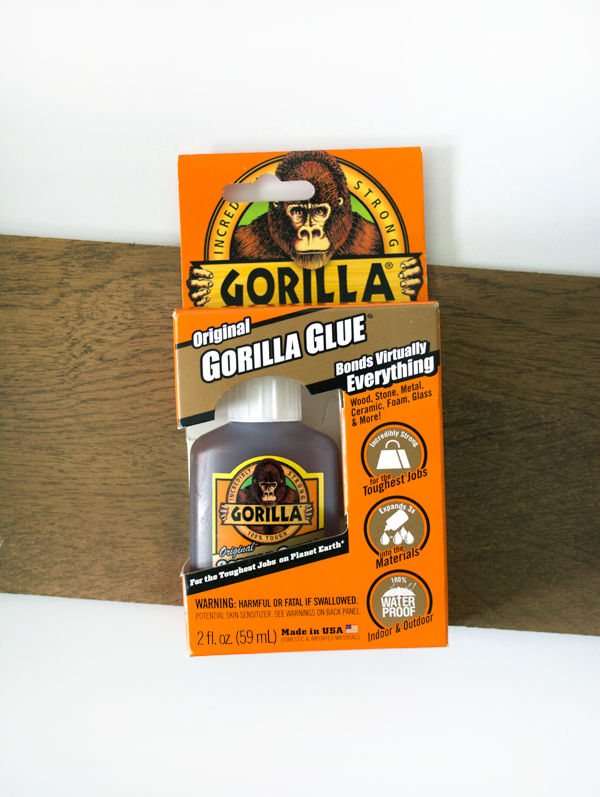 I chose 3 different colors from the Satin Enamel line, but ultimately ended up going with Charcoal Grey.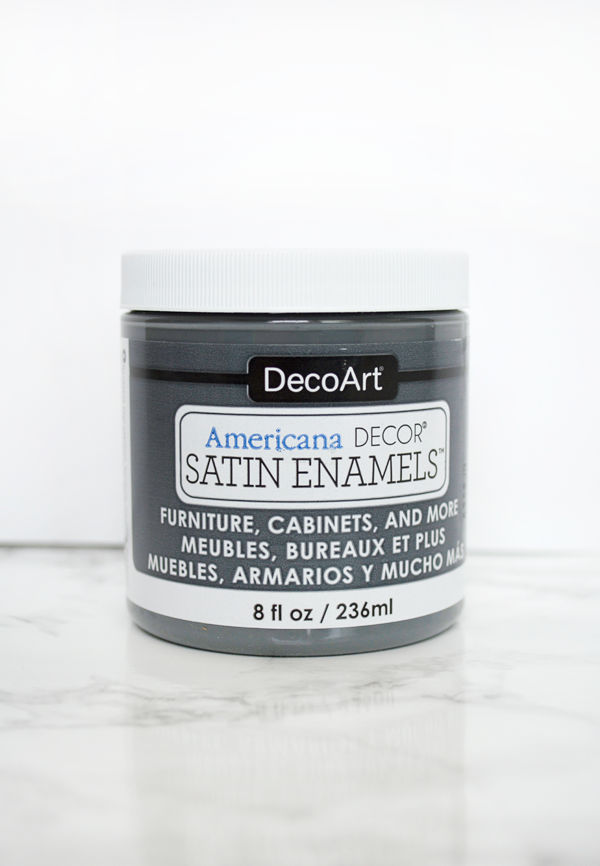 This paint is fantastic. It goes on super smooth, dries quickly and has a super sturdy finish without looking too shiny. On the label it says that a top coat isn't necessary which always makes me really skeptical. But I think I might have found my new best friend. I've said it before and I'll say it again…finishing a piece of furniture is my least favorite part of the process. I don't mind all the prep work, but I just haven't found one finish that works well time and time again. I always have issues with streaks or dust and cloth particles.
this piece was finished about a week and a half ago and it's still holding up amazingly. I might never use another paint again if it means I don't have to follow it up with a topcoat.
For the "drawer" front I had a bit of a happy accident. I knew I wanted to sand it down and re-stain it but it didn't quite go as planned. I sanded it and added the first coat of stain. The wood had a bit of a red tint to it and the color of the stain just didn't look good at all. I tried both of these stains, which I used to get the finish on my Planked Wood Filing Cabinet I just shared.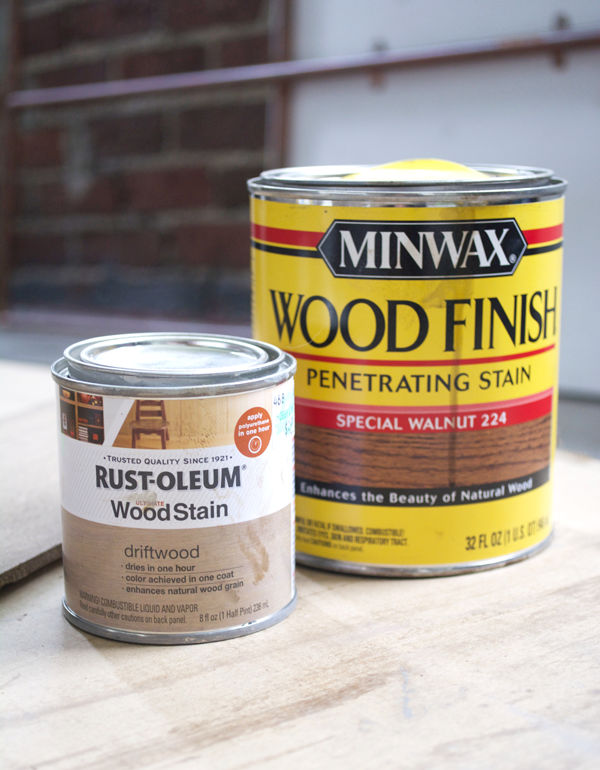 It looked awful. So I planned to sand it down again and try a different color, but when I sanded it down, it actually created the perfect raw finish.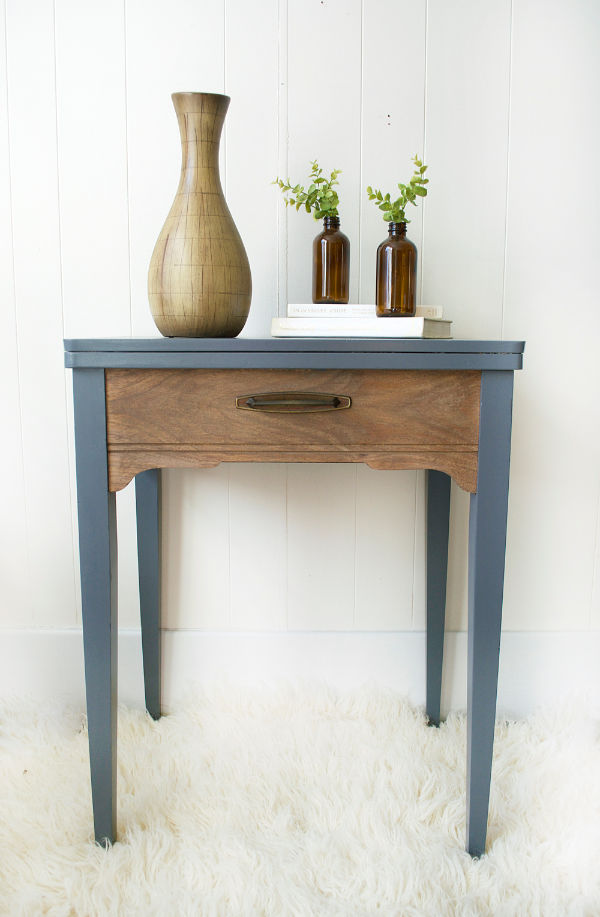 For the hardware, I really think this is the first time I've kept the original hardware on a piece and haven't done anything to it. I thought I might spray paint it gold, but once the table was done, the hardware just worked. So I kept it as is.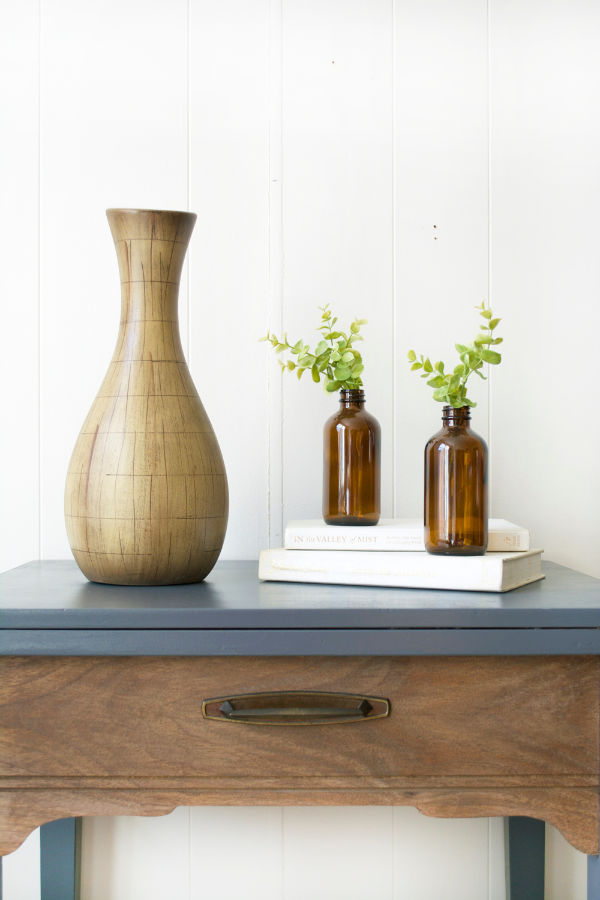 I love how this little table turned out! and now I have another one to work on so I'll have a matching pair 🙂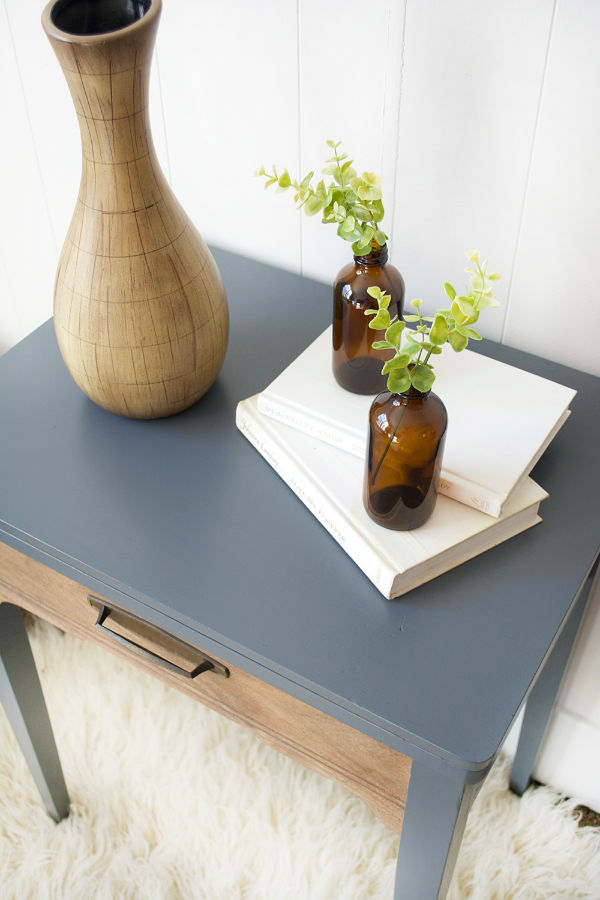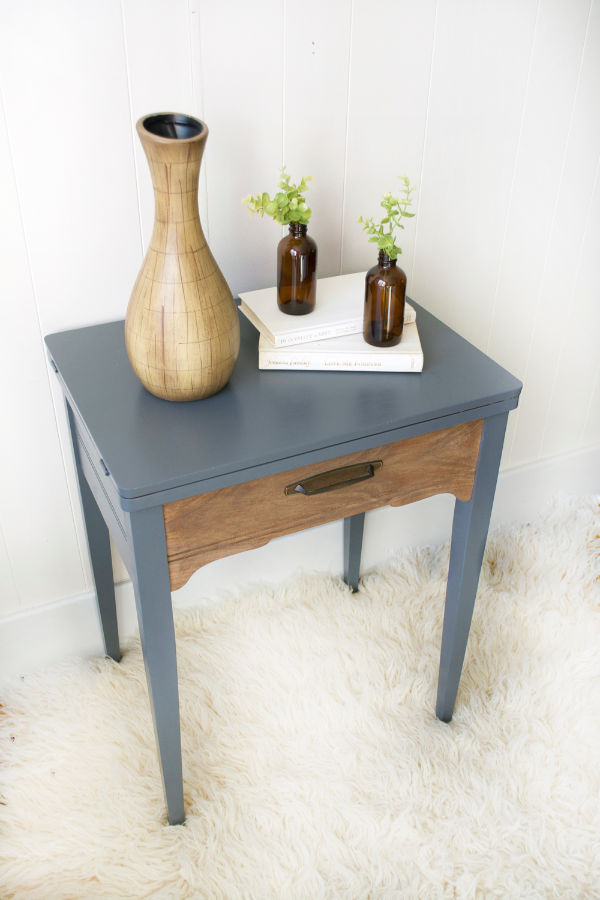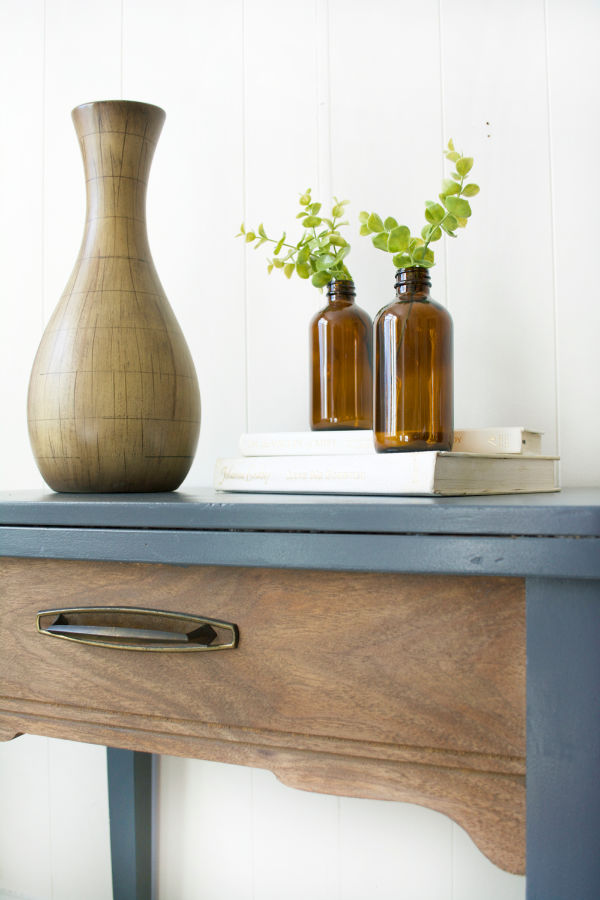 The American Decor Satin Enamel paint is currently available in Hobby Lobby and JoAnn Fabric and will soon be in A.C. Moore and Michaels!