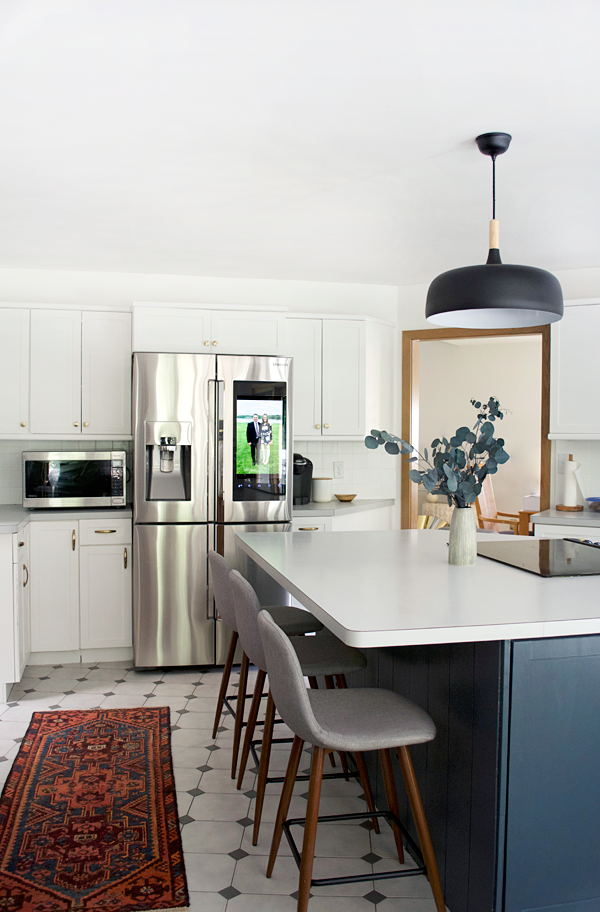 By this point you know that we're almost done with our Budget Kitchen Makeover – but it was honestly something that I had no intention of doing any time soon. I really hated our kitchen but knew eventually we'd have the time and money to do a more major renovation so I decided to just leave it as is. That is until Samsung reached out to me about their new Family Hub Refrigerator; and it changed everything. Our old fridge was old and black and even though it still worked perfectly fine, I was happy to see it go. Once the new fridge was in, I just couldn't let it hang out amongst such other dated appliances and decor. And so I started getting to work on the rest of the kitchen so The Family Hub would feel right at home.
THE FRIDGE THAT CHANGED EVERYTHING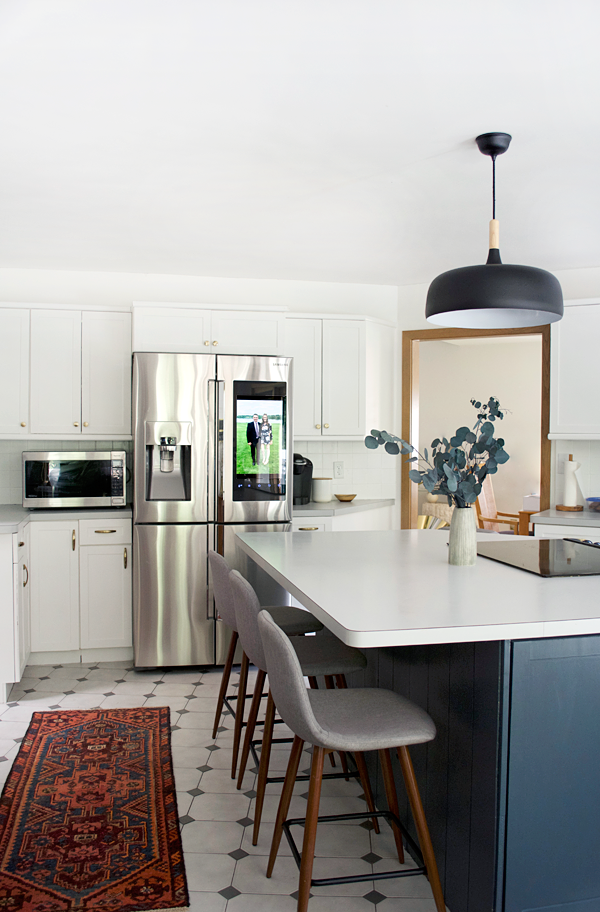 There are SO many incredible features that come with this fridge and so many things I love about it. I honestly never knew a fridge could be such a game changer and really make that much of a difference in our lives. Obviously the main feature is the touch screen on the right hand panel. This is where all the magic happens. Just like your iPhone, you can drag and drop apps into place where you want them. On our "home" screen we have the date & time, weather, calendar, memos, to do list, photos and pandora.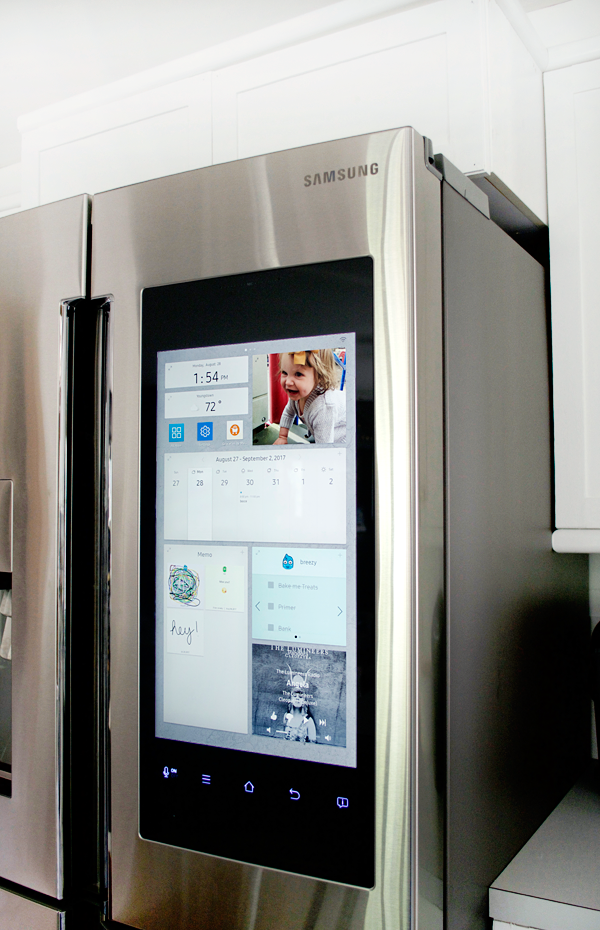 I LOVE having the calendar app front and center. You don't realize how often you stand in front of your fridge every day, but trust me, it's a lot. And you can sync up the calendar from your phone and add the whole family's schedules so everyone knows what's going on. Dan can never remember anything I ever tell him, so this is especially helpful for him and other forgetful hubbies out there. If he's going to grab a beer from the fridge, he's going to be reminded of my doctors appointment the next day 😉
Another awesome feature we love is being able to view what's inside without opening the fridge. It helps save energy at home, but also makes life easier at the grocery store. With the Family Hub app you can download from the App Store, you're able to view the inside of your fridge on your phone from anywhere. So if you can't remember if you need more milk – just hop on the app and look inside!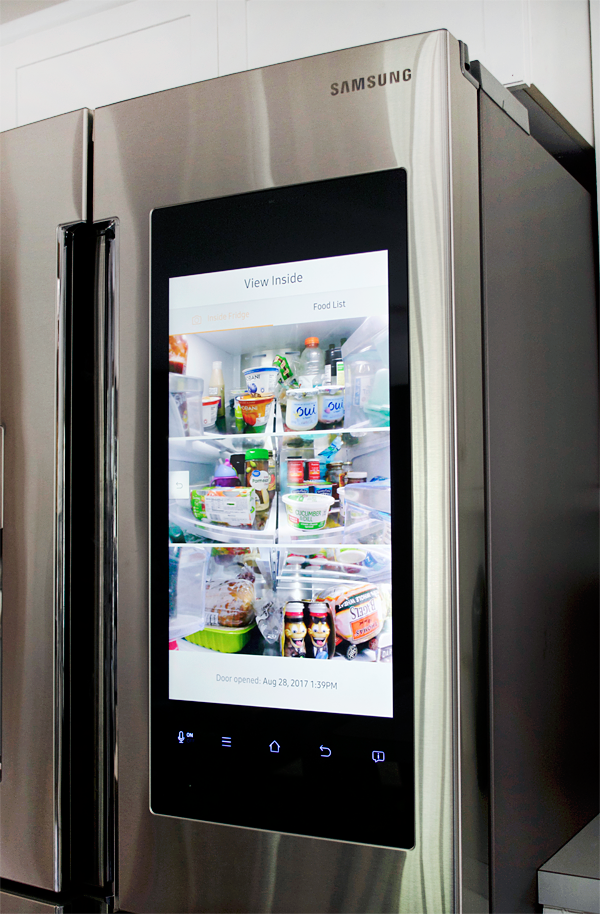 You can also upload photos from your phone through the app right to the fridge that will show up in your slideshow. Eloise absolutely loves this and loves watching all the pictures go by. She screams and points when she sees me and Dan or her and Oaks and gets such a big smile on her face.
Another cool thing you can do from the app is add messages to the memo board. I was out of town one weekend while Dan stayed home, and I just opened the app and added a cute little note saying I missed him and it got sent right to our home screen on the fridge. I love how it can help keep us connected even when we're not together! Or if I wanted to bug him about something he needed to get done, I could add a note for that too 😉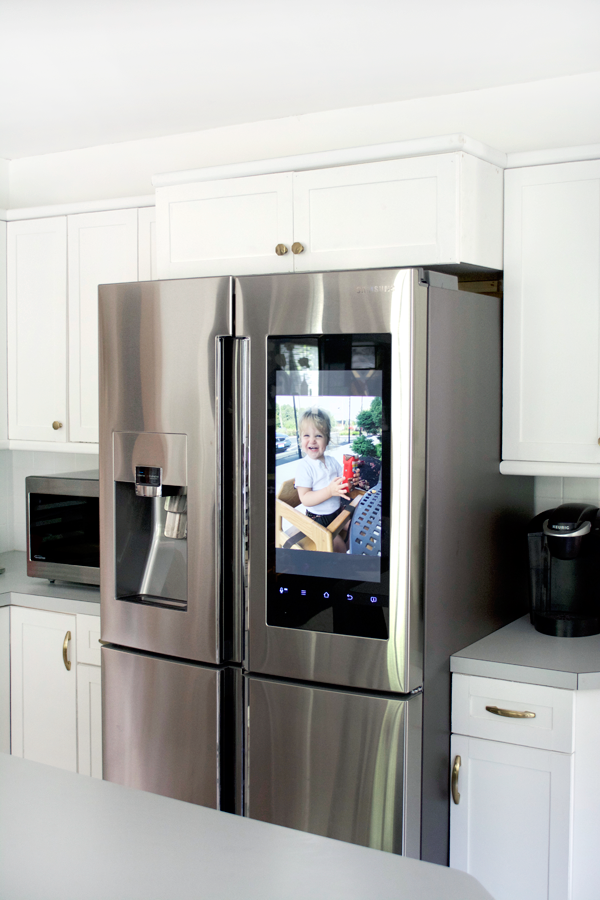 I could seriously go on and on about all the cool apps this fridge comes with but I'll keep it limited to a couple more of our favs. The AllRecipe app has been a huge lifesaver. Sure you can look a recipe up on your phone, but then you have to keep opening your phone up and scrolling through to see what ingredients you need. On the fridge, you can add favorites to your list and search by keyword what you're in the mood for. Once you choose a recipe, you can have the fridge read it out loud to you so you can worry about gathering your ingredients and prepping the kitchen. How cool is that? Oh and you can talk to the fridge simple by saying "Hello Samsung". You can ask it questions and it'll respond to your commands. Which is SO helpful when you have dirty, greasy hands or you're holding a toddler.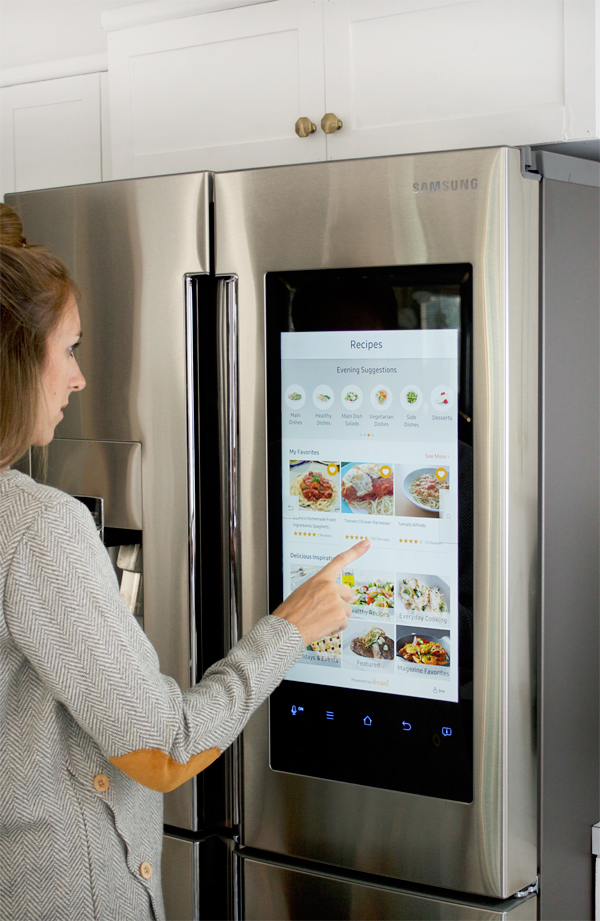 The last app we use almost every day is Pandora. I love having music on not only when I'm cooking but just throughout the day. And our kitchen is connected to our living room where we hang out the most so it's nice to have that option instead of having the tv on all day. Plus Eloise and Dan love to dance together while I cook and it makes my heart so happy <3
Ok enough of the outside, let's chat about the inside!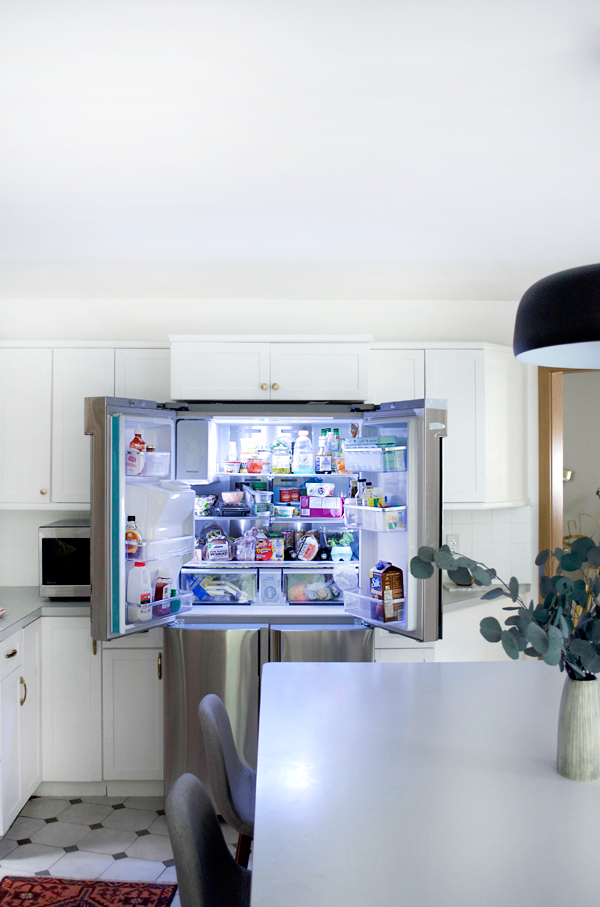 There are a few different models of The Family Hub and we went with the 4-Door Flex. There's tons of room on the inside with 3 shelves and two drawers. Plus the bottom right door can be converted into either a fridge or freezer depending on what you need space for. I know for sure we'll be using that feature for the holidays. And there's a built in wine rack!
I think you can see now why I had to update the rest of the kitchen 😉 It just wasn't fair to this beautiful appliance ha.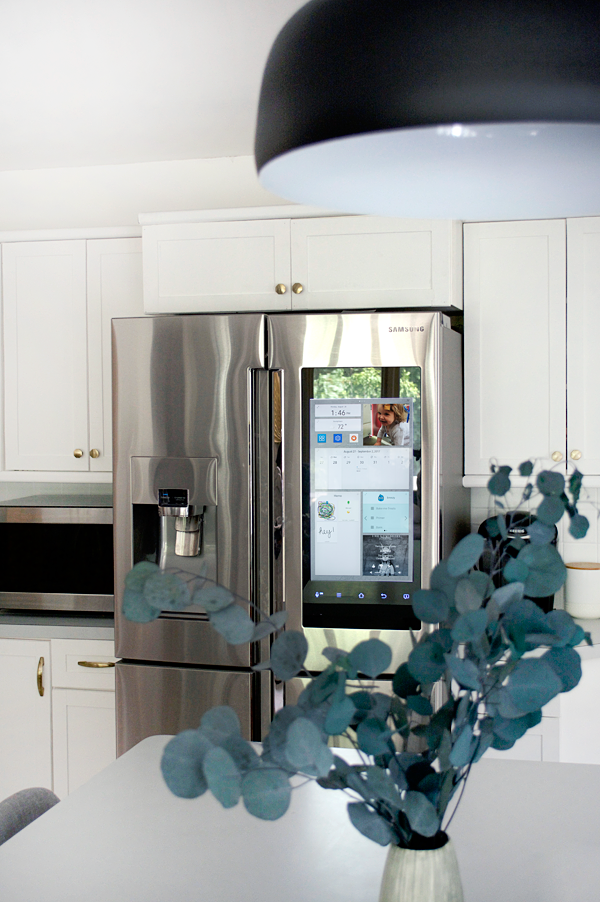 It's already fitting in so much more perfectly with the rest of the kitchen, and I can't wait to check a few more things off my to do list before we're completely done!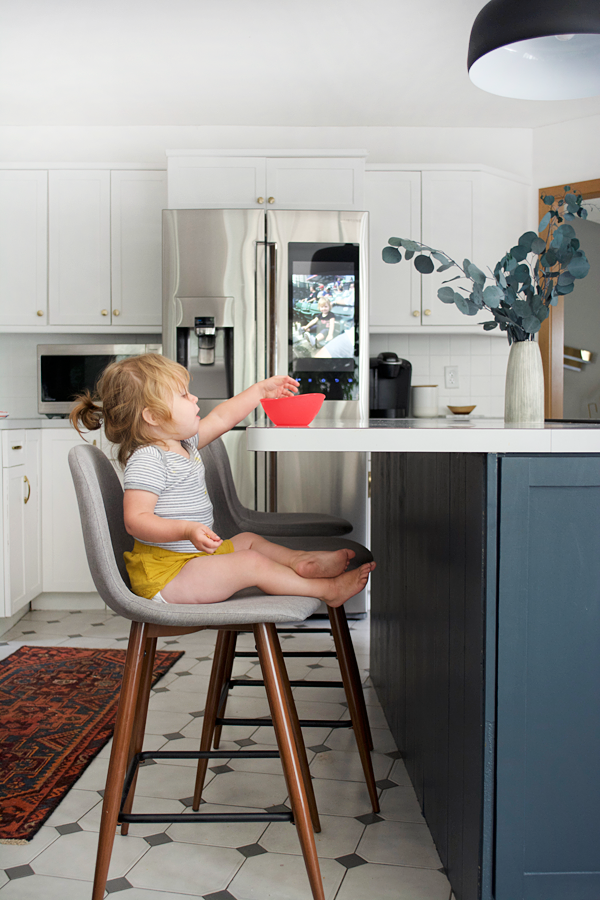 If you're in the market for a new fridge, I absolutely would consider The Family Hub. It may be pricier than others, but it's totally worth it in my opinion.
Huge thanks to Samsung for providing our family with this fridge and for giving me the push to makeover our kitchen!