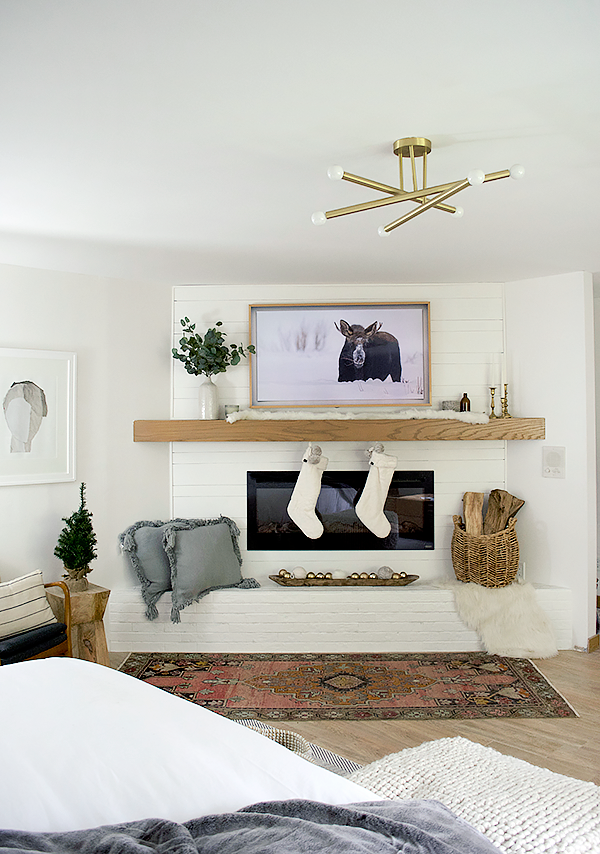 This post is in partnership with Carusele and sponsored by Bed Bath & Beyond – all thoughts and opinions are entirely my own.
Well we did it, we successfully completed our third One Room Challenge and I am spent. I couldn't be happier with how our spaces turned out but I am totally ready for some time to relax and unwind. Especially before the craziness of the holidays begins.
How is it already November?! Christmas will be here before you know it and I'm all about finding the perfect gift for someone in the easiest way possible. If you know me, you know I'm obsessed with anything soft and fuzzy and warm. I'm always freezing so maybe that has something to do it. I rock my UGG boots all winter to keep my feet toasty, but did you know they sell way more than just boots? Let me enlighten you 😉
Cozy Holiday Bedroom Retreat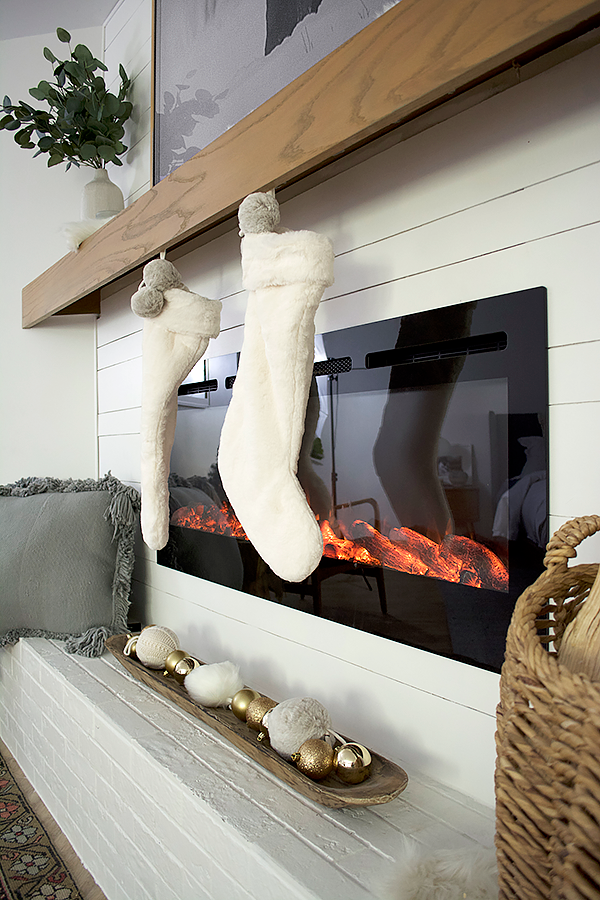 The UGG Home Collection at Bed Bath & Beyond is full of the most amazing goodies for the holidays. Of course everything is incredibly soft and just gives you such a warm feeling inside that makes you want to snuggle up and sip cocoa by the fire.
I mean even their ornaments are the cutest and softest things I've ever felt. We put a tree in our room last year but I'm not sure if we will this year with all our new space downstairs. But that doesn't mean I can't decorate with ornaments 😉 I tossed a few in my dough bowl and they add another little touch of cozy.
With all the chaos of the One Room Challenge, I never really got to decorate for fall – so I'm making up for it and jumping right in with my Christmas decor. Building our fireplace in our master bedroom last year was one of the best decisions we ever made. Those chilly nights are made so much better with the glow of a warm fire and of course is the perfect place to hang some stockings!
My neutral loving heart is all about these UGG Polar furry white beauties with pom poms. I mean, poms poms make everything better right?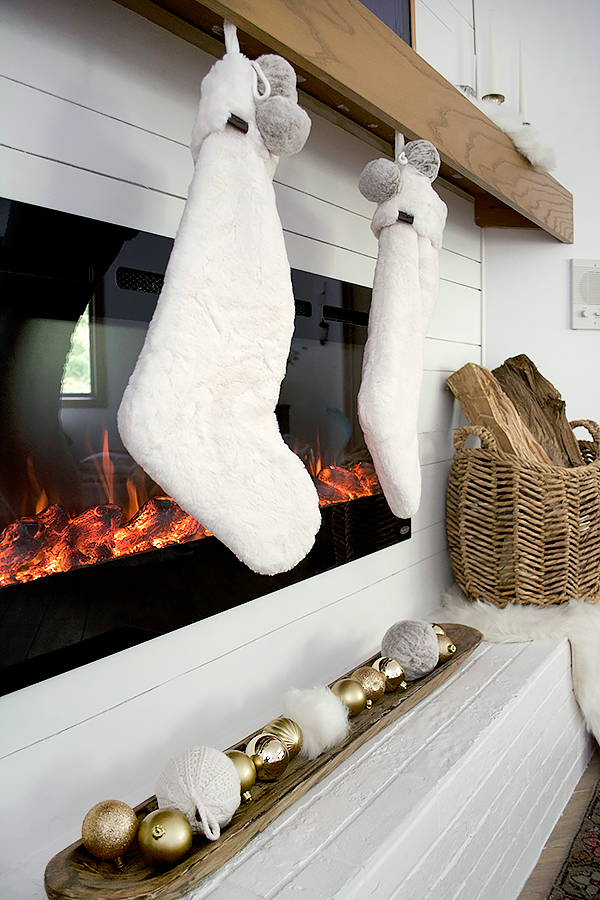 And those grey UGG Pacifica throw pillows with big tassels – tassels also make everything better. Seriously, can you believe all these pieces are from Bed Bath & Beyond? It's the perfect place to stock up on gifts for family and friends.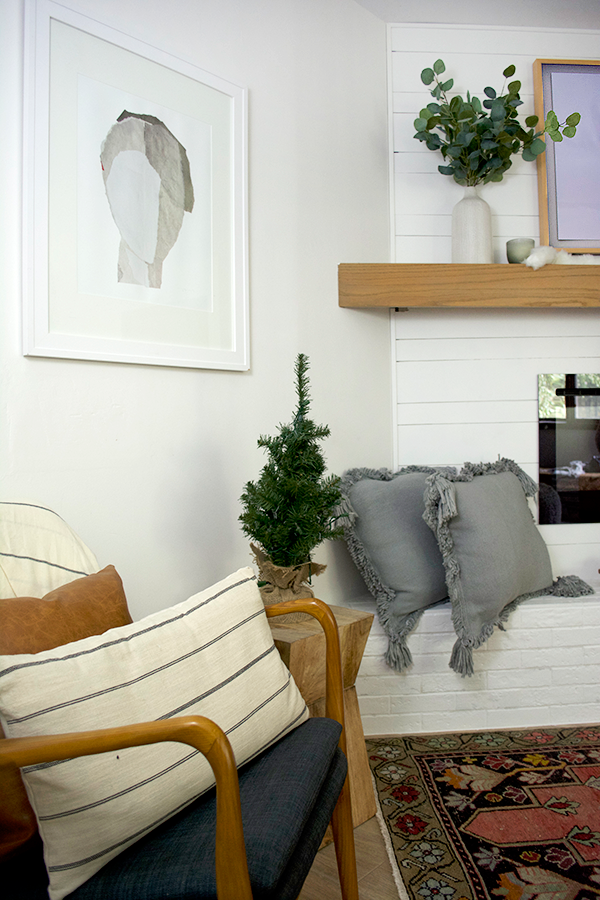 Our fireplace and mantel is looking so ready for Christmas thanks to these gorgeous Polar Stockings from the UGG Home Collection. I like to keep things simple and neutral with my holiday decorating and that was easy to do with UGG's relaxed and glamorous pieces.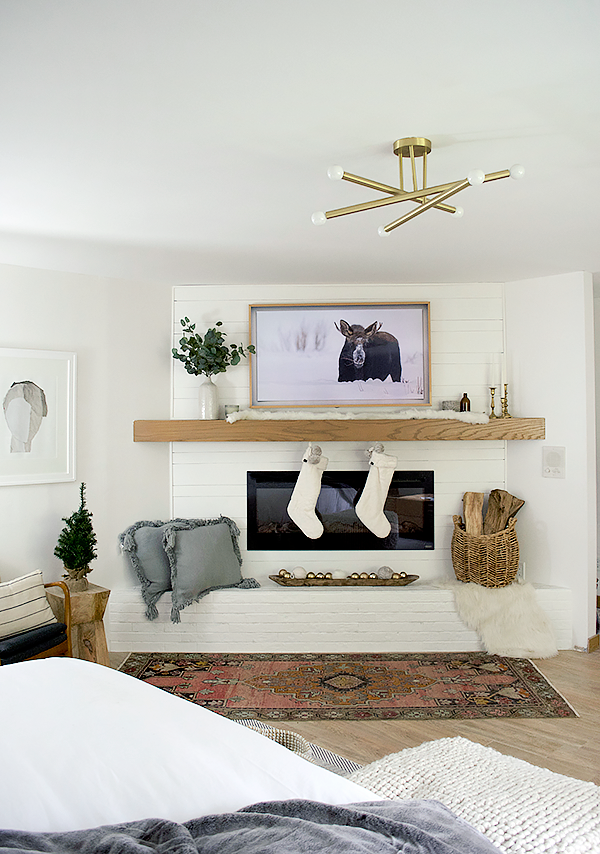 But I couldn't just stop with our mantle could I?! I had to give our bed a little holiday love too because I need to be snuggled up and cozy while I'm admiring our fire right?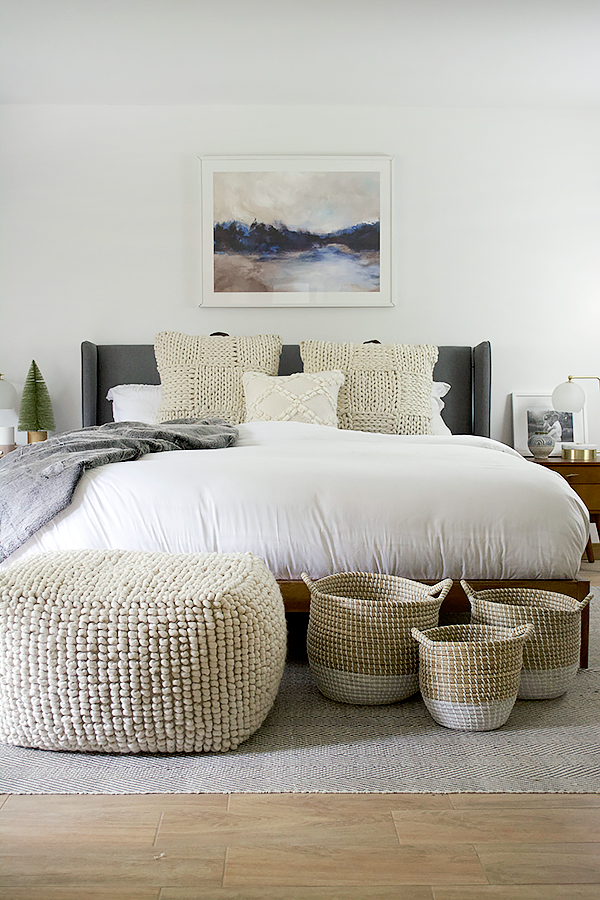 I'm seriously obsessed with this Dawson Faux Fur Throw blanket in chocolate from the UGG Home Collection. I've been sleeping with it every night since I got it and it makes me feel like I'm wrapped in a big cocoon of softness.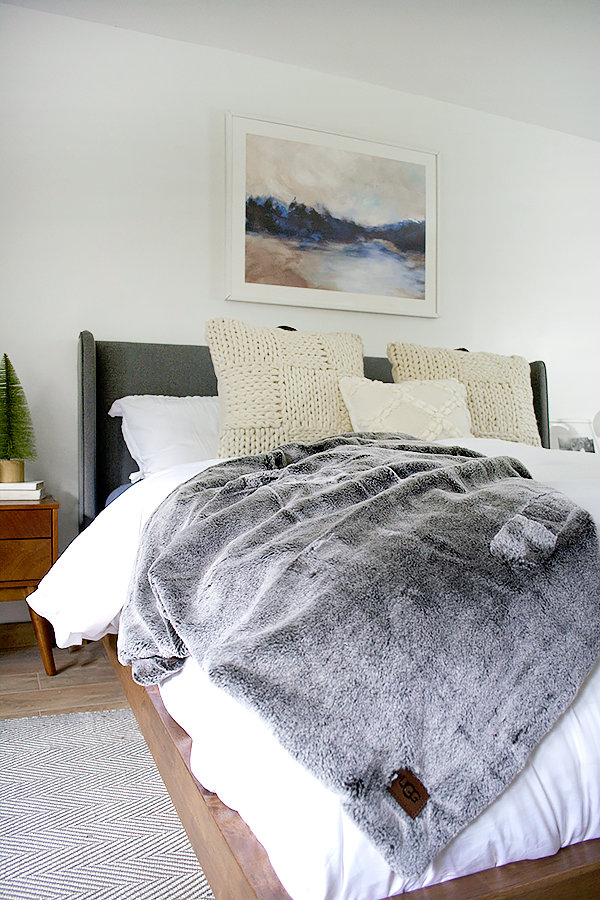 I usually wrap it around me when I get up in the morning and have a very hard time putting it back on the bed :-p It's one of the softest things I've ever felt!
I also added some neutral white and cream pillows that provide some amazing texture. Those big Doran euro pillows can be used as floor pillows too and have the most perfect leather handles on the top. I love the dual purpose they have – which I told Dan about because he's always complaining that throw pillows on a bed are useless. Well, now he can't complain anymore 😉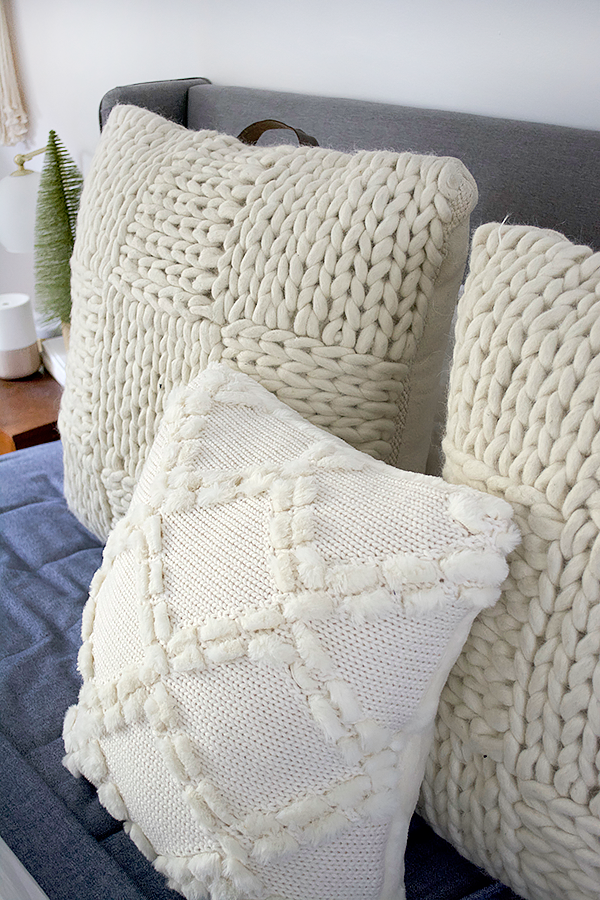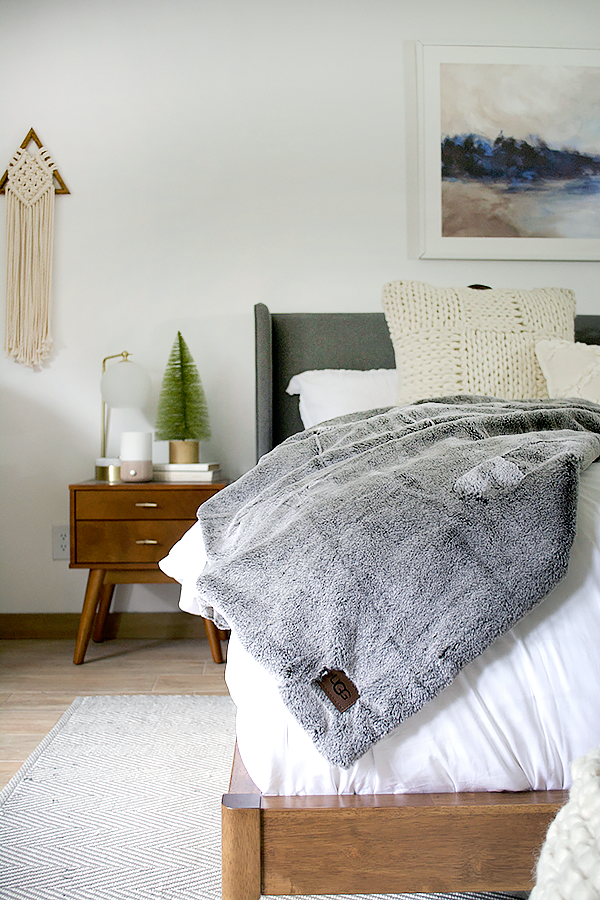 I love coming up to our cozy holiday bedroom retreat at night and unwinding after a long day and it's important to me that it feels warm and inviting. Everything from the UGG Home Collection does just that. It gives off the feeling of comfort and joy and everything that the holidays are about.
No matter who you're shopping for this year, no one can resist something soft and cozy. You can shop these pieces and more in store at Bed Bath & Beyond or head to their site to start checking people off your list!
I was asked by Carusele to participate in this campaign, sponsored by Bed Bath & Beyond. Although I have been compensated, all opinions are my own.