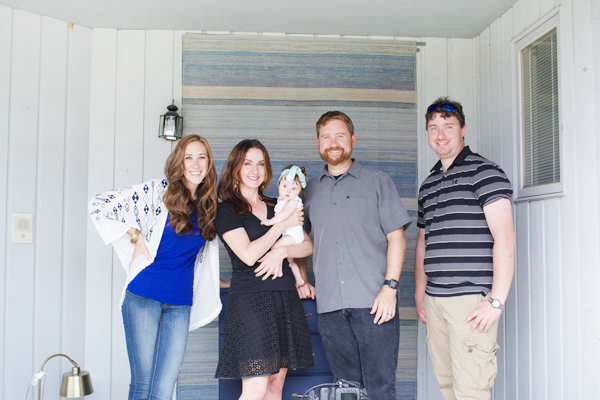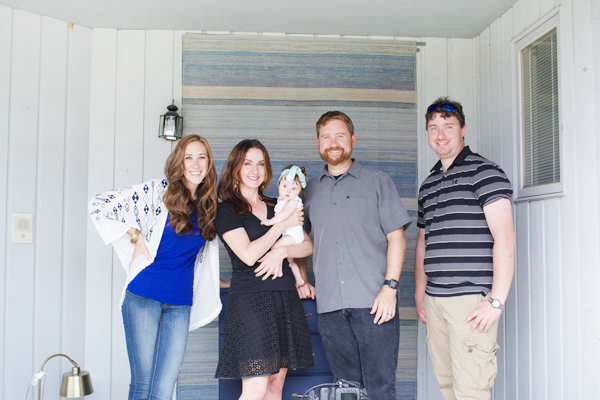 I still really can't even believe this happened. It feels so surreal and I don't think it will really hit me until I see myself in the magazine in October. Which is SO far away. Ugh. But I wanted to give you a little inside peek at how the shoot went! It was crazy to see all the work that goes into one little shot. I can't imagine what it's like to shoot a whole house.
So just to recap in case you missed it, I was contacted about this blue dresser that I submitted to the Better Homes and Gardens I Did It section of their mag. I've submitted stuff before and always got the automated response back saying "thank you, we get so many submissions we can't respond to everyone blah blah blah". But then it happened. Kit Selzer, who is the Senior Remodeling & Projects Editor for Better Homes and Gardens responded. It was almost exactly 2 months after I submitted it and she asked if I still had the dresser at our house. THANK GOD I did. I made it for myself, but thought about selling it after it didn't quite work as a nightstand. I'm so glad I kept it.
After a few squeals and jumps and re-reading the email to make sure I read it right, I calmly emailed her back. I wanted to use a million exclamation points but I think I refrained and kept it at only two and maybe a smiley face :-p
We emailed back and forth for a while figuring out schedules and where we lived. And of course this was about 2 weeks before we were moving. At first I told her we could make it work back in Erie before the move, but after thinking about it over the weekend I knew it would be too much. Luckily she was super flexible and just wanted to make it the easiest for us. So we planned the shoot for Monday, July 11. I had a phone call with Kit to go over details and how things would work and she was so nice and made me feel super comfortable about the whole thing. She even gave me her number and told me to call or text anytime with any questions I might have along the way.
They had me email them photos of our new house so they could get an idea of where they wanted to do the shoot. The whole house is pretty much carpet, except the basement which has hardly any natural light so the best option was to do it out on the front porch. The plan was to bring a large piece of fabric to hang up on the wall to use as a backdrop which ended up working out great.
One other thing they wanted me to do was line the drawers of the dresser with some fabric. So I went to JoAnns and found a few different patterns I liked and emailed them to Kit. They were between two of them so they had me buy supplies to do both, but ended up choosing a fun blue triangle one, which was my favorite anyway.
If you've never seen the I Did It section before, it's a 2 pager. The front page is a full bleed shot of me and the dresser and on the back is step-by-step directions on how I did it, some fun questions I answered and another little head shot of myself. So I needed one full outfit for the front, and then another top for the back. Since it's for the October issue, I had to dress accordingly. And of course it was like 90° and we were outside. And I was in flannel and jeans.
They wanted me in jeans and a long sleeve or 3/4 length top with flats and the top had to be a color that would stand out from the navy blue dresser. No black, no white and no navy. And they wanted it to be tight fitting and not flowy. Hard enough as it is, and even harder trying to find something when no fall clothes are out yet! I seriously had the hardest time, and the flannel they ended up choosing I picked up at my last stop.
So on Friday, July 8 I got a call from the stylist who was coming, Kris Kennedy. She worked for BHG for over 20 years but currently works as an Independent Consultant for Lowes. She built a great relationship with BHG and still does these type of freelance gigs for them when they ask. She was flying in from Boston and was going to be here on Saturday. She drove right to our house from the airport to introduce herself, scope things out and check out my outfit options. I was the only one home and made the mistake of thinking Oakley would be okay. Wrong. He's a good dog but he just gets really excited when new people come to the house. Like so excited that he humps them. Yep, it happened. She was totally cool about it though, or at least pretended to be ha.
So I gave her a tour of the house and she confirmed that the front porch would be the best spot to shoot. She was a little concerned about placement of the sun though so she had me take some pics the next morning to see it's location. We brought the dresser outside so we could play around with it a bit, holding the fabric backdrop next to it as well as all my shirt options. We both agreed the flannel would be best for the front shot, as long as the photographer agreed. And for the back shot, she liked this white and blue kimono I had but said she would go out and buy some other options for underneath it, as well as some new shoes because she didn't like any of mine. Fine by me!
We also played around with some of my decor, which was still in a box in the garage. They will buy whatever they need to for the shoot, but they also like using your stuff so it feels more personal. So Sunday Kris went out shopping for props and decor and came back in the evening to show me what she got. The CUTEST shoes, a few blue top options that we would play around with the next day, a couple plants and some wall art. She also bought a 6 foot piece of wood to paint to look like a base board. She brought all her painting supplies onto our back porch and started painting the wood. I told her I would do the second coat so she didn't have to wait around for it to dry.
And then it was almost time.
AH.
I know this is long but I hope you're enjoying it!
I woke up around 6:30 and fed Eloise and then handed her off to Dan for the rest of the day. Luckily his schedule is flexible and he was able to stay home and watch her. Plus it was cool that he got to see this all happening.
I showered and did my hair and makeup. I secretly wished they could have sent a makeup crew but obviously I was happy this was happening at all. I'm pretty confident in my skills with the curling iron, but I could use a lesson or two in the makeup department. They also wanted me to wear lipstick which I literally NEVER wear. I bought two random shades at the grocery store and waited for Kris to come back to show her.
Since it was scorching hot outside, I hung out in jeans and a tank top until they were ready for me.
I had no idea if I should put food out for everyone, so I bought some bagels, muffins and fruit and made a little platter. Kris was super appreciative of it, and said she should be the one bringing the food. She ate half a bagel, but no else had ate anything ha. Oh well, it's the thought that counts.
Kris arrived around 8:30, the photographer's assistant arrived around 9 (he came from Akron, OH) and the photographer arrived around 9:30. His name is Lincoln Barbour and he was AWESOME. I feel like photogs can sometimes get a bad rap but he was seriously the nicest guy. And he just shot Young House Love's home a couple weeks ago for HGTV magazine. Ya, pretty sweet. Check out his site, HERE!
He lives in Charlottesville, VA and drove up Sunday night. Things almost got pushed back because his daughter had to go to the ER Sunday, but luckily she was ok and it wasn't anything major.
So once everyone was here, they started setting up their gear outside. We brought the dresser and props outside, and as you can see, that dead tree was seriously in the way.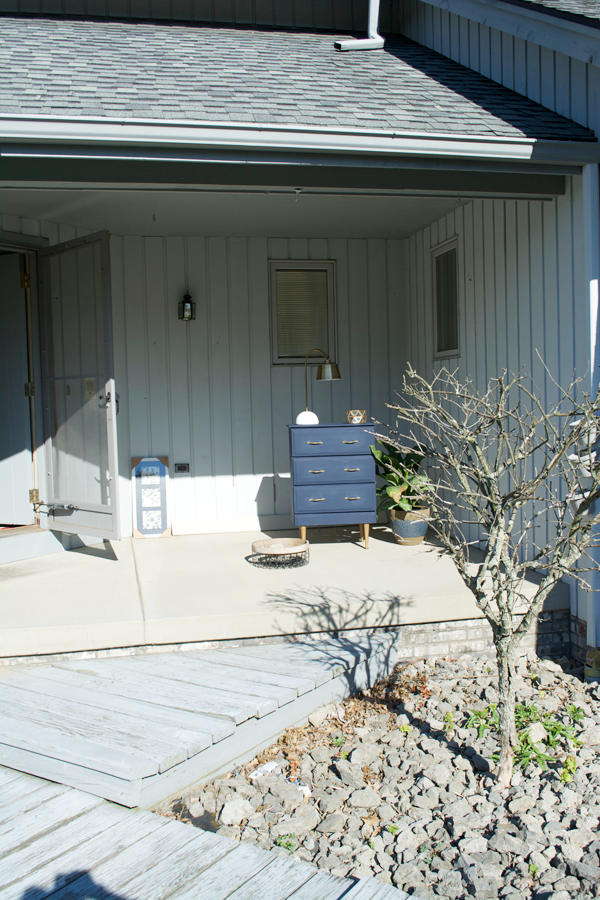 So Lincoln pulled it out! It needed to be done.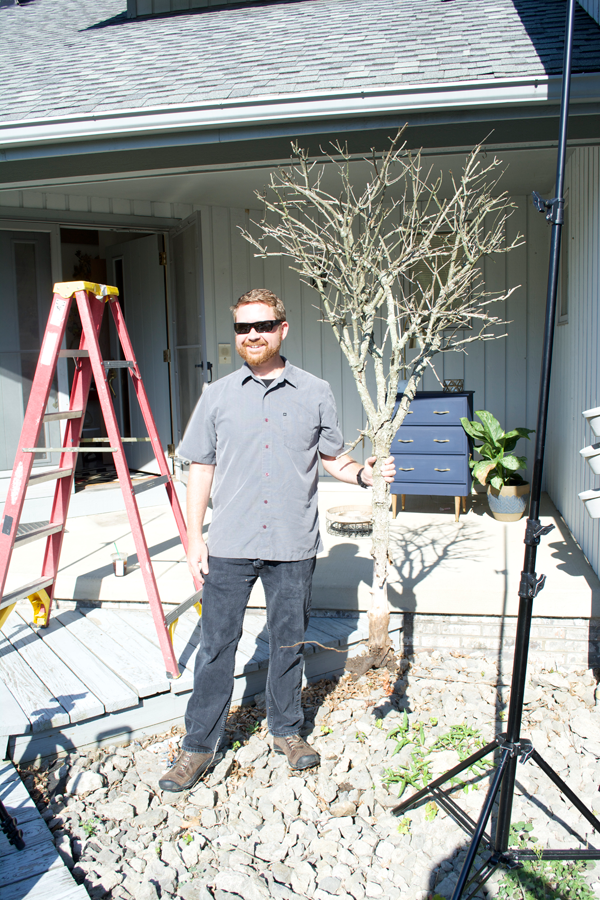 The sun was shining right into the porch, so they put up a screen that worked so well in blocking it out.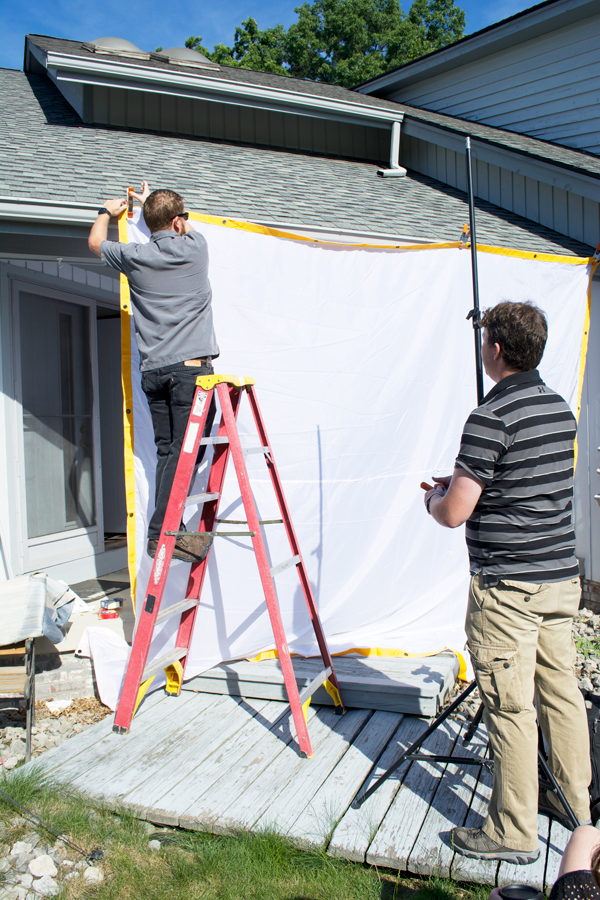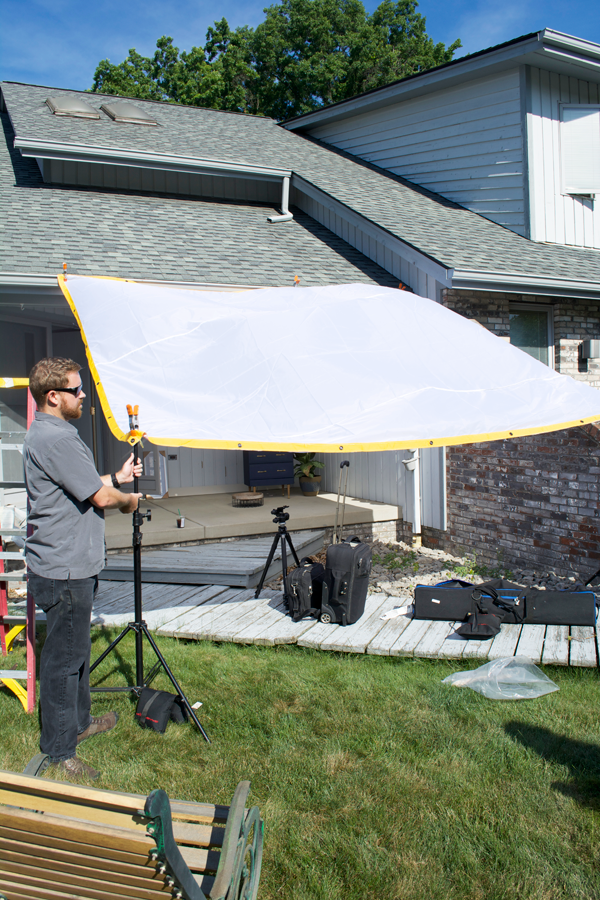 It was a little windy and the tripods starting tipping over so we used some high tech materials to weigh them down 😉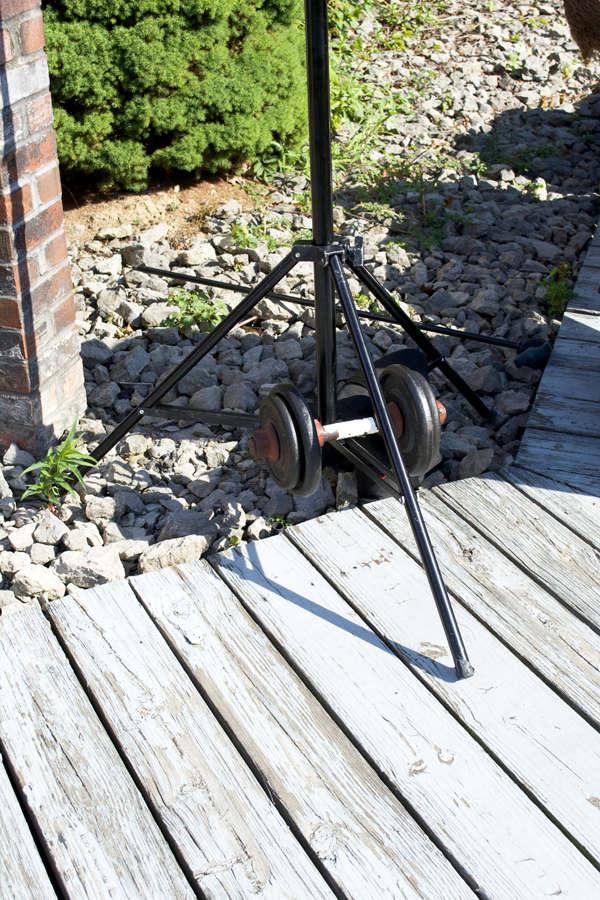 Inside, Kris was measuring the fabric for the backdrop and trimming it down to size.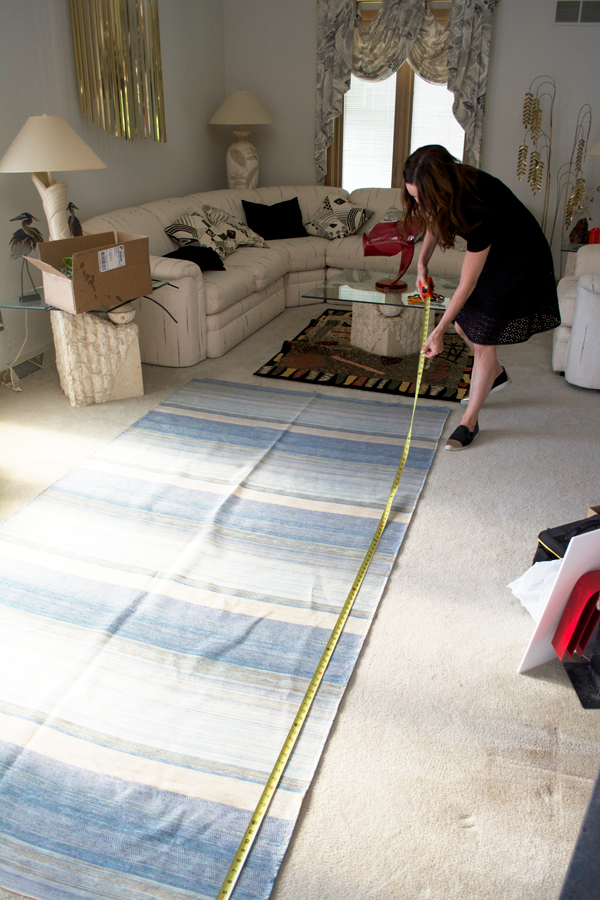 Then it was time to hang!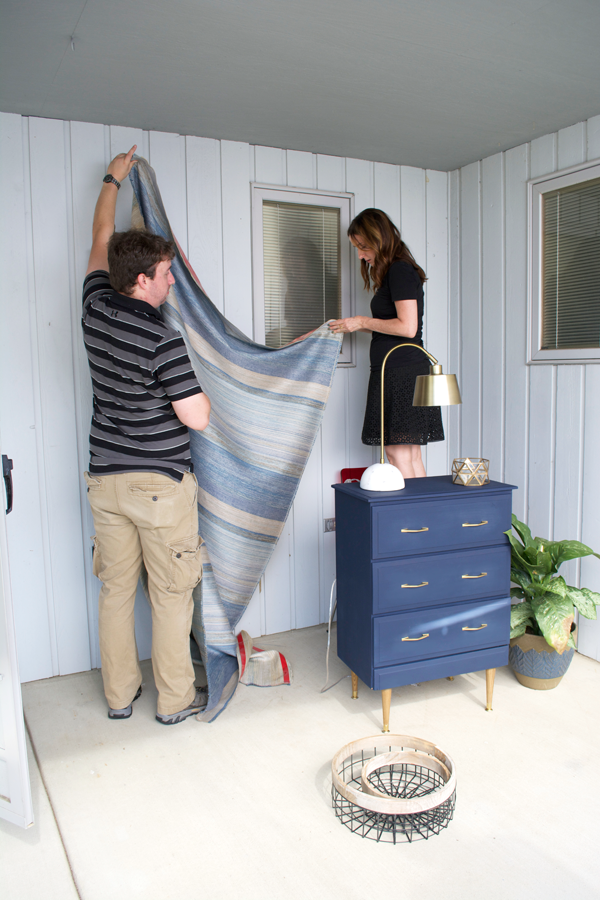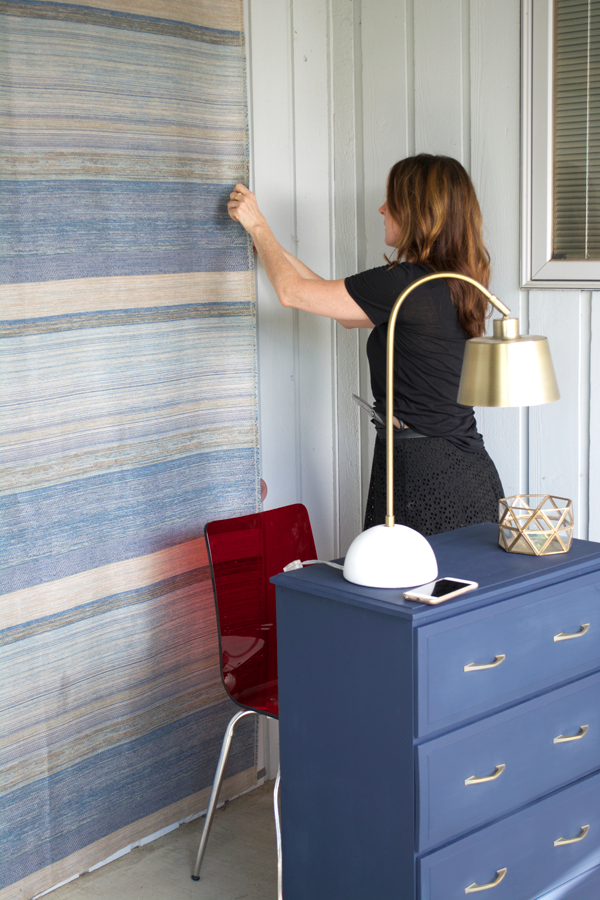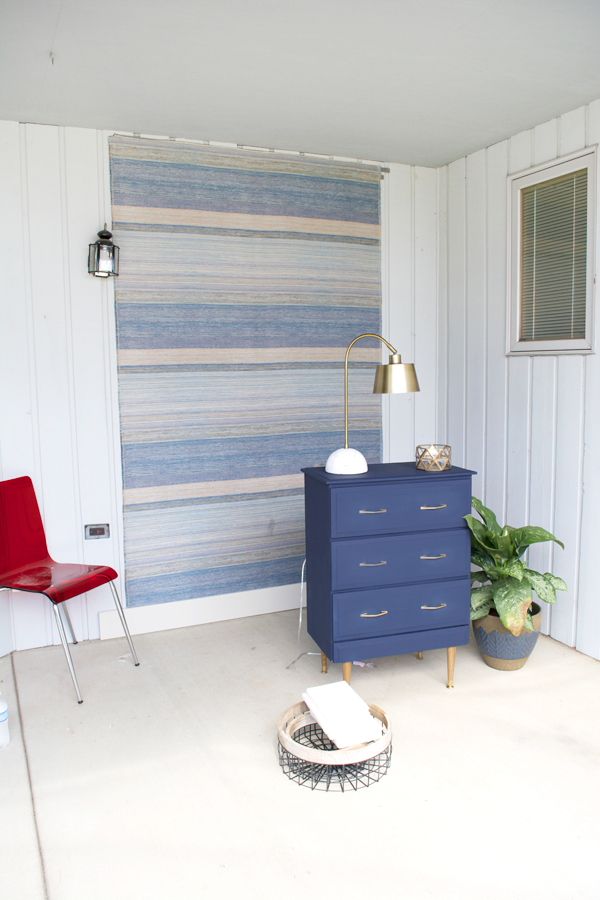 BHG sent some sketches over to Lincoln for the type of poses they wanted to see, so him and Kris looked them over before we began the shoot!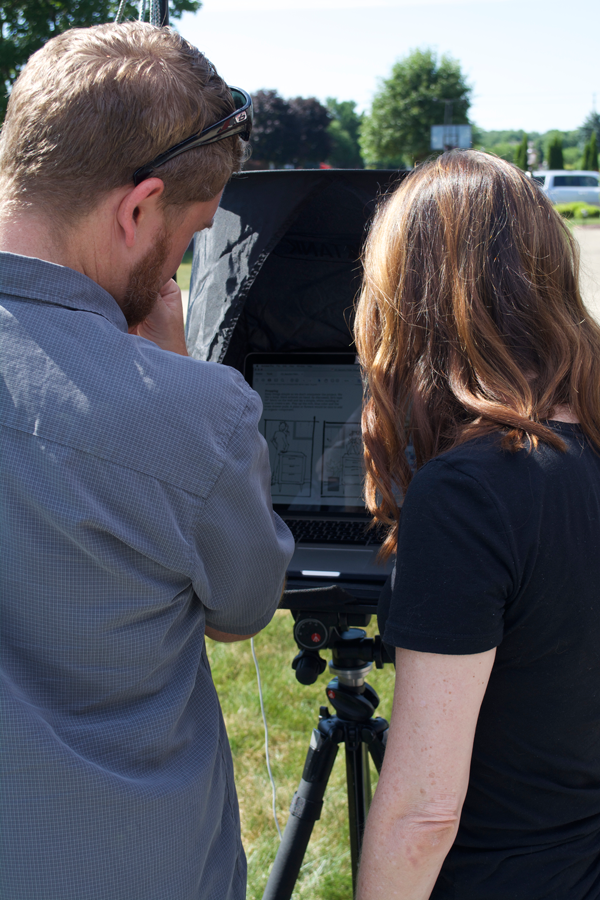 Then it was time for final touch ups! Like I said, I did my hair and makeup, but Kris put some finishing touches on me like making sure I didn't have any crazy hairs sticking out and my face wasn't shiny.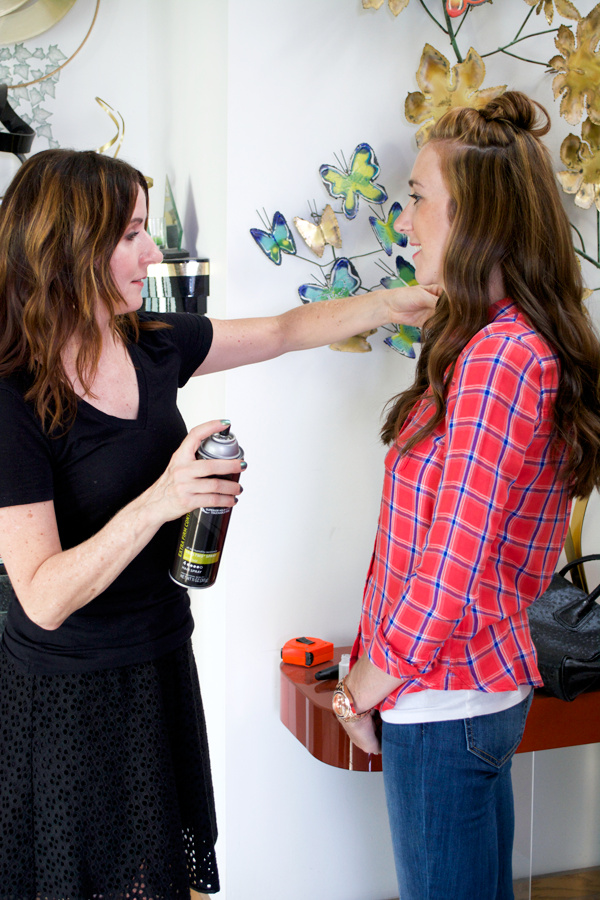 Then it was go time!
How killer are these shoes by the way? And yes, I got to keep them 🙂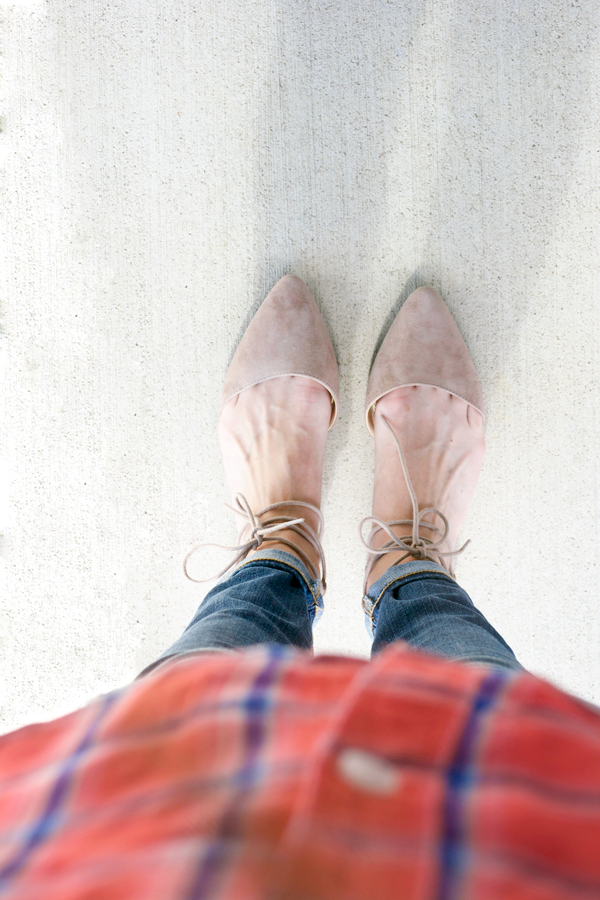 I can't show you much else besides this because they don't want me sharing the shot before it comes out! Even though they took a ton and I have no idea which one they're going to use yet.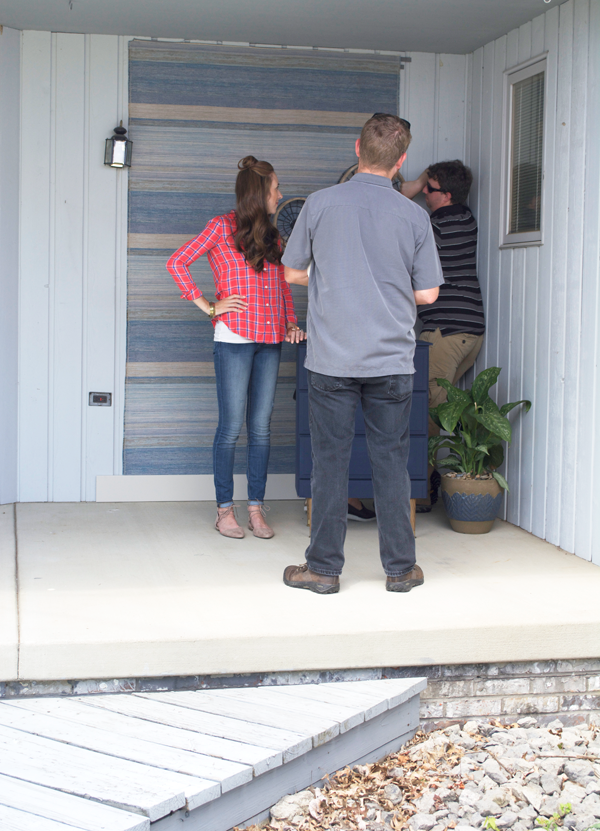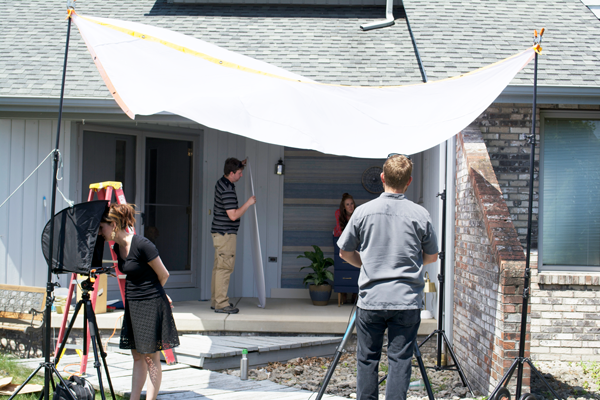 They let me look on the computer and they looked so good!
After we got the shot for the first page, which maybe only took like 10 minutes…maybe less, it was time to do the headshot for the back page. Kris chatted with Lincoln about which top I should wear.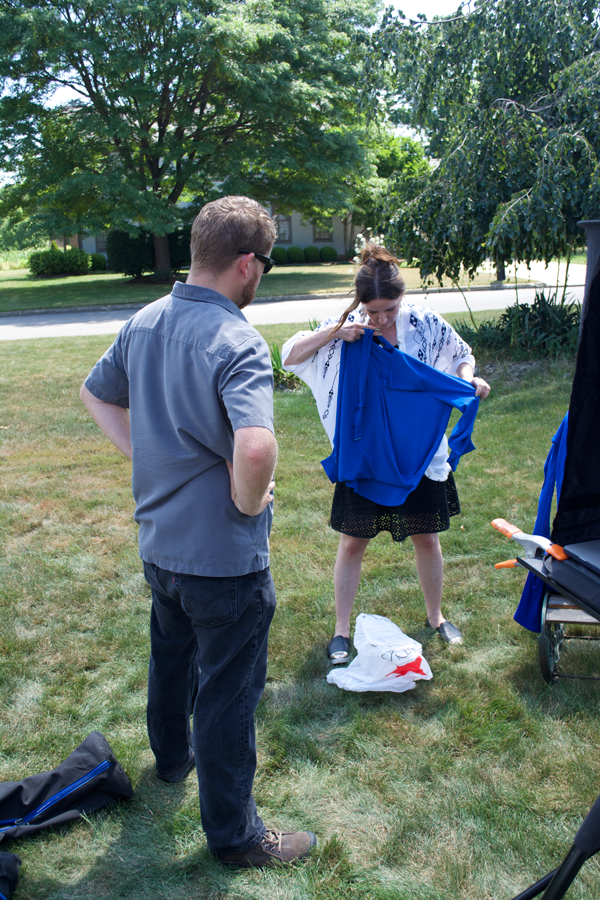 We took this shot of me just standing against the house, which again was super quick!
Next up, they needed some detail shots. Kris and I went upstairs and I let her raid my closet to find some pretty shirts to fold to put in the drawer.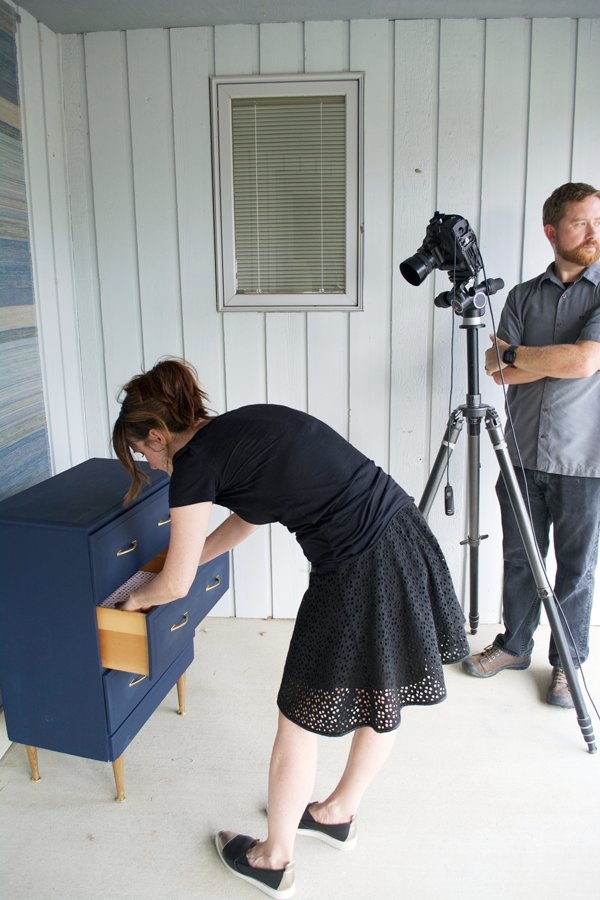 This thing was AWESOME. It was a live capture, so you could see video on the computer of the shot you were going to take.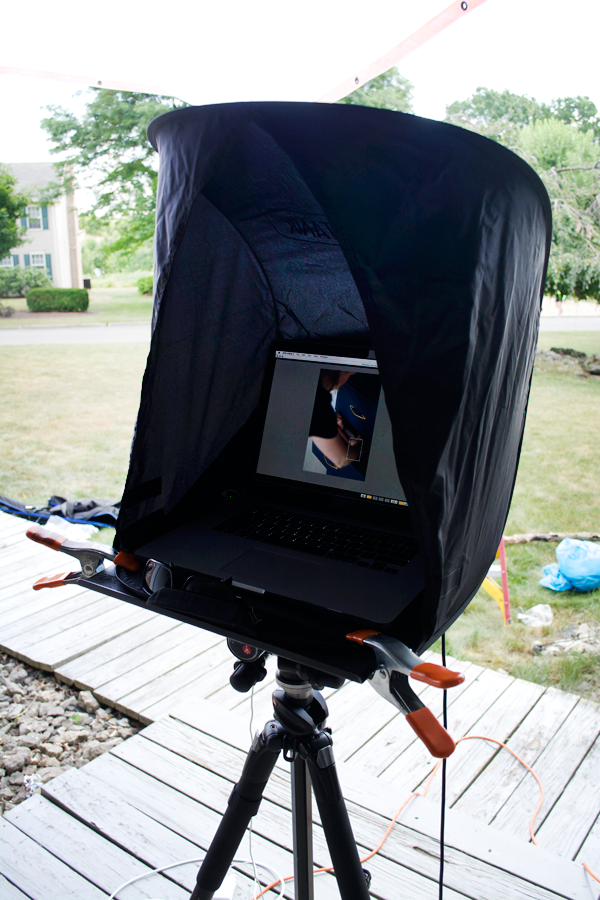 Last but not least was a shot of one of the legs. This tripod is pretty legit. I kinda want one.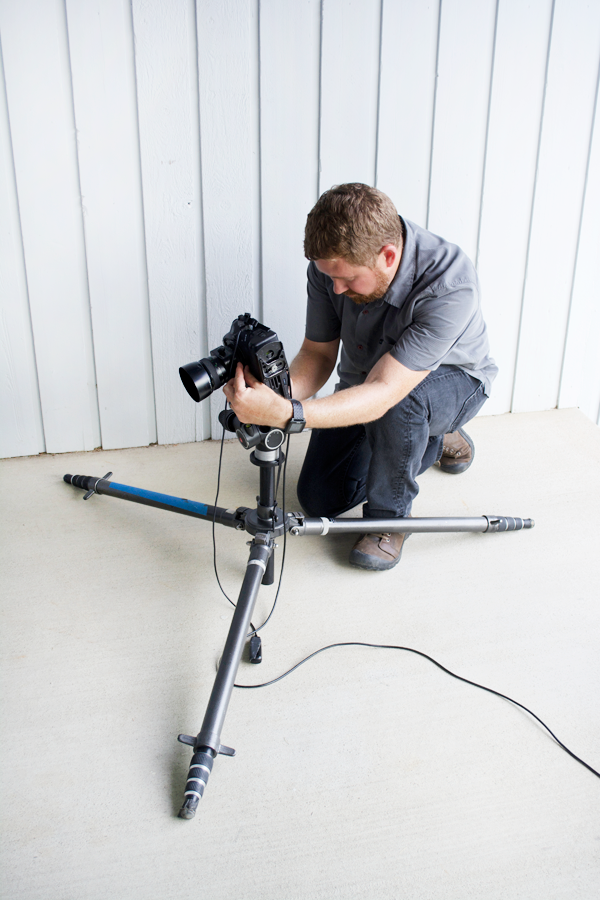 And that's a wrap!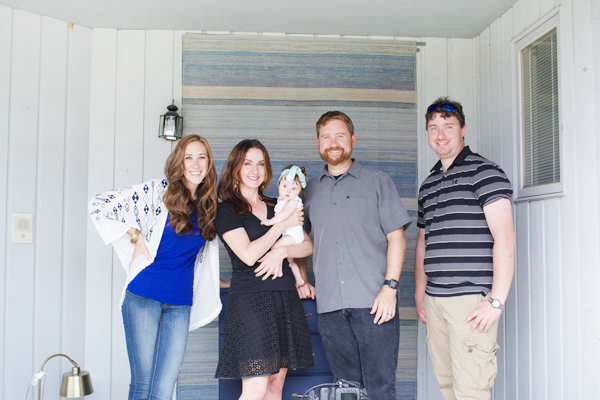 I can't believe how nice everyone was. Lincoln even asked us all if we wanted to go to lunch when we were all done. But I had to stay home with Eloise so Dan could go into work for a bit and he ended up getting on the road right away anyway so he could make it back for his daughters bed time.
Kris was in love with Eloise. She said she didn't even really like babies but she couldn't get enough of her. I don't blame her 🙂
By far one of the coolest things my little blog has done for me. A once in a lifetime experience that I will never forget. I felt like a total celeb and couldn't have asked for a cooler crew to work with!
I think I get an early issue before it's released but I'm in the process of chatting with Kit about final details right now. 
A HUGE thank you to Kit, Kris, Lincoln and (omg I forgot the photog's assistants name!) for making this all happen. I am beyond excited to see my issue come out and will probably buy every copy I can find.
If you want to submit your projects to I Did It you can send them to ididit@meredith.com 🙂