Father's Day is nearly here! If you're still unsure what to get dad, I've compiled a Father's Day gift guide for you. Take a look and hopefully you'll gain some inspiration for a last minute gift idea!
FATHER'S DAY GIFT GUIDE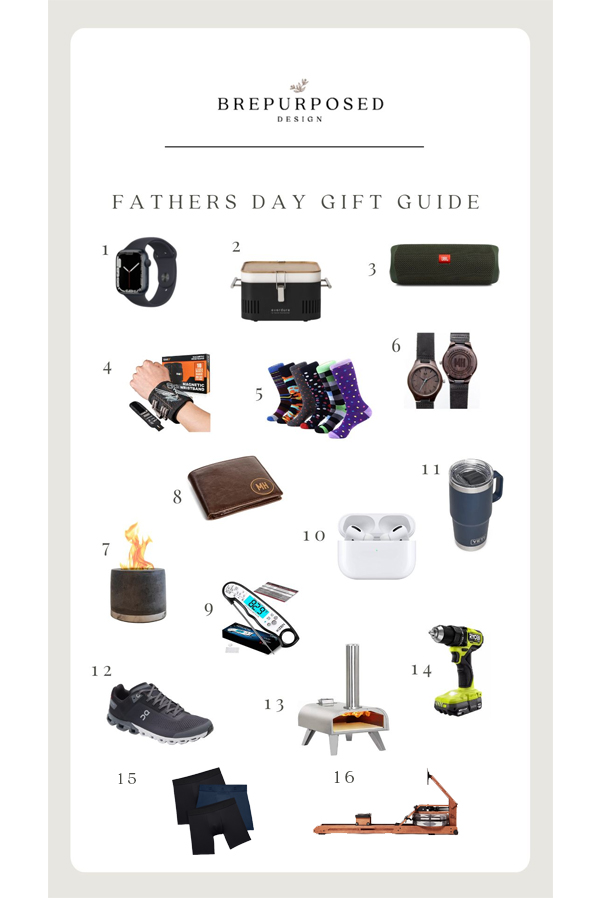 1.) Sports watch – Help dad keep track of his steps, physical activity, or even the time with a sports watch!
2.) Portable charcoal grill – Grill on the go! Take this compact, and might I add beautiful, charcoal grill on the road camping or even for a picnic.
3.) Portable speaker – Jam out wherever! Whether you're working on a project, or just hanging, music makes everything better.
4.) Rak magnetic wristband – Pick up nuts and bolts in a breeze or hold on to screws without fear of losing them mid project. This magnetic wristband will help dad keep track of all of the little pieces he may have a tendency to misplace.
5.) Funky socks – If he goes into the office, why not brighten up his wardrobe with some fun socks!
6.) Personalized watch – Everyone loves personalized items, so leave him a message on his watch to remind him how much he means to you!
7.) Personal fire pit – Roast marshmallows for one over a mini fire pit!
8.) Personalized wallet – Again, everyone loves personalized items and this wallet is no different! Plus, you can add his initials on the front and a love note on the inside.
9.) Meat thermometer – For the dad that loves to cook or grill out! Dan uses his alll the time!
10.) Headphones – Everyone can use a good pair of headphones for working out, doing yard work, or just jamming out.
11.) Insulated cup – Keep his coffee hot or water ice cold in a super insulated cup.
12.) Athletic shoes – If the dad in your life is anything like Dan, they will LOVE a new pair of sneaks!
13.) Outdoor pizza oven – How much fun would it be to make wood fired pizzas at home?! These summer nights are begging for pizza nights outside on the back porch.
14.) Drill – As a DIYer, I had to include at least one power tool on this gift guide! If your guy has been wanting to get into DIY, this is a great tool to start him with.
15.) Tommy John Underwear/Sleepwear – Dan is in LOVE with these underwear and sleepwear. It's the first set of matching jammies he's actually owned and he's a big big fan.
16.) Ergatta Water Rower – We got the Ergatta Water rower last summer and I have been absolutely in love with it. Dan uses it occasionally too, but if your guy is into fitness and is looking for a new workout – I can't recommend this enough. It's a little pricier but it pays itself off and is SO gorgeous too. So girls you don't have to worry about an ugly piece of workout equipment sitting in the corner ;-0
Hopefully this gift guide gave you some ideas for what to get dad this Father's Day! If you have some other great gift ideas, share them in the comments!