We're getting closer and closer to the finish line with our kitchen reno and I wanted to share a progress update with you guys so far!
KITCHEN RENO UPDATE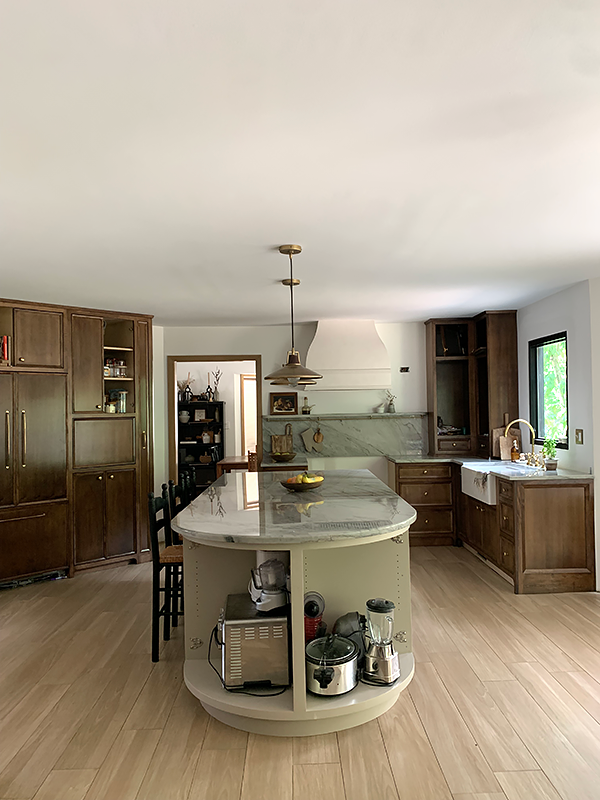 We opened up a doorway, took out all the old, and made way for the new. And now, the cabinets are in, the countertops are in, the hood is in, and everything is starting to come together. We are still waiting on the range, but we're keeping our fingers crossed for this month!
I wanted to put together this blog post as an update, but also as a source list that you can come back to when you're wondering where things are from. So let's get into it!
KITCHEN RENO SOURCES
PENDANT LIGHTS
The pendants are from Lulu and Georgia and they are gorgeous. I took them up a notch by using these decorative bulbs from Lowe's which makes them feel even classier and even more beautiful!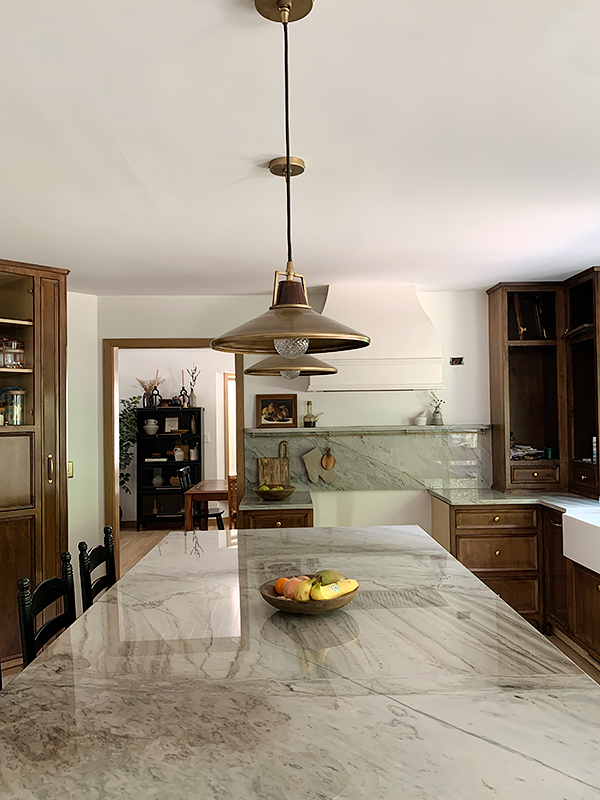 SCONCES
If you've been following on Instagram then you'll know these weren't the original sconces I picked out. I chose different ones and once they were isntalled, I didn't like them at all. They just didn't feel right. So I spent weeks looking for the perfect ones and found these sconces that feel SO much better and so much more like me.
Sometimes you don't get it right on the first try and with all the decisions you have to make in a kitchen, it's even harder! Sometimes you have to return things and that's ok! I didn't want to keep something I didn't love and it was totally worth the wait to find these beauties.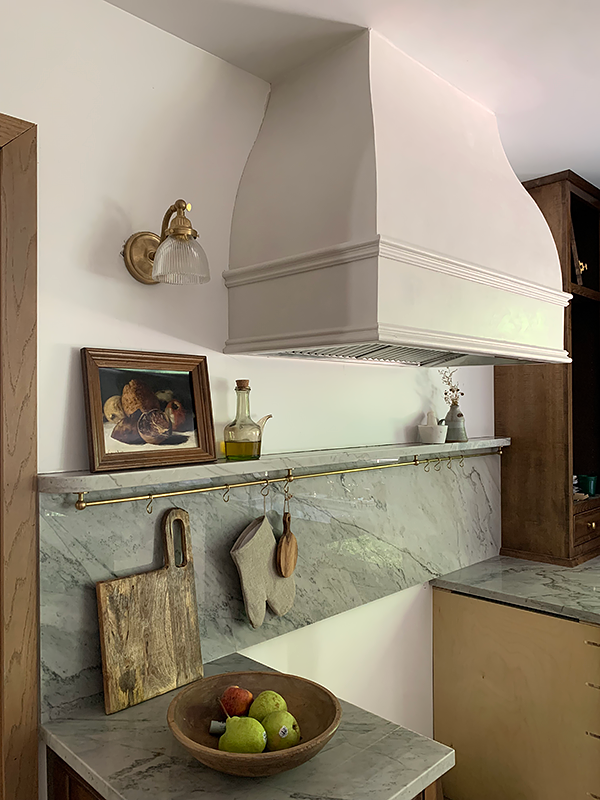 COUNTERTOPS
The countertops are Sea Pearl Quartzite. We got them from United Stones International in Solon, OH. Quartzite is extremely durable, making it a great countertop option and has been so easy to wipe clean – even red wine hasn't left any stains!
KITCHEN ISLAND
The island is a unique piece that brings the space together. I knew I wanted the island to be curved to smooth out the hard lines from the other cabinetry. And I am really happy we decided to paint it instead of staining it the same color as the other cabinets. I think the Balanced Beige paint color helps to brighten the space and open it up.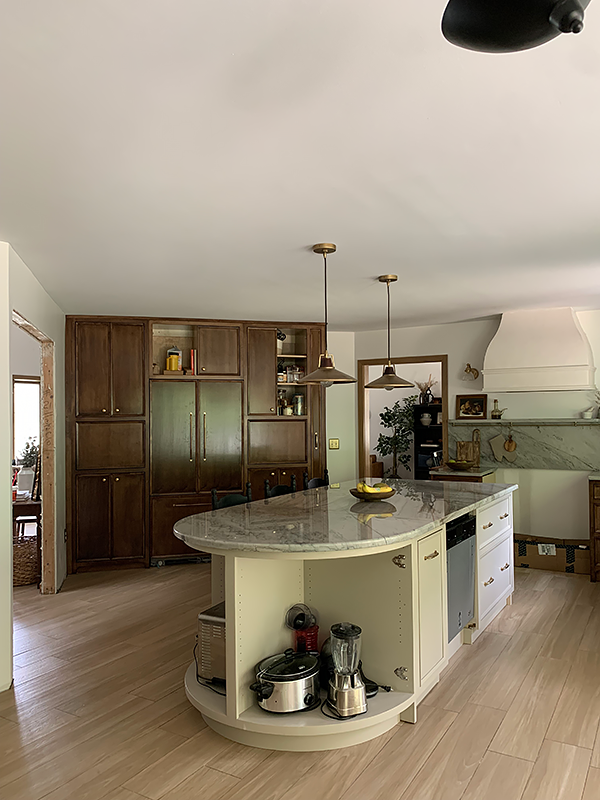 CABINETS
Our custom cabinets are made by Ben Haug from Springfield Woodworks. They are so beautiful!! The stain used is Dark Walnut Varathane Gel Stain. We decided on paneling for the appliances so that they blend seamlessly into the design and I'm so excited that I'll never have to wipe dirty fingerprints off stainless steel ever again!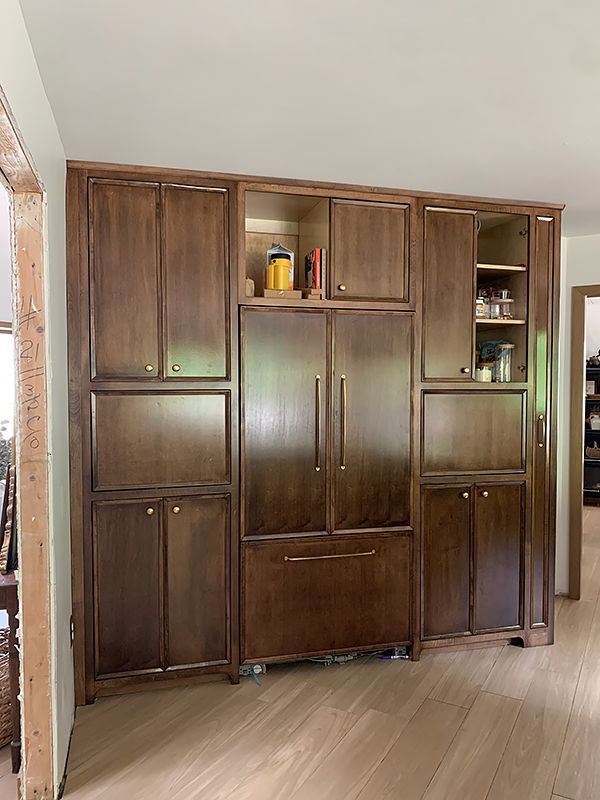 HARDWARE
Give me all the unlacquered brass hardware please! I went with the Massey collection from Rejuvenation for all the pulls, handles and knobs.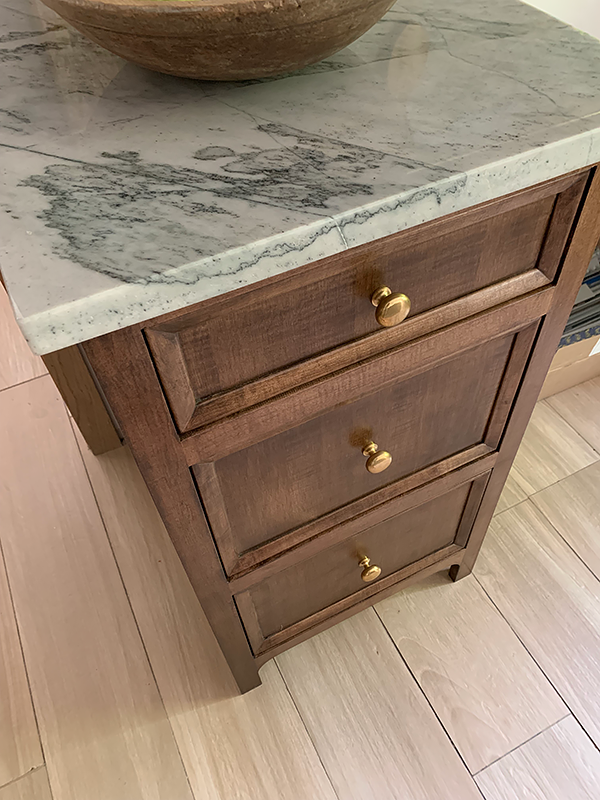 BRASS KITCHEN RAIL WITH HOOKS
This kitchen rail is great for hanging oven mitts or small cutting boards as functional decor pieces. I cannot wait until our range is in so we can see this whole area put together!
BRASS FOOTRAIL
This was a detail I was SO excited about. I not only like the look of the foot rail, but it's so functional too! It just makes sitting at our island an even more enjoyable experience.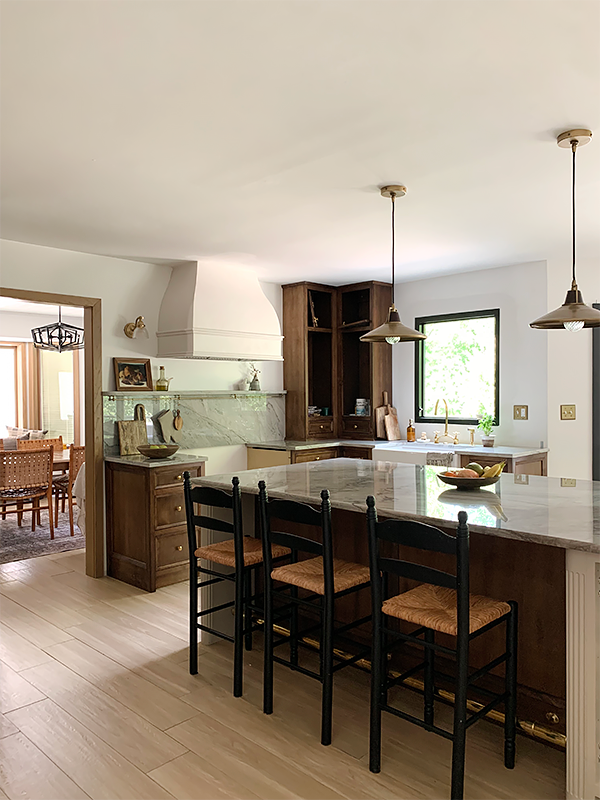 HOOD
I am still so glad I went with a hood from Hoodsly instead of trying to DIY one ourselves. And I still got to put a DIY touch on it with a Roman Clay finish in the color Full Circle. You can read all about the process of our Roman Clay Hood.
STOOLS
These stools were a Facebook Marketplace find that got a DIY facelift. Because I still haven't found the stools of my dreams, I didn't want to spend too much time or money on them. So four spray paint jobs later, and these fit the bill. I'm struggling to find one that I love but I'm not giving up hope!
FAUCET
My unlacquered brass faucet is from the Etsy shop Sturdy Styles , it's not listed anymore but he makes everything custom so if you like this exact style just message him! He was great to work with and very willing to make adjustments for me.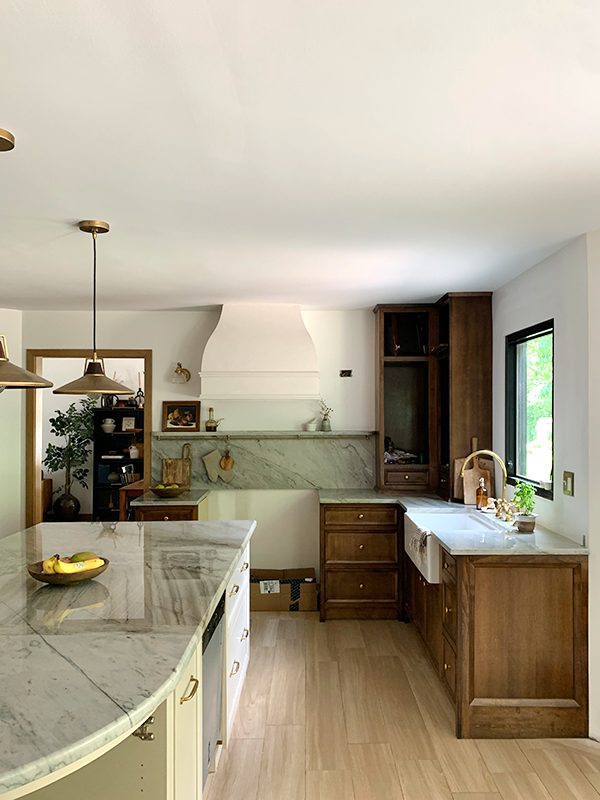 WHAT'S LEFT?
Our stove is supposedely shipping this month – YAY!
Backsplash behind the sink is getting installed TODAY.
I decided to roman clay the rest of the walls the same color as the hood.
As you can see some cabinet fronts are missing – Ben had to make some adjustments on those and they should be installed soon.
Dishwasher panel – needed to make some adjustments on this too and should be installed soon.
Fluted doors on the island – Ben initially made them one way and we both weren't happy with how they turned out so he went with another method and is finishing those up. He came over yesterday to fit them and mark sizing adjustments.
Once the roman clay is done we'll install the second sconce :-p
Find counter stools I LOVE
Small touch ups you can't really see except in person like finishing up all the toe kicks and filling in gaps/touching up paint
And of course once that's all done…DECORATE!
If I missed anything, let me know! We're in the home stretch and it feels GOOD!