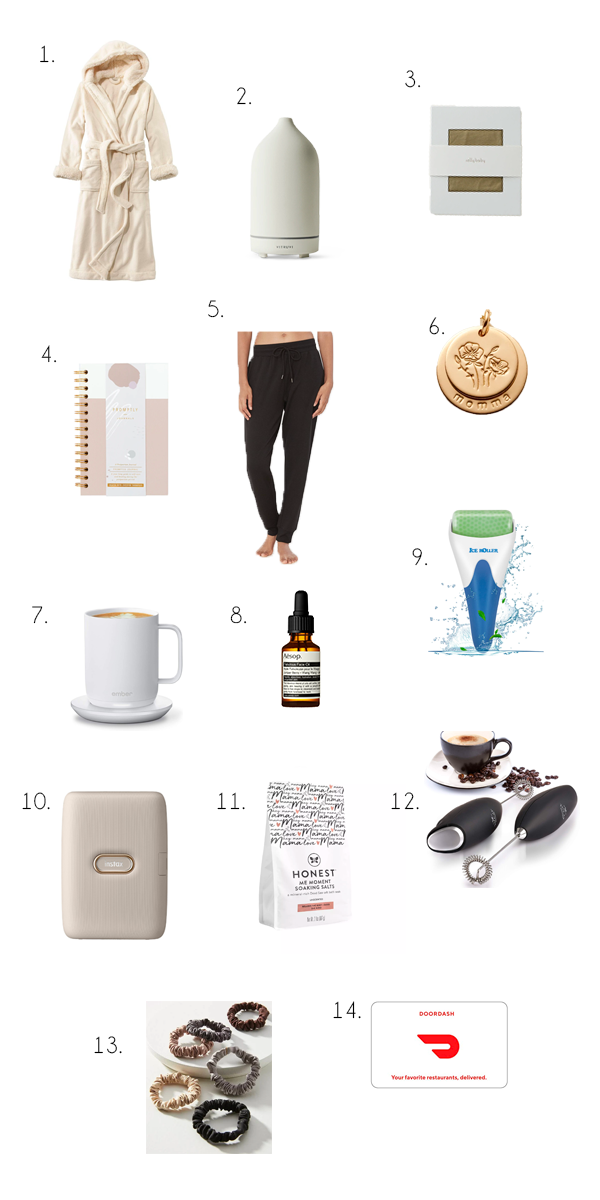 A lot of you requested a gift guide for new moms, babies and kids so I'm combining all 3 of those. I'm including some of my favorite products I've used or am currently using along with some fun things I want to try!
NEW MOM GIFT GUIDE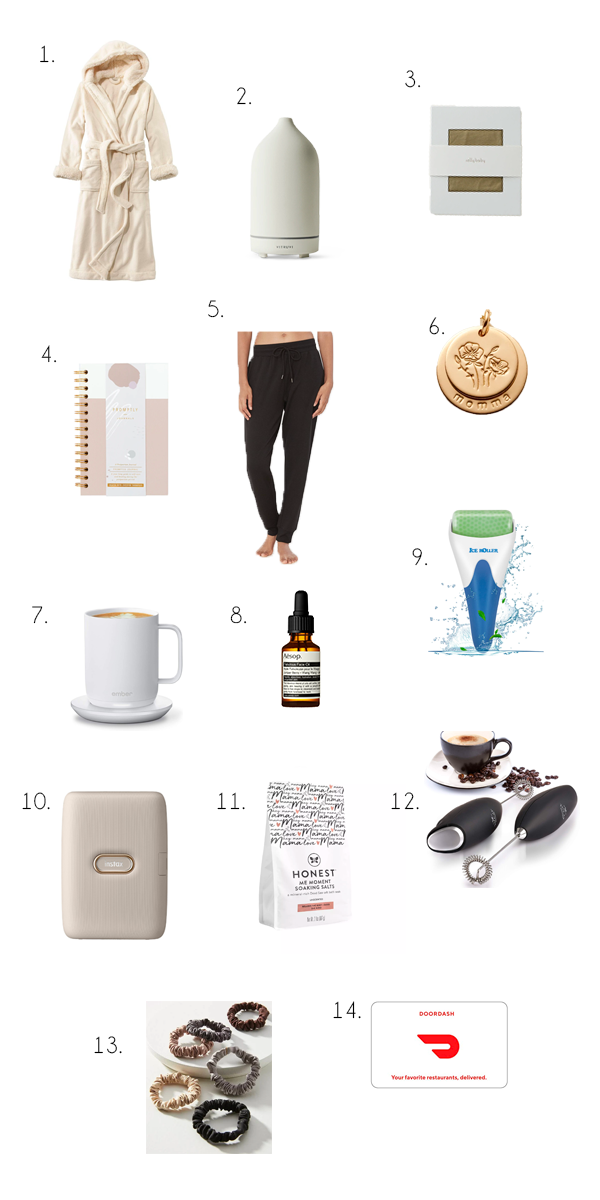 1. Comfy Robe
I live in my robes, especially when the weather starts to cool down. They're comfy and cozy and provide easy access for breastfeeding. I wore this one in the hospital and for the first couple months at home but have switched over to my warmer one similar to this hooded one.
New mamas go through so many emotions each day and essential oils are a great way to relax and unwind. I love the sleek and modern look of this diffuser!
I didn't get into baby wearing much with my first two kiddos but I've been using the solly wrap with Odelia and have really been loving it. And so does she! It helps me get stuff done around the house or with the older two when she's being fussy and won't sleep on her own.
4. Postpartum Journal/Baby Journal
I've kept baby books for all the kids and love Promptly Journals. This time around I also got their Postpartum journal which helps new moms navigate all the feelings we experience. I highly recommend it!
I bought the grey and black pair and literally wear them all the time. They're fleece lined and also sit high enough above my incision.
Every mama loves to wear personalized jewelry that reminds them of their babes. These birth flower pieces from Made by Mary are so sweet and a fun change from the typical initial necklace. I have one for each of my kiddos.
I reheat my coffee or tea multiple times each day – It's impossible to get any time to myself to sit and enjoy a hot cup before someone is calling for me. This ember smart mug keeps your drink perfectly hot so you can enjoy it throughout the day without it getting cold.
A bit pricey but rave reviews make me want to try this face oil. Self care is so important after giving birth and most days I don't wear makeup, but I want to take care of my skin. This oil is a daily moisturizer that hydrates, detoxifies and helps smooth out your skin.
Have you tried one of these before? The list of benefits is endless – it helps reduce puffiness under your eyes, helps migraines, sinus pressure and so much more. Anything to help get rid of those under eye bags I'm game to try.
I have thousands of photos on my phone and the majority of them are of my kids. This little printer would be the perfect way to actually do something with all those photos. Especially to paste into your baby book!
I couldn't take a bath for 6 weeks after my c-section and it's all I wanted to do! Now that I'm in the clear I've been taking a lot of them – mostly as an excuse to escape the kiddos and have some me time 😉 I want to try these salts!
New moms aren't heading to the coffee shop every morning but that doesn't mean our coffee has to be boring. Spice things up with this milk frother and get that coffee shop taste right in your own home. It's the little things, right?
The mom bun exists not only because mom's don't have the time to do their hair, but because if they don't put it up, their baby will pull the heck out of it. Especially for breastfeeding mamas too – I always have a hair tie or scrunchie on my wrist so when I'm holding or feeding Odelia, my hair goes up and out of the way of those grabby little hands.
No new mom has time to think about what's for dinner. Help them out by giving them a gift card to order out!
BABY GIFT GUIDE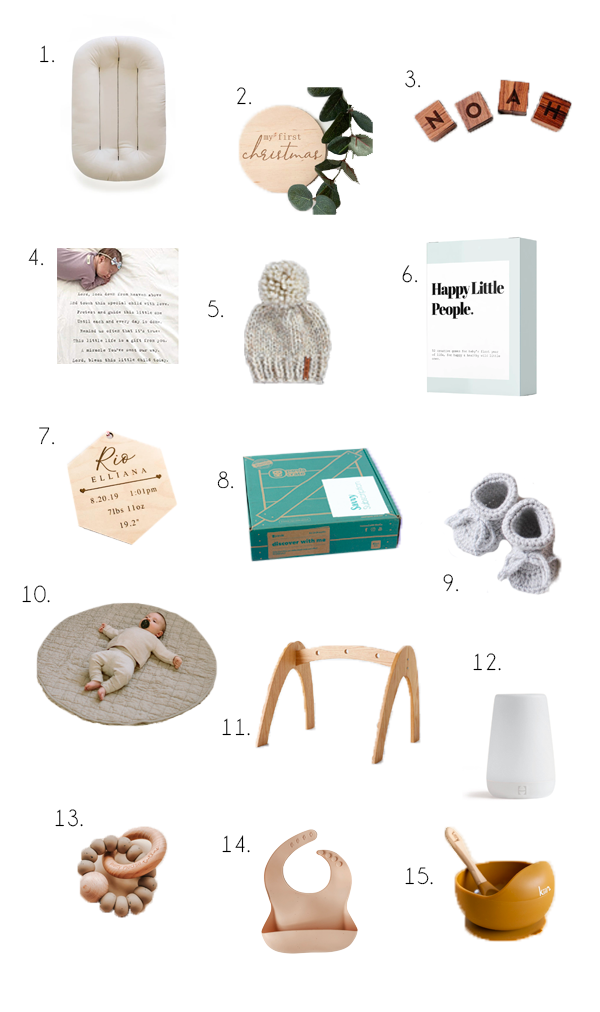 This is one of my favorite baby products. It mimics the sensation of your baby being held in your arms which is why they love it so much and it's so easy to move around! Dilly loves hanging out in hers and it's an easy spot to put her when I need to get things done!
While you're taking 38954 photos of your new baby, why not add a cute little accessory? There are tons of options from monthly photo signs, to baby's first christmas.
Cute and practical – and once baby gets older will help them spell their name!
4. Lord Look Down Baby Blanket
We received this blanket as a gift when Odelia was born and I'm obsessed. Not only with the sweet message but how incredibly soft and snuggly it is!
With winter coming, every baby needs a cute little pom pom hat!
This beautiful card deck takes the stress out of play! You get 52 meaningful, development-promoting and bonding activities to enhance your baby's awake time.
7. Baby's First Christmas Ornament
A baby's first christmas ornament that is simple and cute.
8. Kiwi Co. subscription Panda Crate
We recently got some Kiwi Co. boxes for the kids and they LOVED them. The panda crate is for babies 0-24 months and comes with the cutest things inside! You can choose how frequently you want your boxes to come or just try it once!
To go along with your knit pom pom hat of course.
Perfect for tummy time or under a play gym, this quilted linen play mat is so beautiful!
When baby is ready to start reaching for things!
We use this in Hawk's room but it's perfect for baby too! You can control it through your phone and there are multiple settings to choose from.
Once those teeth start coming in baby is going to need something cute to munch on!
When baby is ready to start trying foods, these silicone bibs have always been a favorite of mine.
I love how these bowls suction to the table/counter so they won't tip over. Great for baby's first foods and also as they grow!
YOUNG KIDS GIFT GUIDE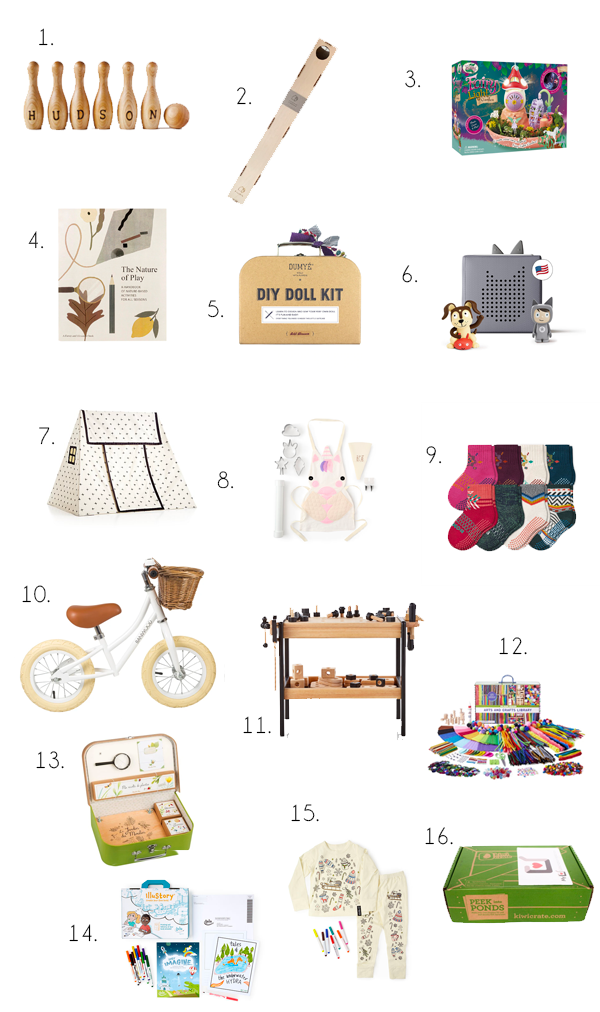 A cute and personalized toy that can be left out and used as cute decor too – win win!
Our kids love to play make believe and I know they would love this periscope to make their adventures even more fun.
Eloise received a fairy garden similar to this one for her last birthday and it was a big hit. She loved being able to plant the seeds, watch it grow and play with the fairy along the way.
This book includes 44 beautifully illustrated activities designed to get you and your family away from screens and into nature. You can choose activities based on each season and different locations and time.
Instead of giving your child another doll – give them one they can create on their own and personalize to their taste.
The Toniebox is an audio player for kids. A great screen free option to keep your kids entertained, it can read them stories and play music amongst other things.
I think every kid wants their own play tent to escape to and this one is so cute!
For the unicorn and baking lover, this cute set includes an apron and various baking accessories.
Our whole family wears these socks and the kids love them too! They're amazing quality, come in tons of different styles and the best part is with every purchase, they donate to those in need.
Hawk and Eloise both used a balance bike to help them get comfortable riding a regular bike. It helps kids skip training wheels and I have to say it totally works. I wish I had found this cute one sooner!
For the kids who want to be just like their DIY parents – this workbench has all the tools they need!
These arts and crafts supplies will last a long time and provide your kiddos with endless entertainment.
For the kiddos that are curious about gardening and plants, this botanist set has the cutest things to help fuel that passion.
14. Create Your Own Published Storybook Kit
This kit allows your kid to write their very own book! They write in the words and color in each page and then you can send it off in a pre addressed envelope to be published! It will return back to you in hardcover form – ready to be placed on the shelf with all their other favorite books.
15. Let it Snow Color-In Pajamas
Our kids go nuts over new pajamas and no doubt they would love being able to actually color on them. They come with fabric markers so they can let their creativity go wild. A day in UV light will seal in their designs.
Kiwi Co. has boxes for everyone. These hands on activities keep our kids occupied and learning at the same time. And they come with everything you need to make each project. Use code BREPURPOSED for 50% off your first box.