We spent two weeks in Costa Rica to kick off 2022 and it was the perfect way to start the new year with rest and relaxation. So many of you have trips planned there already or are thinking about it, so I wanted to share all that we did!
COSTA RICA TRAVEL GUIDE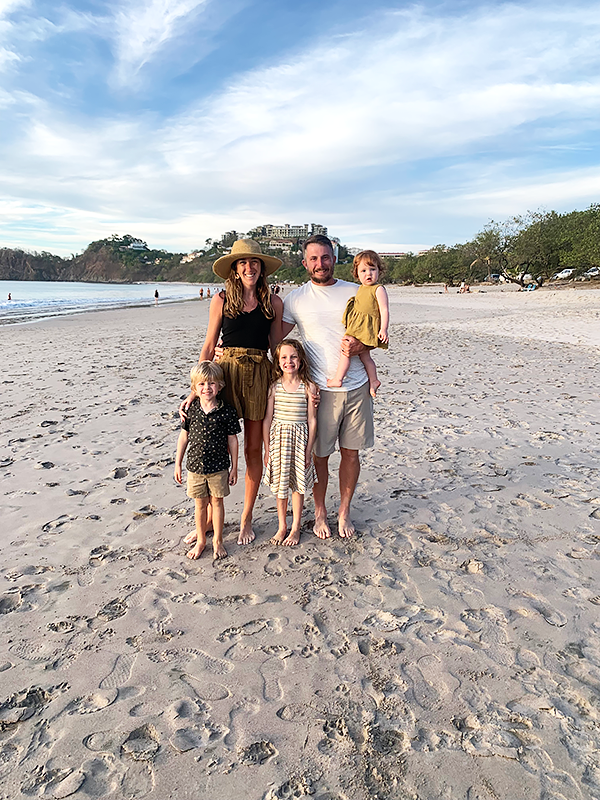 17 years ago, when I was a senior in high school, we took a family vacation to Costa Rica. My dad worked with someone who retired down there and owned a restaurant/hotel so we made a stop at his place. He was involved in some property management and the next thing we knew we were driving up a rocky mountain looking at an empty plot of land that overlooked the pacific ocean.
The sun just happened to be setting and the breathtaking view reeled my dad right in. He's a very frugal person and always very financially responsible with his money, so it was bit of a shock to all of us that he was considering buying property in a foreign country we'd only been to once. But he was retiring soon and it all just kind of fell into place.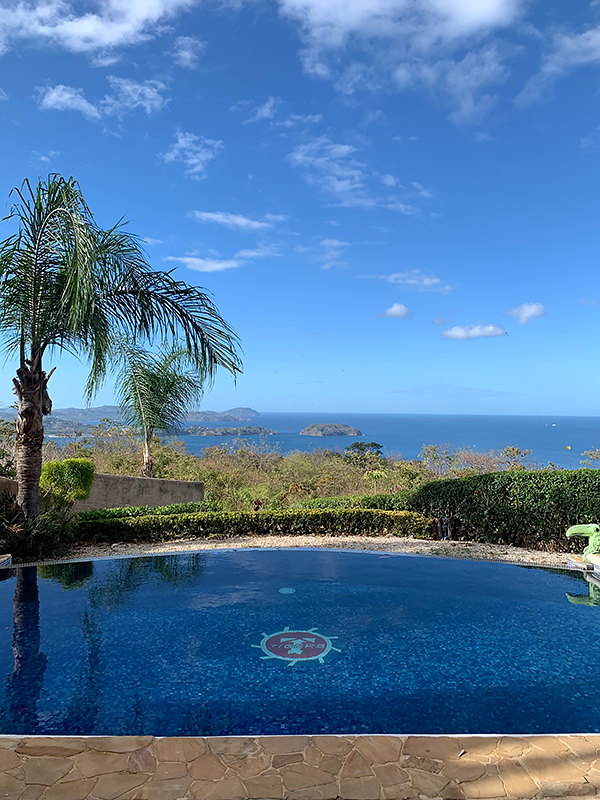 Our home was finished two years later and it's become the perfect little oasis for all of us. My parents escape their cold NY winters and spend January – March there and the rest of us try to make it down every chance we get.
LOCATION
Our home is in Potrero which is a little over an hour drive from the Liberia airport. The other airport is in the capital, San Jose, and is about 5 hours from our house. It's on the Pacific Coast and is tucked away up in the mountains with the most amazing views! We named it Casa Linda Vista which means house with the beautiful view 🙂 Although it's not within walking distance of the beach, there are many nearby. It's about a 6 minute rocky drive up the mountain and with a pool and the views, some days you don't even need to go anywhere. You obviously have to drive anywhere you want to go which doesn't seem like a hassle for us because it's just what we're used to.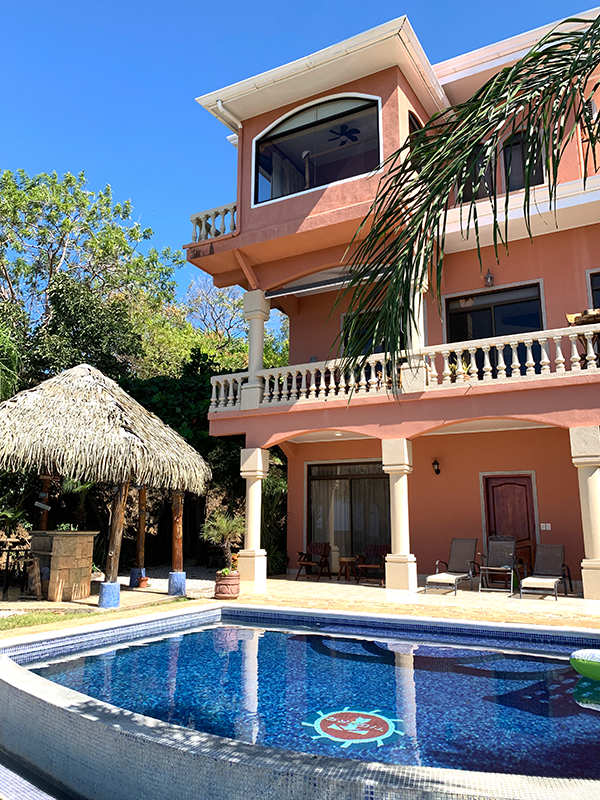 There are trails you can hike around our home and you can also walk all the way up the mountain which is very steep and will have you out of breath in no time. But the views are spectacular!
This guide is relevant to this area in Costa Rica. There are so many beautiful parts of the country to explore but this is what we are most familiar with!
RENTAL INFO
We've kept the rentals to a minimum over the years just to help preserve the property since it's harder to maintain living so far away. We're usually renting it out to family and friends but also have it up on VRBO. We have a caretaker, Daniel, who lives there full time and helps maintain the property and deals with any issues that occur. This was our first time meeting him as our previous caretaker ended up going back to his family in Nicaragua which was sad for all of us , as he had become like family after being with us for so long. But Daniel has been an amazing replacement and we're so lucky to have him! His english isn't great, but it's fun learning spanish from him (and teaching him english!) and getting a locals input on all the lesser known things to do!
Click the link below if you're interested in our property!
If you have any questions about the property don't hesitate to reach out!
BEACHES
Playa Potrero – this is one of the beaches closest to our home but it's not our favorite for a beach day. We like to drive down for morning walks on this beach and then grab breakfast somewhere!
Playa Prieta – this beautiful beach is accessible about a 1/4 mile from the bottom of our hill. It's small, usually quiet and gorgeous! Low waves and trees for shade. No public restrooms or food available. Sometimes there is a local selling a few random snacks.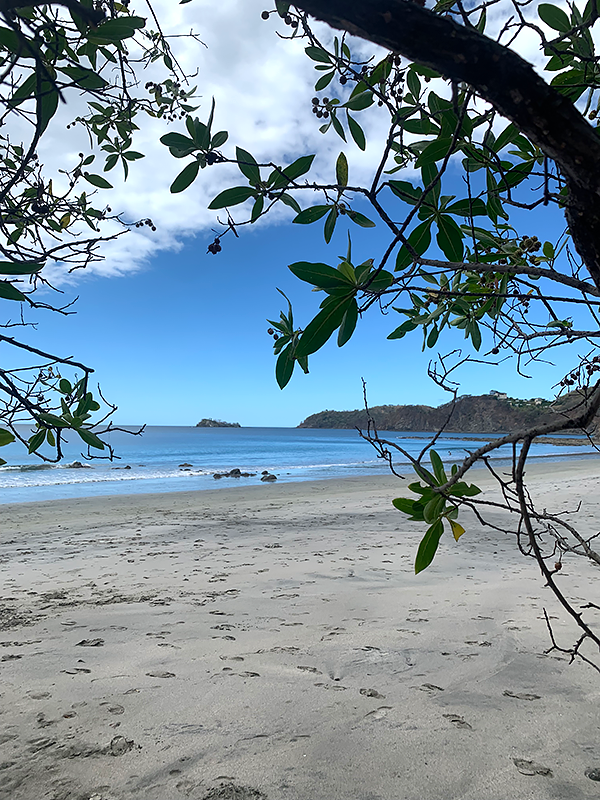 Playa Danta – this beach is located within Las Catalinas which is a must visit and I'll get to later, but it's beautiful! Being by a beach town, there are a few restaurants, restrooms, shops, and a place to rent a surf board, boogie board, kayaks etc. Eat at Limonada right on the beach – great food and atmosphere!
Playa Flamingo – this is the next town over from Potrero and is always a fun beach to go to. The waves can get kinda big here so if you have kiddos be mindful of that. But there's still plenty of sand to play on. It can also get a little busier than other beaches because Margaritaville Resort is right across the street.
Sugar Beach – this smaller and quieter beach is tucked between prieta and las catalinas – if you're looking for somewhere more private, this is the place to go!
Playa Avellenas – one of my favorites! It's a bit of a drive (an hour) but it's worth it to make a whole day of it! They have an amazing restaurant there called Lola's which is right on the beach. Great waves for beginner surfers and lots of area to walk and explore.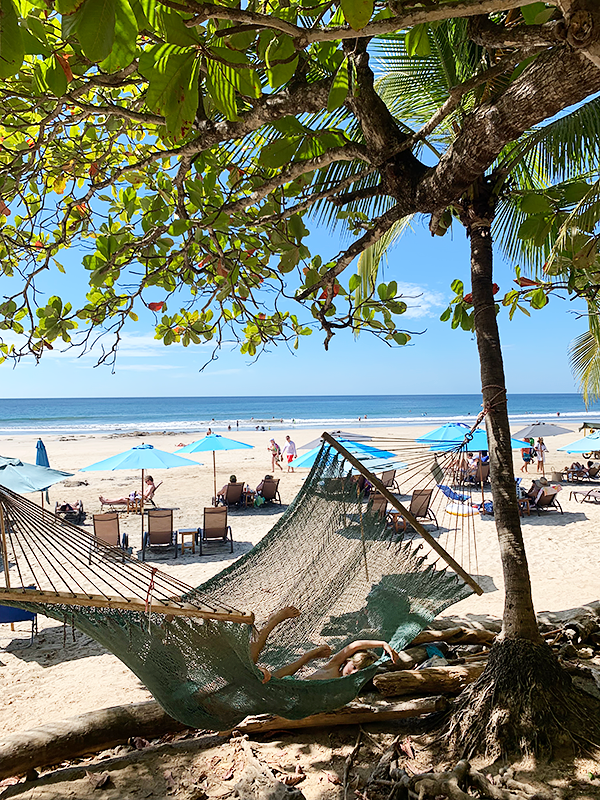 Tamarindo Beach – we always do a day trip here (it's about 45 mins from our house) and this is where we usually surf. If you want lessons this is the place to do it! Lots of cute shops and restaurants in this beach town!
RESTAURANTS
Las Brisas – this is right in Potrero on the beach and it's become our tradition to stop here before heading up to the house on our first day for one of their giant frozen margaritas. Food is ok, they switch the cooks and some days are better than others 😉 I had great mahi tacos there on our first day, but not so great coconut shrimp on another. Kids can play on the beach which is always a hit.
The Shack – one of our fav breakfast spots in Potrero. Typical Costa Rican food that never disappoints – they're open for lunch and dinner too and have live music some nights!
Nita Coffee – this place is new and is very trendy and hip. The largest menu of lattes and coffees closest to us. I had high expectations but it wasn't my favorite. Not bad, just not great.
Carpe Diem – SO GOOD. Great for breakfast or lunch they have the most delicious sammies and smoothies.
Sol y Mar – a very typical costa rican restaurant – a great place to get whole red snapper!
Gelato – right next to sol y mar, our fav spot when you're craving something sweet!
A'lo Nico – went here for the first time on this trip and it didn't disappoint! We went for breakfast but they have lunch too. Great typical breakfast – also have yummy crepes and pancakes for the kiddos. Delish smoothies!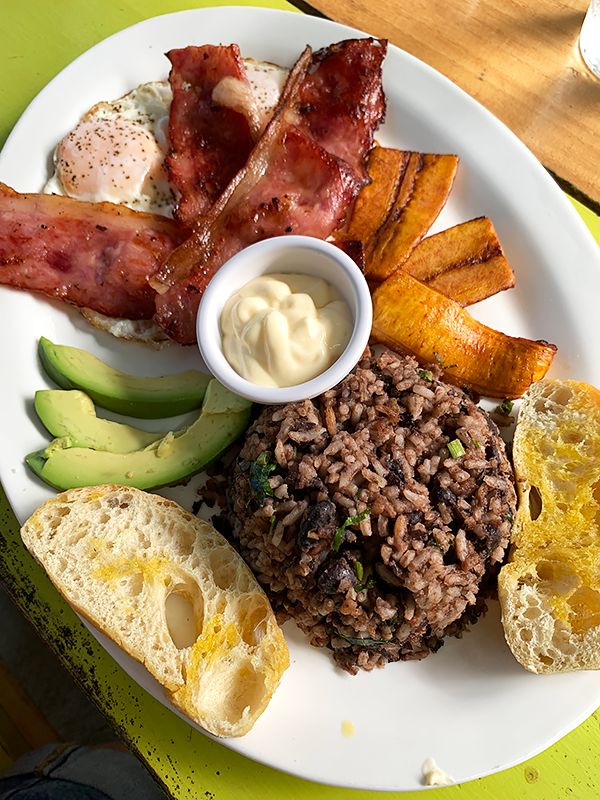 Patagonia – a great atmosphere for kiddos – they have bean bags, cornhole and swings. Menu is a little different than typical restaurants – you can get pasta, sushi, asian cuisine – it's right across the street from the beach.
Coco Loco – a must try! Right on Flamingo Beach you'll catch the most beautiful sunsets. Food is amazing and they have fun drinks/food in coconuts.
Finca Las Garzas – one of my favorite meals we had. This is a family owned farm which has some fun activities you can do I'll mention later, but everything they make is fresh right from their farm. You can't get more authentic costa rican cuisine than this!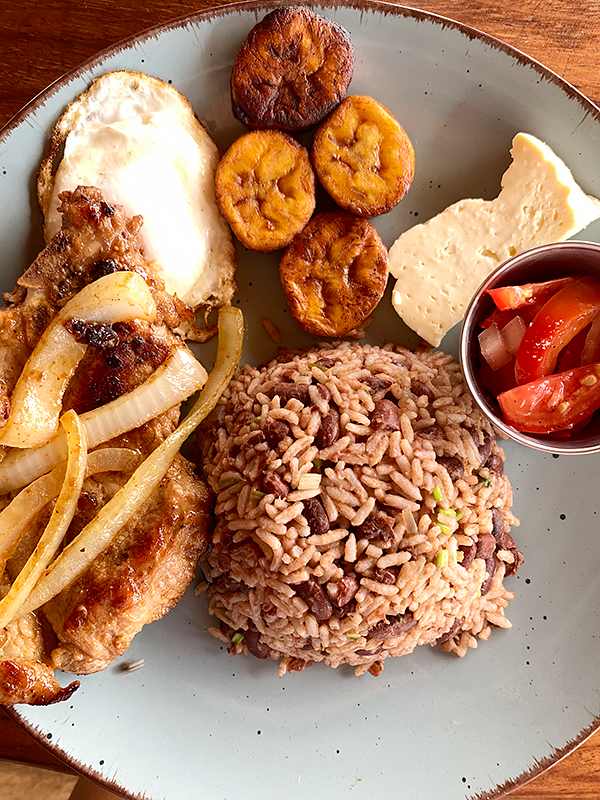 Lola's – another fav – this is at Playa Avellenas and has fresh, organic delicious food. Great atmosphere on the beach with fun chairs to sit in. They usually have their pet pig, Lolita, there to play with but when we were there they had to keep her home due to some threats from a local competitor. Hopefully she'll be back soon!
Limonada – fun restaurant at Las Catalinas right on the beach. Great spot to grab lunch if you come here for a beach day!
The Green Papaya – in Tamarindo, it's off the main road and has swings you can sit in! Super yummy food – the tacos are delish!
The Beach House – right on playa potrero – they have really good bowls!
THINGS TO DO
Congo Trail Zipline – there are tons of ziplines throughout the country but this one is closest to our house and is always fun! 10 lines total and very kid friendly! The guide will go with your kiddo, which ours did at first, until they felt brave enough to go on their own. They also have a little zoo area you can pay $5 to see monkeys, iguanas, snakes, goats, turtles and more – def worth it!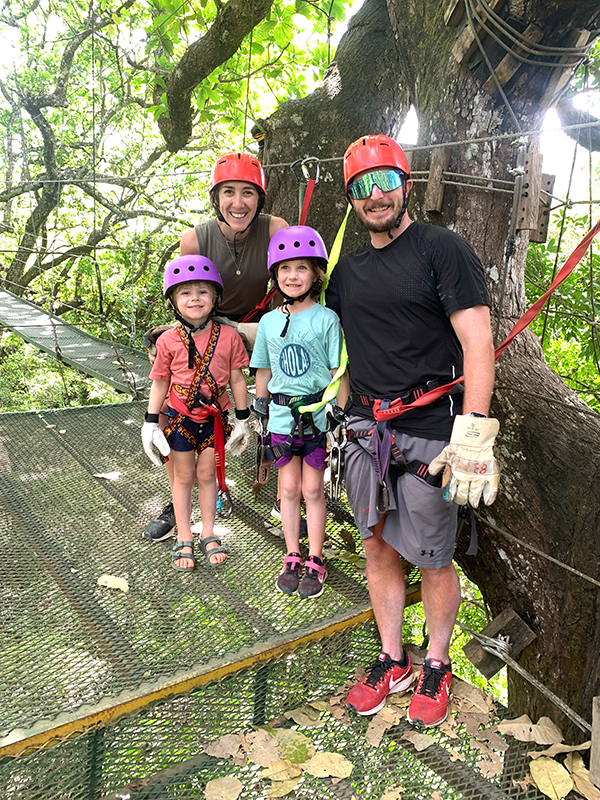 Diamante Adventure Park – we didn't go here this trip but I went the last time I came. They have a zipline, restaurant, animal sanctuary and playgrounds for the kids. If you're a thrill seeker, this zipline is for you. I still can't believe I did it. You can do the regular, lower ziplines but they have a superman zipline that is almost a mile long and overlooks the beach. It's terrifying ha. But was also very exhilarating.
Ponderosa Adventure Park – our first time here this trip and was so cool! You take a wagon ride which is about 1.5 hours and can feed the zebras, giraffes, ostrich and cattle. They all come right up to you and eat out of your hands – such a fun experience for everyone! They also have a waterfall, zipline and restaurant. We just did the safari tour.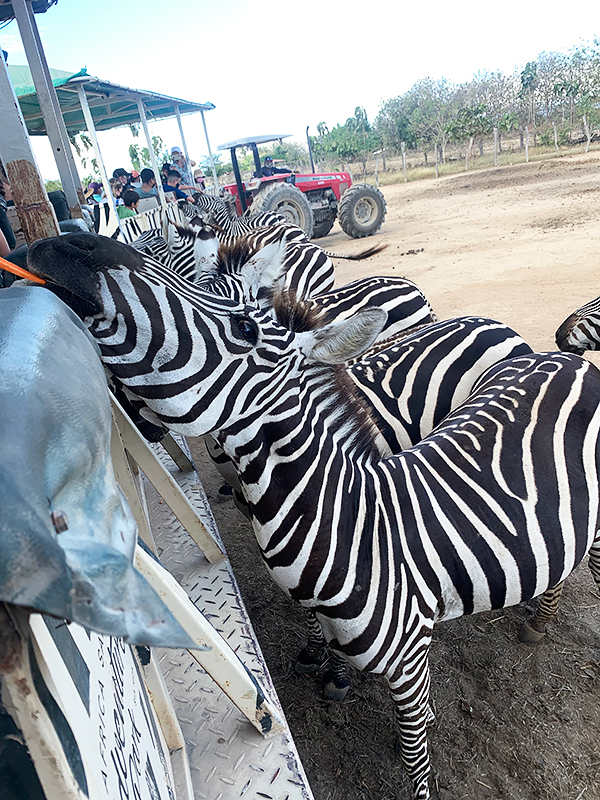 Tamarindo – as mentioned above it's a beach town about 45 minutes from our house. It's a popular spot to stay and is much busier than where our house is. Tons of restaurants and shops to explore. A great spot to get surfing lessons or just rent a board. Big beach and lots to do!
Rincon – this is a nearby volcanic area about 1.5 hours from our house. It's a great place to do an adventure for the day. Our favorite is one that includes, horse back riding, mud bath, hot springs and the craziest water slide! It's super fun. They have lots of different packages that also include zip lining, white water rafting, and hiking.
Las Catalinas – the CUTEST area. It's a little beach town 10-15 minutes from our house and has very mediterranean vibes. The buildings and architecture are all so so beautiful. You can stroll through the town and then go to the beach and have lunch at Limonada.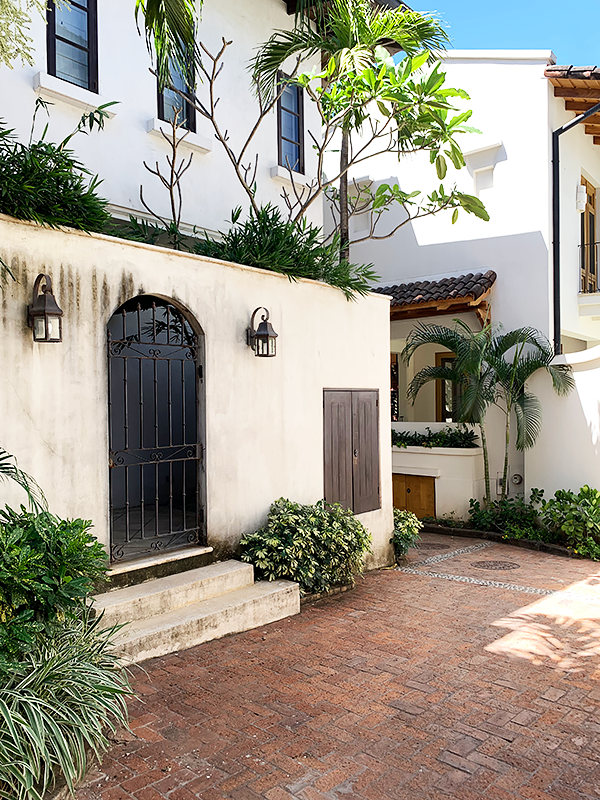 Finca Las Garzas – a family farm off the beaten path. They don't do a lot of promoting or marketing because they want to stay private. You can come here and play with the farm animals, go horse back riding, go for an ox cart ride and eat at their restaurant. There's no menu though 😉 Whatever they're cooking, you're eating. And everything is FRESH right from their farm. The most literal farm to table dining experience where you'll get authentic Costa Rican cuisine.
Poza Los Cayotes – a little hidden gem! Tucked back in the woods, it costs $2 to get in and you can explore and swim in the most beautiful natural pools. The water is bright blueish green and you can rent a tube and float around. We didn't get here until the end of the day but it would be so fun to bring lunch and spend the day swimming, eating and hiking.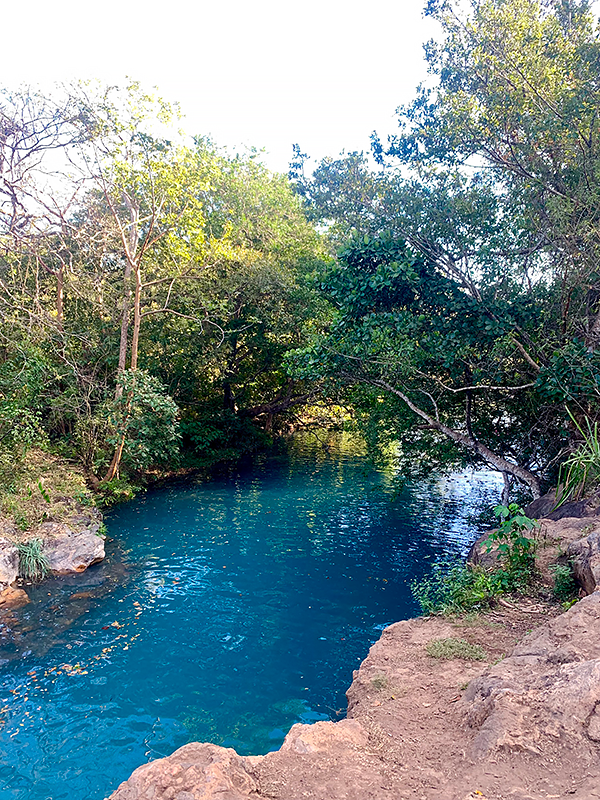 Boos Adventure Fishing – we've gone fishing with Christian a few times and he always provides an amazing experience. It's private fish charter and it cost $500 for 5 hours. We woke up early and went from 6 am – 11 am. They cast out the lines and when there's a fish on you better be ready! They strap a leather belt around your waist that has a holster for the pole and helps you reel in the fish. Sometimes you get lucky and sometimes you don't but we seem to always catch something! We caught a sailfish which is super rare and are protected by the Costa Rican government so we had to throw it back. We also caught a yellow fin tuna which they cut up for us right on the boat sashimi style with wasabi and soy sauce and it was SO GOOD. They give you the rest of whatever you catch to take home and cook up too! It's a long morning but they provide all the drinks (water, juice, beer) as well as a big platter of fresh fruit and then some chips and dip later on. 10/10 recommend!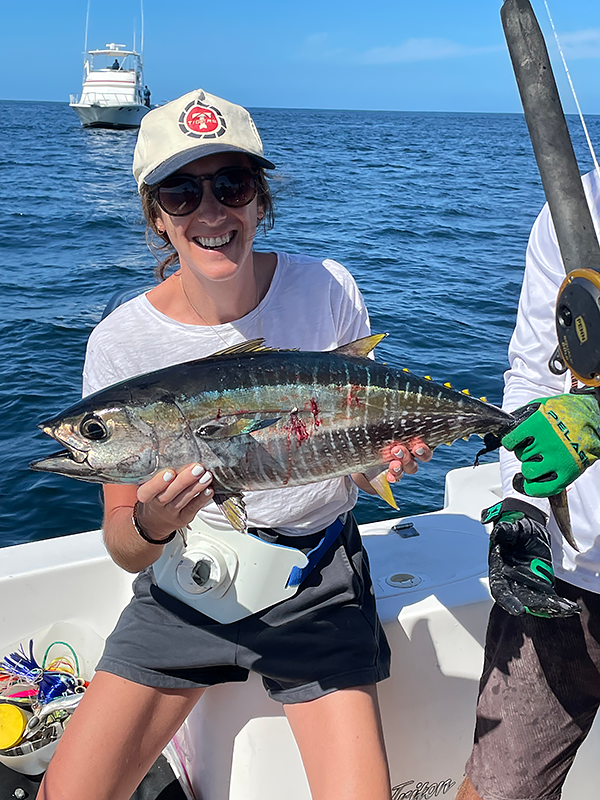 Arenal Volcano – if you have more time and are up for a longer trip, this is Costa Rica's best known volcano! It's around 3.5 hours from our house. You'll experience the rain forest side of Costa Rica and can go for hikes through the mountains.
A fun place to stay nearby is Tabacon Resort.
COVID PROTOCOL
Currently Costa Rica doesn't require anything to get into their country besides Covid travelers insurance. We purchased ours from HERE and it was about $15 a person. Price varies depending on how long your stay is and it's not required for kids.
To return to the US you need a negative COVID test 24 hrs before you leave. We brought our own and tested the day before and then just showed the results at the airport. They also have a testing site right at the airport but I'd be prepared and do it before you get there.
Masks are required in most places indoors and were also required at Ponderosa Park. We spent so much time outside we hardly ever needed to wear them.
GETTING AROUND
Where our house is, you have to rent a car to get around. We rented one from Adobe car rental that was about a mile from the airport and they came and picked us up in a van when we landed. Everything went smoothly! We even left the stroller there and didn't realize it until almost a week later. They held onto it for us and we got it back when we dropped my brother off at the airport.
Some of the full day excursions will come pick you up at the house or a nearby hotel.
The roads have come a LONG way since we first started visiting. But there are still quite a few that aren't fully paved and you feel like your tire is going to blow with every bump you hit. But it's all a part of the experience and always makes for a memorable trip – 4 wheel drive is never a bad idea 😉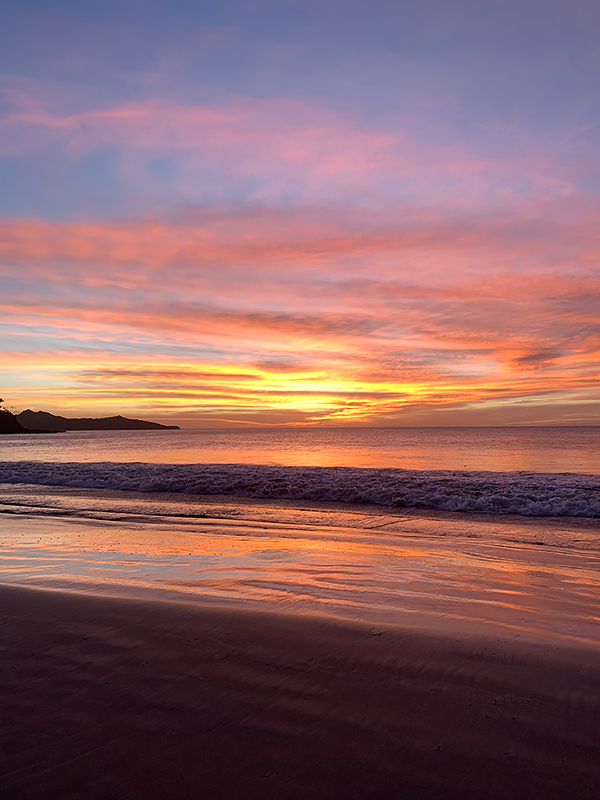 This country continues to hold a special place in our hearts and always provides the perfect escape from our busy lives. Their carefree pura vida lifestyle reminds us to enjoy the simple things in life and appreciate all we have. Costa Ricans are some of the friendliest and happiest people in the world and it's apparent every time we visit. It's never easy to leave!
We're so grateful for this home away from home we have and 100% recommend some time away in Costa Rica!